7 Places for Breathtaking Panoramic Views of Barcelona
There's nothing like being in a really, really high place — and seeing the lay of the land of a large city below.
Then your life starts to take some perspective.
And you wonder, Am I one of those ants below living in this gargantuan city?
Of course, I'm talking about living in Barcelona, a city of high highs and low lows.
It's got the Mediterranean waters to the South, manic city blocks in Eixample, and the steeper hills of Montjuic to the southeast.
Anyone who lives in here is lucky, IMHO. You've got so, so many choices to have fun.
So try going high in Barcelona, like in these places. And step back and enjoy the view.
1. Museu Nacional d'Art de Catalunya (MNAC)
The palatial building that houses the museum is a majestic sight on its own. No, it's not a palace, but an enormous Italian-style building with a tall cupola and sits on the Montjuic hilltop.
On a sunny day, the views from MNAC are spectacular. To get there, climb the many steps to the entrance. If you're a lazy bum like me, you can use the escalators on the sides.
If you do climb the stairs, you'll have to celebrate like Rocky Balboa once you reach the top.
Once up, you'll get a view of the busy roundabout at Plaça d'Espanya. Look a bit further and you'll see the gorgeous Barcelona cityscape. Even further off is Tibidabo, the mountain ranges to the northwest.
Consider going to MNAC at night as well —  you can enjoy the Magic Fountain Show below, where dancing waters move to the choreography of music and lights.
2. Park Guell
This famous-for-a-reason park is one of my favorite parks in the whole wide world. Ever. 🙂
Where else can you find twisting tree trunks, tilted walkways, and hypercolored tile work?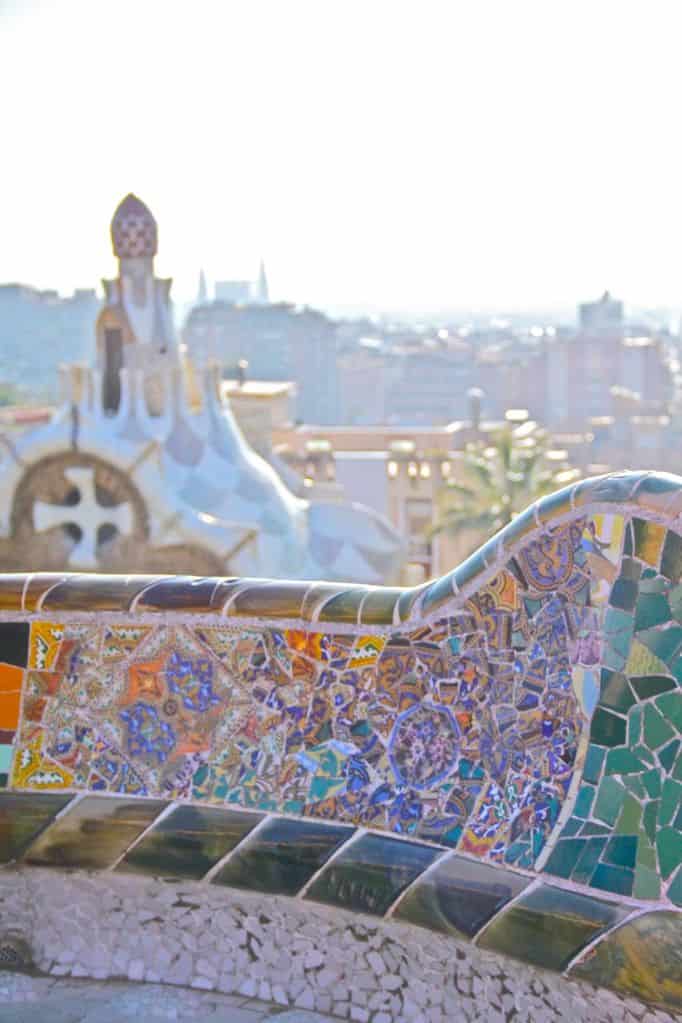 To get to this park on a hill, you can find metro and bus stops nearby. Climb up to the main terrace of the park, where you'll find the multicoloured tiled bench shaped like a sea serpent.
From here, you can see the park's main entrance below, which are two buildings resembling colorful gingerbread houses. But beyond that, you'll see the city's buildings and the beautiful shoreline of the Mediterranean sea.
3. Barceló Raval Hotel
Barceló Raval Hotel is a cylindric building on the pedestrian Rambla del Raval. The trendiness of the hotel in this gritty part of town makes for a kind of strange old-meets-new juxtaposition.
On the terrace rooftop, you get a 360º view of the mountains, the sea and the city surrounding the hotel.
If you fancy a closer look at something interesting, you can check it out through the standing binoculars along the glass walls.
And if you're not in a hurry, go ahead and order a mixed drink or a cocktail. The terrace also has a bar, a swimming pool, and a sunroof for those who want to lounge around and relax. The terrace is open from May to October.
4. La Sagrada Familia
Undoubtedly one of the most famous attractions in Barcelona, La Sagrada Familia is a stunning basilica not only from the outside, but from the inside as well.
Its peculiar towers shoot up 65 metres, and you can go up through two of them. The Nativity facade has views of the East, and the Passion facade faces the city centre.
You can even get up close and see the tops of the towers, which resemble multi-coloured asparagus tips. At least that's what I think.
To go back down, you'll have to climb down a spiral staircase. So if you suffer from vertigo or even claustrophobia, this might be a little scary.
The advantage: you can peek outside of several balconies and windows and get a great view of narrow spiraling staircase on the inside. Coming here also gives you a piece of Catalan history and culture too.
5. Montjuic Castle
Every time I come here, my imagination runs wild. Montjuic Castle used to be a military stronghold and political prison. (What kind of crazy torture went on here?)
Today it houses a military museum and is used as a cultural space for concerts, seminars, and exhibitions.
Its southeastern location gives you breezy views of Barcelona. On the seaward side, you'll see the cityscape and the Mediterranean Sea. From Jardins del Mirador, you'll find a view of the busy industrial port.
It's gorgeous too. It's surrounded by lush gardens, making it a sweet place to enjoy Barcelona's scenery.
6. Las Arenas Commerical Center
Once a famous bullring, Las Arenas is now a trendy and stylish shopping center with 115 shops and six floors. The shopping is mediocre, in my opinion.
But the rooftop — that's the best part.  It has a skywalk terrace with a 360º view of Barcelona. You can get there from the inside via escalators and elevators.
Or, you can also get there from the outside, where an elevator shoots you straight to the top (but for a price, 1 euro).
Once you're up, you can catch a glimpse of the beautiful Fira Montjuic exhibition area and the MNAC museum.
To the west, you'll see Parc de Joan Miró and the tall, colourful sculpture, "Dona i Ocell".
You can also sit down and have some tapas and drinks at one of the swanky restaurants and bars. At nighttime, It's also a fantastic place to get a view of the Magic Fountain show.
7. Bunkers del Carmel
What was once an almost unknown spot for its breathtaking views, the Bunkers del Carmel was popularized by a teenage romance film called "Tengo Ganas de Ti" in 2012.
Here you'll find old bunkers which were used during the Spanish Civil War and were used to prevent air attacks.
Located at the Turó de la Rovira, you can see the city skyline, the coast, Tibidabo, and several outskirts of Barcelona.
Not many tourists know about it (shhhh…), so it's a low-key place to go to get away from the crowds.
If you plan to go on a warm day, bring some shade and water. Or, go as it cools down in the evenings to watch the sky change colors during sunset. It's about a 10-minute hike from the bus stop.
By far, it's the best place to enjoy Barcelona from above.
Know any other places where you can get a great view? Have you been to any of these places?
(Visited 1,543 times, 2 visits today)