Parc de L'Oreneta: Mini Train Rides in Barcelona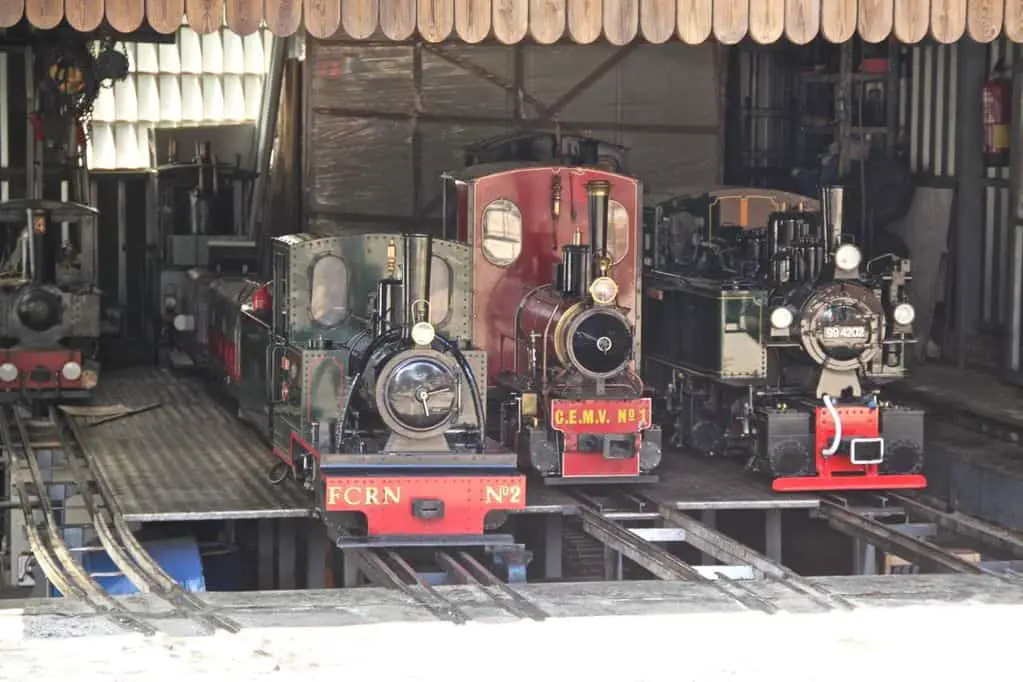 Choo-choo! We ran to the end of the long line. Parents and small children before us were waiting for their turn to jump on the miniature steam train. "Un tren! Un tren!" my 2-year-old yells, pointing at the approaching locomotive.
My little one is obsessed with trains, and it was high time we took him to the Parc de l'Oreneta, a forest-y park near Collserola.
While the park has lots to offer like hiking areas, playgrounds, ping pong tables, rich vegetation and more, the train is the most popular attraction.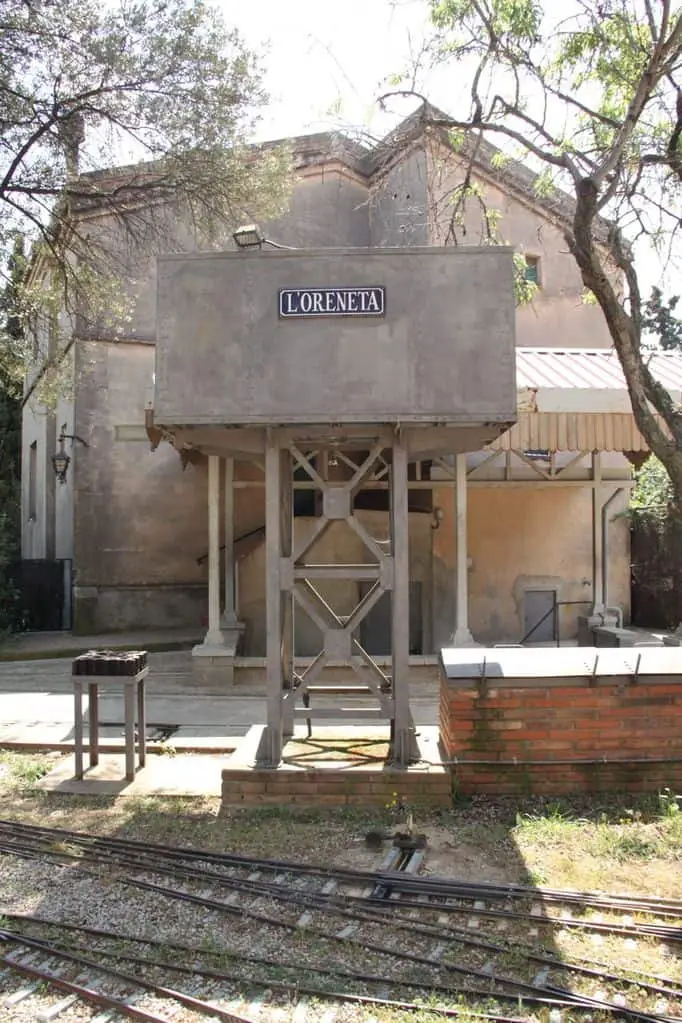 The train circuit was built in 1980 by an association of train enthusiasts, and these experts haven't missed any details. The trains are a small scale of real railway circuit, equipped with a train depot, bridges, tunnels, railroad crossing signs and more.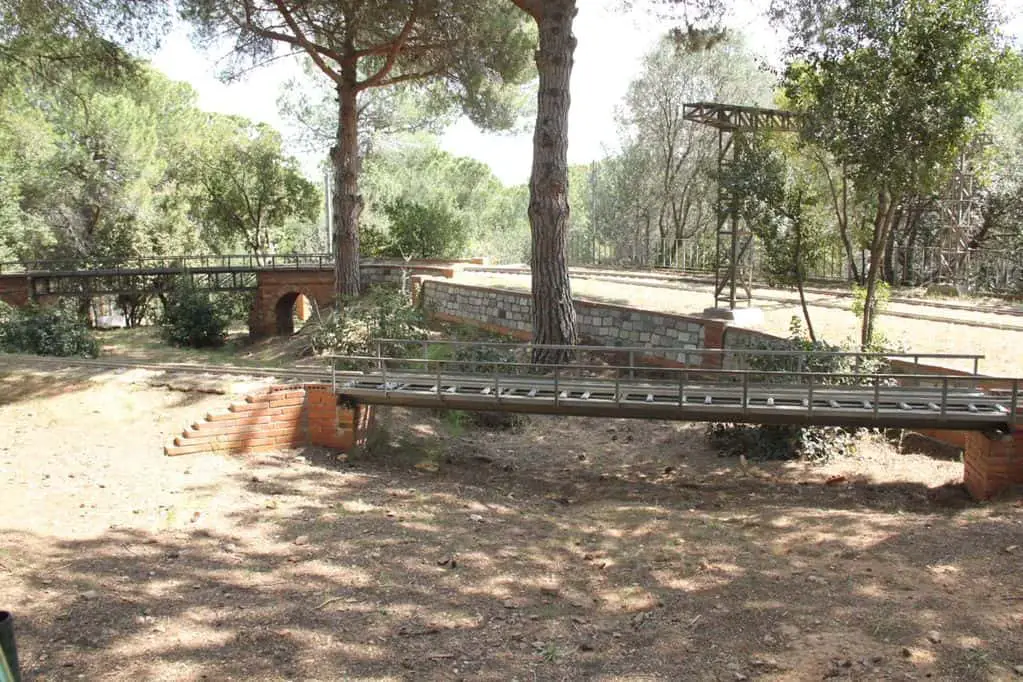 How cute is this water tower?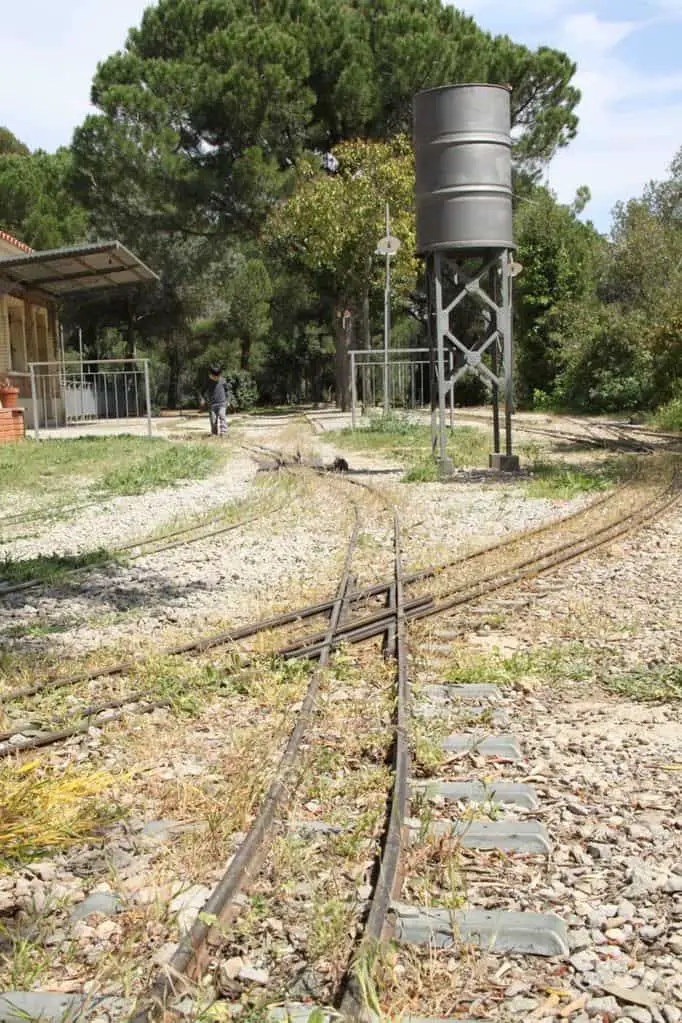 There's even a canopied train ticket station…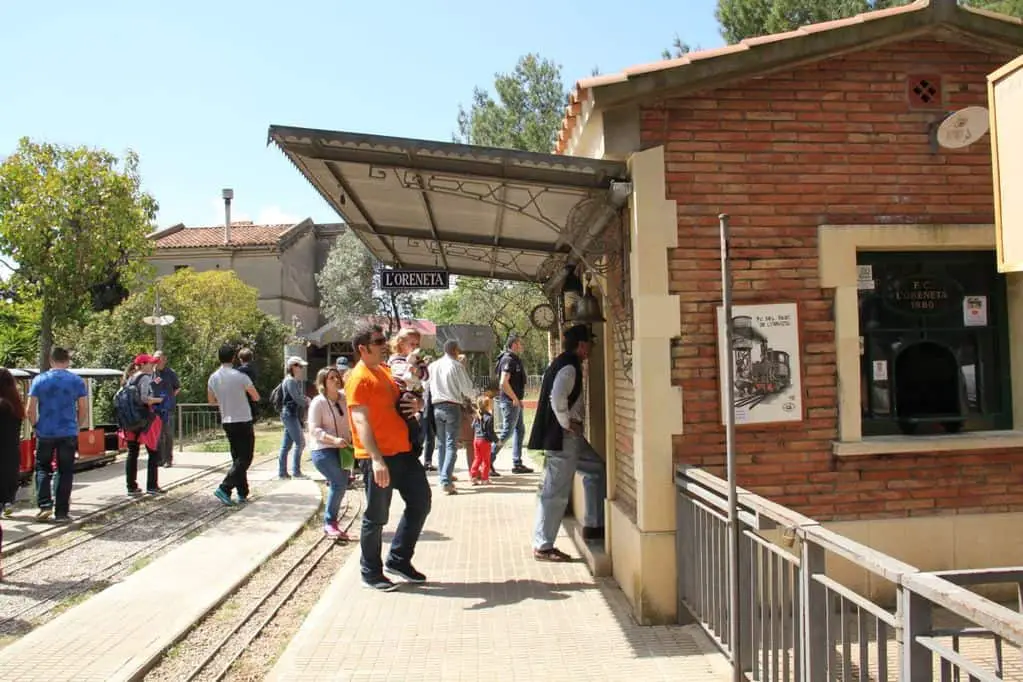 …and a bell you get to ring 3,432 times until you annoy everyone.
The train ride is about five minutes long, covering 636 meters of train tracks.
There are 11 trains total, two of which are usually running. Waiting for the train doesn't take very long.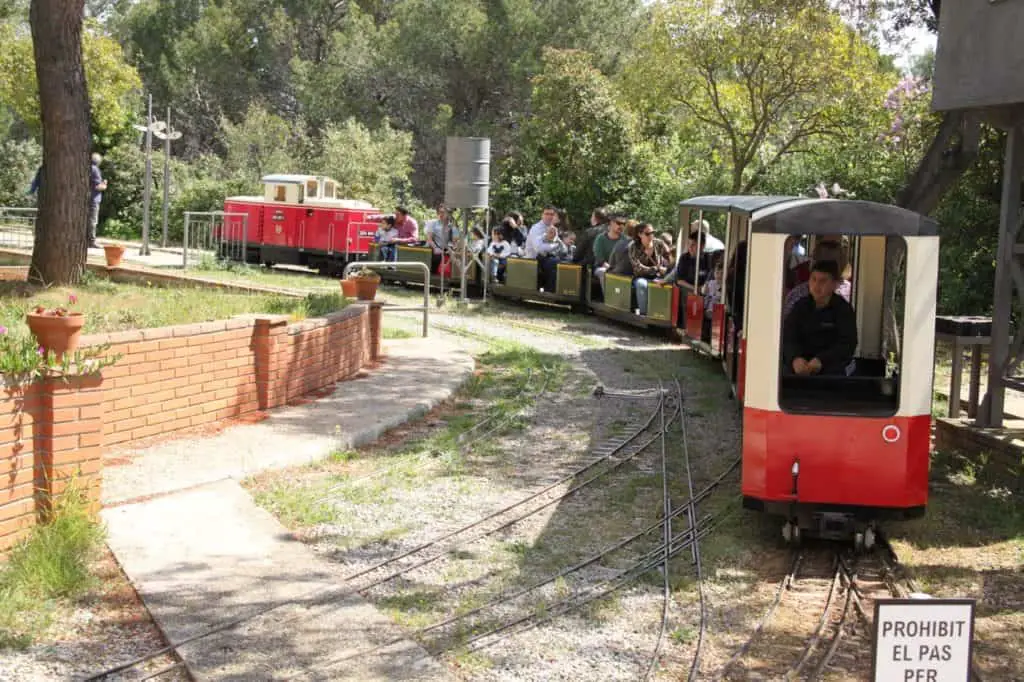 The seats are quite narrow, so only two people can fit in a car: an adult and a small child. If you're a safety-conscious American mom like me who worries about seat belts, welcome to Spain! There are none. You basically have to be on your toes if you have a squirmy kid.
We got a peek of the dashboard.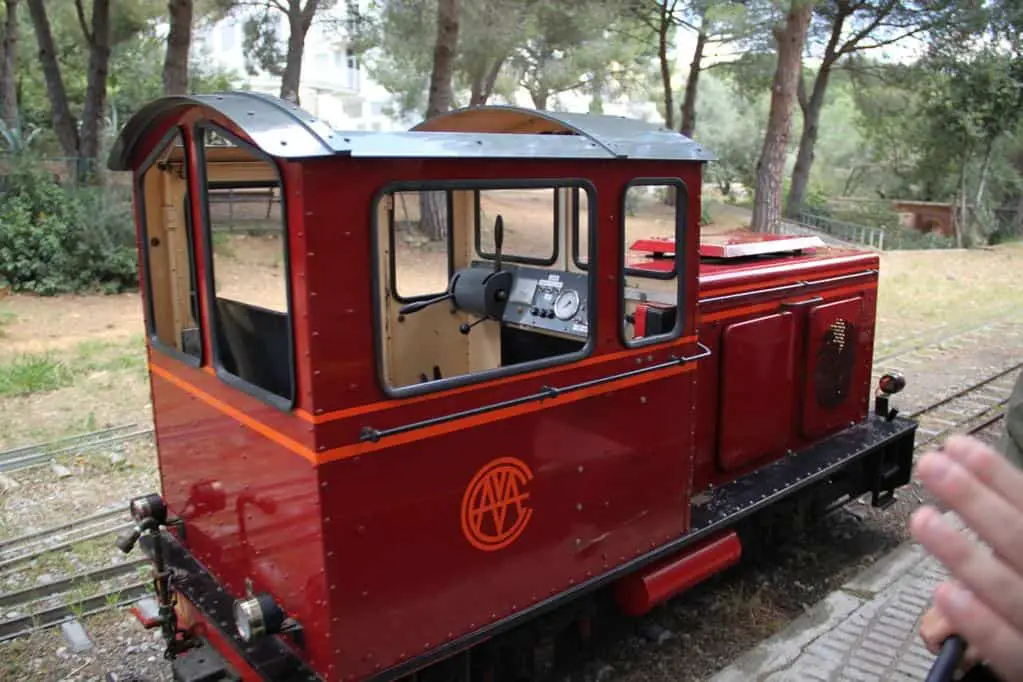 And every train needs a cute caboose, right?
Here comes a tunnel! I had to make sure my son's head wasn't sticking out when going thorough either of the two tunnels. They're so narrow — I'm pretty sure that they break safety regulations in the US 😉
The peeps running the trains take it pretty seriously. Probably because you get to wear the cool engineer hats.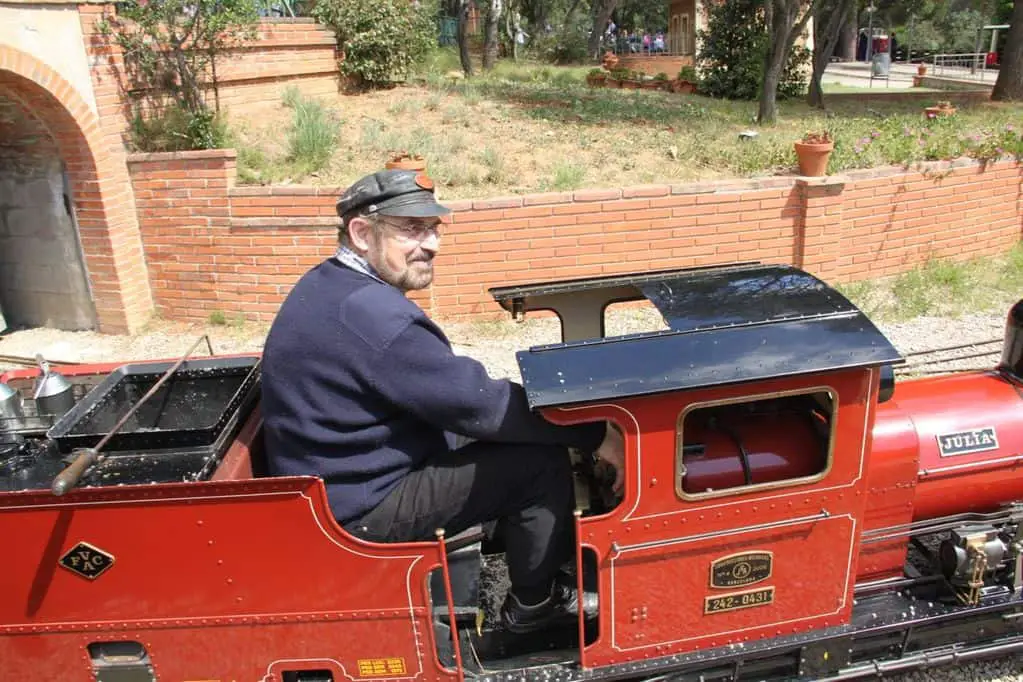 Chugga-chugga-chugga-chugga choo-choo! Real steam even comes out!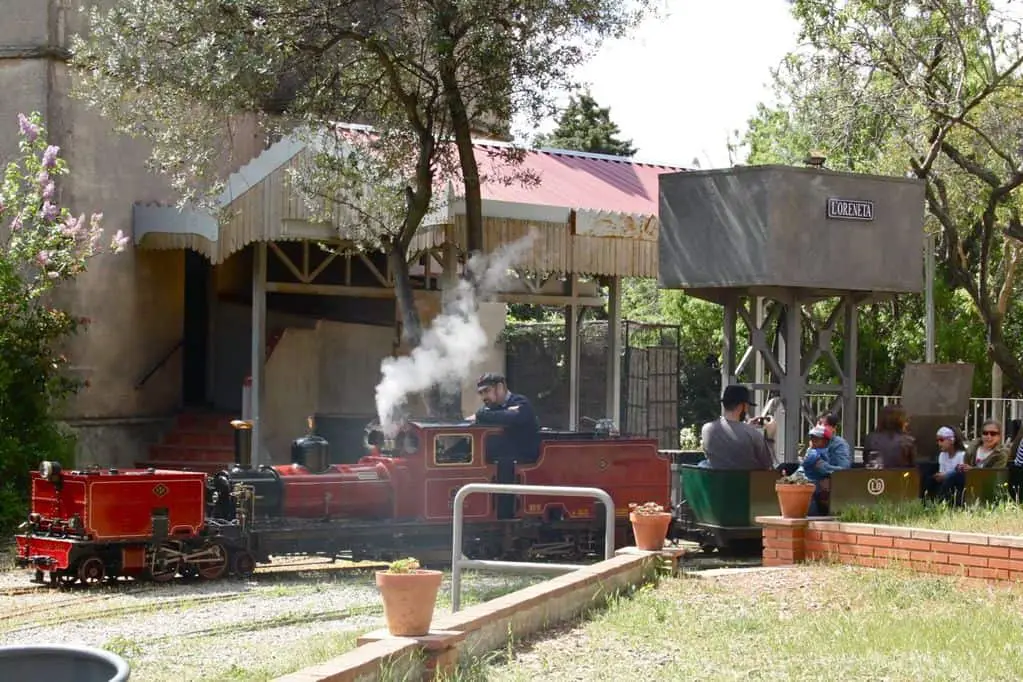 After a train ride, you can hit up a non-shaded playground if you wish.
So sunny.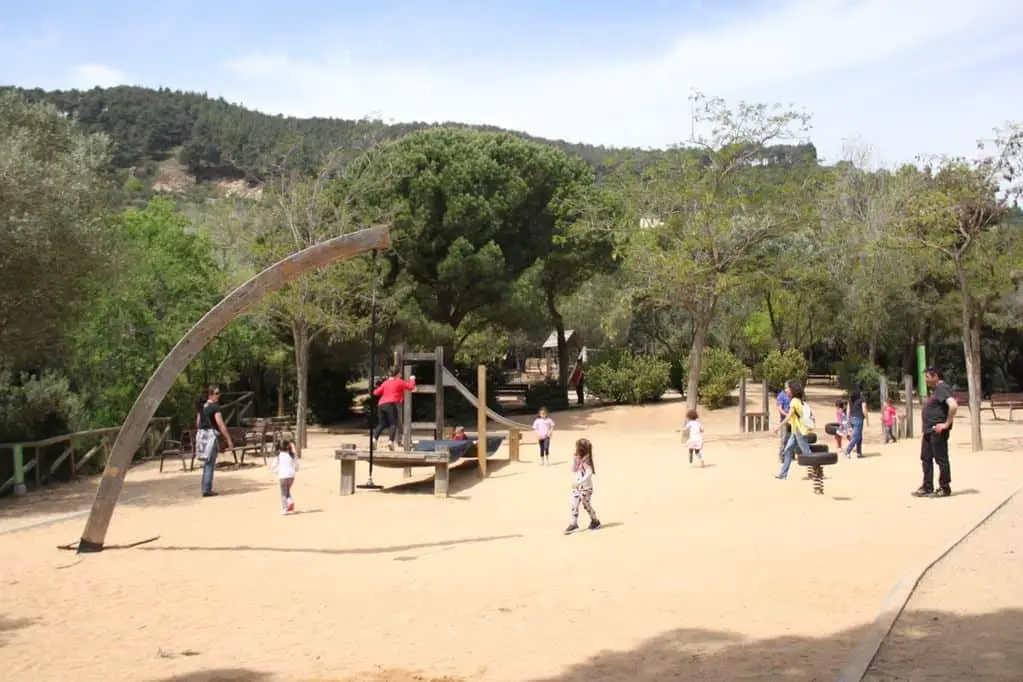 We also found a crazy, colorful park that was gated off. Weird. This news piece in La Vanguardia says that the city of Budapest donated half the money of its construction — 27,000 euro. They inaugurated it in 2014. But you can't play in it?!
Maybe they're afraid the playground will get vandalized if it's left unattended. It's like a circus playground. Me wants to play!
We dig this park. And it digs us.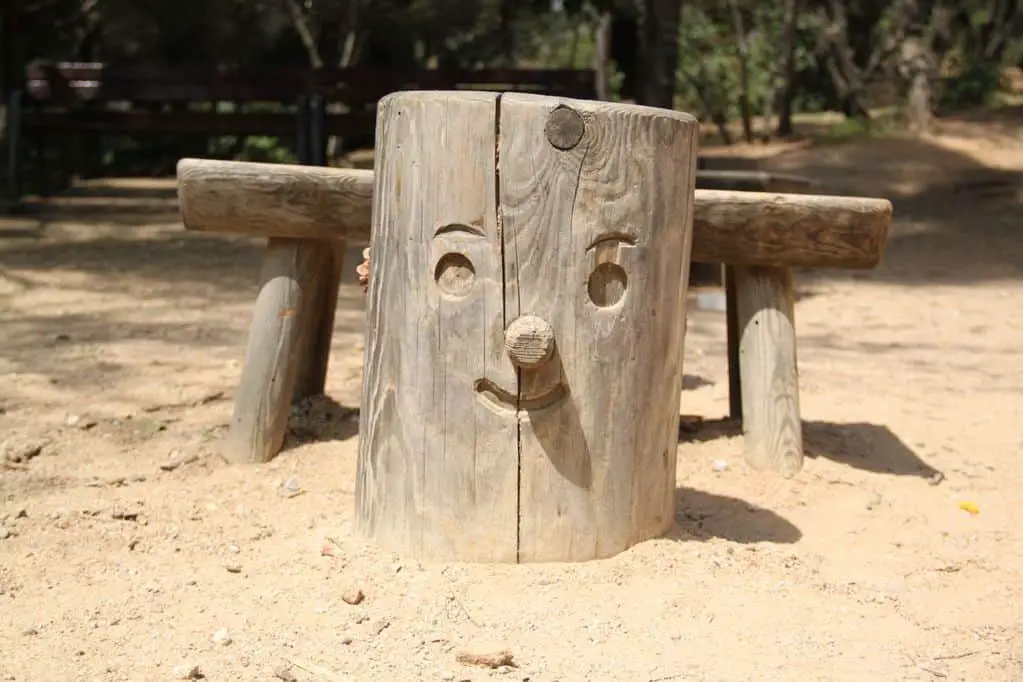 Information for Parc de L'Oreneta
Entrance Fee: Free
Open 10am – Sunset
More information: Parc de L'Oreneta Website
Train (Tren de L'Oreneta)
Ride Fee: 1.50 euro
Open on Sundays and Holidays, 11am – 2pm (CLOSED WEEKDAYS AND SATURDAYS!!)
More information: Tren de L'Oreneta Website
(Visited 722 times, 1 visits today)