*This site contains affiliate links, which means I receive a commission when you buy. See my full disclosure.
Don't know what to pack for Barcelona? Dress for the weather so you're comfortable on a coffee shop terrace, in the underground metro, or in the shadowy streets of The Gothic Quarter. Let's talk basic Barcelona fashion, shall we? Learn how to dress in Barcelona according to season!
What to wear in Barcelona
Ever since I moved here in 2008, I learned how to dress for city living, Mediterranean style. I picked up on dressing for breeze patterns throughout the day, high humidity levels (summer AHH!), and looking like a local. And sometimes, I see tourists dressed completely out of place. Not only are they wearing flip flops in February (it's cold, plus you look weird), but they're also a target for pickpockets.
So how do people dress in Barcelona? I'm going to generalize for the sake of having a visitor blend in — without looking like an obvious tourist. Of course, the fashion in Barcelona, Spain, is an array of diverse cultures and personalities. But, there's the majority of laid-back people who like to dress comfortably but stylish also. So, what do people wear in Barcelona? Let's start our Barcelona street fashion mini-lesson, starting with the cold season:
---
Want a PRINTABLE BARCELONA PACKING LIST?
Sign up for my emails and get a free PDF of everything you need. CLICK BELOW to get it!
---
Winter
The weather in December, January, and February
Thanks to global warming, every winter gets warmer and warmer in Barcelona.
The average temperature is about 11°C / 52°F in December, with January and February at 10ºC / 49ºF, being the colder mont
hs. Overall it's sunny and sometimes, it's partly cloudy. There are occasional rainy days.
What to wear
Medium-weight coats are great as well as the more casual puffy jackets and coats. Even if the sun is shining, and maybe it's warmed up a bit in the afternoon, people will still have on their winter jackets. It doesn't matter what it feels like! It can be 25ºC/77ºF under the sun, but once you hit a block of shade under a building, all of a sudden it's cold and breezy.
In the afternoon when temps go up, I've seen people just wear heavy sweaters under the sun. But if you're out all day, it's wise to have an extra layer just in case. On very rare days, mittens and gloves are necessary, but just in the morning until about 9am.
With colors, dress in rich, dark shades. Black, gray, midnight blue, and fifty shades of brown! If you look at the general fashion panorama of clothing in a crowd, you'll see lots of dark colors. Going for an all white / snow bunny look is NOT Barcelona style.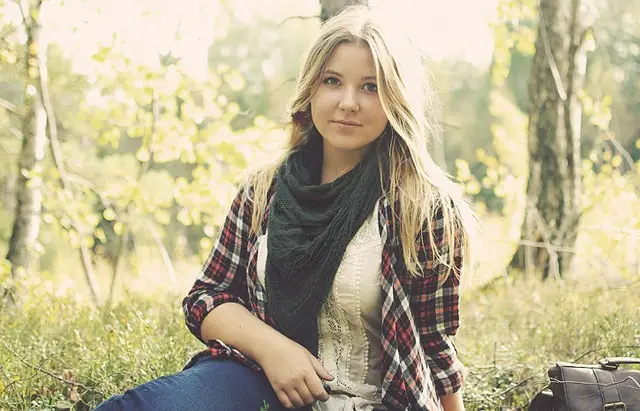 Women
A warm scarf (of any color) is a great accessory because you can darken or brighten a whole ensemble. Jeans or thick leggings will keep your legs warm. And leather boots are always in style. Wear sporty shoes: a classic style like low-top Converse or a sleek athletic shoe.
Women wear at least three layers: a blouse, a medium sweater, and a coat or a warm jacket. Put on some comfortable boots or urban cool athletic shoes, and you're set.
Winter Packing List Suggestions
Here are a few items to put in your suitcase to make a stylish Barcelona outfit!
Amazon Essentials Women's Full-Zip Hooded Coat
I actually own this jacket, which I picked up this summer when I was visiting home in California. It's cute! I'm going to put it to the test this winter 🙂
Hundreds of raving reviews from happy, warm women!

Big, roomy pockets to put your metro card or keys 

Adjustable waist to accentuate your curves, which gets hidden in the winter
Comes in over 15 colors
See the latest prices for this coat
Readers say they don't lose their shape and has become their favorite legging
They're sturdy enough for warmth but thin enough for that wanted flexibility

Light and easy to pack

Can wear it under dresses, tunics, pants. Or alone because it's not see-through!
Check out the latest prices for these leggings
Men
Jeans or medium-weight pants like corduroy will keep you warm. Dark leather shoes or dark sports shoes work also. Try a medium-weight jacket like a leather jacket or sports jacket over a shirt and sweater. Since athleisure is now global, and it's here to stay, a hoodie under a puffy jacket would look cool too.
<<For a more in-depth guide on this season's Barcelona attire, check out What to wear in Barcelona in the winter post.>>
Spring
The weather in March, April, and May
There are long hours of sunshine, and the temperature is 12°-16°C / 53°-60°F.
March is kind of a milder extension of winter – cold in the morning but a little bit warmer during the day. In 2018, it even snowed a few times in parts of Barcelona, which is very rare!
In the beginning of April, it's still cool, mornings are about 15ºC / 60ºF going up to 19ºC / 67ºF. At the end of April, it starts to get warm and lovely, and the flowers are starting to bloom.  But it's not so warm that you can go swimming in the Mediterranean Sea – although I've seen people do it! Some days are gray and overcast, so spring showers can be common.
What to wear
People are still wearing dark colors in March, although the brighter colors begin to creep in their spring wardrobes by April. Often, a light breeze runs through the city (depending on if you're close to the beach). So having a sweater, hoodie, or light jacket will come in handy.
How can I easily recognize tourists in the spring in Barcelona? Because they wear colorful strappy dresses or bright-colored shorts and sandals in April. While, yes, it could be a totally glowing day without a cloud in the sky, but locals just aren't ready to show off their sexy shoulders just yet. And it's definitely not shorts season!
Women
A big tip is to dress like an onion! That is, dress in layers so you can easily take off a jacket when indoors. Jeans, leggings, skirts with tights on the bottom, and medium jackets and medium sweaters on top. Cardigans or a zipped hoodie are handy because you can easily take it on and off in a pinch.
In March, it's not warm enough to go bare-legged with a skirt. You'll rarely see locals wearing shorts or short skirts until it's really warm or hot. April is a little bit warmer, but you still won't see a lot of exposed flesh, only from tourists.
Flat shoes come back! You can wear strappy sandals if it's warm, but maybe it's paired with a long skirt or pants. Don't dress "full summer"! Women love their scarves here, so lighter fabrics in colors across the board also come in handy.
Spring Packing List Suggestions
Over 12,000 reviews say this basic must-have that fits well
Cardigans are versatile to slip on and off
Comes in over 20 patterns and colors
See latest prices for this spring cardigan
Readers love this dress for its slimming silhouette and unique tie waist detail

It comes in over 20 colors

A dress that's light and wrinkle-free to pack

Super easy to layer and looks good on most body types
Can be worn with sneakers for sightseeing, heels for the dance club
Check out prices for this dress
Infinity scarf with a secret pocket

It has a hidden pocket to hide keys, a hotel card, or euro bills!

Readers say it's light, soft, and practical for travel

It's a way to add flair and warmth to an outfit

Easy to carry with you and put on when temps cool
Check out prices for this scarf!
Men
Jeans or casual slacks are good in earth tones and dark shades work well. A casual button-down shirt or a polo-style shirt is okay during the day. However, in recent years, it's trendy to dress fashionably sporty: a hoodie, a Gore-Tex jacket, or performance pants with sleek Nikes are now cooler than ever. As I said, athleisure is now the way to dress.
<<For a more in-depth guide on this season's outfits for Barcelona, check out What to wear in Barcelona in the spring! post.>>
Summer 
The weather in June, July, and August
June temps are all over the place but can vary from warm (20ºC – 26ºC / 68ºC – 79ºF) to hot already.  The average June temperature is 24ºC / 75ºF. Sunrise can be as early as 6am and it can get dark as late as 9pm.
July is hot (24ºC – 30ºC / 75ºC – 86ºF). August is the hottest month – expect to feel sticky and sweaty. (It's typical for people to run their errands in the morning, eat lunch, take their siesta break. Then reappear after 5pm.) Temps can go up to 32º-ish C / 90º-ish F degrees (or more!). When you add the humidity factor, it's even worse. And you might have trouble sleeping at night while feeling stifled.
What to wear
Usually, by mid-June, people have brought out their sleeveless tops and shorts. Sandals and T-shirts are more common. In general, people wear mid-thigh to knee-length shorts. Some nice leather sandals are good. Flip-flops are okay if you're heading somewhere quick like the supermarket (or better yet, the beach), not so much in a restaurant setting. In June, you'll need another layer to cover up in the evenings.
Women
All colors are a go! Make sure your clothes are light and airy. Strappy dresses, tank tops, medium-length shorts, and skirts are everywhere.  In July and August, you probably won't need another layer at night.
In general, women are conservative when showing off skin in the city. (Although,  I've been seeing lots of biker shorts and workout bras as a uniform among the 18- to 25-year-olds.) Even though Barcelona has a beach, you won't see locals wearing their swimsuit tops around the beach area. I don't recommend jeans because they're too thick and will make you feel sticky.
Summer Packing List Suggestions
Cute harem shorts

Readers say they love these shorts and they'll order more, pockets can even hold a phone
Comes in 12 colors and 40 prints
Comfortable, light, with pleats for a flattering fit
Check out the latest prices for these cute harem shorts!
Pickpocket-proof sleeveless top (to trick Barcelona pickpockets!)
Readers say they're able to hide their passport, credit, and cash when traveling

Zippered pocket upfront, no way a thief can steal your valuables
Slim, sexy fit, can go with almost anything
Comes in versatile colors: 3 white, grey, or black
Check out prices for the pickpocket-proof top!
Readers say it's perfect and can be dressed up for going out

Sleeveless and not-clingy, necessary in the Barcelona humidity

Pockets to quickly stash things like coins or cards (and they're deep!)
Easy to take off at the beach and easy slip-on
Check out prices for this flowy dress!
Has over 15,000 Amazon ratings! Extremely flattering for ALL shapes (See the reviewers' photos!)
Comes in over THIRTY patterns and colors
Cute to wear the top at the bar too. You don't have to change if you want to go sightseeing after the beach
Inexpensive and affordable
Check out prices for this cute swimsuit!
Men
Men wear short-sleeved shirts and t-shirts. Sleeveless tops are hard to pull off without looking shabby. They also wear long shorts and sneakers or leather sandals. I know the American casual look is to wear their clothes baggy, but locals wear clothes more fitted, and that doesn't mean feminine, just slimmer.
Caution! A few years ago, signs from the city hall were popping up around Barcelona, constituting what was acceptable and respectful clothing in public places. It's considered tacky to walk down Las Ramblas in a bikini top. Don't you agree?
Fall / Autumn
The weather in September, October, and November
It's still warm in September as the temperatures drop very slightly from summer. The true fall weather doesn't really start into late October or early November. September has an average temperature of 25º C / 75ºF. October 18ºC / 64ºF. November 13ºC / 55ºF. Like spring, the climate is a mixture of warm during the day and cool at night.
What to wear
September is still a month where you can get away with dressing for summer. Late October or November (when it cools) is when the muted colors come back into season, and you can bring out your light scarves and boots. Think earth tones and darks again. You'll probably be warm enough with two layers: a short- or long-sleeved shirt or blouse and a layer over that. It can be cool at night, so a jacket or a thick sweater would work.
Women
In September, you can still wear your tank tops, short shorts, and strappy dresses. You can probably enjoy dressing light the whole month. In late October, you can shift to long-sleeved tops and blouses as it cools down. It's the season to go back to the dark colors and break out the stylish scarves, and boots. In the evenings, always have a sweater or jacket as the temperatures drop.
Fall Packing List Suggestions
Readers say it's a staple piece, it's form-fitting and soft

A versatile dress with pockets + easy to pack

Comes in over a dozen different colors

You can dress it up with jewelry, or dress it down, wear tights underneath
Check latest prices on this cute fall dress!
Readers say they wore it on airplanes as a blanket and dressed up their evening outfits

Thick cashmere so you can wrap it in 71 cool ways as a shawl or scarf

Comes in 9 different colors, but the camel is sooo elegant, no?
Check the latest prices for this versatile shawl
Men
A light jacket or medium-weight sweater is good for this transitional season. Dark leather shoes or sneakers are good. A few more ideas for guys: down vests, light sweaters, and some chinos, maybe? American guys, try a slimmer fit as I mentioned!
<<For a more in-depth guide on this season's dress code in Barcelona, check out What to wear in Barcelona in the fall post.>>
More tips
Going out / partying. In general, women are not that much dressier at night. Yes, you can put on your stilettos if you're going to the opera at the Liceu. But I would not kill myself running around in heels, especially if you're bar hopping. Basically, if you're going to dance club, dress up. If it's a bar, go for dressy-casual.
Storing your wallet and other goods. I know that a backpack is essential if you're touring Barcelona all day. Or you can buy an anti-theft purse – check out my buyer's guide on the best anti-theft purses on Amazon. I also own this pickpocket-proof purse by Travelon that I use every day, which I LOVE! Click to see it:
Also, check out my post on how to not get robbed in Barcelona for more tips!
If you want to know how you can HIDE your money, check out my smart suggestions for pickpocket-proof clothing with hidden pockets!
How not to look like a tourist in Barcelona
It's your whole "appearance package" when blending in. Sometimes it's hard to not be categorized as a tourist because you're sitting casually in a plaza looking at maps, taking photos, etc. I carry my huge DSLR camera around town too. But I try to look dressy casual in general. Remember, the more casual and sporty your look (plus a backpack), the more likely you stick out.
Again, dress modestly. In Barcelona, locals don't go overboard with showing flesh, especially in the city during the day. Save your saucy Barcelona outfit ideas for the beach or hitting the clubs!
And at least wear suspenders or a belt if you're pants are falling, and you're not following my other rules. 😉
One more thing for the Barcelona dress code…just make sure you at least wear something!
Granted, you may never look like an olive-toned Spaniard with hair of color castaña (chestnut). But you can be one step closer to not being the noticeable tourist that makes you stick out like a sore thumb.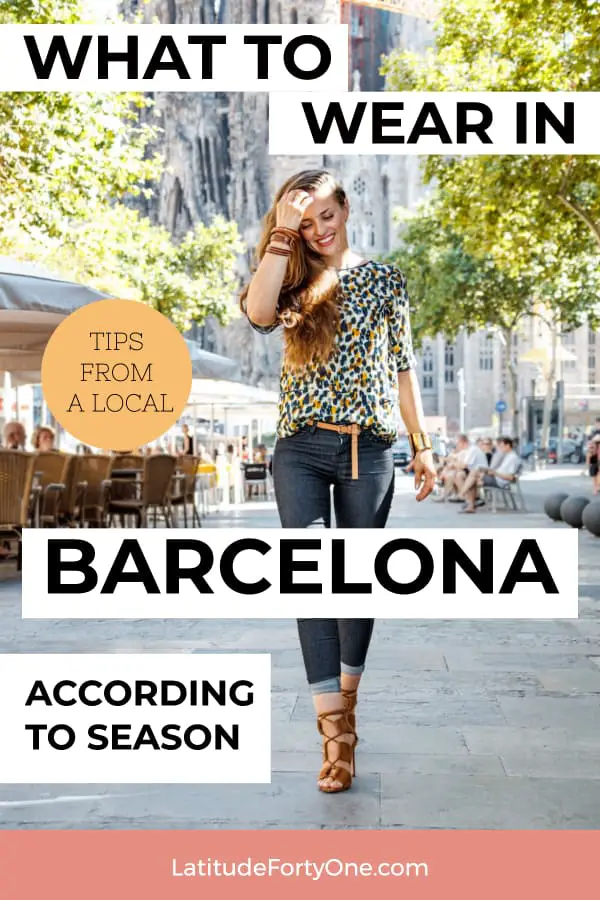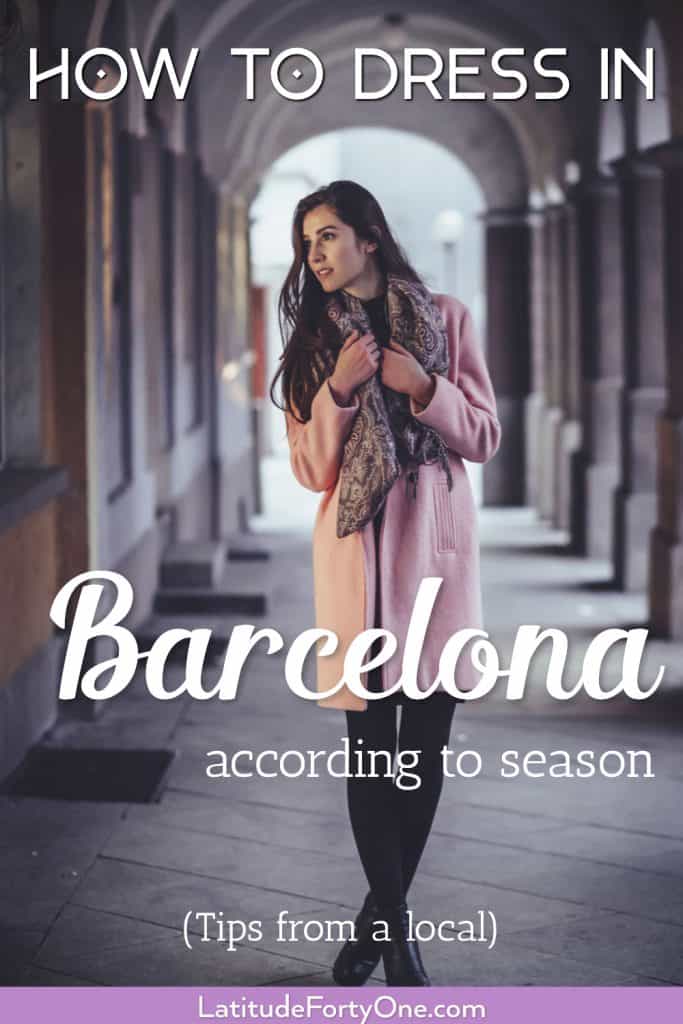 Now, this blog ain't Vogue's latest on Barcelona Fashion 2023, but it's pretty close, I think. Am I right? Want to know more? See what not to wear in Spain! Anything to add? Now go get your Barcelona outfits ready!