I can't stand to see another tourist fall into a tourist trap – or waste their precious time in Barcelona.
I want to live in a world where Barcelona visitors can…
– Savor a slow-simmered, prawn-topped paella made with local ingredients
– Get inside the Sagrada Familia without waiting more than 10 minutes
– Feel secure in Barcelona, especially in this new post-pandemic world
Visitors should maximize their time while experiencing the real Barcelona. And feel safe too.
YOU deserve to experience the real Barcelona!
Maybe Barcelona first intrigued you because of that dreamy Instagram shot. Or you know someone who went here, and they can't stop raving about it.
The rumors are true: Barcelona is a cool city – beyond its photogenic, Pinterest-worthy places. 
If you've already booked your ticket to Barcelona, congrats. You're probably a curious traveler and a soon-to-be churro devour-er. I like your style. You can look forward to exploring the mysterious streets of Born and sipping on a hot café amb llet (coffee with milk) in a sun-drenched plaza. Yasssssss.
My guess, too, is that you just want to relax and have fun in Barcelona. You can do that – and have an enriching trip.
Hey, my name's Justine. And I can help you have that fun and enriching trip.
I'm the one-woman show behind this absurd madness I call Latitude 41, a Barcelona travel blog. Think of me as your comforting friend who holds your hand through the cobblestone streets of the Gothic Quarter.
As a passionate Barcelona blogger living here since 2008, I write for curious travelers who want to see those jaw-dropping spots in Barcelona – but also explore the time-honored traditions (gegants!), Mediterranean gastronomy (fideuà!), and quirky customs (caganers!).
I believe that…
– visitors need dependable and predictable information so they're not caught unprepared
– staying safe and feeling stable is the #1  priority when traveling
– learning about a city's history, architecture or gastronomy can make your Barcelona trip more enriching
– respecting and preserving customs and traditions is crucial in this global culture. I cry inside every time a 100-year-old bar closes shop in Barcelona
– travel is to learn about others and yourself – whether that's through a historic tour, food, or riding a bike through a new place
How I got here
My journey started in sunny southern California. As a junior at UC San Diego, I was lost and curious, trying to "find myself" (heh). So I packed my wheeled duffel bag and studied abroad in Salamanca and Seville, Spain. Guys, I could barely say "jamón". The first few months felt isolating. Must I add, THIS WAS BEFORE THE INTERNET. I called my parents on a payphone every week. I couldn't open a bank account because I couldn't understand what the bank teller was yelling at me. I made local friends, and I'd force myself to go out with them as they spoke rapid-fire Spanish all night, and I stayed mute. Dozens of times.
Through trial and error, and with a resilient ego, I learned how to speak Spanish fluently. I went back to the US. Moved back to Seville and made more local Spanish friends. Got kicked out of my flat and was almost homeless. Started dating a hot Spanish guy. Married said Spanish guy, moved to Barcelona, and had his three kids. No kidding. The hardest – and most thrilling times of my life – have been here.
If I hadn't traveled and studied abroad in the first place…
…at this moment, I could be single, no friends, working in a gray office in California, staring outside the window with a view of an empty Jamba Juice store in a strip mall. Then I'd go home alone and ugly-cry into my pillow every night as I'd swipe left for hours on Tinder in bed. (I joke.)
But now, I'm here in Barcelona – changed – to help you have one of the most thrilling times of YOUR life. And maybe you can be changed too, even if it's just for a weekend.
About Latitude 41
Latitude 41 is an expat travel blog about Barcelona, which I launched in December 2013. This is where I share:
– Ultra-practical information about what to do, where to go, and where to stay
– How to stay safe (Barcelona is Pickpocket Central, also ahem…a little virus going around), navigate the city confidently, and know your local services in case of an emergency
– Dependable and useful advice on visiting iconic sights like the La Sagrada Familia or Park Guell
– Underrated and undiscovered spots like Parc del Clot or La Casa dels Entremesos
– Traveling to Barcelona with kids: what it's really like and how to make it easy
– Cultural clashes are also great fun, especially when talking about Catalans and pooping
– Churros with thick, hot chocolate. Mmm….
It's my love-laden mission to help curious travelers have fun in Barcelona – but also, have a meaningful and safe trip as they learn about the local culture and traditions.
Why listen to me?
I've published work about Barcelona in Miniguide Barcelona, Eye on Food Tours blog, Humsafar magazine (Pakistani Airlines in-flight magazine), Spain-Holiday.com, and Barcelona CheckIn.com. I'd been named one of the best Barcelona blogs on Languages Abroad.com, SpottedbyLocals.com (2017), Top 20 Spain blogs on Feedspot, and was featured in the local Barcelona Metropolitan as a featured Barcelona blogger in the article, "The Art of Blogging". I've also guest posted or have been featured on Family Life in Spain, Columbus Direct Travel Insurance, Barcelona Eat Local Food tours blog, The Mediterranean Traveler, Battlemum, and more!
Stick with me, and you'll feel smarter and more confident to travel to Barcelona. PINKY PROMISE.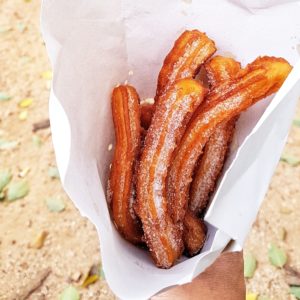 YOUR NEXT STEP: Sign up for my emails below, and get your free planning guide for visiting Barcelona. It's got everything you need to know before you go. And it's updated for 2020!
[contact-form][contact-field label="Name" type="name" required="true" /][contact-field label="Email" type="email" required="true" /][contact-field label="Website" type="url" /][contact-field label="Message" type="textarea" /][/contact-form]
See you on the other side!