*This site contains affiliate links, which means I receive a commission when you buy. See my full disclosure.
Inside the Casa Batlló: Tips for your visit
One of the secrets to happiness is visiting a building designed by Antoni Gaudí. Casa Batlló is one of the most significant and recognizable buildings in Barcelona, Spain. It sits on the fancy Passeig de Gracia street, one of the most expensive streets in Spain.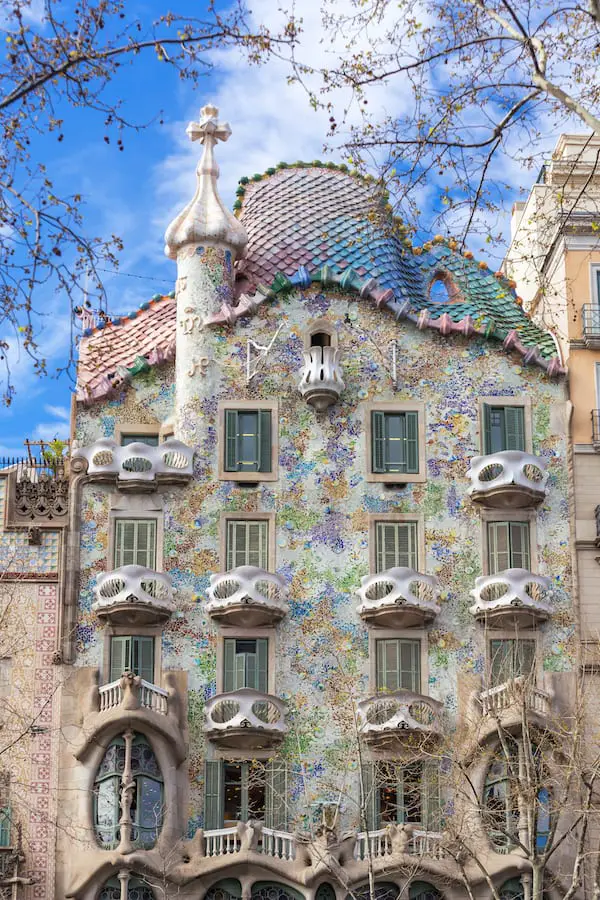 Useful and interesting facts
1. The Casa Batlló was designed by the grandfather of Catalan architecture himself, Antoni Gaudí.
2. It's one of the three buildings of the Illa de La Discordia, or the Block of Discord. Along with the Casa Amatller and the Casa Lleó Morera, these three flamboyant buildings known for their unique Catalan modernist architecture called modernisme.
3. The building gets its name from industrialist Josep Batlló, who hired Gaudi to give the formerly uninteresting apartment block a facelift.
4. It's a UNESCO World Heritage Site and one of the most-visited buildings in Spain.
5. If you do research about Casa Batlló, it's often called the Casa dels Ossos, or "House of Bones". It is just ONE interpretation of the facade. I learned this in my Context Tour of Gaudi!) Historians say that Gaudí never revealed what the facade meant.
What to expect when checking in
The building is narrow and tall. You're basically visiting a very decorative apartment block, so it wasn't originally designed to hold loads of tourists. This is why Casa Batlló gets crowded. The visit when you climb the spiraling staircase to the first floor (or 2nd floor, for Americans :P).
Health and safety precautions
During my visit during the pandemic in July 2020, the Casa Batlló boasted state-of-the-art health precautions. I mean, screens that mean absolutely nothing to us, but it was a kind of "proof" that they were doing their best for the safety of visitors.
They also have headphones available, and they are covered with a single-use paper protector.
Masks are required. Hand sanitizing gel is available.
Getting a SmartGuide
Every guest gets a SmartGuide, which gives you an experience of augmented reality. Kids will love using it! Using the Smart Guide, it's about 45 minutes long.
Check it out in this promo video.
Going inside
The noble floor, or the main floor of the museum
You'll have to climb one flight of stairs. The visit mainly takes place mostly on the noble floor. This floor was the home of the Batlló family. It's about 700 square meters (about 750 square feet), not by any standard a McMansion. However, it was luxurious in the days of yore. This floor has many fine details of the dining hall, study, living room, and a view of Passeig de Gracia street.
TIP: Because of the popularity of this Barcelona attraction, the Casa Batllo feels crowded. It may be difficult to take photos without people in your picture frame. Your best bet is to reserve your ticket for the very first hour!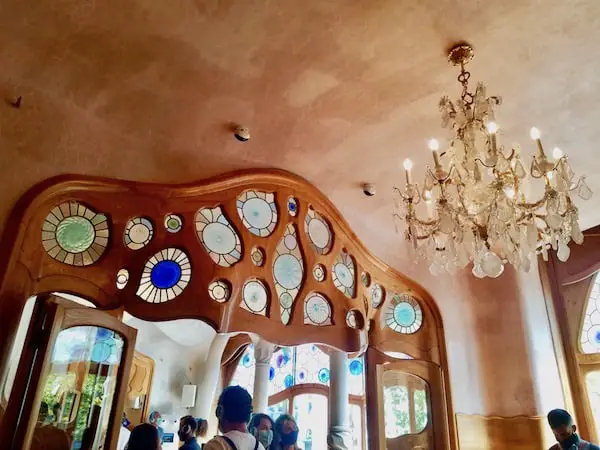 Visiting the Loft
This area has a stark white ceiling, resembling the rib cage of an animal (I imagine I'm like Jonah in a whale's body). It has 60 catenary arches, and makes for gorgeous minimalistic photography!
Visiting the Roof area
This is a fantastic area to share a drink or two as the Casa Batlló puts on a show in the evenings. Many say that the top of the building resembles the backbone of a dragon, which is a familiar symbol of Catalonia. (According to the legend of Sant Jordi (St. George), also a Catalan holiday, this saint slew a dragon to save a beautiful princess.)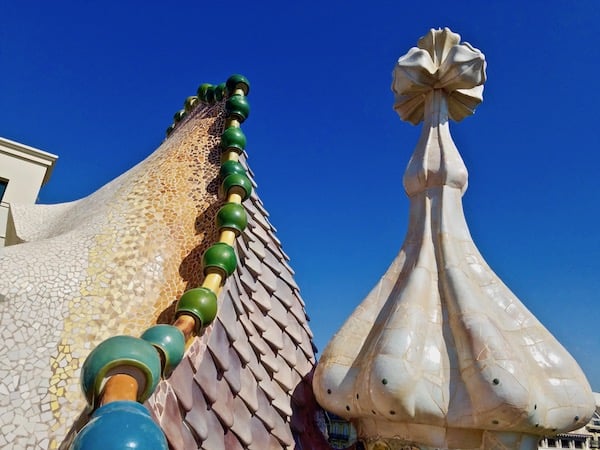 The roof area has the terrace as you see, but you can also enter this tiny room (inside the "dragon's backbone" as shown below)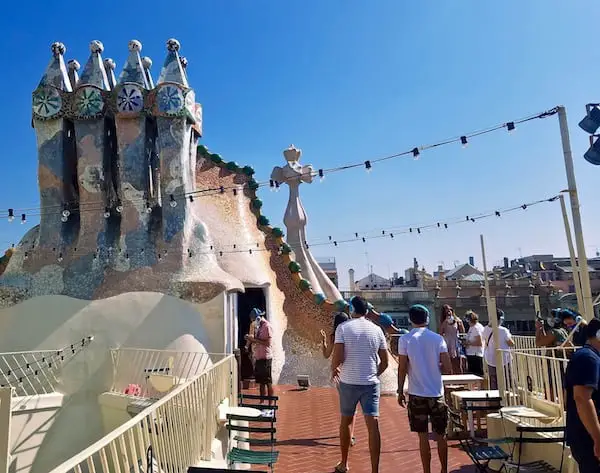 Another place to visit is the balcony side of the Casa Batlló. This is on the first floor.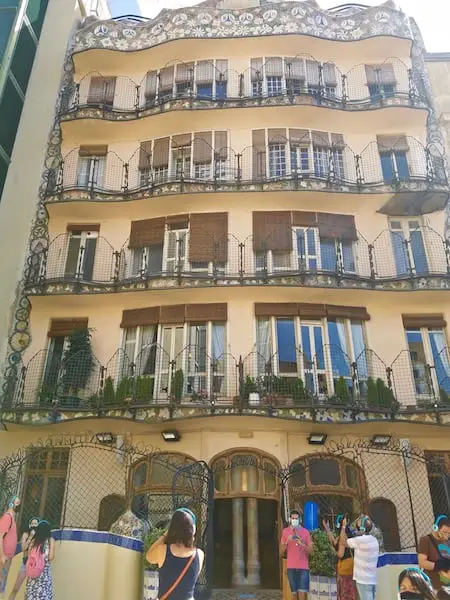 FAQs
Is going inside the Casa Batlló worth it?
YES! Definitely. As one of the most popular attractions in Spain, it clearly shows the genius behind Antoni Gaudí's modernist architecture. Again, it's not cheap! But…if I were to choose between Casa Batlló and Casa Milà (La Pedrera), I would choose Casa Batlló. And between Casa Batlló and the Sagrada Familia, I would choose the Sagrada Familia all the way.
How are other ways I can visit Casa Batlló?
See the facade light up with Mapping: A few times a year, Casa Batlló puts on a show
Magic Nights:
So, which Casa Batlló tickets should I buy?
Honestly, I would go directly to the source, the Casa Batlló website. You do not have to print out your ticket, but have it on your cellphone.
Casa Batlló does not do any in-person guided tours.
Here are your options of three levels, starting with the most basic:
Casa Batlló Basic Ticket
It includes a visit with an Augmented Reality device. Check prices for Casa Batlló basic ticket here on the official website
Guided Tour
For an in-depth tour run by a scholar, check out Context Tours. Their tour guides are academics and scholars and have knowledge about architecture. I really enjoyed my Context Tour with Monica, who's a certified expert and architecture historian with knowledge in Gaudí and modernism. Check prices for Context tours here
If you're interested in Gaudí's other buildings, why not get an all-in-one tour? Check out these other options to visit Casa Batlló from Get Your Guide that is under $60:
Tips on Visiting the Casa Batlló
– Lockers are not available. The only property the Casa Batlló can store for you is a pushchair/stroller.
– If you're visiting with kids, admission is free for children 12 and under!
– It is somewhat wheelchair-friendly, and they will provide you with a wheelchair. A lift/elevator is available. The wheelchair is not accessible on the roof.
– If you want to take a straight frontal photo of the facade of the Casa Batlló, the best time to do it is in the winter, especially during January and February. At this time, the tree that's right in front of the building doesn't have leaves! During other times, the tree gets full of leaves and blocks that gorgeous view.
– If you want to go see the back of the Casa Batlló, go to the shop Servei Estació (and I also love this shop for crafting, home goods, and gifts!). If they have the balcony open, you can see the patio area with all the visitors and their headphones…they start to look like robots because they're so still and listening. It makes a good photo.
– Go next door to Faborit in the Casa Amatller building to buy some fancy chocolates or have a snack or lunch. The chocolates make a fantastic gift for their beautiful packaging and the outside terrace is beautiful to have something to eat or drink.
CHEAT SHEET: How to prepare for your visit
Decide how you want to visit Casa Batlló. Is an audio tour sufficient? Or do you want an in-person guide? Do you want to see other Gaudí sites for a packed deal?

Buy your tickets online, ahead of time. The cheapest ticket is Casa Batlló Blue.

Best value if you're seeing other sights like Park Guell, La Pedrera, and Casa Batlló:

Casa Batlló ticket included with Barcelona City Pass

. BE SURE TO READ THE RULES ON YOUR TICKET CAREFULLY.

You do not have to print out your ticket. 

Bring a bottle of water if it's hot.

It's kind of a given now, but bring a mask.

Give yourself some leeway when arriving: Try to be there at least 15 minutes ahead of time. You do NOT want to be late and miss your time slot.
More information
Casa Batlló location: 
Passeig de Gràcia, 43, 08007 Barcelona
Casa Batlló hours:
– November to February: 9 am to 6 pm
– March & October: 9 am to 7 pm
– April to September: 9 am to 8 pm
How to get there:
Metro: L2, L3, L4; By bus: H10, V15, 7, 22 y 24