*This site contains affiliate links, which means I receive a commission when you buy. See my full disclosure.
It's healthy for parents to take a vacation away from their kids. But what if you have no choice – and have to take them with you? Well, then you'll definitely need to stay at a good family-friendly hotel or campsite! As a family of five living in Barcelona, we love to explore Catalonia. And we've experienced our share of good and not-so-good accommodations. Below, I'm listing the best family campsites and hotels we've enjoyed! Campsites in Catalunya are great because they usually have done-for-you entertainment, swimming pools, and the option of having meals included (no cooking for me!). I've also listed a few family-friendly hotels that we adore, also! These are the best campsites and hotels near Barcelona!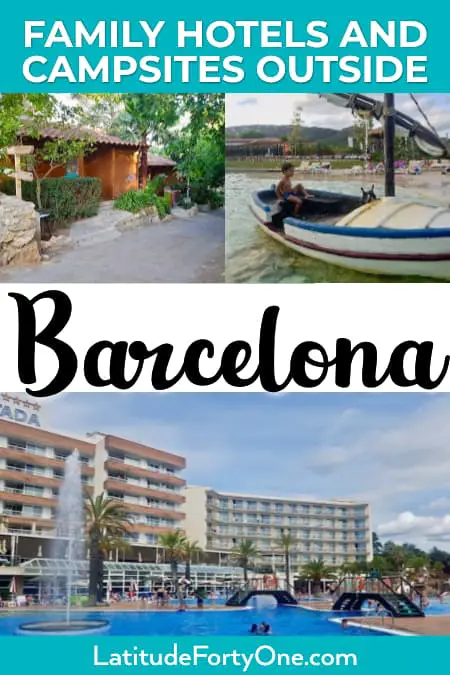 Camping Caledonia in Tamarit
My family and I immediately felt the good vibes when we went to this campsite! Camping Caledonia is in Tamarit on the Costa Brava. The campground feels shaded and fresh with lots of trees. Part of it is on a hill, which makes it fun to wander too!
We spent a lot of time at the swimming pool and found the staff to be very fun and friendly.  It also has plenty of room for lounging on the lawn and plenty of lounge chairs. You can tell that a lot of people are annual "regulars" who practically live there every summer. They all seemed to love it too!
For sports, Camping Caledonia has football fields, tennis courts, basketball courts, and even archery. For fun, it has a mini-golf course (it's kind of old, but it's still fun!), two playgrounds, zip lines, tennis courts, a children's club, and daily entertainment in the evenings. It also has a small supermarket and a laundry facility.
We took advantage of the free van service that takes you to Tamarit Beach! When you're done spending time there, you just call the resort, and they'll pick you up. It was really convenient! We stayed in a comfortable and clean wooden-framed bungalow with a patio area and a barbecue. We had a few barbecues here and even made smores on the grill. The kids loved that! Each bungalow has a kitchenette and a seating area with a satellite TV. Tents, mobile homes, and villas are also available.
From Barcelona, it's about a 1 hour and 10 minutes drive. We had such a positive experience that we would definitely go back!
See prices for Camping Caledonia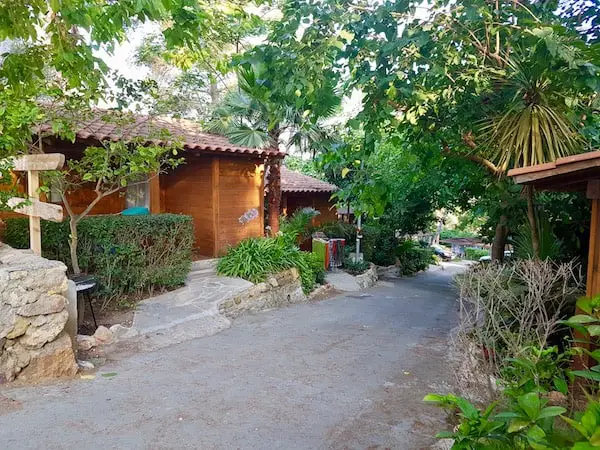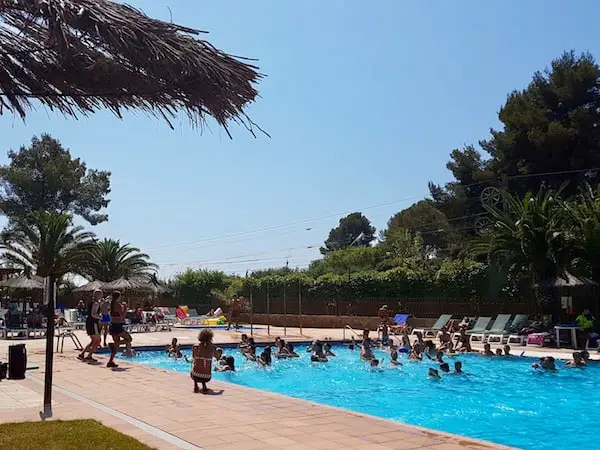 See prices for Camping Caledonia
Aparthotel Costa Encantada in Lloret de Mar
This isn't a campsite but a hotel with apartments. And we had so much fun that we're going again this year in 2021! Since we went in the summer, we spent a lot of time in the large swimming pool area and also a splash park slide area with baby slides, mini slides, and a few big slides. It's also pirate-themed and has fountains and huge buckets that dump water on you!
You can choose to not include any meals, or go half-board, full-board, or all-inclusive. We went with full-board, so we took advantage of the incredible restaurant buffet. Yes, it was all-you-can-eat, but it wasn't gross. (The best thing about staying here was not having to cook!) The food was surprisingly high-quality and tasty, and it varies every day. And honestly, we were always satisfied. As soon as dinner started, we were still full from lunch! It also has lots of food options for children.
They also have shows like magic shows, comedians, dance shows, and other family-friendly shows. The comedian was a blast! And the magic show was fun too. We spent a lot of time in the video game arcade in the late afternoons. It also has a reading room, a football field, a basketball court, and tennis courts.
We also appreciate that on the day you check out, you can use the swimming pool all day instead of the usual check-out time. That's customer service! The town Lloret de Mar is also about a 20-minute walking distance.
From Barcelona, Costa Encantada is about 1 hour and 10 minutes by car.
See prices for ApartHotel Costa Encantada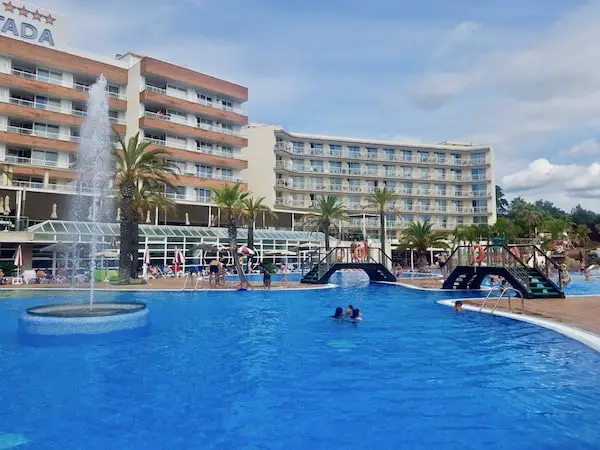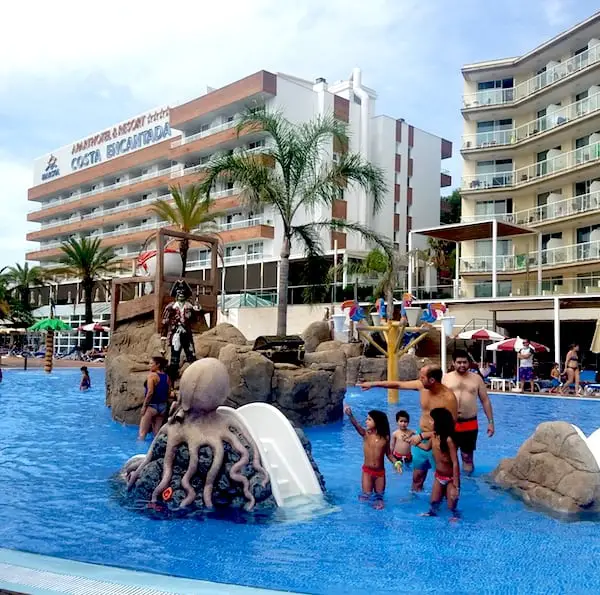 See prices for ApartHotel Costa Encantada
Camping Valldaro in Castell d'Aro
Camping Valldaro is an all-in-one destination near Platja d'Aro in the Girona province. We vacationed here last year with two other families, and we had such a fun time. We didn't leave the grounds once!
As usual, we spent a lot of time playing games at the swimming pool and relaxing poolside. It also has a hydromassage pool, a shallow pool, and a splash park with boats, dolphins, and other splash-y things. We also took advantage of the football field, volleyball, outdoor gym, and table tennis. You can also join one of the activities for the whole family (including teenagers!) like football competitions, water games, aquagym, Zumba, and other activities.
Our bungalow was clean, comfortable, and modern. Our three kids loved to sleep together in a bunk bed – with two lower beds and one upper bed. We also used the kitchen, TV, and ate pretty much every meal on the patio area. Apart from the bungalows the campsite also has pitches, tents, mobile homes, and studios.
For entertainment, every night they have concerts, comedies, shows or a DJ. Or, you can just go to the bar and have some drinks! Camping Valldaro about 3 kilometers (1.8 miles) walking distance to Platja d'Aro beach.
If you don't want to lug your food with you, they have a small supermarket on-site, but LIDL is just one minute outside the campgrounds. They also have a restaurant. Camping Valldaro is definitely a complete vacation destination for the entire family!
See prices for Camping Valldaro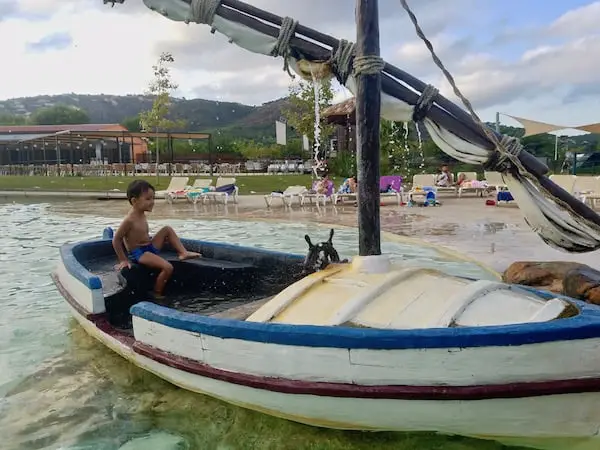 See prices for Camping Valldaro
Camping Resort Els Pins in Malgrat de Mar
This campsite is in Malgrat de Mar, less than an hour's drive north of Barcelona. The thing we loved about Resort Els Pins is the four super slides! We had fun racing each other going down, and the lines went super fast. This campground also has two outdoor pools. It also has a tiny splash pool that my one-year-old loved!
We stayed in the new bungalows, which were modern and sleek. We brought all of our food with us, and of course, took advantage of the barbecue. We also loved the ample space between the bungalows so we can get some privacy from our neighbors.
Els Pins also have a children's club, a playground, ping pong tables, a basketball court, a multi-purpose court, kids' entertainment, a mini-market, a bakery, and a restaurant. You don't have to leave! BUT, if you do need a change of scenery, Punta de la Tordera Beach is also just outside the resort! Literally, you step out – and you're on the beach. It was nice to spend time there on the warm evenings as the kids ran around.
Also, nearby is the Parc de Francesc Macia, a very fun park of giant things like humongous donuts, gingerbread houses, and pencils! The kids will definitely love this park!
See prices for Resorts Els Pins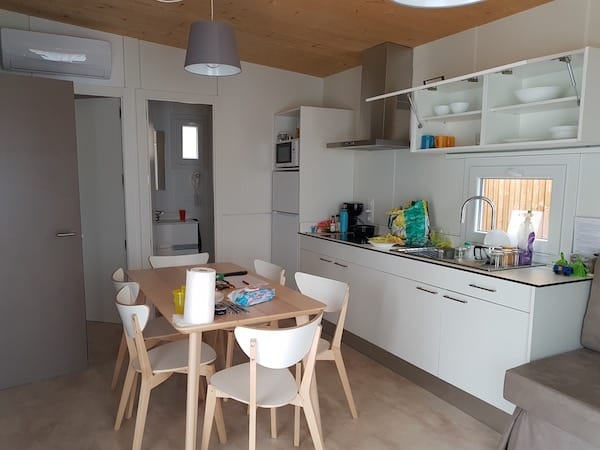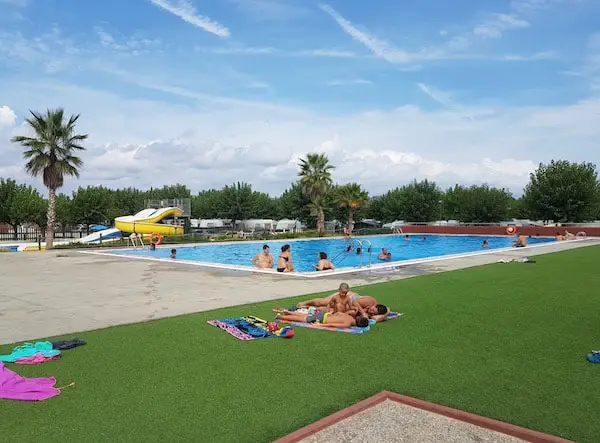 See prices for Resorts Els Pins
Hotel del Mar in Sant Feliu de Guíxols
This is a family-run hotel in Sant Feliu de Guíxols in the Costa Brava. On our vacation, we wanted to take advantage of some sightseeing, and Sant Feliu is one of the best towns to explore on the Costa Brava! (They even have a fun tourist train that our kids loved!) The Hotel del Mar has a comfortable, bed-and-breakfast feel with a rustic, nautical theme. We loved our cozy family room with bunk beds for our older kids.
The continental breakfast was also delicious and laid out beautifully. After breakfast, my youngest enjoyed the toys in the small children's play area.
Hotel del Mar is also just 50 meters to the beaches, harbor, and where all the action is. If you head to the beach, the hotel can lend you sand toys, floaties, boogie boards, or umbrellas if it's available.
When we went out to eat, we bumped into the owners at the restaurant. They were very warm and sweet that we were glad we chose their accommodations. This hotel is charming and quaint, and you won't regret staying here!
Hotel del Mar is about 1 hour and 25 minutes from Barcelona.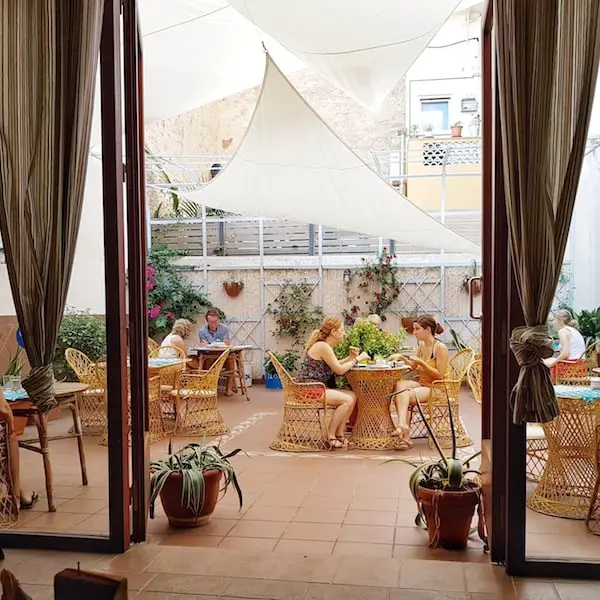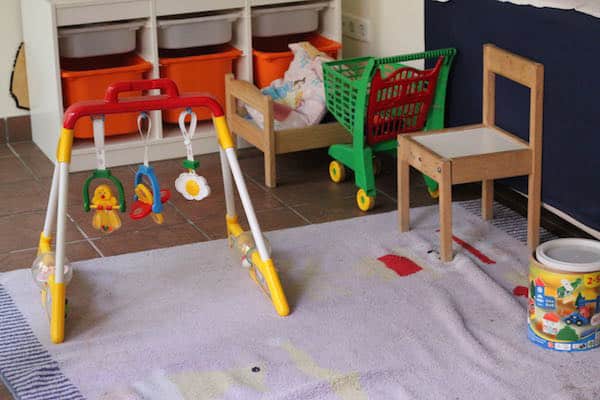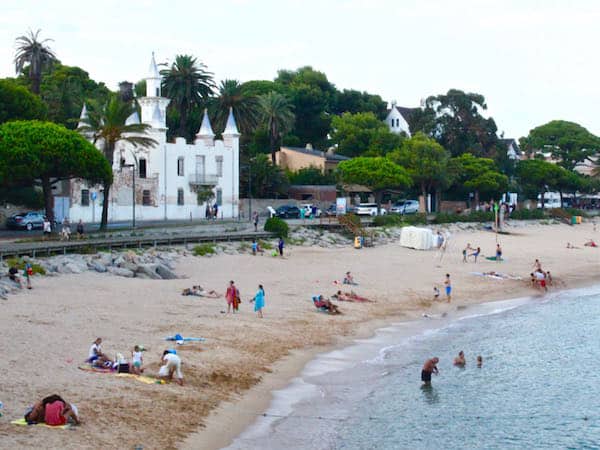 Càmping Els Roures in Sant Pau de Seguries
Away from the beach is this remote campsite in the mountains, Càmping Els Roures. It's in the small town of Sant Pau de Seguries near Camprodón in the Catalan Pyrenees mountains. And what a breath of fresh air! We rented some comfortable bungalows with my siblings-in-law as soon as the lockdown ended last year, which gave us time to connect with nature and each other.
This campsite has simple hikes around the area. The closest one I did with my sister-in-law was part of the Via Romana del Capsacosta, where you visit the historical monuments of the Camprodón Valley. We also loved seeing the random horses, sheep, and other livestock minding their own business. And, if you have a car, you can explore other beautiful sites like the picturesque town of Setcases, the volcanic zone of La Garrotxa, or the forest of La Fageda d'en Jordà.
Camping Els Roures has a small playground in the family bungalow area and a larger playground by the restaurant. And it also has a large swimming pool! It's a great place to stay if you like hiking and exploring the beautiful Catalan valley. Camping Els Roures is about 1 hour and 40 minutes away from Barcelona by car.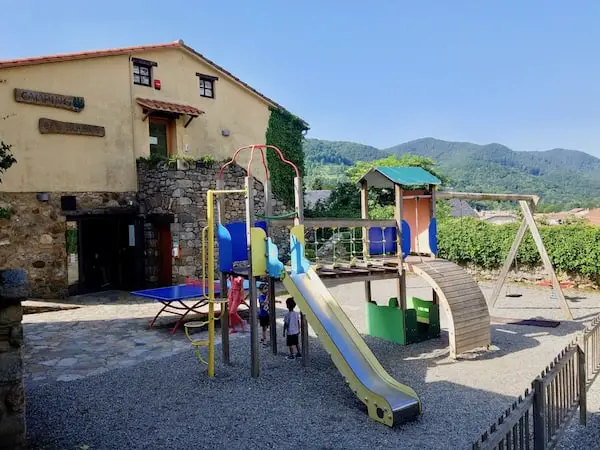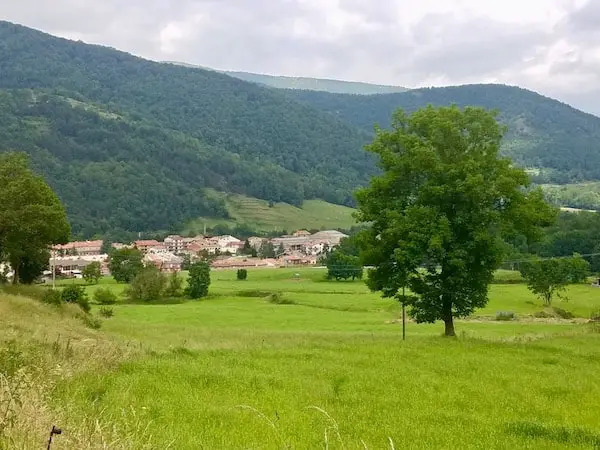 See prices for Càmping Els Roures
Map of Family Hotels and Campsites in Catalonia
Have you been to any cool campsites with your family outside Barcelona? Let me know in the comments!