*This site contains affiliate links, which means I receive a commission when you buy. See my full disclosure.
Barcelona is home to generations-old Catalan bars, over 20 Michelin restaurants, and a plethora of international cafes and other eateries. With its abundant and creative choices, it's no wonder why the city is a magnet for chefs, foodies, and tourists wanting to taste local and seasonal Catalan fare and unique dishes. This Barcelona food guide will tell you everything you need to know about traditional Barcelona food to try, restaurants to eat at, and food markets to shop that will give you the ultimate Barcelona gastronomical experience. As a Barcelona resident since 2009, I'll tell you what you need to know about must-eat food in Barcelona!
Want to make it easy? Jumpstart your trip with a food tour on your first day in Barcelona. This is a food and history tour I highly recommend. I went on this 3.5-hour tour, which is not only very informative but also entertaining. Just read the reviews! Book your food tour now
The general food culture in Barcelona
Barcelona food and culture is a mixed bag of authentic Catalan and Spanish cuisine and is also influenced by non-traditional culinary styles. In the past 8 years or so, foods such as Vietnamese pho, Western-style vegan cuisine, and Asian boba tea shops have invaded the city. Now you can find almost any type of food, including a ridiculous stack of 20 pancakes doused in melted chocolate, and topped with a huge cotton candy ball. Fine – try them if you must. But, definitely try the local Catalan food!
Barcelona cuisine includes traditional Catalan food comes directly from its rich land that extends from the Mediterranean coast, the Pyrenees mountains, and the drylands of the northeastern interior region. It produces Arbequina olives, high-quality beef from Girona, pork sausages from Vic, or shrimp from Palamós. Other regional Catalan foods include rabbit, hake, and cheese. Read on to know more about the best food in Barcelona, Spain!
What to eat in Barcelona
Appetizers
Pa amb tomàquet – This Catalan breakfast or appetizer seems simple, and is an iconic dish of the Catalan people. but the pa amb tomàquet (bread with tomato) has a special texture and flavor. The inside of a juicy tomato, preferably a tomàquet de penjar (hanging tomatoes) or a tomàquet de ramallet (tomatoes on the vine) is smothered onto toasted pa de pagès (country bread) or pa de vidre (crystal bread), a rustic bread with a crunchy crust. You can also cut a garlic in half and rub it on the bread.  A little bit of extra virgin olive oil is sprinkled on top.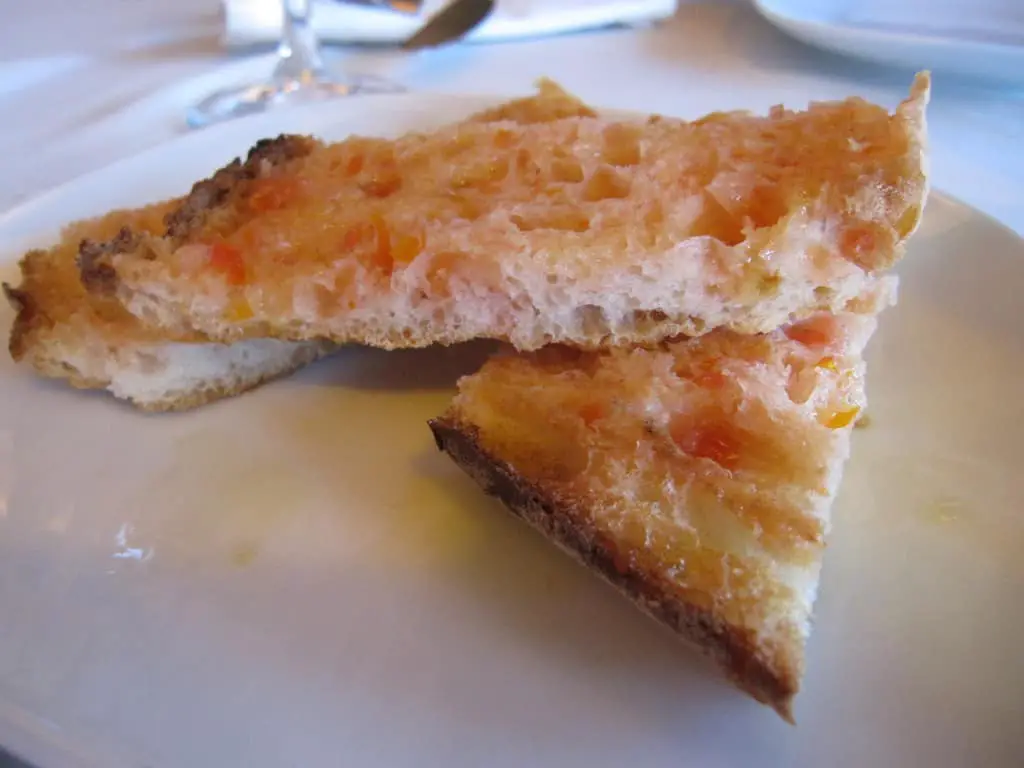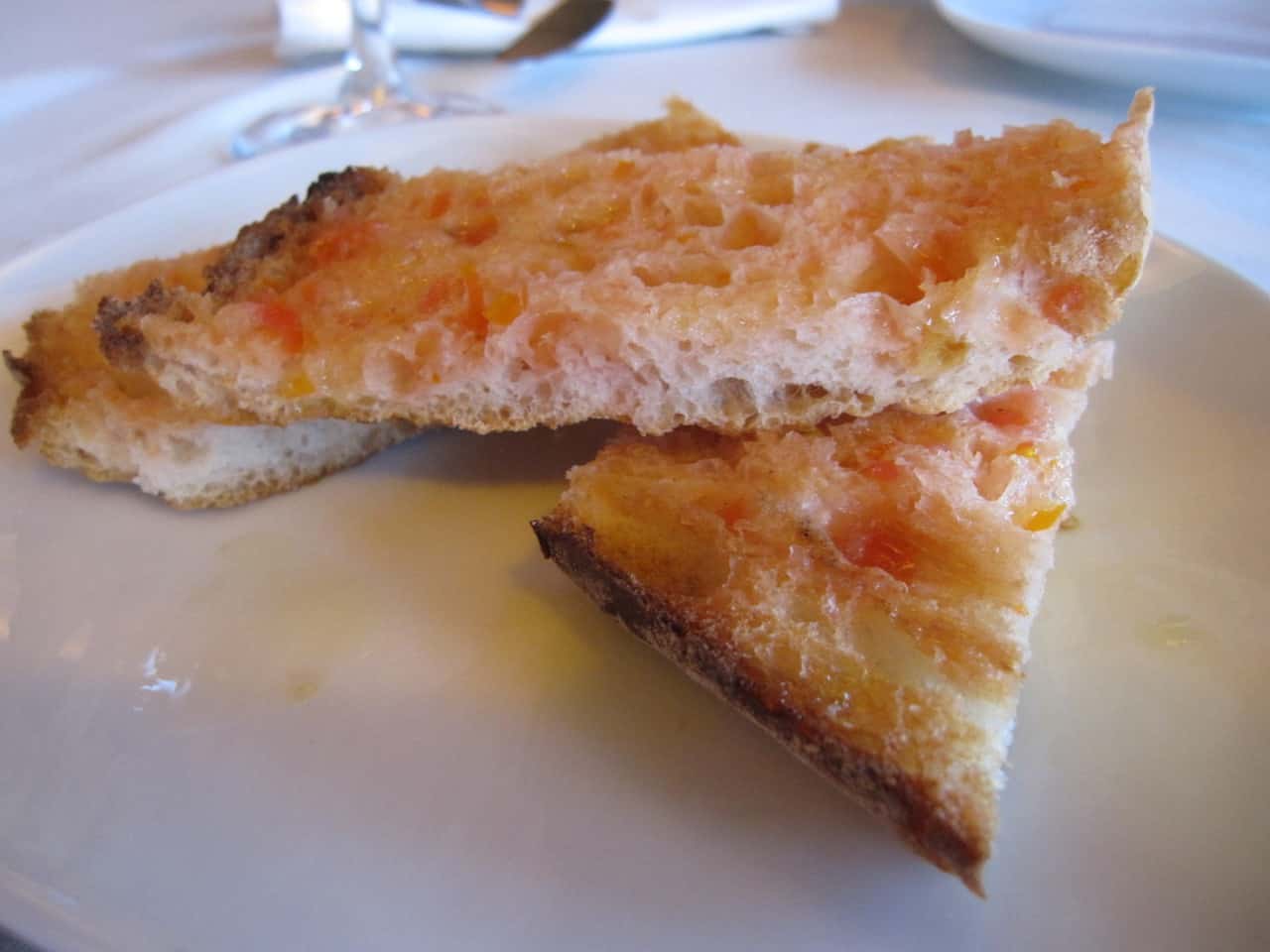 Patatas bravas are eaten all over Spain, and they're a fantastic dish to share as an appetizer or as a side dish. They are wedge potatoes that are fried, then topped with a spicy tomato sauce, called bravas sauce. The crispiness of the potatoes plus the creaminess and spiciness of the sauce make a texture and flavor explosion. Personally, I love sharing a dish of patatas bravas with some friends and a beer, this must-try food in Barcelona!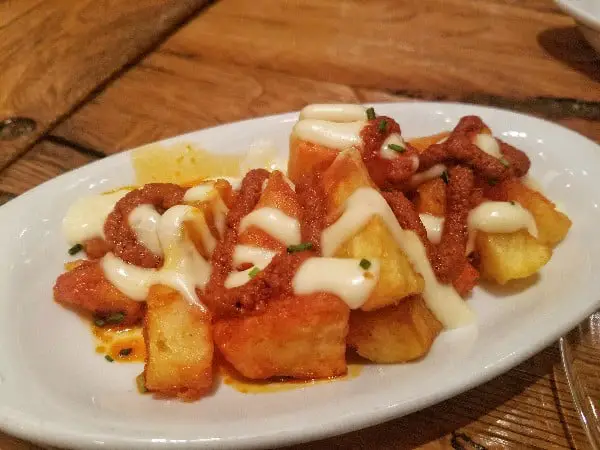 La bomba is a traditional Catalan appetizer, originating in Cova Fumada, a restaurant in La Barceloneta in the late 50s. It is a deep-fried mashed potato ball, usually filled with meat, such as pork or beef. It's breaded and deep-fried, and its sauce has a nice spicy kick. It's not as popular as patatas bravas, but it's very characteristic of Barcelona. Eating just one is enough!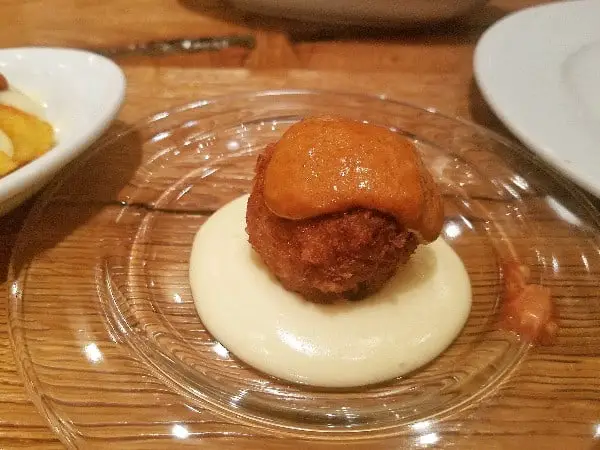 Tortilla de patatas is the motherlode of Spanish appetizers, devoured all over Spain. It's a firm, round Spanish omelette made of eggs, potatoes, olive oil, and salt. The potatoes are cut, sauteed and softened in a pan. Then the eggs are scrambled and added to the pan until it becomes solid on the outside. You can't rush this dish! (Trust me, I tried.) Eat it plain, or with mayonnaise or ketchup. It can also be served hot or cold.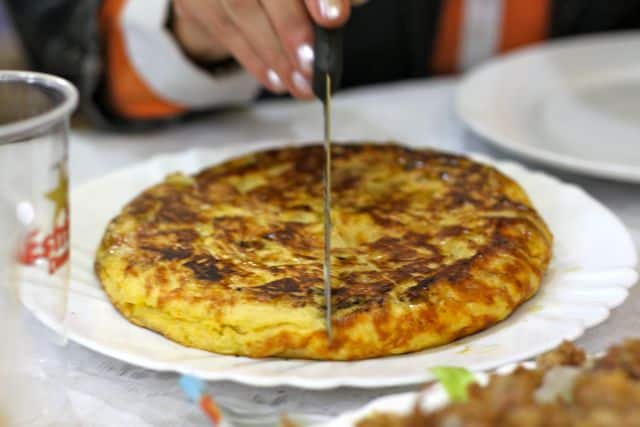 Jamón iberico is a melt-in-your-mouth, highest quality of cured ham that you have to try in Spain. It comes from the Iberian pig leg, a black-footed beast that produces a delectable marbled meat. It is 100% acorn fed, and the curing process lasts 14 to 36 months. It's served as an appetizer to share and eaten with crusty bread. If you're going to try any cured ham, go for ibérico!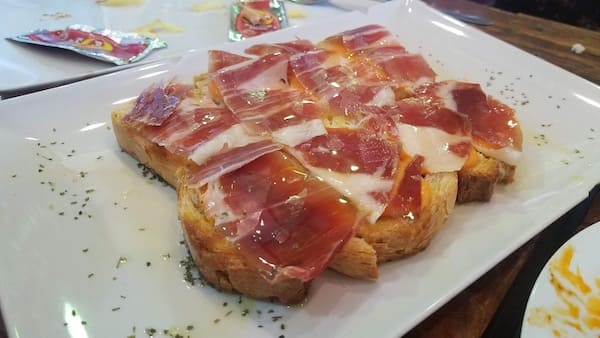 Croquetas are delightful finger food appetizers, made from a blend of meat and bechamel sauce. They're formed into small balls or rolls. Then they are breaded and deep-fried. Other fillings include chicken, cod fish, or even spinach or mushrooms. The outside is crispy, and the inside is warm and oozy. Kids and adults love them!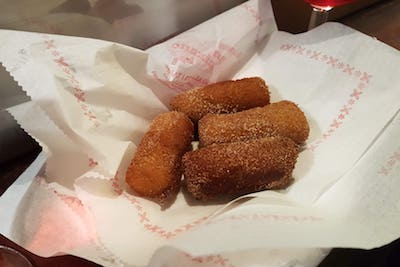 Calçots are unique green onions harvested in Catalonia and are typically eaten in late winter and spring. They're grilled over an open flame until they are slightly charred on the outside and tender on the inside. They are also a started dish served with romesco sauce, a sauce made of almonds, hazelnuts, bread, and olive oil. It's a popular tradition to eat them in a calçotada, a social gathering where friends and family come together to enjoy calçots, and also other grilled meats.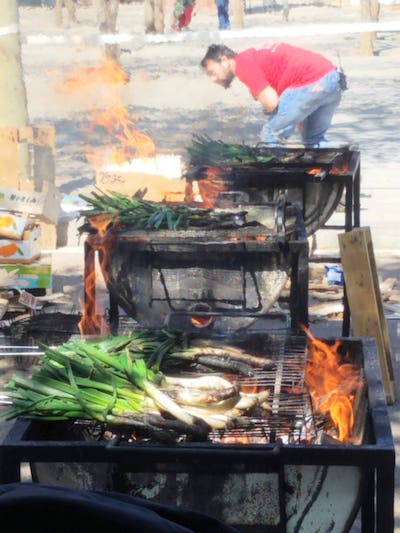 Escalivada is probably the healthiest food on this list! It's traditional Catalan food, a mix of vegetables such as eggplant, bell peppers, and onions are roasted on a grill or a wood fire, until they are soft and slightly charred. Once cooked, they're peeled, seasoned with salt and olive oil, and then served as a side dish or as a component of a larger dish. It's often served as an appetizer, and can also be served hot or cold as a side dish.
Main dishes
Fideuá is a traditional Catalan dish originating for the Valencian coast. It's similar to paella, but made with thin, short pasta noodles instead of rice. The dish is typically made with different seafood, like squid, shrimp, and mussels, but can also include chicken or rabbit. It's seasoned with lemon and a dollop of alioli sauce. You share it as a main dish among friends. Yum!
Seafood Paella, or paella de mariscos, is a traditional Spanish rice dish, made with shrimp, squid, mussels, and sometimes also fish. It uses a short-grain rice so that the texture is chewy. The best part is sharing it at the table. If the rice at the bottom of the pan is nice and crispy, socorrat is achieved, which is the best part of the dish, in my opinion! When ordering good paella, expect to wait at least 20 minutes so it can be slow cooked and will taste fresh. Find out where to eat the best paella here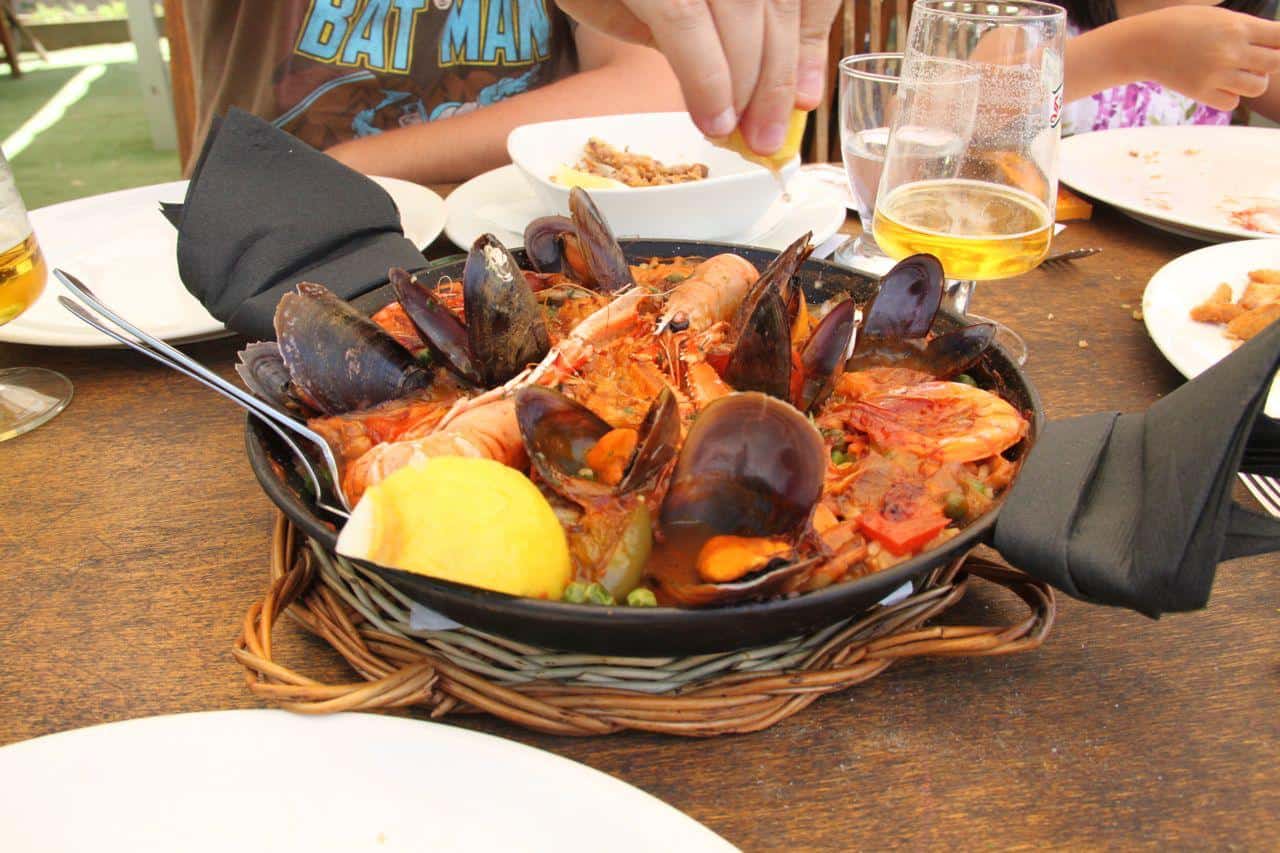 Read more about my food showdown of Paella and Fideua here.
Suquet de peix, or "Catalan fish stew", is a traditional hearty stew made with a variety of fish and shellfish, such as monkfish, hake, squid, and clams, simmered in a flavorful tomato-based broth with garlic, onions, and paprika. Potatoes and sometimes vegetables like peppers, are also added to the stew. It's not on every restaurant menu, but it's is a very Catalan meal!
Barcelona desserts and sweets
Crema catalana is a rich dessert similar to crème brûlée. It's made with a custard base of cream, milk, sugar, egg yolks, and vanilla, flavored with lemon zest and cinnamon. The custard is poured into ramekins and then caramelized on top with sugar before serving. It's served chilled and is traditionally enjoyed on Saint Joseph's Day, the patron saint of Catalonia, but it's also enjoyed year-round.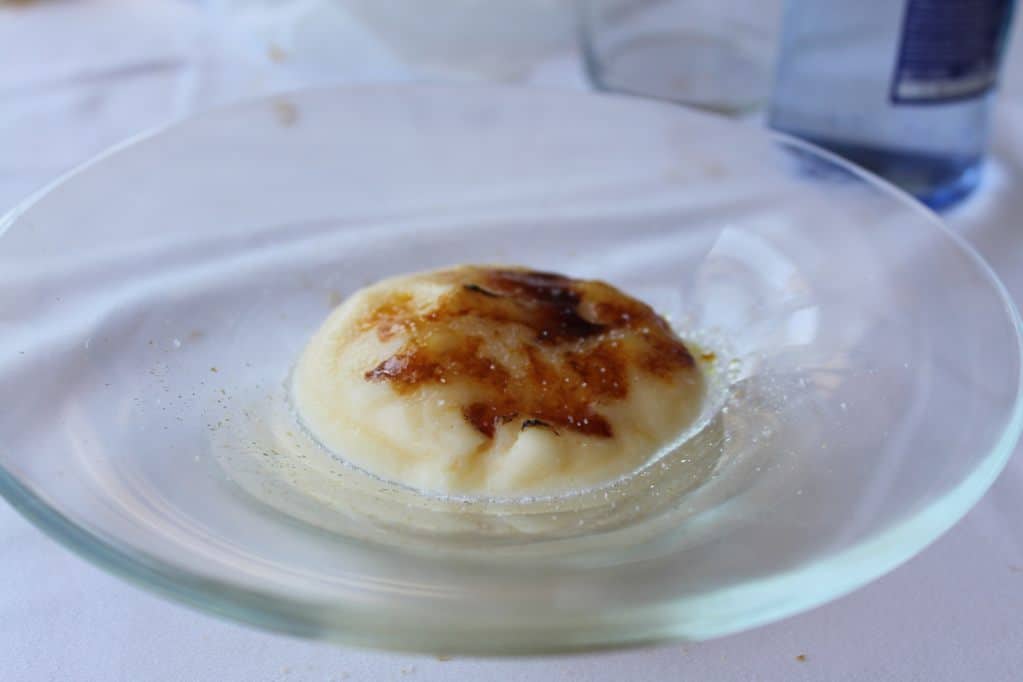 Mel i mató is a creamy yet light cheese topped with honey, or mel. It's served as a dessert and is delicious! We usually take a container of mel i mató home when we go on a day trip to Montserrat!
Churros are crispy Spanish sweets treat that are enjoyed throughout the country, especially in the morning for breakfast. They are long, thin fried dough pastries that are crispy on the outside and fluffy on the inside. They're usually dusted with sugar, but you can order without too. And you must accompany them with a cup of thick hot chocolate for dipping. Betcha can't eat just one!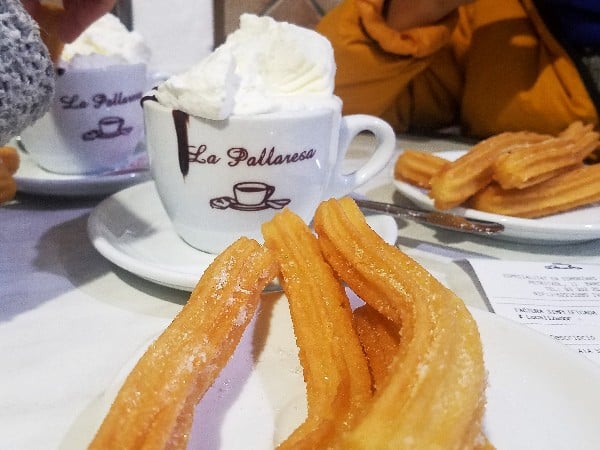 What to drink in Barcelona
Cava is a Catalonian wine, made by using the traditional method similar to that of champagne. It's a sparkling wine produced primarily in the Catalonia region of Penedes. Cava can be dry or sweet, and it is typically served as an aperitif or with light appetizers and seafood dishes. 
Vermut is an aperitif similar to a fortified wine. It's made by infusing a white or red wine with a variety of botanicals, such as wormwood, cinnamon, and orange peel, and then adding a neutral spirit, such as brandy, to increase the alcohol content. It tastes sweet and slightly bitter, and it is often served chilled or over ice, with a twist of orange peel, and sometimes with soda water or tonic water. It's fun to have this drink during la hora de vermut, which is before lunch with some tapas.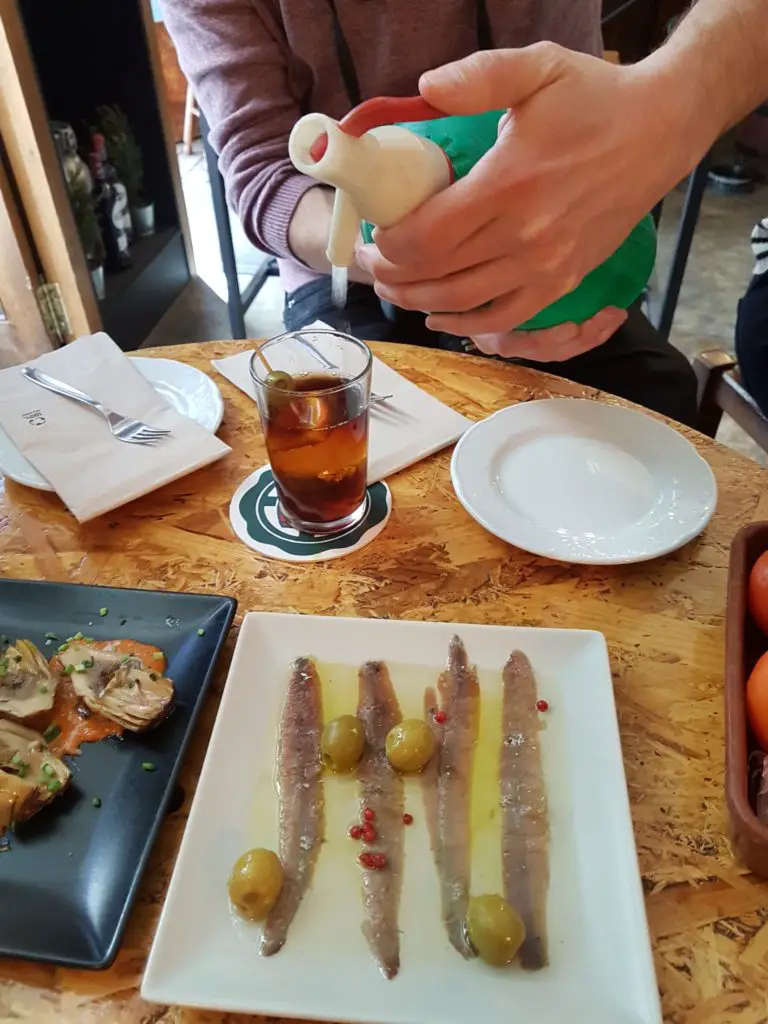 Cerveza, as we know, is beer beer beer. Some labels include Estrella Damm, a pale lager that is one of the most popular beers in Barcelona. It is brewed in the city and it has a long history in the region, it is considered a cultural icon of the city. Other's include Alhambra, a pilsner-style beer that is brewed in Granada but it has a strong presence in Barcelona. Or try Moritz, a pilsner-style beer that is brewed in the city and it is considered one of the most popular local beers in Barcelona.
Orxata, also known as horchata, is a sweet, non-alcoholic drink made from tiger nuts (chufa in Spanish), which are small, round tubers that are ground into a fine paste and mixed with water, sugar, and cinnamon. It has a creamy, nutty flavor and a slightly grainy texture. It's usually served very cold and it's considered a refreshing drink during the hot summer days.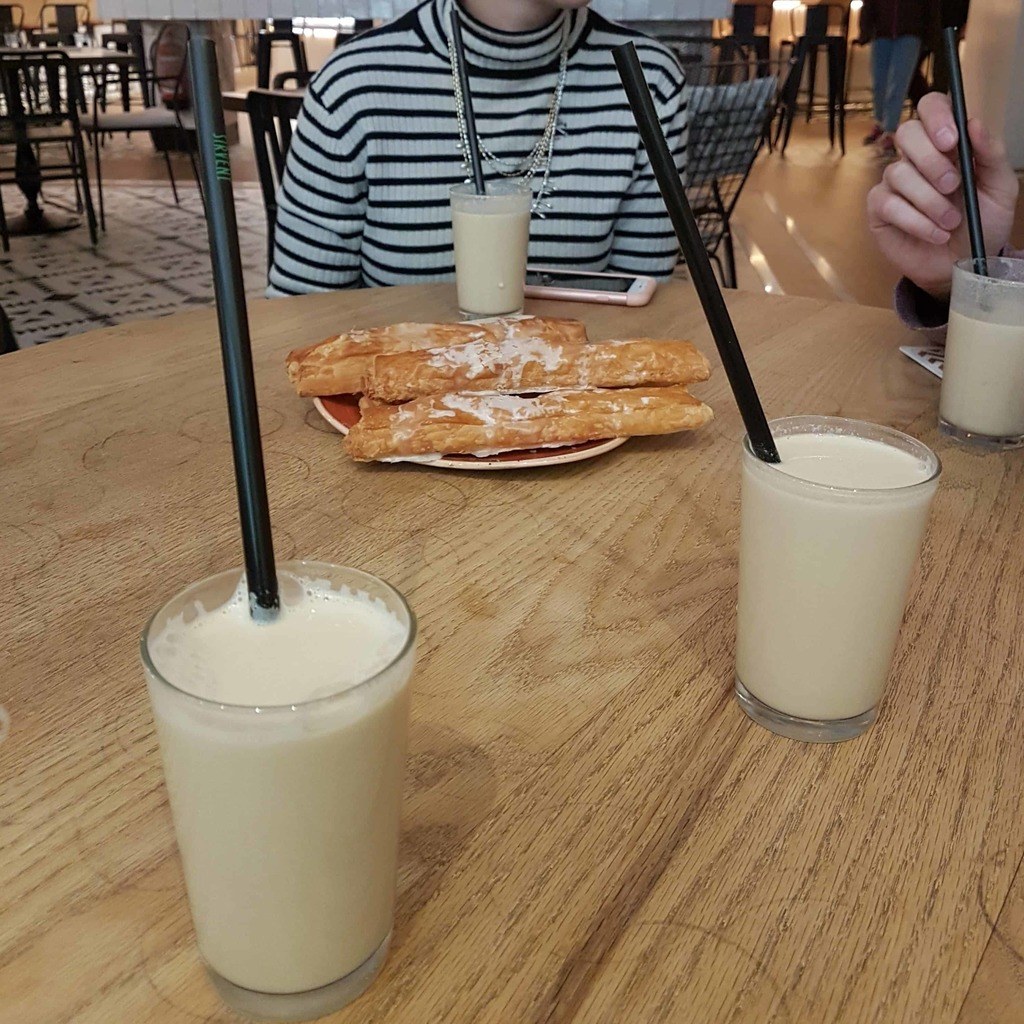 Best places to eat in Barcelona
Els Sortidors del Parlament – This rustic tavern in Sant Antoni serves tapas, wine, and drinks will give you an authentic tavern feeling.
Bodega La Puntual ‒ This traditional bar in Born serves some of the best patatas bravas I've ever had. A friend of mine orders the sauce here to go! It has everything on the list: anchovy-stuffed olives, jamon ibérico, Manchego cheese, and fuet (pork sausage) from Vic. 
Can Paixano –  This iconic narrow bar that serves exquisite tapas, but you have to come early. Can Paixano is an iconic bar founded in 1969 serving xistorras (flavor-filled sausages) and patatas bravas. Everything must be washed down with either cava or their house wine. Come early as it gets packed!
Bar Electricitat – This Barceloneta bar is unimpressive on the outside, but is packed with locals on the inside. Try some vermut, la bomba, or fresh shrimp. You'll get a real home-feel experience!
El 58 – For creative and traditional tapas, this Poblenou restaurant serves delicious patatas bravas, croquetas, jamon de bellota, and even delicious octopus. Read about my experience at El 58.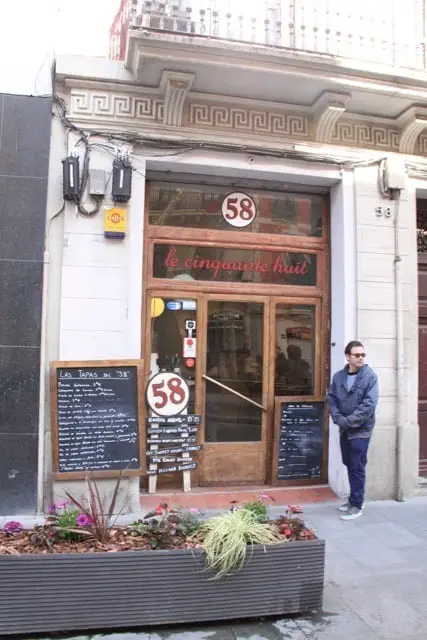 Bodega La Palma ‒ For an old-world atmosphere, this iconic bar is the place to get cozy. Try the black-ink squid croquettes, Cantabrian anchovies, Manchego cheese, or Catalan esqueixada, a seafood salad.
Bar La Plata ‒ It doesn't get more authentic than this corner bar in El Born. Its menu, minimal: Pescadito (small fired fish), ensalada (in photo), Pincho de butifarra (Catalan sausage tap), anchovies, and pan con tomate (bread with tomato). Try drinking wine from a porrón here. Just tip your head back, tilt the bottle, and let it flow!
El Nacional – One of the most beautiful food courts you will have ever been to. Its Come here for the modernist decor from the 30s and 40s: art deco, vault roof, all the way down to the bathroom area. Read more about it in my post about El Nacional here.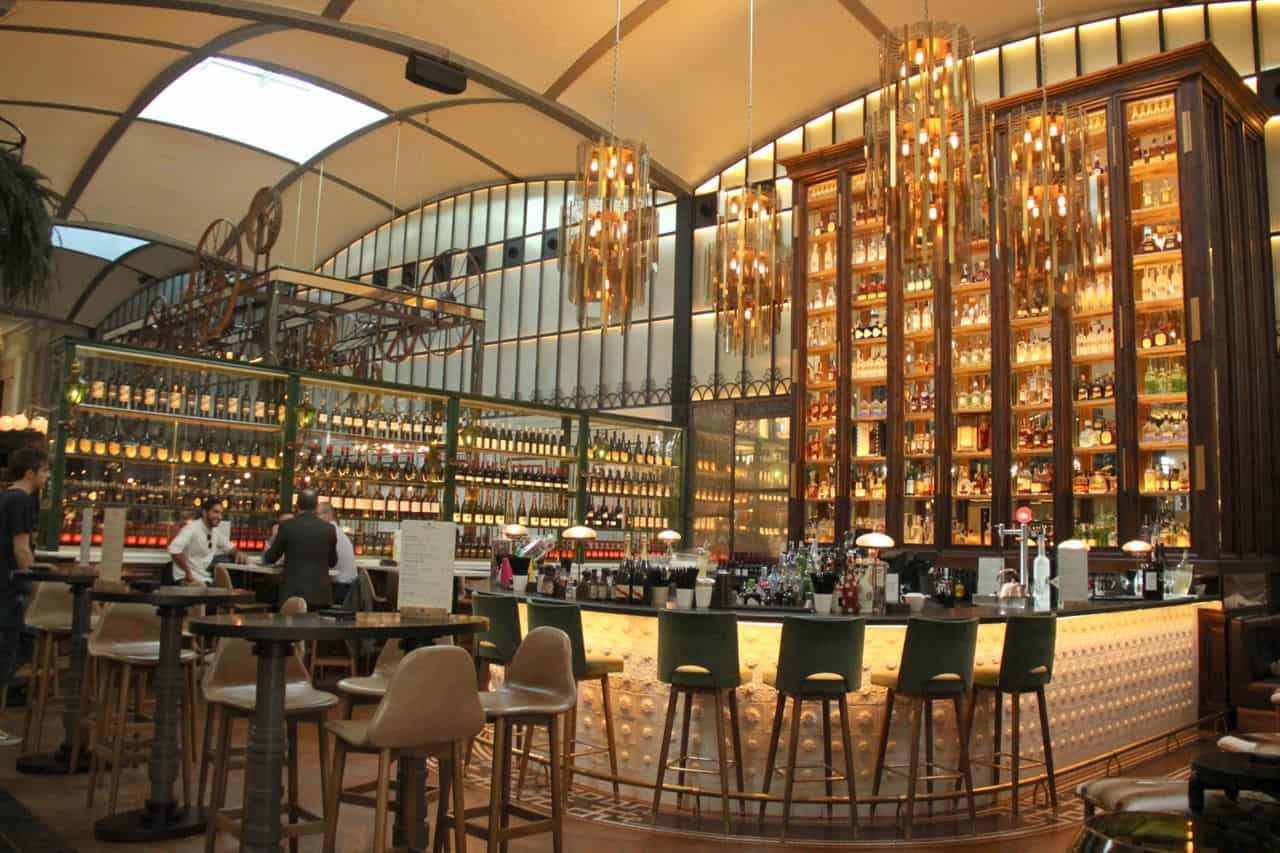 Barcelona food markets
La Boqueria – Barcelona has a network of 39 public food markets (all of them are excellent!), and this is the most famous. The front section is filled with hanging ham hocks, outrageous displays of chocolates and exotic fruit. Don't be fooled. Keep strolling the lanes, and you'll find fresh produce, meats, and cheeses. Want to eat here? Grab a stool at Pinotxo or El Quim so you don't get ripped off.
Santa Caterina – The Santa Caterina Market is a food market located in the Ribera neighborhood and is housed in a modernist building that was designed by the Catalan architect Enric Miralles and it's known for its colorful and unique architecture.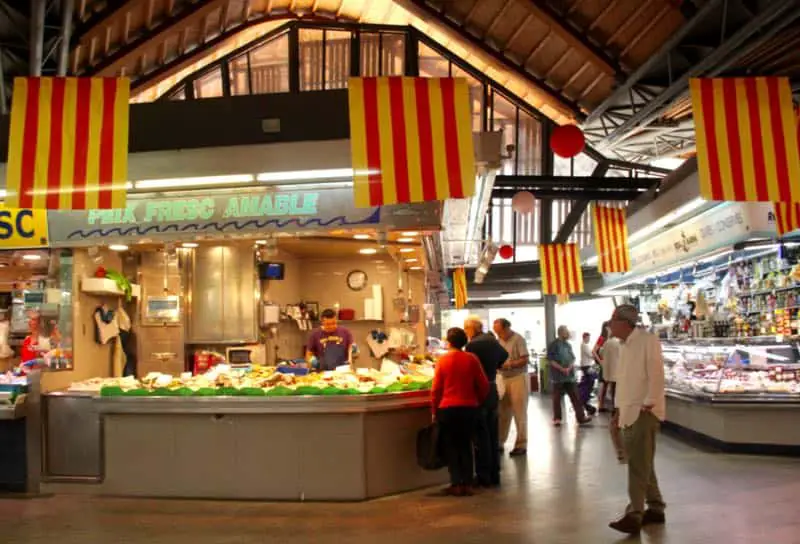 Mercat de Sant Antoni – The Sant Antoni Market is one of the oldest markets in the city and it is known for its wide variety of fresh produce, meats, cheeses, and other food items. The market is housed in a historic building that dates back to the 19th century and it's known for its characteristic iron structure.
Foodie areas and places to eat in Barcelona
Born and La Ribera is a lively restaurant and nightlife area. Try Cal Pep or Bar Calders for authentic Catalan food. Or, try El Jardí, A rustic Mediterranean restaurant that serves traditional dishes with a focus on fresh, seasonal ingredients. Bar del Pla is a favorite among locals. 
Barceloneta is where you can find delicious seafood. La Cova Fumada or La Electricitat, are traditional restaurants where the locals enjoy a quality meal.
Carrer Blai – Carrer Blai in Poble Sec is a street known for its bars and restaurants and Barcelona traditional food. Some popular options include Quimet & Quimet, a historic bar that opened in 1914 serving classic tapas and wine, or Blai 9, a budget-friendly tapas bar.
Poblenou: Try El Raco de la Vila, a cozy restaurant that serves traditional Catalan cuisine with a modern twist, Kuletos, or El 58.
Gracia – La Pubilla is a modern Catalan restaurant that serves a mix of traditional and contemporary dishes.
Best ice cream and pastry shops in Barcelona
Tío Che – This is my all-time favorite! A century-old ice cream shop in Poblenou, serving artisanal ice cream, orxatas, iced drinks. Afterward, have a nice stroll down the Rambla de Poblenou all the way to the beach.
Mama Heladera is right next door and are part of the Tío Ché family. This ice cream shop sells unique flavors that mimic the memories of their customers. Flavors such as "my youth on Tetuan" or "Grandpa Alfonso's shortbread" will pique your interest. The flavors are weird, but the kind folks there are happy to explain the ingredients and give you a small taster.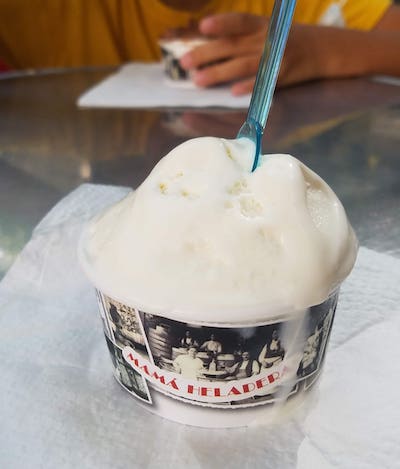 Rocambolesc is a gourmet ice cream shop owned by the famous chef Jordi Roca that offers delicious, creative ice cream flavors including Play-Doh, Rocanose (a ice lolly shaped like a nose), or Panettone.
Xurreria Trebol is a highly popular and traditional churros shop that serves a variety of churros, pastries like xuixos (cream-stuffed pastry rolls, soo good!).
Granja La Pallaresa is exactly the place for hot chocolate and churros. We tried to come here on December 7, and the line must have been 200 meters long! There was no way we could wait, so be sure to come here during off hours.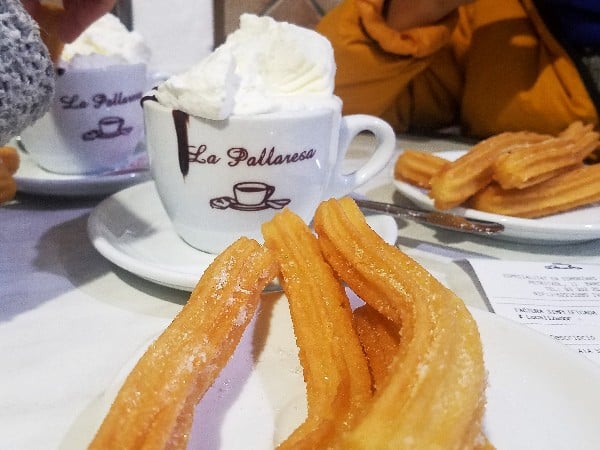 Well, that's my Barcelona foodie guide! I feel like I barely scratched the surface here. Which typical Barcelona food will you try? Have you made a list of your must-eat places in Barcelona? Any questions? Let me know in the comments!