*This site contains affiliate links, which means I receive a commission when you buy. See my full disclosure.
Barcelona Food Guide: What and Where to Eat
I don't keep up with food trends, or even eat out weekly. While Las Ramblas is lined with cheesy shops of orange paella and sangria, know that the plethora of choices to eat – whether it's authentic Catalan cuisine or farm-to-table style eateries can be found. 
I'm not a chef or even a cook, but I do know a little bit about what tastes good. Consider this an all-in-one cheatsheet of Barcelona food!
What's the general food culture in Barcelona?
It's always had a blend of culture. Until the 1992 Olympics in Barcelona, the city and food scene exploded. In the past five years or so, ethnic food has taken off, so now you can find any type of outside cuisine in the world.  Catalan people largely preserve their roots. Its food culture stems from the land:
Catalunya has the Mediterranean coast, the Pyrenees mountains, and the drylands of Spain's interior region. Influenced by Mediterranean cultures like Phoenicians, Greeks, and Romans have influenced the culinary landscape. 
Its primary foods are a myriad of mushrooms like rossinyol, moixerno, cep, and girgola. Butifarras (Catalan sausages), fuet, rape, dorada, langoustines from the Delta del Ebro, olive oil, particularly the arbequina olive in Catalunya. Soft cheese is the mato, often enjoyed as mel i mato, a little granulated and soft cheese 
Drink cava – 
Good Barcelona restaurants
Els Sortidors del Parlament – What to eat Pa amb tomàquet – It seems simple, but this pa amb tomaquet has a special texture and flavor. a tomato that's smothered on bread with a trickle of olive oil. The bread should be a round bread called pa de payes, a round bread, Vermouth.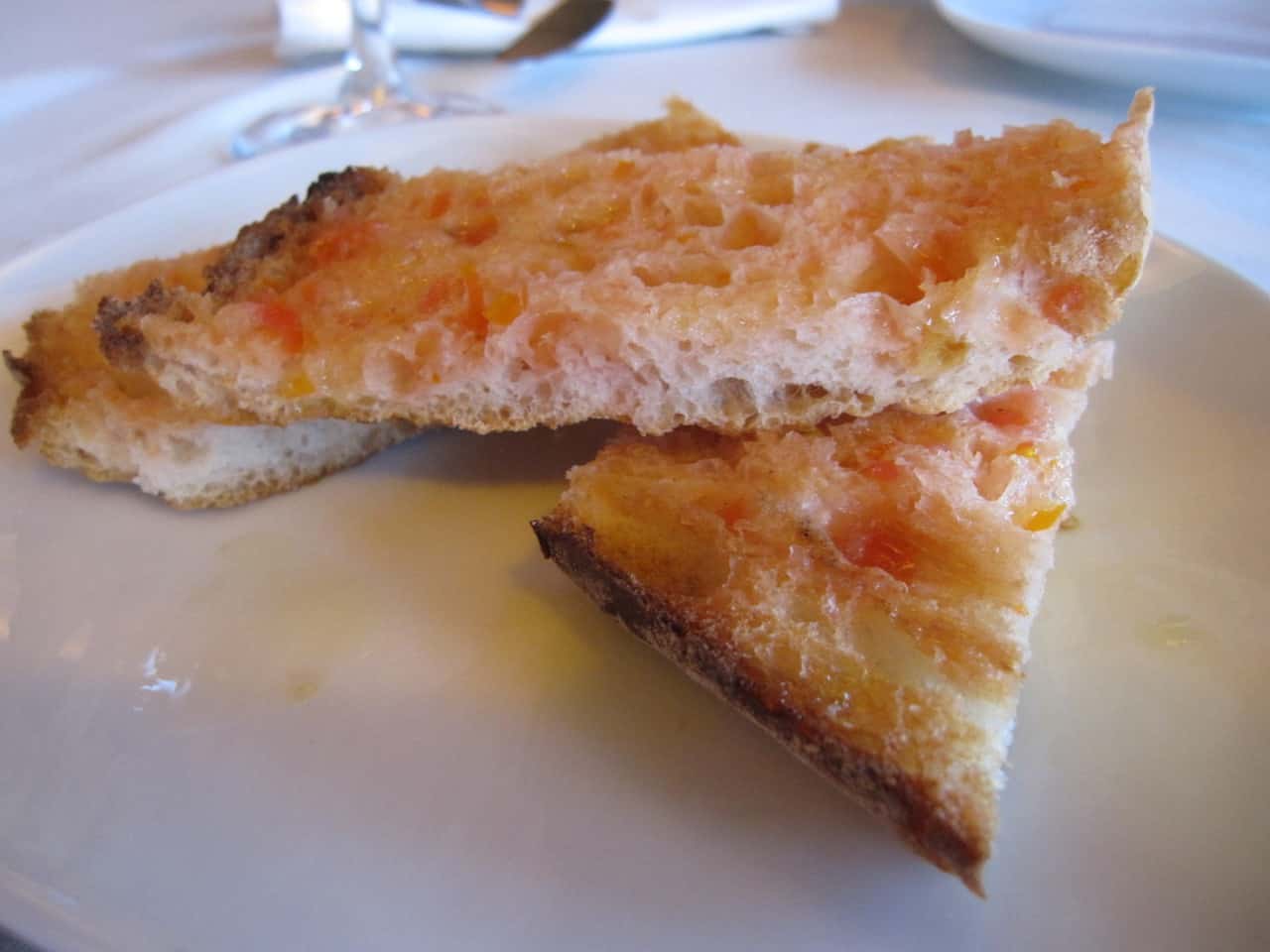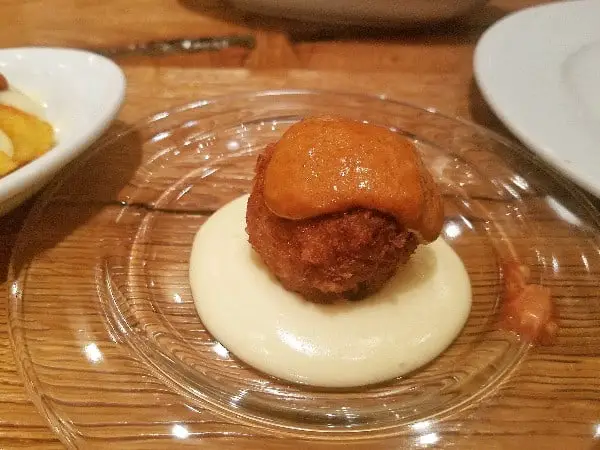 Bodega La Puntual ‒ What to order – Patatas Bravas & La Bomba.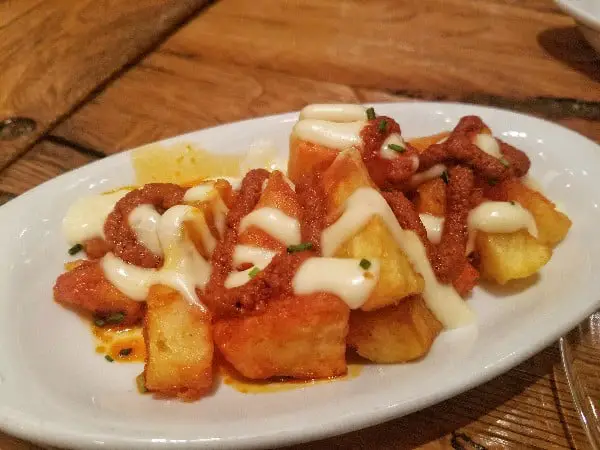 Fideua.
Can Paixano –  This iconic narrow bar that serves exquisite tapas, but you have to come early. Can Paixano is an iconic bar founded in 1969 with a simple menu like xistorras and patatas bravas. Everything must be washed down with either cava or their house wine. They're also available for purchase also.  What to order: Xistorras and house wine.
Crema catalana – It's made with milk, sugar, egg yolks, cinnamon, and lemon zest. Then with a crispy sugar topping, the way that creme brulee is prepared. 
What to eat in Barcelona
Paella – Paella is not native to Barcelona, but they do love it here also.
Fideua –
Read more about my food showdown of Paella and Fideua here.
Other restaurants worth visiting in Barcelona
El 58 – For creative tapas, this French. Read about my experience at El 58.
Bar Electricitat – Vermouth and La Bomba
Bodega La Palma ‒ For an old-world feel with barrels and taking you back to classic Spain. Try the Black Ink Squid Croquettes.
Bar La Plata ‒ With just three menu items, drink from a porrón here. 
El Nacional – One of the most beautiful food courts you will have ever been to. Its Come here for the modernist decor from the 30s and 40s: art deco, vault roof, all the way down to the bathroom area. Read more about it in my post about El Nacional here.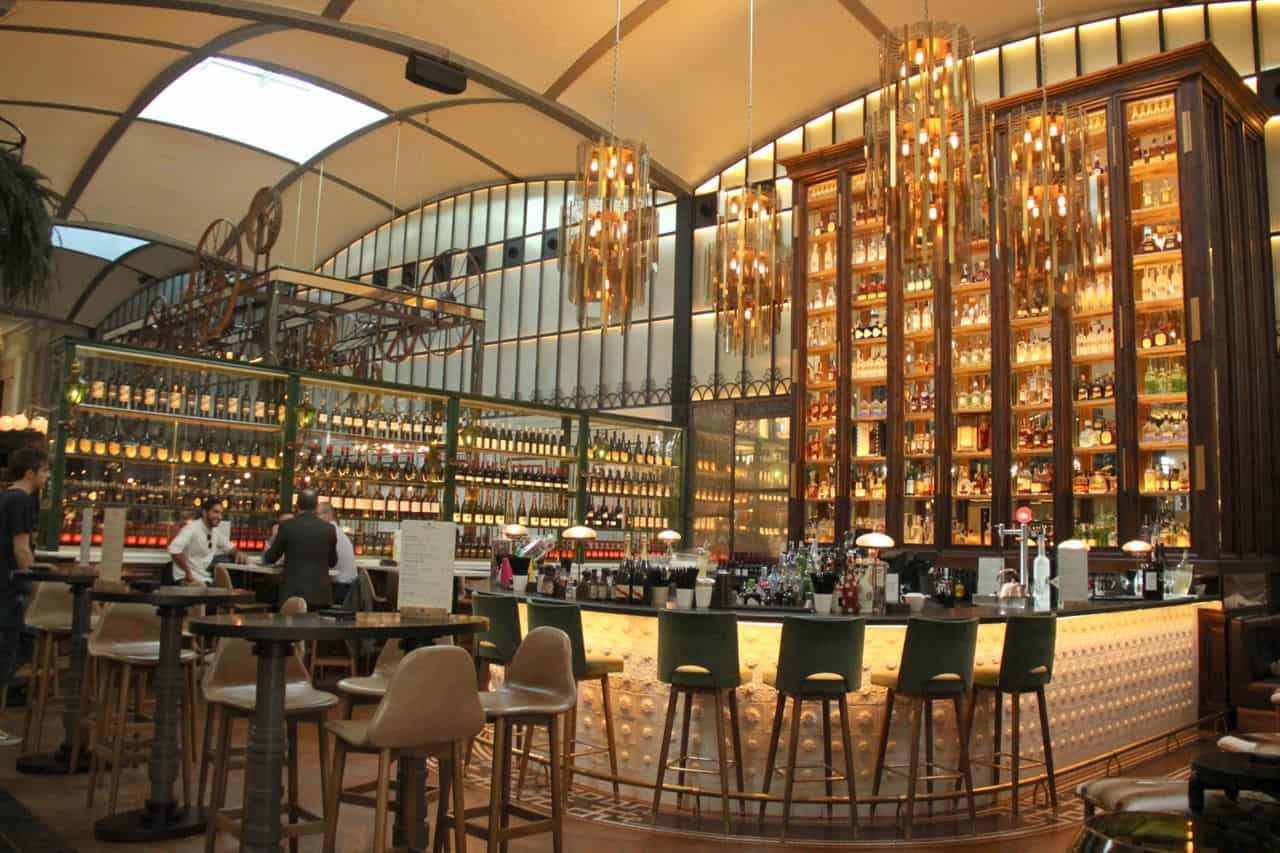 Barcelona food markets
La Boqueria – As the most popular market in La Boqueria, it attracts a lot of tourists but chefs and cooks also like to shop there as the variety is unparalleled. 
Santa Caterina –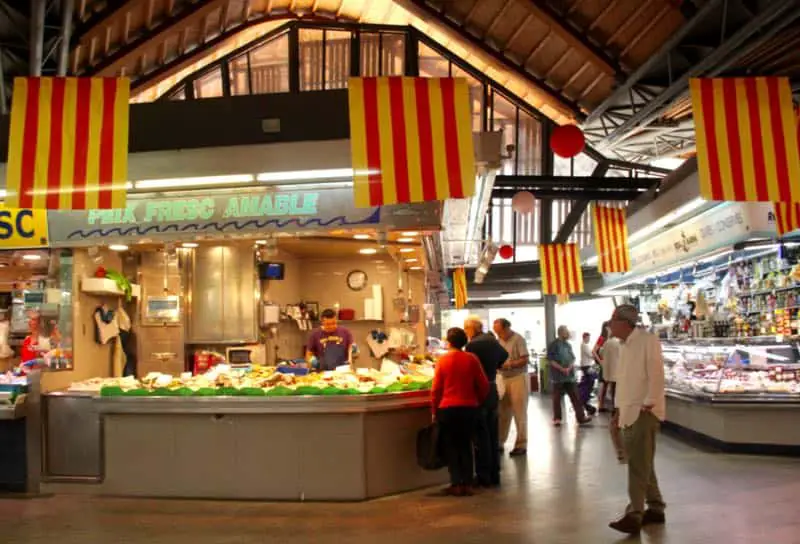 Sant Antoni – 
Foodie areas to eat in Barcelona
Born and La Ribera are where are Michelin-star restaurants live. 
Gothic Quarter – 
Carrer Blai – 
Sant Antoni – 
Gracia – 
Raval
Best ice cream and pastry shops
Hoffman 
Tio Che – 
Granja La Pallaresa for hot chocolate and churros. We tried to come here on December 7, and the line must have been 200 meters long! There was no way we could wait, so be sure to come here during off hours.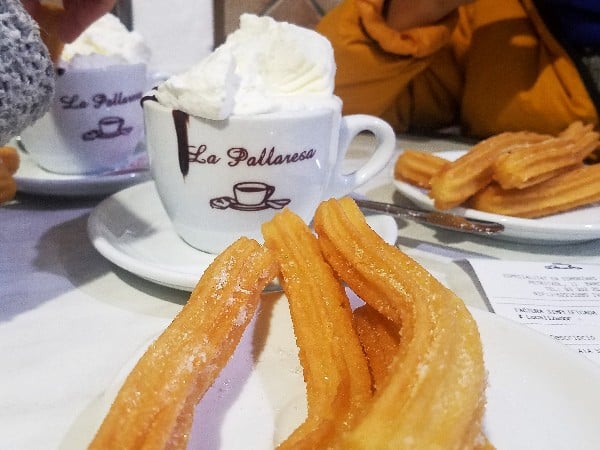 Where to buy food souvenirs in Barcelona