*This site contains affiliate links, which means I receive a commission when you buy. See my full disclosure.
Best Street Food in Barcelona
Where can you eat in Barcelona to satisfy your hungry belly – for cheap? If you're in a rush and need a quick takeaway meal to fill you up, Barcelona has hole-in-the-wall joints at every corner. It's every so often that I see locals eating on a bench taking a lunch break, or friends standing around corner, chowing down on a cheap and casual bite. Mind you, street food in Barcelona is not authentically Catalan. Check out the best street food in Barcelona!
First things first. WHAT IS STREET FOOD?
The Internet has jacked up the meaning of "street food". Back in the day, it referred to food that's prepared and sold by vendors on the street, typically from a food cart, truck, or stand. It's a convenient, affordable way to enjoy a meal or a snack while on the go. The food is usually prepared quickly, and it is served in a casual setting, often with minimal seating or no seating at all.  It is ironic when a restaurant calls itself "X Street Food". There are so many in Barcelona!
So, in this blog post, I'll refer to street food as cheap food in Barcelona that you can take to go. Read on to find out where and what to eat in Barcelona – on the street!
Where to find the best street foods in Barcelona
Conesa Entrepans is a historical sandwich shop that opened in 1951. Come early for lunch – because there's always a line! They serve warm Spanish sandwiches, vegetarian sandwiches, and even gluten-free sandwiches on a baguette or similar-style crusty bread. Some of their best sandwiches are chicken with caramelized onions and a garlic sauce. They have over 50 choices, and also serves croquetas, patatas bravas, or their famous potatoes with spicy sausage. Barri Gòtic, Llibreteria 1 (near Plaça Sant Jaume)
Bar Mendizabal – Another iconic sandwich shop, Mendizabal is a true street food joint in Barcelona. It's a wildly popular place in Raval, serving sandwiches for over 90 years to Barcelona locals and customers. Walk up to the counter, and order a jamón ibérico sandwich (most expensive), or a jamón serrano sandwich with brie cheese and avocado. Or, try a a bikini sandwich, a sweet ham and havarti cheese sandwich which runs at about 5 euros. Mendizabal is one of the best places to eat in Barcelona for cheap eats and out-of-this-world sandwiches. Carrer de la Junta de Comerç, 2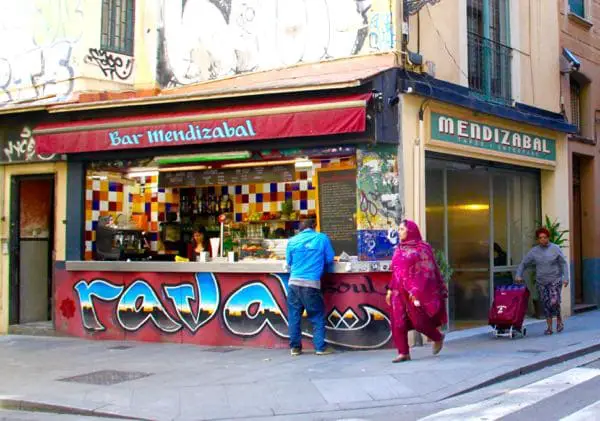 100 Montaditos – While it's not strictly a "grab and go" restaurant, 100 Montaditos is cheap! This Spanish food chain is found all over Spain, serving quick-bite sandwiches starting at about 1.5 euros each. Typically, it's a sit-down restaurant packed with tables, and there are a few locations around Barcelona. Order your sandwiches para llevar ("to go"), and you'll have a tasty street food meal to take along with you as you wander the Barcelona streets. Pl. d'Urquinaona, 1, Bajo; Pg. de Sant Joan, 77; Rambla del Raval, 41
<<<Psst…eating out with kids?
Check out my guide on  food your kids will like in a Barcelona resaurant.>>>
Chivuo's – This "slow food" restaurant serves American-style food and is sooo good. The pulled pork sandwich tastes just like home (for me). The meat is slow cooked for 16 hours and served on artisan bread. Other popular meals are the Burger Melt 2.0 or La Chivuos burger, made with Monterrey Jack cheese and crispy bacon. It's not cheap – burger's start at about 8 euros, but it's worth it. This restaurant food chain exploded in Barcelona in 2014, and they just keep expanding. Locations are in Raval, Gracia, and Poblenou. Carrer del Pintor Fortuny, 15; Carrer del Torrent de l'Olla, 175; Rambla del Poblenou, 99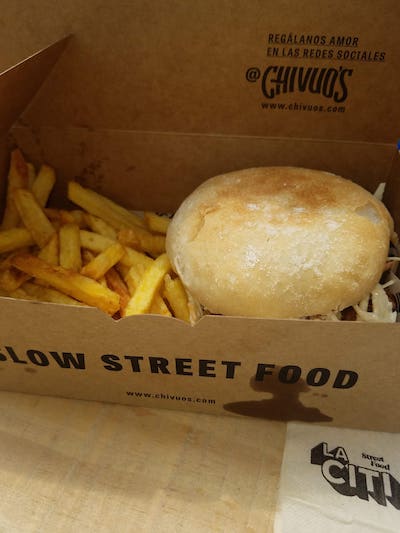 Maoz Vegetarian – So portable and tasty!  A vegetarian-friendly dish, falafels are a fantastic grab-and-go meal.  Falafel is a popular Middle Eastern dish consisting of deep-fried balls or patties made from ground chickpeas, then breaded and deep fried. The balls are stuffed in a pita bread, along with other fillings and garnishes like peppercini, tomatoes, lettuce, cucumbers, and tahini sauce. It's then wrapped in paper so you can take it and enjoy it on a bench. Yum! Carrer de Ferran, 13
La Fabrica has the best authentic Argentinean empanadas in town! With choices like beef, onion, egg and olives, or even spicy chorizo made with Creole chorizo, onion, pepper and chili. It also has vegan and gluten-free empanadas. They are authentic Argentinean empanadas and are handmade and filled. They have 8 locations in Barcelona, including in La Barceloneta, the Gothic Quarter, and Sarria. Carrer del Call, 19 plus 7 more locations. See the map below!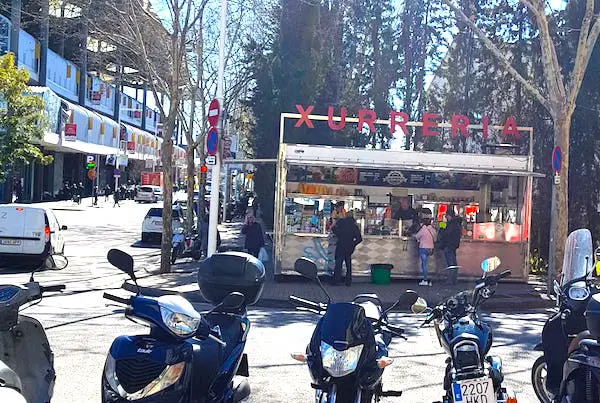 Xurreria J. Al Puente – Google "the best churros in Barcelona", and you'll find this churro stand, J.Al Puente by the Encants market. Xurros (in Catalan), or churros, (in Spanish, pronounced the same) are a traditional Spanish sweet treat that are enjoyed throughout the country. Churros are long, thin fried dough pastries that are crispy on the outside and fluffy on the inside. They are typically served dusted with sugar and accompanied by a cup of thick hot chocolate for dipping. They're usually eaten for breakfast, a snack, or at night after a fun time at the bar! Carrer de Padilla, C. de Ribes, 161
Mercat Santa Caterina – The truth is that you can hit up any local food market to get some authentic Catalan street food to go. Mercat Santa Caterina is central and has a beautiful, colorful exterior. So, if you want delicious Spanish jamón iberico, or cheeses like Cabrales, Mahón or Tetilla, head to a market, and tell the vendor you want to try a sample of hams and cheeses. I've done this, and they're happy to put a plate together. There are 39 Barcelona food markets in the city, but check out my map below for the most central ones. Av. de Francesc Cambó, 16. See the map for other Barcelona food markets!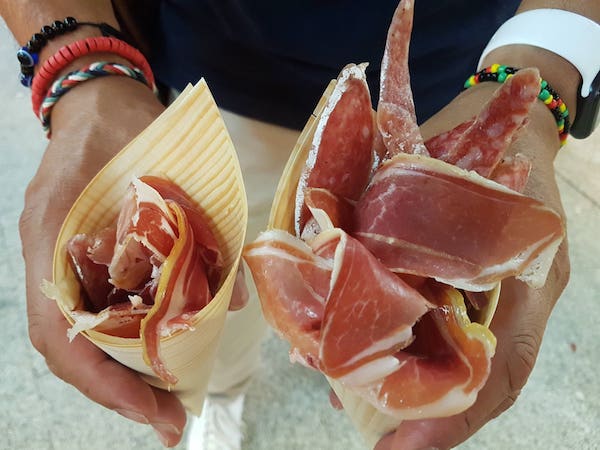 Map of Barcelona Street Food
Need more tips on good food in Barcelona? Check out my Barcelona Food Guide: What and Where to Eat.
That's it! To be honest, Spanish people usually aren't the grab-and-run type people. They like to savor their food and sit down, spend some time talking and socializing. But, of course, they get busy too. So some of these street food options would be perfect for the busy worker or traveler. Any questions? Let me know in the comments!