*This site contains affiliate links, which means I receive a commission when you buy. See my full disclosure.
Is Barcelona safe for tourists?
You may know about pickpocketing in Barcelona and also remember the pro-independence protests and past terrorist attacks. This may lead you to wonder if Barcelona is the dream destination people make it out to be. So IS Barcelona safe for tourists? As a Barcelona resident going on 15 years here, my opinion is – YES, IT IS – but in general. In this blog post, I hope to uncover the real safety risks in Barcelona that are troubling your mind — and give you tips on how you can stay safe in Barcelona. You'll understand that Barcelona is a safe city!
Barcelona crime statistics
According to the 2021 Safe Cities Index by The Economist, Barcelona is the 11th safest city in the world overall. It is also the fourth safest city in Europe. Under the category of "Personal Security" (terrorism, organized crime, petty crime, and civil unrest, etc.), Barcelona ranks 12th. For some perspective, it's above New York City, Paris, and Los Angeles. If you feel like you could confidently navigate those cities with some street smarts, then you can definitely do that in Barcelona. Read the full report of the Safe Cities Index here.
For the latest, most accurate reported crime statistics, see the Ministerio de Interior's website. Also, check out OSAC's Crime and Safety report for Spain for another broad view of crime and safety.
Because of its massive population, Barcelona also has the highest crime rate of any city in Spain. It also attracts over 20 million tourists each year, so pickpockets see €€€ and flock to Barcelona in the tourist-y summer months —  just so they can prey on unknowing, innocent people. But YOU will not be one of them.
Despite these Barcelona crime statistics, violent crime rates are low on an international level. And according to the Catalan police, 8 out of 12 homicides in Barcelona were drug-related.
My opinion? Barcelona is safe. The potential risks of all these statistics are quite low. Sometimes what we see in the news gives us a disproportionate idea of how things really are. Also, in July and August, 8 of the 12 murders happened. It's definitely alarming, but crime has been quiet since then. 
Another example from my perspective: I live in Barcelona, where guns aren't a thing. I'm American, and I go home every year. When I go to the US, I always have this irrational fear of getting shot – like a shooter will open fire when I arrive at the LAX airport or while I'm shopping for a swimsuit at Target. Possible? Yes. But it's highly unlikely.
The risk of getting injured or killed is there. But we have to keep living. And that includes enjoying a well-deserved vacation in Barcelona. The risk of going and enjoying your time far outweighs the dangerous risks. Your main concern is petty theft, and you can be smart about that to prevent getting robbed. So now, I hope to give you a realistic sense of the dangers and safety in Barcelona.
Safety tips before traveling to Barcelona
– Register with your embassy before departure. For my US readers, you would register with the Smart Traveler Enrollment Program (STEP), and get email alerts for any safety threats.  If you're not a U.S. citizen, here's a list of other embassies.
– If you're booking your hotel, avoid staying on the first floor. These tend to get broken into more easily. The most dangerous neighborhood is Raval. Born, Gothic Quarter, and Barceloneta are a little riskier but are actually ideal to stay in because of proximity to attractions. If you stay in an apartment in this area, RESEARCH IT WELL. Make sure it's a licensed accommodation by checking here, and read opinions if the surrounding neighborhood is safe. Read more about my neighborhood guide to help you choose safe accommodations.
– Consider buying anti-theft purse or anti-theft backpack. These are cut-proof, slash-proof, and have zippers that are hidden or lock. Check out my buyer's guide to anti-theft purses and my buyer's guide to anti-theft backpacks to help you pick the right travel item for you. More on that below. (I've been using Travelon purses for 5 years EVERY DAY. This is mine! It's 100% reliable.)
– Also consider buying a money belt, or an accessory that hides your money. It's smart to distribute your cash in more than one place – just in case. Read my smart (and some funny) suggestions on pickpocket-proof travel clothing with hidden pockets.
– Buy travel insurance before you go. It's better to be safe than sorry, in case you do lose a DSLR camera, an iPhone, or other valuable possession. It breaks my heart when people lose their cameras!
– While you travel, keep two copies of emergency information: on your phone and a printed hard copy. This includes local emergency phone numbers (112 is the only number you need for everything), name and address of hotel, your consulate address and phone number, friend and family contacts at home. Also, find out where the nearest police station is near your hotel. Find the Barcelona police station map here.
– Download the My112 app, It allows you to immediately call 112 emergency phone number and it automatically geolocates where you are. That's helpful if you're in a crisis situation, and you can't think clearly. Also download the Alertcops app by the Spanish national police and Guardia Civil, which allows you to report any crime and also geolocations. You can attach videos or photos as well. It's very helpful. Download it now!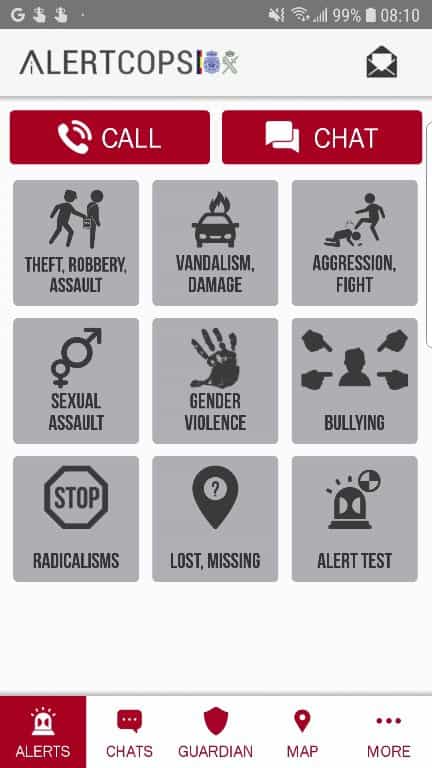 Pickpockets
Read my in-depth post about how to avoid pickpockets in Barcelona. These are extra measures you can use to keep your money, camera, and belongings safe. In general:
– Keep a low profile. That means having common sense: respect your surroundings and don't get drunk in public.
– Keep your purse, handbag, or backpack closed and zipped at all times. Get a crossbody purse and wear it snug across your body. Guys, wallets in the front pocket.
– While eating at a restaurant, keep your belongings close. Do NOT put your purse or backpack on the floor or hang it on the chair. I've done this, and had two attempted thefts! Keep it on your lap. Do NOT leave your phone on the table either as someone could swipe it.
– Watch out for friendly people, who are trying to "help" you. Don't let anyone carry your suitcase, help you at the metro station by a ticket, or anything else to distract you. It's a common scheme in Barcelona.
– If you find yourself being robbed, of course, you can try to get your item back in the moment. BUT, if they are overly insistent, look dangerous, use your best judgment. It used to be (2018 and beforehand) – that the vast majority of pickpockets were non-violent.
– if you see two or three people approaching you, I suggest you don't resist the robbery. Unless you've got some extraordinary self-defense skills, It is unlikely that you will succeed in fighting two or more people. I hate giving that advice, but even the US Embassy has suggested it too.
– Don't wear expensive jewelry, particularly necklaces and luxury watches. These are usually the only personal jewelry I've heard being stolen right off the victim's body.
– Barcelona areas to be aware of: pay attention on the metro, Las Ramblas, Sants train station, Sagrada Familia, Born, the Barceloneta, and the Gothic Quarter. <– This is not exhaustive, but they are popular areas! If you're going to the beach, do NOT leave your valuables unattended. A towel is fine, but other things, NO.
– When you arrive or leave Barcelona, watch your suitcases. In the metro. At hotel check-in. At hotel check-out. Everywhere! It is so easy to get distracted, keep alert, and be hawk-eyed on all your belongings. And do NOT take help from anyone.
– At night, stay away from a few dangerous areas like Raval, the lower part of Born (Plaça de La Vergonya). I hate to stigmatize these areas as they do have their own charm. But I advise against it for your own safety.
– Consider buying a crossbody anti-theft purse. It will stop the sneaky type of pickpockets from opening your zippers. I own a reliable Travelon brand purse. It's slash-proof and has locking zippers. This is the one I own. I use it every day, and it gives me peace of mind when I'm traveling in the metro or walking along the streets.

Check prices for this anti-theft purse
General Crime
– As I mentioned, this past summer, incidences of pickpocketing with violence were elevated more than normal. From what I've read, victims are often those who resist robbery attacks.
– Personal attacks on women like sexual assault and rape aren't at all widespread. But they do happen. Read these tips if you're a woman, and especially a solo female traveler:
–  If you go to a bar, keep an eye on your drink as someone could spike it with date rape drugs like liquid ecstasy or GHB.
– Stick close with other groups if you're walking the streets alone, particularly in Born, Raval, Barceloneta, and the Gothic Quarter. Power in numbers.
– Just ignore slimy men who catcall.
– Avoid walking alone at night in poorly lit areas.
– Taking a taxi to your hotel or apartment at night is your safest bet. Flag one down (you'll see a green sign that says lliure, meaning it's not taken), go to a taxi stand (map here), or use Cabify. The Barcelona taxis are black and yellow, and they're generally safe to take. Uber DOES NOT operate in Barcelona.
– Try to avoid staying on the first floor of a hotel or apartment, which is where many break-ins take place.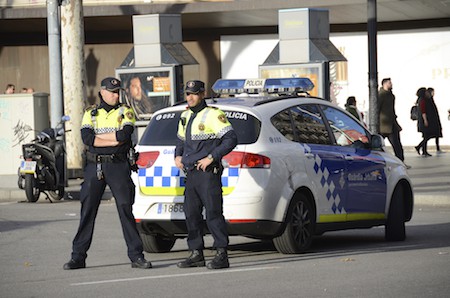 Hate crimes
Barcelona is a fairly tolerant city. But institutional racism does exist. Overt racism is not so obvious. People of color, Muslims, Jews, or other minority groups shouldn't have to stay away from the city. That doesn't mean that Barcelona is perfect AT ALL. Incidences of Islamophobia have been reported, particularly after any type of terrorist activity. If you feel like you're the victim of an attack (verbal or physical) based on race, sexual orientation, gender, belief, religion, or disability, report by calling 091 (police) or 062 (Guardia Civil). Also, report the incident to the watchdog group, SOS Racisme.
Vehicle crime
Petty theft is the main crime when it comes to cars. Do not leave any valuables in plain sight in a parked car.
If you decide to drive a car around Barcelona, be aware of a trick that I hear is common. When you're driving, "do-gooders" will try to signal to you that something is wrong with your car. As you pull to the side, they'll try to assist you while another person is taking your possessions from the inside of your car. If someone tries to do this, try to them through the window. If you're worried that there's real car trouble, pull to the side in a well-lit area, or make sure someone is inside the car to guard your valuables.
Terrorism
In August 2017, there was a terrorist attack on Las Ramblas. That was a horrifying day as 16 people lost their lives. No significant terrorist activity has happened since then, and Spanish police are constantly holding counter-terrorism operations. This threat does NOT stop locals from enjoying the city, and it is evident on the Barcelona streets. The best we can do is to be aware of your surroundings.
If you're caught in the unfortunate event of a terrorist attack, the advice from the Mossos d'Esquadra (Catalan police) is to RUN. If you can't, then hide. Then wait for the police to arrive.
Demonstrations and protests
Demonstrations and protests mainly have to do with Catalan independence, an issue that has died down considerably since 2020. Two readers reached out to me to tell me they were in Barcelona here during the October demonstrations. They had ZERO PROBLEMS while they were here. They simply stayed away from the area. And in fact, they could not stop raving about Barcelona. They were also extremely thankful for my travel tips (Hint, hint…I advise you, dear reader, to check out more of my blog 😉 )
– To keep up-to-date, find the latest news on Catalan independence at El Pais in English.
– Keep your eye on the US Embassy's page for Spain. It has travel advisories, alerts, and demonstration information. Again, if you're a US citizen, sign up to receive alerts via email through the Smart Traveler Enrollment Program (STEP). I've been signed up for years, and they're quick to send travel advisories.
– When you're here in Barcelona, stay away from the protest crowds. The overwhelming majority of demonstrations have been peaceful. But there is a small group that has incited violence, burning trash bins, and throwing bottles and other items. I have NOT heard of any tourists getting harmed. And it's probably because they avoided the area.
– Demonstrations have also caused disruptions to public transport: airports, trains, metro, and buses. Two major groups, the CDR, and the movement Tsunami Democratic organize these protests. For real-time information about demonstrations and roadblocks, go to the CDR account on Twitter and Tsunami Democratic account on Telegram to see what they're planning.
– Also, check these other Twitter accounts reporting relevant information if you're here in Barcelona, and you start hearing about protests. They were updated very well during the October demonstrations: Protecció Civil for general citizen safety, AENA for airport news, TMB for metro, and Guardia Urbana for disrupted traffic on Barcelona streets.
Emergency phone numbers in Barcelona
While in Barcelona, be sure to keep these phone numbers handy:
ALL EMERGENCIES: 112. Memorize this phone number. It's the equivalent to 911 in the US. An English-speaking operator can help you and direct you to the right department.
Police: 091 (local) or 092 (national).
Fire department: 080
Medical emergencies / ambulance: 061
If you lose something, you can try the Lost & Found: 010. It might be worth a shot. Carrer Ciutat, 9. Open Monday to Friday, from 9am-2pm.
FAQs
What are the most dangerous neighborhoods in Barcelona?
Parts of Raval have drug houses, prostitution, and other shady business. With the exception of Carrer Hospital, it's okay to wander during the day. It has some incredible ethnic restaurants, art galleries, indie shops, and the stunning Museum of Contemporary art in Barcelona (MACBA). Hidden pockets of Ciutat Vella (Born, Gothic Quarter, Barceloneta) can be sketchy. But I would never say, don't go there because it has loads of activities. I go there with my kids. Follow my suggestions above!
Is there a Barcelona crime map?
I volunteer for a Facebook group, Barcelona Residents Against Robbery. They've put this crime map together, but it's not always updated. But it can give you a general idea and details of the incident if you click on the incident. Stay away from Sant Pere Mes Baix and Plaça de La Vergonya — as seem to be popular areas of theft.
Is Barcelona safe at night? 
Have common sense as crimes are more common at night, particularly starting around 11 pm. Again, Born, the Gothic Quarter, Barceloneta, and Raval are more prone to thefts. Stay in well-lit areas, and try to walk with other people. Power in numbers! If you take the metro (open all Saturday night), don't fall asleep. Better yet, take a taxi to your hotel. Many thefts and crime happen in the wee hours also – as people are coming home exhausted from a merry night. Be alert.
What if I have a room on the first floor?
First, I don't mean to freak you out. Just be extra cautious. You can buy some inexpensive accessories to safeguard your stay. Use them in your hotel or rented apartment for extra peace of mind:
How to protect your purse or backpack in your hotel room or Airbnb
Buy a lockdown cable and secure your suitcase or backpack to furniture. It could be a table, chair, closet, or any other fixed furniture. Also, lock the zipper on your backpack!
Check prices for this locking cable
How to deter thieves or intruders
If you want to sleep soundly at night, you can put an alarm on your door. This inexpensive travel door alarm makes a HUGE noise if someone tries to open the door. Get another one for the balcony too.
Check prices for this travel security alarm
All in all, your biggest concern when traveling to Barcelona is a petty crime. And with some smarts and precautions, you can protect yourself. Can you add any other safety tips in Barcelona?