*This site contains affiliate links, which means I receive a commission when you buy. See my full disclosure.
While Barcelona is an all-in-one destination of beaches, culture, architecture, and gastronomy, there's still a world of possibilities beyond its city limits. And if you live in Barcelona like me, sometimes you need an escape from your surroundings. So, ready to pack your bags in 2022? Because I'm sharing the best weekend getaways from Barcelona by train or bus! These are destinations that are worth spending two to three days. Essentially, they have beauty, culture, and history – and the journey time is less than three hours. Get inspired and get planning!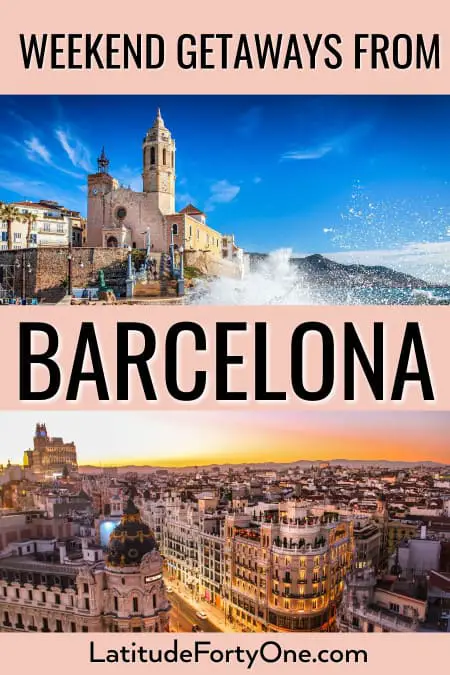 Sitges
A former fishing village, Sitges boasts beautiful alleyways, long stretches of beaches, and a seafood-serving seafront of restaurants. Its whitewashed houses surround the 17th-century Sant Bartomeu i Santa Tecla, a church with a gorgeous view of the coast. Visit the Museu Cau Ferrat to admire paintings by Picasso, El Greco, and other Modernist artists. Or hit the main beach of Platja de San Sebastià. For eats, enjoy a slow-simmered seafood paella at Mare Nostrum. Sitges is one of the easiest, long weekend trips to Barcelona!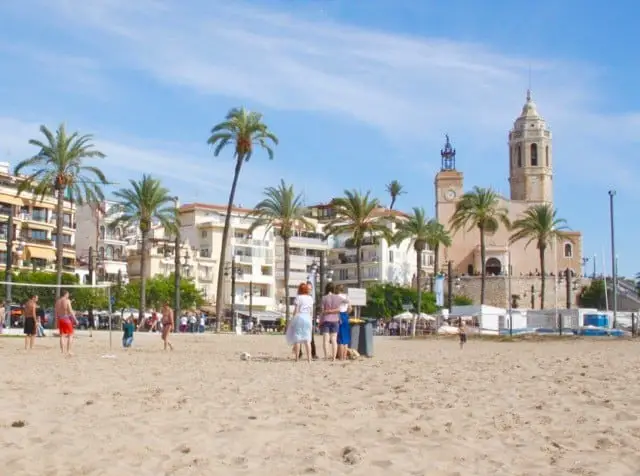 How to get to Sitges from Barcelona: Take the R2 Sud train at Passeig de Gracia, Estació de França,  or Estació Sants toward Sant Vicenç de Calders. It takes 30-46 minutes, depending on the departure station. Get off at the stop "Sitges".
Montserrat
The Montserrat mountains are a destination of beauty, peace, and refuge. Its name means "serrated mountains" for the jagged, unique shape.  It's also the home of the Virgen de Montserrat, a dark-skinned Madonna sculpture known to perform miracles. Pilgrims visit the Black Madonna at the Montserrat Monastery. Montserrat also has several easy hiking trails around the glorious mountains. You can get sweeping views and even see as far as the Pyrenees! (Read my in-depth guide to Montserrat here.) Conveniently, Montserrat is just a one-hour ride from Barcelona.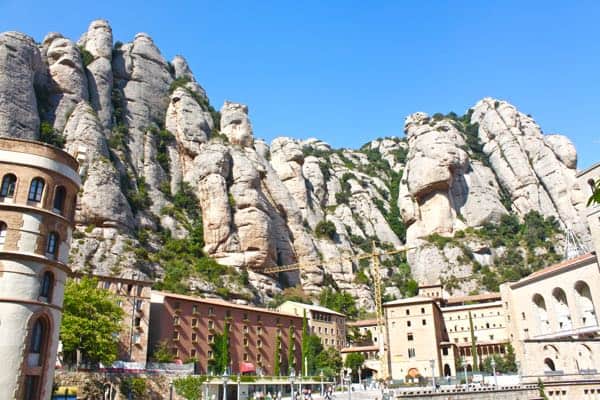 How to get from Barcelona to Montserrat: From Plaça Espanya, take the R5 train. If you want to take the cable car (Aeri de Montserrat), get off at "Aeri de Montserrat". If you want to take the rack railway train, then stop at "Monistrol".  
Tarragona
Tarragona has a city feel without the crowds. Having the largest ensemble of Roman ruins and buildings in Spain, Tarragona prides itself as being a former powerful Roman metropolis. Tárraco (its old Roman name) was declared a UNESCO World Heritage site for its archaeological collection: the Tarragona circus, Roman amphitheater, Roman walls, ancient aqueducts, and Romanesque church, just to name a few. Go to the viewpoint Balcó de Mediterrani and look down over the Roman amphitheater. Visit the Catedral de Santa María, the largest cathedral in Catalonia. Also, stroll around the fishing harbor. Nearby is the Pont del Diable, a 1st-century Roman aqueduct.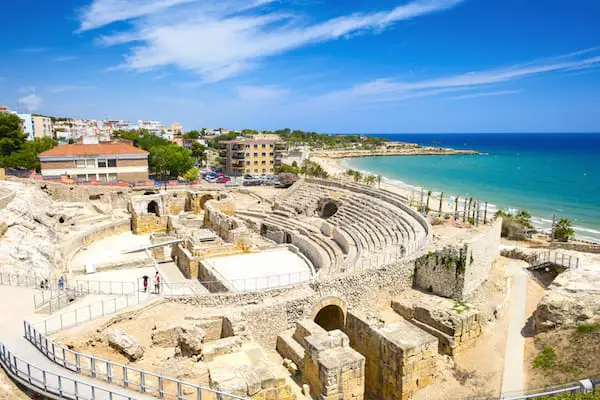 How to get from Barcelona to Tarragona: Take the RENFE train from Sants or Passeig de Gràcia. The journey time is just over an hour.
Madrid
A mecca for fine arts, Madrid boasts world-class museums like El Prado and the Thyssen-Bornamisza. Not only that, its beguiling boulevards of majestic mansions and palaces let you know you're in the country's capital. Relax at the beautiful Retiro Park, Madrid's main square, the Plaza Mayor, or visit the Royal Palace of Madrid. For eats, try some tasty tapas in Madrid at El Tempranillo or Museum del Jamón. And get this – train fares are as low as 15€ one way this year in 2021! It's a special budget fare, so why not?
How to get from Barcelona to Madrid: From the Sants train station, the destination is "Madrid Atocha" On the high-speed train (called the AVE), it's about 2 hours at 30 minutes!
Tossa de Mar
Tossa de Mar is perfect for relaxing on the beach like the Platja Gran or the smaller Platja d'Es Codolar. The Villa Vella is also a nice place to visit behind the walls behind the beach. It has a tourist train that goes to the top, and you can get down to take photos. In fact, Ava Gardner filmed Pandora and the Flying Dutchman here, and there's even a statue of the American actress. This is a great weekend getaway if you want to see a little bit of culture but mostly relax and enjoy the small-town atmosphere.
How to get from Barcelona to Tossa de Mar:  Going by bus is the most direct route from Barcelona. Go to Estació del Nord, and the destination is "Tossa Estació". It takes about 1 hour and 15 minutes. See the bus schedule.
Girona
Explorable on foot, Girona packs a punch when it comes to history and culture. Wander The Call, or Jewish Quarter, a maze-like neighborhood. There you'll find the 12th-century Banys Àrabs, a Muslim and Jewish bathhouse designed in Romanesque style. Be sure to cross the famous Pont de les Peixateries, the iconic red bridge designed by Eiffel. Nearby, the 11th-century Girona Cathedral has the world's widest Gothic nave. The Passeig Arqueològic is a walk that takes you through beautiful gardens and up the Roman walls. Then, take in the staggering views of Girona from here.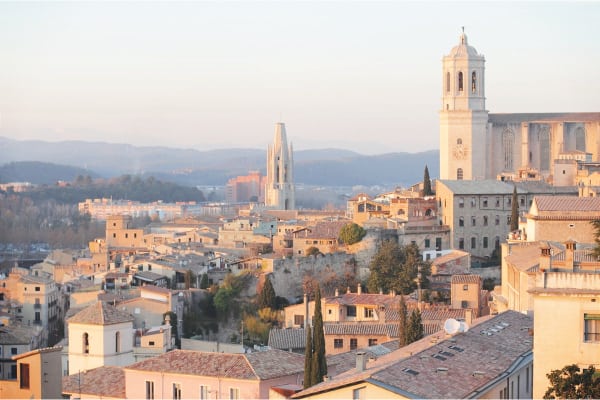 How to get from Barcelona to Girona: By train – Take the RENFE train from Passeig de Gracia or Sants station. The journey is just 1 hour and 15 minutes.
Cadaqués
Cadaqués is like an Impressionist painting with its white buildings, cobblestoned streets, and flower-draped walls. This small village on the Costa Brava drew attention from famous artists like Pablo Picasso, Salvador Dalí, and Joan Miró. Its calm seaside is lined with small coves where folks relax and watch the lapping waters. Visit the 16th-century Església de Santa Maria for a beautiful view of the Mediterranean. Visit the Salvador Dalí House-Museum, where Salvador Dalí lived until 1982. Cadaqués is one of the most relaxing overnight trips from Barcelona!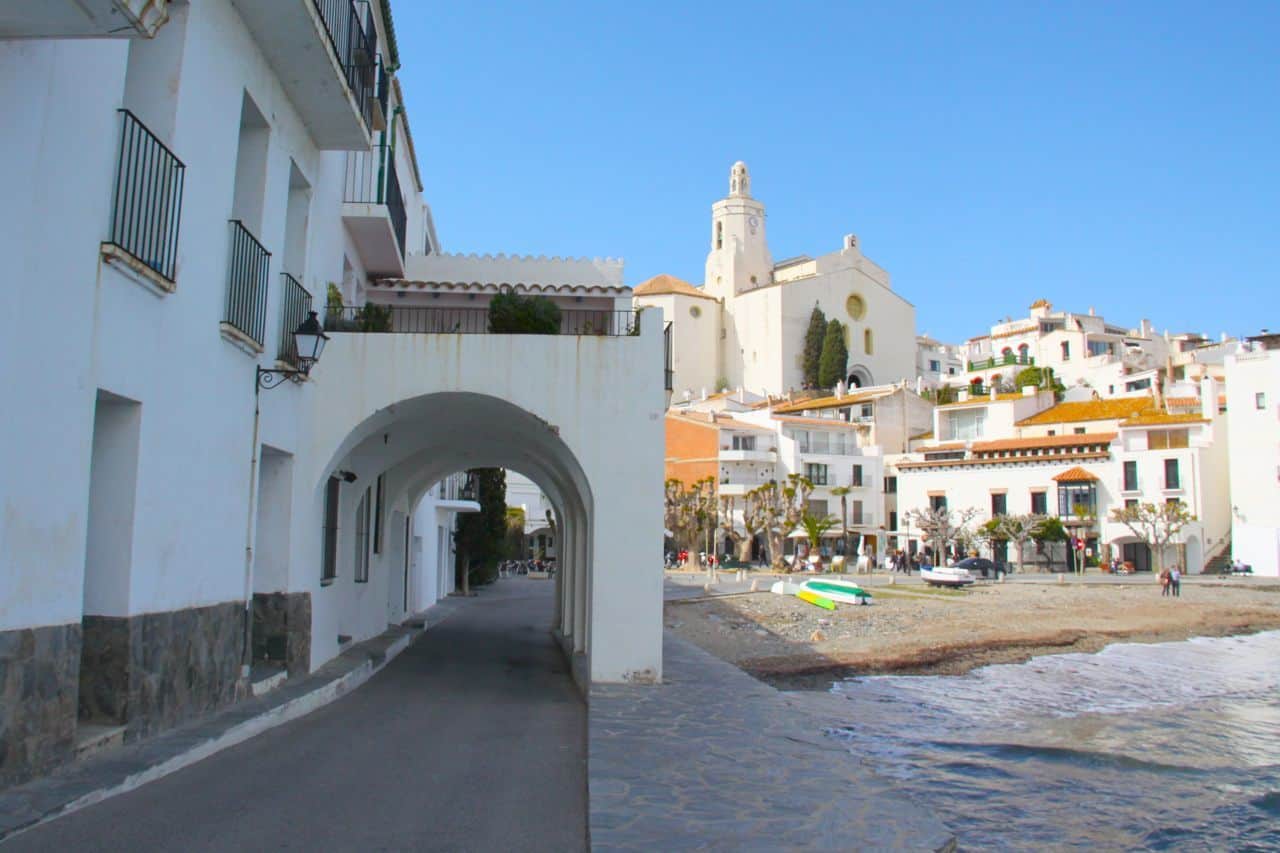 How to get from Barcelona to Cadaques: You have two options. By train and bus – The train leaves Barcelona from Sants or Passeig de Gracia, and the destination is "Figueres". When you arrive at Figueres, walk to the bus station (literally across the street). That's where you can buy your bus ticket to Cadaqués. See more on bus timetables here. By bus –From Barcelona Nord bus station, it takes about 3 hours, using the bus company Sarfa. Visit this website and enter departure stop "Barcelona Estació del Nord". The destination is "Cadaqués Estació".
Have you done any of these quick trips from Barcelona? Can you make another suggestion?
Also, are you doing any holiday planning for 2022?
Let me know in the comments!
---
This post was published in collaboration with Hoteles.com but all opinions are my own.