*This site contains affiliate links, which means I receive a commission when you buy. See my full disclosure.
I've been a Barcelona resident for almost 15 years, and oftentimes, I still feel like a tourist. This happens usually when I'm wandering with the crowds in Gothic Quarter or Born, or passing through the raucous-y Plaça Catalunya. I still visit tourist sites from time to time (yes, even the Sagrada Familia!). For that reason, I've come up with some Barcelona tips and tricks for YOU, especially if you're a first-timer. Find out what you need to do before you come to Barcelona!
Attractions
Buy your tickets to the Barcelona top attractions ahead of time. Do this for two reasons 1) they're often cheaper online, and 2) you can "skip the line". Definitely do this for the Sagrada Familia, Park Guell, Picasso Museum, and maybe Casa Batlló in the summer. [Read my ultra-useful Sagrada Familia tips here.]
Make sure the museum you want to visit is open. Some museums are closed on Mondays. Don't be a dumb-dumb like me, and take a 2-hour train ride to the Dalí Museum and realize it's closed.
What are the best places to go for a first-timer? In my opinion, if you have to pay to go INSIDE any Barcelona sights, it's the Sagrada Familia and Park Guell. Other than that, you should experience walking around the Gothic Quarter and Born neighborhoods. <– These are the historical districts of Barcelona which are also packed with restaurants and bars. Then lastly, hit the port and beaches, and then get a view from Montjuic. That's my order of preference.
If you plan on staying for more than 3 days and want to visit 5 or more attractions, consider buying the Barcelona Pass. 

It will also save you time and will give you skip-the-line access to Sagrada Familia and Park Guell.

People often expect to find a Dalí museum in Barcelona. It doesn't exist. You'll have to head north to Figueres to visit the Dalí Theater-Museum, which has to be my favorite museum in Spain. It takes about two hours to get there by train.
Want a completely free walking tour of Barcelona's most important sights in historic center? It's a 2-hour tour of the Gothic Quarter and Born. Book your free Barcelona walking tour now! 
Food, Eating, and Restaurants
Know the eating schedules. Locals typically have breakfast around 8 am (at home, if they work or go to school) and a mid-morning snack around 10:30 am. Lunch is around 2-2:30 pm. Dinner is around 10 pm. So if you want to beat any restaurant crowds, go earlier – 1 pm for lunch, maybe 8:30 pm for dinner. (That's what I do because I HATE waiting at restaurants with my kids.)<<Read more in my post: how to eat like a local in Spain!>>
If you're going to have tapas with locals, expect to share from one plate. This tip is for people who are concerned about hygiene. Having tapas can be super fun because you share small appetizers – it's a very social ritual! But sometimes, everyone just uses their fork to pierce the food from the shared plate straight into your chomper.
Language
Spanish is widely spoken, but Catalan is the official local language. A lot of the official government-run signs are only in Catalan, so even though some words look somewhat familiar, it's in Catalan! Having said that, you can often communicate in English, but I highly suggest you try to speak Spanish – it will always be appreciated.
"Catalonia is not Spain," many say. It's a common phrase – as it's a highly charged and highly political issue for decades. The movement for Catalan independence was heightened in 2019 with many protests. It has died down and is at a stalemate now in 2023. In general, some Catalans see themselves differently than the rest of Spain. I'd say most would identify themselves as "Catalan" first, and if at all, "Spanish". 
Drinking water
In a restaurant, if you order water, it's bottled water. There is no option to get "a free glass of water". If you want free water, head to the public drinking fountains around Barcelona, there are plenty. You can even download this app for where to find the fountains.
The water in Barcelona is perfectly safe to drink. The taste is something else. Some locals buy water, some drink from the tap. A trick to get rid of the undesirable taste is to refrigerate the water. It seems to do the trick for us. My family and I used to buy bottled water, but not only does it get expensive, it's also a pain to buy liters of water a week. If you're concerned about extra chemicals, you can also bring your own travel bottle with a filter like this one from Philips:
Buy this Philips travel bottle with a filter on Amazon
Getting around
From the airport. There are a few easy options to get from BCN airport in El Prat. Taking a taxi is the easiest but most expensive option, about 40 euros to the city. Recently, relatives of mine used Cabify, and it only cost 20 euros! Download the app and get an estimate. Taking the train

is easy too. Walk to the train station from Terminal 2. There are many attendants there to help you buy your ticket. There are several stops including on Passeig de Gràcia, which is pretty central. The train is clean and comfortable; you just have to beware of pickpockets. Or, take the Aerobus, a bus that takes you from the airport to 4 different stops in Barcelona.

Buy your Aerobus ticket here with flexible cancellation
The best way to get around is by walking or using the metro or bus. If you are going to the Gothic Quarter, Born, or La Barceloneta, you can walk. But to get to Sagrada Familia, Park Guell, Tibidabo, or Montjuic, you'll have to use public transportation. Buy a T-Casual card (formerly the T-10 card) at any metro station. It's a card of 10 trips with free transfers anytime you change modes of transportation like from the metro to bus. You just have to make the trip within 1.5 hours, which is never a problem within Barcelona city limits. You can't share the same card with someone on the same trip.
Money and tipping
Spain is part of the European Union, and the Euro is the currency. They do not accept dollars here anywhere. You can use credit cards. Sometimes a machine will ask for a PIN. So make sure you know what it is beforehand!
Tipping at a restaurant is not expected in Barcelona. You do not have to tip for a 5 euro breakfast or for a drink at a bar. If you prefer, you can round up to the nearest euro. If not, leave as much as you want as servers work very hard and have low wages. For big groups or a high-class restaurant, 10% would be a good tip.
Tipping elsewhere. For taxis, hairdressers, hotel room service, you can round up your loose change or tip 1 to 2 euros. Of course, tip more if you feel the service was stellar. Again, it is NOT expected but definitely appreciated.
Saving money
Get in free in museums on the first Sunday of each month. Some museums are completely free, including the Picasso Museum. But you MUST reserve your Picasso museum ticket online in advance first. Do it the day before because you have to choose a time window, and they go fast! Here's a list of free museums in Barcelona!
Eat a menu del dia for lunch. This is a fixed-price meal offered only during lunch. It includes the first dish, second dish, dessert, and a drink. It can run from 8 euros on up. Not all restaurants offer it. So when you do, it's a pretty good deal.
Hang out in incredible Barcelona's public spaces for free. You don't have to enter all the museums to enjoy Barcelona. In fact, you don't have to buy anything! The best places (especially for a sunny day) are Park Ciutadella, the beaches like Mar Bella, Barceloneta to people-watch, squares in the Grácia neighborhood (Plaça del Sol, Plaça Vila de Gràcia), or Tibidabo where you get the highest and best views of Barcelona!
Safety
Beware of pickpockets. It BREAKS MY HEART every time a tourist gets their wallet stolen. It also PISSES ME OFF! Consider buying an anti-theft purse if you are a woman. I own two by Travelon. Buy my favorite one here. (Read my buyer's guide to choosing one). It has given me lots of peace of mind as I often have my hands full with my kids, my DSL camera, etc. You do NOT have to be paranoid about pickpockets. Relax, enjoy Barcelona, but be smart. Read more in my guide on how to avoid pickpockets in Barcelona.
Culture
It's polite to say "hola" when entering a shop and saying "adeu" when exiting. It's not necessary, just polite.
When meeting new friends or being introduced, locals give a kiss on each cheek. It's not a real kiss where the lips are planted tightly on the cheek. It's more of a light "muah muah" with a light brush of the skin.
Wi-Fi and Internet Connection
Know where the public wi-fi areas in Barcelona. They'll save you from using all your data! You can find the stations here.
For extra security, I suggest you use a VPN to keep your data secure and encrypted. It would be a complete disaster if your credit card information or other personal data got stolen.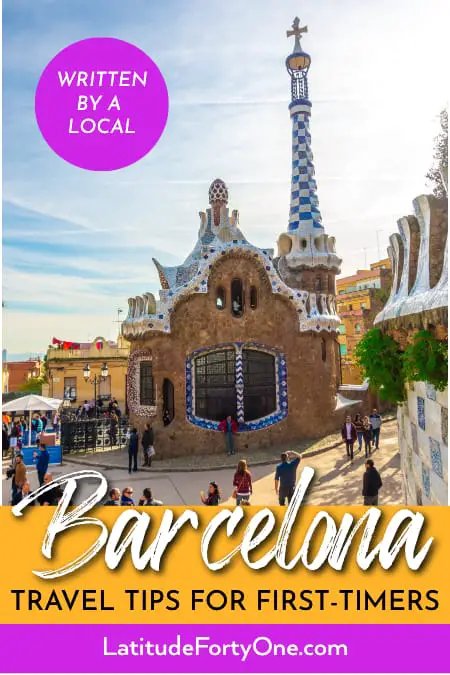 That's it! Did you learn anything new from my travel tips for Barcelona? Have any other questions? Let me know in the comments!