*This site contains affiliate links, which means I receive a commission when you buy. See my full disclosure.
Kid-Friendly Day Trips from Barcelona
While Barcelona is a destination that has it all, you'd be surprised to find out about the richness and variety of places outside the city. Whether it's castles, caves, or beaches, there is so much more beyond Barcelona's borders. As a resident of 12 years, I still don't feel like I'm finished exploring Catalunya! Check out my list of kid-friendly day trips from Barcelona that I've taken (and tested!) with my own three kids. Be sure to check out the handy map at the bottom too!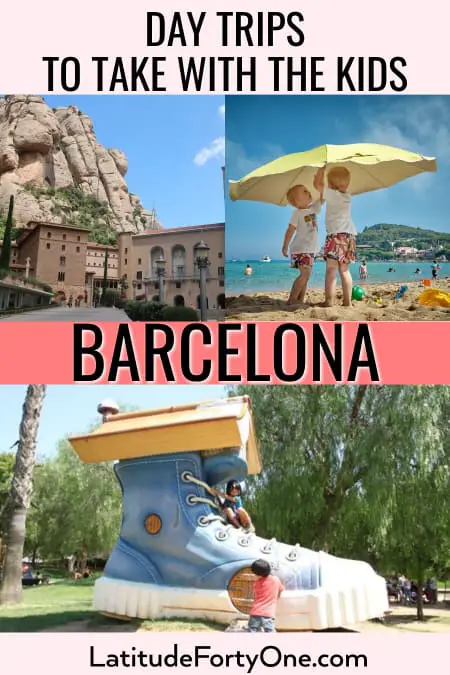 Learn about Catalunya and its famous buildings at Catalunya en Miniatura.
About 17 kilometers away from Barcelona, Catalunya en Miniatura is an outdoor miniature park of 150 well-known and historical buildings and sites around Catalonia. It's fun to point out familiar spots like the Sagrada Familia, the Casa Batlló, or the Dali Museum-Theatre in Figueres on a 1:25 scale. Kids will love pressing buttons to make things "go", like the moving cars on Catalan highways, and the Barcelona port with running boats. They also have an adventure park of zip-lines for different ages. Book for that online! Buy your discount tickets to get into Catalunya en Miniatura here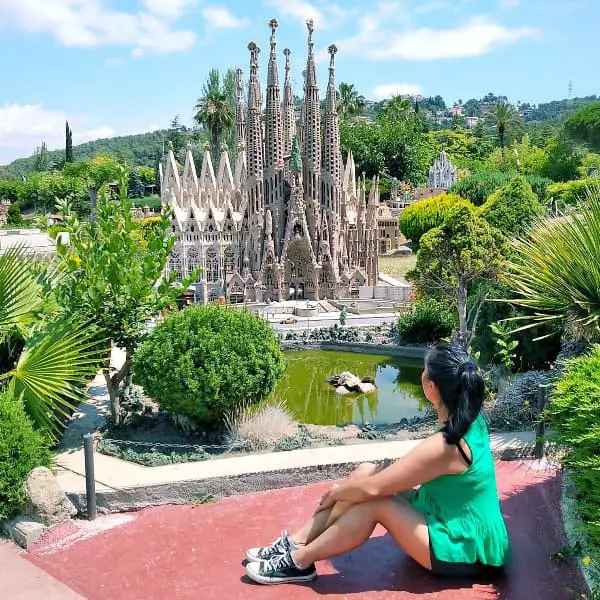 How to get to Catalunya en Miniatura: By car – this is the easiest way to get here, which takes 36 minutes. Take the B-20, then B-23.  By train – Take the FGC train R4 train from Sants or the R5 or S8 train from Plaça Espanya to bus 62. It takes about 1 hour and 40 minutes. Read about alternative ways here.
Address: Can Balasch de Baix, s / n, 08629 Torrelles de Llobregat
Head to the kid-friendly beaches of Vilanova i la Geltrú.
I've been to dozens of Catalan beaches, and this is my family's favorite! Specifically, we go to the Platja de Ribes Roges for its fine sand and ample space. Also, you can walk out reaaaally far – (about 100 meters, maybe?), and the water is shallow, less than 1 meter (3 feet). The water is also calm, so bring your floating mats! Platja de Ribes Roges also has showers, a small xiringuito (beach bar on the sand), and a playground. Vilanova i la Geltrú is a small residential town, so you can enjoy one of the few restaurants along the promenade without loads of tourists.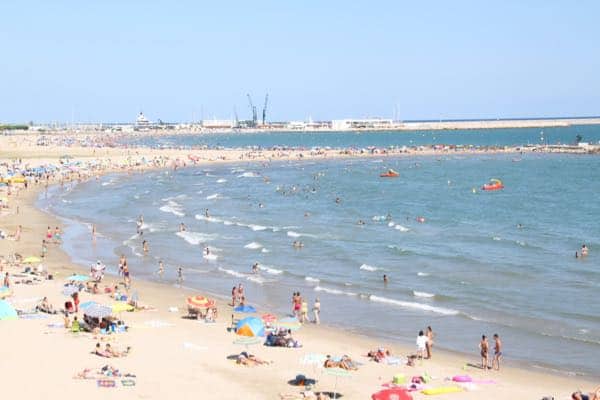 How to get to Vilanova i La Geltru: By car – take the C-32 to the C-31. This route has a toll road, and it's worth avoiding the curves on the national highway. Exit Ronda d'Europa and go straight. It takes about 55 minutes. By train – go to the RENFE station at Passeig de Gracia. Take the R2 Sud train heading towards San Vicenç de Calders. The stop is Vilanova i la Geltru. The walk to the beach is about 17 minutes.
Go to the charming beach cove of Garraf.
Garraf is a small cove just 30 minutes from Barcelona. The beach is about 350 wide, so on summer days, it gets crowded. When you arrive, you'll see the beach below, so you'll have to take a few stairs to get down. Its charm lies in the "les casetes del Garraf", the green and white homes lined with white picket fences. (You can rent one too!) The water at the Garraf beach is also warm – and shallow and calm enough for the small kiddies to jump in. Nearby is also the Bodegas Guell, designed by Antoni Gaudí. Garraf is the perfect nearby destination for beach and architecture lovers!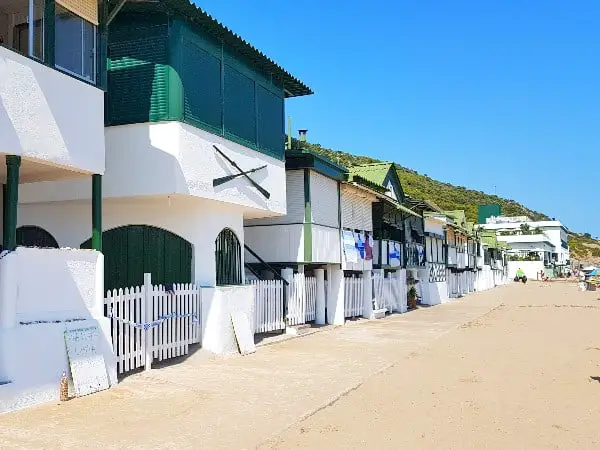 How to get to Garraf: By car, it's over 30 minutes. Take the C-32. Parking can be hard to find, so have patience. By train – Take the RENFE train R2 Sud to "Garraf". Be sure to buy a round-trip ticket in Barcelona as there are no vending machines in Garraf. Also, double-check that your train has a stop at Garraf. Several R2 Sud trains don't have that stop. The journey is about 30 minutes long.
Visit the salt mountain, salt caves, and castle of Cardona.
Mind-blowing fact: the Cardona salt mountain started forming about TWO MILLION YEARS ago. This happened when the Mediterranean Sea receded and left massive salt sediment. The salt was pushed up, creating a salt mountain, and it's still growing today. The salt mountain is just the top. What's underneath are caves, which go down 1,000 meters. Today, you can go down and visit the salt mines, which are stalactites and stalagmites. Also, visit the Cardona Castle, a fortress built in the 11th century, looking down at the town.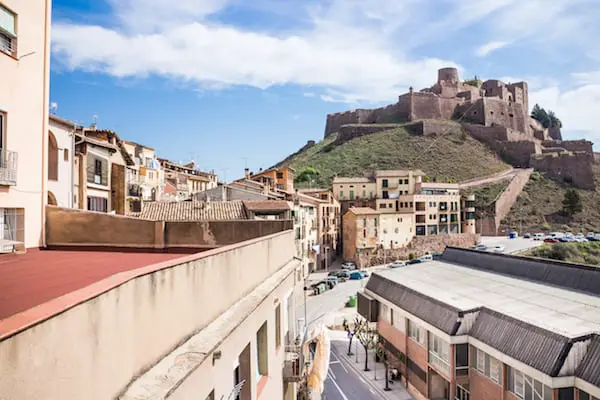 How to get to Cardona: By car – take the C16/E9, which takes about 1.5 hours. By bus – Or take the bus from a bus Estació del Nord, run by private bus company ALSA. It takes two hours. Arriving by train is not recommended because it takes over three hours.
Visit the jagged mountains of Montserrat.
Montserrat is a kind of all-in-one destination of nature, culture, and spirituality. These mountains of mystical powers became famous when they had found a statue of La Moreneta, a 12th-century dark wooden carving of the Virgin Mary. It's housed inside the Benedectine Monastery and is venerated by pilgrims all over the world. Montserrat also has peculiar-shaped mountains with easy hiking trails you can take with your kids. If you have a chance, hear the voices of the distinguished boy's choir, Escalonia de Montserrat, which has existed since the 14th century. Another fun family activity is to jump on the rack railway, the Funicular of de Sant Joan. You'll arrive at about 1,000 meters above sea level at Pla de les Taràntules, where you can also do easy hikes with the kids.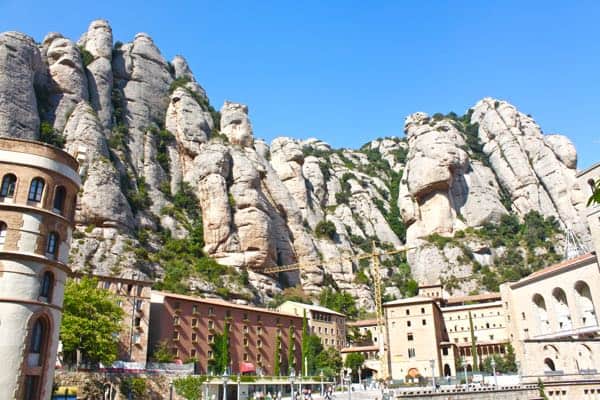 How to get to Montserrat: By car – It takes about an hour. You have two options: 1)  drive all the way up the mountain, and park by the Montserrat Monastery. There are 400 parking spots, so arrive early, or 2) park your car at the Cremallera de Monistrol Vila car park, then take the cremallera (rack railway train) from there. By train – There are many different ways to arrive at Montserrat. Timetables also change depending on the season, so I suggest you study your itinerary and route beforehand. From Plaça Espanya take the R5 train. If you want to take the cable car (called Aeri de Montserrat), stop at "Aeri de Montserrat". If you want to take the cremallera, stop at "Monistrol".  When you get to Plaça Espanya, they usually have a special travel booth for Montserrat. Ask there!
Address: 08199 Montserrat
MAKE IT EASY – Buy everything on one ticket!
The Tot Montserrat card includes a round-trip metro ticket from/to Plaça Espanya, a round trip train ticket from Barcelona-Plaça Espanya to Monistrol de Montserrat, a round-trip ticket on the Cremallera or Aeri to Montserrat, admission to the Museu de Montserrat, entrance to the audiovisual exhibit "Montserrat Behind Closed Doors", unlimited use of the Sant Joan funicular, and a meal in the self-service restaurant at Montserrat. Buy your Tot Montserrat card from the official Barcelona tourism website
See the funky art of Salvador Dalí at the Dalí Theater-Museum in Figueres.
Erase the concept you have of boring art museums – the Dalí Theater-Museum is a wacky experience. The Dalí Museu-Theatre is in Figueres, Spain, in the city where the surrealist artist was born and raised.  It's more interactive than others, like seeing his stereoscopic art (You sit in a chair: one eye sees one image and the other sees another, forming a new image.) Also, kids will love climbing up some steps for a unique view of the famous Mae West furniture installation. The Dalí Museum-Theater is odd, surprising, and fun!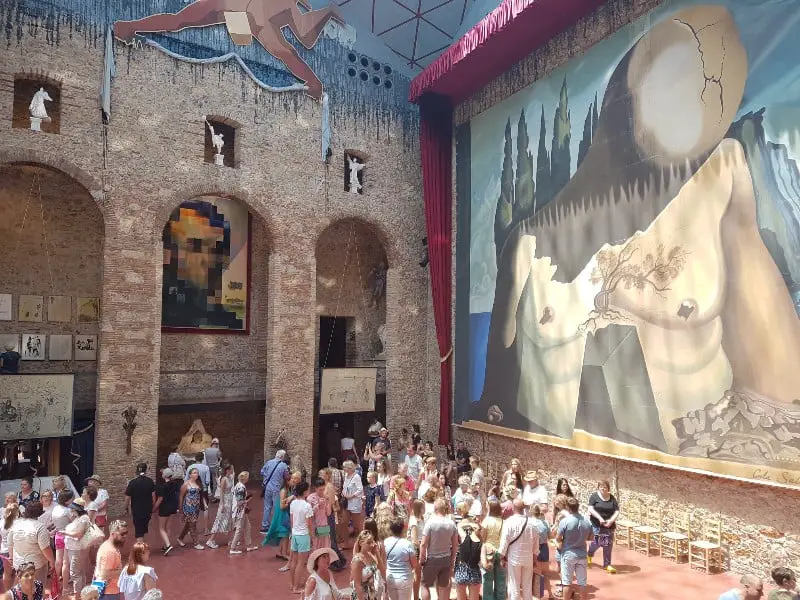 How to get to Figueres: By car – It takes about 1.5 hours via the AP-7. and about 140km driving distance. Expect lots of curves the last few kilometers! By train – The quickest way is via high-speed train, called the AVE. The journey time is between 2 hours to 3 hours, depending on the schedule. Check the timetables at the RENFE website. By bus – From the Barcelona Nord Station, a bus leaves twice a day. See the private bus company Sagales for timetables.
Address: Plaça Gala i Salvador Dalí, 5, 17600 Figueres
Go airplane watching at the Mirador de Cal Lluquer.
See the planes up-close and LOUD! There are different viewpoints to see airplanes travel to and from Barcelona airport. But I like the Mirador de Cal Lluquer because of its scenery: wetlands, lagoons, and a small playground by the parking area (Parking Cal Tet). Get up-close and see the underside of airplanes as the engines roar above you! The surrounding area is the Espais Naturals del Riu Llobregat.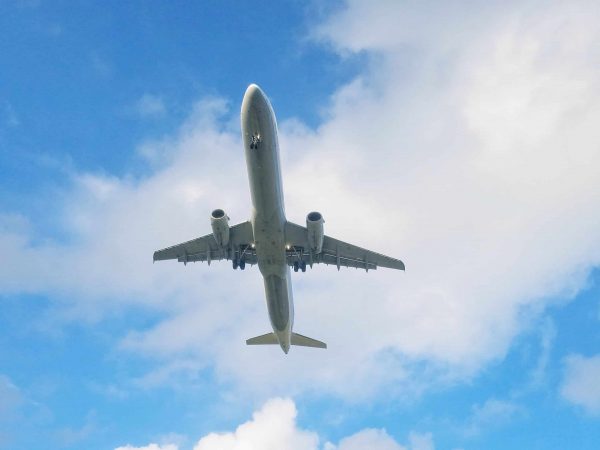 How to get there: By car – The easiest way to arrive at the Mirador de Cal Lluquer by car via the B-10, which takes 35 minutes.
Address: Cami de Valencia, S/N, 08820 El Prat de Llobregat
Hit a park of larger-than-life objects at the Parc de Francesc Macià.
Climb on oversized things at the Parc de Francesc Macià, like a fluffy donut, a buttery croissant, or even a massive high-top sneaker. What about a gingerbread house? The park offers more – it's about 40,000 m2, and has a host of amenities like picnic tables, a playground for small children, a playground for big kids with swings, slides, and zip-lines. It also has a skate park and ping-pong tables. Read more in my post on the Parc de Francesc Macià!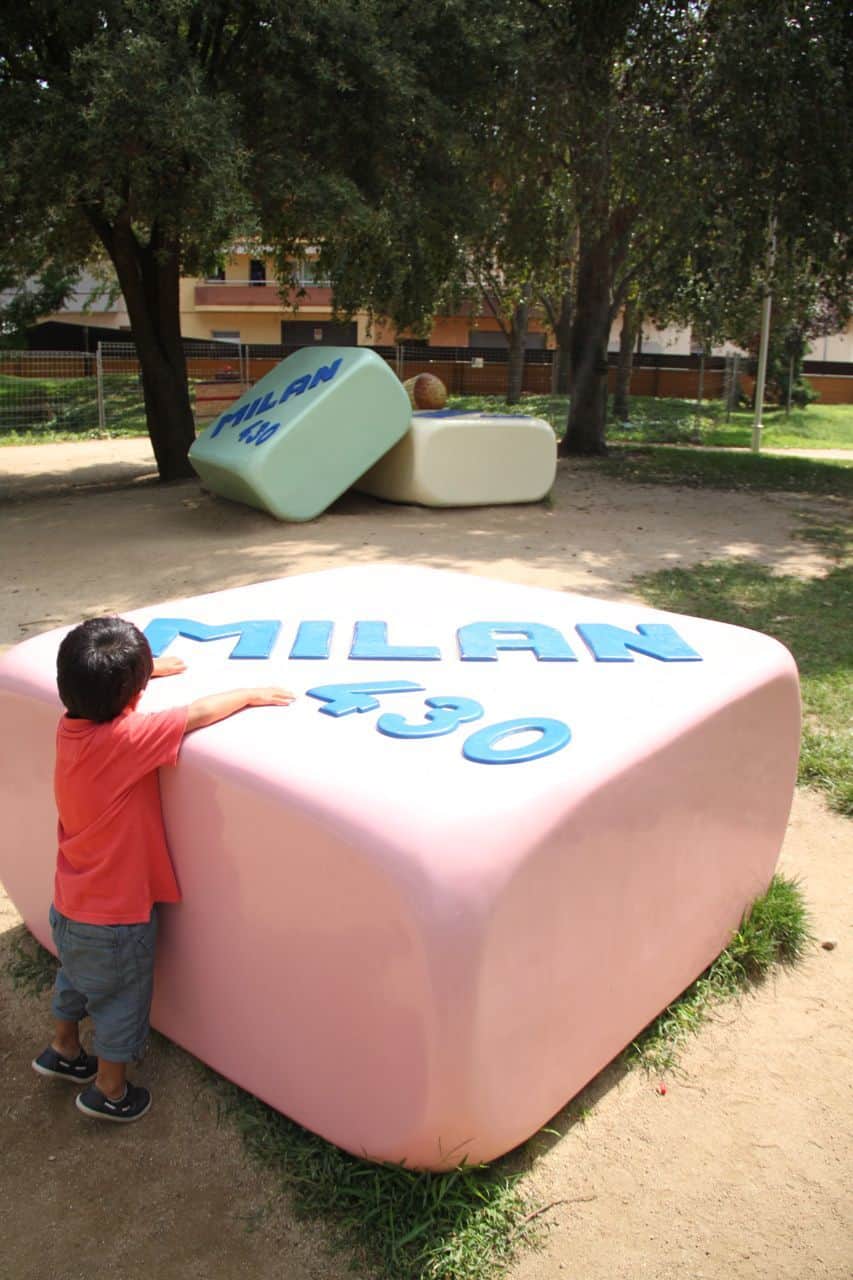 How to get to Parc Francesc Macià: By car – It's about 45 minutes taking the C-32 (toll roads included). By train – You can take the R1 train from Barcelona to the stop, Malgrat de Mar, and the walk is about 15 minutes to the park. It takes about 1 hour, 45 minutes.
Address: Av. de la Costa Brava, 77, 08380 Malgrat de Mar
Go for a train ride at the Parc de Catalunya in Sabadell.
Take a mini-train ride run by real train hobbyists! The train route is about 3 kilometers, lasting about 20 minutes. It costs 2 euros. It even has a cute little train station where you can ring the bell, and yell, "All aboard!" The Parc de Catalunya also has a huge playground area, including a skate park of old tires, an artificial lake to rent a boat in the summer, a play pirate ship, zip-lines, mega-slides, and swings. It also has picnic benches for you to have lunch.  The train is only open on Sundays and holidays from 11 am to 1:45 pm.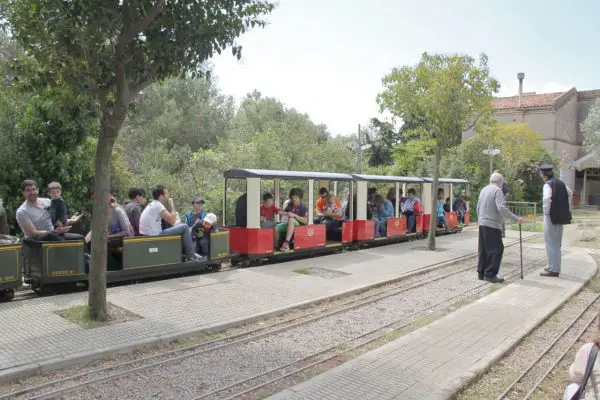 How to get to the Parc de Catalunya: By car – take the C-58 and take exit 12. It takes about 24 minutes. By train or bus – there are multiple ways to arrive by public transportation (too many to list here), so check Google Maps. It takes about 1 hour and 15 minutes.
Address:  Carrer Prat de la Riba, 104, 08206 Sabadell
Spend a day at the seaside town of Sitges.
This day trip to Sitges is relaxing, educational, and easy to get to from Barcelona!  It has a pleasant promenade to stroll and it leads you to the Sant Bartomeu i Santa Tecla Church that overlooks the Mediterranean Sea. Visit the whitewashed old quarter, where children will love discovering the narrow streets. Visit the Terramar Gardens, a tranquil space to admire the vegetation, or have a picnic. We can't forget the beaches, a great place to make sandcastles or to have a swim.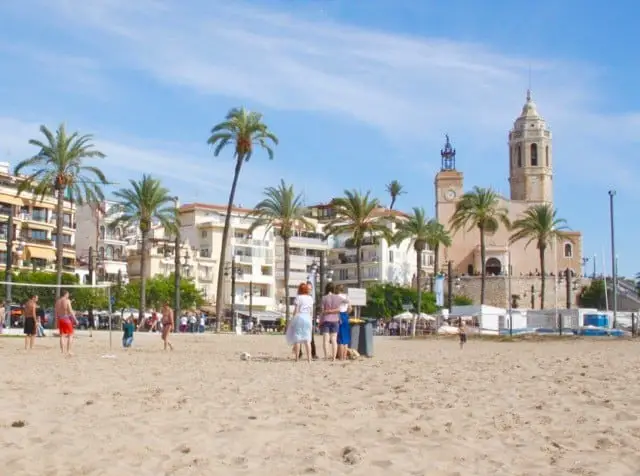 How to get to Sitges: By car – take the C-32, which is It's 41.6 kilometers (43 minutes). By train – Take the R2 Sud train at Estació de França, Passeig de Gracia, or Estació Sants heading toward Sant Vicenç de Calders. It takes 30-46 minutes, depending on which station, and it leaves every 20 minutes. The stop is "Sitges". Compare the lowest car rental rates on Auto Europe.
Make it easy:
Stroll the beaches and castle at Tossa de Mar.
Tossa de Mar is a small town north of Barcelona that has it all: beaches, Catalan gastronomy, and a picturesque walled city perched atop a hill right above the main beach Platja Gran. Kids will love walking around the town, but they will love riding the mini tourist train that goes to the top of the hill! Once you get to the top, the driver will give you about 10 minutes to walk around and take photos around the Vila Vella, which is the walled city, as in the photo below. Another fun activity: take a glass-bottom boat tour around the small bay. And if you love beaches, Tossa de Mar has other small coves peppered around town like Cala Pola or Platja d'Es Codolar, overlooked by the castle.
How to get to Tossa de Mar: By car – it's about 1 hour and 20 minutes via the C-23. By bus, You can take a bus from Barcelona Nord Station, which takes you to the Tossa de Mar bus station, about 1 hour and 20 minutes. Check out the bus schedule here. By train – Take the RENFE Rodalies train R1 to Blanes or Maçanet-Massanes. The trip is about 1.5 hours.
Explore the quaint, medieval town of romantic Besalú.
Besalú is a refreshing contrast from Barcelona, vacant of high-rise buildings and commercialism. This town of the Girona province is historic and charming. The protagonist of Besalu is the Pont Fortificat, an 11th-century bridge that goes over the Riu Fluvia, and leads you to the labyrinthine streets of the old  Jewish quarter. Wander around the Iglesia de Sant Vicenç, the  Mikve de Besalú (the purifying baths), the Monastery of Sant Pere built around the 10th century. You can also climb some stairs down to the river banks and skip stones (a favorite of my kids!).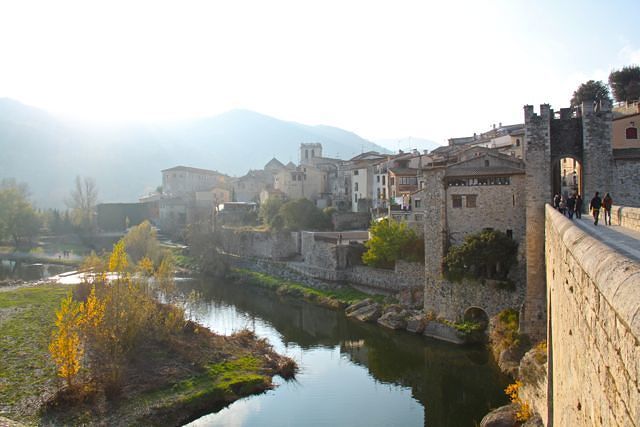 How to get to Besalú: By car – It takes about 1 hour and 35 minutes, taking the AP-7 all the way up. By bus – from Barcelona to Besalú, which takes about 1 hour and 45 minutes. Check out the private bus company called Teisa.
Go back in time to the medieval town of Vic.
70 kilometers north of Barcelona is Vic, a "proud-to-be-Catalan" medieval town. Go to the Plaça Mayor on a Tuesday or Saturday, where a bustling market of crafts, flowers, fruits and vegetables, have been going since the 9th century. Roam the Cathedral, ancient Roman temples, and the 11th-century Romanesque Queralt Bridge. It also hosts a famous medieval fair every December of medieval costumes, parades, and theater. Don't forget to try their specialty of pork products like fuet and longanissa! Vic is a magnificent day trip of history and culture.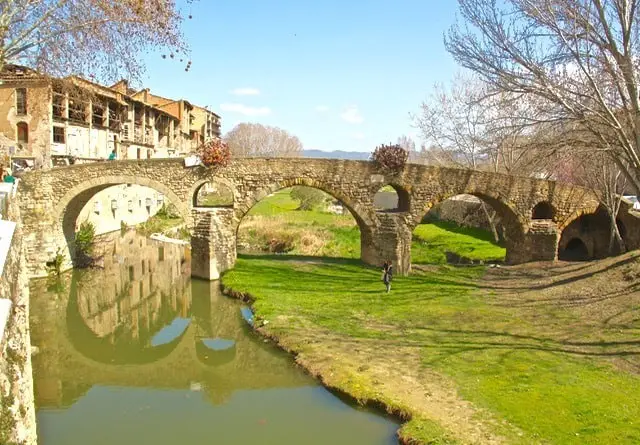 How to get to Vic: By car – Take the C-17, which takes about an hour. You can take the RENFE train with the R3 line, which takes about an hour and a half. By bus – It takes about an hour and 15 minutes. See the Sagales website for the schedule. By train – It takes about 90 minutes taking the Renfe Cercanias R3 train from Sants.
Map of Family-Friendly Day Trips from Barcelona
And there you have it! Some day trips to take with the kids from Barcelona. Have a question? Let me know in the comments below!