*This site contains affiliate links, which means I receive a commission when you buy. See my full disclosure.
Just call it the "coast gone wild" or, in other words, the Costa Brava. While this northeastern region of Spain is famous for its rocky coast and long stretches of sand, it also has medieval villages, natural reserves, and fine art. I've taken several variations of a Costa Brava road trip with my family over the past 15 years. And in this blog post, I'm sharing the best places to see in the Costa Brava if it's your first time. Below, I'm suggesting "clusters" of destinations that are in close proximity. Read on, my friend!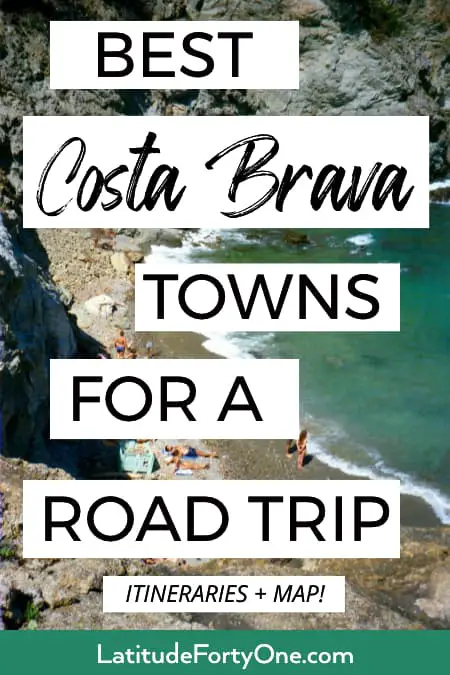 What is the Costa Brava?
Costa Brava is in the northeastern region of Spain above Barcelona and stretches to the French border. (If you were to drive from Barcelona and go north, it would take about 2.5 hours.) It grew as a popular holiday beach destination in the 1960s, becoming an icon of mass tourism in Spain. Tourist pamphlets boasted sandy beaches and endless sunny days, earning the Costa Brava a reputation of being solely a coastal region. But it's isn't just beaches! It covers an enchanting and rich region of wineries, ancient medieval towns and villages, art, and Salvador Dalí-land. 
Lloret de Mar and Tossa de Mar (
Beaches and villages)
Lloret de Mar
While the touristy area of Lloret de Mar is nothing to write home about, Lloret has beautiful coves like Cala Morisca or Sa Boadella. It also has the beautiful Esglesia de Sant Roma, which was built between 1509 and 1522. Nearby are the Jardines of Santa Clotilde (Saint Clotilde Gardens), a picturesque botanical garden with Italian renaissance notes of marble sculptures, lush trees, and flowers. For the young folks, they like flocking here for the lively bars, restaurants, and nightlife.
For a scenic atmosphere, walk the camis de ronda. They are pedestrian roads lining the coast that fisherman, military, and even smugglers used to travel between towns. Some stops include enchanting surroundings such as the Cala Figuera or the remote Cala d'Allà.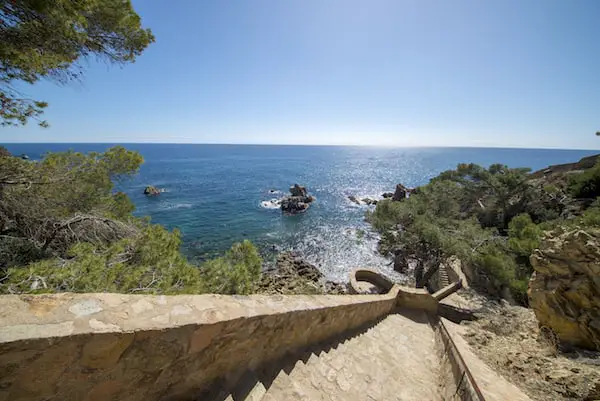 Tossa de Mar
Tossa de Mar is a small, calm, and residential beach town.  Its most outstanding feature is the Villa Vella, or the walled city, perched atop a hill overlooking the beach. Climb the hill, or take the cute tourist train to go up. Once there, you get beautiful views of the Mediterranean Sea and a delightful little town of cobblestoned streets. A curious statue in the area is that of Eva Gardner, who filmed "The Flying Dutchman" in 1951. The main beach is the Platja Gran (pictured below), which is the main beach closest to the town's area. But Tossa de Mar also has more intimate coves like Platja Es Codolar or the rocky Cala Llevadó.
Pals, Peretallada, Begur, and Calella de Palafrugell (
Medieval villages and beach)
Peratallada
Peratallada is an ancient stone village whose name comes from petra ("stone") and tallada ("engraved").  Its fortified castle built from the 11th to 14th century has a palace and a tribute tower, and the Church of Sant Esteve was built in the 13th century. It also has a moat surrounding the town (sans dragon!) and is excavated into the rock. If you're here in October, you may come for the Medieval Market, where the city is transformed into artisans, jugglers, and medieval clowns.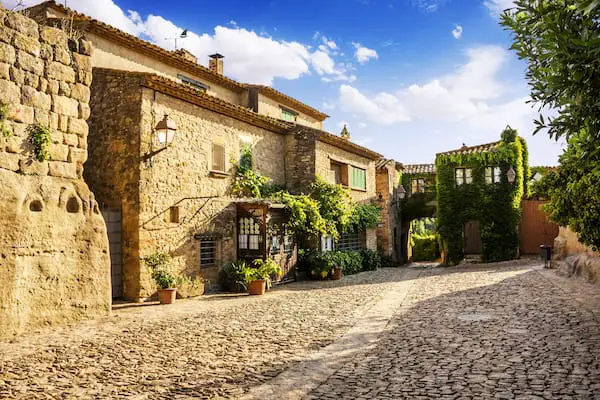 Pals
Pals is another charming, cobblestone town reminiscent of medieval times, winning many awards for the preservation of its Catalan heritage. Its beautiful Romanesque tower goes back from the 12th century. And the Gothic building Ca la Prina, built in the 15th and 16th century is currently a cultural center. The Church of Sant Mere boasts Roman, Gothic, and Baroque influences. Go up the lookout point of Josep Pla, to get a panoramic view of the natural reserves of the Medes Islands. (Yes, they are small islands nearby!)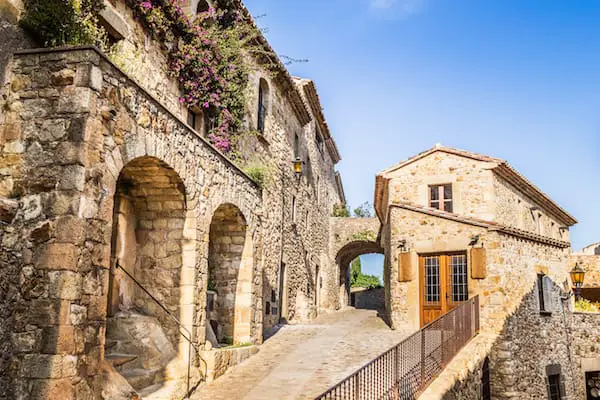 Calella de Palafrugell
Calella de Palafrugell is a small resort and fishing village with a warm, special charm. It conserves its original beauty for generations, of fisherman boats parked among the sand and rocks. Visit the Platja de Port Bo where you can see Les Voltes, or old porticoed houses. You won't find many hotels in the area, but a good Airbnb will give you a more authentic experience.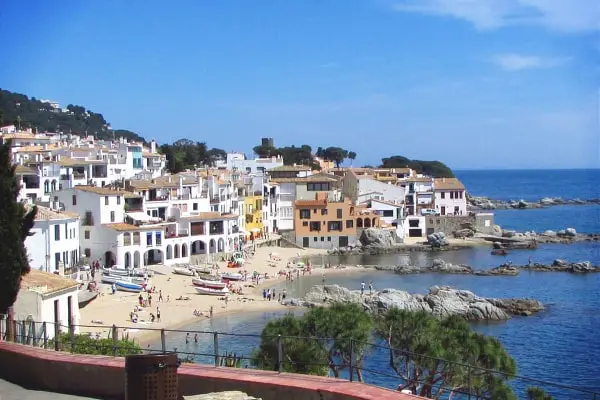 Begur
Begur is a two-fold delight. It has an old town with the small Romanesque settlement of Esclany, a 15th-century medieval castle, fortified city walls, and five ancient defense towers. It also has eight coves and small beaches. Begur also has curious "Indies" houses, built in the colonial architectural style by townsfolk who emigrated to the Americas in the 19th century. (They returned to Begur with a fortune!) For an intimate beach, head to L'Illa Roja, with its beautiful rocky cliffs and remote atmosphere.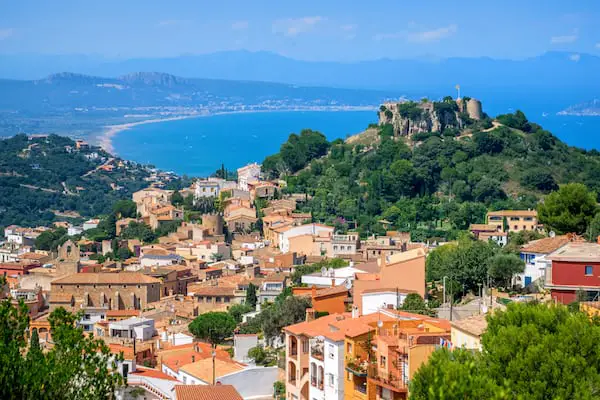 Cadaques, Cap de Creus, and Figueres (Art and nature)
Cadaqués
Cadaqués, a small fisherman village protected by the wind, appealed to many artists like Salvador Dalí, Pablo Picasso, and March Chagall. Its unassuming loveliness is found in the whitewashed homes, rocky lanes, and fishermen boats that dot the bay. More than that, it boasts the Esglesia de Santa Maria, a gothic church, first built in the 16th century. Just nearby is the Casa-Museu Dalí, where the surreal artist lived and worked until the death of his beloved wife, Gala, in 1982.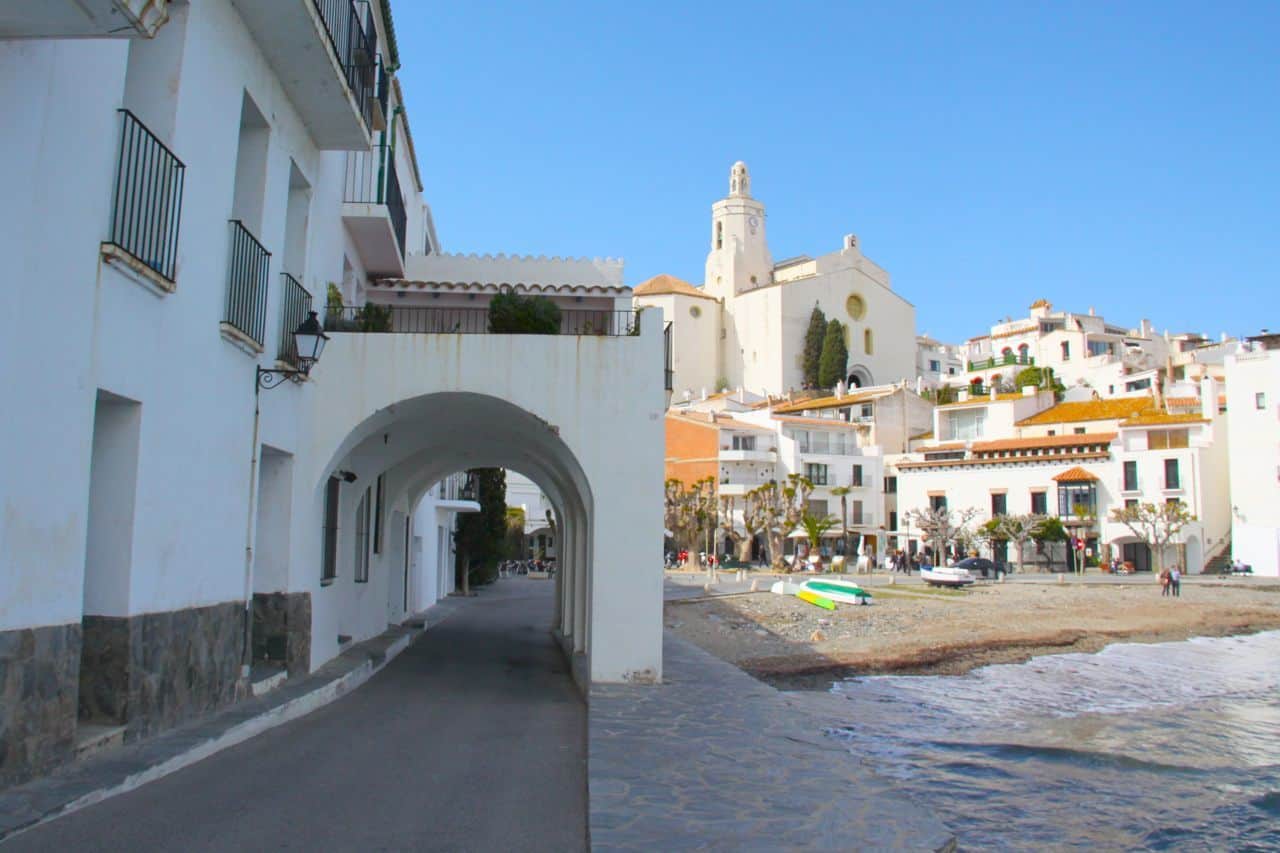 Cap de Creus
Cap de Creus is a beautiful nature reserve inspired by surrealist artist Salvador Dalí. This refreshing area is for lovers of nature and the outdoors. Walkers, trekkers, and mountain bikers wander the paths or follow the cattle trails. Follow the paths to the lighthouse in Port de la Selva. See more about my long weekend in Cap de Creus here!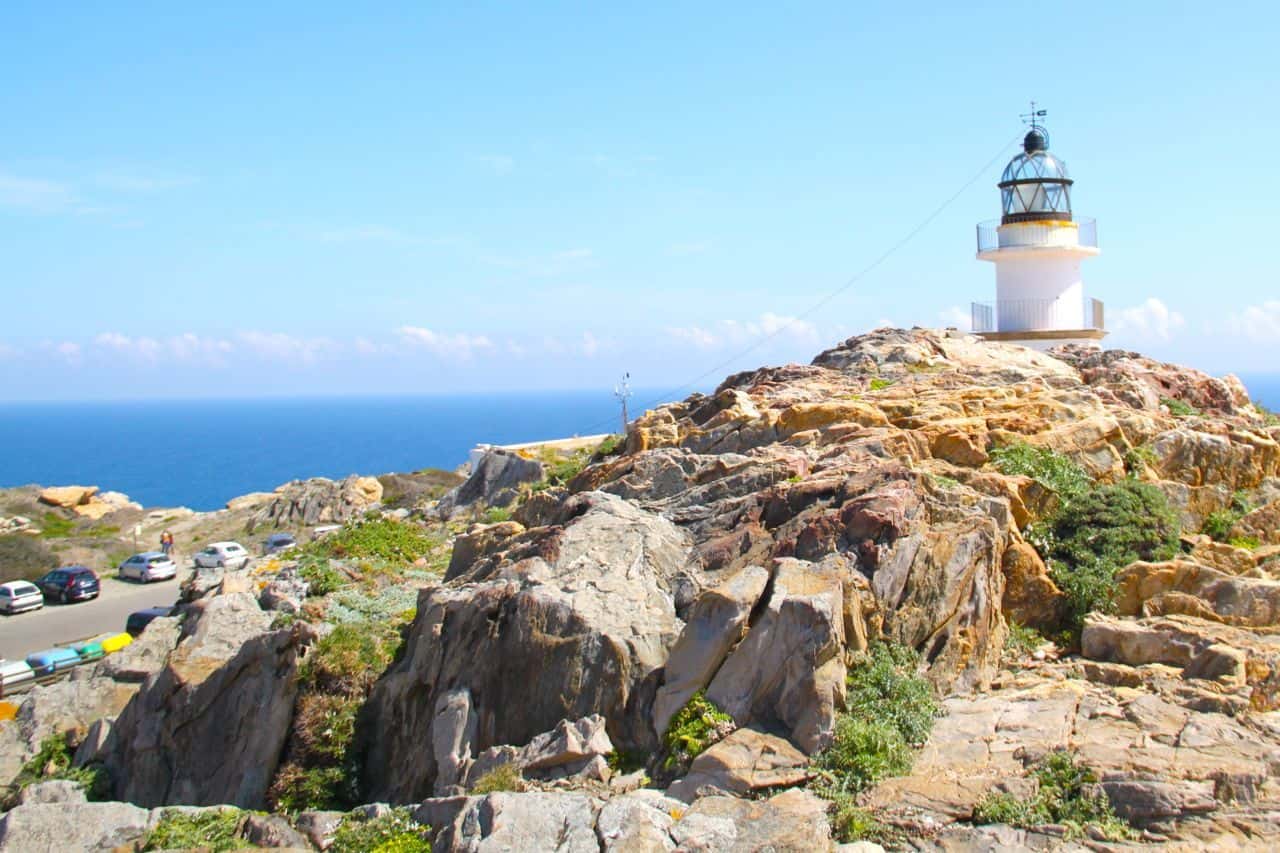 Figueres
There's only one reason to go to Figueres –  for Salvador Dalí! It's the birthplace, hometown, and burial site of the famed Catalan artist. And the mecca of Dali-land is the Dalí Theatre-Museum, hands-down my favorite museum in Spain. Dalí helped design this museum, once a damaged municipal theater. It's considered the largest surrealist object in the world and has many recognizable art pieces like the Mae West furniture installment. Read about the Dalí museum in my post here.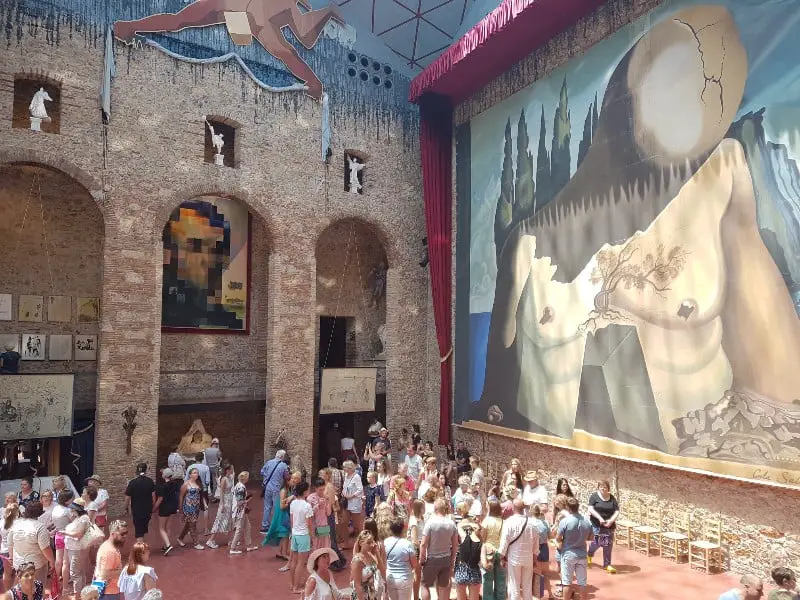 Girona (Medieval City)
If you like culture, history, and the Game of Thrones, then you can't miss the stunning city of Girona. Located inland, Girona was a major Roman city, possessing the Onyar River, which divides the urban center from the old town, Barri Vell. Its beauty lies in the Girona Cathedral, a Gothic cathedral that started construction in the 11th century. The Call Jueu is the labyrinthine cobbled streets, one of the most well-conserved Jewish quarters in Spain. We can't forget the Banys Àrabs, ancient public baths dating as far back as the 12th century.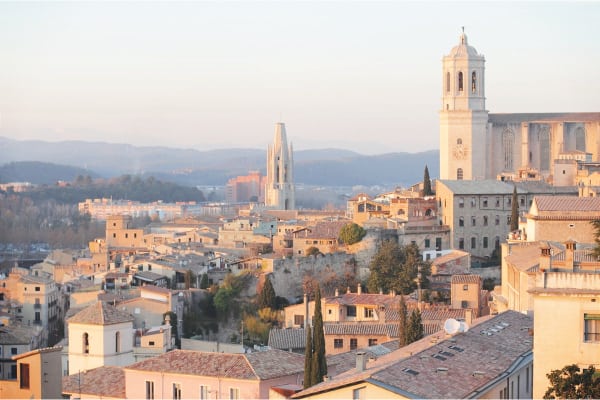 TLDR; My favorite places to go to in Costa Brava
If I were to pick three towns, I would pick:
1) Tossa de Mar – the Villa Vella is a unique place! Where else can you see a castle overlooking the beach? Wandering around the streets behind it also gives you gorgeous views.
2) Cadaqués – this town is well-preserved and untouched by ugly mass tourism. Plus, you can feel the spirit of Dalí here.
3) Girona – It's an important historical city with plenty of things to do.
---
Want more? Read my detailed guide of Barcelona day trips from Barcelona!
Or want a longer-ish vacation? Read about the best weekend getaways from Barcelona!
---
How to Get to Costa Brava from Barcelona
The easiest way to travel the Costa Brava is to rent a car and take a road trip. However, if it's not possible, trains and buses work just fine in Catalonia. See the map below!
But if you don't want to drive, you can take the train or the bus. The RENFE train system is the official railway. Find RENFE train schedules here. The buses can vary from destination to destination. Some of the bus companies are Sagalés or TEISA.
But why not make it easy? Sometimes an organized trip can take the headache out of travel. Check out these exciting Costa Brava experiences with Get Your Guide:
Costa Brava Sample Itineraries
Mix and match, baby! Here are a few suggestions of itineraries you can take to see the Costa Brava.
3 days
1) Tossa de Mar (beach and history) + Figueres + Cadaques (art and quiet village)
2)  Lloret de Mar (pretty beach) + Peretallada (medieval town) + Girona (history and culture) + Cadaques (art and quiet village)
3) Tossa de Mar (beach and history) + Lloret de Mar (pretty beach) + Cadaques (art and quiet village) + Figueres 
5 days
1) Tossa de Mar (beach and history) + Lloret de Mar Begur (beach and history) + Cadaqués (art and quiet village) + Figueres
2) Lloret de Mar (pretty beach) + Peretallada (medieval town) + Pals (medieval town) + Girona (history and culture) + Cadaques (art and quiet village)
3) Tossa de Mar (beach and history) + Girona (history and culture) + Begur (beach and history) + Calella de Palafrugell (beach)
7 days
1) Tossa de Mar (beach and history) + Lloret de Mar (pretty beaches + Girona (beach and history) +  Cadaqués (art and quiet village) 
2) Lloret de Mar (pretty beach) + Peretallada (medieval town) + Pals (medieval town) + Begur (beach and history) + Girona (history and culture) + Cadaqués (art and quiet village) + Figueres (art)
FAQs
How many days do you need in Costa Brava?
At least seven days would be ideal. But not everyone has that luxury of time, so 3 days would be the minimum to see at least two towns in the Costa Brava. But do what you can!
Can tourists drive in Spain?
If you are an EU citizen, you can rent a car by just showing your driver's license and identification. If you are not an EU citizen, you must have an international driver's license. Europeans usually drive manual (stick shift), so be sure to check that detail of the car you're renting one.
Is driving in Barcelona difficult?
The driving signs in Barcelona and Catalonia are probably different from where you are. But they are fairly intuitive and easy to read. Parking spaces are tighter than in the US. Also, if you are going to a big city (like Barcelona) it's difficult to find parking. I suggest that you familiarize yourself with traffic signs in Spain. Google is your friend!
What about toll roads?
This was a huge shocker for me – the expensive toll roads in Catalonia! But they are definitely the faster way to get from city to city. My family and I prefer using them to avoid any winding roads. If you want to estimate how much the toll roads are, visit the Via Michelin website, which estimates the tolls and gas mileage based on the type of car.
Costa Brava map
That's it for things to do in Costa Brava! Have you been to Costa Brava? Have I missed any must-see towns? Do you have any questions about this beautiful region? Let me know in the comments!