*This site contains affiliate links, which means I receive a commission when you buy. See my full disclosure.
Romantic Spots in Barcelona
Combine Barcelona's sunny weather with the sensuality of the city: the elegant modernist buildings in Eixample, unspoiled historic monuments, and bewildering views. Barcelona feels light in spirit, carefree, and romantic. But not only that, it's mysterious. You can get lost in the lanes of Born and Gothic Quarter neighborhoods – to be pleasantly surprised by a hidden tea shop or antique vermouth bar. So where are the most romantic spots in Barcelona? Read on to find romantic Barcelona activities for couples!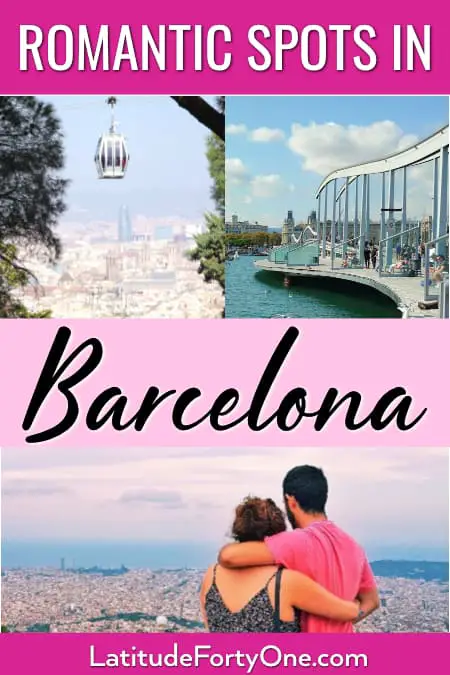 1. Have an amorous picnic at the Jardines de Mossèn Cinto Verdaguer in Montjuic.
A romantic place to lounge and have a picnic is in the Jardines de Mossèn Cinto Verdaguer. The green gardens are set on a gentle slope with plenty of trees to shade you. It's beautifully landscaped with walking paths, dahlias and lilies, and a calming lake in the middle.  It also has an upper area where interconnected ponds display aquatic plants. The Jardines de Mossèn Cinto Verdaguer feels like a remote meadow where you can enjoy a peaceful, intimate outing with your lover.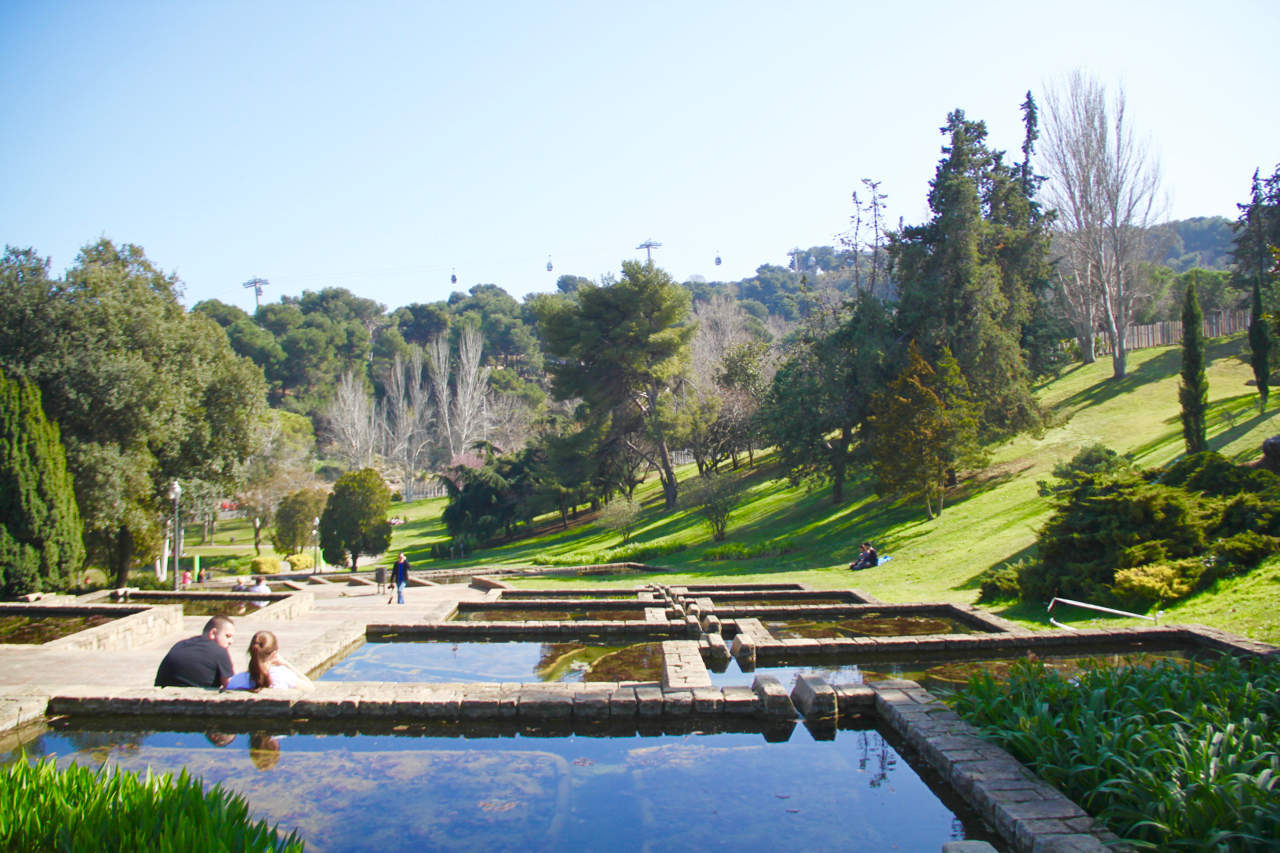 2. Get carried away on the Telefèric cable car.
The Montjuic cable car is an adventurous 10-minute delight for lovers as they fly over Barcelona. Get a bird's eye view of all of Barcelona, seeing iconic attractions like the Sagrada Familia and the Torre Glòries jutting out of the cityscape. It has three stops: Montjuic Park, Montjuic Castle, and the Mirador (lookout point). You can either get off at the stops or just do a round trip together.  [Get a 10% discount on the Montjuic Cable car here!]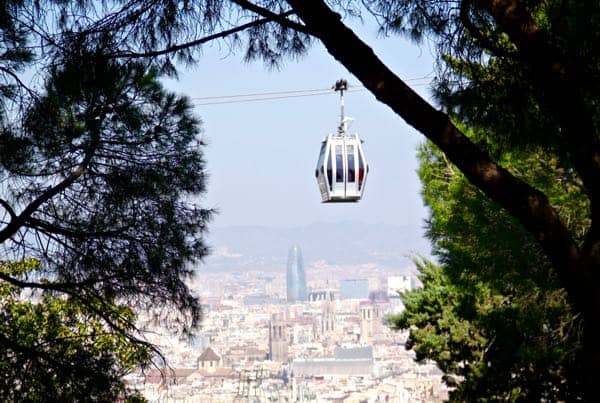 3. Have a romantic guided tour at the La Pedrera Night Experience.
Turn out the lights, baby. Take a nocturnal guided tour of the Casa Milà (La Pedrera), ending the tour with a show on the wavy iconic rooftop. A personalized guide takes you through the Flower Courtyard, the Butterfly Courtyard, and the attic that looks like a whale's ribs. You'll love the audio-visual effects, including video mapping of the roof-terrace, dreamy projections on the stairwells, cool lighting, all accompanied by dramatic tunes. In the end, toast your love with a glass of cava in the Butterfly Courtyard. [Book a night tour with La Pedrera Night Experience]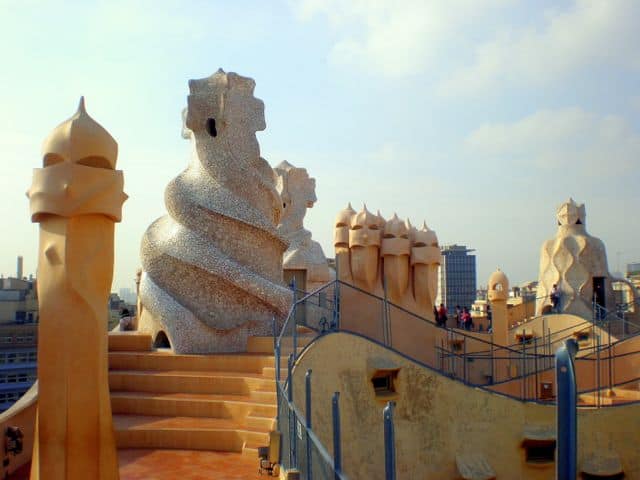 4. Have a few naughty giggles at the Erotic Museum Barcelona.
OK, so it's not exactly a place to propose. But it is suggestive – which is why you should visit the Erotic Museum with your lover. Personally, I was pleasantly surprised at how comprehensive and educational this museum is: Kama Sutra art, moving machines, erotic Dalí paintings, eroticism in world cultures, and a nasty print collection of Spanish King Alfonso XII. Also, in the garden, you can sit in a v*****a. I can't say it! Just go visit the Erotic Museum, you will not be bored. Get 5% off the Museu de L'Eròtica here!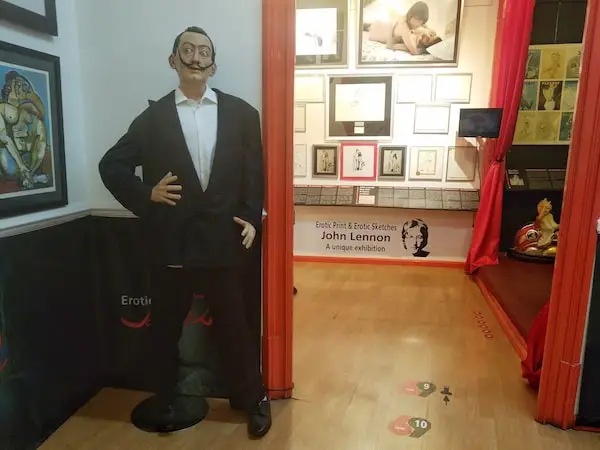 5. Watch the sunset at the Bunkers del Carmel.
Here you'll find the top of Turó de la Rovira, the Bunkers del Carmel, a strategic place where anti-aircraft guns were installed during the Spanish Civil War. Caveat: this high-level spot is no secret anymore, so it can be crowded around sunset. The Bunkers has an urban feel and is not manicured in any way – with its graffiti-laden walls, rugged steps, and a dusty path that leads up to it. It makes it the perfect casual spot for friends to kick back and chug some beers. So why's it good for couples in love? It has an incredible 360° view of Barcelona, 262 meters above sea level. So, grab a spot where you can isolate yourself with your sweetheart. And bring some olives, wine, cheese, and Ibérico ham. Then you're set to whisper sweet nothings in your babe's ear.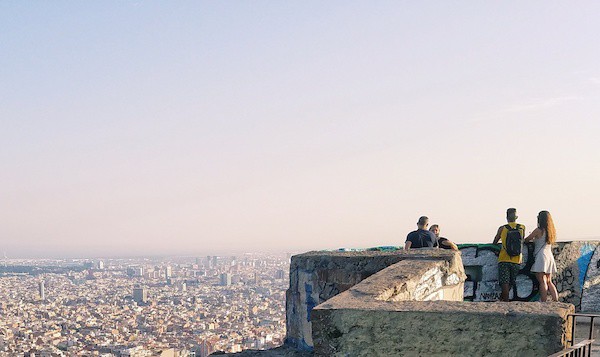 6. Stroll arm-in-arm through the Born neighborhood.
Loved-up couples can stroll through Born's shaded alleys, cobbled courtyards, or ancient buildings like the Picasso Museum. You can admire the stunning art deco fountain at the Plaça Sant Pere or wander through the solemn Catalan Gothic basilica, the Santa Maria del Mar. Weave your way through the palaces that line Carrer Montcada, which were built by wealthy merchants.  It's easy to feel enamored on plant-filled streets like Carrer d'Allada-Vermell or the shady Plaça Sant Agustí Vell. The opportunities for romance in Born are countless.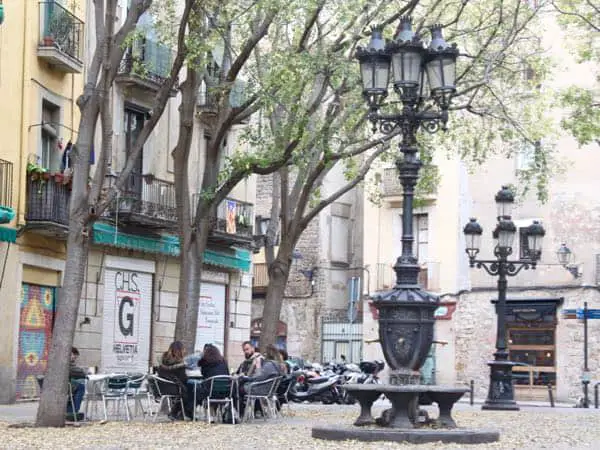 7. Saunter around the seaside: Port Vell and the beaches.
Barcelona's spots around the sea are plenty: calm quays, wooden esplanades, and of course its vibrant beaches. Meander around Port Vell, where seagulls swoop by and the Port Cable Cars fly overhead. Or, sit at one of the benches at the Rambla de Mar, and admire the lapping waters. If you want to really stretch your legs, walk all the way down to the W Hotel to the Barceloneta holding hands with your honey.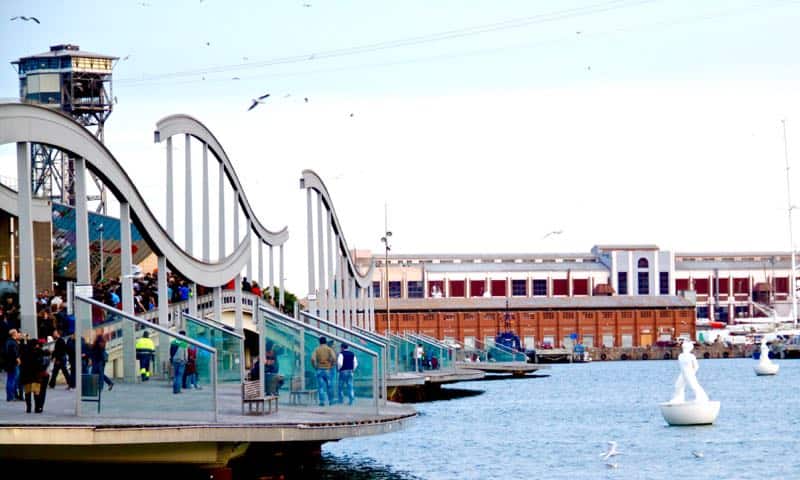 8. See a concert at the opulent Palau de La Música.
The Palau de La Música is an idyllic place to delight in choral, classical, or flamenco tunes with your lover. It boasts colorful, intricate stained glass, tile work, sculpture work, and ironwork, making it a pinnacle of Catalan art nouveau.  From the multi-colored stained glass skylight in the concert hall to the vestibule, staircases, and foyer, this venue is where splendor, beauty, and romance collide.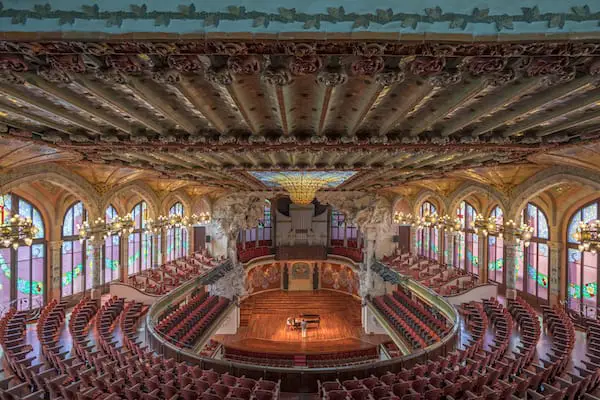 9. Get the highest view of Barcelona from Tibidabo Mountain.
Scale the hillside of Tibidabo to get privileged vistas of Barcelona.  It has a few attractions, like the church, Temple Expiatori del Sagrat Cor, where you can go all the way up to the top (depending on the season). From there, peek at the Tibidabo Amusement Park below, which makes for an interesting juxtaposition against the busy metropolis. As a Google review said, "Not sure why it wasn't more people here?" Going to Tibidabo is worth it just for the view. Check out my guide to Tibidabo.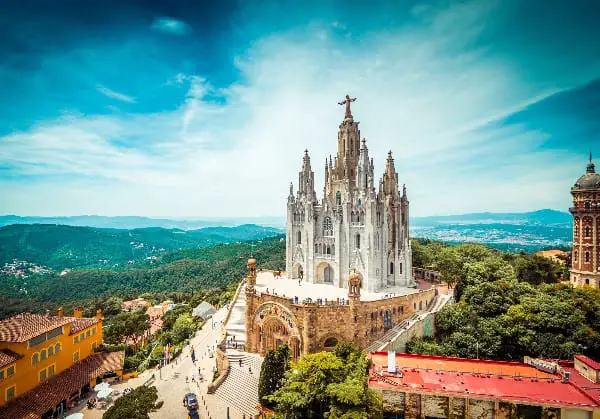 10. Have a romantic walk at the Jardins del Laberint del Horta.
Tranquil ponds, mesmerizing fountains and waterfalls, and sculptures of Greek gods – the Jardins del Laberint del Horta elicits romance. This neoclassic park in Vall d'Hebron is at the foot of the Collserola hills and extends over three levels. It's also the oldest park in Barcelona. A former estate of a Catalan aristocrat, its architecture has Mediterranean, Arabic, and Romantic influences, making it a magical nature spot. The best thing to do with your lover? Get lost among the cypress tree hedges at the labyrinth and find a statue of Eros, the Greek god of love. Read my post about Laberint del Horta here.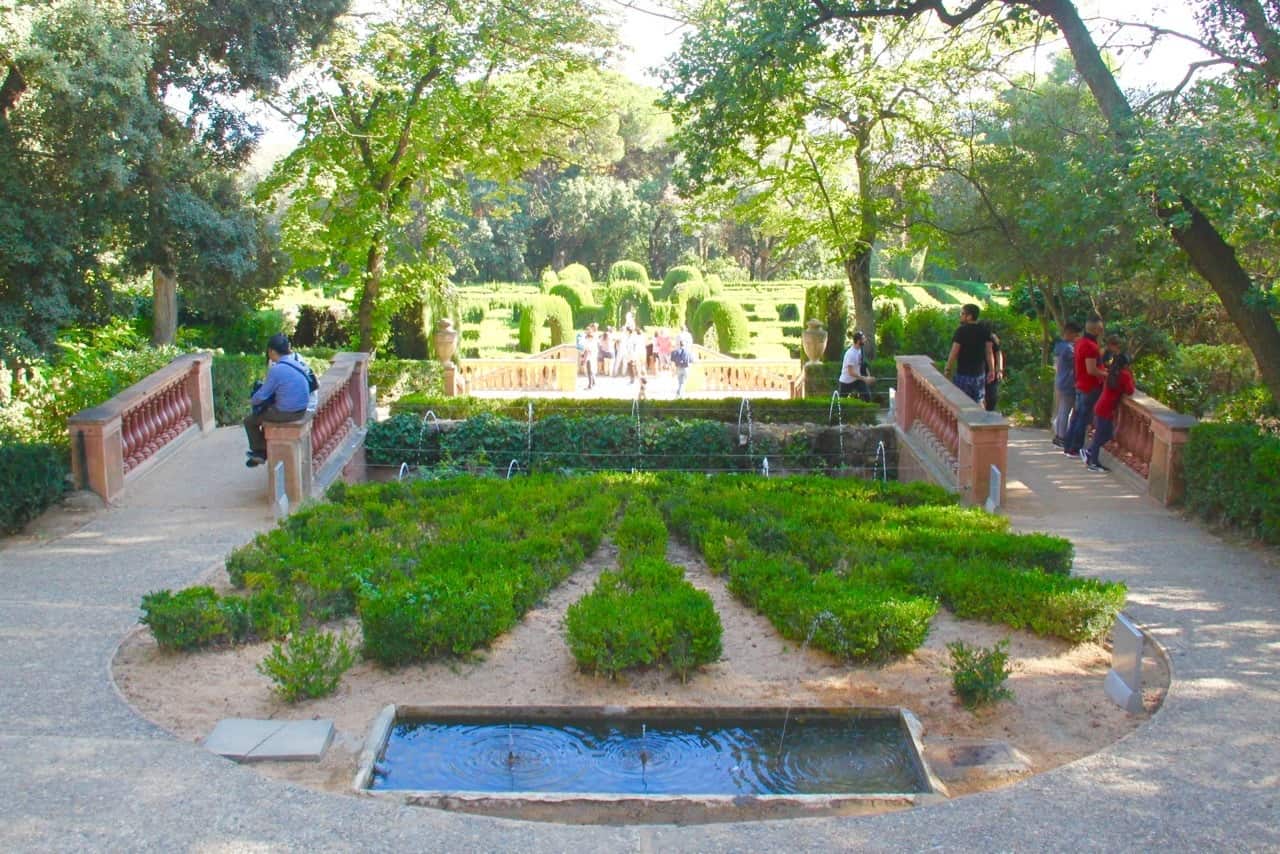 There you have it! Do you have any other suggestions for romantic things to do in Barcelona? I'd like to hear it!