*This site contains affiliate links, which means I receive a commission when you buy. See my full disclosure.
Practical Guide to Planning a Trip to Spain
Spain boasts historic medieval castles, exquisite Mediterranean gastronomy, and a fiesta-inspiring culture. If you've always wanted to go to Spain, it's pretty easy to prepare. Get a head start and plan your Spain itinerary. Find out the best time to go, which cities to visit, and how much things cost in Spain. Get inspired – and get planning a trip to Spain!
Spain travel restrictions
First things first! Check your country's embassy website if it is safe to travel to Spain right now. Find out what you need to do before you plan your Spain trip itinerary by visiting the official Spain travel rules at Spain Travel Health. It will tell you the health measures before arrival, such as filling out a Health Control Form, which you'll need to present at the airport. Also, read more fun facts about Spain here.
When to visit Spain
Spring
Spring is one of the best times to visit Spain. The weather gets warmer in April and May, and the tourist crowds are not as thick as in summer. Plus, event season is here! Here are some Spain events during spring:
– Semana Santa (Holy Week) – Spanish towns and cities, most notably in the south in Andalusia, perform ancient 16th-century processions of religious statues through its streets. Fraternities and brotherhoods (often dressed in KKK-style uniform) carry a heavy, decorative statue solemnly through the streets while penitents follow in a fascinating somberness.
– Feria de Abril in Seville – This decorous and festive weeklong fair is where Sevillanos dance sevillanas, eat tapas, and drink rebujito cocktails. It's truly a spectacular sight of horse-drawn carriages, garlanded streets, and partying into the wee hours.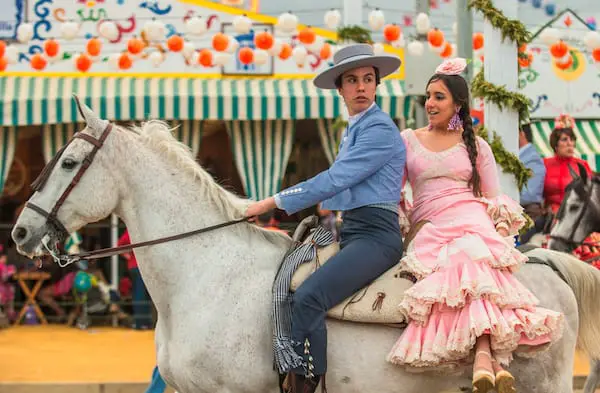 – Las Fallas in Valencia – Celebrating Saint Joseph, Las Fallas is a pyrotechnic celebration, where carefully crafted papier-mache sculptures are burned. It's a 5-day festival of costume parades, deafening fireworks, and street parties.
– Bullfighting season is on in Madrid and Andalusia if you want to observe this time-honored tradition. It's banned in Catalonia!
– Primavera Sound in Barcelona – an international indie rock music festival that lasts four days. Crossing my fingers it's on this year!
Summer
This is the most popular time to come to Spain, so expect to book tickets for activities in advance. This peak season runs from June, July, And August. It also is very hot, bordering insufferable, particularly in Andalusia.
– San Fermin Festival in Pamplona – Outside of Spain, it's known as the Running of the Bulls where locals (and innocent tourists) run furiously with bulls for 875 meters. It's also a weeklong celebration of food, fireworks, and festivities.
– La Tomatina in Buñol – This fruit fight is when locals and tourists throw tomatoes at each other, causing the most disgusting mess but makes Instagram shots to brag about. Buñol is about 39 kilometers from Valencia.
Fall
The shoulder season is a great time to come as crowds have died down, and the weather is still warm in some areas until October. 
– La Mercè in Barcelona – A lively 3-day festival of Catalan traditions like human towers, concerts, workshops, and activities. It's for the whole family! This is the best time to come to Barcelona, IMHO. (Find more about year-round Barcelona events here.)
Winter
– Christmas markets can be found in all major cities. (However, don't expect it to be like German next-level Christmas markets!) Every city has its own Christmas traditions like visits with the Three Wise Men.
– Día de Los Reyes – Three Kings Day is when the Three Wise Men parade in each town on the eve of the Epiphany, January 5, also with an entourage of dancers, and camels, and more. Typically, paraders throw sweets at the kids as they try to catch them.
Spanish Cities to Visit
Take a quick look at this map of Spain. It's a very diverse country, and I'm lucky to have visited all of these cities once in my life (minus the Islands).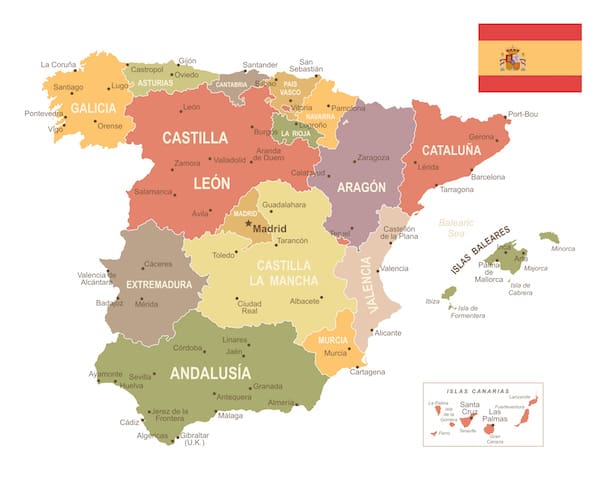 Madrid – With about 3.3 million residents, Madrid is the capital and the largest city in Spain, and the sixth-largest city in Europe.  It's known for its world-famous museums like the Museo del Prado. Madrid doesn't have any ONE iconic monument, but a majestic city of mansions and Baroque architecture. (Find where to eat in Madrid here!)
Barcelona – The grand city-by-the-sea of Antoni Gaudí modernist architecture, urban beaches, and medieval streets. (Also, my favorite city in the whole world!!) Find out the best things to do in Barcelona here.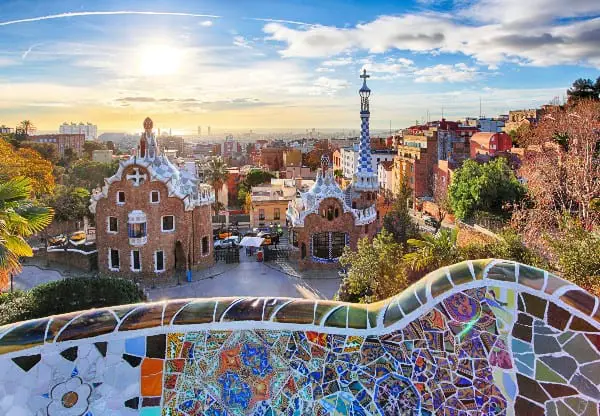 Seville holds many Spanish stereotypes: flamenco, bullfighting, and passionate people. This Andalusian capital boasts enchanting medieval streets, the Moorish beauty of the Alcazar, and a behemoth Gothic cathedral. (Read my 3-day guide here.)
Granada is a smaller, but bohemian Andalusian city with Arab and Islamic influence, doting the majestic Alhambra. The district of Albayzin seduces you with its narrow streets filled with inexpensive tapas restaurants, charming teahouses, and hidden squares.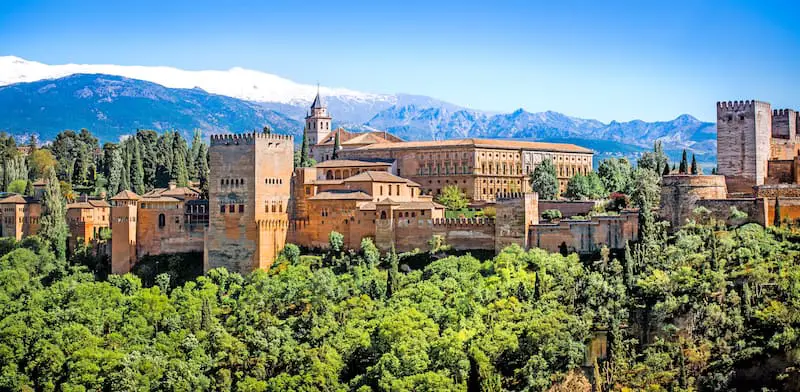 Córdoba – This alluring town of Arabian baths, flower-filled Spanish patios. It's famous for La Mezquita, a behemoth mosque dating from 784 A.D.
Valencia – a traditional city with futuristic architecture. Valencia is also famous for the paella valenciana (a paella with meat, not seafood), beaches, a historic quarter, and quaint plazas.
San Sebastian – A beach city in the cool Northern Basque Country, San Sebastian (also called Donostia) has windswept beaches, colorful fishing houses, and an international upscale dining scene.
Bilbao – Also in the Northern Basque region is Bilbao, where lives the shimmery Guggenheim museum designed by Frank Gehry. It's home to many Michelin-star restaurants and is a town of pintxos (not tapas). Bilbao also has both beaches and mountains.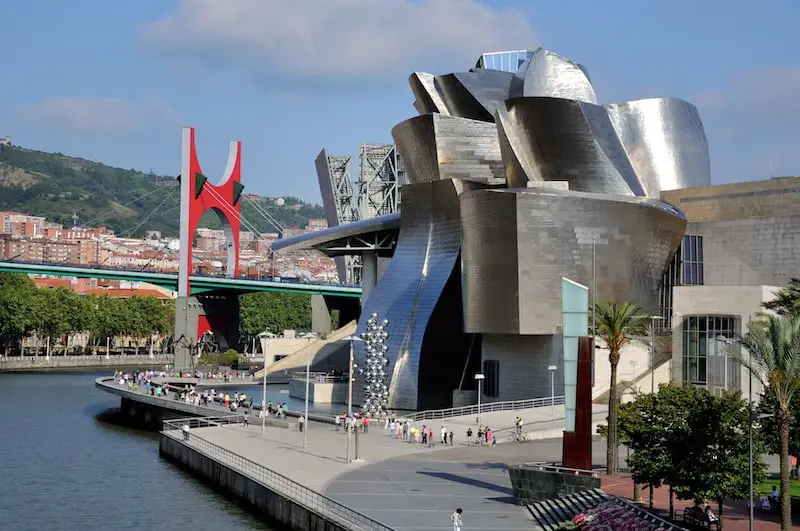 Mallorca – One of the Balearic Islands, Mallorca is most popularly known for its nightclub life. Its natural beauty lies not only in the beaches, bays, and rocky cliffs but also in the coastal villages and vineyards.
Other notable cities for your trip to Spain planning include Ávila, Salamanca, Toledo, Segovia, the Costa Brava, Málaga, Zaragoza, and more. Read about the best cities in Spain to put on your itinerary!
Suggested Itineraries for Travel in Spain
How can you explore Spain in a week? If you want to get the most bang for your euro / buck, the South is worth visiting because the major tourist cities are near each other. Taking a train from Seville to Granada is 2.5 hours, and from Seville to Cordoba, it's just 45 minutes! The North of Spain is more spread out. Bilbao to San Sebastian is almost 6 hours by train. Here are some of my suggestions for the best Spain itinerary for you:
Spain itinerary: 14 days
– Madrid, Toledo, Ávila (5 days) + Barcelona (4 days) + Seville, Granada, Córdoba (5 days)
– Madrid, Toledo (5 days) + Barcelona (4 days) + Bilbao, San Sebastian (5 days)
– Barcelona (4 days) + Bilbao (4 days) + Seville, Granada, Córdoba (6 days)
– Madrid, Toledo (5 days) + Bilbao (4 days) + Seville, Granada, Cordoba (5 days)
10 days in Spain
– Madrid, Toledo (4 days) + Barcelona (4 days) + Seville, Granada (2 days)
– Madrid, Toledo (3 days) + Barcelona (4 days) + Bilbao (3 days)
– Barcelona (3 days) + Bilbao (3 days) + Seville, Granada (4 days)
– Madrid, Toledo (3 days) + Bilbao (3 days) + Seville, Granada, Cordoba (4 days)
Spain itinerary: 7 days
– Madrid, Toledo (4 days) + Barcelona (3 days)
– Barcelona (3 days) + Seville, Granada, Cordoba (3 days)
– Madrid, Toledo, Segovia (4 days) + Seville (3 days)
If you want someone to personally help you with your Spain itinerary, you can get a Spain expert to help you create your dream Spanish vacation. Contact my friend Teresa at I Spy Spain, who creates CUSTOMIZED itineraries, the way you want to travel!
I didn't include any Spanish islands because I feel you'll experience the Spanish essence more in mainland Spain. But if you love the beach, do go!
---
Barcelona or Madrid? Which is better?
It depends on what you want. Madrid is cheaper to visit, and you can find more authentic Spanish food at a good price. It also has more internationally renowned art museums and better nightlife. It's also landlocked and can get really hot in the summer. Barcelona gets more tourists, has more tourist traps has an image of over-tourism. In Barcelona, they also speak Catalan, although English is commonly used for outsiders. Along with the old quarter, Barcelona has a port, beaches, and mountains, so it feels open and relaxing.
---
Seriously, which city or cities are best to visit?
For art museums: Madrid
For culture: Barcelona, Madrid, and Seville
For food: Every city! But San Sebastian has the most Michelin-star restaurants
For Spain history (think Don Quixote): Toledo, Segovia, Ávila
For Antoni Gaudí and modernism: Barcelona
For small whitewashed villages: Andalusia (Ronda, Arcos de La Frontera)
For beautiful beaches: the Balearic Islands and Canary Islands [Read about the best beaches in Spain!]
For wine country: La Rioja and Galicia (in the north), Andalusia, Catalonia regions – just to name a few!
Then check out my post on the best cities in Spain to put on your itinerary!
Average Trip to Spain Cost and Budget
The most budget-friendly region is in Andalusia, Spain. It's an excellent deal where you can get culture, art, and incredible food. (IMHO, it has the tastiest cuisine in all of Spain.)
Average costs for hotels – Madrid and Barcelona are quite expensive, but you can also find deals in the city. Hostels can be found everywhere (now with stricter health measures more than ever) and can start as cheap as €14 (yes, I've seen it for a private room!). Find your hostel in Spain here!
The average cost for a 3-star hotel in Barcelona is under €100. Of course, Airbnbs are a popular choice if you want to have a private, "like a local" experience. Book your Airbnb in Spain here!
A budget hotel is less than €80. A mid-range hotel is €80–175. A five-star hotel is upwards of €175.
A unique idea is to stay in a Parador in Spain. It's usually a historic building like a castle or a convent. Try the gorgeous Parador of Cardona (82 km / 52 mi from Barcelona) or the Parador de Cuenca, a former convent, where you get a view of the famous hanging houses off the cliff.
Eating out can be cheap if you choose carefully. Get a menu del dia, consisting of a 3-course meal of an appetizer, a main dish, a dessert, and a drink can be around €12 (or cheaper in the south!). Even just buying a sandwich and a drink can run you less than €7. A beer? About €2 at a bar.
Getting around – If you want to travel long-distance between cities, various budget airlines, like Vueling and Ryanair run cheap deals. It can be as low as €50 one way. The train is also quite cheap unless you're taking an AVE, the high-speed train. The national railroad company is RENFE.
Best way to travel in Spain
How to travel in Spain depends on your destinations. Between major cities like Madrid, Barcelona, and Bilbao, it's best to take an airplane. Here are some examples of flight times:
Madrid to Barcelona – 1 hour 20 minutes
Bilbao to Madrid – 1 hour 10 minutes
Bilbao to Seville – 1 hour 25 minutes
Tenerife to Madrid – 2 hours 50 minutes
Valencia to Mallorca – 55 minutes
Between cities close in proximity (like in Andalusia), it's worth taking a train. If not, a bus. Within Spanish cities (except Barcelona), Uber and other ride-sharing apps operate. They are not a popular choice like in the US. I believe taxis are more common, but it may depend on the city. I don't recommend renting a car in Spain as it can get pricey, driving rules are different, and public transportation in most cities works well.
Where To Stay
I faithfully use Booking.com for their flexible policies on some hotels, like free late cancellation! Start searching now to get some ideas of how much hotels cost. Look here to get an idea of hotel prices:
What to bring when traveling to Spain
– An anti-theft purse with zippers that lock. Madrid, and especially Barcelona are famous for pickpockets. I own and use this one from Travelon, and it's stylish and keeps my money safe – check out the Travelon Bucket Bag! 
– An adapter for Europe to plug in cell phones, tablets, and small appliances. This one has USB ports: check prices for this adapter
– A converter if you want to use appliances that need more power. Check prices for this converter
While Spain is often painted as a sunny country, the climate largely varies by region. The North (Galicia, Asturias, Basque Country) has a cooler climate. Galicia gets the most rain, especially along the coast. The South (Andalusia) has the hottest weather, with temperatures well rising to 36°C (96°F) in the summer.
Check out my in-depth guide to What to wear in Spain! I share the general climate throughout Spain so you can dress appropriately – and how not to look like a tourist. Check it out!
Your next steps
Set your budget and have a general idea of how much you want to spend. Have enough? Good!
Check the visa requirements here and prepare your documents.
Decide which dates and how long you want to visit.
Book a flight!
Book your accommodations.
Pre-book entrance for activities like visiting the Sagrada Familia in Barcelona or El Prado Museum in Madrid.
Book any trains or flights between cities.
Make a packing list and buy what you need!
Buy travel insurance. A reliable place to get travel insurance is World Nomads.
Things to know before traveling to Spain
– Spain isn't necessarily cheap to visit like Cambodia or Morocco, but it's one of the more affordable countries to visit in Western Europe.
– Is it safe to travel to Spain? In general, yes. Crime is more rampant in bigger cities like Madrid or Barcelona. For tourists, it's mostly petty theft. For Covid-related info, Spain Travel safety will let you know if it's safe to come, what requirements are needed, and what kind of hygiene and safety measures you should take before, during, and after your trip to Spain: Travel Safe Spain
Recommended Guidebooks
Ready to go to Spain? There are some fantastic guidebooks out there, and I usually gravitate to long-standing publishers. Some good ones are:
Rick Steves Spain
There you have it! Hope this little Spain travel guide will help your planning. Questions? Do you need help on how to plan a trip to Spain? Or would you like more tips to visitors to Spain? Let me know in the comments!