*This site contains affiliate links, which means I receive a commission when you buy. See my full disclosure.
Where to stay in Barcelona with kids
Barcelona is a city for all ages. While it's great for restaurants and nightlife, it's also a fantastic daytime city because of the museums, beaches, and mountains.  It's hard to find a friendly place to stay in Barcelona that caters to families.  Here are a few hotels that welcome children. Find out where to stay in Barcelona with kids!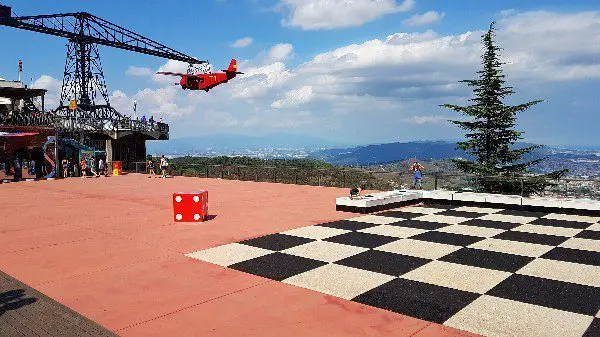 WHERE TO STAY: FAMILY-FRIENDLY HOTELS
Hotel SB Icaria – A spacious hotel near the beach
This clean, modern hotel is fabulous for families who don't want to be in the busy heart of Barcelona. They can enjoy a little bit more space and the beach environment without feeling like they're isolated.
Neighborhood: Vila Olímpica
Why it's good for families: Family room with individual twin beds if your kids are too old to share a big bed. Large outdoor swimming pool with views of the city. Spacious bathrooms and good breakfast menu.
How far is it away from everything? It's a 10-minute walk to Nova Icaria Beach. 10 minutes to the metro, 4 bus stops to the Sagrada Familia, 5 minutes to the Diagonal Mar Shopping Centre, which also has Carrefour, a large supermarket. The Hop-on, Hop-Off Bus stop is 100 meters away.
Check out prices for Hotel SB Icaria
K and K Barcelona – A modern, clean hotel in a top location
A chain of hotels, this clean, tidy and very central hotel near Ciutadella Park. Guests often repeat their stay here! Past guests rave about the location – it's not far off from the busy center, but it's also very close to those main attractions also. You could probably go home and take a siesta and continue your day easily.
Neighborhood: El Born
Why it's good for families: Rooftop pool with a city view! Wide breakfast selection. Family rooms: a suite which can connect to a triple room of 3 twin beds. A helpful, friendly multilingual staff.
How far away is it from everything?  It's a 13-minute walk to the beach, across from central Ciutadella Park and Barcelona Zoo, 5-minute walk to Picasso Museum, Santa Caterina market.
Check out prices for K+K Picasso Hotel
Hotel Roger de Lluria – a charming and luxurious hotel
A 48-room hotel in the gridded, elegant Eixample district.
Why it's good for families:  – a boutique hotel with spacious rooms with the option to connect. They can accommodate a family of 5 – family rooms have two double beds. A friendly, professional staff to help their guests out. It's central but also has a residential feel.
Neighborhood: Eixample
How far is it away from everything? 500 meters to  Plaza Catalunya, near the Passeig de Gracia area (and El Nacional), and 600 meters from Casa Batlló.
Check out prices for Hotel Roger de Lluria!
Hostal Mare Nostrum – A budget hotel right on Las Ramblas
An intimate and very stylish hostel is in the middle of the action.
Neighborhood: Right on Las Ramblas
Why it's good for families: It's in the heart of the main attractions. Less walking = less stress and more time. If you book a room on Las Ramblas, you'll have the perfect balcony view. Good breakfast includes cereal, toast, ham and cheese, fruit, yogurt, etc.
How far is it away from everything? 0-minute walk to the Liceu metro station – it's right in front! 100 meters from La Boqueria, 5-minute walk to Plaza Catalunya.
Check out prices for Hostal Mare Nostrum
There you have it! Have you stayed at a cool family-friendly hotel in Barcelona?