*This site contains affiliate links, which means I receive a commission when you buy. See my full disclosure.
Magnificent Must-Do's in Barcelona
So you've booked your trip to Barcelona, Spain. And now you have approximately 381 Barcelona pins on your Pinterest board called "Barcelona: trip of a lifetime". Where to start? What's are the must-dos in Barcelona? What's the meaning of life? Relax, relax, I'm here to solve your existential problems. I've been living in Barcelona since 2008, and I know a little bit about my beloved adopted city. Here's my list of the top things to do in Barcelona, Spain – to experience like a local!
But first, if you want to save money on all the attractions, buy the Barcelona Pass. This discount card will save you money if you plan on staying at least 3 days and plan to visit three or more attractions.
1. Go inside the incredible Sagrada Familia.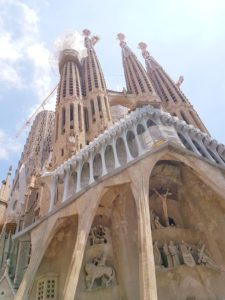 This spectacular basilica is the hands-down, number one must-do in Barcelona. As you may know, the Sagrada Familia is under construction. And it's expected to be completed in 2026, the 100th-year death anniversary of its famous architect, Antoni Gaudí. Its unconventional church façades leave visitors curious to see its extraordinary interior as well.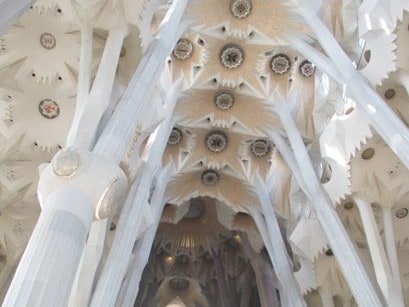 When you visit the Sagrada Familia, you'll get an audioguide and learn about its fascinating history and how each aesthetic detail of the basilica is intentional and symbolic.  If you have extra euros to splurge, a guided tour would probably be better as you'll discover many intriguing details.
Are the Sagrada Familia towers worth it? Yes. If you love cool views. And maybe not – if you don't like heights. Here's how it goes: you ride up via elevator, and come down through spiral steps. I've done it several times. I remember feeling a little nervous, but not over-the-top anxious. I took my time. If you're worried, go first thing in the morning or at the end of the day when tower traffic is slowest. Buy your tickets online for cheaper rates and to skip the line. Be warned that it gets crowded in the summer, so be sure to buy your tickets a few days in advance! Which tower? Both are great. But the Nativity Tower access has better views. (Read my tips for going inside the Sagrada Familia here.)  
Book your entrance and Nativity Tower access now
To NOT visit the Sagrada Familia – or, at the least, see it on the outside – is, to me, the gravest Barcelona tourist sin you can commit. 
2. Wander the ancient streets of the Gothic Quarter and Born neighborhoods.
The Ciutat Villa is the oldest, central part of Barcelona, and this large area captures the contrasting energy of Barcelona: ancient and vibrant. The Ciutat Vella, is one the top places to visit in Barcelona for its narrow streets, grey medieval facades, and idyllic plazas. Note: be prepared for crowds!
Pass by the Gothic masterpiece, the Barcelona Cathedral, which opens to Plaça de la Seu. Stop at the Plaça del Rei, where Queen Isabel and King Ferdinand held court. Breeze by the Plaça de Sant Jaume and see the neoclassic buildings of the Barcelona City Council and Palau de La Generalitat. Sweep through the ancient street, Carrer Bisbe, the old Roman street.
Pass by the Picasso Museum on Carrer Montcada. If you go inside, it might be hard to find any recognizable works because they are sketches and artwork during Pablo Picasso's early formative years. Don't forget to see the somber and mysterious Santa Maria del Mar cathedral, an emblem of Catalan Gothic architecture. 
<<Want to see a full itinerary? Check out Day 1 (Ciutat Vella) of my 3-day Barcelona itinerary!>>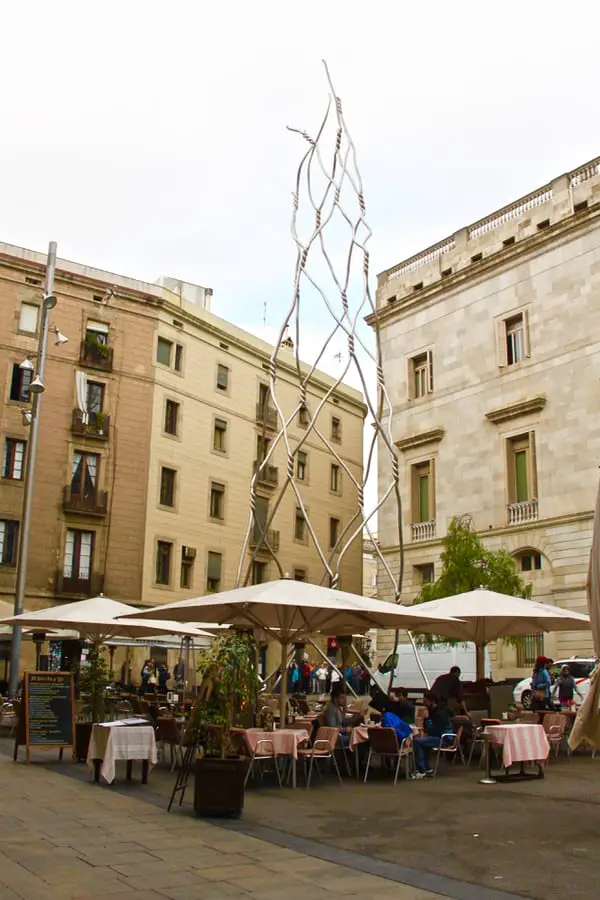 While I wouldn't say this Barcelona attraction is a breathtaking place, it's so historic and iconic that you couldn't leave without seeing it. It's the main artery of Barcelona that was built between the 15th and 16th centuries and divides the Raval and Gothic Quarter neighborhoods.
It's also a wild open-air museum — you'll see flower vendors, sketch artists, human statues, and random spectacles of breakdancers. One of the most popular Barcelona tourist attractions on this street is the food market, La Boqueria. At the end of Las Ramblas the Christopher Columbus monument, which you can go up in an elevator for 6 euros.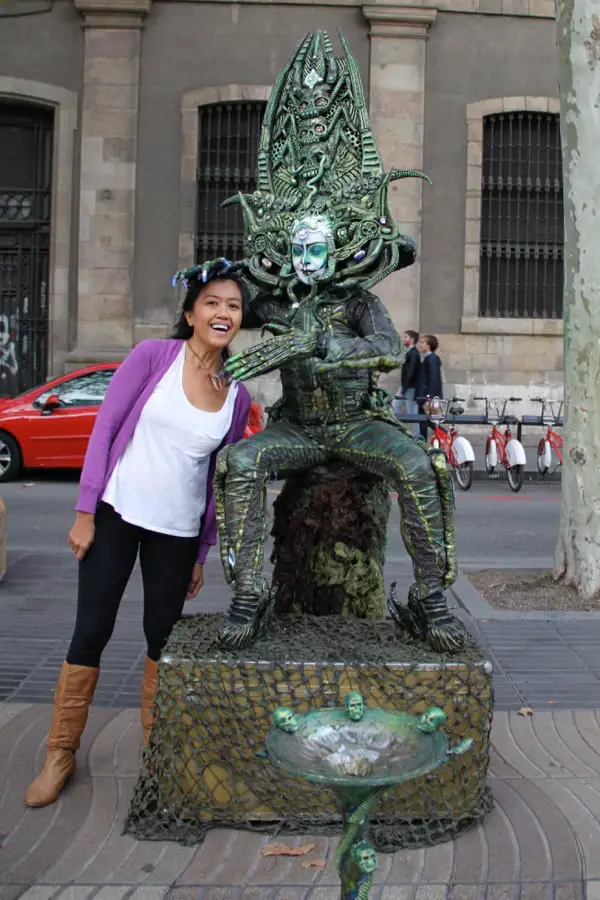 4. Visit a local food market.
La Boqueria, also called the Sant Josep Mercat de la Boqueria, is the most famous food market in Barcelona. It's fascinating to visit to see the impeccable displays of fruit kabobs, fruit structures, and jamon serrano (Spanish cured ham) served in a paper cone. But know that a lot of the displays are "for tourists" i.e. lots of them aren't even local produce! Go towards the back to get a better idea of what the market is really like, where local grandmas are choosing their solomillo cuts of meat, or ordering ham bones to prepare a slow-cooked meat broth.
Note on visiting La Boqueria: a few years ago, the absurd amounts of tourists treated the market like a free-for-all museum, sparking protest among the local shoppers and vendors. Understandable, right? So if you like to wander like I do and take photos, be sure to ask before snapping pics up close. Buying something helps too! I like to indulge in a 1.50 euros smoothie.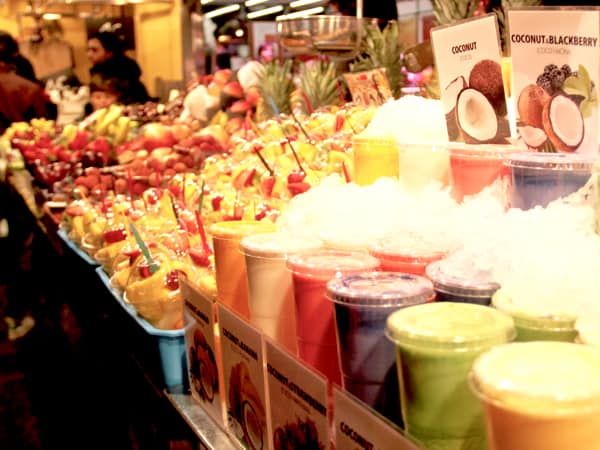 Alternative: If you don't go to La Boqueria, Barcelona has other richly visual food markets – and are some of the best places to visit in Barcelona for an authentic experience of local life. The one nearby my home is undisturbed by tourists but has a wide array of locally sourced foods and restaurants and bars. Try the local Santa Caterina market, or the newly renovated, Sant Antoni market for architectural gems. All of the food markets are beautiful and a feast for the eyes! 
Art imitates nature, and nature imitates art, according to Park Guell's design genius, Antoni Gaudí. Natural materials make beautiful, organic structures where rock ceilings whirl upward around like tornado spirals, diagonal pillars support tilted walkways, and a curvaceous bench imitates a sea serpent. The colorful tile work, wavy buildings and paths, and gorgeous views of the city make it a fun, playful place for everyone. Spend at least an hour here and try not to Instagram a photo. Also, it's worth coming here for the views!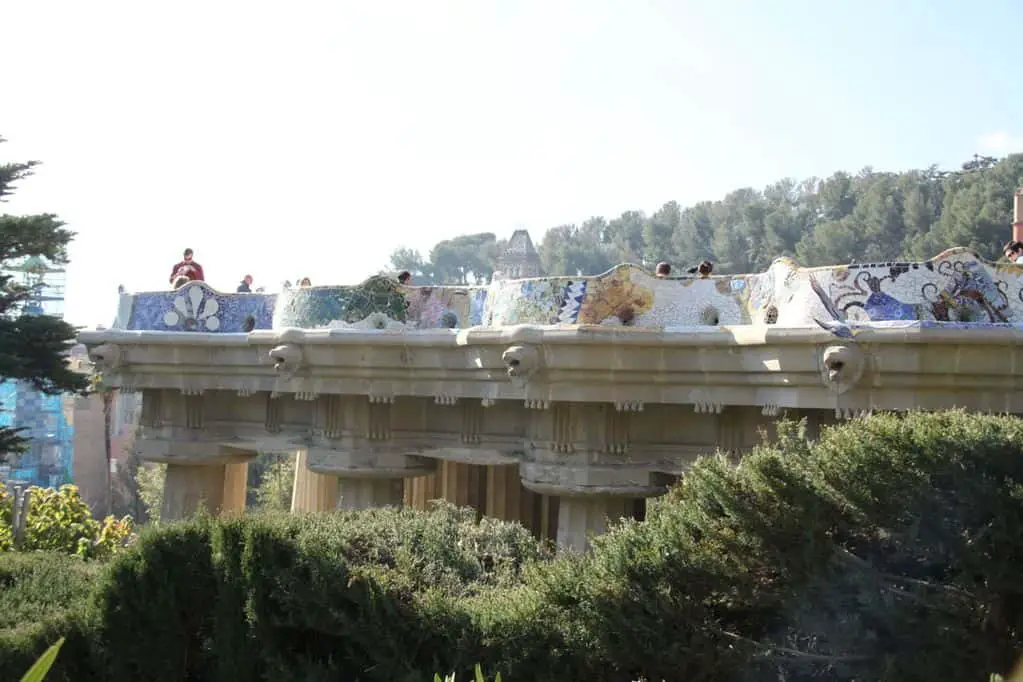 Be sure to buy your ticket in advance, especially in the summer. You're expected to enter during a time window. But once you're inside the Monumental Core (the main area where you get the cool pics), you can stay as long as you want. It's 8.50€ to enter for adults. Kids ages 0-6 enter free, but you still have to buy a ticket to enter. Buy your ticket through Tiqets (Buy your Park Guell Tickets here) or park entry is included in the Barcelona Pass! Buy your Barcelona Pass here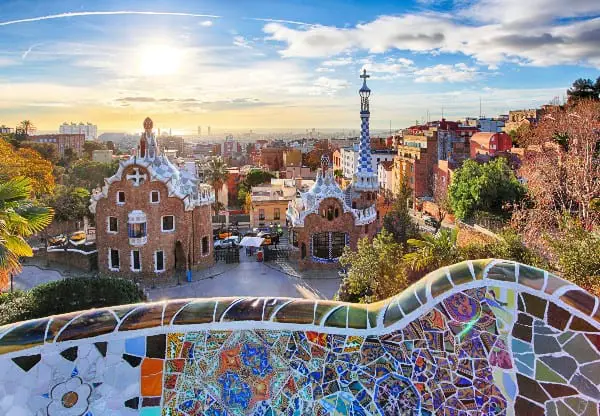 6. Check out Barcelona's seaside area and beachfront.
Barcelona has over 4.5 kilometers of beaches. And did you know, there was no beach in Barcelona before the 1992 Olympics? One of the most popular beaches is La Barceloneta. It's fun to see (but in my honest opinion, it's chaotic and overcrowded). The Barcelona seaside is a huge draw for tourists, particularly its sandy beaches, bustling Port Olímpic, or Port Vell.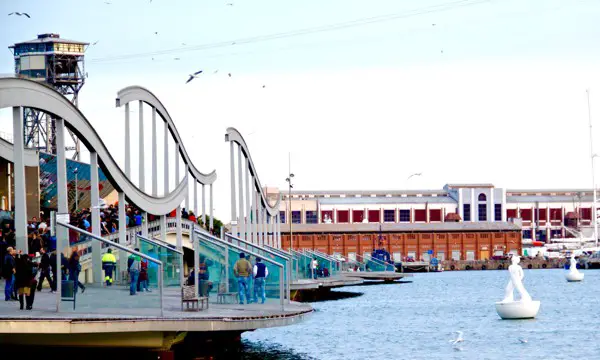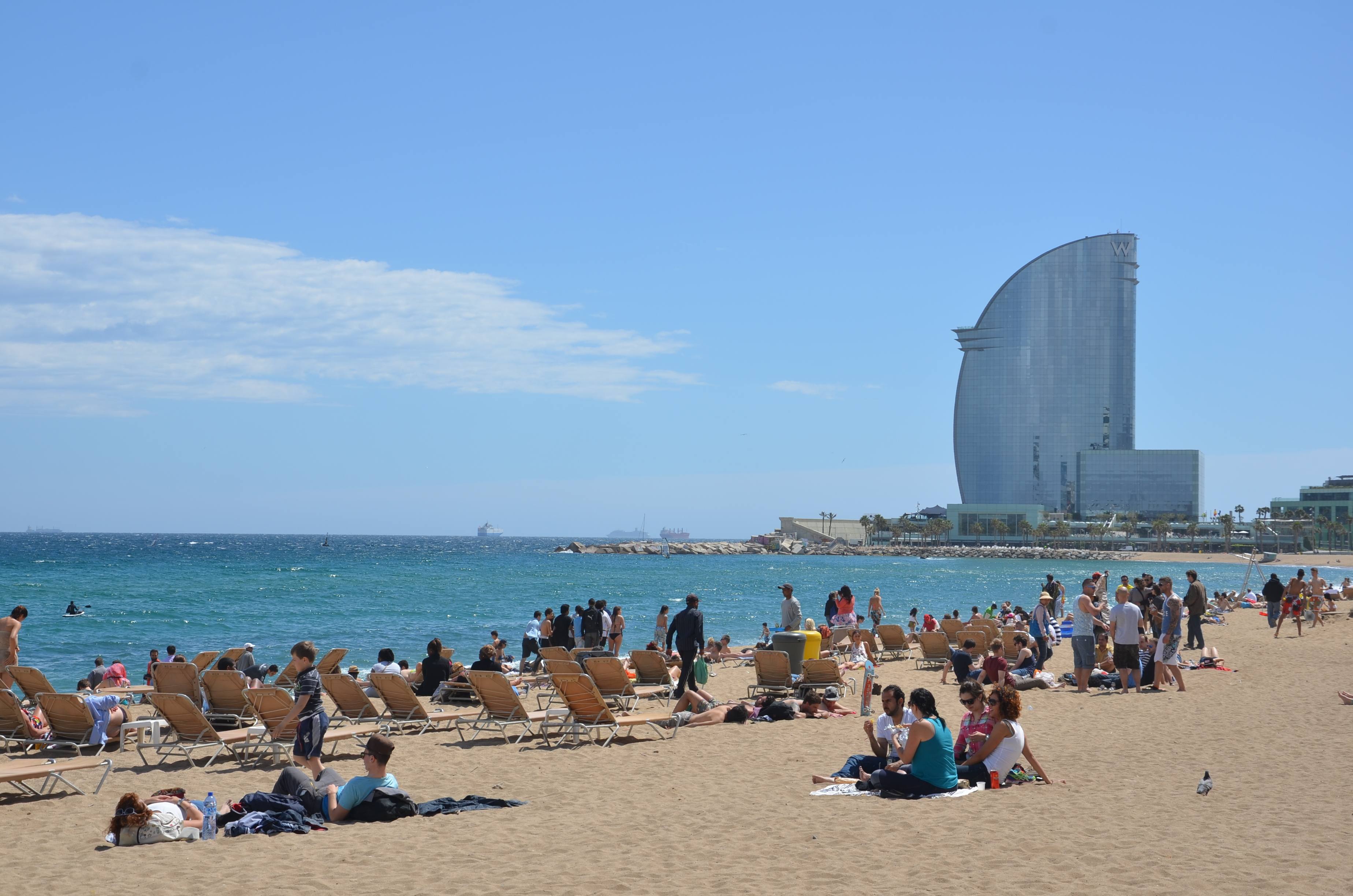 7. Walk down Passeig de Gracia to see Casa Batlló and La Pedrera.
In 1860, the city of Barcelona expanded beyond the Ciutat Vella, and voila the beautiful Passeig de Gracia was built. This is where you'll find elegant modernist buildings lined with trees and streetlight-benches made of trencadís, beautifully broken tilework.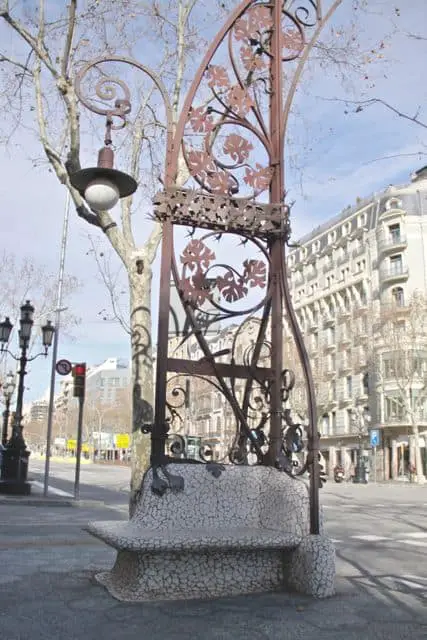 Around Carrer Consell de Cent is a famous cluster of modernist buildings called the Manzana de la Discordia, three sets of buildings designed by different architects such as the Casa Lleó Morera, Casa Amatller (which has a beautiful chocolate shop inside), and of course the Casa Batlló designed by Antoni Gaudí.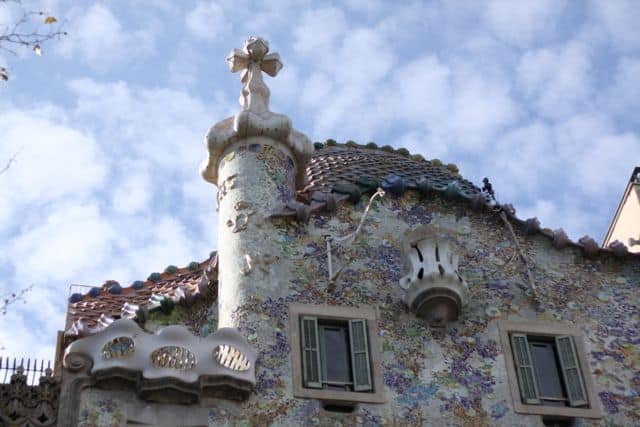 <<Want to go inside? If you're short in time, skip going inside. If you have time for one building, I recommend Casa Batlló, which is more interesting and detailed. La Pedrera is interesting, but the rooftop of La Pedrera is the most interesting part.>>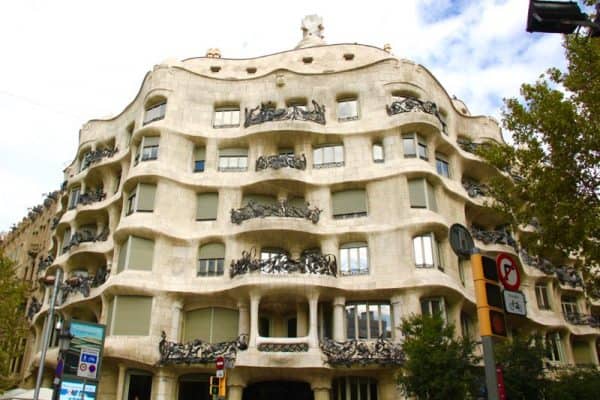 Walk towards Carrer Provença, and you'll also come across the Casa Milà, also called La Pedrera. A UNESCO Heritage site, this residential building was constructed between 1906 and 1912 and has wavy shapes, iron balconies, and medieval warrior chimneys on its rooftop.
As you walk away from Plaça Catalunya (towards Gràcia), there's a hidden gem on the Passeig de Grácia. It's the neoclassic Palau Robert, a mansion constructed in the 14th century with a peaceful garden in the back, perfect for taking a quick break of Barcelona sightseeing.
Last but not least, Passeig the Gracia is one of best shopping places in Barcelona as well, where you'll find flagship stores of Chanel, Gucci, Nike, Jimmy Choo, and more mid-range to upscale brands and restaurants.
8. Visit Montjuic and get a panoramic view of Barcelona.
To catch some altitude and see Barcelona from above, head to Montjuic. You can start from the Plaça Espanya (metro stop: Plaça Espanya) and walk down Avinguda de la Reina María Cristina towards the Museum of National Art of Catalunya (MNAC). Climb up some steps (with the help of a few escalators) to reach the museum. From there, you can get a nice view of Plaça Espanya!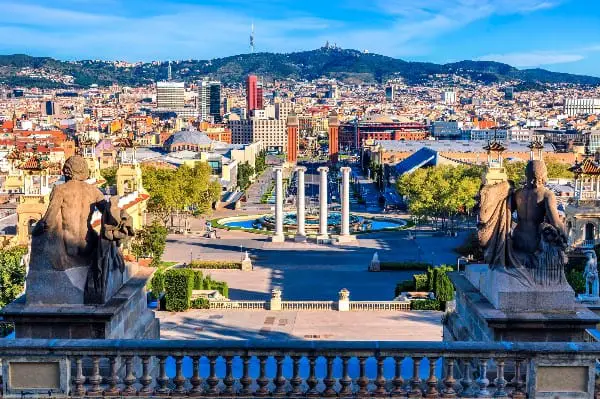 Alternatively, head to Montjuic Castle for some panoramic views! From the Parallel stop on the green line (L3),  can have a mini-adventure on the funicular to reach Montjuic, an expansive hilly area with beautiful panoramic city views. The MNAC museum, Poble Espanyol, and the Olympic Stadium are all located here, although they're spread out. There's also enough room to stretch your arms and find a quiet place for an afternoon siesta.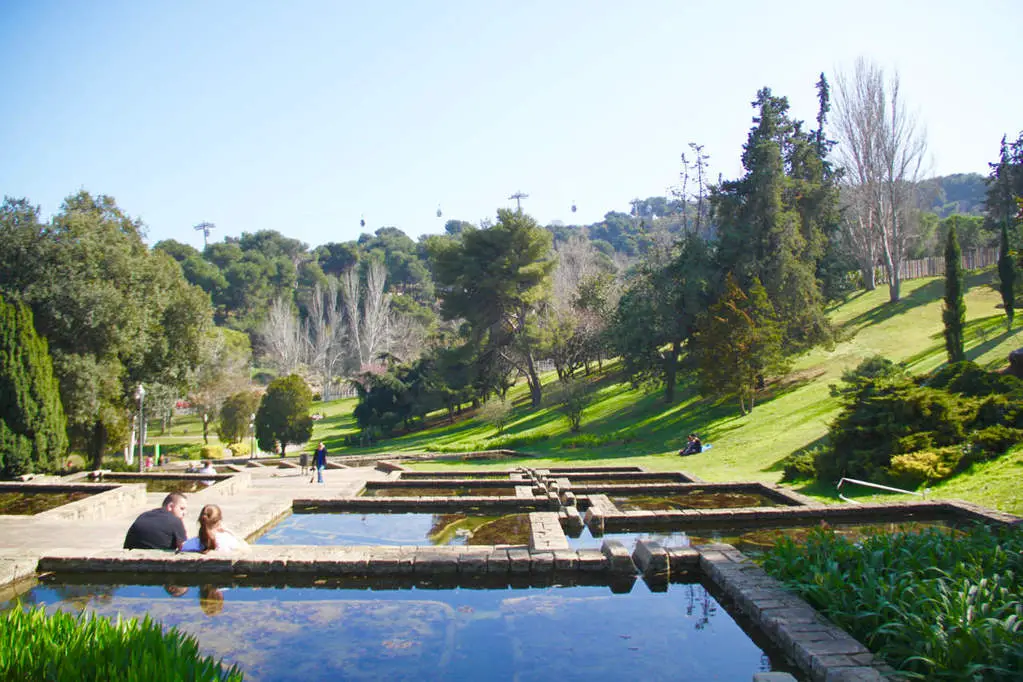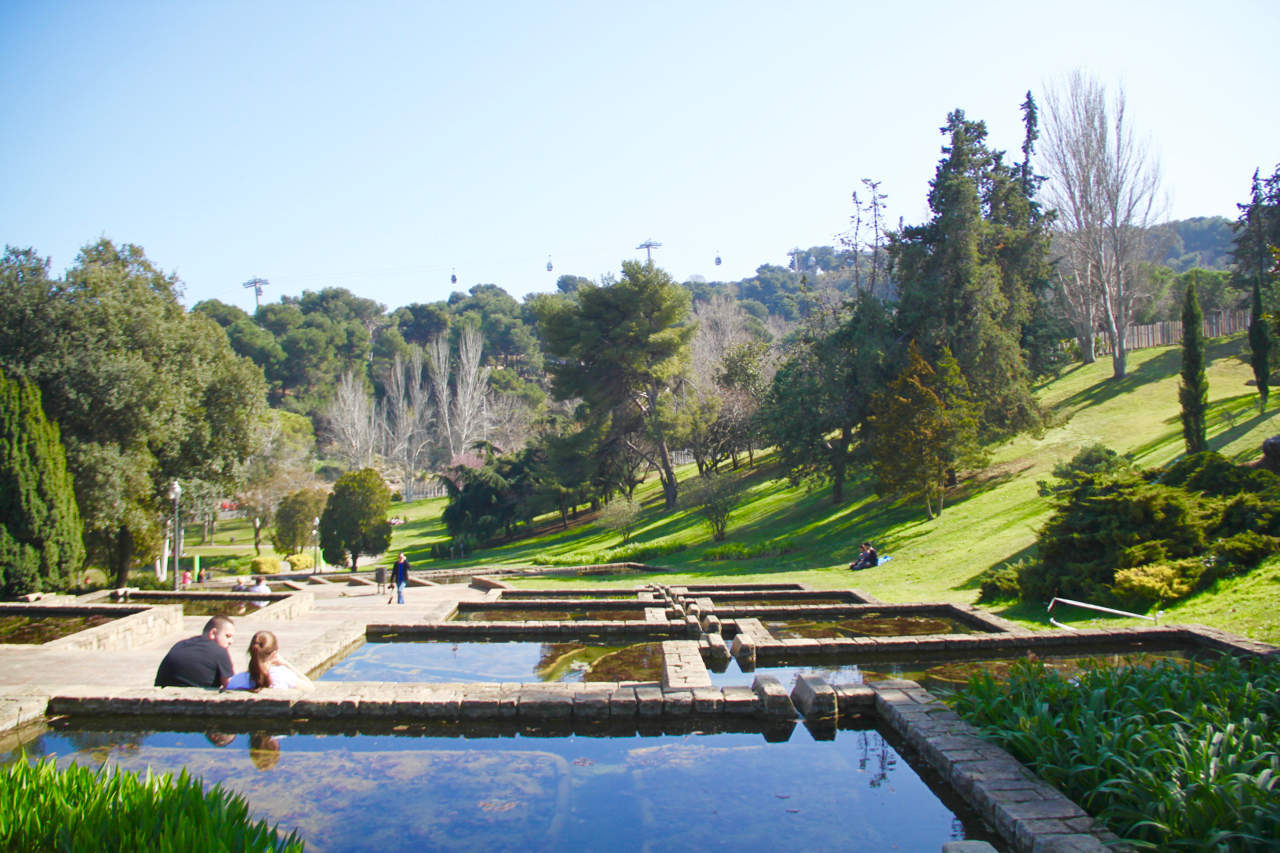 9. Eat like a local and have Catalan food.
A delicious traditional rice dish that is not typical of Barcelona, but you can find is the paella, a slowly-prepared rice dish. For a paella restaurant, try Xiringuito Escribà or L'Arrosseria Xàtiva. Try Can Paixano (which is mostly a crowded, stand-only bar but fun). Or for a more relaxed environment, try La Puntual, or Els Sortidors del Parlament among dozens. For fun, drink out of a porron (it's definitely NOT an everyday thing, but it's a unique, traditional, and fun way to drink wine). There are innumerable fantastic places to eat in Barcelona:
What to order: croquetas (breaded croquettes), la bomba (a round potato croquette), esqueixada (salted cod salad), pà amb tomaquet, (bread with tomato), crema catalana (Catalonia's creme brulee)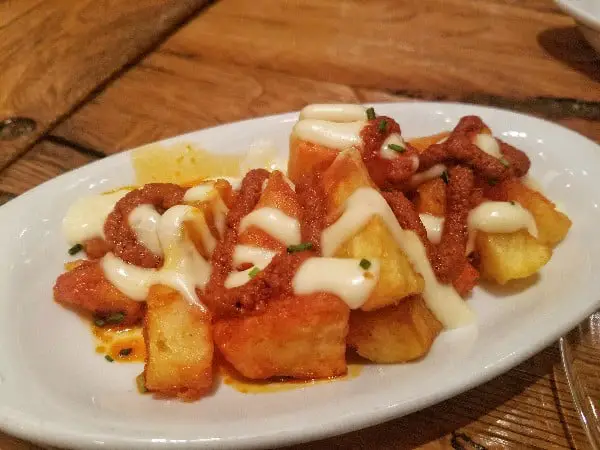 Whatever you do, don't just wing it as you're hungry because you may be sorry. Case in point, some visiting relatives of mine decided to eat at La Boqueria at a bar there because it looked good. They were stiffed with a 40 euro bill – for breakfast! Ouch.
See my map of recommended places to eat.
Or book a food tour! If you've never been on one, they're a great way to try the local Catalan food, experience unique eating rituals, and understand the history behind gastronomy. I recommend Eye on Food Tours Barcelona. They're a fun company that knows their food and history. It's a food tour with the perks of learning history. Or a history tour with the perks of eating food! Book your food and history tour with Eye on Food Tours. I promise you won't regret it.
10. Have some oozing hot
chocolate con churros
.
I wasn't sure if this is a "must do in Barcelona"…but why not?  Maybe I'm biased towards deep-fried dough that's sprinkled with sugar. But come on, I can't be alone on this! One of the fun things to do in Barcelona is to eat dessert!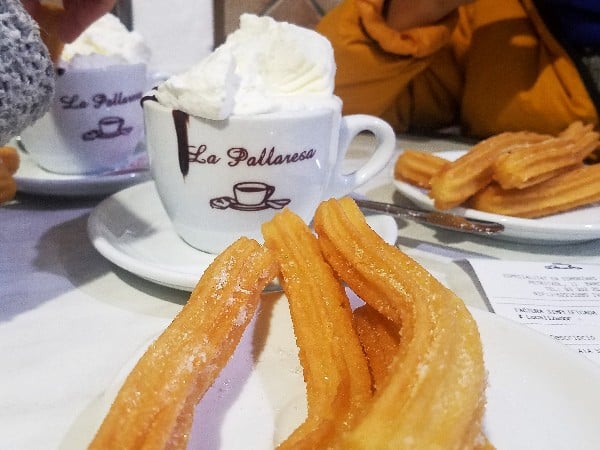 Note that oftentimes the hot chocolate is almost like a melted, unsweetened semi-dark chocolate bar. Yup – unsweetened, which is why they give you 2 packets of sugar with it! If you have churros, often the sugar in the churros is enough to make the blended delicacy sweet. Kids may not like it because it could be too thick and dark. That means you could lick up their share bwahahaha! Try La Pallaresa, Granja Viader, or La Nena in Gràcia. 
Where to Stay: Recommendations
I can also recommend the Barcelona Catedral Hotel near the Barcelona Cathedral. It's near all the main Barcelona attractions, BUT it's tucked away on a tiny street so it's not noisy. It also has a rooftop pool and a very cool restaurant/bar. Book your stay at the Barcelona Catedral Hotel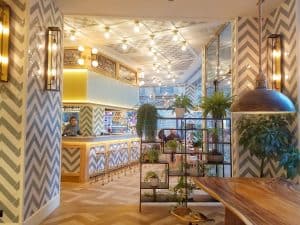 Another cousin stayed at the B-Hotel with her husband, and she enjoyed it. Located near the Plaza Espanya, the B-Hotel is a great place to stay if you want to stay near Montjuic. Nearby is the old bullring, now the Las Arenas Shopping Center. The eighth floor has a stylish terrace-solarium with a pool. Book your room at the B-Hotel.
Need more ideas? Read my post on the best places to stay in Barcelona!
How to truly experience Barcelona like a local
As a first-timer, here are some Barcelona tips:
You do NOT have to enter all of the top Barcelona attractions – it can be time-consuming, expensive, overwhelming, (and sometimes boring :-!)
Try real local Catalan and Spanish food and experience their eating rituals
Experience, what I like to call, the Holy Trinity of Barcelona scenery: 1) city streets (flat), 2) the seafront, and 3) the mountains
If you have a short amount of time (3 days or less), stick to attractions around the city center so you can enjoy Barcelona and be less stress-free. If you have longer than 3 days, try the Park del Labyrinth, or a day trip like Montserrat, or Sitges.
More Barcelona Tips
Don't get robbed. When you're hanging around the Barcelona tourist sights, be very mindful of your wallet and/or purse. Summertime is prime time when pickpockets prey on tourists, although it happens year-round. Sadly, if your stuff gets stolen, it's unlikely that the police will care that much if you report the theft. Read my best tips on how to avoid pickpockets in Barcelona.
To get around Barcelona, the cheapest and easiest way to get around is using a T-Casual transportation card (formerly called the T-10 card). You can buy it at metro and tram stops. It's valid for the metro, bus, and tram. Public transportation works smoothly here, so you won't have any problems getting around. At night, the metro closes except for Saturday nights when it runs all night.
Catalan is the official local language in Barcelona, although Spanish (also called castellano) is spoken widely as well. I can't speak Catalan, although I understand it. English is not as universal here as it is in other parts of Europe, but you'll be able to get by as a tourist.
In general, Barcelona is a safe city to travel for solo women. Just practice common sense – don't go down dark streets, don't drink too much if you're by yourself, don't flash your boobies (oh wait…). The only neighborhood to practice extra precaution is El Raval. While some call it hip, cool, and up-and-coming, there are still some shady areas of drug wars, prostitution, etc. Daytime is perfectly fine to visit – just note it's "gritty".
The tourist crowds are incredible in the summer. Getting that perfect shot off Park Guell is pretty cutthroat. Be prepared for that. Read my post on how to avoid the crowds in Barcelona. As I mentioned above, buy your tickets to Sagrada Familia, Park Guell, and possibly other Gaudí buildings days ahead. You don't want to miss out!


---
The problem of traveling here is having to choose the must-see places in Barcelona. Have you been to Barcelona before? What's on your "must-see" list? Any questions?