*This site contains affiliate links, which means I receive a commission when you buy. See my full disclosure.
Finding things to do in Barcelona with kids is never a problem. My 3 kids and I are never bored in the city. You also don't have to spend any money — the city's an open-air museum in itself! In this guide, first-time visitors, repeat visitors, and expats will find a new activity for their toddlers to teens. Read on to know what to do with kids in Barcelona!
100+ Things to do in Barcelona with Kids
Whoa! 100 is a lot! What about FOR first-timers? Well here is my top 15 best things to do in Barcelona with kids (in general order of preference) CLICK TO JUMP down to that section: 
Museums, galleries, and cultural centers
1. Kids will enjoy discovering peculiar windows, bumpy ceilings, azure tiles, and brilliant trencadís (broken tilework) at the Casa Batlló.
2. Wavy balconies and flowing forms at La Pedrera (Casa Milá). Kids can be more free at the rooftop, playing around the soldier-like chimneys and organic shapes.
3. The 700-year-old Monestir de Pedralbes is worth a visit of the 3-storied cloister with beautifully arched hallways. They also have several workshops and tours like making Christmas sweets or taking a garden tour. 
4. The Centre Cultural Born is housed in the former 19th-century Born market. For kids' activities, CC Born has "El Bornet", a kids program like theater, film, scavenger hunts, story time, and more.
5.  Go up the Christopher Columbus monument. The elevator takes you up 60 meters high, and from there you can see the port, Montjuic, and Barcelona city. 
6. The Museum of Music showcases 500 instruments from different cultures – like the Swiss stellavox or a bell from Benín. The best time to participate with kids is on Sundays for their workshops. It's free to enter on the first Sunday of every month after 3pm.
7. An optical illusion museum, the Museo de Ilusiones, is where it looks like you're part of large paintings or scenes.  Also, try the Big Fun Museum! 
8. With about 200 figures, the Museu de Cera, the Wax Museum, is where you can take photos with waxy celebrities.
9. On Sundays, the Museu del Disseny has excellent children's creative workshops like making stamps or bookplates. Kids can run around freely on the extensive lawn outside afterward!
10. The Barcelona Museum of Contemporary Art in Raval also has targeted activities, MACBA en Familia, has workshops that allow kids to experiment and create art. Check out their programming and photos on Twitter.
11. The Picasso Museum itself isn't so little-kid-friendly because of its limited space and heavy crowds, however, it does offer weekend family activities like decorating a table Picasso-style. See more on their page here.
12. The Egyptian Museum, Museu Egipci de Barcelona, has a guided tour and workshop on the second and fourth Saturday of every month. Kids can learn about mummification, types of sarcophaguses, and more. 
13. The Museu Blau science museum has interminable rows of 4,000 fossils and taxidermied animals, and Niu de Ciencia (Science Nest), an interactive room where kids can get hands-on experience. Read my experience about Museu Blau here!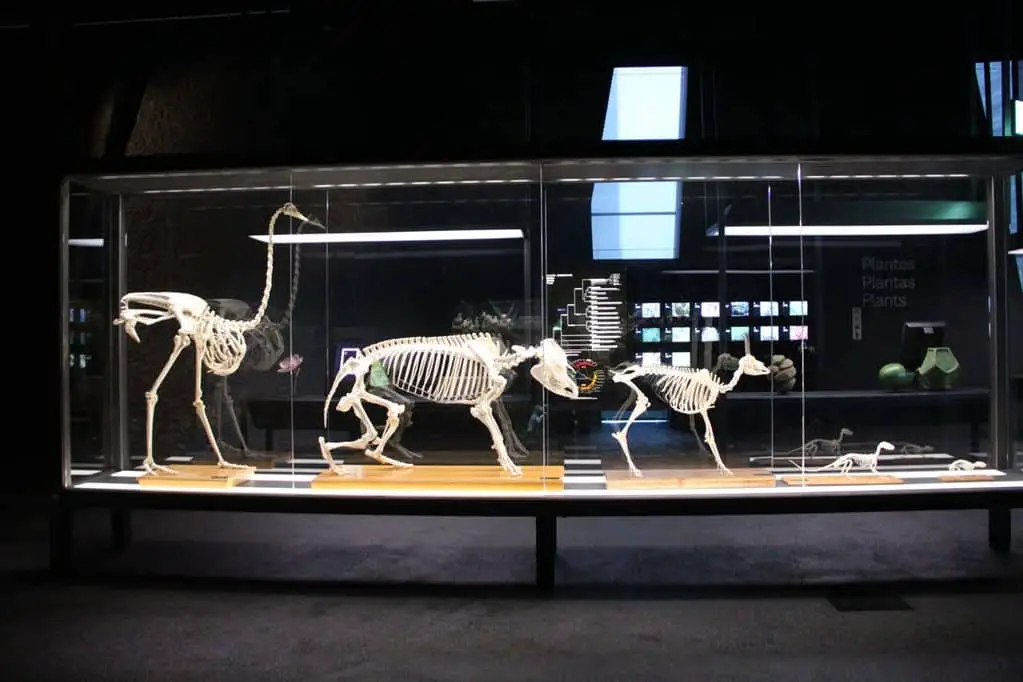 14. At Caixaforum, kids can learn about the exhibition and can create their own pieces. CaixaForum Kids also offers cultural shows, concerts, family workshops and films throughout the year. 
15. It's all about simple, appealing designs at the Fundació Joan Miró museum, which has a handful of weekend family activities. The terrace area is fun to explore because of its wide-open space. Skip the line and buy your advance tickets to Fundació Joan Miró here.
16. In an attractive former shipyard, kids explore reproductions of massive ships at the Museu Marítim. The terrace area has a submarine sculpture, a small lake with fish, and an outdoor restaurant area, a fun place to explore after your visit.
17. The Poble Espanyol is a large, enclosed open-air museum in Montjuic, imitating streets and architecture of real pueblos around the country. Click on the link below to get a 10% discount on your Poble Espanyol entrance through the Barcelona tourism office. GET YOUR DISCOUNT TICKETS HERE
18. One of my favorite places with Barcelona children's activities! The Cosmocaixa Science Museum has over 200 fun, interactive models to play with. Reader my post about Cosmocaixa and Get your discount Cosmocaixa tickets here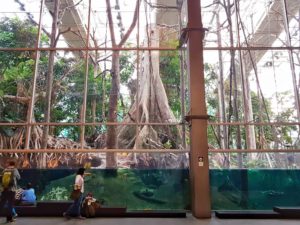 19. See towering giants made of papier-mache at La Casa dels Entremesos. Check out my post here.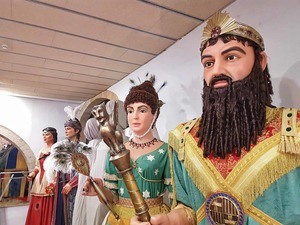 20. Enjoy chocolate sculptures like Gaudi's Sagrada Familia or the Arc de Triomf at the Museu de la Xocolata. 
21. CCCB (Centre de Cultura Contemporània de Barcelona) is a modern arts center that holds lectures, workshops, and activities — and a cool lookout point on the 5th floor. See their list of family activities here.
Parks, nature, and best playgrounds in Barcelona
22. Not just a beautiful tree-lined park to stroll to, the Ciutadella Park has ping pong tables, playgrounds, a lake, a fountain, mammoth sculpture, and more! Check out my post on 12 things you can do at this central park.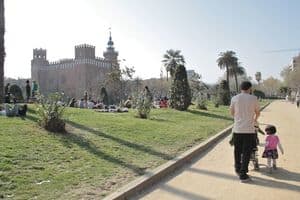 23. La Carretera de les Aigües is fun to hike as a family as it's pretty easy. If you're taking the car, go to Plaça Mireia, where there are a few benches and a small restaurant. Or, take public transport to the Vallvidrera train station.
24. A dragon staircase, giant stalagmites, all in bright, beautiful colors! I don't hide my enthusiasm for Parc Guell in my exploratory post about Gaudí's playful park here. Buy your Park Guell tickets in advance here.
25. Parc del Oreneta has mini steam train rides that the whole family can ride. Serious train hobbyists run this show. Check out more on the Park L'Oreneta in my post.
26. Parc del Centre de Poblenou, a minimalist park in Poblenou was designed by Jean Nouvel, the same architect who designed the Torre AGBAR. Read more about the quirky, futuristic Parc del Poblenou here.
27. Jardins de Mossèn Cinto Verdaguer is one of my favorite picturesque green spots to have a picnic. On a slope in Montjuic sits rolling hills, and in the middle, is a pond with a fountain.
28. Also a park of Montjuic, the Jardins de Joan Brossa is on a slightly steeper hill with pathways, a statue of a famous flamenco dancer Carmen Amaya and Spanish clown, Charlie Rivel. It also has musical cushions, water pumps, sand pulleys, and more. 
29. Located at Barcelona's waterfront, the Barcelona Aquarium in Port Vell is the largest Mediterranean-themed aquarium in the world. It has over 11,000 organisms from 450 different species. Skip the line! Buy your advance Barcelona aquarium tickets.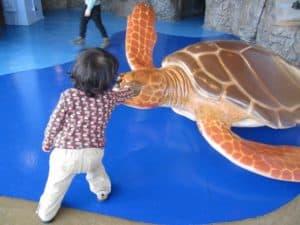 30. The Barcelona beaches are ideal if you're visiting Barcelona with toddlers. More than just sand and water, Barcelona's 4.5 kilometers of seven beaches have beautiful scenery and plenty of xiringuitos (bars on the sand), and are family-friendly spots. Check out Mar Bella for a climbing frame!
31. A 17th-century military fortress, the Castle of Montjuic is a cultural monument where kids can thrust their imagination into medieval history. There is also a playground by the drawbridge with two extra-long fun-inducing slides.
32. Come nightfall, head to the brilliant light installation called Bruumrumm! outside of the Design Museum. You yell into an "ear", a contraption, which activates the whole plaza full of neon lights on the floor.
33. What used to be a private garden, Jardins de Jaume Vicens Vives is a fun garden with 30 animal statues, including deer, gazelles, a curious warthog, sporadically spread out throughout the park.
34. La Pegaso Park is a park in Sant Andreu, an "undiscovered" neighborhood. It's got a small lake with a fountain, ping pong tables, playgrounds, cascades.
35. Parc de la Maternitat is a tranquil park with a mix of lawn, green grass, and modernist pavilions right next to the hospital de la Maternitat.
36. Enjoy this storybook park, Turó Park, embellished with magnolia and ivy flower beds and sculptures from artists like Federico García Lorca or Sylvia Plath. It also has an oval-shaped pond with water lilies and a playground for the tots.
37. The peaceful Jardines Universitat de Barcelona is tucked away inside the Barcelona University, so it doesn't get a lot of foot traffic. It's an oasis of 10,000 m2 and 250 species of lush plants and overflowing trees. 
38. The Parc de Collserola is just outside Barcelona that makes you feel remote because you're surrounded by lush trees and paths. Enjoy the fresh scent of the wildflowers, holm oaks, and pines. There are 7 routes you can take, ranging from easy to difficult. 
39. An wide and open space in the barrio of Nou Barris, the Parc Central de Nou Barris's central feature is the water. It has a cute bridge that divides the water in two. Right next to is the neighborhood's library, the Biblioteca de Nou Barris.
40. Set in a residential neighborhood, the Santa Amelia y Villa Cecilia park is clean and calm with a romantic feel. It has hundred-year-old trees, manicured cypress hedges, a circular lake, 2 playgrounds, and a terrace cafe.
41. At the Plaza of the Barcelona Cathedral, did you know that there are 13 geese at the plaza? Inside the cloister, you'll find the feathered animals – it's a reminder of the age that Santa Eulalia died.
42. You can spend a whole afternoon at the Parc del Laberint d'Horta. Have a picnic, enjoy the romantic Italian gardens, or ogle at the Greek busts and sculptures. Most importantly, you can get lost in its winding maze. Read more about the Labyrinth Park.
43. From the outside, the Parc de Diagonal Mar looks like an amusement park – with its twister roller coaster-like art structure. It also has a tranquil pond and a superslide! 
44. Jardines del Sentmenat is a gorgeous aristocratic French-style park, where you can sit at the bar and watch the kids play at the playground nearby. BACK TO TOP
45. Parc del Guinardó is a city park is still in Barcelona but has a "deep-in-the-woods" feel. Work your way up, and arrive at the mirador of Turó de La Rovira, where you'll get a gorgeous 360 panoramic view.
46. This private park is truly a mini-oasis in the midst of the bustling center. The Jardins de Palau Robert has benches, beautiful trees, and a small sandpit for the tiny tykes.
47. This is a recreational neighborhood park, Jardines del Príncip de Girona, just north of Sagrada Familia. It has a square lake is surrounded by benches, ping pong tables, a playground, and an outdoor bar restaurant area.
48. The Botanical garden at Montjuic is dedicated to the Mediterranean flora, divided into 5 different regions. 
49. Jardines del Teatre Grec is great for older kids and you don't want to climb lots of stairs. It's got enchanting manicured gardens and a mirador (lookout point). 
50. The huge Parc de Joan Miró has a flat lawn, palm trees, and an iconic sculpture by Joan Miró is called "Dona i Ocell" that juts out of a shallow pool. Plus lots of playgrounds! 
51. Super slides at Montjuic! There's also a good one at Poble Espanyol playground.
52. This new park, Parc de Glóries has 3 huge slides and a cafe nearby. It's one of our favorites right now!
53. Parc del Clot has arches, fountains, 3 playgrounds, stairs, ramps, and several spaces to play handball, football, and more. Read more about this park here.
54. The Parc de l'Espanya Industrial has a fun, large, and wide dragon-shaped structure which also doubles as a slide. 
55. For the summer, get the kids soaked at a mini soak station at Parc de Joan Miró. Read more here.
56. Check out the Magic Fountain Show of high-reaching waters, colorful hues of lights, and classical music. 
Amusement Parks
57. The Barcelona Zoo has 400 animal species and 4,000 animals, plenty of roaming space, and even picnic areas. Our family favorite is the reptile house! Get your advance Barcelona Zoo tickets
58. Tibidabo Amusement Park sits atop the Tibidabo mountain looking down on the urban landscape. Great for ALL ages! Get your advance tickets to Tibidabo Amusement Park here.
Outdoors and sports
59. Get a tour of the Barcelona Football Club with the Camp Nou Experience, where you can live the team's glorious moments, see their winning cups, or check out the presidential suite.  Skip the line and buy your tickets here. 
60. The Parc del Forum area is a smooth, flat path for kids to go rollerblading, skating, or biking, without worrying about traffic. 
61. Open all year, the Bowling Pedralbes bowling alley has 14 lanes. You can order snacks (pica-pica, "have finger food snacks") while you play.
62. For your skater kid, check out Skatepark Mar Bella at the beach, where even little ones can glide over some tiny hills.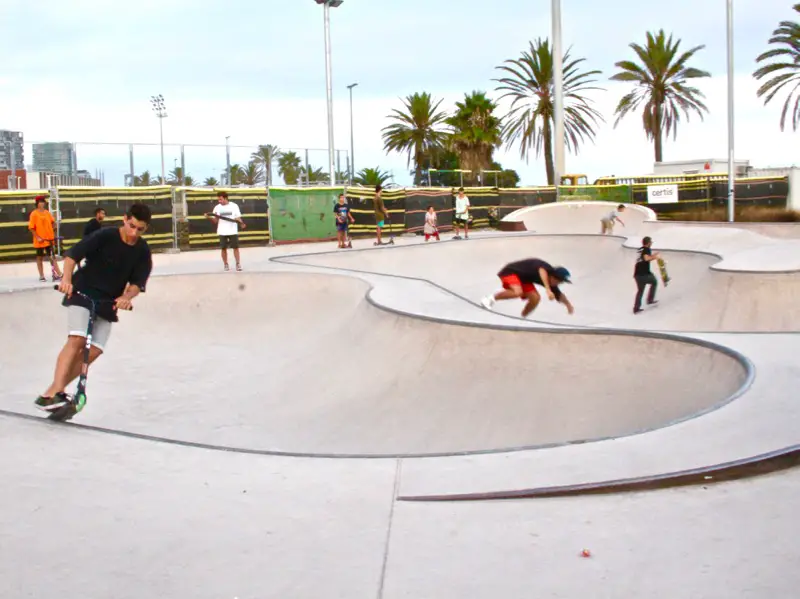 63. El Ciclo at Port Vell lets your family rent tandem bikes, kids bikes, and even those super cool Dutch ones where your kids ride in a basket!
64. Kids can jump-mad at the Indoor Jumping Club, which has two next-door locations for big kids and little kids. Bring socks! BACK TO TOP
65. Try aerial dancing! Do you ever see those people at the park where they're hanging from a stretchy ribbon, and they're doing all kinds of weird acrobatics? Your kids can learn at OnAir Barcelona.
66. Try indoor climbing! Scale walls, ride a zip line, or balance on a slackline (like a balance beam) at Indoor Wall Climbing Center, Deu Dits, or Sharma Rock Climbing.
67. At Barcelona's "first adventure park", Barcelona Bosc Urbà, your lil daredevil can try the zip lines, rope bridges, bungee jumping and other seemingly wannabe death-defying stunts.
68. Stare at the stars at the Fabra Observatory. Learn about astronomy, see the constellations, and have a classy feast with cava. Buy your tickets to have dinner with stars at Fabra Observatory here.
Markets and Shopping
69. At the Boquería market, kids and adults drool over the impeccable displays of meats and sweets. Get a fresh, healthy fruit smoothie for just 2 euros! 
70. Food-wise, the Mercat de Santa Caterina just as comprehensive as all the Barcelona markets in the network, but architecturally-speaking, it's a gem.
71. A former bullring, the Arenas de Barcelona Shopping Center is 8 flights high. Go to the rooftop to get a 360° view of Barcelona!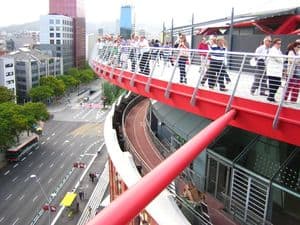 72. The Maremagnum Shopping Center is 2-story shopping center with a family restroom and an indoor playground. Just outside is the Barcelona Aquarium and the Moll Vell, a nice place to relax and watch the boats.
Plazas and public squares to chill out
73. The plazas in Gracia are small and are a community-friendly place to enjoy a drink on a terrace bar while kids can play on their own. Try Plaça de la Virreina where there's a church and one of my favorite toy shops: La Bateau Lune. For a small playground, try Plaça de la Revolució.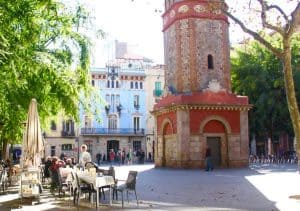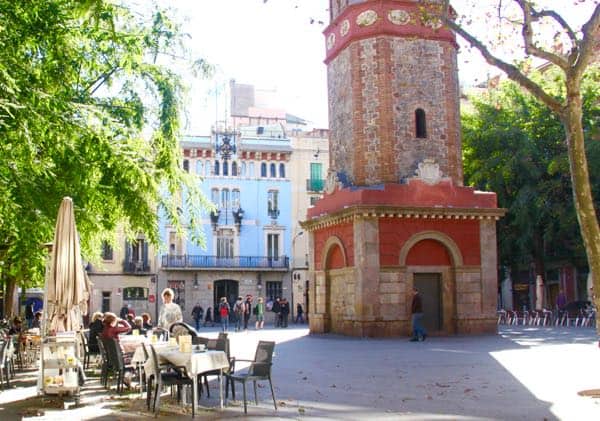 74. Relax at the porticoed square, Plaça Reial. Have a meal or drink on the terrace – and give your kids a ball and to keep an eye on them. 
75. Enjoy the non-touristy Plaça de Masadas in Sant Andreu, one of the few porticoed squares left in Barcelona.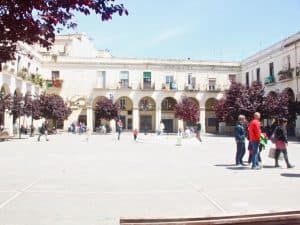 76. A former 14th-century convent, the Civic Center of Convent Sant Agustí hides a Gothic plaza, where kids are usually running around. Right next to it is the kid-friendly Bar del Convent – a bar equipped with toys and books.
Cultural events and activities
77. You're too cool to go on a tourist bus. Stop that nonsense, right now. Jump on the Bus Turistic if you just want to sit back, relax and listen to a tour bus via headphones. Buy your Hop-on hop-off bus tickets here.
78. Take a historical family walking tour with Runner Bean Tours. The guide comes equipped with games, questions, an activity book as you learn about Barcelona in an un-boring way as you make your way through El Gotic. Read my review and book your tour here.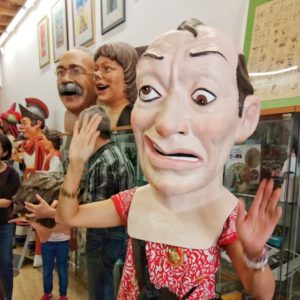 79. Las Golondrinas is a mini cruise where you can spend a 1.5-hour ride of the coastline, checking out all the beaches, monuments and famous buildings, as it glides toward the Port Forum. Buy your tickets here.
80. Dedicated to puppets, marionettes, and Chinese shadow puppets, La Puntual is a small theater with just 50 seats (actual wooden chairs, not cinema-style seats).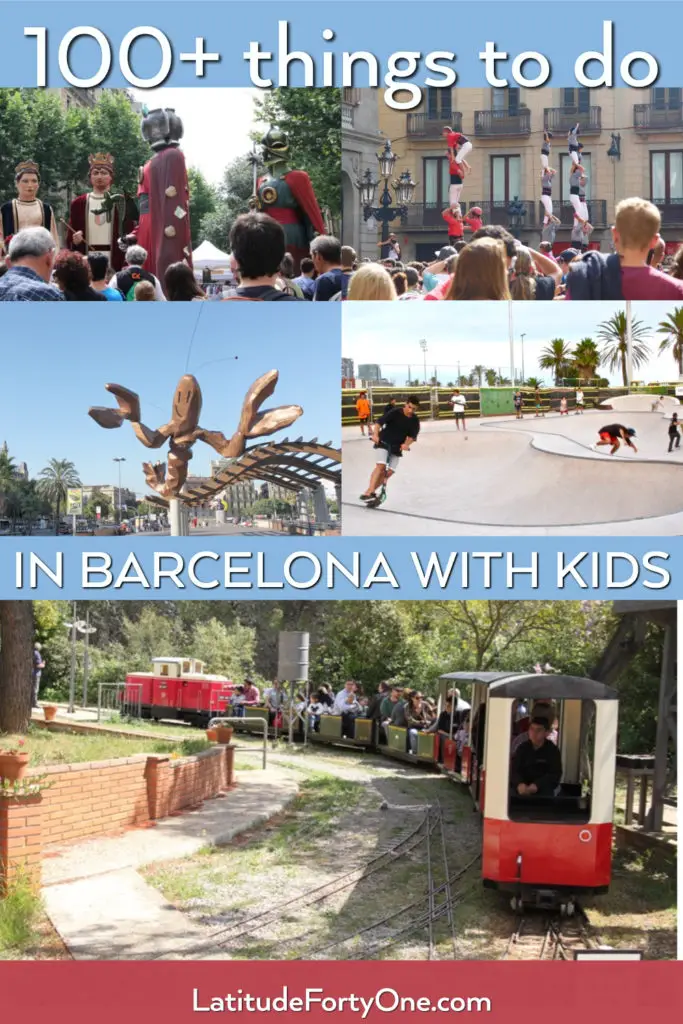 81. See a casteller, a human castle. If you could see a human tower being built in action, it's quite the emotional sight of strength and community. See the full calendar for more dates.
82. Visit the train market at Estació de França if your kid loves trains. In the restaurant area of the Estació de França, every Saturday there's a mercado de modelismo ferroviario (train market), where stalls display and sell model trains. from 9-2pm. Find out more at Ferrotren.
83. See a show at Sant Andreu Teatre, a serious theater specifically for families with music, dance, and theater.  
84. Verdi Kids is a special movie program for kids! In November, they even run their own kids' film festival.
85. Instead of kids hitting up the Liceu, the famed opera house that opened in 1847, kids have their own version, Petit Liceu. Check out the kids' programming.
Fun transportation
86. Take the oldest mode of transportation in Barcelona, the Tramvia Blau ("Blue Tram") is a vintage-looking tram that runs 1,276 meters. It heads upward from Avinguda Tibidabo (Plaça Dr. Andreu) al Funicular del Tibidabo!
87. Fly away on the Teleferic Cable car, and see over Barcelona. It has 3 stops: the Montjuic park, the Montjuic castle, and the mirador (lookout point). 
88. Ride on the funicular railway, a short ride from the L2 metro, but this railway train is a mini train ride from the L2 metro line to Montjuic mountain. 
Fun and fascinating streets
89. While bustling and overcrowded, Las Ramblas is always a unique, carnivalesque strolling experience, best enjoyed during the daytime.
90. This breezy tree-lined Rambla de Poblenou has various shops, restaurants, and markets, mostly for locals. The main section is a pedestrian promenade and isn't nearly as crowded and crazy as Las Ramblas.
91. Kids can enjoy the moving boats and the seaside at the Rambla de Mar, a decorative wooden walkway near the sea that extends Las Ramblas.
92. Take a stroll down Passeig de Lluís Companys, where kids can ride their scooters or chase random mega bubbles flying around.
93. Fernando Botero's sculpture of "El Gat" is the fattest, most popular cat in town. It's on the Rambla de Raval, where there are plenty of cafes and restaurants to choose from.
Candy and kid-friendly restaurants
94. It's not a kid-centric restaurant, but the Espai Mescladís uses ecological fair trade products set in a cozy atmosphere of stone walls, a beautiful arch, and loads of natural light. 
95. The El Corte Ingles Restaurant is on the top floor of the department store. It has a view of Plaça Espanya and also a small kids' play area. Check it out in my blog post of the Corte Ingles restaurant.
96. Casa Amatller is one of buildings of the Misericordia block. Not really a "kid's space", it has a nice selection of chocolates,  a small garden in the back and a beautiful sandwich shop.
97. The Cafè d'Estiu at Museu Frederic Marès is in the courtyard of the museum and is a quiet terrace with a small fountain, a fun place to also enjoy the Gothic architecture.
98. Kids can enjoy Bosc de Les Fades  ("The fairy forest") with the indoor jungle theme to the likes of the cheesy Rainforest Café in the US.
99. Priding itself as a family restaurant, Suarna restaurant has its own kid-friendly space equipped with toys, chalkboards and the brightest-colored chalk in Barcelona. Rumor has it that they even have iPads at their disposal also.
100. Fine, Pinterest-worthy decor and fun in a kid-centric bar, Pudding Bar. You can rent an iPad too! BACK TO TOP
101. Make your own sweets and design in with colors and flavors you want at Papabubble.
102. Have a hot chocolate and melindros (a light, fluffy pastry) at the vintage, kid-friendly La Nena in Gràcia.
103. Make candy at Çukor in Gracia, a design-y nostalgic-looking shop.
104. Enjoy a light lunch at Ideal Café in Poblenou. Space is minimal, but there's a small play area for kids. Read about Ideal in my blog post!
105. Happy Parc is just one of the dozens of indoor playgrounds in Barcelona. It's a place for children to slide into a pool of balls, jump on an inflatable castle, or bounce on a trampoline.
106. Find more slides, mazes, and soft things to jump in safely. El Cau is a très chic play center for families!
QUICK TIPS ON TRAVELING WITH KIDS
Save time and hassle by ordering tickets ahead of time. Park Guell and Sagrada Familia both have time windows of when to enter. Get it online and skip the queue!
Bring a stroller/buggy. A Maclaren can fit through the metro turnstiles. But, not all metro stops have lifts/elevators. Ask a kind-looking person for help to carry your stroller up or down the steps if you need to — 99.9% of people are happy to lend a hand. Double strollers are okay to bring but can be a hassle to fit in restaurants and cafes.
Most restaurants do NOT have highchairs or changing stations. Bring a booster seat and expect to change your baby in his stroller :- /
Kids are a normal part of daily life, so parents bring them almost everywhere. Everyone is generally more tolerant of kids and isn't bothered by a little noise than in the US.
Not sure what kids will eat here? Check out my post on what kids can eat in restaurants.
Has my list of Barcelona for kids convinced you to come to Barcelona? Can you add any other fun places to this list?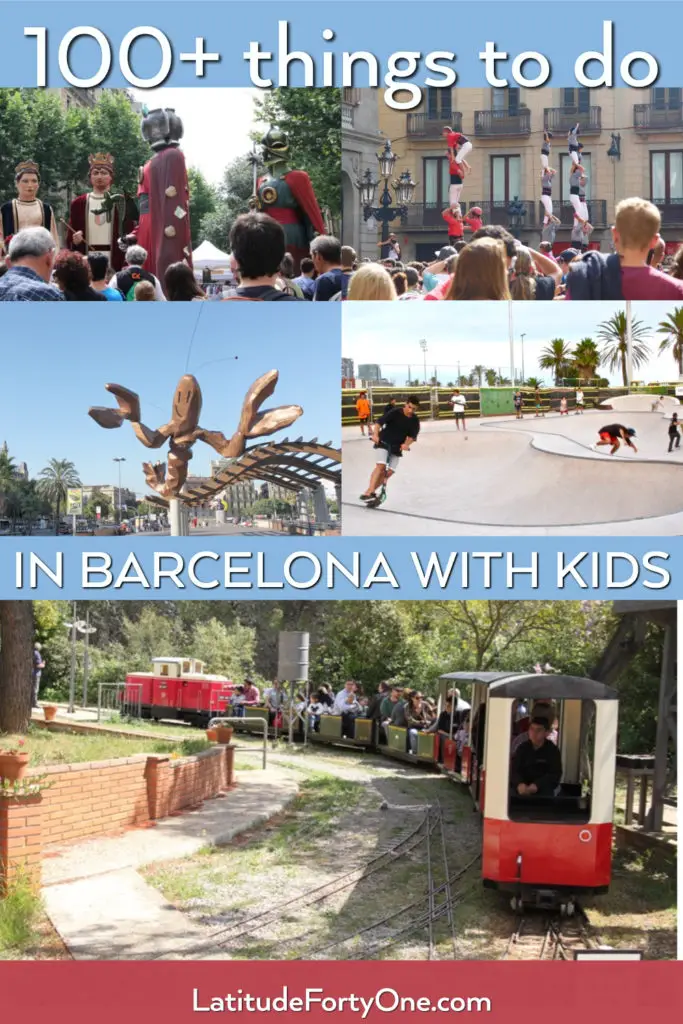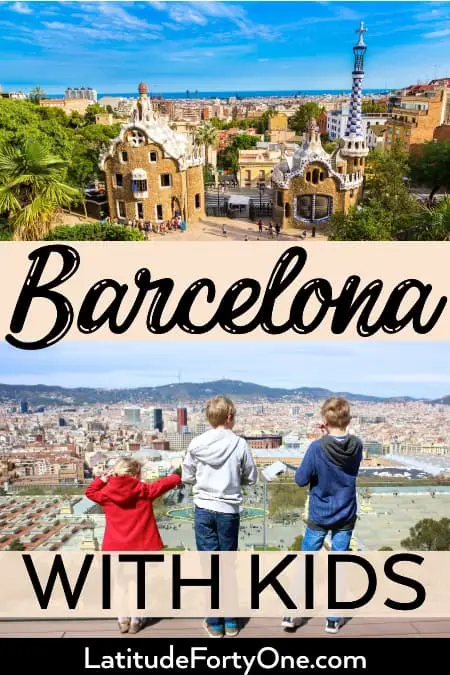 Has my list of Barcelona for kids convinced you to come to Barcelona? Can you add any other fun places to this list?