*This site contains affiliate links, which means I receive a commission when you buy. See my full disclosure.
Once upon a time, in a faraway land in Barcelona…there was a majestic palace that stood on a mountain. On top of the palace was a man. He stood tall – with his arms wide open. Nearby, you could hear squealing children romping about on merry-go-rounds.  And see adults gazing off in the distance, looking down at the immense city below. And beyond that, was the azure Mediterranean Sea. Actually, I'm talking about Mount Tibidabo, Barcelona – TODAY. That picturesque palace is the church, the Temple Expiatori de Sagrat Cor. And nearby is the Tibidabo Amusement Park. Still think it's magical? Well, there are still many reasons to visit Tibidabo. Read on to know more!
Guide to Mount Tibidabo, Barcelona
The name "Tibidabo" comes from words from the Devil himself to Jesus, "To thee I will give (Tibi dabo)" as he tempted Jesus on an exceedingly high mountain. Thus, "Tibidabo".
Mount Tibidabo is an underrated area of Barcelona and is just one peak in the Collserola Mountain range. On a clear day, the view from Tibidabo is outstanding. You can get a 360º view of all of Barcelona, the Mediterranean Sea, and parts of Montserrat and Montseny. So what to do in Tibidabo? Read on!
<<Pssst….want to check out more "take-my-breath-away" views of Barcelona? Read my post about more incredible places to get panoramic vistas of the city!>>
Tibidabo Amusement Park
The Tibidabo park is the oldest theme park in Spain. It's has a fun vintage / retro atmosphere, which is in itself makes it a unique and charming Barcelona attraction. While Tibidabo theme park does have its themed characters called Tibidabo Pets, called (Ti, BI, Da and Bo), going to Tibidabo also makes for a romantic date, IMO (THE VIEWS…). There are over 25 rides to choose from – all pretty moderate and nothing death-defying that will make you puke. If you want to have at Tibidabo picnic there, there's a cozy picnic area with tables and benches in the woodsy surroundings. So that means you can bring your own food! If you want more ideas of what to do with kids, I share 100+ Barcelona family activities here.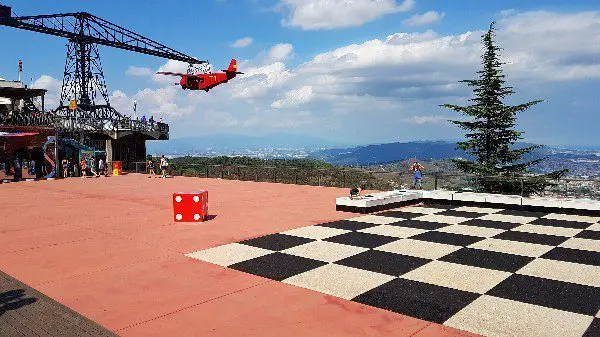 Amusement Park Tickets
General entrance tickets 28.50€, Children's entrance ticket (under 1.2 m in height) 10.30 €
Children's entrance ticket (under 90cm height) – FREE
Get a 5% Tibidabo discount through the official Barcelona Tourism website right here: Buy your 5% off Barcelona Tibidabo Amusement Park tickets
Tibidabo Amusement Park address: Tibidabo Square, 3-4, 08035 Barcelona
Tibidabo Panoramic Area / Skywalk
Forget Bunkers del Carmel (one, because the overflow of visitors are becoming a nuisance to neighbors). The Tibidabo Skywalk Panoramic Area where you can get the best views of Barcelona, guaranteed. No, you can't get that "hanging off the edge" Instagram shot, but it will take your breath away. From here, you get the best panoramic views of the Mediterranean Sea, the natural surroundings of Collserola and the city of Barcelona and suburbs. Also, this area also has four attractions / rides:
Talaia ("Big Lever") is literally almost the highest place you can be in Barcelona at 550 feet above sea level. You go up a few times and hang in the air for a few seconds. You might be too scared to bring out your phone to take a shot because it can be scary for some!
Carousel: a classic merry-go-round with beautiful horses.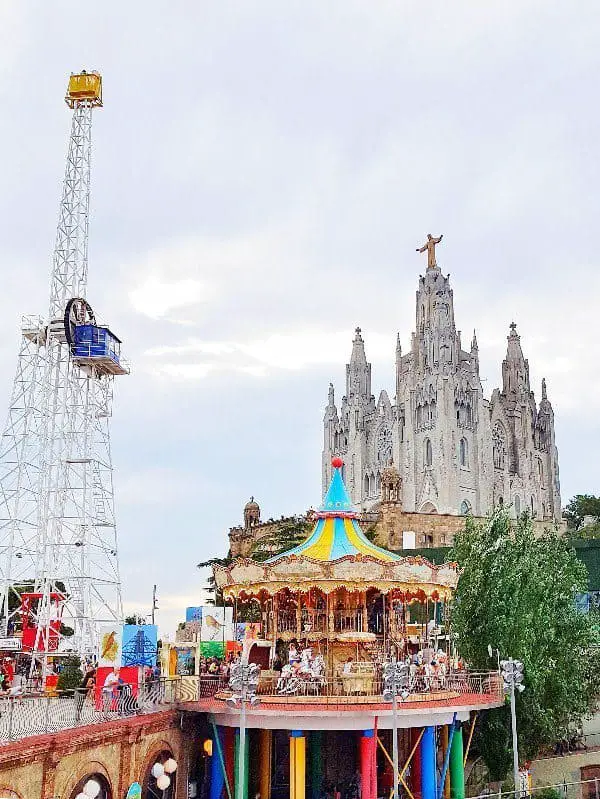 Giradabo: This is the beautiful, classic rainbow-colored Ferris Wheel.
Avió: The Avió is a vintage airplane ride (not with a vintage engine, we hopes?), which is great for little ones and the elderly. BUT you may have to queue for a while because it's just ONE airplane that circulates. And it actually rotates using its own propeller! It opened in 1928 and still maintains some of the original parts back then.
Automaton museum: This is a unique museum that I love! So what's an automaton? Well, you know the movie "Big" with Tom Hanks – when he gets a wish from Zoltar? That's an automaton! The museum has one of the largest in the world, and it's limited to a few visitors at a time, so you may have to wait. Check out "La Moños" who shakes her shoulders and head. Kids will love pressing all the buttons at this museum.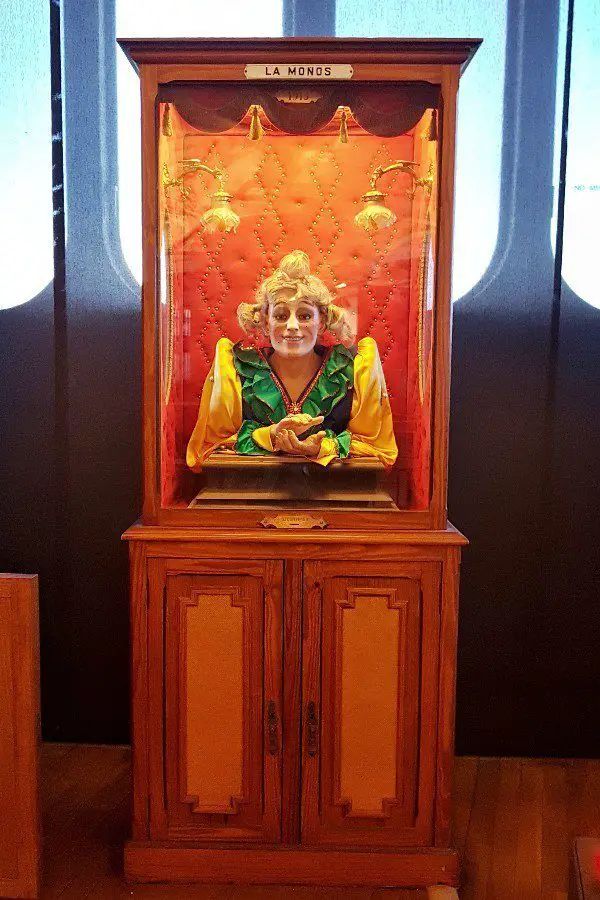 It also carnival-type attractions like the Rio Grande, Pony Rode, and the Les Llaunes spinning cans.
General entrance ticket to the Panoramic Area is 12.70€. Children's entrance ticket (under 1.2 m) is 7.80€. Children's entrance ticket (< 0,90 m in height) is FREE.
If you don't want to go on any rides, you can also walk around and visit some of the restaurants and cafes in the area. They are El Club dels Aventurers (great views), Xurreria del Tibidabo (mmm…churros), and the classic Enrique Tomás restaurant that has excellent cured ham.
How to get to Tibidabo Amusement Park
Using public transportation, here are 4 different ways to get here:
– Tibidabo Funicular to Tibidabo: This is the rack railway, and it's a fun way to get to the theme park. The only way to get to the Funicular is to take the bus 196, and stop at Plaça del Doctor Andreu. The easiest way is to check the TMB website (official transportation website).
– From Plaça Catalunya, you can take a special Shuttle Bus (Bus Lanzadera). Look for the Desigual store Plaça de Catalunya, 9), and look for a small sign that says "T2A". One-way ticket is 3euros.
– Via Tramvia Blau, which takes you straight up. As of publish date, the Tramvia Blau is temporarily out of service because of construction efforts. Check back here soon!
– From Vall d'Hebron hospital complex, B:SM Sant Genís parking lot. (Paseo de la Vall d'Hebron, 138-176). There's also a shuttle bus (T2B), which is free. BUT you must buy a Tibidabo Amusement Park entrance at the B:SM Sant Genís parking lot. To get to the parking lot, take the L3 and L5 metros and stop at Vall Hebrón.
If you're traveling by car, you can park in one of the 500 spaces in the parking lot it's advisable to book your parking spot 24 hours in advance. It's 10€ for the whole day. Book your Tibidabo parking here.
Temple Expiatori del Sagrat Cor de Jesús
This Tibidabo church in Barcelona has the most majestic setting of any church in Barcelona as it sits overlooking the city. The "Church of the Sacred Heart" is considered Gothic Revival architecture and its construction was from 1902 to 1961. The top of the church is the bronze statue of Jesus, the most iconic emblem of the church. For cultural visits, you can see the basilica from 11am to 6pm every day, which is free. But to check out the terrace and Sacred Heart image, it's 3.50€ per person.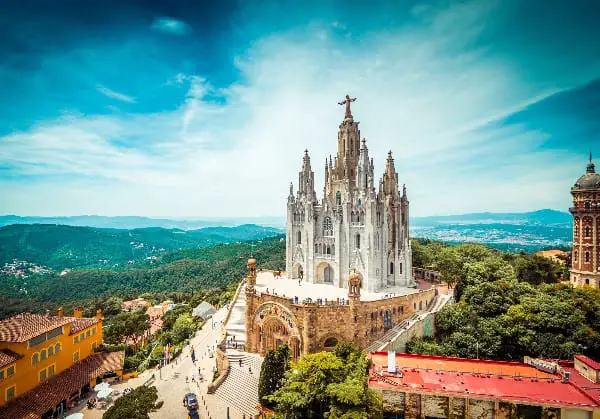 You can also go to the top of the church by using the elevators, which is a whopping 564.43 meters (1851.8 feet). Yes, that's what the elevator guy told me while going up! It stops at two stops.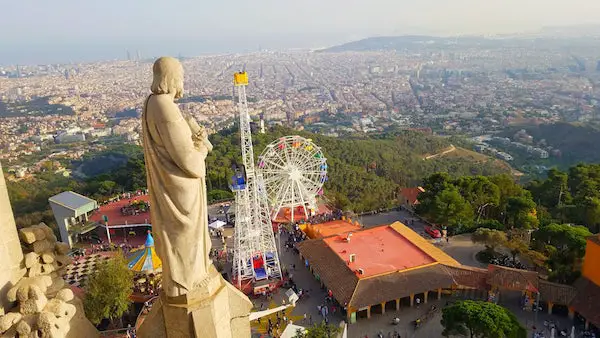 How to get from the center of Barcelona to the Tibidabo church: From Plaça Catalunya, take the T2A bus. It's on the corner of the Plaça Catalunya and Rambla Catalunya, in front of Desigual. It leaves every 30 minutes and cots €3 /person for a one-way ticket.
Alternatively, you can use a TMB transportation card. Take the FGC train from Placa Catalunya (right in front of Cafe Zurich). Take the S1 or S2 FGC train to the stop Peu de Funicular. When you get off, you stay inside the station. ollow the signs that point to the funicular towards Vallvidrera Superior. The funicular is a rack railway that has two stops going up, so get off the second. Once off, exit, and right outside is the 111 bus on the right. Take it up to Plaza Tibidabo.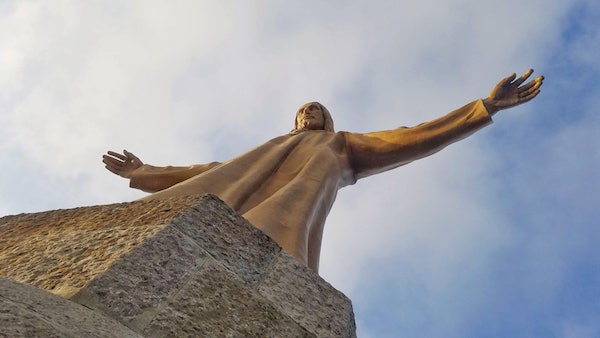 Torre de Collserola (Collserola Tower)
The Torre de Collserola is the tallest structure in Barcelona, and it's a communications center designed by Norman Foster in 1992. For the public, you can visit via the Observation Deck on the 10th floor. You get a 360º view of Barcelona on a clear day. If you're unlucky, welp, you see a gray haze.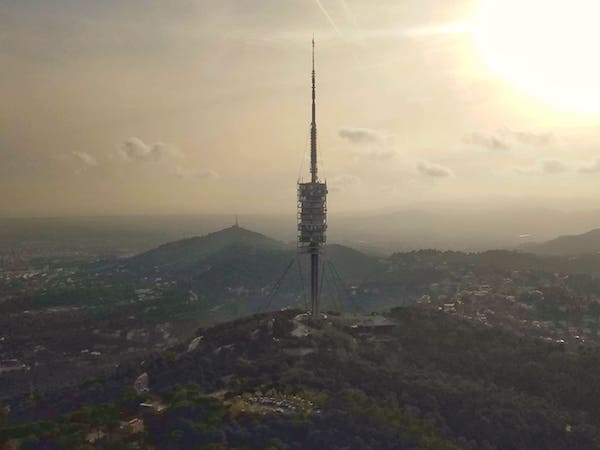 To visit the Collserola Tower, it's 5.60€ for adults. It's open only on the weekends for 12-2pm.
How to get to Torre del Collserola: From Plaça Catalunya, take the S1 or S2 FGC train to Peu de Funicular. Follow the arrows to take the funicular towards Funicular Superior. Exit, then take Bus 111 right outside, and get off at the last stop, Còlonia Tibidabo. Address: Ctra de Vallvidrera al Tibidabo (www.torredelcollserola.com)
L'Observatori Fabra (The Fabra Observatory)
Built in 1901, the Fabra Observatory was built in 1901, is observatory that studies seismology, meteorology, and astronomy. It sits at 415 meters above sea level and can be seen below from the Tibidabo Panoramic area. It also has one of the oldest telescopes in the world! Made-up fact that's probably true: 99% of Barcelonans have never been here.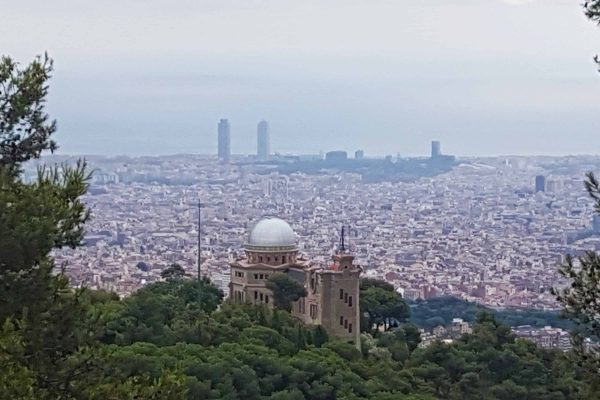 Day visits: You can visit Sundays and holidays in the morning at 11am – 12:30pm. No reservation is required. Entry fee is 3€. Children under age 14 are free.
Friday and Saturday evening visits: Seeing the Fabra Observatory is only possible from October to June, and during evenings.  You can only buy tickets through Sternalia (as they're not available anywhere else, I looked!). Observation and a guided tour on Fridays are only in Catalan and English. It's 1.5 hours and costs 15€.  Observation on Saturdays are in Catalan, Spanish, and English. It's 2.5 hours and price is 25€. Book your Night-Guided tours at the Fabra Observatory 
Have "Dinner with the Stars" in the summer. This is a unique event that takes place only during the summer. You can have a upscale full-course dinner of your choice starting at 73€ with even vegetarian options. A children's menu is also available starting at 36.50€. The night starts with dinner and then a visit to the Museum.
How to get to the Fabra Observatory: It's hard to get to by public transportation, so arriving by car (there's free parking) or taking a taxi is the best bet. If you're going during the day, you can easily walk there from Tibidabo Amusement park (Go here to see how to get to Tibidabo park)
Fabra Observatory address: Camí de l'Observatori, s/n.  For visits and a calendar, go to the Catalan-language-only page: www.fabra.cat/visites. But if you want to know more, information online is limited. Go directly to the source: For reservations, call (+34) 93 327 01 21, [email protected] Mon-Fri 9am – 9pm
Map of Places in Tibidabo
Have you been to Tibidabo? If so, do you think it's worth it like I say?