*This site contains affiliate links, which means I receive a commission when you buy. See my full disclosure.
So what's it really like to visit Barcelona with a toddler or baby? Welp, I live here in Barcelona and have raised all my three kids here. I've also flown back and forth to the US more than 8 times with them! You can say I'm seasoned when it comes to navigating Barcelona with small kids in tow. So if you are visiting Barcelona with a baby or toddler, allow me to help. Here are some practical, actionable, and detailed tips on traveling here with your family. I'll cover baby- and toddler-friendly things to do in Barcelona, and everything you need to know to help you prepare for your trip.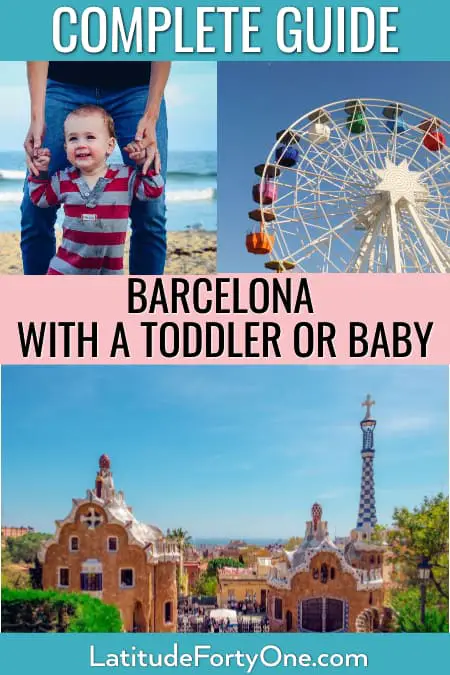 Visiting the rest of Spain with a toddler or baby? <– Read this too!
Things to do with your baby or toddler
What can you do in Barcelona with a baby or toddler? The truth is – you can do almost anything! Kids are more welcome in public spaces than in the US, for example. If you want to do the main Barcelona attractions, you are definitely welcome to bring your child, whether it's Casa Batlló, La Pedrera, or the Sagrada Familia. But some places are definitely more entertaining or more soothing for little ones. For example, your sleeping 2-month-old is fine in the Picasso Museum. But your high-energy two-year-old would be more of a challenge, amirite? My suggestion is to really prioritize which Barcelona attractions you must see. Here are my top suggestions for things to do in Barcelona with a toddler or baby:
Parc de La Ciutadella
This is the largest, most central park of Barcelona, and it's a fun place to go for kids to run around. It has 2 playgrounds, an indoor garden, a huge mammoth sculpture, and a small lake to row boats and feed some ducks. It's also great for a picnic! If you have a baby, you can lay out a picnic blanket and let him crawl around nearby. It's also great for a relaxing stroll. Read my post on 12 things you can do in Ciutadella Park. Ciutadella Park also has a decent zoo, the Barcelona Zoo. It has about 2,000 animals and has a lot of picnic areas also.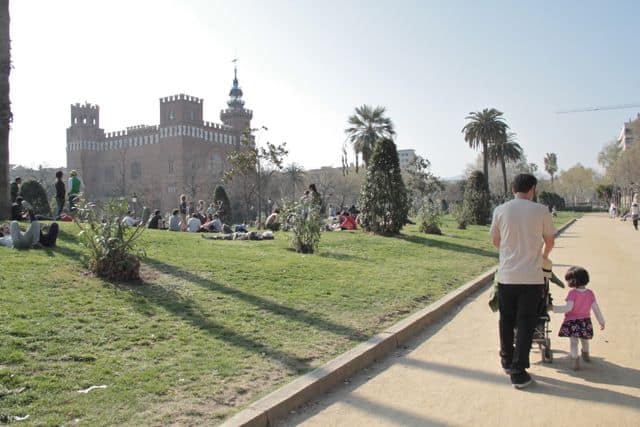 Park Guell
Designed by architect Antoni Gaudí, Park Guell was built from 1900 to 1914 and is a UNESCO World Heritage site. Your toddler will like it for the topsy-turvy tunnels, swirling bench, and gingerbread-like houses. As far as bringing a stroller or baby carrier, you can go either way. I would recommend bringing a stroller if you plan to explore the whole park and don't want to carry your heavy baby the whole time. However, there are places where you will have to climb up some stairs, so you would have to carry the stroller up or down.  If you stay in the "Zona Monumental", or the most touristy parts of the park, a baby carrier might be easier to bring. For more, read my post on Park Guell here!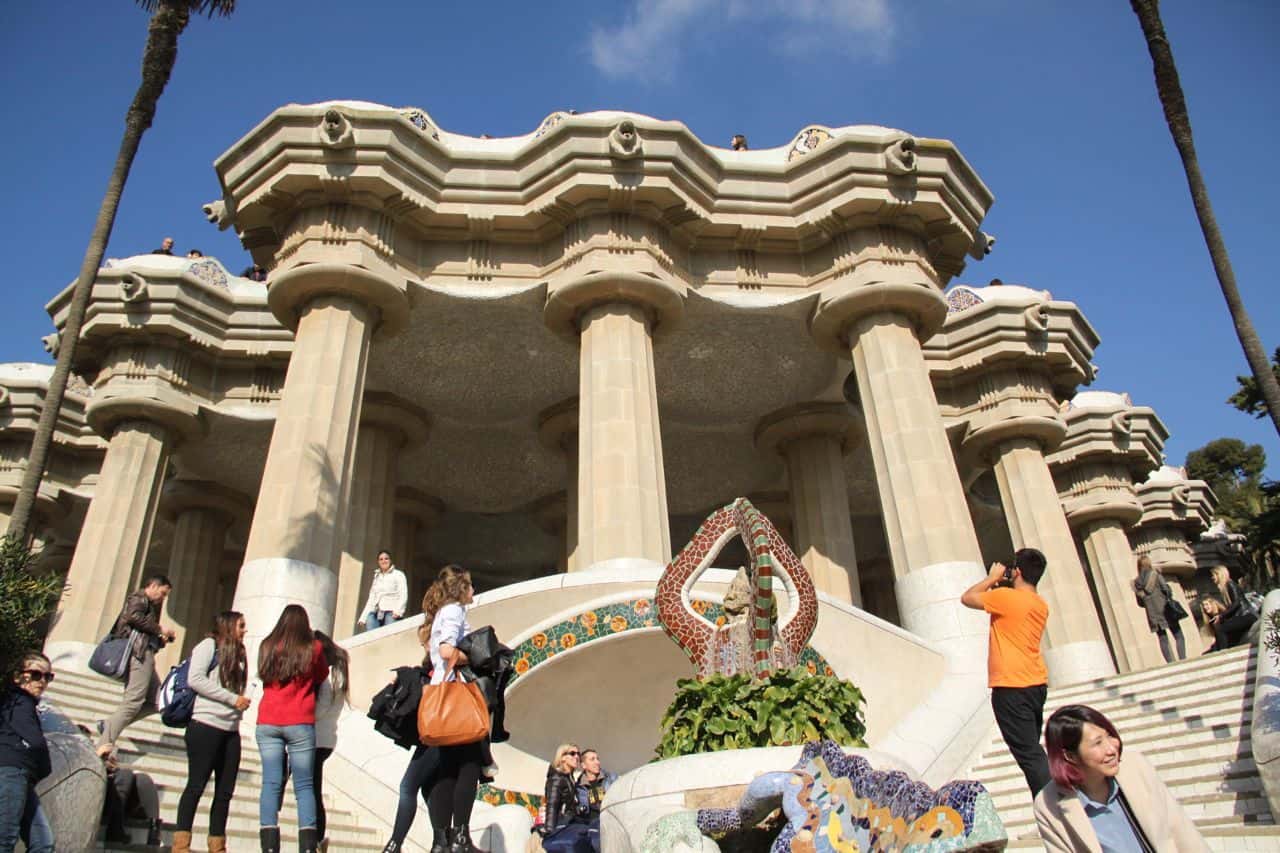 The beaches
Barcelona's beaches are about 4.5 kilometers long, and is great for sandcastles and swimming, of course. Check out kid-friendly Bogatell Beach and Nova Icaria for the kids. Mar Bella Beach has a climbing frame and a huge slide! My suggestion is to walk down the Rambla del Poblenou. You'll see two playgrounds at the end of the street where your baby can go down small slides. And just across the street is the beach! If you fancy a drink, snack, or coffee, you'll also see lots of xiringuitos, or bars on the sand. Your child can play right next to you as you relax near the Mediterranean Sea.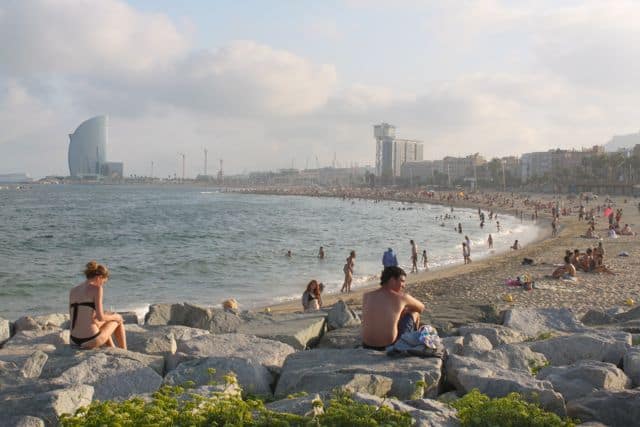 Montjuic
This hilly area of Barcelona feels astonishingly remote, but it's right in the city. You'll get lovely views from the Palau Nacional or Miramar, which overlooks the harbor. It also has the 17th-century Montjuic Castle, where your toddler can climb on a defunct cannon. My favorite part of Montjuic is the Jardins de Cinto Verduguer, which has a pond and rolling green grass. It's perfect for an end-of-day summer's eve.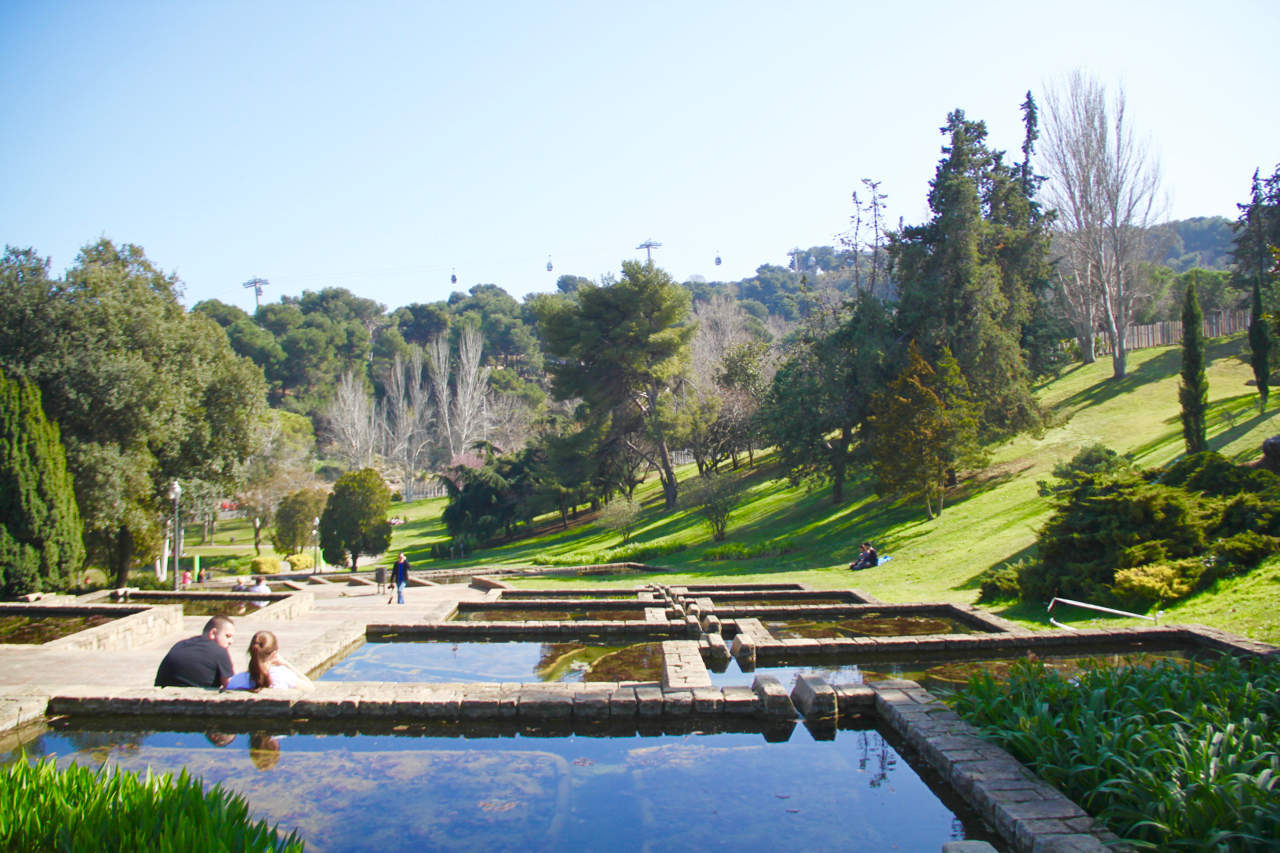 The Telefèric cable car
Take the Telefèric (cable car) to get a bird's eye view of Barcelona. It can be scary if you're afraid of heights, but thrilling for your little one too!  There are three stops: Parc de Montjuic, Montjuic Castle, and the Mirador, which is a lookout point. You can stop at any or just do a round-trip of about seven minutes.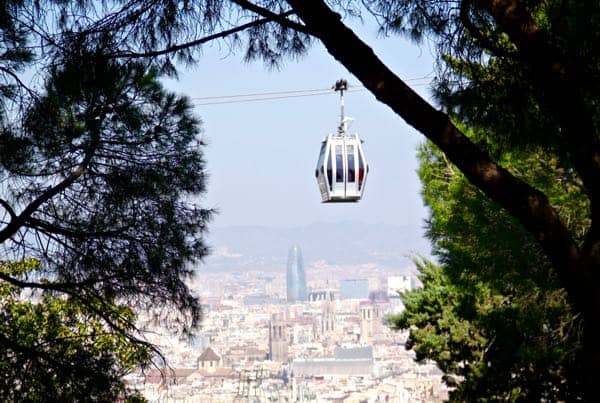 La
Boqu
ería market
This famous market is kind of like a food museum – with its playful chocolates, exotic fruits, hanging ham hocks, and open-mouthed fish on ice. Being a visual feast, stall employees would still really love it if you buy something. (Get a colorful smoothie for just 2€!)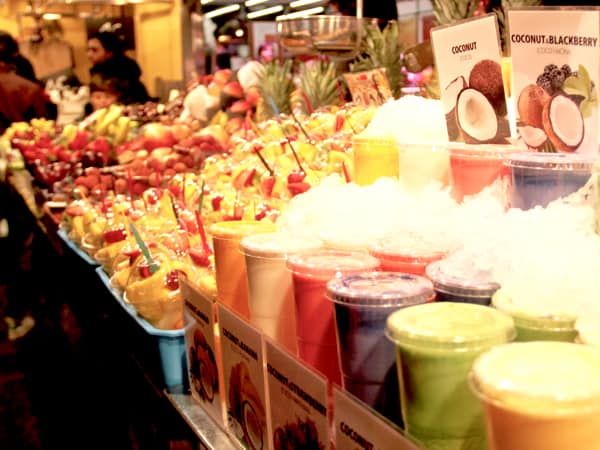 Tibidabo Amusement Park
Tibidabo Amusement Park is definitely not "quintessential Barcelona", but it is one of the ultimate family attractions in Barcelona. And guess what, even a 2-year-old can go on some rides alone. (I'm from the US, where accident prevention is a huge priority. So, I freaked out.) You'll find a carousel, a Tchu Tchu train, Pony Rides, and a very cool automaton museum. I was surprised that there's a lot a small child can do here.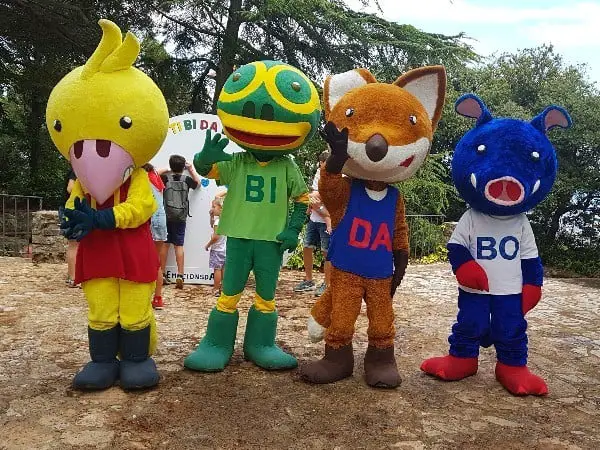 Should you visit these Barcelona attractions with your baby or toddler?
Sagrada Familia
An emblem of Barcelona, the Sagrada Familia is an architectural feat. And your baby or small child may not find it fun or interesting, as it is…well, a church. While it is a worthy attraction for adults, the Sagrada Familia is wheels-friendly and has plenty of space in the central nave. You will not be able to visit the towers. This is because the way to get down the towers is via a narrow spiral staircase. Read my tips on visiting the Sagrada Familia if you go!
Casa Batlló
Another Gaudí masterpiece, Casa Batlló has a reptilian-like roof, wavy windows, and an underwater interior that your toddler will love. Space-wise, quarters are tight. Strollers are not even permitted inside the Casa Batlló, but they will store yours for you. If you ask, baby carriers for children ages 2 and under are available. By no means is the Casa Batlló as quiet as a library, but the sound level is around "museum level", I'd say. So if you plan to bring your baby or toddler, keep that in mind. Read my tips in going inside Casa Batlló. Buy your flexible Casa Batlló tickets here (Select free cancellation and cancel until 23:59 on the day before your visit.)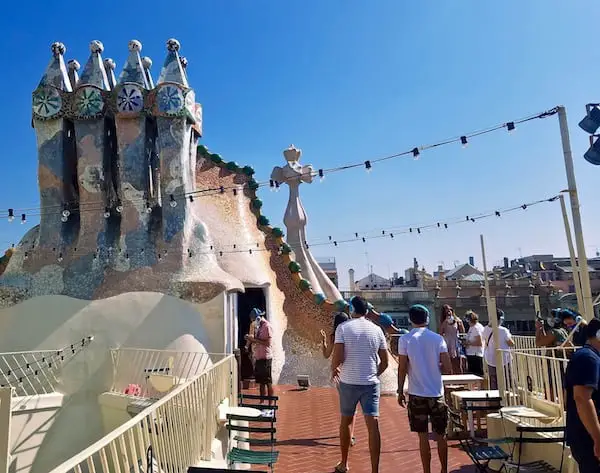 It's tight quarters at Casa Batlló, and you can't bring a stroller to the rooftop
---
Have older kids? Read my complete post on things to do in Barcelona with kids!
Have teens? Read my guide on visiting Barcelona with teenagers!
---
Where to stay in Barcelona with family
My recommendation is that you stay near the main attractions, which are primarily in Born and the Gothic Quarter. Here are my hotel recommendations:
Hotel Barcelona Catedral. 4 stars. This boutique hotel is not necessarily family-centered, but it is comfortable and very, very central, right near the Barcelona Cathedral. In fact, I met up with my cousin here. He, his wife, and his two-year-old loved the Hotel Barcelona Catedral. They highly recommend it! It also has a small pool and an ice-cream shop next door. It also has this cool downstairs bar where we met up for drinks with the kids! This is where you can relax and feel cool, even though you're traveling with a small child. See current prices for Hotel Barcelona Catedral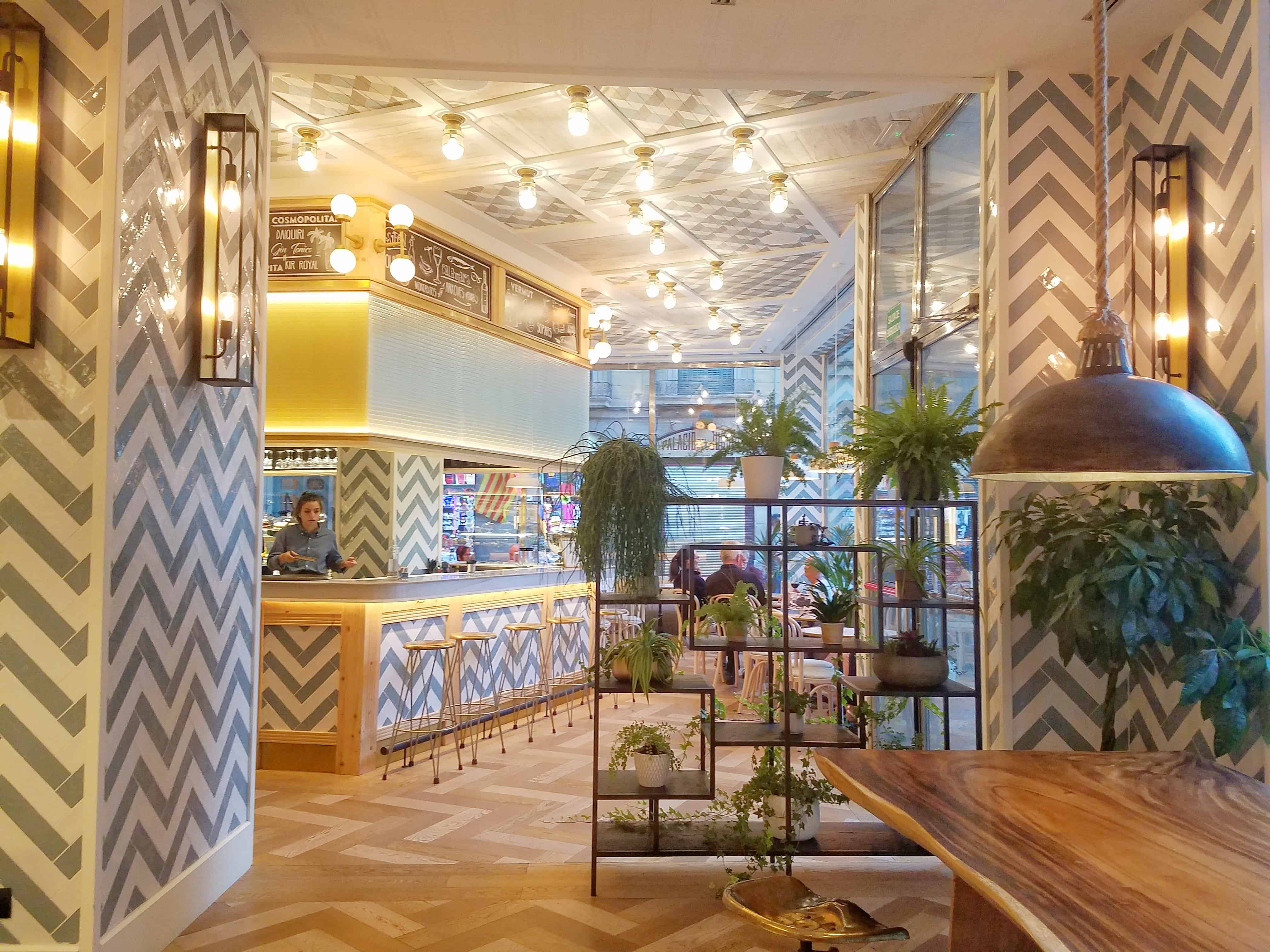 Hotel España Ramblas. This hotel comes highly recommended to me by the same cousin, who also stayed here with his family. Housed in a 19th-century building, this hotel is modern, spacious, quiet, and central. Despite the fact that it's off the boisterous Las Ramblas, it's actually peaceful. It also serves a breakfast buffet and has a Michelin-recommended restaurant and a rooftop terrace. It also has family rooms! It's just a 5-minute walk to central Plaça Catalunya. Starting at €104 // See current prices for Hotel España Ramblas
Need more suggestions? Read my post on kid-friendly hotels in Barcelona!
Getting around Barcelona with a baby
Walking – Around the Gothic Quarter and Born, it is easy to walk around Barcelona, even with a stroller. There are truly not many cobblestone streets, so it won't be too bumpy. Some streets are narrow in Gracia and El Raval. But you can get by easily with a stroller pretty much anywhere.
Metro – The metro is easy to use with a baby or toddler. You're not expected to fold a stroller, and there is usually enough room to navigate around rush hour which is 8-9am and 5-6pm. It also depends if you're headed to high-tourist areas like Plaça Catalunya, Sagrada Familia, and Liceu. You can get through the turnstile if you have a Maclaren stroller (I did this many times), or there is also a special entrance that is wider, made for wheelchairs or strollers. If you can, try to get a seat in case of abrupt stops. Sometimes you will have to stand, but you can also kindly ask someone if you can sit down with your child. The worst is they will say no, but I have faith in humanity. Also, not all metro stops have lifts/elevators. Someone will help you if you ask!
Bus – The bus is also easy to use with a baby. There's a designated area for wheelchairs and strollers to the right of the bus when you enter, although people may be standing there. Usually, people will try to get out of the way so you can park your stroller there if they see you. Also, try to board towards the front of the bus near the driver. Some buses have a door where you can board the secondary doors.
Tram – There are six tram lines in Barcelona, and they don't come as often as the metro or bus. They are also slower and come less frequently at every 10-20 minutes. They aren't as busy, and they could be a fun ride for your toddler! My kids love them.
Commuter Train – If you plan a do a day trip with kids outside Barcelona, you'll probably have to take the RENFE Rodalíes (also called Cercanías in Spanish). (Check out these kid-friendly day trips outside Barcelona!) It doesn't get too crowded unless it's rush hour, and you're most likely to sit comfortably with your child.
Taxi – If you hail a taxi from the street, they will not have a car seat available. If you want to be safe, you must bring your own car seat. But, you can also organize a taxi service ahead of time, and a car seat can be arranged. I have taken my babies and toddlers in a taxi without a car seat. (Don't judge.) As an American, I am always nervous.
If you would like to find a taxi service that offers a "child safety seat" in the taxi, check out Taxi Adaptado Barcelona (with car seats available), E-Taxi Barcelona,  or Taxi en Barcelona who has a child-friendly seat suited for a small child.  If you want a rear-facing car seat, you will have to bring your own 🙁 From my own research, it seems that it is illegal for taxis to carry children without a car seat, but it is rare that they will be fined. In the end, it is the responsibility of the parents.
Hop-On Hop-Off Bus Turístic – This is the double-decker bus that has three routes during high season. It can be a fun experience to see the sights from the top floor. If you bring a stroller, you'll probably have to fold it and/or stay on the bottom floor. It's a headphones-only tour, and you can choose your own language. You can hop off any stop, and they all stop at the most emblematic sites like Park Guell, Sagrada Familia, and Casa Batlló. Personally, I like it because you don't have to think hard to get from one site to another. You can also choose how many days you'd like to use the bus. If you buy here, you get free cancellation anytime –>> Buy Barcelona Bus Turístic tickets here
When is the best time of year to visit Barcelona with a toddler or baby?
The best time to visit Barcelona with your family is during the shoulder season, spring or fall. Spring, late March to late June, is about 20-21°C (68-70° F). It is not hot beach weather. The weather is moderate, and you don't have to wear a heavy jacket. Crowds are also less dense. Fall is a great time to visit Barcelona, especially around La Mercè in September. Check out the events here!
Barcelona is most crowded during the summer. It's exceptionally hot in August, with an average high of 85°F (29°C) and an average low of 74° (23°C). However, when you factor in the humidity it feels like 95°F (35°C) to me!
Fewer tourists visit Barcelona in the winter, which might be to your liking if you don't like crowds. It is cooler, about 59°F (15°C) / 48°F (8°C) degrees during the day. Events are sparse, but the regular Barcelona attractions are enough to entertain you. Most winter events happen before Christmas and around The Three Kings' Day.
Check out my events calendar in Barcelona to know what cultural events are happening!
Read about my complete guide on Barcelona weather and what to wear!
Where to eat in Barcelona with your baby or toddler
Kids' menus are very rare, and if they're available, it's at a large restaurant chain. Here are some cafes and restaurants with a small play area inside or right outside the restaurant:
La Plaça Gastro Mercat restaurant in Barcelona – This restaurant is on the top floor of El Corte Ingles in Plaça Catalunya. Not only does it have an incredible view, it has a small children's play area. Toys are limited, but it the kids. have a bit of space to spread out if needed. See my post on the La Plaça. Plaça de Catalunya, 14
Cerveceria Catalana – For tapas that you're kids will like, try this popular traditional Catalan restaurant. There aren't any child-friendly areas, but there is some outdoor seating so you can park your stroller more easily. Carrer de Mallorca, 236
Espai Mescladís –  This is a colorful restaurant with a charming, rustic patio. The playground is just a few meters outside the doors. C/ dels Carders, 35
Bar del Convent in Born – I love this bar! In fact, it used to be a…convent! They serve sandwiches, salads, empanadas, desserts, and coffee. But the best part is the outdoor seating, where there's a small plaza where you see kids often playing. Carrer del Comerç, 36
Sopa Boronat Restaurant in Poblenou – This is perfect because there's a playground right outside the restaurant! You can watch your kid as you eat. Carrer de Roc Boronat, 114
Want to know what to order for your kids? Read my guide on what your kids can eat in Barcelona here!
Where to shop for your baby or toddler in Barcelona
Here are some shops where you can buy clothes for your baby or toddler:
Clothing shops for kids:  Okaidi (affordable), Petit Bateau, Zara Kids (find the section in a Zara shop), also Kiddy's Class is a Zara store selling kids clothes. El Corte Inglés baby's clothing department also has a beautiful selection.
Independent toy shops: Bateau Lune in Gracia is a tiny shop packed with a wide range of beautiful toys. Pedra Paper Tisora is also a charming toy store in Poblenou. Abitare Kids also has lovely toys and clothes.
Want to buy more souvenirs from Barcelona? Check out my shopping guide in Barcelona!
Where to rent baby equipment
Here are some reputable baby equipment businesses that can let you hire strollers, high chairs, bathtubs, and everything else! I haven't had to rent any baby equipment in Barcelona, but give these businesses a try:
– Backpack Baby (https://backpackbaby.com/en/)
– Easy Travel Kids (https://easytravelkids.com/?lang=en)
More Barcelona travel tips for babies and toddlers
– Children are welcome in Barcelona. People tolerate babies and small children much more in Spain than in the US. They stay up later and are out late with their parents at restaurants. In fact, I went drinking one night with friends, and the other Spanish parents parked their strollers with their sleeping babies in a random room! Where in the US, kids "have their place", kids are more welcome here.
– It's acceptable to breastfeed your baby in public in Barcelona. If you whip out your boob to breastfeed, no one will bat an eye. No one cares! As long as you're not flashing your boobies and shaking them, it is fine. No one cares. I used to be very discreet about it, then with my third child, I gave up. Also, kids here stop breastfeeding around or before the age of one. I did it to age two with my first two kids, and my last baby was age 3, so I was very weird!
– You may have to fold your stroller or pushchair if you're eating in small restaurants. You'll find that some restaurants are long and narrow. I mean, they might be a restaurant worth eating at, but they are a shoebox.
– Changing stations in restaurants are rare. A lot of the big restaurant chains will have diaper changing stations. But most of these cute restaurants do not. It is a challenge to change your baby, if not in his/her stroller. So you may have to go to Starbucks, El Corte Ingles, McDonald's and grab a cup of coffee just so you can use a changing station. Of course, it is easier to change your baby in warmer weather.
– Beware of pickpockets. I've found it to be my unofficial mission to save tourists from being pickpocketed. It breaks my heart! Don't be too trustworthy of over-friendly strangers. Read my tips on how to safeguard yourself from Barcelona pickpockets here.
---
That's it! Do you have a question about traveling to Barcelona with a baby? Let me know in the comments, and I'll see if I can help with your Barcelona family trip!