*This site contains affiliate links, which means I receive a commission when you buy. See my full disclosure.
The Ultimate Guide on Things to do in Barcelona with Teens
Ah, Gen Z. They are so easily influenced – their minds and hearts so open to the world. And that's a good thing! Because Barcelona will not only educate, but inspire your teenager! From its extraordinary architecture, enticing Catalan food, and ideal Mediterranean climate, it's hard not to enjoy this exciting city. As a mom living in Barcelona with three kids (including a tween!), I can always find fun and interesting activities in a pinch. Read on for my ultimate guide on things to do in Barcelona with teens!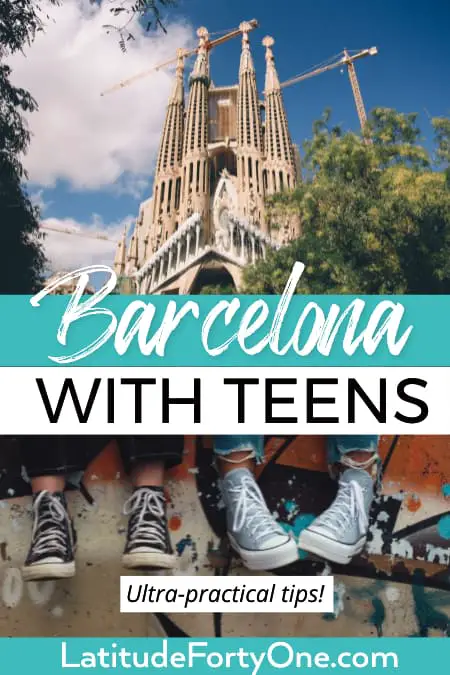 Why visit Barcelona with a teenager
Barcelona is entertaining and educational. The Gothic center is full of Roman and medieval history, and the Eixample neighborhood boasts elaborate modernist architecture. Outsiders are astounded by the eccentric beauty of Antoni Gaudí's masterpieces: La Sagrada Família, La Pedrera, Park Guell, and the Casa Batlló. Teens also enjoy exploring the cool Mediterranean beaches, trying the delicious world-renowned Catalan gastronomy, and doing all kinds of shopping from vintage shops to independent, local brands. They can also idly wander the famous colorful street of Las Ramblas or the relaxing Montjuic mountain.
On the practical side, Barcelona is easy to get around. The transportation system uses metros, trains, buses, and trams, and is efficient and inexpensive. The city is also relatively safe. The crime rate is low, compared to other European cities. You just have to be careful with pickpockets. More on that below!
What is the best age for a teenager to visit Barcelona?
Any age. Barcelona truly has "something for everyone". It's true, teenagers get bored easily. But, Barcelona offers a ridiculous amount of non-boring museums and an endless cycle of events and holidays. If your teen has a grain of patience, stamina to deal with walking, and openness to try new things, they'll have a memorable time in Barcelona.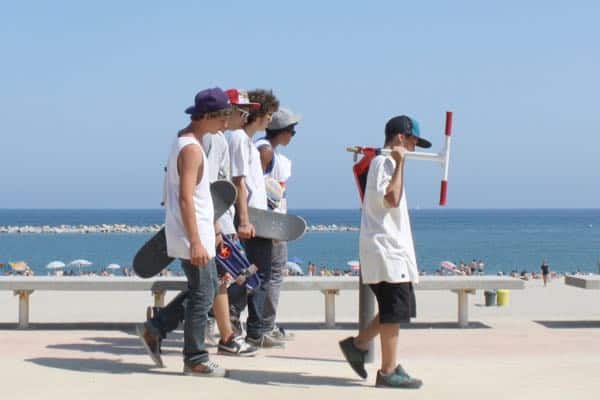 The Best Places to Visit in Barcelona for Teenagers
Make your way around Gaudi's wondrous Sagrada Família.
This church-in-progress is one of Barcelona's most iconic buildings and is the masterpiece of one of Spain's most famous architects, Antoni Gaudí. Not just a unique Catholic church, it also has hidden meanings and messages through the nature-inspired building. Its construction started in 1882, but Gaudí would not live to see its completion as he died in 1926. The Sagrada Família is still being built today and is expected to be finished in 2026.
It takes about 1.5 hours to discover the Sagrada Familia. The inside is a white wonderland of towering pillars, and the outside facades are replete with intricate stories. The scary and fun part is going up and down the spiraling stairs of the towers.
Before you go, follow my practical tips. Read my detailed guide to visiting the Sagrada Familia.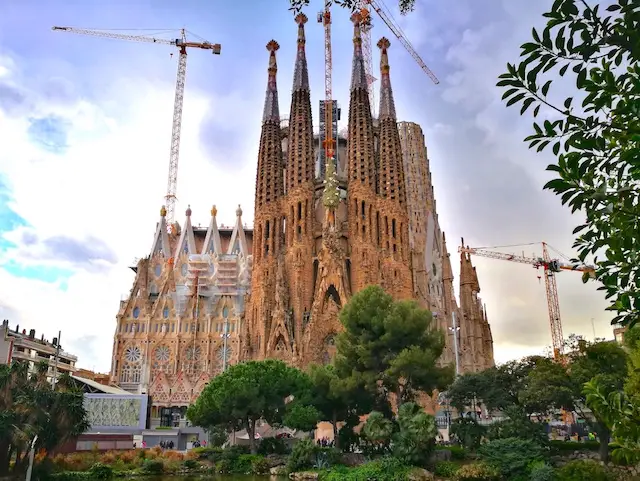 Taste and see the food delights at the La Boqueria Market.
An eclectic food market, La Boqueria gives you colorful displays of local and exotic fruits, hanging ham hocks, and rows of freshly squeezed juices. (Expert tip: don't be too enticed by the stalls at the entrance. Many food products aren't local to Catalonia, plus they're overpriced.) Walk further in, and you'll find meat and chicken stalls. And in the middle, you'll see fish and seafood stalls set up in a circle. Want a bite to eat? Sit with your fam bam at Pinotxo Bar or El Quim de La Boqueria. Also, please buy something from La Boqueria to take home. Stall owners had been burned by too many tourists just taking photos and clogging up the market. If you're lucky, you may spot Ferran Adrià, who is known to shop here regularly.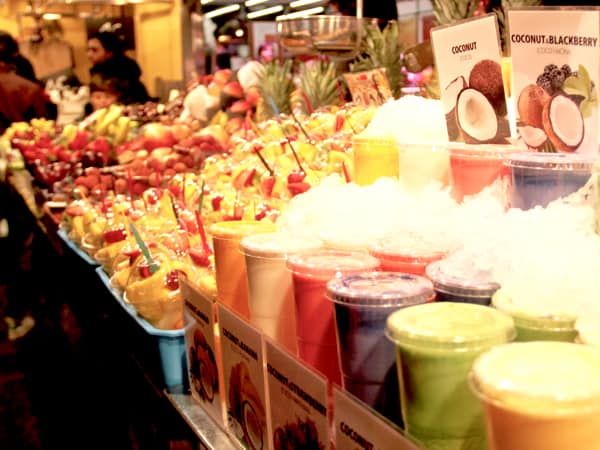 Enjoy the elaborate and colorful Park Güell.
The modern park by Antoni Gaudí is a fun wonderland of gingerbread houses and whimsical dreams. Art imitates nature at Park Güell: Doric columns look like a forest and large rocks form towering palm trees. It's hard to resist taking selfies with the famous, colorful mosaic dragon at the bottom of the steps. Up at the Monumental Zone, look past the colorfully-tiled bench, and you'll see the gorgeous view of the city and beyond. Read more in my post about Park Güell!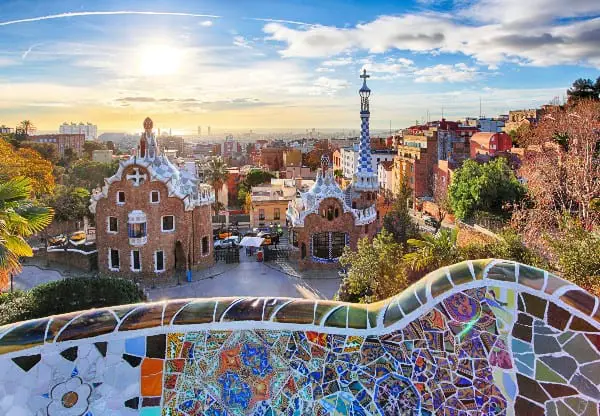 See iconic figures of chocolate at Chocolate Museum.
The Museu de La Xocolata, is a chocolate lover's dream. It's where you can see intricate chocolate figures of Gaudí's Sagrada Familia or Casa Batlló. Or check out a scene of chocolate bullfighters and the brave Don Quixote, Learn about the New World history and trade of chocolate. Explore the mono, a Catalan treat of large chocolate sculptures elaborated during the Easter season. The museum shop offers a tantalizing finale of a sweet tour.
See the wax figures at the Barcelona Wax Museum.
The Barcelona Museu de Cera got a revamp and upgrade in 2020. Not only can you see the almost-human figures of the Beatles, Frida Kahlo, or Francisco Goya, check out the recent Rosalía, Greta Thunberg, and a scene from Netflix hit, Casa de Papel (Money Heist). Do thee figures really look like the real celebrities? Find out! Then pair your trip with the neighboring Bosc de Las Fades, a cafe bar reminiscent of a kitschy Rainforest Cafe.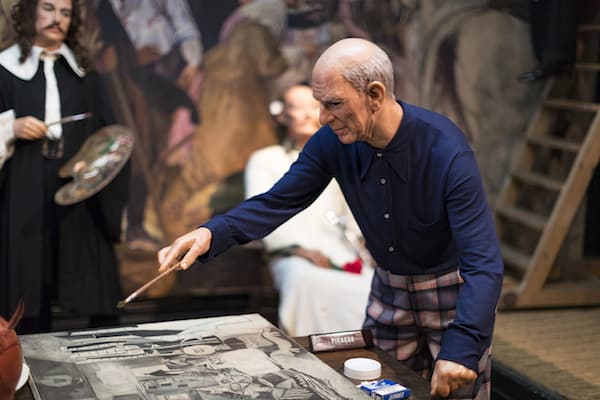 Go shopping – and find the perfect souvenirs for your teen's tastes.
Barcelona has all the global fashion stores. But it also has its own national brands you can't find outside of Spain. For Spanish brands, teens might like clothes from Stradivarius or Pull & Bear. Or, they might seek 90s inspiration clothes at indie shops in Gracia. For a shopping center / mall experience, try Diagonal Mar Shopping Center. My favorite mall is Les Glories Shopping Center, which has European brands like Dutch brand Hema (fun stationery, accessories, and fun stuff for girls) or the Japanese Uniqlo for utilitarian, cool city clothing. Better yet, read my complete guide to shopping in Barcelona for ideas on where to shop. Get Barcelona souvenir ideas here.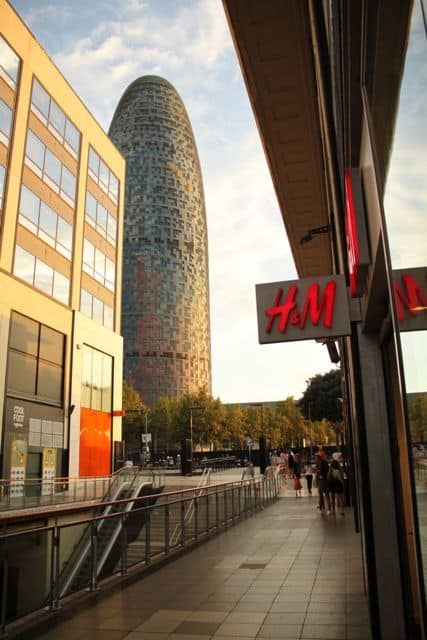 Take a stroll around a cool, trendy neighborhood.
Barcelona has 12 neighborhoods, each with a unique vibe. Born is known for its trendy bars and restaurants, art galleries, and some designer shops. It's also fun to walk around, especially around the Passeig de Born.
The Raval is a multicultural neighborhood that's rough around the edges. Its inner-city vibe makes it an energetic, mysterious neighborhood to explore, the best time being daytime. However, it boasts many second-hand shops, vintage record stores, and alternative cafes and bars. It also has the massive MACBA Museum (Museum of Contemporary Art Barcelona), a stark-white beast of a building, contrasting the tightly-woven streets surrounding it.
The Gracia neighborhood has a free-spirit and artistic personality. You can find a lot of handmade ceramics shops, tiny vegan supermarkets, and budding art galleries. It just oozes creativity! So, which neighborhood fits your teen's personality? Read more in my in-depth Barcelona neighborhood guide!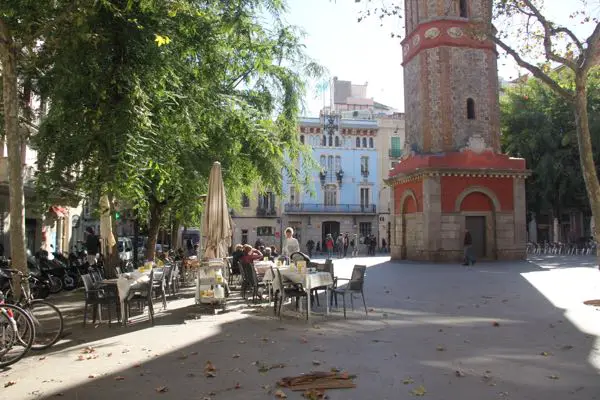 Take wacky photos at the Big Fun Museum.
Let me guess: your teen likes to take photos. Well, Barcelona has the best museum to take fun photos and get in some good laughs, too. The Big Fun Museum has rooms with outlandish and surreal backdrops. Your teens and you can pretend you're squished inside a giant's sock drawer, look like you're carrying a massive pink popsicle, or standing upside down on a bedroom ceiling. It's an Instagrammer's dream!
Rock on at a concert or a revel at a local festival.
In the spring, Barcelona is a hub for its music festivals and concerts. One of the most famous music festivals held annually is Primavera Sound Festival, which takes place in June at Parc del Fòrum with many world-famous artists performing. Primavera Sound 2022 brings Massive Attack, Black Lips, Bad Gyal, and more!
However, if your too-cool teens don't want to go to a concert with their parents, the family can check out one of the local celebrations called festes majores. Barcelona celebrates its citywide festival in September called La Mercè, a weekend replete with concerts, theater, human castles, and parades. Each neighborhood also has an annual festa major, the largest versions in Gracia, Barceloneta, and Sants. Also, hit up other festivals like dance, cinema, or theater. Keep updated on fun cultural events and holidays in Barcelona!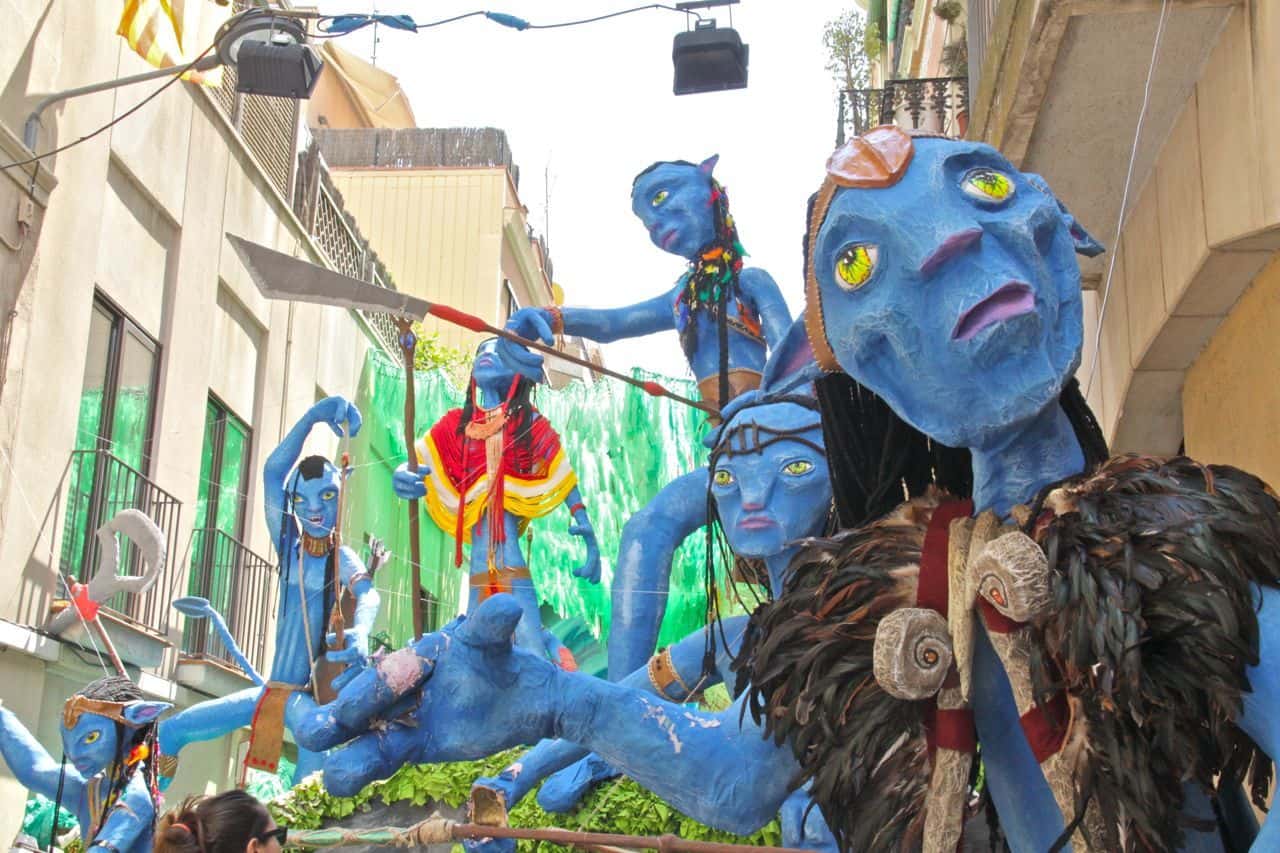 Stroll around or swim in Barcelona's beaches.
Barcelona has seven city beaches, each very different. These small havens offer everything you could want: private cabanas and sun-loungers, pools, bars, and restaurants. You can also walk around Port Marítim, where there are restaurants and bars. Or have a quick meal or refreshing drink at a xiringuito, a beach bar on the sand. Or go to the new footpath near the W Hotel, and take a stroll along the sea. Barceloneta Beach can be loud with tourists blasting the radio, in-line skaters whizzing by on the boardwalk but it is definitely entertaining! Outside Barcelona, a few quieter and near beaches are Ocata, Casteldefells, El Masnou, or Sitges.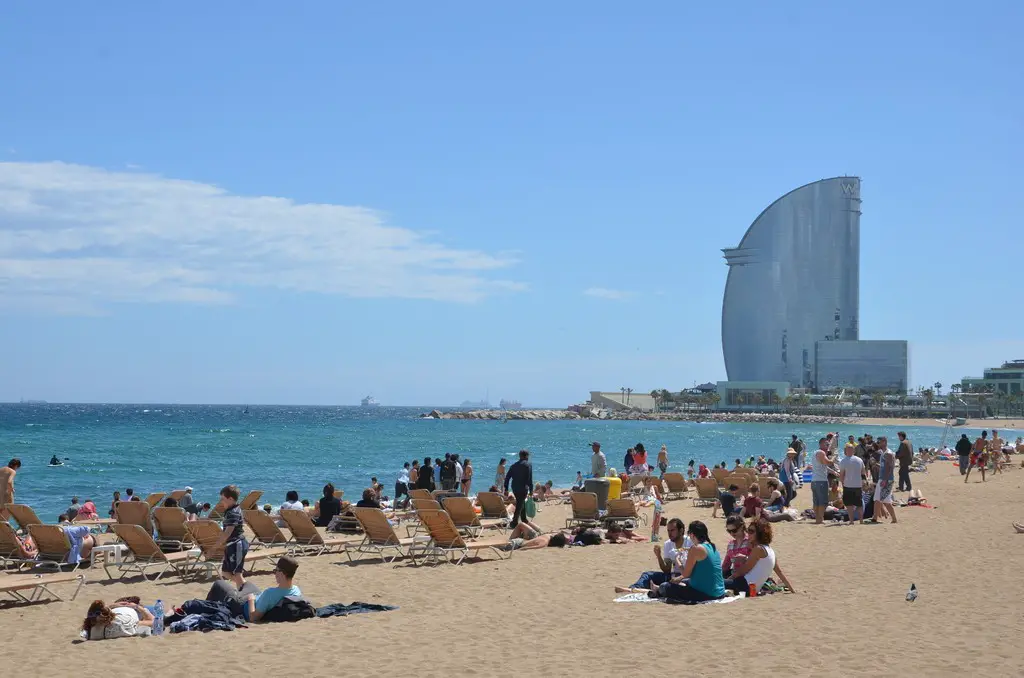 Check out the skater tribes or skate at Barcelona's skateparks.
If your teens like to skate or just watch skateboarders, the Mar Bella Skate Park, Forum Skate Park, or Skatepark de Les Corts are where they can try a kickflip nose stall. More famously, a fun place to watch skater tribes is at the plaza by the MACBA museum in Raval, where they show off their tricks from early morning to night.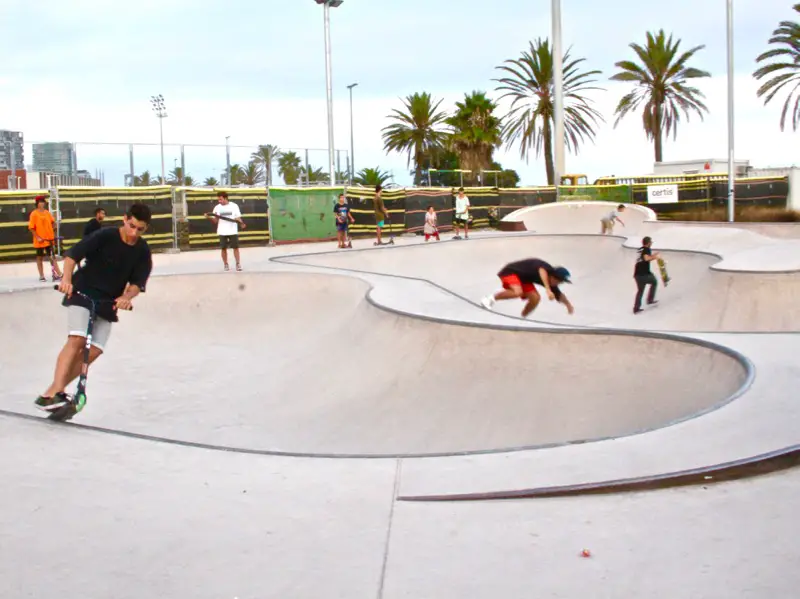 Get a bird's eye view of Barcelona.
Who doesn't like getting an overarching view of the city? From Montjuic, you can ride the Telefèric (cable car) and get a breathtaking view of Montjuic, the cityscape, and the port. Or go to Tibidabo, where you can find THE BEST view of Barcelona. You can see the whole city and beyond! Read my post on where to find the best panoramic views in Barcelona!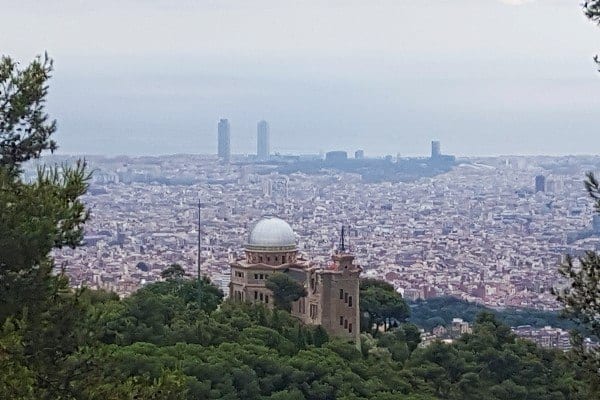 Chill at Ciutadella Park.
After hours of sightseeing, your teen or you might need to relax and recharge. The Parc de La Cuitadella is where you can lay on the lawn, sit back, and get a dopamine hit off your smartphones.  This park is the largest park in Barcelona and has a small lake to row a boat, a picturesque fountain, ping pong tables, and plenty of grass to recline. especially if you'd like to bring a picnic lunch. Read more about Ciutadella Park here.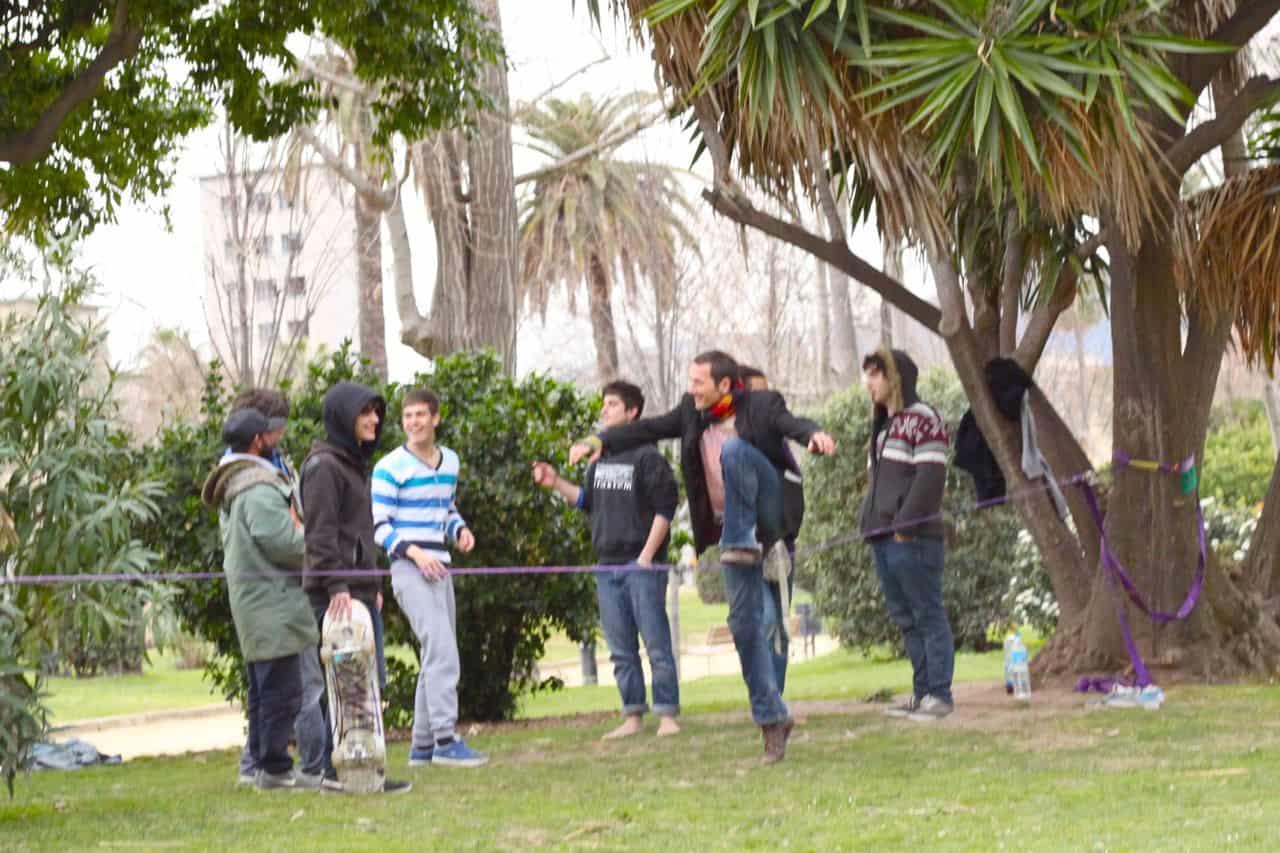 Check out the Barcelona street art.
Even though Barcelona has its celebrated art museums, visual art can be found on public walls and building facades throughout the city. Get a peek at the street art at the Jardins de les Tres Xemeneies (Three Chimneys Park) on Parallel in Poble Sec. Or, check out the murals at Nau Bostik, the first street art museum in Barcelona. Other street art meccas are on Selva de Mar and Gran Via de Les Corts Catalanes.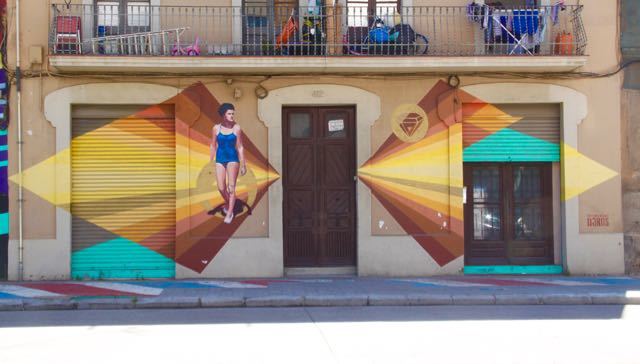 Best Places to Eat in Barcelona with Teenagers
La Pallaresa – Every person who comes to Spain must try churros con chocolate. Your Zoomer cannot leave without having some deep-fried dough covered in sugar! Churros are perfectly sweet and crispy on the outside and soft on the inside. And order a suiza, a very tick hot chocolate with fresh whipped cream on top. It is a MUST!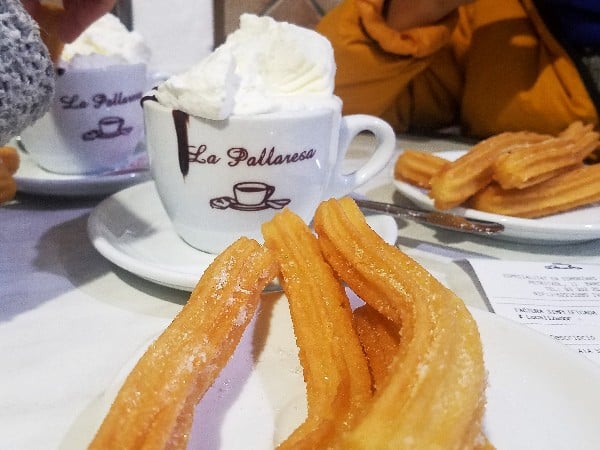 La Desayuneria in Sant Antoni has yummy American-style breakfast and lunch menu. (Calorific American-style food been trendy here for the past few years.) Try one of sweet-and-salty pancakes like the Burrito Breakfast pancake with a tortilla, American cheese, avocados, and hot peppers. Yum!
Caravelle in El Raval has a delicious international menu with dishes like smoked pulled pork Bennie, which is smoked pork shoulder, poached eggs, spinach, and hollandaise sauce. Or, try their specialty fried fish bun, cod fried in panko crumbs with tartar sauce, pickles, American cheese, on a brioche bun. I've never had a bad meal at Caravelle!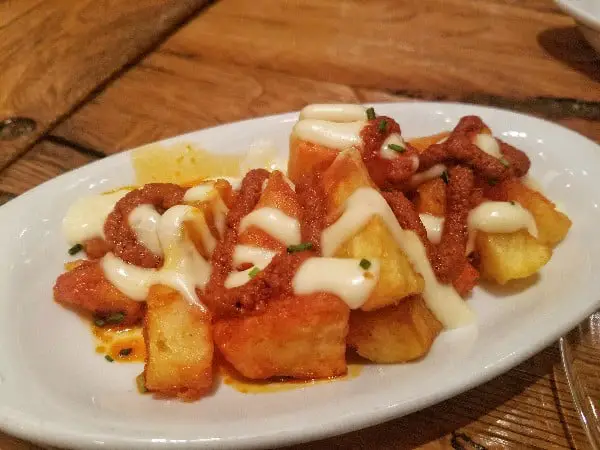 Bodega La Puntual ‒ You can't leave Barcelona without trying delicious traditional Catalan fare in a classic restaurant. Try the spicy patatas bravas (fried potato wedges with a special hot sauce) and the pa amb tomàquet (smeared tomato with country bread). You'll get a good Catalan experience here!
For your vegan teen, Restaurante Vegetalia offers dishes made from fresh ingredients. It has a delicious menu with various dishes for all kinds of diets including vegan, gluten-free, low-carbohydrate, low-fat, and paleo. The restaurant offers homemade desserts like cookies, cakes, and pies which are delicious and perfect for any sweet tooth!
Extra tips on visiting Barcelona with a teenager
Watch your wallet. Safety should be your #1 priority when traveling. While Barcelona is a relatively safe city, pickpocketing is rampant. Keep your wallet close to your body. Don't be too friendly with strangers, who might be taking advantage of you. Do NOT EVER leave your suitcases unattended. Read more in my in-depth safety guide to Barcelona.
Book your tickets in advance. While Barcelona has not returned to the overfilled streets of tourists, it's getting crowded again. It's smarter to buy your tickets online before you come in case tickets run out. It may also save you time waiting in line.
Know the opening times of shops and restaurants. For example, supermarkets are usually open from 9am-9pm. Lunch is served from 1-4pm, and dinner starts at 9pm, but kitchens open at 8. On Sundays, shops are closed! Read more in my Barcelona tips for first-timers.
---
Have you been to Barcelona with your teen or tween? Are you looking for alternative ideas? I bet I could find something fun for your zoomer! Let me know in the comments!