*This site contains affiliate links, which means I receive a commission when you buy. See my full disclosure.
The Fira de Bellcaire, or more popularly known as Els Encants Vells, is the largest flea market in Barcelona and one of the oldest markets in Europe. At the "Old Charms" outdoor market, you can treasure hunt for unique vintage and antique goods as well as find new everyday items such as clothes, housewares, jewelry, tools, and more.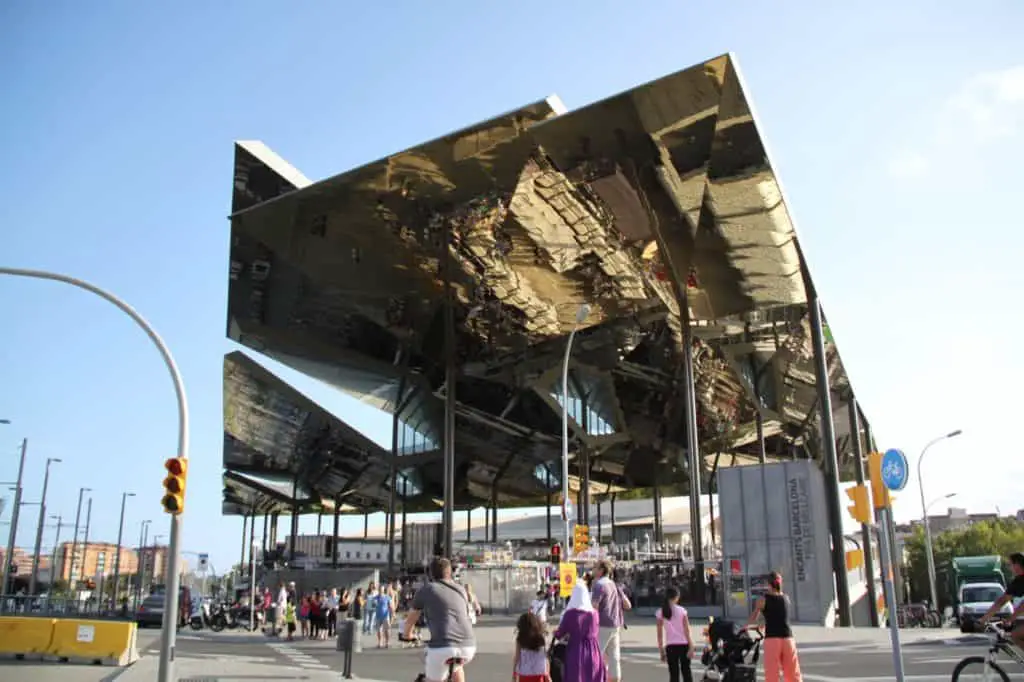 In addition, the market has boasted a new, revamped home since September 2013. The shiny structure by the Plaça de Les Glòries Catalanes is an architectural gem — its multileveled platform and radiant mirrored canopy gives visitors an exciting shopping experience.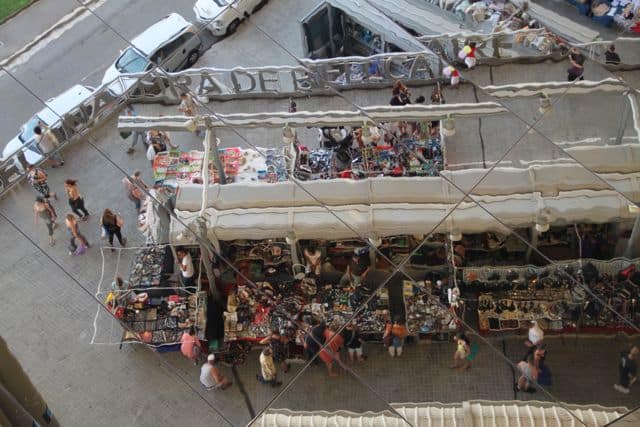 Here are 9 reasons why Encants Vells flea market is worth a visit:
1. It's an enormous and interesting complex.
The new locale of the market covers a vast 15,000 square meters and houses boutique shops and prefabricated stalls lined with wide paths. Ample space welcomes 100,000 visitors every week.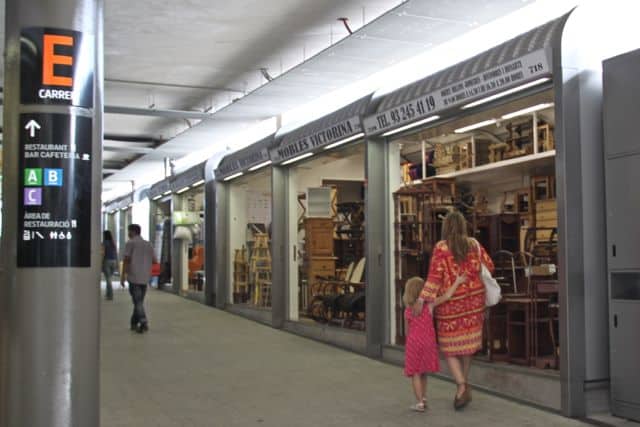 A building without walls, the architecture preserves the open outdoor vibe of the old market. Its multileveled design shuns a typical shopping center model because the stalls and shops follow a gently sloping, continuous loop. Levels become indistinguishable as you ascend or descend. Equipped with stairs, the structure also has an escalator and several lifts/elevators to make it accessible for the wheeled and weak-kneed.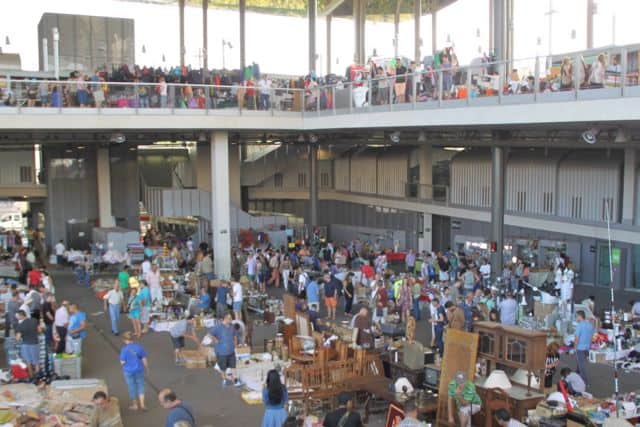 2. They have a large variety of new merchandise.
Flea markets are known for carrying second-hand goods, but Encants Vells also has a diversity of new products.
You can find jewelry, car accessories, electric bikes, cosmetics, textiles, pet supplies, lighting fixtures, mattresses, home appliances,…
…sportswear, footwear, hardware, and any type of other wares! Chimneys and barbecues? It's there!
While there are lots of mass-produced items, there are a few handmade items too, like woven baskets and chairs. Here is just a partial list of vendors.
3. You can find second-hand goods at true bargain prices.
The used items in the boutique shops in the upper levels are mostly organized. Antique furniture and artwork, vintage clothing, old books and records, and other collectible items are neatly displayed.
But as you make your way to the ground floor, you'll experience the heart of Encants Vells. "Dos, un euro!" What seems to be like a fight breaking out below are the noisy and boisterous sellers vying for your attention. True — a lot of what you'll see is piles of junk thrown together.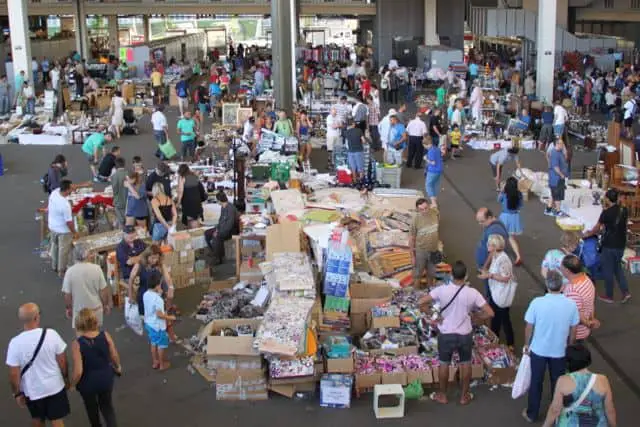 But to find a good bargain, you have to see past the lack of product styling. With patience and time, rummaging through the goods can reward you with quality pieces, such as brass frames, handcrafted ceramics, or vintage prints.
4. Before the market opens, there's a public auction.
On Mondays, Wednesdays and Fridays between 8am-9:30am, entire lots are sold to vendors of the market and to customers alike. This is the only type of selling arrangement of its kind in Europe. These products are antique furniture, overstock from factories and department stores, clothing, shoes, all both new and old products.
Each lot is sold in a stall in La Plaça on the ground floor. Afterward, buyers can then sell the pieces that were auctioned off in the stall where it was actually sold. If you're interested in participating, you must register with the auctioneer first. Check it out:
5. The gleaming canopy is spectacular.
The old market lacked an overhead awning, providing it difficult for vendors to sell on a rainy or excessively hot day. The new market has a shimmery casing which enables them to conduct business regardless of the weather.
Constructed of aluminum and zinc, the angular canopy showcases mirrors with wavy, sepia-toned appearances. But it's hard to find where you are. Its faceted surface casts reflections from the surrounding street and other parts of the frenzied market other than where you're standing. Bad news if you want to primp your coif.
7. You can get a bite to eat here too.
Several benches and tables are also furnished for the hungry shopper. Dubbed the "Street Food" catering area, you can have a drink, tapas, or a sandwich at any of these trendy bars.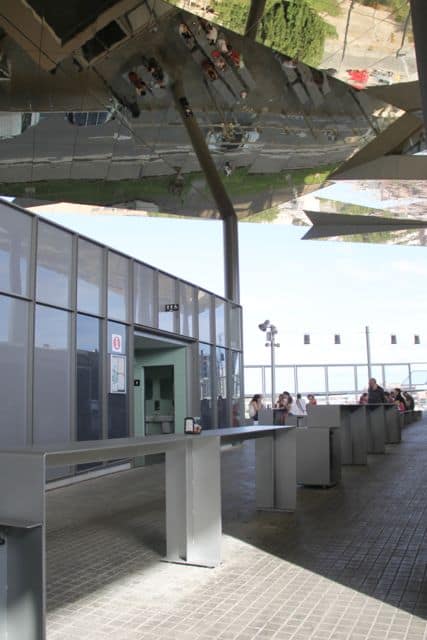 The old Encants Vells had only two options for eating. But the refurbished site offers eight eateries with a hip flair. It also has its own Can Paixano, which has the wildly popular location in Barceloneta. The lively ambiance isn't the same, but they have the same scrumptious tapas and cava menu. Try the rose wine and cava!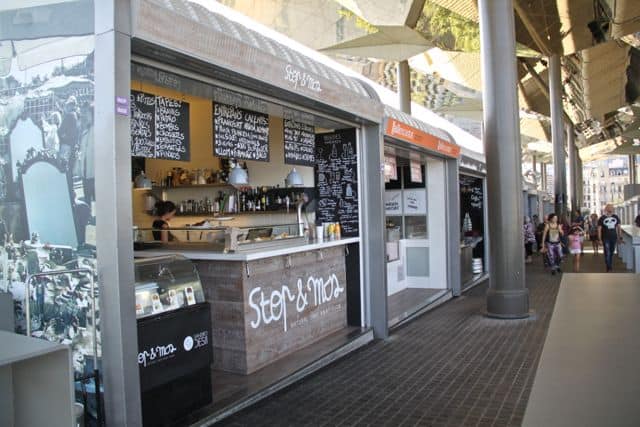 8. The market puts on events and entertainment.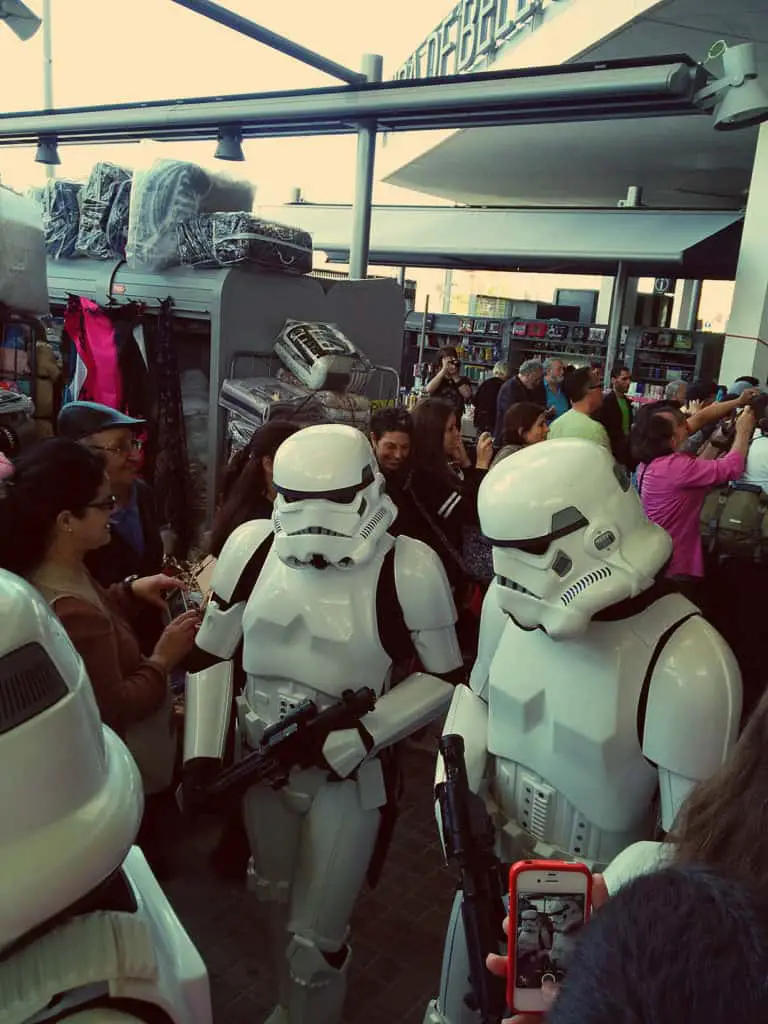 Because Encants Vells has also extended their hours (until 8pm), live music is offered on many Friday evenings from 5pm to 8pm, called balcó musical. It's held at the Street Food area.
The market also houses a sala polivolent (multipurpose room), a space of 200 square meters that offers presentations, talks, expositions, and more.
In the past, they've also celebrated a vintage festival and arranged a visit from Star Wars characters. Next month, the market is chock full activities to celebrate the first anniversary of the new locale, which includes live music, clown performances, an inflatable castle, an  FX workshop, and much more.
9. The market is close to other crowd-pleasing sites.
Because of its new location at Glòries, other curious attractions of Barcelona are at a stone's throw away. The Torre Agbar, Centro Comercial Les Glòries, and the Museu del Disseny (Design Museum of Barcelona) are all worth seeing. Just jump on the L1 and get off at the Glòries station. You'll be right where the action is.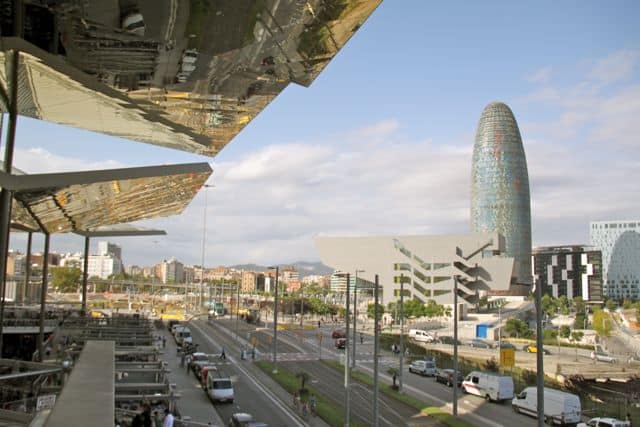 The Encants Vells market is open on Mondays, Wednesdays, Fridays, and Saturdays from 9am to 8pm. For more information, visit http://www.encantsbcn.com/.
Tips:
Come early if you want to score antique or one-of-a-kind items.

Saturday is usually the most crowded day, so expect a little pushing and shoving.

Don't be afraid to haggle to get your best bargain. I bought a handcrafted ceramic planter for 1 euro!

They've also added more security, but watch out for pickpockets!
Encants Vells is a marketplace where you can awe at the reflecting canopy, gaze at the local antiques, or actually buy a unique treasure — and breathe life back into a pre-loved item 🙂 Have you been here?