*This site contains affiliate links, which means I receive a commission when you buy. See my full disclosure.
Planning a trip to Spain with a toddler? I gotcha. I'm raising my three kids in Barcelona, and I've also traveled a lot with them around the country. My husband's family is from Seville, so we explore Andalusia at least twice a year. We've taken trains, planes, and all kinds of automobiles all over Spain! In this blog post, I share the top activities and attractions in Spain. You'll also discover the most practical travel tips if you're traveling to Spain with your toddlers or babies.
Things to know when traveling in Spain with a toddler or baby
Traveling with a crazy toddler can be challenging, but with some preparation and planning, you can have an easeful trip. Here are some things to know so you can enjoy Spanish culture, its delectable cuisine, and adventure while exploring Spain with your toddler:
Spain is a family-friendly country. With its strong Catholic roots, children are appreciated more than in the US, where I'm from. Sundays are reserved for spending time with parents and grandparents. Kids are welcome at bars and restaurants late at night. No one will bat an eye!
Kids are also expected to make a little noise. As an American, I feel that when I go back, kids have a time and place. Not in Spain! You can see kids everywhere – from playing football (soccer) in the main plazas to going to restaurants late at night. Spaniards generally live their lives outdoors.
Changing tables are minimally available in restaurants. Be prepared to change your kid in his stroller if no changing table is available in the WC.
Highchairs can also be hard to find in a restaurant. They may have a few, but they are limited in quantity.
Large cities like Madrid and Barcelona are easy to navigate. Lifts / elevators are largely available, but not all metro stops have them. If this is the case, it is completely acceptable to ask for help from a friendly-looking face. In my case, people usually offer before I can ask!
Some cities have streets are that are narrow. For example, a city with an old historic center might have ancient streets that can fit one car going one way, and two very narrow sidewalks on each side. Opt for having a narrow stroller or buggy. It also might be cobblestone, so your child might have a bumpy ride!
Every city in Spain is fairly safe to visit. I live in Barcelona, the pickpocket city of the world, and I'm used to navigating the city with my kids. Just practice caution, and read my post, how to avoid pickpockets in Barcelona. Many of the tips will apply to all over Spain!
Want to make travel easy? Consider staying one of the family-friendly campsites in Spain. They are very kid-friendly, and you don't have to do much planning. They have pools, restaurants, bungalows (my family always stays in a bungalow, never in a tent). Read my post on the best campsites near Barcelona.

Many Spanish campsites are equipped just for families
Things to do in Spain with kids
Spain has so much to see and experience. In general, southern Spain is more popular because of its warmer weather, sunny beaches, and whitewashed villages. Here's a taster of some of the best cities in Spain to take the family. From archaic castles to breezy beaches to eclectic museums, these are just some of the must-visit destinations to spend your Spain family vacation:
Barcelona
I'm a bit biased, since I have been living in Barcelona since 2008. Barcelona is an exciting city that offers so much visual stimulation that I guarantee you will find something to do. Barcelona's famous Gaudi architectural feats, such as Park Guell and La Sagrada Familia, will fascinate children with their whimsical designs. Other top attractions include Casa Batlló, the Barcelona beaches, Tibidabo Amusement Park, Ciutadella Park, or the Barcelona Zoo. Read more in my practical guide, how to visit Barcelona with a toddler or baby!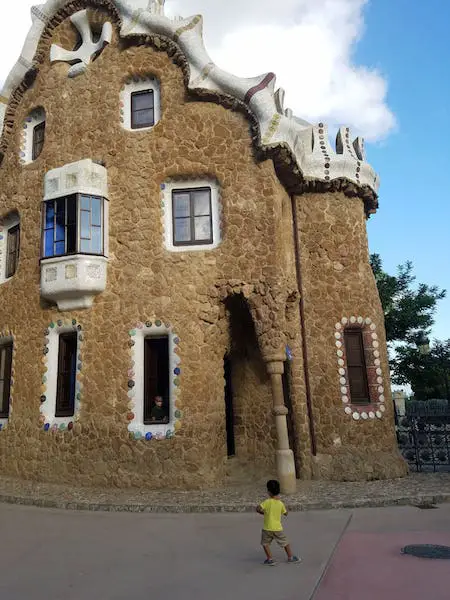 Málaga
Málaga is a beautiful beach city in the southern Spain that's much smaller than Barcelona, but seems to have everything. Visit the beach of calm and shallow waters, such as Playa del Palo and Playa de la Misericordia, which have soft sand and clear water. Explore the Alcazaba, an ancient fortress that overlooks the city of Malaga. Or stroll the Parque de Málaga has green spaces, playgrounds, fountains, museums cafes and restaurants. In fact, we know two young families that are looking to move to Málaga this year because it's so kid-friendly.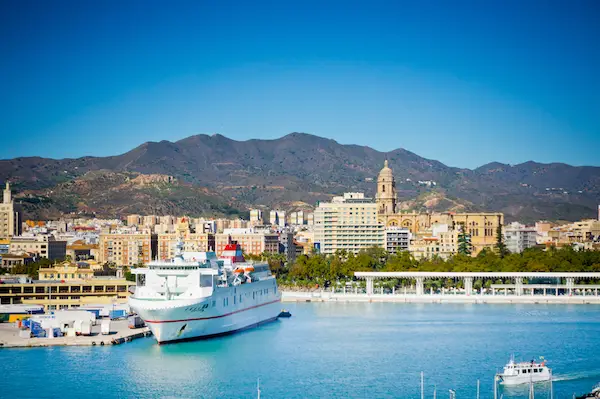 Madrid
The capital of Spain and the largest city, Madrid has almost everything. You can't miss it! Stroll around Retiro Park or row boats on its lake. Enjoy street performers or circus acts in the park. The infamous Prado Museum also gives special tours for kids. The Parque de Atracciones is also the city's amusement park for little ones to enjoy. They also have a convenient metro system to get around.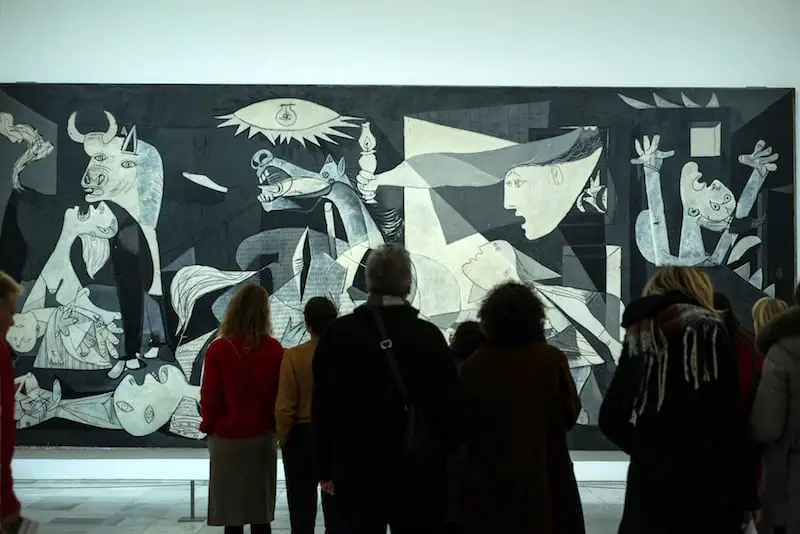 Seville
My second favorite city for kids! Seville is known for its Moorish architecture including Alcazar Palace & Gardens and the Plaza de España – one of the most iconic plazas in Europe. It's inside the Maria Luisa Park where sprawling gardens full of fountains and statues offer wonderful picnicking opportunities combined with horse-drawn carriage rides through cobbled streets. Another fun activity is taking river tour on the Rio Guadalquivir. The Acuario de Sevilla, or Seville Aquarium, provides a fun marine experience where children can observe sharks, stingrays, sea turtles up close. Read my 3-day itinerary of Seville here!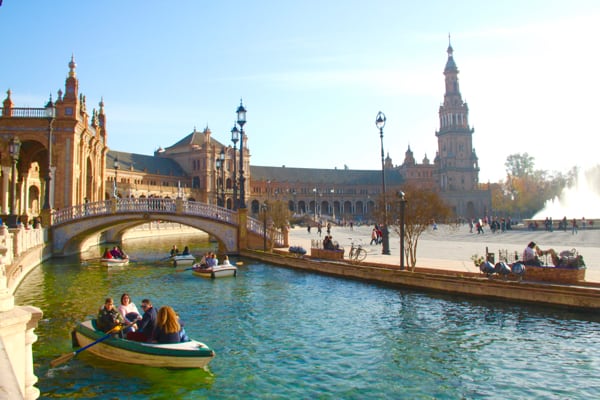 Valencia
Valencia, hometown to the paella, is a wonderworld for kids. The city has a lot of outdoor spaces, parks, beaches, and tourist attractions that are perfect for toddlers or babies. The Bioparc Valencia is a zoo is designed to mimic the natural habitats of animals from Africa. Head to Malvarrosa Beach or Patacona Beach which are both popular with families. The futuristic-looking Ciutat de les Arts i les Ciències (City of Arts and Sciences) is an architectural complex includes an IMAX cinema, planetarium and interactive science museum. The Turia Gardens has cycling paths and playgrounds perfect for kids.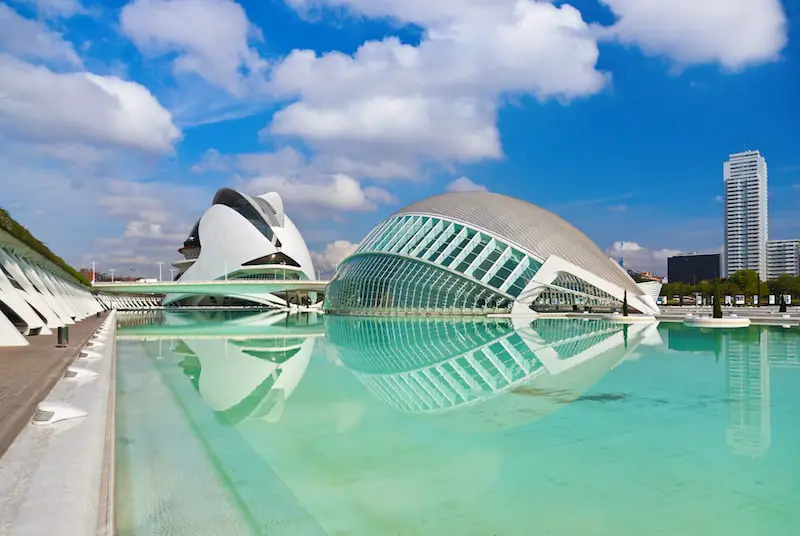 San Sebastian
San Sebastian is a gorgeous coastal city in the North in the Basque Country. San Sebastian has three world-class beaches: La Concha, Zurriola and Ondarreta offer soft sand and calm water, perfect for little ones to splash around in.  The streets of San Sebastian's old town are narrow and pedestrianised, making it easy to explore with a stroller. Head to Mount Igueldo for stunning views over San Sebastian Bay, which has an amusement park at the top with rides suitable for young children. Or, head to Monte Urgull, a hilltop vantage point offering panoramic views over San Sebastian Bay as well as historical sites such as forts and cannons.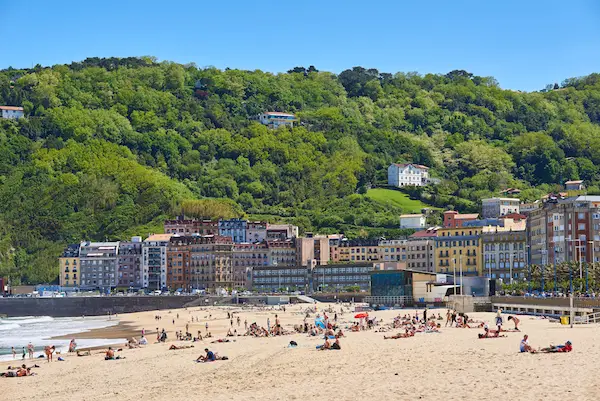 Tenerife
I went to Tenerife last summer, and this Canary island of Spain is a wondrous natural zone of beaches, flora, and mountains. I want to go back! Northern Tenerife has black sands and is more mountainous but interesting. The south is warmer, has white sands, and is more newly developed. Loro Parque is a one of the largest animal parks where you can see dolphins, sea lions, penguins and more. They also have an exciting bird and killer whale show. This was sooo much fun for my family! We also visited the stunning Martianez Lago, which has several, humongous pools in an artistic environment, and it's right by the sea! Siam Park is one of the best water parks in Europe, with lots of fun slides, pools, and attractions. This is for older kids, but it's still fascinating – visit the peaceful Teide National Park where Mount Teide, an active volcano lives.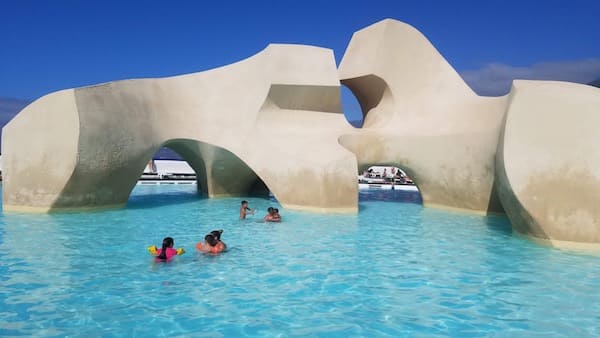 Check out my post, the best cities in Spain to visit!
Best time to travel Spain with kids
The best time to travel to Spain with toddlers or babies is in spring in April, May, or June. It's when flowers are blooming and Spain is its most beautiful. April and May are wonderful times to visit southern Spain. Seville, Granada, and Cordoba are particularly beautifully decorated with their interior patios and brightly-colored flowers.
The summer is Spain is uncomfortable and hot, especially in Madrid, Catalonia, and the Andalusian south. The north in the summer is around 30 degrees Celsius and is much more comfortable.
Traveling Spain the summer is doable, and it's the most popular time to come. Crowds are also heavier and thicker, which means you may have to wait in line to see popular attractions or enter restaurants. Even if you book tickets in advance, you will still have to wait longer in the summer.
The fall is also a comfortable time because of the moderate weather and lesser crowds than in the summer. In the north, in Galicia, Cantabria, Basque Country, and Asturias, is cooler than the rest of Spain. It also has rainfall and strong winds. The  crowds are also less. But it doesn't have as many events as the spring.
Winter is a good time, but note that you have to wear heavy jackets and coats in December, January, February, and early March in practically all of continental Spain. It's "off-season", so lines will be shorter and cities are less crowded.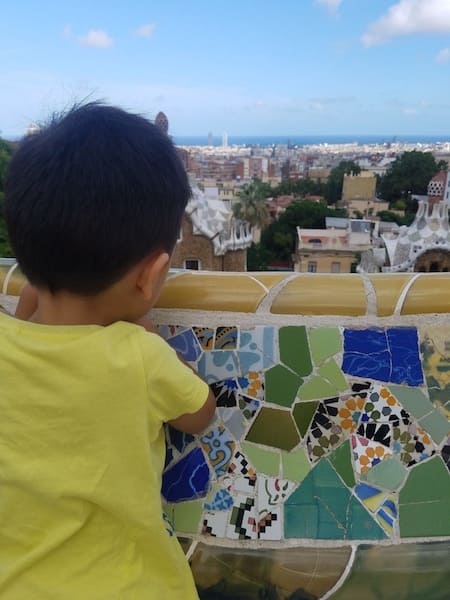 Getting around Spain with kids
All cities in Spain are easy to get around within its city limits. They all have reliable public transportation. Barcelona, Madrid, Barcelona, Bilbao, Seville, Valencia and other cities all have metro systems. Other cities have a bus and some have a light railway system.
If you plan to travel from the North to the south, the fastest and easiest way to travel is by airplane. For example, flying from San Sebastian in the north to Sevilla in the south takes 1.5 hours. And many airports are kid-friendly too.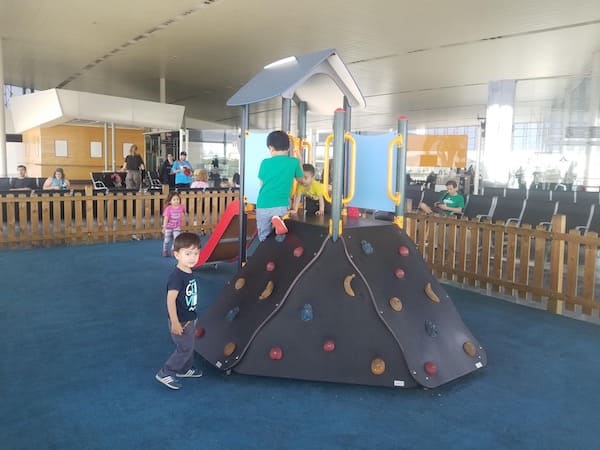 Taking the train is also very easy. Spain has one of the best train systems in Europe, run by RENFE, which includes the AVE system, a high-speed train that can take you from Madrid to Barcelona in 1.5 hours. It's also very spacious and has lots of legroom. Check out different destinations and buy your tickets for the AVE here.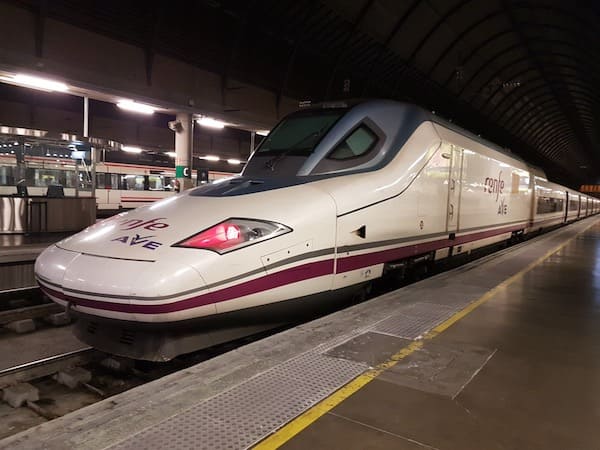 Different private bus companies operate in various cities also. I have done a bus ride from Seville to Madrid in six hours, in the middle of the night. Popular bus companies are Alsa, Ouibus, among others. I wouldn't really recommend traveling by bus with a toddler or baby because rides can be long and slow. Plus, you can't escape to the bathroom!
You can also rent a car in Spain. Note that big cities like Barcelona and Madrid are horrible cities to park your car. In other words, you can't find a parking space! My family of five doesn't even own a car. Ours died in 2017, and we never looked back. We use the public transportation system or rent a car for our weekend trips.
Your toddler or baby will need a car seat if traveling by car. Or, you can rent one from a company at the city your visiting in Spain. Just Google "'(Spanish city)'" + car seat rental". These are the official rules for children regarding car seats. I don't think carseat use is that strict here. But better safe than sorry!
Taxis and Cabify also work well in Spain. We've just started using Cabify and we found it to be cheaper than a taxi. The only thing is that you'd probably have to bring your own car seat if using them.
Spain packing list for toddlers and babies
While you know to pack baby bottles, pacifiers, diapers, sunscreen, first aid kit, and more, the above will make your travels with baby much easier.
What to eat in Spain with a toddler or baby
Paella. If your babies like rice, paella is perfect for kids. Parents love it, and kids and babies can eat and digest the rice easily.

2 types of delicious paella: seafood paella and black rice paella
2.  Cured ham – Spanish embutidos, or cured ham that is served cold is popularly eaten in Spain by everyone, of all ages. Cold-cut sausages, Iberian ham, Serrano ham, fuet (a Catalan ham), and others are all great for toddlers to get their source of protein. It's also a convenient grab-and-go food when you're in a rush!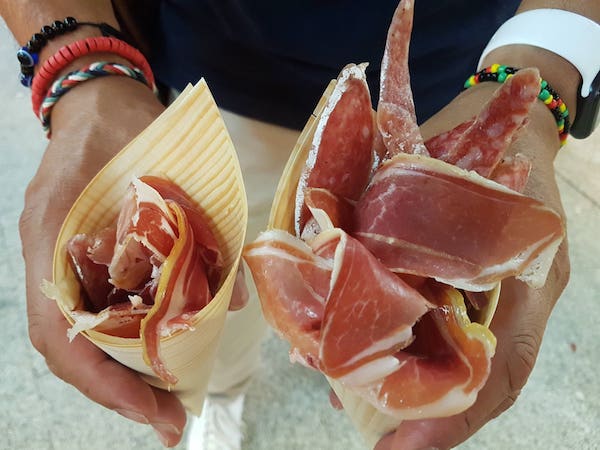 3. Croquetas – These deep fried appetizers or side dishes are rolls consisting of a creamy binder combined with a filling and breaded. The thick binder is usually a bechamel sauce, then mixed with any type of meat, usually ham or chicken. All kids love its outside crunch and creamy, warm filling inside.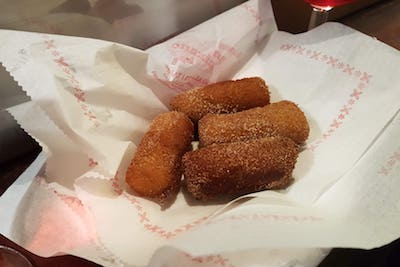 4. Patatas bravas – these are deep-fried potato wedges with a crispy outside and a warm inside. They are usually topped with a spicy tomato sauce. When ordering for kids, I always ask for the strong sauce on the side – just in case it's too spicy. My kids LOVE them!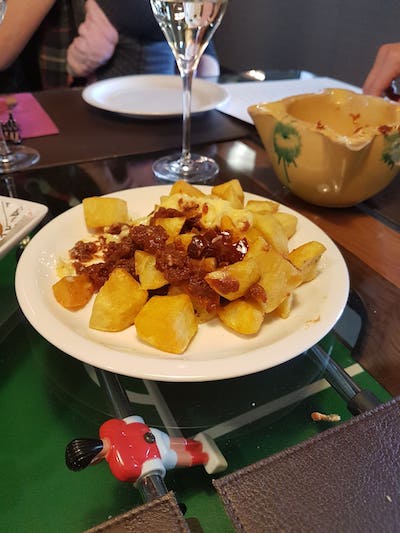 It's easy to adapt a diet for small children and babies in Spain. There is usually eggs, bread, potatoes, ham, chicken fillets, or chicken nuggets on the menu. When it doubt, question your waiter in a restaurant. I always ask for a recommendation for small children, and they almost always have good ideas!
Need to know more about what to eat with kids? Check out my post on what to eat in a restaurant Barcelona with kids!
---
Have any questions about traveling to Spain with your toddler or baby? Let me know in the comments. I read all of them!