*This site contains affiliate links, which means I receive a commission when you buy. See my full disclosure.
From the high-end shops on Diagonal Avenue – to the vintage boutiques in Gracia, Barcelona doesn't disappoint with the range of places to shop. Whether you're seeking designer retail stores – or places to shop for local goods like leather shoes, you'll find places plenty of options for yourself or someone else. Read about the best shopping in Barcelona!
Best Shopping in Barcelona
In general, designer shops and international brands are found in the Eixample district. A lot of the home design shops are in Eixample in the Zona Alta, where you'll find lighting and home furnishing stores. For one-of-a-kind, generations-old shops, you'll find them in the "old city" of Ciutat Vella, which includes Gothic Quarter, Born, or even Raval. Other small shops and independent boutiques are sporadically in Gràcia or Poblenou.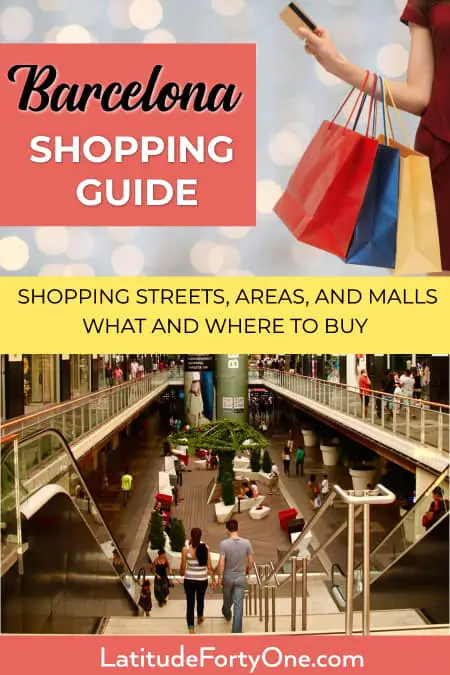 WHERE TO SHOP IN BARCELONA FOR FASHION
Barcelona shopping area: Fashion streets and avenues
Passeig de Gracia
A major avenue in Spain, Passeig de Gracia is the most well-known upscale Barcelona shopping street. It has several behemoth fashion brands like Chanel, Cartier, Kenzo, Gucci, Burberry, Dior, and Hermes. It attracts shoppers and tourists alike who are visiting the Casa Batlló and La Pedrera by Antoni Gaudí. The shopping experience on Passeig de Gracia is unique, as you pass gorgeous lamppost-benches designed by Antoni Gaudí and admire the modernist hexagon tiling as you walk. You can also find more popular chains like H&M, Zara, and Mango.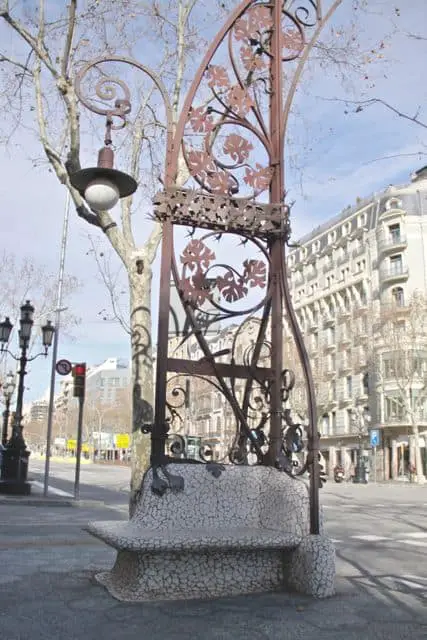 Avinguda Diagonal
Diagonal Avenue runs across the city from the Diagonal Mar area to the Zona Alta and is 11 kilometers long. It's very wide (50 meters / 160 feet) is a high-traffic street for cars, buses, and taxis, and the tram. Basically, it would take you a few minutes to walk across the street! This main shopping street in Barcelona boasts high-end shops like Brooks Brothers, Versace, Gucci, Armani, Diesel, Muji, L'Occitane, and Tous. On the west side, you'll find more home design shops. It also has three different shopping malls on this long avenue: L'Illa, Glòries, and Diagonal Mar.
Rambla de Catalunya
This street has many fashion shops, like the luxurious fur seller Pelleteria La Sibèria, Pronovias flagship store, Geox, Nautica, Swarovski, and Sunglass Hut. It has a pedestrian walk in the middle and some outdoor eateries, perfect if you want to watch passersby, enjoy the sunshine, and have vermouth! On one side, you'll get a cool view of Tibidabo from here!
Avinguda Portal de l'Angel
This wide and atmospheric street runs off of Plaça Catalunya and is an entryway into the Gothic Quarter. It's a pedestrian street that's usually lined with artisan goods stands on one side. It has one of the highest commercial income in the country per square meter (The whole avenue takes about 4 minutes to walk and is approximately 350 meters.) Ironically, the brands on this street are mostly mid-range, including H&M (a store designed by Mariscal!), a smaller El Corte Ingles, Massimo Dutti, and Benetton. For a shopping break, be sure to stop get a cooling orxata (tiger nut milk) at Planelles Donat on a warm day.
El Corte Ingles 
This outstanding department store deserves its own category because it's quite literally – the only mega department store that exists in Spain. There are several locations in Barcelona, but the largest branch is the 7-story building that is in Plaça Catalunya. Its services range from clothing, restaurant, bakeries, airline agencies, books, electronics – EVERYTHING. Plus expect stellar customer service. That says a lot, considering it's Spain, IMHO.
Get Barcelona shopping discounts! If you're keen on visiting designer shops and save some cash, you can find discounts on Download the FREE Barcelona Shopping Card. If you're NOT a resident of the European Union, you can obtain a VAT refund on your purchases at the Tourist Information offices (there's one at Plaça Catalunya).
Need a little hand-holding when it comes to shopping? No shame in that! Check out these shopping experiences in Barcelona: 
Shopping centers and shopping malls in Barcelona
Sometimes it's easier to find everything you need at one stop – a shopping mall! Barcelona has fantastic shopping centers located in the city. They are constantly being renovated and upgraded, and all shopping centers in Barcelona have ready-to-wear fashion stores like Zara and H&M. For cheap shopping in Barcelona, try stores like Primark or Lefties, the latter being the super-cheap fashion chain of the Inditex / Zara empire.
Gloriès is a renovated outdoor mall (2017) right next to the vintage Encants Market and the DHUB Museum. It has 89 shops and 39 restaurants including Carrefour, HEMA, FNAC, and Uniqlo. It also has a cinema and a beautiful and modern food court called El Mercat. Avinguda Diagonal, 208, 08018 Barcelona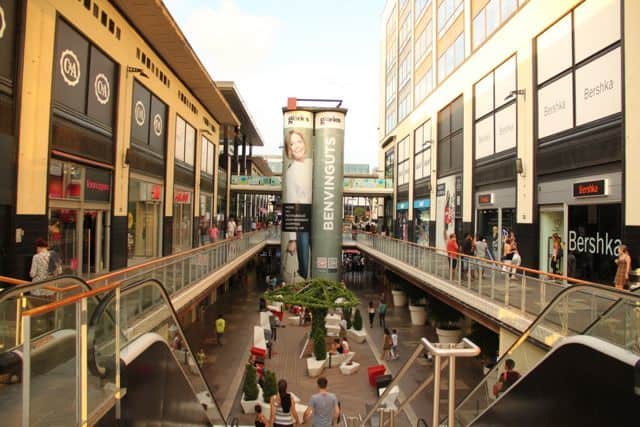 Diagonal Mar Shopping Centre is indoor and by the sea and is considered one of the best shopping centers in Barcelona. Stores include Alcampo, Levis, Media Markt, Nike Store, and Sephora. It also has a cinema and an outdoor restaurant patio area with an impressive playground. It also has a brand-spanking-new play area for kids called Mar de Jocs – it looks cool! Avinguda Diagonal, 3, 08019 Barcelona 
Gran Via 2 Shopping Centre is an indoor shopping center on the outskirts of Barcelona in L'Hospitalet. It's three stories tall, has a cinema, and has 200 shops, including Xaomi, Guess, Carrefour, and KFC. It's also near IKEA! Avinguda de la Granvia, 75, 08908 L'Hospitalet de Llobregat, Barcelona
Las Arenas Shopping Centre is one of the most picturesque shopping centres in Barcelona. It's a former bullring (bullfighting is banned here in Catalonia) in Plaça Espanya. It's bound to give you some vertigo as its five levels high! The shop choices could use some improvement (there's not even a Zara here), but you do have FNAC, Desigual, and the FC Barcelona shop. Head to the rooftop for a spectacular 360º panoramic view of Barcelona, including the Museu Nacional de Catalunya and Plaça Espanya. Gran Via de les Corts Catalanes, 373 – 385, 08015 Barcelona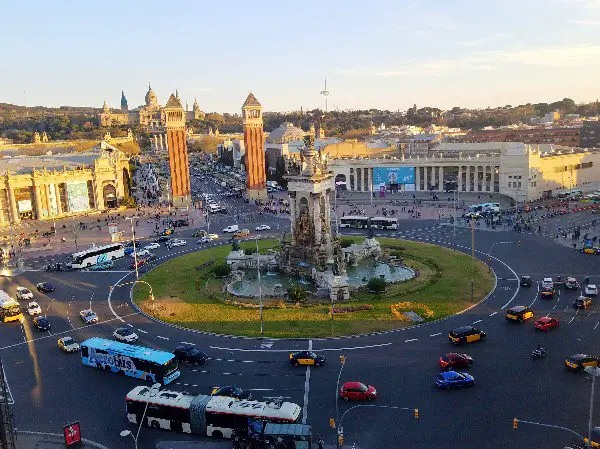 La Maquinista Shopping Centre is a pretty much locals-only outdoor mall in Sant Andreu and 221 shops. It also has three floors, various restaurants, and a Hollister, MAC, Apple Store, Decathlon, and Leroy Merlin. It also has a cinema and bowling alley. Carrer de Potosí, 2, 08030 Barcelona 
L'Illa Diagonal Shopping Centre is the most upscale mall where you'll find luxury shopping in Barcelona (although most are middle-of-the-road shops) There are 170 shops, and it feels spacious. but also has Garmin, Swatch, Tous, and Pedro del Hierro. It's off Carrer Diagonal and is also the largest shopping center in Barcelona. Avinguda Diagonal, 557, 08029 Barcelona
Maremàgnum Shopping Centre is the most touristy shopping center in Barcelona, but with splendid views of the sea and terrace bars. It has 53 shops including the FC Barcelona Store, Lefties, New Balance, and Superdry. It's also the only open shopping center in Barcelona on Sunday! Moll d'Espanya, 5, 08039 Barcelona
If you're wondering what happened to Pedralbes Center, it closed in 2018.
Shopping outlets in Barcelona
La Roca Village is the most well-known outlet but is outside of the city in Santa Agnès de Malanyanes. It's considered a luxury outlet with discounts up to 60% off, carrying brands such as Boss, Burberry, Clark's, Façonable, Gucci, Guess, and Roberto Cavalli. You can get there via public transportation. Or, you can take an express shuttle bus that picks you up from Passeig de Gràcia. The trip lasts 40 minutes, and you'll have a multilingual guide on board. La Roca Village s/n, 08430 Santa Agnès de Malanyanes Buy direct bus tickets to La Roca Village 
The Style Outlets in Viladecans is a modern outdoor shopping outlet that opened in October 2016 and has 180 stores. Discounts are said to be up to 70% off. It's not as upscale or as large as La Roca but it has great brands like Biba, Lindt, Adidas, Crocs, Desigual, and The Body Shop. It's modern, spacious, and has a few restaurants so you can spend the afternoon here. It's open 9 am-9 pm every day except Sundays. Carretera de la Vila, 90, 08840, Viladecans
Fashion brands in Spain
If you want to know which are local brands to buy, try Adolfo Dominguez (serious men and women's clothes), Bershka (young adult), Cortefiel, Custo Barcelona, Sita Murt, Desigual (local Catalan fashion), Oysho (lingerie, underwear, and loungewear), Santa Eulalia (for mature, moneyed ladies), or WomenSecret (yup, a riff off Victoria's Secret).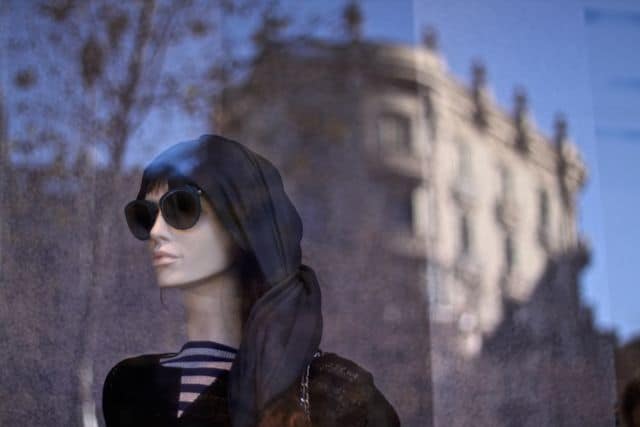 WHERE TO SHOP IN BARCELONA: OTHER GOODS
For antique, vintage, and collectible items
Sunday Market of Sant Antoni is held on Sunday mornings only. While vendors sell mostly second-hand books, you can also find DVDs, comics, stamps, and other collectors' items. You can also find a lot of crowds formed around the market. They're trading all kinds of trading cards: football cards, Superzing toys, and other collectible items that are popular at the moment.
Encants market is the largest flea market in Barcelona, and its golden roof is a beauty as well. Check for second-hand goods on the bottom floor, where hawkers yell, "Un euro, un euro!". My friend scored an antique 100-year-old painting to take home as a souvenir!
For more antique market shopping, try the Mercat Gòtic d'Antiguitats, Carrer Riera Baixa, Mercantic in Sant Cugat, or El Bulevard dels Antiquaris. Try La Moderna Singular for beautiful hand-picked items.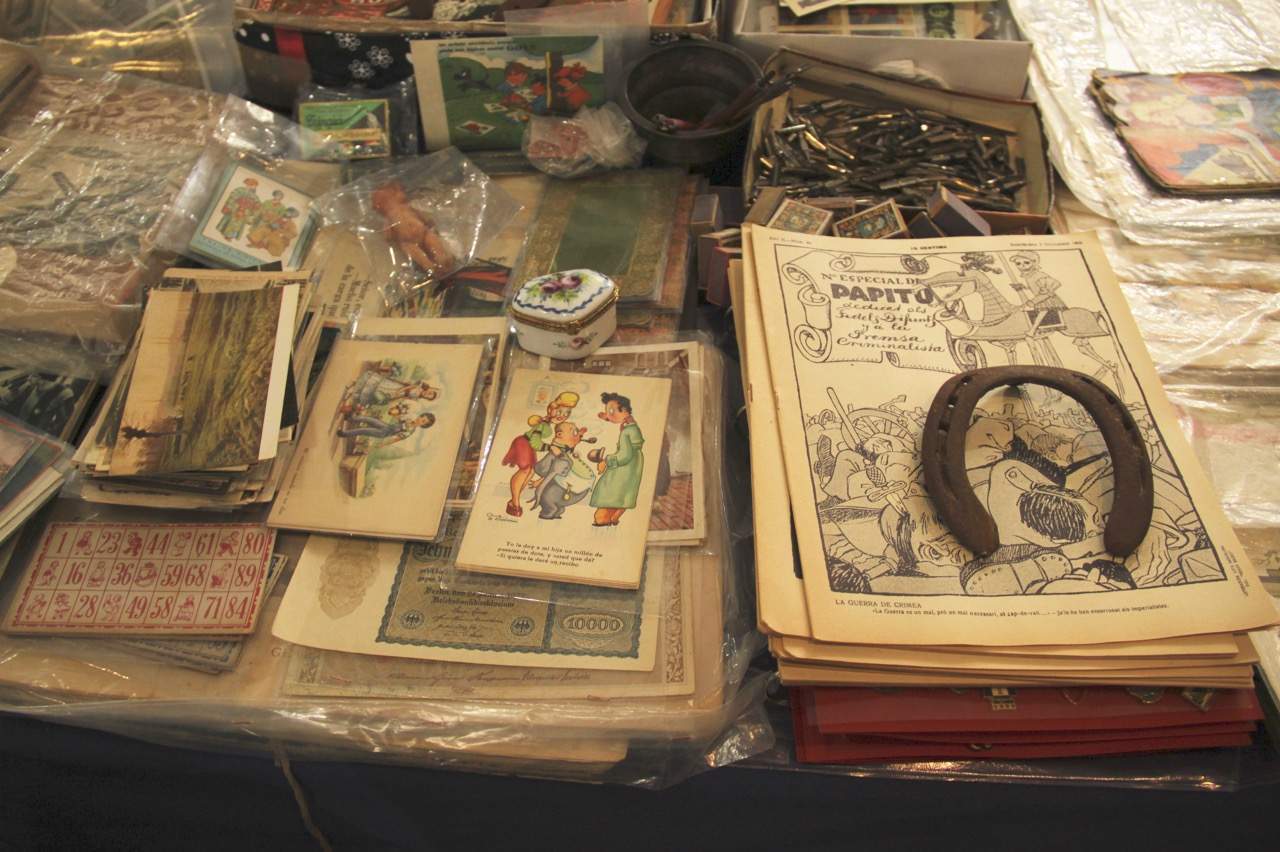 For vintage home decor, try a small shop called Fulanito y Menganita in Gràcia or Holala! Plaza in El Raval.
For art gifts
Art Escudellers is an iconic Barcelona shop selling artisan products from all parts of Spain. If you're looking for jewelry, ceramics, or olive oil containers, you can find it all here.
La Pedrera Espai Gaudí has a gift shop with lots of things Gaudí, the Espai Gaudí also has postcards, scarves, books, and cool trinkets to remember Barcelona.
MACBA has a fantastic selection and is one of my favorite art gift shops. It has shelves upon shelves of contemporary art books but also cool toys, clothing, and jewelry.
For food and drink gifts
Barcelona has a system of food markets: each neighborhood has its own.  Unless it's one of the big tourist-y markets like La Boqueria, Santa Caterina, or Sant Antoni, many people don't make it here to queue for their fish. When I can make it to the market (which is 10 minutes walking), all I see are three to five septuagenarians in line in front of me.
Casa Gispert was founded in 1851, and you can smell the Catalan tradition as soon as you walk through the door. Selling roasted nuts, wine baskets, olive oils, jams, honey, and more, you'll be sure to find a sweet delicacy here to take home.
Colmado Quilez is one of the last traditional grocery shops of its kind. Located in Born, it has a cheese counter and charcuterie and serves artisan foods, wines, and spirits. Expect to be served by gentlemen (and maybe women) in button-down shirts. Very classic and fun to experience too!
El Corte Ingles has a mini market for hard-to-find and gourmet items. Find them at the Club del Gourmet at the bottom floor of the El Corte Ingles in Plaça Espanya.
La Chinata is a modern food shop selling beautifully packaged olive oils. They also have cosmetics, spices, jams, and cured meats. It has two locations in Born and one in Sant Antoni.
Vila Viniteca sells wines, spirits, and some gourmet foods. This popular wine store in Born has shelves upon shelves of bottled beauties and has been open since 1932.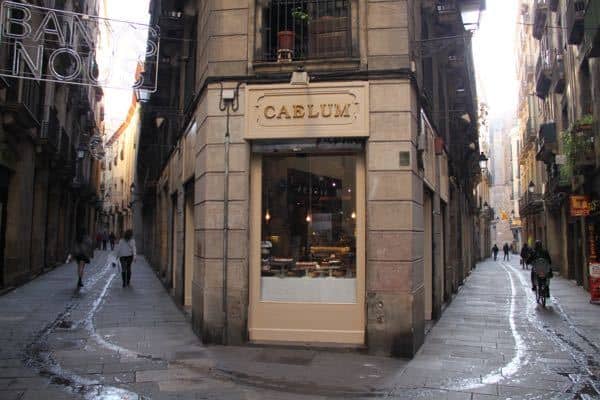 For gifts: fun trinkets and novelty items
Gracia and El Born have tons of handmade and artisan shops. Try OMG BCN, Fantastik (twisted international flair), Grey Street for local artisan gifts, Grey Street for a fantastic mix of artisan and local clothes, accessories, paper goods, tea, chocolate, and more (they're online too!), La Comercial Home for funky and personality-driven home goods, Domestico shop for home goods and sleek furniture, or WaWas Barcelona for design-y, cool souvenirs (super cute stuff!). Those are really just a few!
For handmade goods
Gracia always has the best grassroots-type boutiques and it's always inspirational for me! It's a motley mix of local designers and quaint cafes.  Olokuti sells earth-friendly home goods, toys, accessories, and clothing.
Bon Vent in Born has charming home goods and accessories, inspired by the Mediterranean. I bought some leather Turkish home slippers there for 24, and I'm sure I'll wear them for years!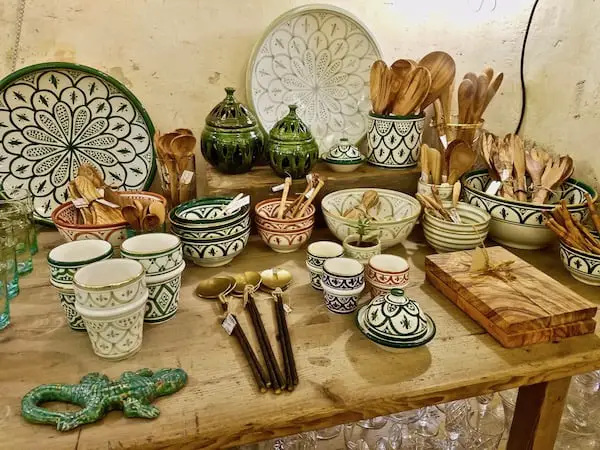 Handmade fairs like Festivalet happens right before Christmas. There's also the Handmade Festival, Handmade Market, Two Market. The markets at food festivals are also great! For example, All Those food market has a small indoor section at the Teatre Nacional de Catalunya with some local, handmade items.
For jewelry
Tous is the most popular Catalan jewelry and a powerhouse. With over 700 shops worldwide, Tous has made itself recognizable through the profile of a teddy bear. They also carry watches, bags, and leather goods.
Prats Joiers has several locations around Barcelona and specializes in silver, gold, and diamonds.
Rabat sells engagement jewelry and fine watches like Rolex, Bulgari, and Omega. They have two locations on the expensive Passeig de Gràcia. Also, that terrace looks incredible!
For vintage jewelry, check out Heritage in the Gothic Quarter, where you'll find high-end one-of-a-kind antique jewelry.
For leather shoes and goods
Madre by Manuel Dreesmann has beautiful, sleek high-quality leather wallets, handbags, Macbook sleeves and more.
Cuir is only sold via Etsy or their website (inthemoodforleather.com) but it's clean, modern purse designs are worth a mention. Made with handcrafted leather, these durable bags have gorgeous craftsmanship.
Curium sells artisan handmade leather goods like belts, handbags, and jackets. You can even make your own! It has two locations in the Gothic Quarter and Born.
Loewe on Passeig de Gracia sells luxury goods like shoes, jewelry, and accessories for men and women. They also have a quality leather purse collection.
Lupo opened in Barcelona and 1920, and its design approach follows that of Gaudí design philosophy: organic and ergonomic forms. Its high-quality leather purses are elegant, modern, and functional.
For souvenirs
Classy handmade gifts like fans, ceramics, at Itaca. Poble Espanyol and El Corte Ingles's special souvenir section also has classic, high-quality artisan crafts for sale, glass, handmade fans, ceramics, and jewelry. This would answer the question: "Where can I get something nice for my mother-in-law from Spain?"
<<Need ideas on what Barcelona souvenirs to take home? Read my post on What to buy in Barcelona!>>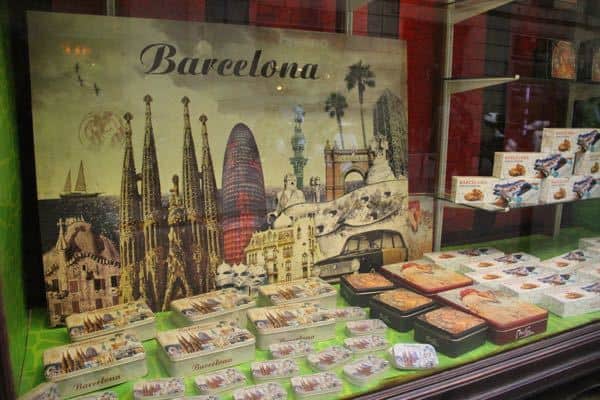 For soaps and perfumes
Les Topettes in Raval sells colognes, creams, perfumes, and soaps. Step inside this little heavenly-smelling shop, and you'll forget you're in the grittiest neighborhood in Barcelona. Its minimalist interior and beautifully-packaged goods won't leave you empty-handed.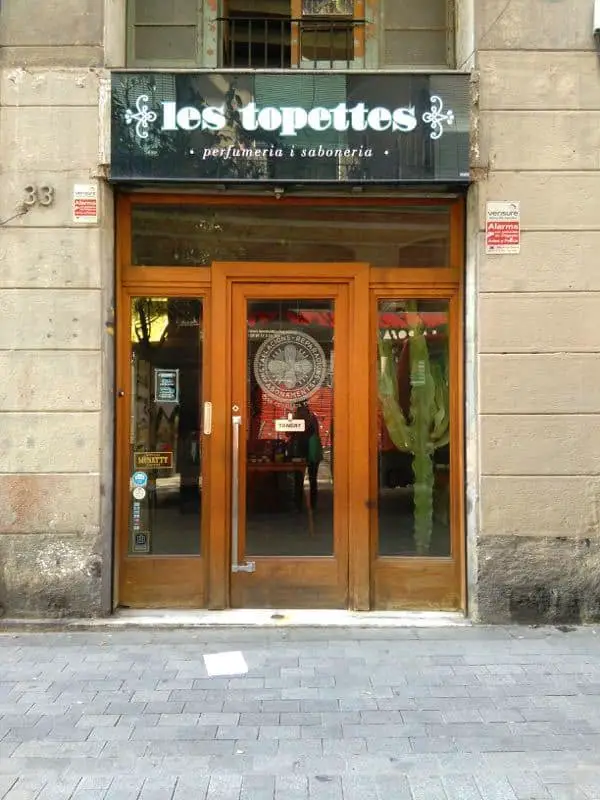 Sabater Hermanos in the Gothic Quarter creates beautiful, artisan soaps in the classic brick, confetti, and petal shapes. Produced by a third-generation soap maker, they also have a sister store in Buenos Aires.
For toys
Bateau Lune (the BEST toy store!) in Gracia is a tiny shop but is packed with a wide range of non-cheesy toys and children's gear. I've bought a scooter, inexpensive cards, unique toy blocks, and other miniature delights here. Highly recommended!
Pedra Paper Tisora is a cute toy store in Poblenou on the quaint Maria Aguiló street.
El Rei de La Magia for nostalgia and the oldest magic shop in Barcelona (founded in 1881!). You can also magic tricks and toys and also… Catalan capgrossos (bigheads) of classic items and even Donald Trump.
Drim is the biggest toy store, but it's 99% recognizable brands like Disney, Mattel, Playmobil, and Spanish brands.
For vintage clothing
Plaza has an array of handpicked second-hand clothing, furniture, books, and magazines.
Riera Baixa is popular for recycled clothing and retro record shops.
Other second-hand shops are Humana, Llulaby Vintage, and Kilo Store. Check out the shops on Carrer Tallers.
TIPS FOR SHOPPING IN BARCELONA, SPAIN
– Shop schedules are usually 10am – 2pm / 5pm – 8:30pm. Shops in smaller neighborhoods may be open until 1 pm on Saturdays. For shopping malls, the schedule is usually all-day 9am – 9:30pm except Sunday. Shops in the busy tourist center (Gothic Quarter, Born, parts of Eixample) are open 10am – 8:30 pm.
– In Spain, there are two huge annual sale seasons that happen (unlike in the US when sales are constant). The summer sales are from July 1 – August 31. The Winter sales are January 7 –  March 6. If you're really eyeing a particular item to buy, check during this time!
– EU non-residents can also ask for a Tax-Free Refund if you're spending more than 90.16 in a store! This applies only to goods that you'll be taking back with you to your home country. Learn about how tax-free shopping works. It's explained clearly here: https://es.traveltaxfree.com/en/#travellers
So what are you looking to shop for in Barcelona? Hit me up in the questions and maybe I can help you find it!