10 Fun Christmas Activities for Kids in Barcelona
You're in Barcelona, and you want Christmas.
And that warm, toasty feeling of seeing your kids giggle when they get candy from the caga tió. Or when they squeal when they hand their handwritten letter to Estel, the Three Kings most trusted assistant.
And while we're officially in December, I'm thrilled that holiday celebrations run until January 6, Three Kings' Day. So let's get our Christmas on — and make holiday some memories with our kids, for pete's sake.
1. Check out the Santa Llúcia Christmas market.
The best and largest Christmas market in Barcelona, the Santa Llúcia market is the place to get you drunk on holiday spirit. You'll find rows and rows of holiday-laden stalls in the plaza of the Barcelona Cathedral. Kids will love looking at the nativity scenes with miniature utensils and chairs, dazzling ball ornaments, and Christmas trees and hand-weaved wreaths. And who can't not chuckle when we see the caganers and caga tiós?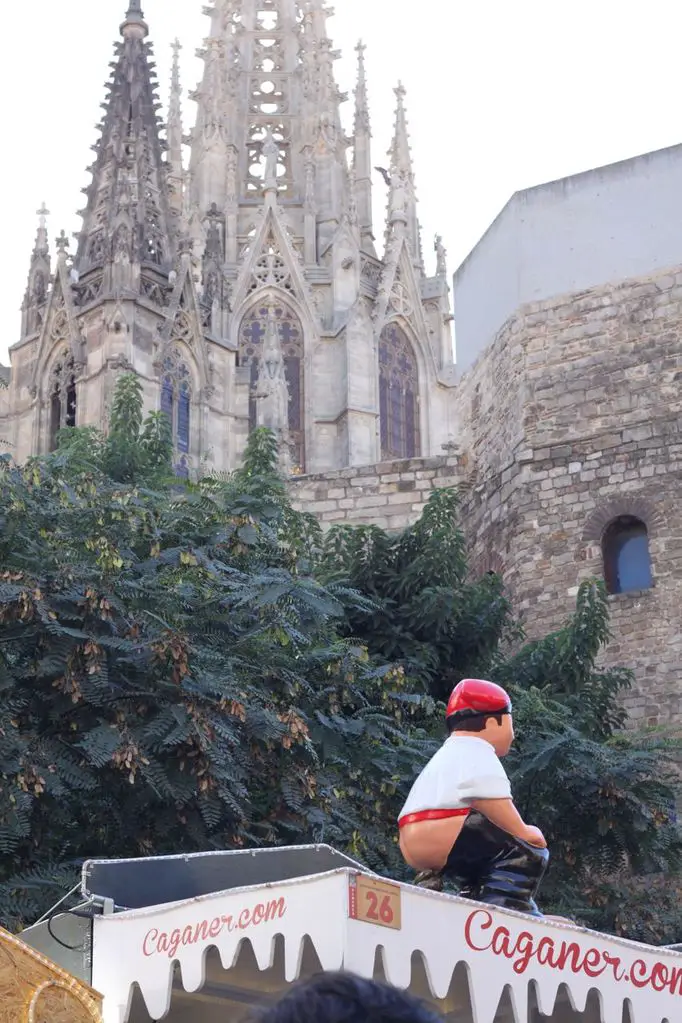 Info:
Santa Llúcia Fair website. Weekdays: 10:30am – 8:30pm. Weekends and holidays: 10:30am – 9:30pm. November 27-December 23.
Check out more photos of the Santa Llúcia fair here.
2. See the Carassa de Nadal procession.
One of my favorite activities is to check out the Carassa de Nadal procession on the weekends. This "big head" on wheels parades around the Santa Llúcia market, followed by a music band and some friends throwing confetti. And watch kids run to the floor when he spits out candy. If you don't see him around the market, he also glides around the streets of the Born district.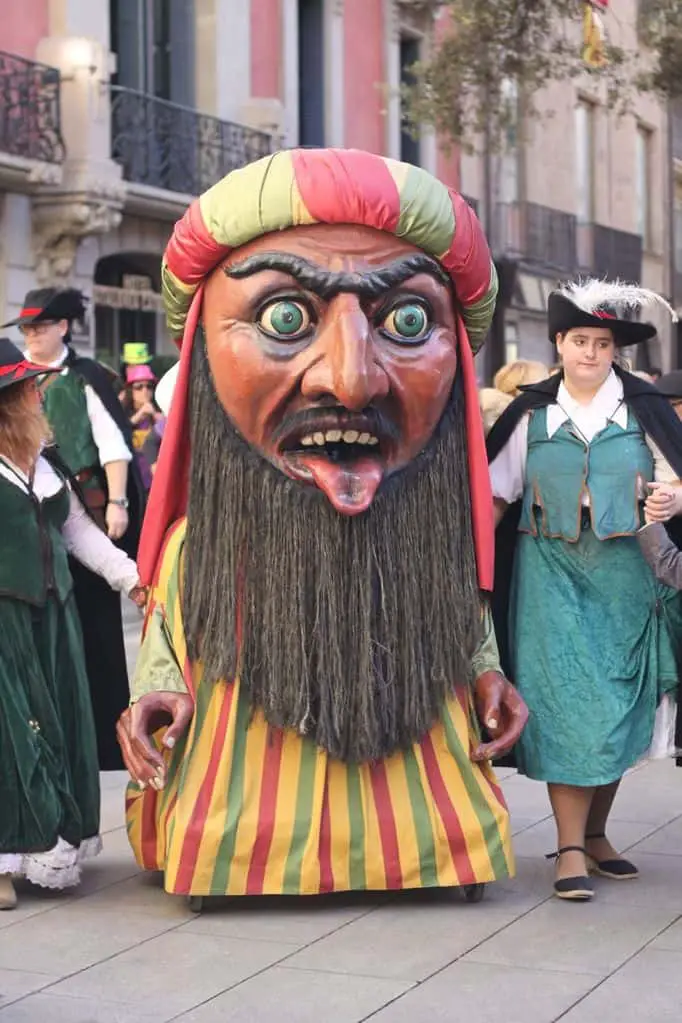 Info:
La Carassa de Nadal. November 28 and 29. December 12, 13, 19 and 20. 12pm.
3. Beat up a giant Tió de Nadal.
At the Santa Llúcia Fair, kids can beat the huge tió de Nadal, or caga tió. If you don't know who he is, he's a traditional Catalan figure — a log perched on two sticks with a happy face on it. And he poops presents for kids on Christmas Eve.

To find the tió gegant, climb the steps that lead up to the cathedral — on Santa Llúcia fair side. You'll see a line of kids waiting to get their stick so they can "beat" the tió while singing a traditional caga tió song. Here, they beat a piece of wood instead of the log himself (probably to prevent wear and tear on the tió after year).
At the end of the song, someone pulls sweets and other goodies from under the blanket. It's a sponsored event, so this year, my kids got some candy and a sample package of ham from La Selva. *scratching head*
More info on the caga tió here and here.
Info:
Tió gegant website. November 28 – December 16. Monday – Saturday: 10:30am – 1:30pm. Sundays and Holidays: 10:30am – 1:30pm, 4:30pm – 7pm
4. Go ice skating at Pedralbes Centre.
It doesn't snow in Barcelona. But that doesn't mean we can't channel our inner Oksana Baiul.
The Pista de Gel is a 266-square-meter open-air skating rink right outside the Pedrables Shopping Centre. (Kill two birds — convince your husband to take the kids skating while you go shopping. 🙂 )
Children must be at least 3 years old to to skate. For novices and younger kids, they can skate with a small penguin to guide them around and avoid falls. Now you're in, right?
Info:
Pedralbes Centre website. November 28 – January 10. Monday – Friday, 5pm – 9pm. Weekends 11am – 9pm. Closed on December 24, 31, and January 5.
8 euros. Special "low-cost" price at  4 euros 11-12pm, 2pm – 4pm on special days. Check out the calendar.
5. Take a photo with Santa at El Corte Ingles.
When it comes to gift-giving in Catalonia, Santa Claus comes in second place, right after the Three Kings. (No fair. I just had Santa growing up.)
At El Corte Ingles, Papa Noel sets up a little house with some helpers. You can drop off a letter and sit on his lap. And you get a free professional photo with him. You just have to come back and pick it up 4-5 days later.
There's also usually a friendly Santa Claus standing outside the department store on weekends. He greets the small kids and hands out candy. I've seen him at El Corte Ingles at Plaça Catalunya and El Corte Ingles at Plaça del Ángel. (And come to think of it, I've never heard a Papa Noel in Spain say "ho ho ho".)
Info:
For photos, El Corte Ingles Plaça Catalunya, 8th floor. El Corte Ingles, Carrer Diagonal, 5th floor. November 21 – December 24. The schedule varies, so check the website.
I'm pretty sure you can find professional photo opps in most El Corte Ingleses. So be sure to call first.
6. Check out the Nativity scene in Plaça Sant Jaume.
Every year, a huge Nativity Scene is set up in the Plaça de Sant Jaume by the Barcelona City Council.
And every year, they mix up it up from traditional to modern interpretations of the Nativity.
This year (2015), a scene tells a story on large, open 3-D pop-up books. In one "book", modern-day people in sweaters and scarves are building a snowman and see a shooting star. In another "book", the three kings are traveling by camel through the desert.
You can also take a photo with the gigantic Christmas tree in the same plaza.
Info:
Website. November 27 – January 6.
7. Hit up the multiple events at Plaça Catalunya (and get your letter to the Three Kings delivered).
This year, Plaça Catalunya is the central place for activities. Most activities take place on December 23 and 24. But check out the website for a more detailed look.  Just a sampling:
The royal postmen and Estel the Page: Make sure your kids' letters get to the Three Kings' themselves. You can meet Estel, the Kings' most famous assistant, who also gives you tips on choosing a gift that isn't sexist or violent (for reals). January 2 – 4, 11am – 2pm, 3pm – 8pm.
"Titellarium": a play space celebratings stories. Kids can play with small puppets, dolls, and a large dollhouse.
"La Font del Solstici": Using the large twin fountains at Plaça Catalunya, "The Fountain of Solstice" tells the story of the winter solstice, using light, water, fire, and sound. Its theme welcomes the rebirth of nature as we enter a new phase of light.
A Magic workshop by "GAAC": Kids and learn and build their own magic tricks.
Theater. "El Carilló": A theater company called "El Tal" puts on a fun, sophisticated show where comic entertainers play Christmas music with bells in a unique way. It's a  coordinated symphony of harmonic chiming.
Check it out here:
Info:
Hola Nadal at Plaça Catalunya. December 19 – January 4.
8.  See the Three Kings Workshop at Fabra i Coats.
We all know that Santa has a workshop in the North Pole. Well, the Three Kings have their factory and warehouse right here at Fabra i Coats.
Go inside the Fabra i Coats building, and see the workers prepare the gifts to be delivered on the Twelfth Night. From the outside, three floors will be decorated with colorful lights. And you can see the presents move across a conveyer built, ready to be shipped and delivered come the Eve of Three Kings' Day.
Now someone help me explain. "Mommy, why does my toy say 'Made in China'?".
Info:
Fabra i Coats website. December 27-31, January 2-4. 6pm – 9pm.
9. See a living Nativity scene at Poble Espanyol.
Now this looks like fun. If you've never been to Poble Espanyol, you'll love seeing a small world of the villages of Spain. It celebrates one weekend full of Christmas events on December 19 and 20.
It includes a Christmas market, a Christmas show, a parade of shepherds, and a show of Santa Claus's farm and house.
It also has a living Nativity scene. Real people dress up in character as Joseph, Mary, Jesus, and the usual cast of the three Kings, shepherds, and even goats and donkeys. And it's all set in a realistic agrarian backdrop, stable and blocks of hay included.
Info:
Website. 5 euros for residents of Catalunya. Free for kids ages 4 and under.
10. Celebrate the Three Kings' Parade.
At this highly anticipated event, the Three Kings and their entourage will arrive on January 5 at 4:30pm at the Moll de La Fusta. They'll get on a large, elaborate float and wave to the crowds of excited children. Before them, we're greeted by hundreds of assistants, magical creatures, and everyday citizens who've signed up to join in the festivities.
Expect lots of rowdy crowds, hoping paraders will throw candy their way while yelling out the Kings by name. The parade starts at Avenida Marquès de l'Argentera at 6pm. Check out the full route on the website.
If you don't fancy doing the main city parade, every neighborhood has their own (Shhhh…)
Info:
Three Kings' Parade. January 5, 6pm – 9pm.
Think you'll be doing any of these activities in Barcelona? Have you been to Barcelona during Christmas?