*This site contains affiliate links, which means I receive a commission when you buy. See my full disclosure.
If you're coming to Barcelona for 5 days, consider yourself lucky for being able to stay so long. Sunny weather, world-class Catalan gastronomy, and elegant modernist architecture are just some of the exciting things to experience in this Mediterranean city. Barcelona has been my home since 2008, so I have a good idea of what's worth seeing – and what's not. I've created an ideal 5-day itinerary that's distilled with the best things to do in Barcelona. You won't be wasting your time! Read about your 5 perfect days in Barcelona.
Is 5 days in Barcelona enough?
It is definitely enough. You may not see all of the modernist buildings, but you will have enough time to visit and appreciate the Sagrada Familia, Las Ramblas, Casa Milà (La Pedrera), the old town (Ciutat Vella), the beaches, and also the hilly areas of Montjuic. Barcelona has many important landmarks and monuments, but the distance between them is not so long that you will spend a lot of time traveling.
DAY 1 – OLD CITY BARCELONA: Plaça Catalunya, Las Ramblas, La Boqueria, Gothic Quarter, and Born.
I suggest you visit the "old town" of Barcelona first, some of which areas date back to ancient Roman times. My suggested route is about 7 kilometers (4.3 miles) of walking. But if you walked this route without stopping, it would take about 1 hour and 21 minutes.
Morning
Begin at Plaça Catalunya, and walk towards the iconic promenade, Las Ramblas.

It's 1.2 kilometers (0.75 miles) long, which takes about 20 minutes if you don't pause. You'll see many cafes, shops, and street vendors.

Las Ramblas is beautiful in the spring and summer

Visit La Boqueria Market, the colorful food market with hanging hams and outrageous displays of chocolates and candies

. Have a coffee or toast at one of the market cafes, Quim de La Boqueria.

Continue walking down Las Ramblas. Visit the

Plaça Reial on the left-hand side. It's a beautiful town square

surrounded by restaurants and bars with an iconic fountain. 

Go back on Las Ramblas, and continue walking towards the waterfront. You'll see the Christopher Columbus monument atop a tall tower.

Cross the street on Passeig del Colom, and you'll see the

Rambla del Mar, a wooden bridge and a breezy port area. If you cross the bridge, you'll see the Maremagnum Shopping Center, which is open every day of the year, and Barcelona Aquarium.

Go

 towards the

Plaça Sant Jaume, a square used for events and demonstrations, and was also the central social area during Roman times. You'll see buildings of the Barcelona City Council and the Palau de la Generalitat

.

Walk towards the

Plaça de Sant Felipe Neri,

an romantic, yet eerie historical square where past Spanish dictator Francisco Franco killed 42 people during an air raid in 1938.

You can see the bullet holes still on this wall in Plaça de Sant Felipe Neri

Walk towards the Plaça de la Seu, a large, spacious plaza where you'll see the beautiful Barcelona Cathedral.
Afternoon / Evening
From Plaça de La Seu, head to the Mercat de Santa Caterina, a food market (go inside!). Walk towards Carrer Montcada, and you'll see the Museu Picasso, which shows Pablo Picasso's artworks during his formative years.
Continue on Carrer de Montcada, and you'll see somber church Basilica de Santa Maria del Mar, an elegant church built in the 1400s with a unique Catalan Gothic structure.
Go to Passeig del Born, a pedestrian promenade with restaurants and bars. In front is the Born Cultural Centre, where you can see excavated Roman ruins.
Relax at Ciutadella Park, Barcelona's largest and most central city park.
Walk down the wide and relaxing Passeig de San Lluis Companys

toward the monumental arch, 

Arc de Triomf

. You've completed your 7 kilometers or 5.5 miles of sightseeing Barcelona for today.
Day 2 – GAUDÍ AND MODERNIST BUILDINGS
Morning
Start at

Sagrada Familia, first thing in the morning. It opens at 9 am. Read my complete guide on visiting the inside of the Sagrada Familia.

Plan on spending at least 2 hours here. It's an unparalleled monument!

OPTIONAL:

Afterwards, walk to the underrated Recinte Modernista de Sant Pau. It's about 900 meters away, which takes about 12 minutes. It's the larges art nouveau complex with colorful mosaics and stained glass windows. 
Afternoon
From the Recinte de Sant Pau Modernista, take the 47 or H8 bus or the L5 blue to Passeig de Gracia.

Stroll down the elegant Passeig de Gracia.
Gaudí's other wonders like La Pedrera

or

Casa Batlló.

Both are incredible masterpieces, and you can choose to go inside or not. Personally, I prefer Casa Batlló.

From either building, take the L3 metro or the 24 bus to

Park Guell.

It's a walk uphill. You'll want to stay at least an hour to take some photos.

The multi-colored Park Guell
Day 3: MONTJUIC AND THE BEACHES
Take the L3 green metro line towards Parallel. From there, take the funicular to  Montjuic. When you get off, you'll be a stone's throw away is the Teleferic, the Montjuic cable car. Here you can get a panoramic view of Barcelona and stop at  Montjuic Castle, which used to be a fortress.

Get a panoramic view on your 5-day stay in Barcelona

To get down from Montjuic castle, take the nearby to Plaça Espanya

. You can also use the 150 bus to stop at Olympic Stadium, the Fundación Joan Miró (Miró museum), or Poble Espanyol, a miniature Spain.
Afternoon
Next up: Head to the Barcelona beach area, La Barceloneta and the Port Olympic. La Barceloneta has tons of tourists, especially on a sunny day. But you can appreciate the golden sculpture, "El Peix d'Or" by Frank Gehry, The W Hotel sail-like building, and the twin towers.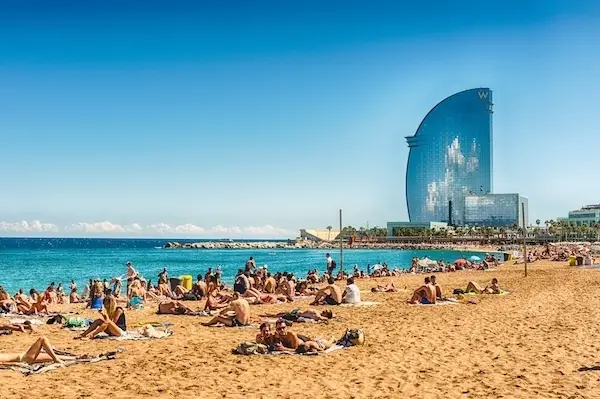 Day 4: TIBIDABO AND GRACIA
Morning
Tibidabo mountain has the highest point in Barcelona. It has the stunning Tibidabo church called the Temple de Sagrat Cor, the Tibidabo amusement park, and more. You will not be disappointed! Read more in my guide to Mount Tibidabo.
Afternoon
Get to know the fun Gracia neighborhood. It doesn't have any attraction in particular.  It has organic shops, charming squares, and art galleries. It's a good neighborhood to get to residential life in Barcelona.
Spend time at the recently renovated Mercat de Sant Antoni, and the cool tapas scene in the Sant Antoni district, where there are a ton of new restaurants.
Day 5: DAY TRIPS FROM BARCELONA
You would be missing out if you didn't take a day trip outside Barcelona. Trust me when I say that Montserrat, a nearby gorgeous mountain area is worth it! It will round out your view of Catalonia and you'll see the wonderful contrast of these tranquil mountains.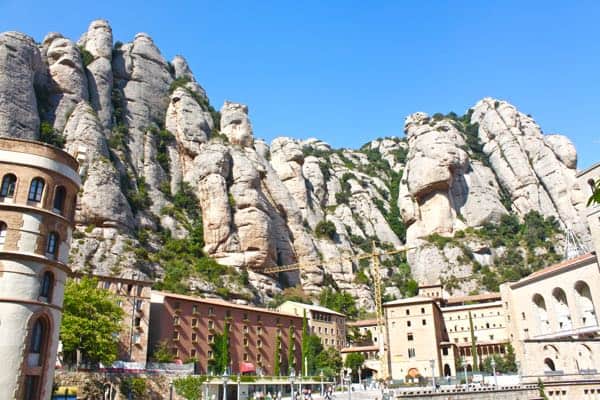 Alternatively, you can visit Sitges (a whitewashed beach town). They are within an hour's ride and can easily be accessed via train. Read more in my popular post, best Barcelona day trips.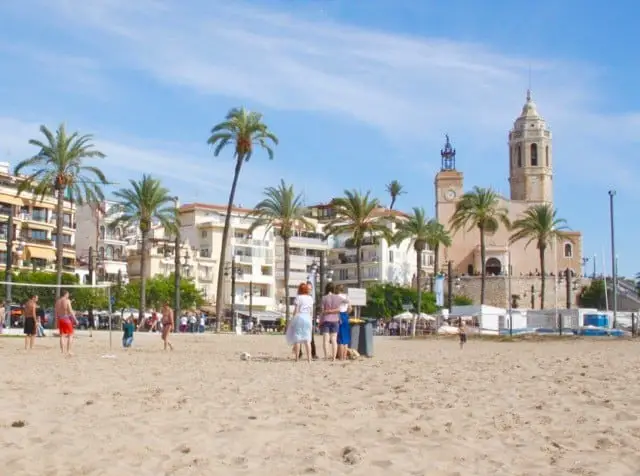 5 Days in Barcelona Cheat Sheet
Think of it this way if you want to see Barcelona in five days. You can mix and match, but I suggest you see the historical and most iconic places of Barcelona first.
Day 1) Old City: Gothic Quarter, Born, and La Barceloneta
Day 2) Gaudí buildings: Sagrada Familia, Park Guell, Casa Batlló, and Casa Milà (La Pedrera)
Day 3) mountains (Montjuic) and sea (Barceloneta).
Day 4) Tibidabo and Gracia Neighborhood
Day 5) A day trip to Montserrat or Sitges
---
That's it? Any questions about this 5-day itinerary in Barcelona? Let me know in the comments! I read all of them!