Park Guell, Spain's Most Colorful Park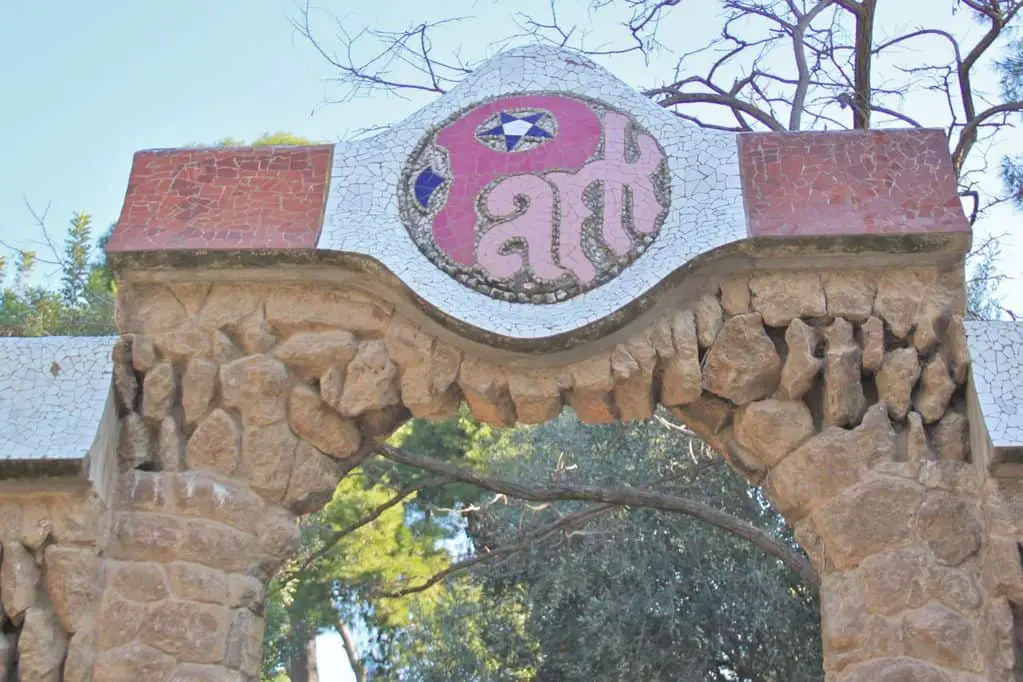 Call it a giant Candy Land in Barcelona.
Park Guell is that place where you feel like a 5-year-old, oohing and ahhing at crazy rock formations and multicolored mosaics. While most parks have your typical grass, trees and benches (snore…), this parks excites and explodes with color. It's one of the most striking, kooky places in Spain.
When you go here, be prepared to kill a few hours. Just like when you go to IKEA, you'll be sucked into a labyrinth of inspiration, and there's no turning back…
_ _ _ _ _ _ _ _ _ _ _ _ _ _ _
A gingerbread house! Actually, it's the porter's lodge at the gate entrance. I just wanna lick that creamy frosting off the roof.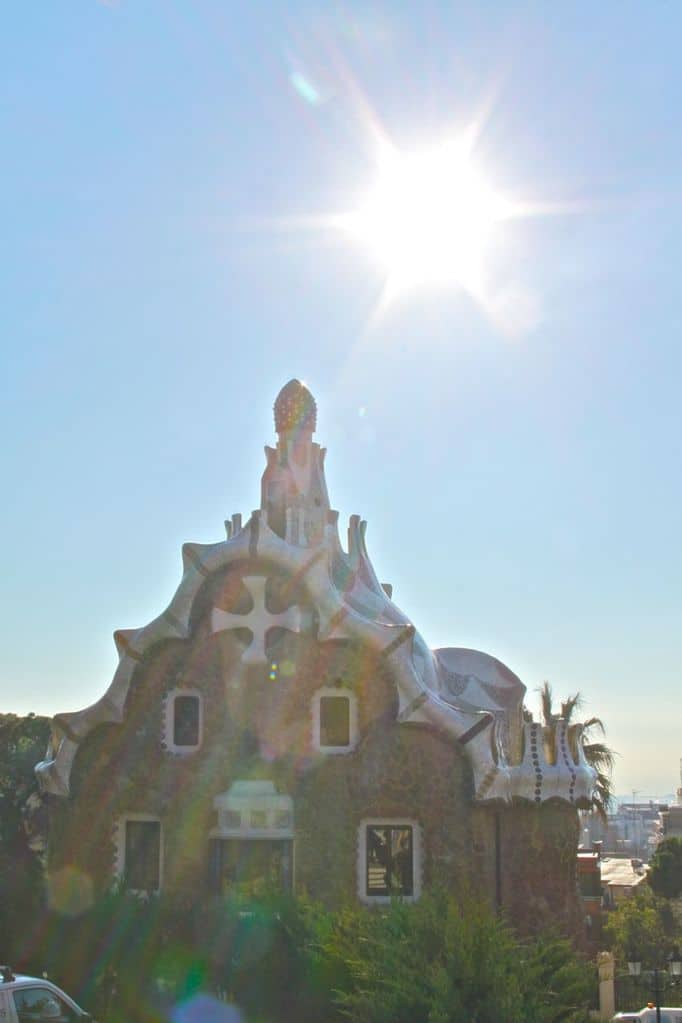 The Sala Hispótila has dozens of circular columns and is a space where street musicians like to jam.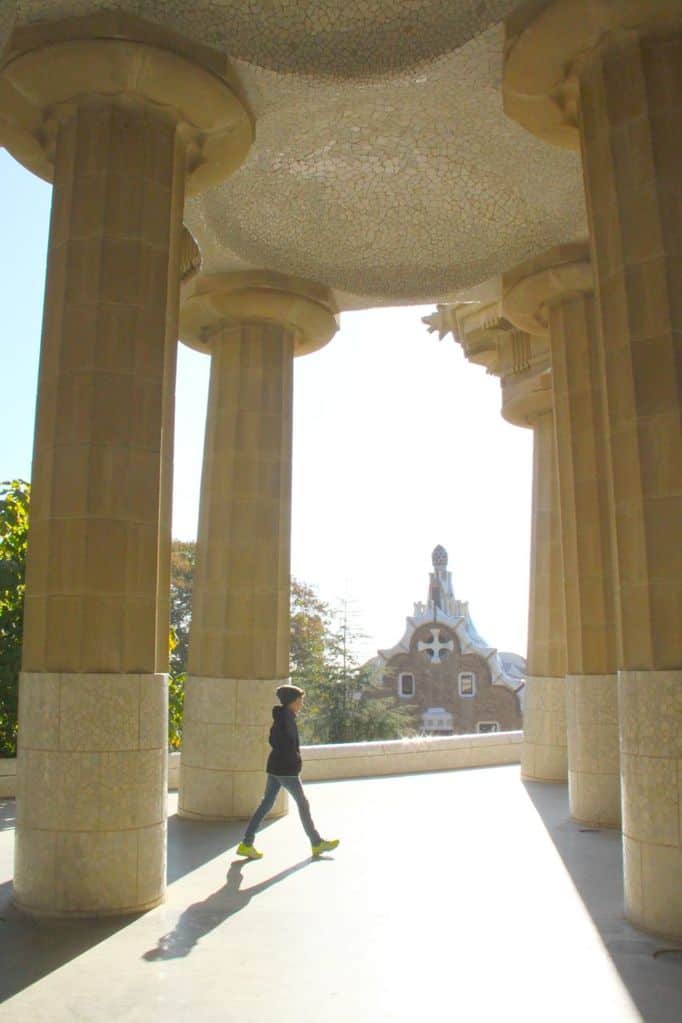 The ceiling in the Sala have decorative medallions that are all different.
There's nothing traditional about Gaudi's designs — even the pillars tilt.
The front of the Sala. There you'll find….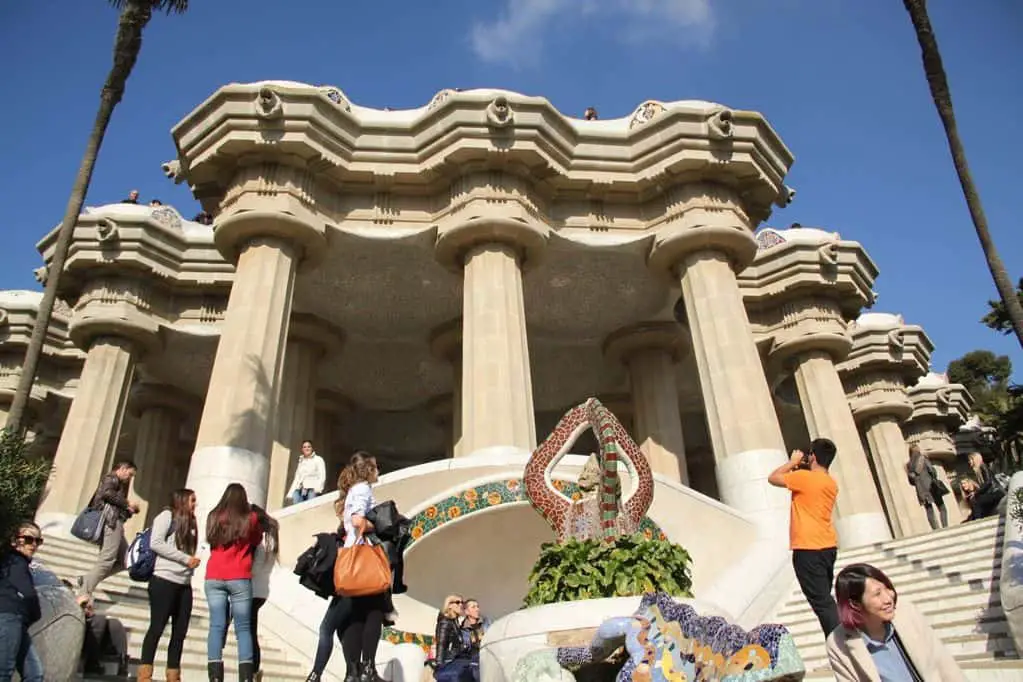 …the dragon! He's a ubiquitous emblem of Gaudí, and you can get a mini version of him at all the tourists shops. If you want to take a picture next to him, you gotta wait. He's a popular dude.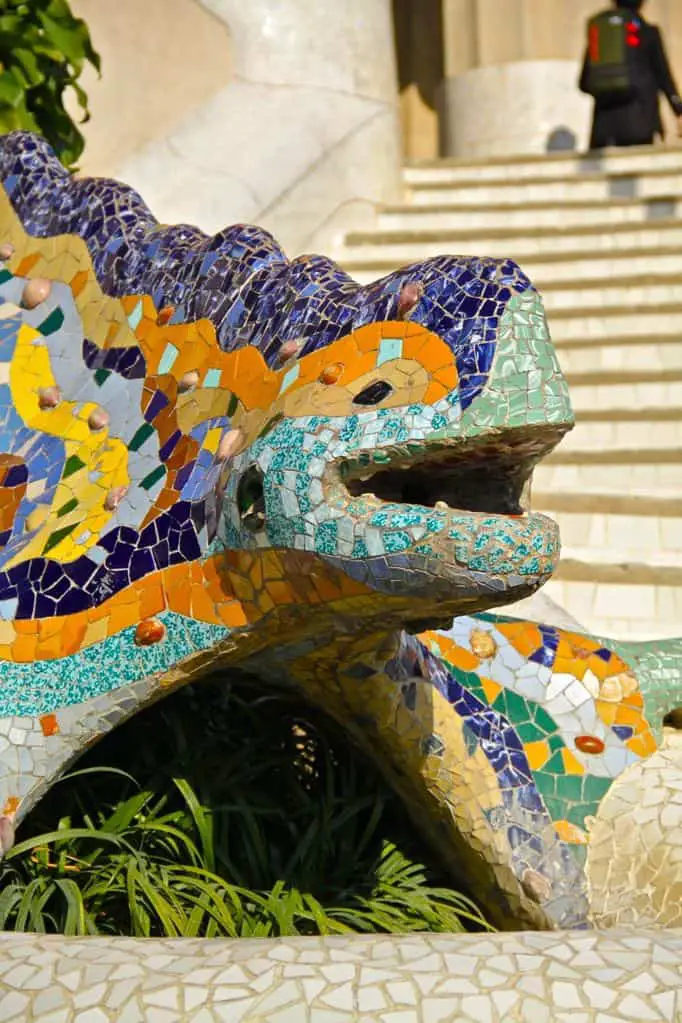 Park Guell was free to enter until 2013. Now, you have to buy a ticket, and only a limited amount is available during certain time slots. More on that later.
I always look for this sculpture when I come here. I'm not sure if it was intentional that it looks like the Chiquita banana lady, but I just love her flair.
Below this row of palm trees, you can have a cafe amb llet and a magdalena at one of the many tables. Soak in the sun and rest your tired feet — you'll be doing lots of climbing!
I'm no fashion historian, but it seems to me that a few Catalan clothing brands find inspiration from Gaudi's work. Take Desigual: its disjointed pieces, vibrant colors, and interrupted patterns in bright styles replicate the quirky architecture.
The wavy benches at the large esplanade called Nature Square has a great view of the city. Nine out of 10 tourists in Barcelona currently have a Facebook profile of themselves here.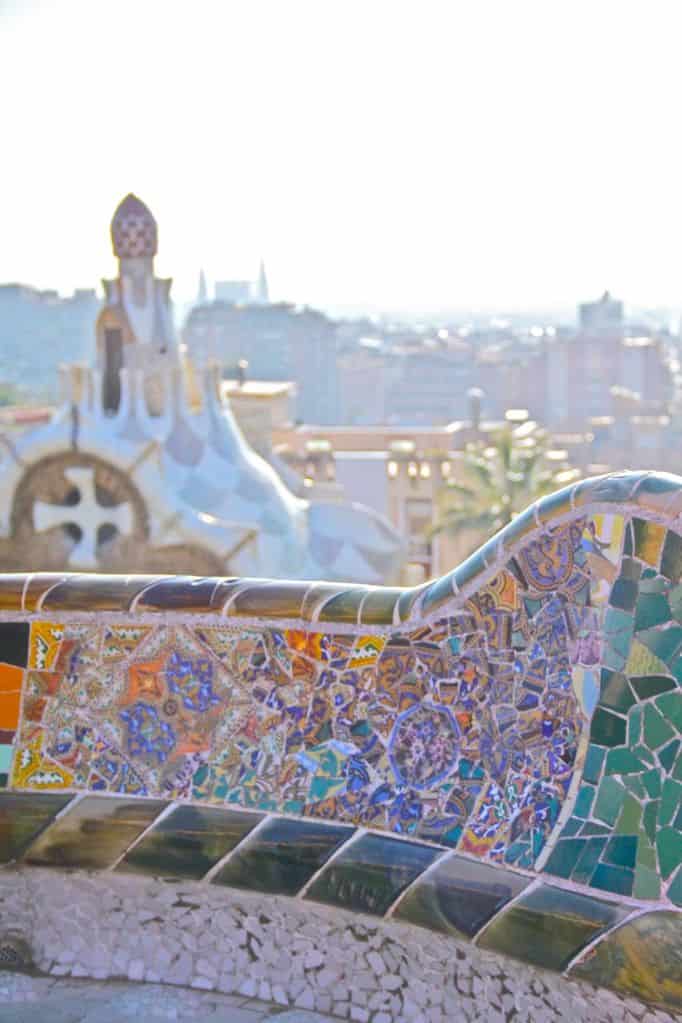 It was believed that the word "gaudy" came from the architect Antoni Gaudí and his reputation of eccentric, over-the-top designs. But, the word existed way before his time. I so wanted the former to be true…
When I came here in 2006, I noticed part of the park was cordoned off and guys were walking around with heavy video equipment. I asked the security guard what they were filming, and he said (in Spanish), "Something about some tirabanks." (He had no idea who she was.)
It was Tyra Banks — they were shooting America's Next Top Model!  Please watch this ridiculous finale Runway Fashion Show of ANTM that takes place in this footpath.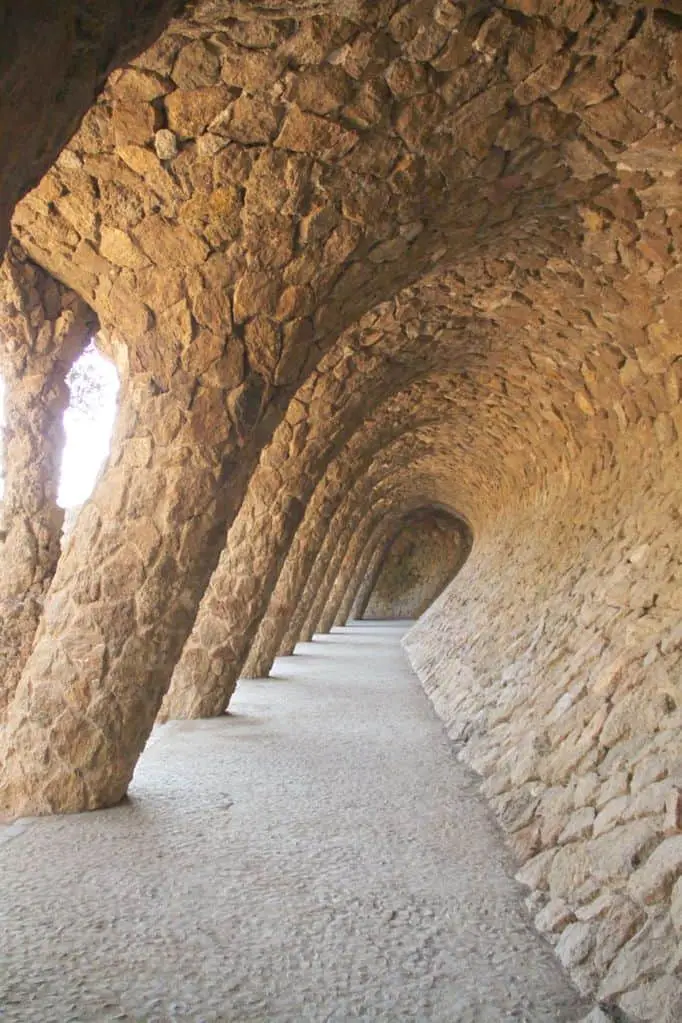 Since Gaudí's inspiration came from existing forms of nature, I wonder what inspired these circular pillars. A conch? A tornado? Ice cream cones? Wait…no…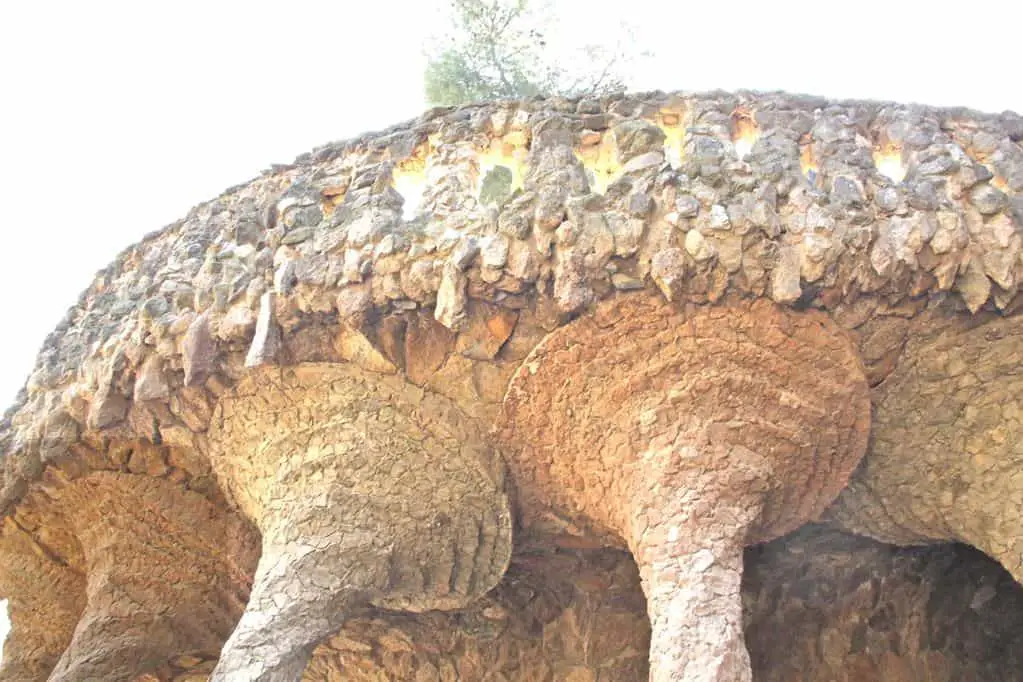 As I mentioned earlier about America's Next Top Model, I did catch an episode on TV. The models had to fake-dance flamenco at Park Guell, and every second if it made me cringe! They looked so awkwardly uncomfortable. Which brings me to this…
It's never surprising to see flamenco dancers in the tourist hot spots of Barcelona. While these guys were entertaining, let me make it clear — flamenco is not part of the Catalan culture. (And neither is bullfighting. 🙂 )
I last came her in 2008. I noticed that they've added bars to prevent people from sitting on the benches and hanging out on the side of the balconies. I guess that, with so many visitors touching the sculptures, they can erode, and the area would be a danger zone.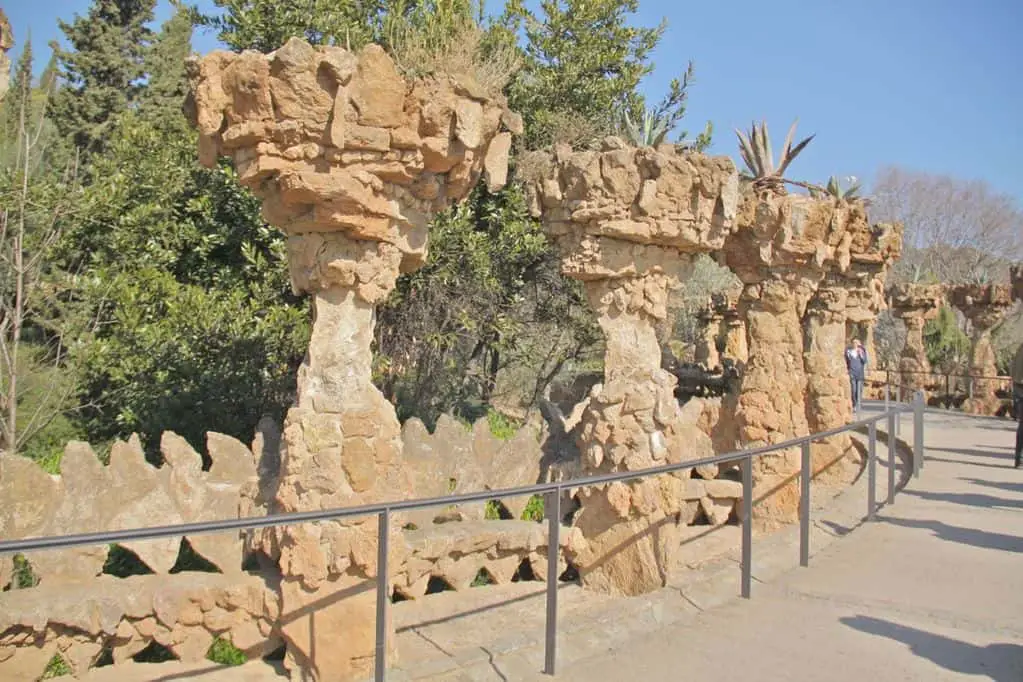 If you must go to one place in Barcelona, go to Park Guell!
Notes about Entrance
Only one part of the park is cut off, and security is pretty tight. You either buy your tickets online, which is cheaper, and then go to the pick-up window. If you buy them on location, you order your tickets at a vending machine (there's someone there to help you), then you go to the pick-up window. Only a certain number of tickets are available at each half-hour. But once you're inside, you can stay as long as you want.
Have you been to Park Guell? Was it what you expected?
(Visited 1,133 times, 1 visits today)