*This site contains affiliate links, which means I receive a commission when you buy. See my full disclosure.
Just 30 minutes outside of Barcelona by car, Montserrat is a tranquil, low-key getaway for locals, tourists, pilgrims, and nature lovers. Known as the heart of the Catalan people, the craggy mountain range not only offers an incredible landscape outside Barcelona, but it's also a peaceful place for reflection and refuge. In IMHO, it's the best day trip for first-time visitors in Barcelona because it's breathtaking – and so easy to get to. As a resident in Barcelona, I'm lucky to have been here three times. And I'm planning to go more!
What is Montserrat?
Montserrat, means  "serrated mountain", referring to the jagged shape of the range. It's a popular destination in the Catalonia region of Spain, known for its spirituality, hiking paths, and glorious views. It's about 40 kilometers (25 miles) northwest of Barcelona. With over 1,000 years of history, Catalans have a fond connection with the mountains which houses the Virgen de Montserrat, the patron saint of Catalonia. The highest peak is at Sant Jeroni at 1,236 meters (4,060 feet).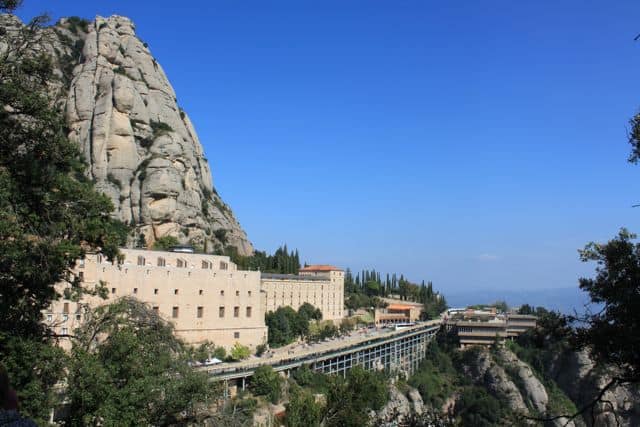 Make it easy! Book a guided day tour of Montserrat. It includes transportation, Introductory visit to the abbey, complete guide. Cancel up to 4 hours beforehand! Check prices for the day tour of Montserrat here.
Things to do in Montserrat
1.

Visit the

Monastery of Montserrat.
Founded in the 11th century, the Montserrat Abbey (Abadia de Montserrat) houses about 80 Benedictine monks. It has different parts you can visit:
Basilica de Montserrat – Built with the influence of Gothic and Renaissance architecture, the basilica was consecrated in 1592. Napoleon's army destroyed it in 1811-12 and it was rebuilt in the late 19th century.  The central nave is 58 meters long (190 feet), decorated in Romanesque and Byzantine style, known for the rich, elaborate details.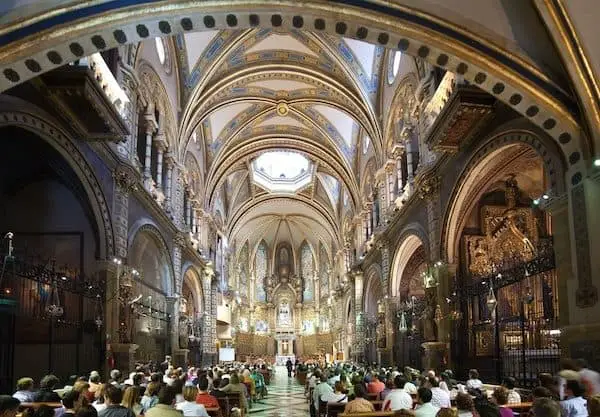 Atrium –  The beautiful atrium has an open roof, exposing the view towards the heavens. The facade is decorated with an intricate sculpture of Jesus Christ and his 12 Apostles. The marbled black and white floor of the courtyard is inspired by Capitolium in Rome that was designed by Michelangelo.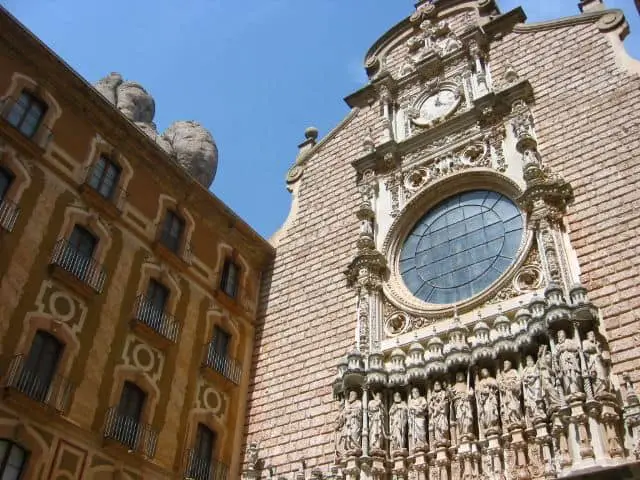 The Virgen de Montserrat – Many have a strong devotion to the Virgin Mary statue, called "La Moreneta". It means "the dark one", referring to her dark skin. She is a wooden polychrome sculpture and her color is black because she has darkened over time. She is placed behind a glass, and those who wish to venerate her must queue in line. It can take as long as 45 minutes, so she's very popular! It's believed that monks could not physically move the statue, and she has performed miracles. She was declared the patroness of Catalonia in 1811.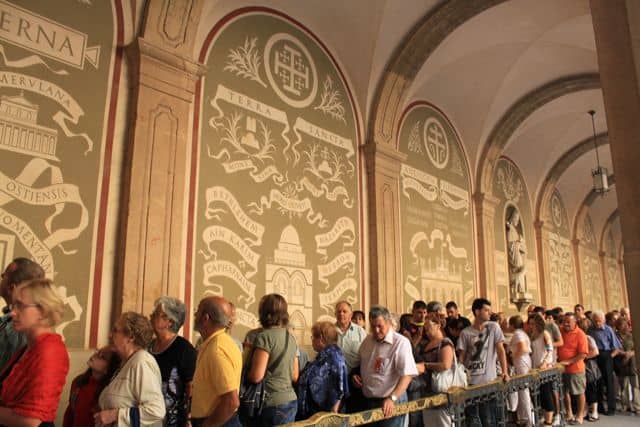 2. Take an easy hike along the

Camí dels Degotalls

.
This is an easy walk, even for even small children. Even 4-year-olds can do it (mine did!). The terrain is relatively flat, and it's interesting. You'll find many interesting sculptures and religious monuments by Pompeu Fabra, Joan Maragall, Jacint Verdaguer. A set of sculptural works that are dedicated to the Rosary and sculptures and the fifteen mysteries of the Virgin, built between 1896 and 1916. It has pleasant vegetation and some benches if you want to rest or eat. It's about a 50-minute hike (round trip) and is about 3.2 kilometers (2 miles).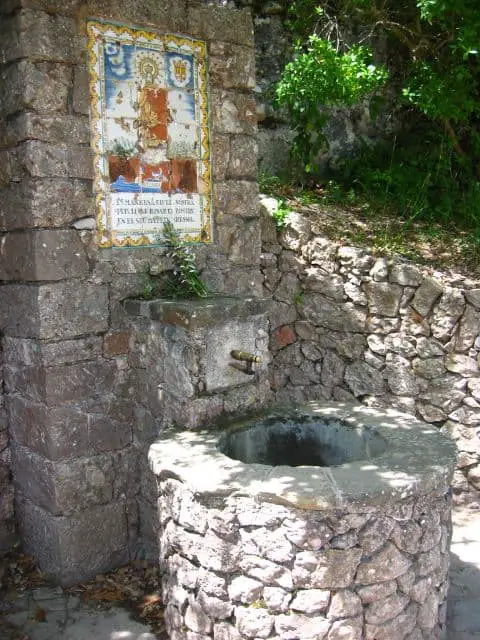 Along some paved roads, there are several monuments dedicated to the Virgin and/or other religious figures. Famous sculptures by Catalan modernist artists such as Antoni Gaudí, Josep Puig i Cadafalch.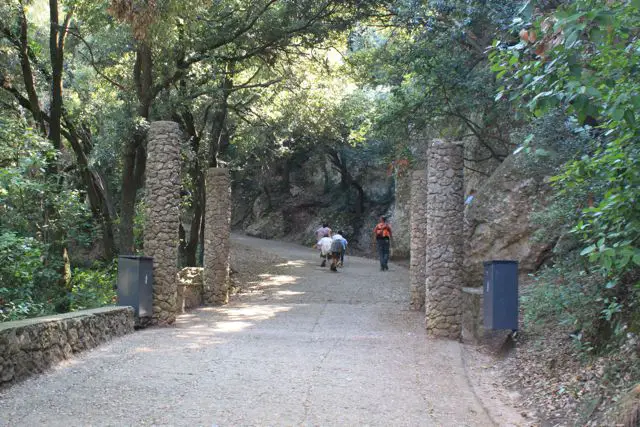 Other hikes that you can do in Montserrat:
From the Monastery to the highest point of Montserrat, Sant Jeroni. This hike starts near the abbey. Take the Sant Joan Funicular going up, which will take you to Pla de les Taràntules. Follow the itinerary here. Sant Jeroni is the highest peak in Montserrat, and you can see the Pyrenees on a clear day. You'll also get a view of Lleida and the mountains of Catalonia. The hike is about 2 hours and 30 minutes, and it's about 7 kilometers (4.3 miles).
If you do take this route, you can visit the Mirador de la Creu de Sant Miquel, the hermitage of Santa Anna, the lookout point of Serra de les Paparres, and the hermitage of Sant Jeroni.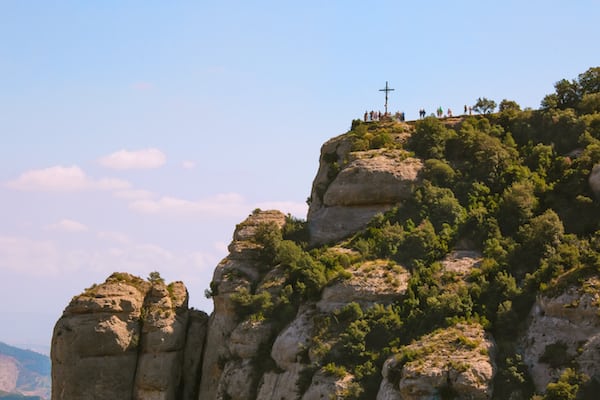 The Hermitage route: If you want to just visit the hermitages. You can't go inside the hermitages, they are just places to rest and reflect. See the hermitages of Sant Miquel, de Sant Joan, Sant Onofre i Santa Magdalena.
If want a guided hike, check out these here:
If you're interested in climbing Montserrat, the via Ferrata Canal de las Damas is also accessible.
3. Buy artisanal food souvenirs at the

market stalls

.
Local producers sell delicious honey, cheese, fig loaves, and other Catalan foods. (I recommend the local mató, an unsalted, sweet cheese resembling ricotta but holds its shape better.) The stalls are open daily in front of the monastery. No tacky tourist items, just delectable edible souvenirs!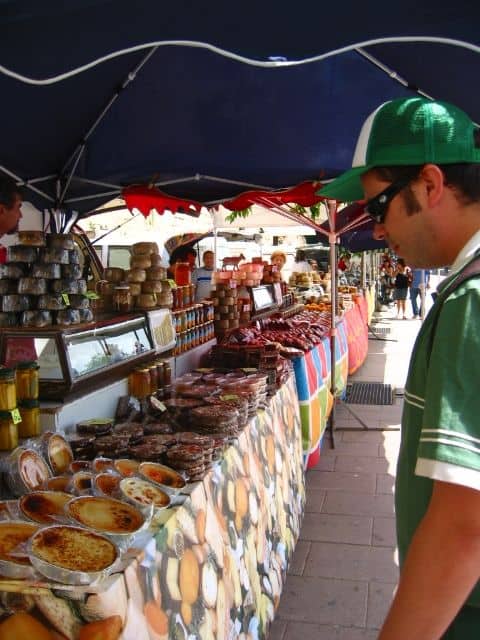 4. Visit the Museum of Montserrat.
The Museum of Montserrat is an archaeological and art museum from six collections: the archaeology of the world, antique paintings, modern paintings, the avant-gardes, sculptures, drawings, and Byzantine and Slavic works. It also has a few paintings and graphic pieces by Pablo Picasso, Salvador Dalí, Marc Chagall, and Joan Mirò. The museum building was also designed by the modernist architect Josep Puig i Cadafalch, a popular artist with many works in Barcelona.
5. Enjoy the music of the elite boy's choirs in Europe in the basilica.
Montserrat also houses one of the oldest music schools in Europe, the singing academy Escolania.  It's one of the oldest boy's choirs in Europe. Members of the choir range in age between 10 and 14 years old. These boys actually attend boarding school here! Go to the website to hear their angelic voices. Now imagine what that would sound like live! They also have a wide discography, which you can buy in the Montserrat Gift Shop. They sing in various religious services: from Monday to Friday at 1 pm and 7 pm. 
6. Visit the Santa Cova, or Holy Grotto.
Another site of the mountains is Santa Cova, or Holy Grotto. A sacred place, it is believed that the Virgin Mary appeared here to shepherd children in the year 880. A great light appeared from the heavens and a beautiful melody was played. It happened for weeks –  Since then, it's been revered by thousands of people every year. You can access this Santa Cova via a path called Camí de la Santa Cova. Notice the replica of the original "La Moreneta" statue. 
7. Go up the two funicular railways for staggering views.
If you don't want to hike, a fun ride to take is taking the Sant Joan Funicular Railway. You'll get a view of the monastery, the Pyrenees mountains, and the surrounding area. At the top, you'll reach the Pla de les Taràntules and the Sant Joan chapel, both with amazing views Buy your tickets for the Sant Joan Cremallera here. Or, try the Santa Cova Funicular Railway. It connects the monastery with the cave where the Moreneta statue was found. Buy your tickets for the Santa Cova Funicular here.
---
Where is the Stairway to Heaven?
First of all, the Stairway to Heaven is not an official name of the sculpture. My guess is social media made it up. It is in the Plaça dels Apostols. It is a monument by sculptor Josep Maria Subirachs (who designed the Passion Facade of the Sagrada Família) dedicated to philosopher, writer, and mystic Ramon Llull in 1976. The monument represents the "Ladder of Understanding", represented via the ascending steps of creation.
Can you climb the Stairway to Heaven?
Absolutely not. The Stairway to Heaven has a hideous gate around it. This sculpture became very popular when Instagrammers started climbing the stairs (which is not allowed) and stood at the very top. Someone even biked on top of it and made a "motivational" video out of it! Because it's a respected monument, and it's dangerous to climb, authorities had to put an ugly fence around it. 
---
Ways to get to Montserrat from Barcelona
By public transportation 
Only one station from Barcelona takes you to Montserrat: Barcelona – Placa Espanya station. If you buy tickets there, look for the FGC (Ferrocariles de la Generalitat de Catalunya) signs underground. Take the R5 or the R50 line toward Manresa. It's 20+ stops, depending on if you want to take the rack railway (funicular) or the cable car (Aeri Montserrat).
The Cremallera Funicular
If you want to take the rack railway, or Cremallera Funicular, stop at Monistrol Montserrat.  Check the official FGC website for the schedule. Consider buying the Tot Montserrat card.
There are numerous guided tours you can take (I haven't taken them), but they may make it easier!
Aeri Montserrat (Montserrat cable car)
There are two ways to reach the top. You can take the cremallera funicular (rack train), or If you're feeling gutsy, you can reach the mountains via Aeri cable car. The feeling of being half a kilometer suspended above a mountain: concern and wonderment. It's a 5-minute ride.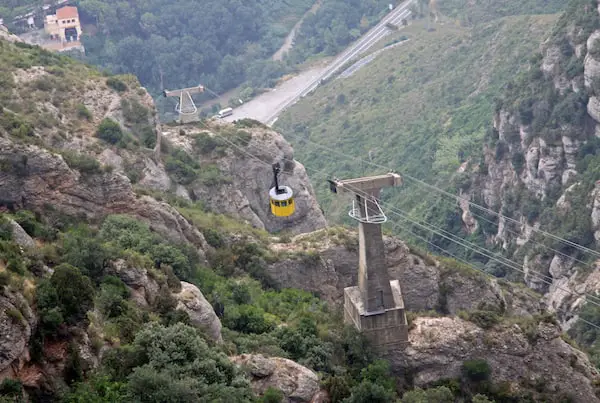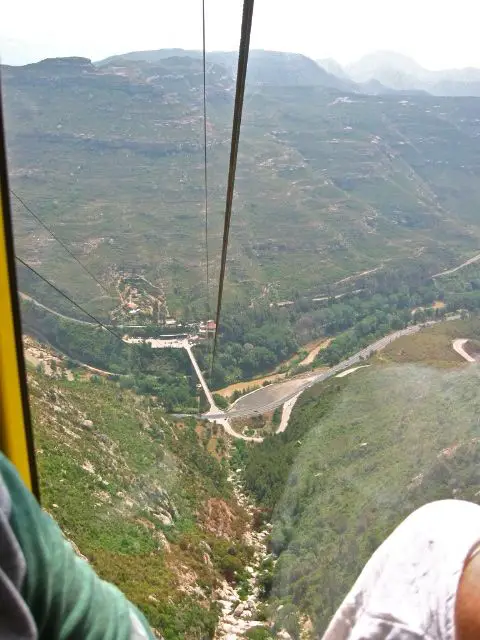 Montserrat Mountain and Monastery Tour – get picked up from your hotel in Barcelona and do a half-day trip to the Monastery. It has 24-hour cancellation! –>> Check prices for this tour
By car
If you decided to drive there are two places to park. You can drive all the way up the mountain and park near the monastery. Parking spaces are limited, so try to come during the first hour. Click here to see the parking fees.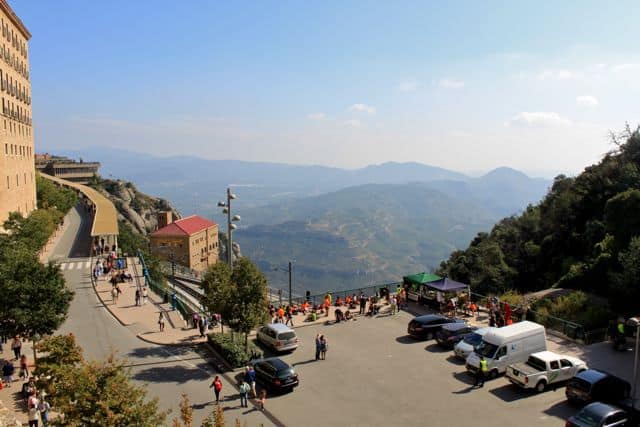 Parking spaces are available at Montserrat rack railway station in the town called Monistrol de Montserrat. (A rack railway is also called a funicular or cremallera.) There are three stops: Monistrol de Montserrat (where public transportation from BCN takes you), Montserrat Vila (where the car park is), and Montserrat (the abbey and final destination). You can buy your tickets for the Montserrat Rack Railway here. You can also buy them in the FGC shop in Plaça Catalunya or at Plaça Espanya metro station.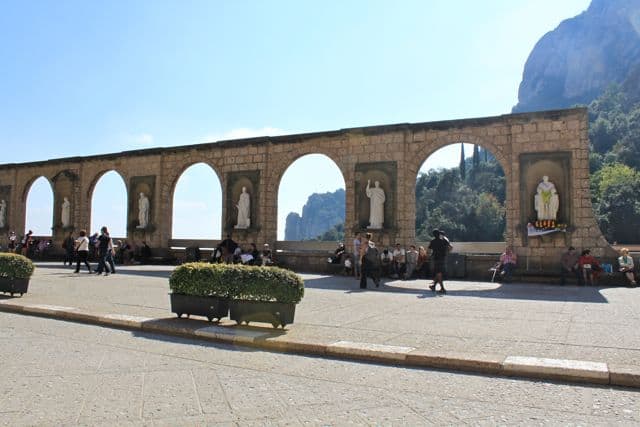 Where to eat in Montserrat
There are a few food options for eating in Montserrat. Given it's a small area, the range isn't bad:
Restaurant Montserrat: For a nice meal in a beautiful setting, head to the Mirador dels Apostols (next to the car park). Serving Mediterranean food, this restaurant also has a beautiful lookout point on the top floor.
Restaurant Abat Cisneros. This is the restaurant below the Hotel Abat Cisneros and serves traditional Catalan cuisine. A fixed-lunch price (menu del día, which includes two dishes, dessert, and drink) costs 27.50 to give you an idea.
La Cafeteria. This is an affordable, middle-of-the-road option. There is a self-service section with sandwiches, fries, etc. and a canteen section which serves warm meals like roasted chicken and soup.
Bar de la Plaça in Montserrat. This is a casual small bar with no bells or whistles. And I was so thankful it was a place where I could get a coffee! Food is limited like hamburgers, sandwiches, and cold beverages.
If you don't want to eat at a restaurant, there's also a tiny supermarket at Montserrat. You can grab and go!
Where to sleep in Montserrat
Montserrat is a convenient day trip from Barcelona. But there are also hotels to sleep here if you want to spend some time here to fully explore the mountain.
Hotel Abat Cisneros: This hotel is on location, and the view can't get better than this. It's right next to the monastery. It has a restaurant, a bar, a 24-hour reception, and a small playground for the kids. A breakfast buffet is available too. Check prices for Hotel Abat Cisneros
Apartamentos Montserrat Abat Marcet: It's a simple apartment in spectacular surroundings. Located right on the hillside,  Each apartment comes with a stove, microwave, fridge, oven, and TV. It's near the Montserrat Rack Railway, and the price is included. Check prices for Montserrat Abat Marcet Apartments
Alberg Abat Oliba:  This hostel offers both shared and private rooms for 2 to 8 people. There's a restaurant, 24-hour reception, a shared kitchen, and a restaurant. Every room has a private bathroom. The cable car is about 600 meters away. Check prices for Alberg Abat Oliba
 Airbnb: Of course, Airbnb is a reliable source for private homes, apartments, and rooms. Many places have amazing views of the mountains. Including many with private pools and spas! Check prices for Airbnbs in Montserrat here
---
That's it! Want to know about other cool spots outside Barcelona? Check out the best day trips from Barcelona here! Or do you have any questions about Montserrat? Let me know in the comments!