*This site contains affiliate links, which means I receive a commission when you buy. See my full disclosure.
Curvaceous Gaudí buildings, narrow Roman streets, and infinite views of a gridded city. Barcelona is massive, and it's overpacked with things to do. That doesn't mean that you have to miss out on the important sites. It IS possible to experience most essential places to see in Barcelona when you just have 2 days. As an 15-years-long Barcelona resident, I'm still a sucker for historical landmarks, catching cool city views, and discovering quiet nooks that no one in the blogosphere has talked about yet. And, I'm pretty versed on Barcelona's highlights when there is Simply. Too. Much. To. See. Sooo, my friends. Let me help you maximize your time on your Barcelona trip. Read my ultra-practical Barcelona 2-day itinerary to get to know the best of BCN. Click on the map at the bottom for a route to follow too!
DAY 1
Morning
The Sagrada Familia
Antoni Gaudí, the most famous architect of Barcelona, had the vision to create this Roman Catholic church inspired by the almighty G-O-D. Construction started way back in the 1880s, and workers are still hammering nails as you read this. If you can get inside the Sagrada Familia at the first hour or so at 9 am, it's worth it. Why? There are fewer visitors, and you don't have 17 people in your Instagram shot. Plus, if you decide to climb the Sagrada Familia towers, you can go at your own pace without anyone pressuring you from behind.
My honest recommendation: An hour is not enough to see the Sagrada Familia and to appreciate it fully. Carve in at least two hours.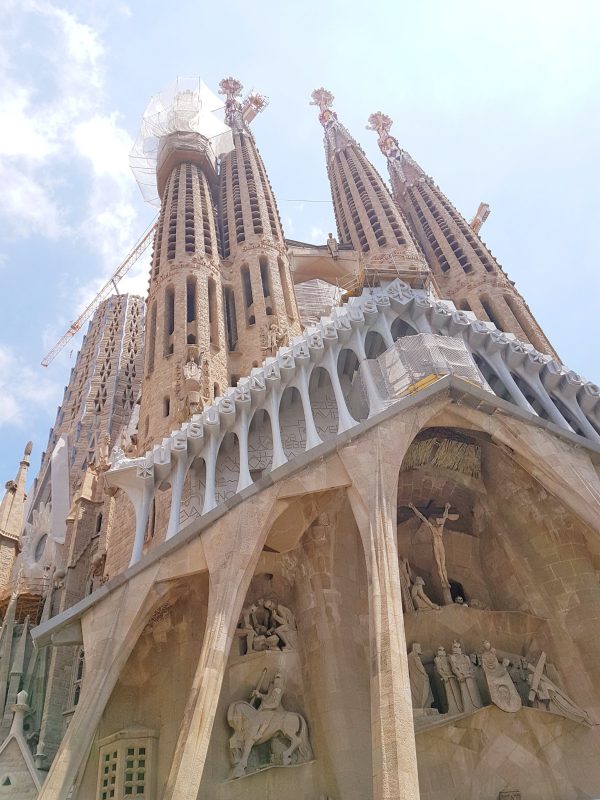 Afternoon
Born and Gothic Quarter
After the Sagrada Familia, take the 19 bus nearby, and get off at the 12th stop, "Passeig Lluís Companys – Arc de Triomf". You'll see the photogenic brick arch, the Arc de Triomf. It was built as a gateway to a fair in 1888, and marks the entrance of a wide promenade, Passeig Lluís Companys. Take a stroll towards the Park Ciutadella, Barcelona's largest, most central park with a fountain, small lake, tree-lined walkways, and even a zoo (you gots to pay to get in). Ciutadella Park is worth a stop if you want to take a break and enjoy watching the passers-by. Hungry yet? Here are some recommended restaurants in the area!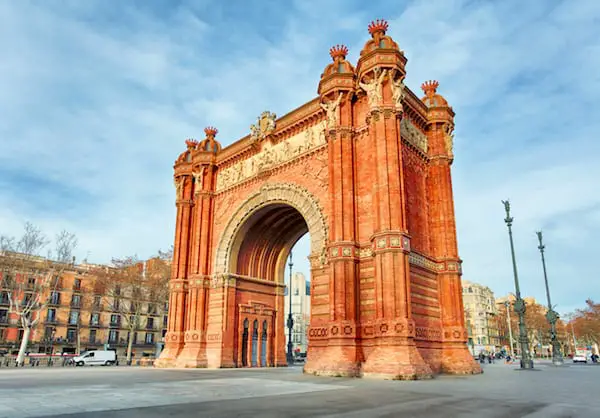 WHERE TO EAT NEARBY: PICNIC for brunch or lunch, LA PARADETA for fish! Pick your seafood at their in-restaurant "market", MOSQUITO for unique Asian fusion tapas and beer
From the Park Ciutadella, make your way to the Born neighborhood, and stop by the Born Cultural Centre. Once a food market, this iron and glass structure holds cultural events. It has excavated Roman ruins that takes up a large space in the middle of the building, and you can see it from above. The Born Cultural Centre is free to walk inside. Afterward, head to the Basilica de Santa María del Mar, a Catalan Gothic church in the 14th century. (Fun fact: Humans carried the catherdal's stones on their backs from Montjuic to the church to build it. OUCH.) Afterward, walk down Carrer Montcada, a narrow strip of old-style mansions, which also houses the Picasso Museum. If you want to go inside, be sure to book ahead of time. It features Pablo Picasso's works as a teenager into his man-years as his career burgeoned, prior to his fame for his Cubist art.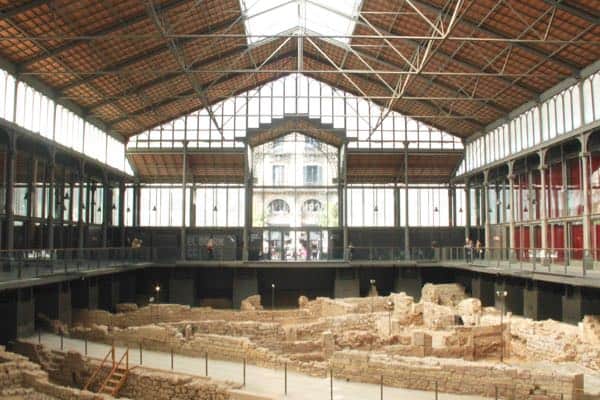 Need a snack for your grumbling tummy? Pop into the Mercat de Santa Caterina, a mostly locals-only food market. Head to one of the charcuterie stands and ask for some jamón ibérico and some Manchego cheese to nibble on, for real authentic Spanish food. Also, the Santa Caterina market is gorgeous – with its undulating mosaic-covered roof and colorful food stalls.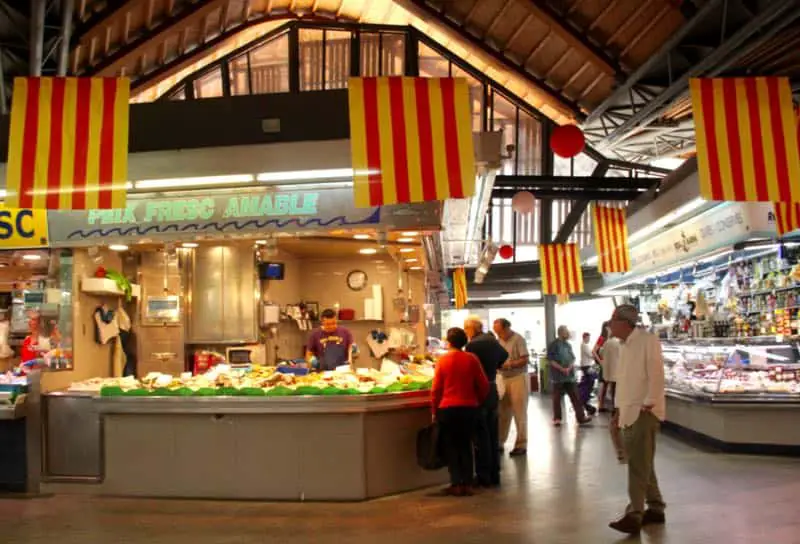 Barcelona has dozens of churches. Head to the Barcelona Cathedral at the Plaça del Seu. It's another Gothic Cathedral built in the 14th century and even has a flock of 13 geese inside the cloister. (Psst…the church is free to enter for worship and prayer during specific hours.)
Next up! Head to the Instagrammable Pont del Bisbe, or Pont Gótic, or Bishop's Bridge. It's a tiny yet decorative Gothic footbridge connecting Palau de la Generalitat to La Casa dels Canonges, and has a constant flow of foot traffic below. There are always hordes of people stopping to try to catch a shot. While most people appreciate it for its Gothic architectural qualities, it was actually built centuries after the Gothic period – in 1928!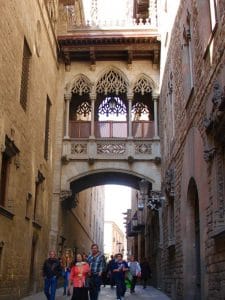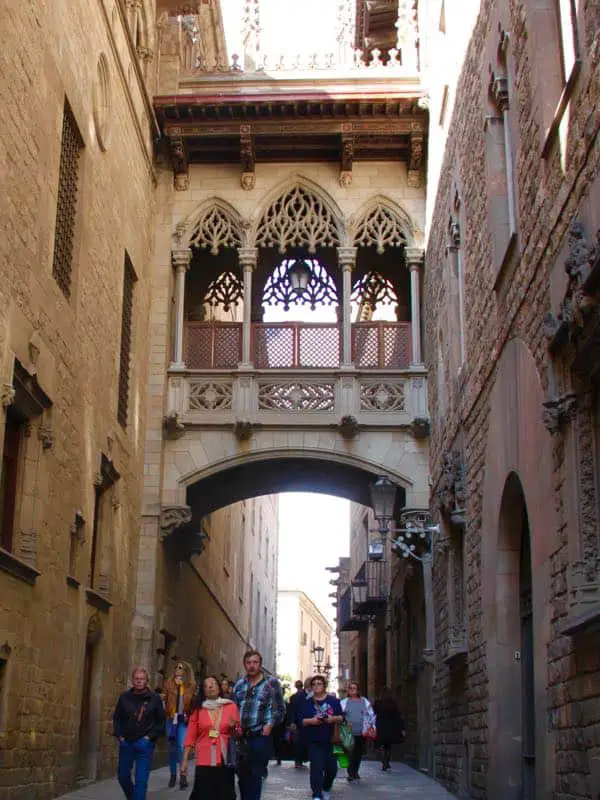 Then walk towards Plaça Sant Jaume, a historical square that dates back to the Roman Ages. The square is surrounded by governmental buildings like the Palau de la Generalitat and the Barcelona City Hall and it's often a central space where any protests take place.
After, meander down the busy retail street, Carrer Ferran, which is lovely for its black iron streetlights. It was once the main thoroughfare for medieval Barcelona.
Las Ramblas and La Boquería
Eventually, you'll hit Las Ramblas, the emblematic pedestrian street in Barcelona. It's packed almost all hours of the day with flower shops, ice cream stands, pet sellers, and shady scammers who want you to play a gambling game (watch out!).
While strolling down las Ramblas, look to your right, and you'll hit La Boquería market, a food market with outlandish fruit, vegetable, and meat displays. Some of the displays aren't authentic or local to the region. But even then, local chefs say it's one of the most comprehensive food markets in Barcelona. It's pretty damn crowded here, and 99% of tourists just look and take photos. So go ahead and buy a fruit juice drink on ice for 2 euros, sample some ham, or buy a bottle of Catalan wine to take home. The local vendors will appreciate it!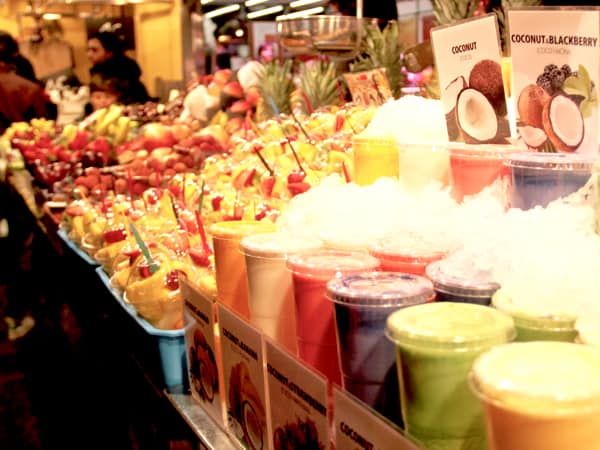 Next up! Get your butt on Las Ramblas again. You'll see the street, Carrer de Colom to your left. Go down there and find the beautiful plaza, Plaça Reial. This charming square has iron light posts designed by Antoni Gaudí. It's also a fun place to have a drink at one of the terrace bars and restaurants.
Evening
Go back on Las Ramblas, and you'll see the tall Christopher Columbus monument. You can go up if you wish and get a unique view of the city and Las Ramblas. Buy your entry to go up the Christopher Columbus monument tickets in advance and save 10%! Buy your Christopher Columbus monument tickets here
Hey, you've hit the Mediterranean Sea. You can see the Rambla del Mar across the street, a relaxing place to watch the boats and breathe in the fresh air. It should be evening now, a perfect time for a stroll! Turn left, and you can walk along the Port area all the way to La Barceloneta neighborhood, a former fishing area and a lively place for bars, seafood restaurants, and chillaxing.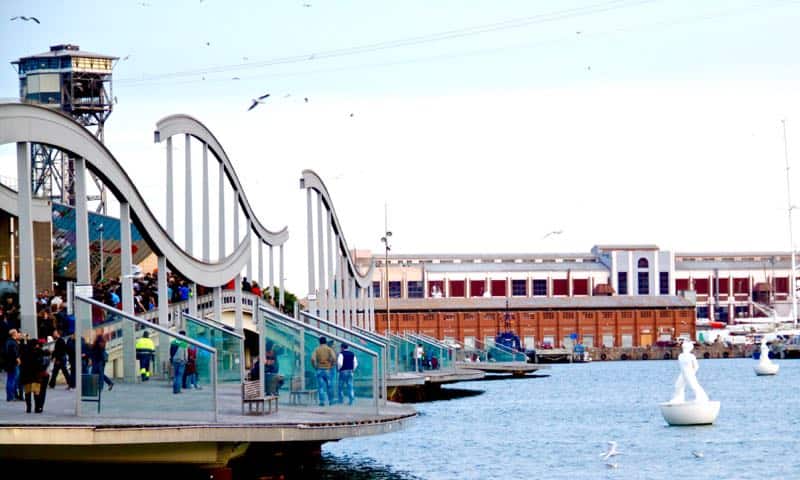 Day 2
Morning
Park Guell
In the morning, head to Park Guell. A UNESCO World Heritage Site, Park Guell is Antoni Gaudí's playground of slanted pillars, tree-lined pathways, mosaic-filled walls, and the most photographed dragon statue in Spain. The morning is also one of the best times to visit Park Guell because it doesn't have the crowds, and you can easily take photos without pesky humans blocking your view. Expect to spend at least 1.5 hours at the park.
HOW TO GET THERE: There's also a NEW way to get to the park, a shuttle bus called Bus Guell! The price is included in your Park Guell tickets. Just take the bus from Alfons X metro stop at L4, the yellow line.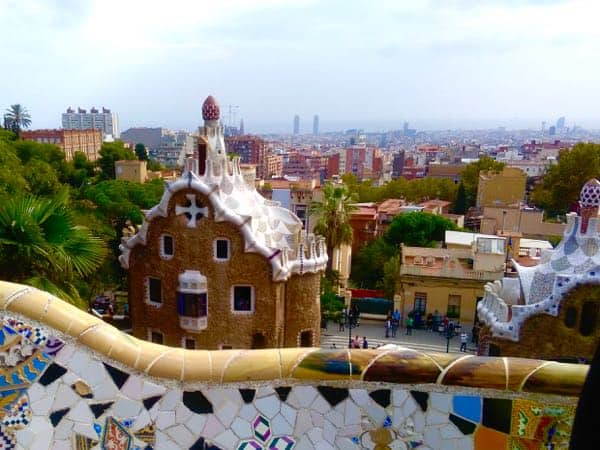 Gracia neighborhood
Afterward, you can walk down the hill, using the escalators. Hit up a lively little residential neighborhood called Gràcia, about 15 minutes from the Park Guell entrance. The social scene is bumping here, and somehow it all works: toddlers on scooters, hip millennials, and grandmas shoot the breeze in its quaint plazas, cool indie shops, and organic markets. I LOVE visiting the Gràcia neighborhood! Some streets and plazas to check out are Plaça del Sol, Plaça Diamant, and Carrer de Verdi.
WHERE TO EAT FOR LUNCH in the Gràcia neighborhood: PEPA TOMATE for tapas in a modern, classy atmosphere, ARROSSERIA XATIVA for delicious paella, EL DISBARAT for traditional Catalan cuisine in a classic tavern-style setting.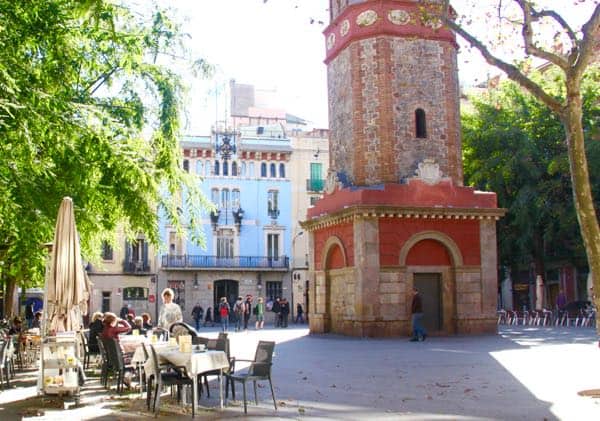 Afternoon / Evening
So now what to do on Day 2 in the afternoon in Barcelona? Now, I know there are different types of travelers, so allow me to suggest different activities:
Recinte Modernista de Sant Pau – The largest art nouveau complex in the world, these buildings are down the street from La Sagrada Familia and are a showcase of mosaics, reliefs, and gorgeous stained glass. It really is an underrated Barcelona landmark. So, take advantage before all the Instagrammers and travel bloggers hit this up. I visited early this year, and it truly is incredible. Get your ticket here!
Montjuic mountain – This is the mountain area of Barcelona, and it's not too hard to get to. Come here if you want to see some cool views from either these two places: 1) The Arenas shopping center, which is a former bullring. And if you go straight to the roof, you get a great view of Plaça Espanya and the MNAC museum. 2) Or get a view from the MNAC museum. The museum itself is massive, and, in my opinion, it's OK. But the view from the top steps is cool. There's a small cafe cart at the top of the steps, where you can enjoy the view.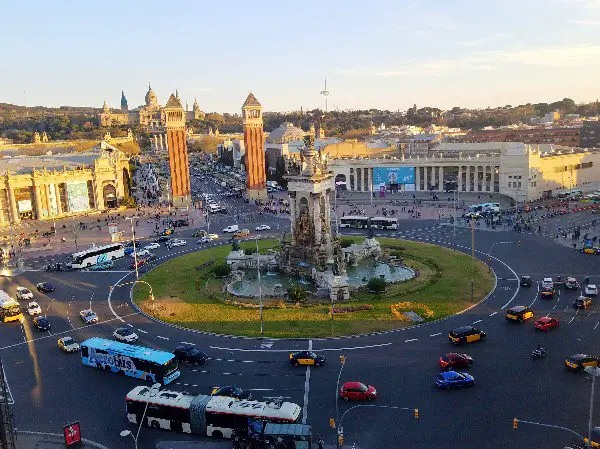 Eixample neighborhood and Gaudí buildings – Walk around the Eixample neighborhood and see the modernist facades and buildings. Go inside and visit the Casa Batlló and La Pedrera if you didn't do it the day before. If I had to choose between the two, go inside Casa Batlló. Buy your Casa Batlló tickets here with free cancellation 24 days before!
Sant Antoni for tapas – In the past 7ish years, Sant Antoni has become a trendy, foodie neighborhood. It has a newly renovated market, the Sant Antoni food market, and a cluster of atmospheric tapas bars like Bar Calders, Els Sortidors del Parlament, and Lolita Tapería. 
Barcelona Travel Tips
Watch out for picketpockets, especially in the metro. Don't always fully trust "kind" strangers. Exercise more caution at night in Born and the Gothic Quarter. Read my tips on Barcelona safety here.
Lunch is typically around 2:30pm and dinner is around 10pm. Arrive a little early if you plan on going to a popular restaurant and beat the traffic!
In Barcelona, tap water is never served at a restaurant, although it is completely safe to drink. (I drink it at home!) So the only way to go is to order it by the plastic bottle.
If you want to save data on your mobile network, public Wi-fi stations are scattered throughout Barcelona. Find those free Wi-fi areas here. And if you want to read why having a VPN is necessary for your privacy when you travel, read more about it here.
2-Day Barcelona Itinerary Map with Routes
If you want to see what your "two-days in Barcelona" walking route looks like on a map, here you go!
Spending 2 days in Barcelona is short, but it's possible to get the essence of the city. Is there anything I missed? Let me know in the comments!