*This site contains affiliate links, which means I receive a commission when you buy. See my full disclosure.
You've got your airline tickets. Your Pinterest boards are loaded with "things to do in Barcelona". Next up: planning! But where to start? Well, I've created a recommended Barcelona itinerary: 3 days in the city that I've called home for the past 15 years. Check out the routes and recommended places to eat on the map at the bottom of this post. Read about your 3 perfect days in Barcelona!
DAY 1
OLD CITY BARCELONA: Gothic Quarter, Born, Las Ramblas, Barceloneta. The first day of Barcelona sightseeing seems like a lot, but a few sights take just a few minutes to see. You'll cover about 7 kilometers (4.3 miles) of walking. If you don't stop at all, Google tells me it will take about 1 hour and 21 minutes. But with breaks, it's completely doable to complete in a day without rushing. Wear comfortable shoes!
Morning
Start on Plaça Catalunya, the heart of Barcelona and head down Las Ramblas. This is the carnivalesque and iconic street that's 1.2 kilometers (0.75 miles). If you don't stop, it takes about 20 minutes to walk Las Ramblas from end to end. In the middle to your right, you'll see La Boqueria Market the famous colorful market that gets ultra-packed. It opens at 8 am, so you can even have breakfast here at the Quim de La Boqueria.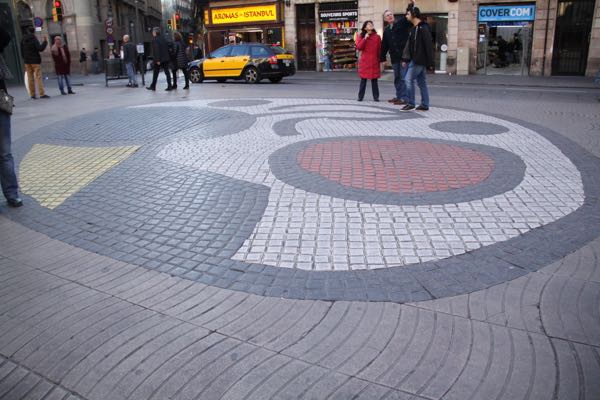 WHERE TO HAVE BREAKFAST OR A SNACK: Pinotxo Bar for traditional Catalan breakfast (not cheap), Granja Viader for churros with a suizo (hot chocolate with real whipped cream).
Continue on Las Ramblas. On the left, turn left on Carrer de Colom, and you'll see the charming Plaça Reial. This is a large square surrounded by bars and restaurants with an iconic fountain. Notice the light posts – they were designed by a young Antoni Gaudí! Get your butt back on Las Ramblas.
Head towards the sea, and you'll hit the Christopher Columbus monument, incorrectly pointing at the New Land. Want to go up and get an incredible view? NOT MANY PEOPLE KNOW YOU CAN DO THIS! It costs €7.20. But buy it online now and save 10%! Buy your Christopher Columbus monument tickets here
Cross the street on Passeig del Colom, and you'll see the Rambla del Mar, a wooden bridge and a breezy port area. (If you cross, you'll see the Maremagnum Shopping Center and Barcelona Aquarium.)
Walk toward Carrer d'Avinyó, a street of local design and fashion. Pick up some classic Catalan shoes called espardenyes at La Manual Alpargatera. The displays are beautiful! Now go towards the Plaça Sant Jaume, a square used for events and demonstrations. It used to be the center during Roman times! when Barcelona was called Barcino. It's flanked by buildings of the Barcelona City Council and the Palau de la Generalitat. No need to hang out here long. See it and move on!
Go towards the Plaça de Sant Felipe Neri, a historically famous square where Spain's dictator Francisco Franco ordered an air raid in this plaza, killing 42 people. It's dark and beautiful – the dents in the church walls are haunting. Head towards the large Plaça de la Seu, a large square where you'll see the majestic Barcelona Cathedral. Hungry yet? You should be – since you've just walked 4 kilometers, or 2.5 miles *throws glitter*. It's time for lunch!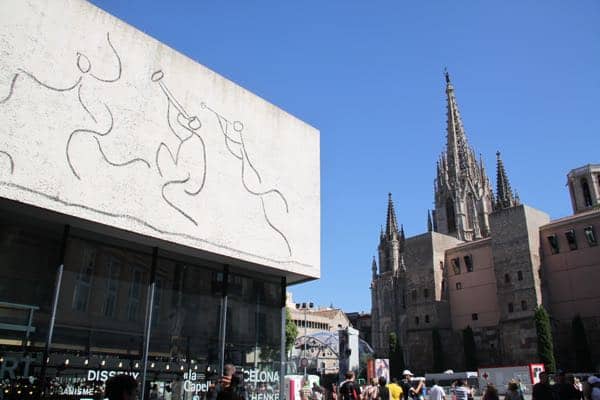 WHERE TO HAVE LUNCH NEARBY: 7 Portes for paella, Euskal Etxea for Basque pintxos (tapas pierced with a stick), Llamber for creative tapas, or La Paradeta a seafood restaurant with a built-in "fish market", Bar Brutal for tapas and natural wines
Afternoon / Evening
After lunch, cross Via Laietana towards the Mercat de Santa Caterina, a food market with a beautifully colored, undulating roof. Then go towards Carrer Montcada, and you'll see the Museu Picasso housed in a medieval palace. It showcases Pablo Picasso's artworks during his formative years – before his famous cubist masterpieces were created. If you're into art, see this! If not, skip it. Lines can be suuuuper long here, depending on the season. But save your time, just in case, and buy your tickets in advance. Also, the Picasso Museum is CLOSED ON MONDAYS. Buy your Picasso Museum tickets here
Keep going down Carrer de Montcada, and you'll see on your right, the hefty Basilica de Santa Maria del Mar, a somber church built in the 1400s with a unique Catalan Gothic structure. People transported boulders all the way from Montjuic to build it! Nearby is the Plaça del Fossar de Les Moreres, where you can pay homage to the fallen Catalans following the Siege of Barcelona in 1714. It's a sacred memorial for locals and is built over a cemetery. Now head down the Passeig del Born, a leafy promenade with bars and restaurants. It comes alive at night, ironically, as it used to be execution grounds during the 16th-century Inquisition. In front of you is the Born Cultural Centre, a gorgeous iron and glass structure, which used to be a food market. Enter for free to admire the excavated Roman ruins smack-dab in the middle.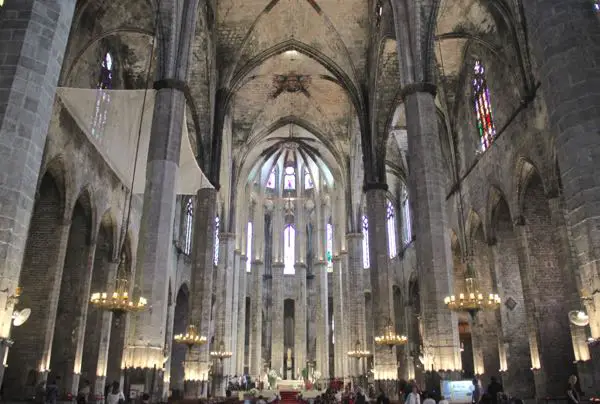 It's time to reward yourself and chill at Ciutadella Park, Barcelona's largest and most central city park. Row the boats in the small lake and take a photo in front of the Cascade. Relax on the grass and have your siesta.
Walk down the wide and relaxing Passeig de San Lluis Companys toward the monumental arch, Arc de Triomf. You've completed your 7 kilometers or 5.5 miles of sightseeing Barcelona for today. High five! Click here to jump down + See what you can do in the evening.
Day 2
GAUDÍ AND MODERNISM DAY: Today, see fewer Barcelona sights and spend more time understanding and absorbing Gaudí's complicated buildings.
Morning
Head to a Barcelona must-see icon, the Sagrada Familia, first thing in the morning. It opens at 9 am. (You bought your tickets online, right?) You'll be glad because it will be much less packed. Should you go up the towers? I say yes, because of the view, but mostly so you can see the intricate details of the building. You can spend one hour or up to 4 hours in La Sagrada Familia, exploring the main, visiting the crypt, or going up the towers, then climbing back down. 
OPTIONAL: Afterwards, walk down La Rambla de Gaudí and head toward the Recinte Modernista de Sant Pau. It's about 900 meters away, which takes about 12 minutes. This is the world's biggest art nouveau complex with colorful mosaics and stained glass windows. It's a UNESCO World Heritage site and is often overlooked by tourists!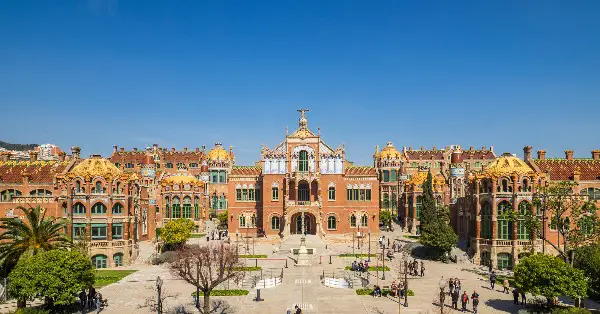 WHERE TO EAT FOR LUNCH: Els Pollos Llull, a home-feel Catalan restaurant with tasty roasted chicken, La Paradeta for fresh seafood, Singular for locally sourced dishes (Note: I've eaten at a few restaurants on Rambla de Gaudí, the street that connects Sagrada Familia to the Recinte de Sant Pau. I can't recommend any there – they were mediocre.), El Nacional, an upscale food hall near Casa Batlló
Afternoon
From the Recinte de Sant Pau Modernista, take the L5 blue metro line, or the 47 or H8 bus, to Passeig de Gracia stop. Get off and walk down Passeig de Gracia, the elegant moderniste street of fine shopping and attractions. Visit Gaudí's other wonders like La Pedrera or Casa Batlló. Both are incredible masterpieces. But if I had to pick one to enter, I'd choose the Casa Batlló. From either of these buildings, take the 24 bus or the L3 green metro line up to Park Guell. From there, you'll have to do a bit of an uphill climb, strengthening those glute muscles and working on that sexyback. There are a few escalators to give you a rest in between strides. Depending on the season, the park can be crowded, so be sure to buy your tickets online first because you can only enter during a time window. Buy your discount tickets on Park Guell  You've done well so far on your 3-day Barcelona itinerary! Click here to jump down + See what you can do in the evening.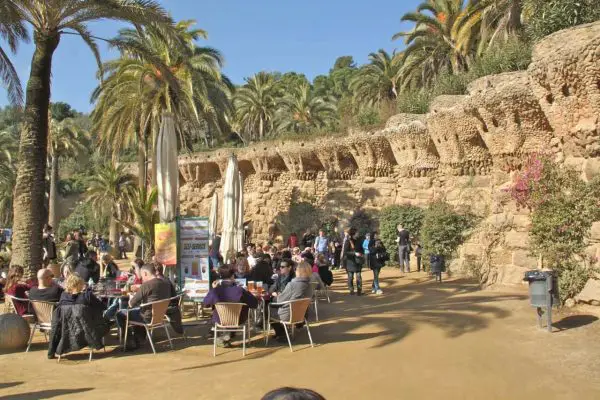 Day 3
MONTJUIC and YOUR PICK (see below for ideas).
Last day of your 3 days in Barcelona! Head over to Montjuic, the hilly area of Barcelona. Take the L3 green metro line towards Parallel. From there, take the funicular, a zipper train, that goes up to the Funicular Station of Montjuic. When you get off, you'll be a stone's throw away is the Teleferic, the Montjuic cable car. (Buy your discount Teleferic tickets here.) If you hop on, you can get a panoramic view of Barcelona and go directly to the Montjuic Castle. If you want to take amazing pictures from here, forget it – as the glass usually isn't that clean. Just enjoy the view!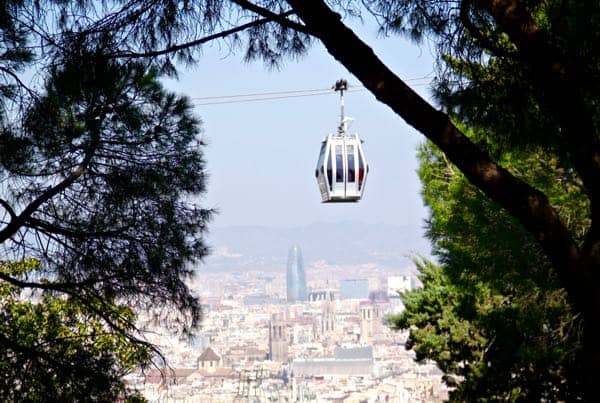 The Montjuic Castle used to be a fortress and prison and is now used for events. From here, you can get sweeping views of the city and the port. To get down from Montjuic, you can take the same 150 bus all the way to Plaça Espanya. (If you want to hang around Montjuic, you can also use the 150 bus which stops at the Olympic Stadium, the Fundación Joan Miró (a relaxing minimalist-y museum with beautiful views), or the Poble Espanyol, an open-air museum that's scaled-down replica of Spain's villages. Oprah even celebrated her 50th birthday here! See the 150 bus line map.)
When you make your way to Plaça Espanya, head to the bullring-turned-shopping center, Centro Comercial Arenas. The shops itself are meh, but the view from the very top floor is ace! It's lunchtime – let's get some food in that tummy!
HAVE LUNCH OR A SNACK AT THE NEARBY: Els Sortidors del Parlament great for some vermouth and tapas, Sirvent for a sweet snack and orxata (tiger nut drink). (In Barceloneta, next destination): Bar Jai-Ca for classic tapas, Restaurante 7 Portes for paella, Can Paixano for good times, classic tapas, and affordable wine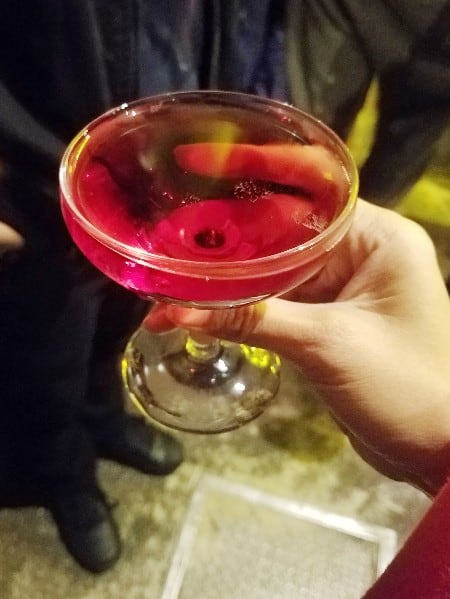 Afternoon:
Next up: Head to the Barcelona beach area, La Barceloneta and the Port Olympic. La Barceloneta is kind of a chaotic, touristy beach, but its beauty is in the architecture surrounding it – like "El Peix d'Or" golden fish sculpture by Frank Gehry, The W Hotel sail-like building, and the twin towers.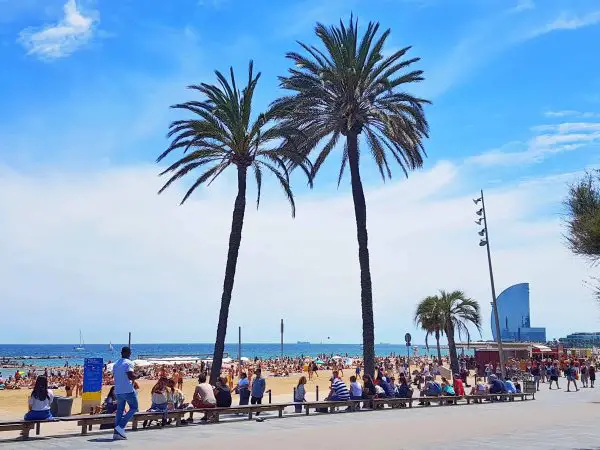 Not into the beach? Here are other ways to spend this afternoon:
Feel cool at the intimate Gracia neighborhood. It doesn't have any attraction in particular. Its attraction is the residential neighborhood itself with lots of charming squares, art galleries, and organic shops.
Spend time at the recently renovated food market, Mercat de Sant Antoni, and the cool tapas scene in the Sant Antoni district, which has a new hipster cluster of foodie restaurants.
MACBA and El Raval district: A stark white museum of contemporary art in the middle of a skater plaza. It's within the tight, gritty, and multicultural neighborhood of El Raval
Go back to Day One sights and explore a bit more! Head over the Palau de la Musica Catalana, an intricately-detailed modernist masterpiece.
Camp Nou Experience and Audioguide: For the football/soccer fans. Buy your Camp Nou Experience tickets here
Evening and Dinner Options for Any Day
Magic Fountain is a huge fountain near Plaça Espanya with waters that dance to music and colors in the evening. It's a fun spectacle to watch that's free. See the schedule here.
Bunkers del Carmel is a fantastic and now-popular option if you want to get away from tourist crowds. Know that it's still not the most isolated place anymore, but it is still significantly less. And also, there's no other Barcelona sightseeing around there. Take your "sitting at the edge of the world" Instagram shot, and go! It's reachable by 92 or 119 bus, or the L4 yellow metro line. Hike it up 25 minutes Find out more here.
Hit the tapas and bar scenes in the Sant Antoni neighborhood, as I mentioned above. Try Bar Calders, Fabrica Moritz, or Bodega Vinito.
The Poble Sec neighborhood is also a huge foodie haven where you can go bar hopping for dirt-cheap prices. Try the ones on Carrer Blai: La Tasqueta de Blai, Pincho J, or Blai 9.
JUMP BACK TO END OF DAY 1 | JUMP BACK TO END OF DAY 2
Day Trips from Barcelona
But what about seeing the magical beauty that is outside the city? Welp, seeing Barcelona in 3 days can be a challenge. If you realize that some places in this 3-day Barcelona itinerary aren't for you, it's worth seeing what's outside Barcelona. The best day trips are Montserrat (an incredible mountain area) and Sitges (a whitewashed beach town). They are within an hour's ride and can easily be accessed via train. See my detailed post on the best Barcelona day trips.
3 Day in Barcelona Cheat Sheet
Think of it this way if you want to see Barcelona in three days. Mix and match, baby!
Day 1) Old City: Gothic Quarter, Born, and La Barceloneta
Day 2) Gaudí buildings: Sagrada Familia, Park Guell, Casa Batlló, and Casa Milà (La Pedrera)
Day 3) mountains (Montjuic) and sea (Barceloneta). Or other places of your choice!
Barcelona 3-Day Map with Routes and Restaurants
Need a visual of everything I've mentioned above? Check it out in this Barcelona itinerary map! Here you have the exact routes for your three days in Barcelona. (It looks like a mess now, but you'll have to scroll in to see it clearly.) And I've saved a lot of recommended restaurants, which you'll see in the orange icons. Save this Google Map on your phone:
Whew! Well, there are a few of the best places to visit in Barcelona, Spain! Now is 3 days in Barcelona enough? I'd say it's JUST barely enough. Any questions? Should I make a PDF of this? Let me know! Leave a comment below!