*This site contains affiliate links, which means I receive a commission when you buy. See my full disclosure.
Barcelona has its share of cheeseball souvenir shops filled with Gaudí mosaic bulls. But it also has hushed boutiques, generations-old specialty shops, and one-stop-shop department stores overflowing with unique Barcelona foods and objects of curiosity and beauty that you won't find outside of Spain, and sometimes Barcelona. Let me share some of the best souvenirs from Barcelona, Spain – characteristic of the city and its people – that would make delightful keepsakes of your Barcelona trip or a thoughtful gift for a friend. This is a handy Barcelona souvenirs guide – when you don't know what to bring back from Barcelona!
What to Buy in Barcelona: Souvenirs and Gifts
As a US expat, when I go back home, I always bear gifts that are distinctive to Spain – many of which you can even find in supermarkets. Scroll to the bottom to see my requested items from Spain. Some of them are SO SIMPLE, but can be surprising and delightful.
<<Psst… Want to know what to buy in Barcelona, Spain, but have it come to your door? Do your Barcelona souvenirs shopping online! Read my post on gifts for Barcelona lovers!>>
BEST THINGS TO BUY IN BARCELONA, SPAIN
FOOD AND DRINKS TO FEED YOUR MEMORIES
You can't go wrong with edible souvenirs. Barcelona, Spain, is the perfect place to find delightful delicacies
OLIVE OIL
While many think of Italy as the producer of olive oil (thanks to Italy's great marketing), Spain is actually the biggest producer of olive oil in the world. (I didn't believe it either, even when my Spanish husband told my mom and me that our "Italian" olive oil was from Spain. We checked our bottle from Costco, and, indeed, it was produced in Spain *facepalm*)
With over 200 varieties of Spanish olives, why not bring home a beautifully packaged bottle of cold-pressed EVOO? It's a staple to Spanish and Catalan cooking! Try the Arbequina olive oil from Catalonia, which is fruity; Hojiblanca from Southern Spain, which is aromatic, slightly bitter, and peppery; or the Manzanilla Sevillana from Seville, which has notes of figs, grass, and almonds. Head to a specialty olive oil shop and they can give you recommendations!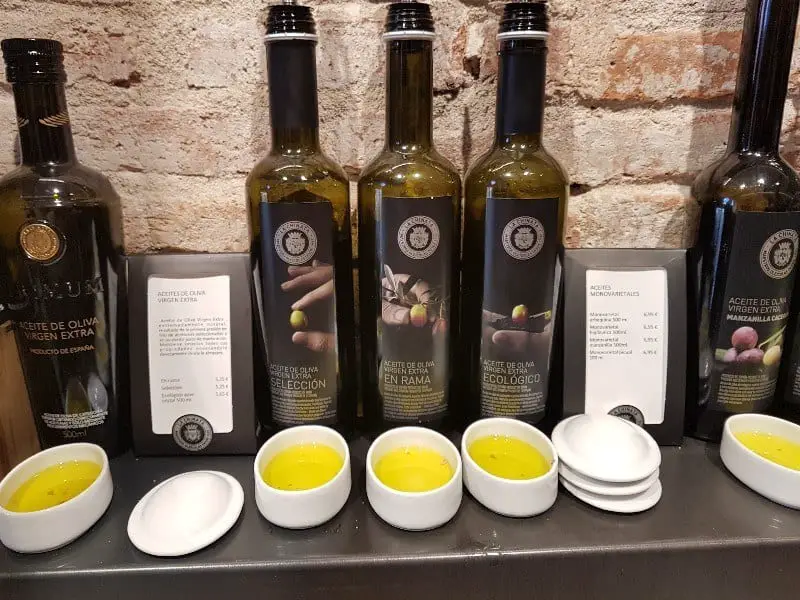 Where to buy olive oil: Oro Liquido in the Gothic Quarter, La Chinata in Sant Antoni, Born, and Raval, or Oli i Sal in Gracia, or Club del Gourmet in El Corte Ingles supermarket in Plaça Catalunya.
CHOCOLATE
Barcelona is a chocolate city. We've got the sweet chocolate museum, Museu de la Xocolata, and we sometimes splurge on the thick, hot chocolate, chocolate a la taza. (When the hot chocolate is paired with churros, it's sinfully decadent!) Barcelona also has several decades-old chocolate shops from renowned chocolatiers. One of my favorite choco-places is Faborit by Casa Amatller, right next to the Casa Batlló.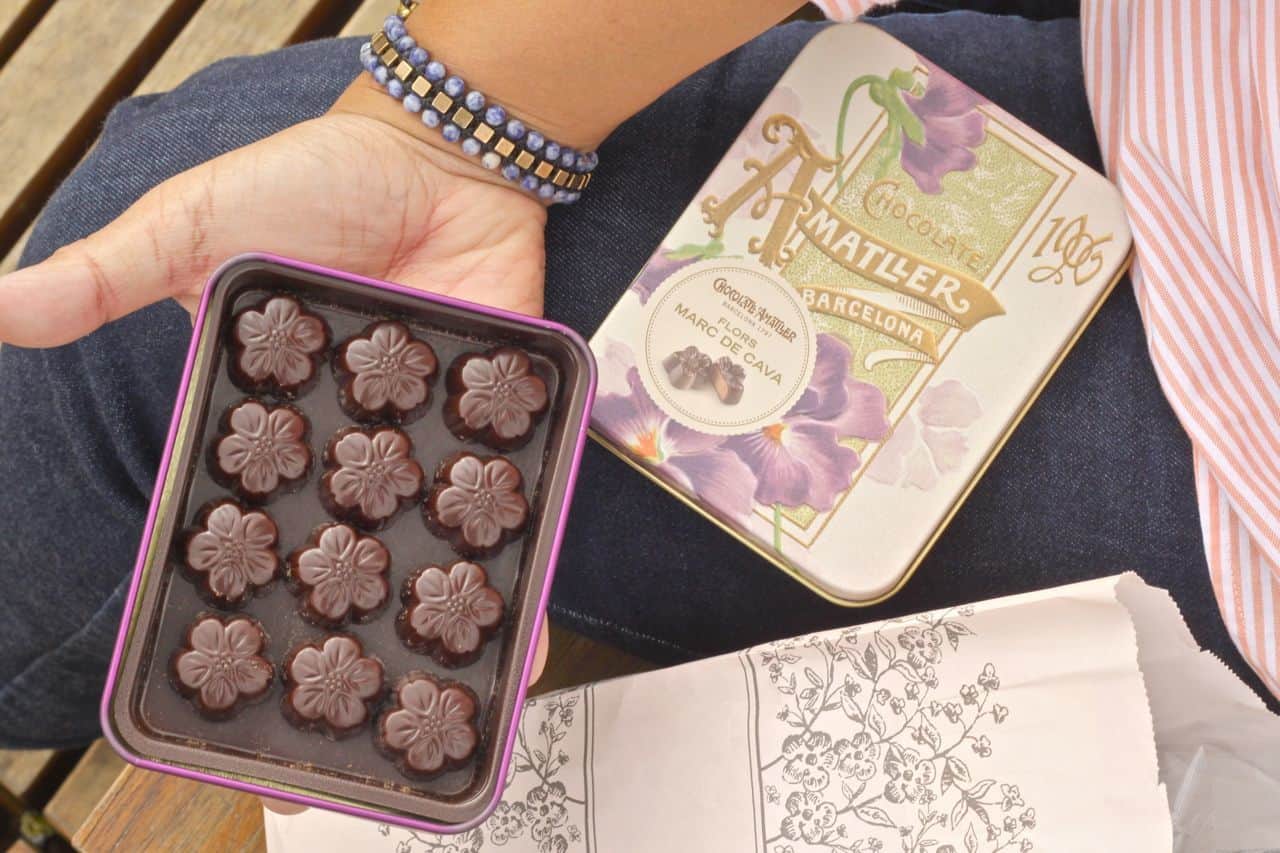 You can hit up a Barcelona supermarket and can find trusted, top-quality chocolate in the sweets aisle. It's a light, compact gift that you can give kids and adults. Simon Coll is a beloved local chocolate brand.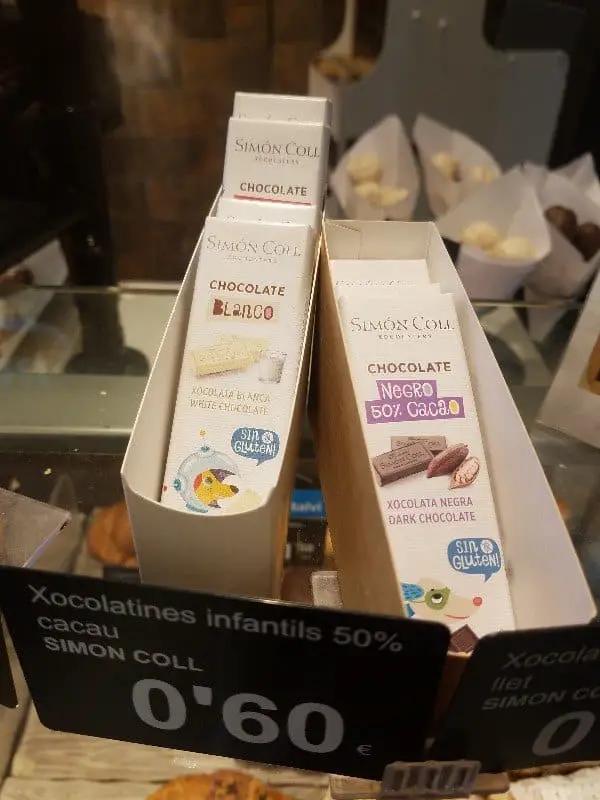 Where to buy chocolate: Fargas, the oldest chocolate company in Barcelona, in the Gothic Quarter; Casa Amatller next to Casa Batlló; La Xocolateria by Oriol Balaguer in Born; Chök the Chocolate Kitchen in the Gothic Quarter; and Petrixol Xocoa in the Gothic Quarter.
PORRÓN
The glass porrón wine pitcher is used as a fun way to have wine or sangria. Want to know how to drink out of it? Tilt your head back a little, then tilt the pitcher so a thin stream pours directly in your mouth – just like the way my father-in-law below does it! This is a total conversation piece when you have parties at home! Or, have the porrón as a decorative display on your kitchen countertop?. Traditionally, it's a (kind of) hygienic way to share wine amongst friends. Make a bet on who doesn't dribble wine down their chin!
Where to try the porrón in Barcelona? Head to Bar La Plata and ask for one. Don't be shy…just get in there 🙂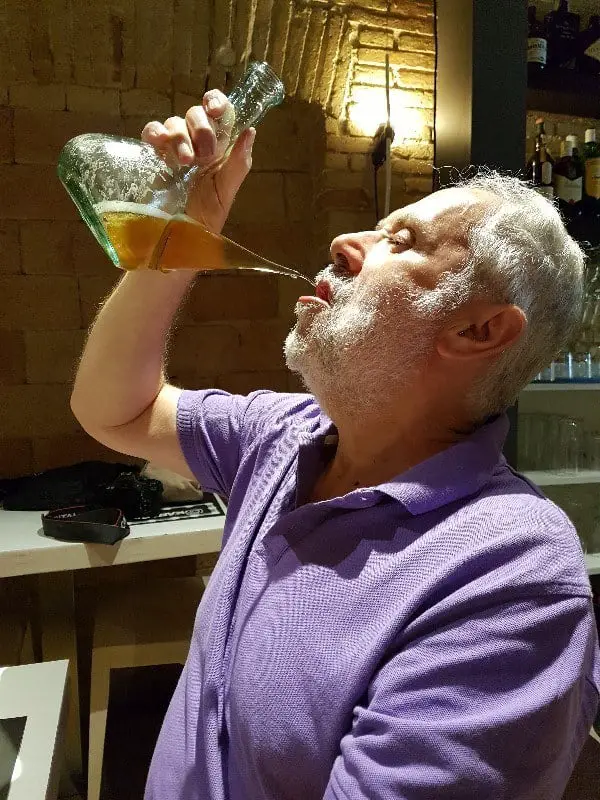 Where else to buy a porrón:  El Corte Inglés in Plaça Catalunya.
TURRÓN
Turrón is the reason why I gain an extra layer of winter fat during the holidays. Turrón, (or turró in Catalan) is a confectionary nougat shaped into a brick and made of almond, honey, sugar, and egg whites. Its texture can range from soft and chewy and pastelike like the turrón de Xixona, or, it can be brittle and hard like the turrón de Alicante. There are other variations like chocolate, caramel, coconut, and more! It's typically eaten only during Christmastime as a dessert or as a sweet snack to go with your coffee. When you serve it, you just cut it into small squares, put it on the table, and watch them disappear. Buy a few turrón varieties to compare different kinds!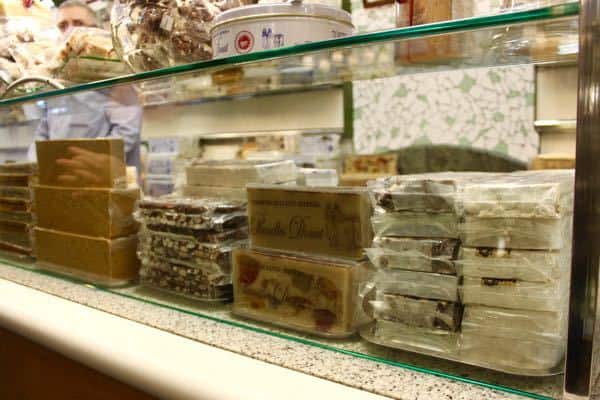 Where to buy turrón: Planelles Donat in Plaça del Ángel, Torrons La Campana in Born, Torrons Vicens (several locations: Boqueria, Las Ramblas, Poble Espanyol, etc.), Casa Colomina in Gràcia and the Gothic Quarter. 
WINE AND CAVA
While Spain exports their own wine, there are still so many undiscovered wines that haven't left the country! Some of those most important wine regions in Spain are in Catalonia, including Penedes, Priorat, and Empordà.
One of the standout wines of the moment is cava, a sparkling wine, similar to champagne. You might recognize the cava brand, Freixenet, which has its cellars outside of Barcelona in Sant Sadurni d'Anoia (a fun place to tour too!). Cava comes in white and rosé, and you should always drink it cold.
Another important "wine" is vermouth, or vermut, which is an aperitif of aromatized and fortified wine, sometimes mixed with sparkling water, and is drunk cold. You usually have it with some light tapas like olives, salty chips, or even anchovies. And you definitely have it with friends! Going de vermuteo (having vermouths before lunch) is trendy in Barcelona right now.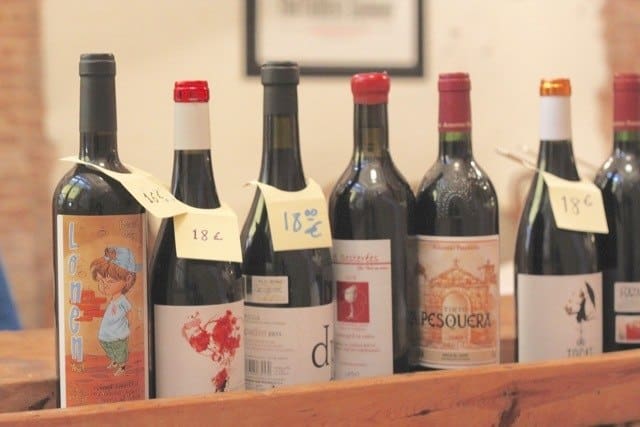 Where to buy wine: Casa Mariol near the Sagrada Familia, Morro Fi in Eixample, or the Bodega Maestrazgo in Born. (Read about unpretentious wine bars in Barcelona here.)
SWEETS / CANDY
They're small, sweet, come in beautiful packaging, and who doesn't like sugar? But don't just buy any candy in the supermarket's candy aisle. Try one of the few artisan candy shops in Barcelona that pour sugar, love, and handmade sculpting into their sweets. Head to the classic La Colmena, which opened its doors in 1849. It has 18 flavors of hand-wrapped candy like lavender, honey, and fennel. It also comes in beautiful packaging like below. La Colmena also serves other pastries so check them out. It's one of the lightest gifts to bring back from Barcelona!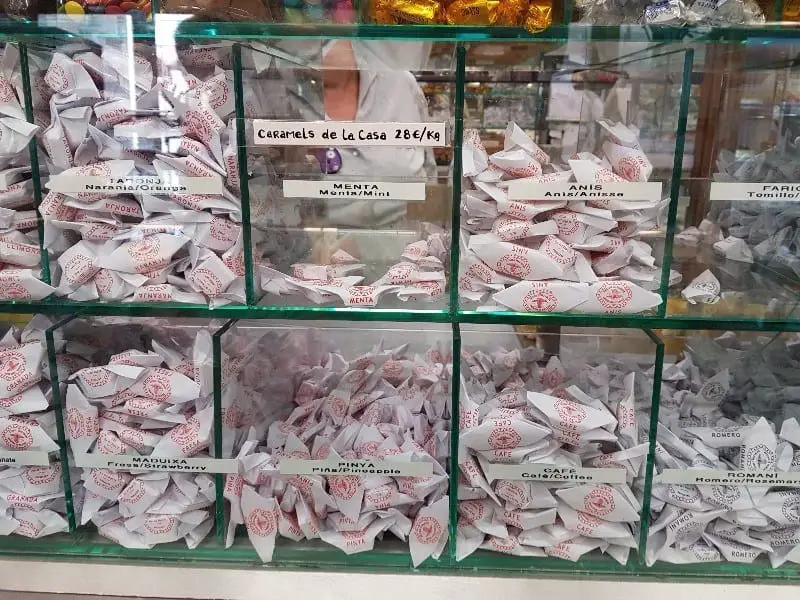 Where to buy sweets: Pastisseria La Colmena in the Gothic Quarter; Papabubble (see it made in action and even make your own) in Born; and Çukor, which has a nostalgic-feely workshop and shop in Gràcia.
CANNED SEAFOOD AND VEGETABLES
Growing up in southern California, I thought of canned goods as "emergency earthquake food". But in Spain, tinned foods can be a delicacy! I always bring a few cans of unfamiliar seafood for my friends and family, particularly razor clams because they can't be found in the US (at least that I know of).
Think of the incredible seafood available in Spain: mussels (mejillones), Cantabrian anchovy fillets, octopus (pulpo – SOOO good!), and bonito tuna (bonito del Norte), cockles (berberechos) from Galicia, and tuna belly (ventresco de atún). They can go up to 40 euros a can! It's no wonder the premium canned seafood is locked up in a clear plastic case at the supermarket. Even Anthony Bourdain raved about the tinned seafood in Spain. Some of the packaging is also beautiful and will be sure to impress your friends.
FOR VEGETARIANS! Want some tinned veggies? Try the white asparagus as a tapa or the piquillo peppers to be mixed in a salad.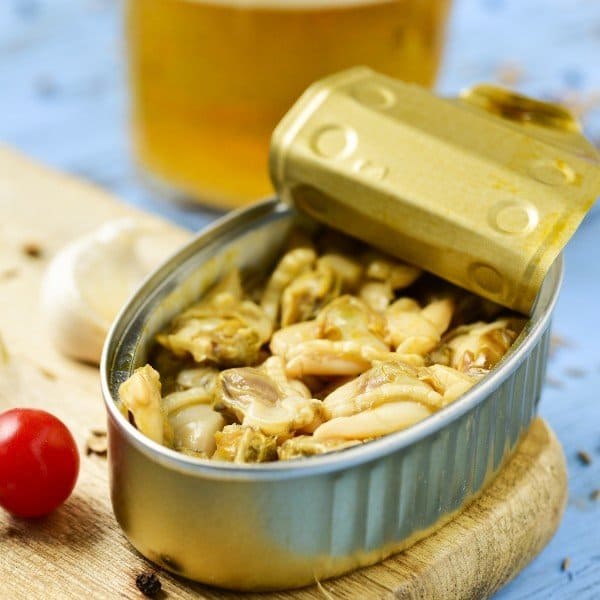 Where to buy canned foods: Entre Latas in Sant Antoni, Colmado Quílez in Eixample, Club de Gourmet at El Corte Inglés Market in Plaça Catalunya. Alternatively, go to any supermarket. The price will let you know if it's good 😉
BEAUTIFUL THINGS, BORN LOCALLY
FC BARCELONA MERCHANDISE
Some of the best Barcelona gift ideas are as simple as this: an FC Barcelona jersey! If you're a sports lover or know someone who is, why not get the real deal from the city of origin? But don't just limit it to FC Barcelona kits. More Barcelona gift ideas are scarves, hats, drawstring bags, sweatshirts, backpacks, socks, watches, maybe even red-and-blue underwear? It might be an easy gift for a football / soccer / Barça fanatic!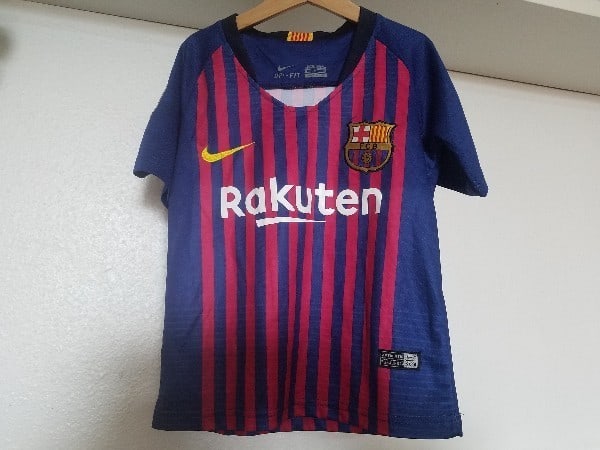 Where to buy FC Barcelona gear and accessories: FC Barcelona Shop at Camp Nou, official FC Barcelona stores at several locations (Sant Antoni, La Maquinista mall, etc.), Nike store on Passeig de Gràcia, El Corte Ingles in Plaça del Ángel.
ARTSY AND DESIGNER GIFTS
So, maybe you're creative, and you're seeking more hip and design-y gifts from Barcelona, Spain. The museum gift shops have some of the imaginative souvenirs from Barcelona! See below, my cousin, who fell head over heels with these dolls LOL. Or maybe you're looking for a 3D puzzle of the Sagrada Familia that your 10-year-old niece would enjoy? Or what about a ruler printed with the Keith Haring mural of El Raval? Craftsmanship and local artistry are carefully curated in these gift shops.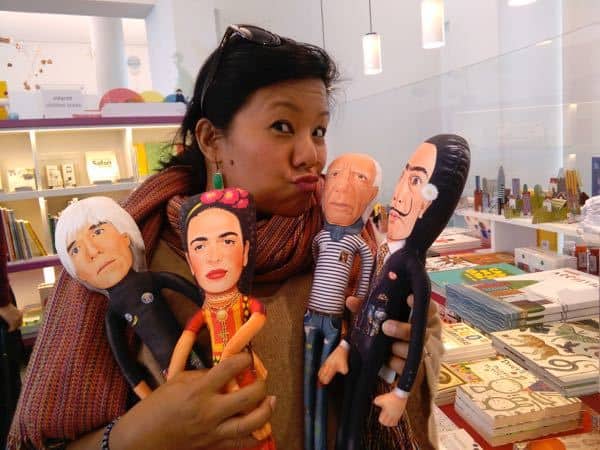 Where to buy creative gifts: MACBA gift shop in Raval, Laie CCCB in Raval, the Picasso Museum in Gothic Quarter, or the Fundació Miró in Montjuic.
ESPADRILLES / ESPARDENYES
Espardenyes are traditional shoes that have a cloth exterior and a natural fiber sole. Often worn for dances like the Sardana, espardenyes can also be worn casually in the summertime. The traditional ones used for performances that have laces look a bit complicated to wear as your go-to shoe. But you can still buy practical and fun espardenyes that you can look cute in and use for everyday wear – like the ones below.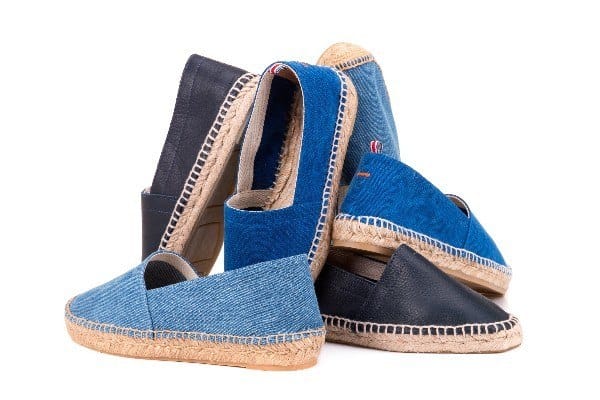 Where to buy them: Toni Pons in the Gothic Quarter, La Manual Alpargatera in the Gothic Quarter, and Bon Vent in Born.
AVARCAS
These leather sandals look so Mediterranean, so "Spain summer"! But the Avarcas aren't from Barcelona – they originated on the island of Menorca, Spain, and are also called Menorquinas. Avarcas used to be worn by only peasants, but today they're a total classic all over Spain, and are quite comfortable too. They're worn by local men, women, and kids, and go with everything from jeans to flowy skirts to butt-cheek baring shorts. They come in different designs (flat, wedged, etc.) and colors (plain, patterned, sparkly pink). If you come here in the summer…look around at locals' feet and spot the Avarcas. Bring a pair home, and you'll feel like you're still vacationing in the Mediterranean!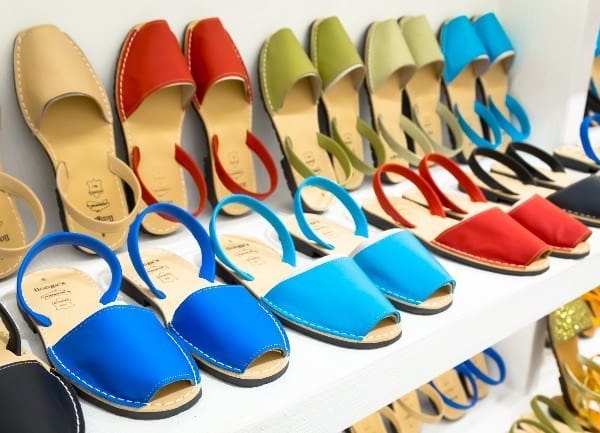 Where to buy Avarcas: Toni Pons in the Gothic Quarter, Handmade Avarcas and Espadrilles in Gothic Quarter
OFFBEAT KNICK-KNACKS AND NOVELTIES
CAGANER
Want to be a cool host during your annual Christmas parties? Buy a caganer! The caganer is literally "the shitter", and it's a figurine of a man wearing a red Catalan hat (barretina) with his pants down, crouching to take a crap on the ground. It's placed in the Nativity scene during Christmastime. *record scratch* :-O Catalans have a weird sense of humor when it comes to defecation! The traditional caganer is a peasant, which signifies that he makes the land fertile with his poop, drawing luck and good fortune the rest of the year. Today, more pop culture figurines are made like the Pope, Donald Trump, or Lionel Messi, and are fun to laugh at when at the Barcelona Christmas markets. Read more about the caganer here. Buy a caganer, pack it in your box with the Baby Jesus and Christmas ornaments, and you'll be having a Barcelona Christmas all over again. Something to pass on to your children's children, eh?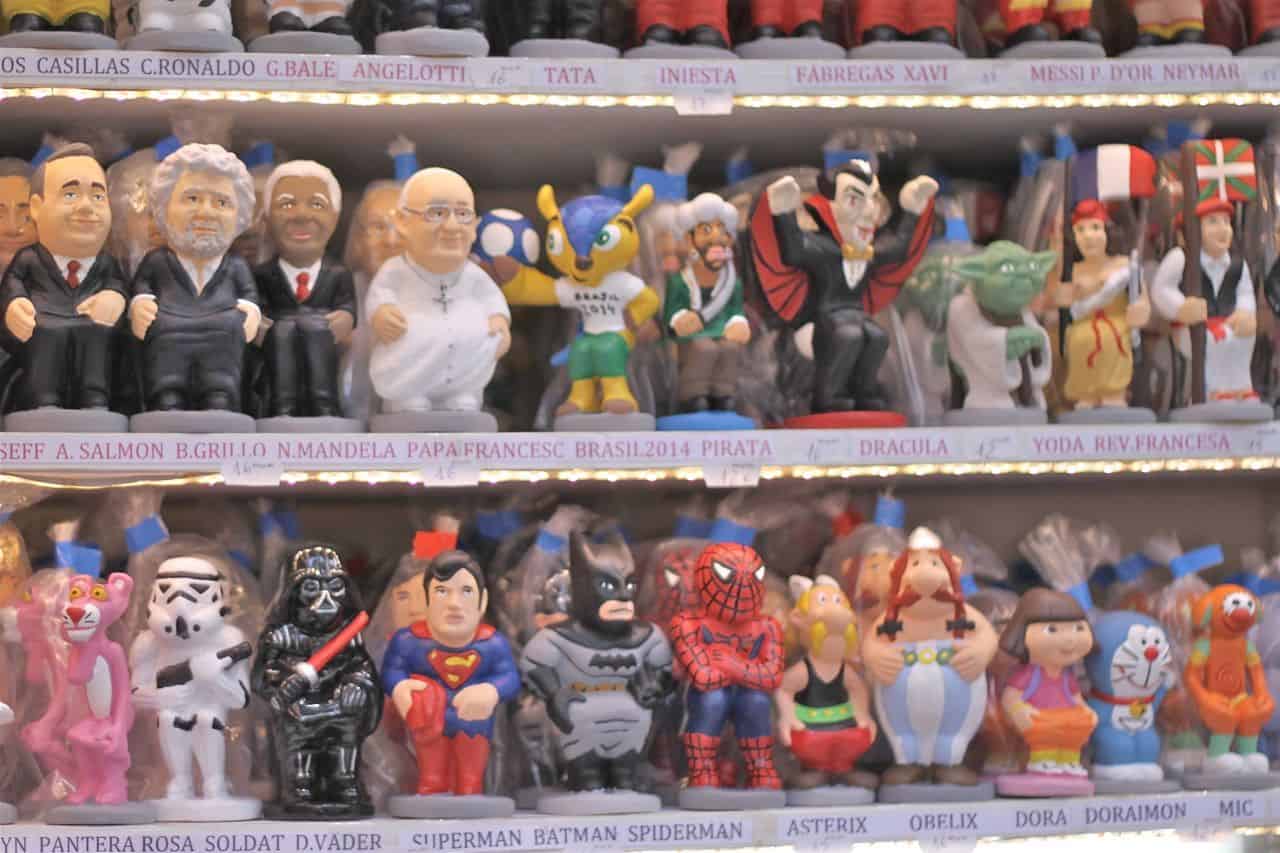 Where to buy the caganer: Travitabac Cigar Store in the Gothic Quarter, Itaca in the Gothic Quarter, Nath's on Las Ramblas in the Gothic Quarter, and Caganer.com (store is in Girona, online only during the off-season, get one customized!). Caganer.com is also all over the Christmas markets during Christmastime: Sagrada Familia Christmas market, Feria de Santa Llúcia Christmas market in front of the Barcelona Cathedral. 
CAGA TIÓ
Another fantastic gag gift, or an affectionate memento of your Barcelona Christmas, that has to do with defecation..AGAIN! My obsession with the caga tió, or the tió de nadal, started when I learned about it. If you don't know what a tió de nadal is, it's a trunk of a log that is perched on two sticks and has a happy face. He's a character that comes out only during days leading up to Christmas Eve. The children feed him nougats, orange peels, and sweets every night before bed, then cover him with a blanket at night as he digests his food under the Christmas tree. On Christmas Day, the kids beat him with a stick so he poops presents. (Read my "farcical caring for your caga tió" here.) ANYWAYS…you can pick up one of these at the Christmas markets which start in late November. You should adopt this tradition also – I did!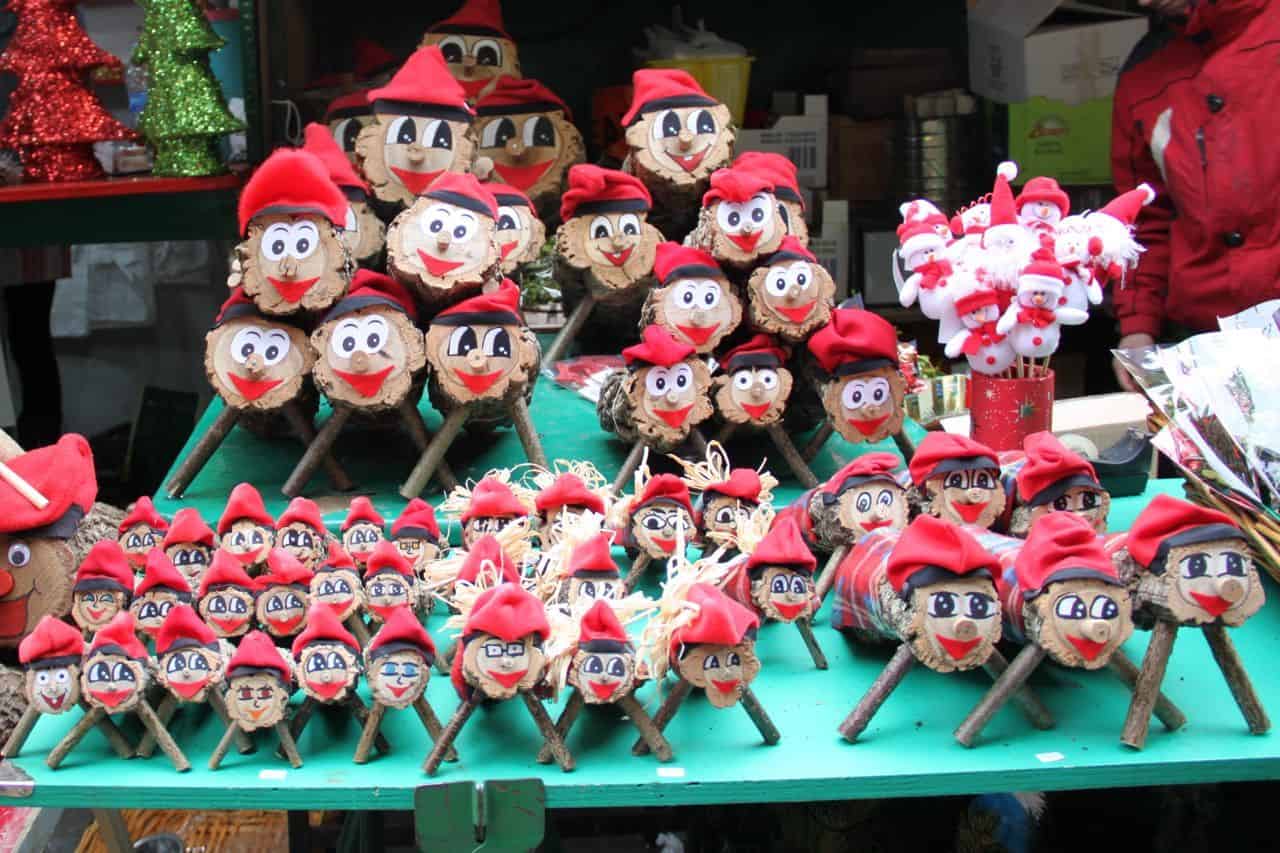 Where to buy a tió de Nadal: Christmas market at Sagrada Familia, Christmas market at the Barcelona Cathedral. 
COUNT ON THE CLASSICS
T-shirts
I'm not going to be a snob about t-shirts. You can find them EVERYWHERE in Barcelona souvenir shops. And honestly, some of them aren't cheesy. I stepped into a souvenir shop last week with a visiting friend, and they had some decent designs. They're all over Ciutat Vella and by Sagrada Familia.
BUT, you can find creative screen-printed T-shirts – designed with some inside Spanish/Catalan jokes like "We are the xampinyons" (means "mushrooms, pronounced "champ-in-yohns") with a picture of mushrooms. Get it? A take on Queen's "We are the champions". Or, take, for example, this one pictured below, which is my husband's t-shirt. This is a famous Catalan comedian, Eugenio, who often mixes Spanish and Catalan. He's saying "¿Saben aquel que diu…?" Now, where else can you find a t-shirt like this – where no one in your home country gets the joke? Again, it's a conversation piece!
Where to buy funny, local, screen-printed t-shirts: Limaloca in Gràcia, Pampling Barcelona Pi in Grácia, Friking Barcelona (several locations: Gothic Quarter, Grácia, etc.)
ANTIQUE ART
Dress your home's walls with antique art from Barcelona. I was impressed when one of my friends, Laura, visited from California, and found this antique painting on a wooden panel. The vendor told her it was over 100 years old! I looked at it and turned it over, and this thing looked pretty old. Whether it's true or no, she definitely lucked out on a cool and quirky antique that she can hang on her wall now – for under 20 euros! She got this antique art piece at the Encants market. For a totally original art piece, try your luck at the Barcelona second-hand markets.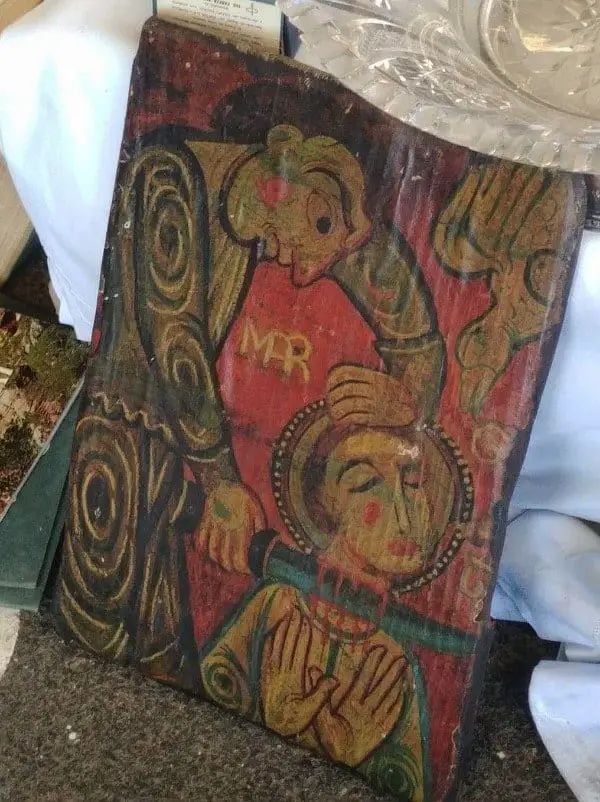 Where to buy vintage / antique art: Encants market in Glories, Mercat Gòtic de Antiguitats in Gothic Quarter, Bulevard dels Antiquaris on Passeig de Gràcia, Mercantic in Sant Cugat. 
Now, what about Spanish ceramic tiles, Spanish fans, and mantónes? And all the "(stereo)typical Spanish" goods, right? They're not very Catalan, but more from Andalucía. Get quality items at Arte Escudellers (various locations in the Gothic Quarter), Itaca in the Gothic Quarter, the souvenirs section in El Corte Ingles at Plaça Catalunya, or artisan shops in Poble Espanyol. 
So, I've got a lot of family and friends to whom I bring gifts every year. And sometimes, I just pick them up at the supermarket. So here are more things to buy in Barcelona, Spain, that you can squish in your suitcase:
Spanish ham – If you're not American, you can probably bring ham to your home country. Don't do it if you're American because you'll get fined and you'll get it taken away. Meat can only be imported if it's been processed by the USDA. 🙁 Alternatively, you can try to sneak it. But don't say I told you!
Galletas María – these are traditional breakfast cookies that are thin and round, and they're packaged in stacks. Yes, in Spain, some people have cookies for breakfast! But they're simple, classic, and not too sugary – and you can get them in any supermarket. Look for brands like María de Fontaneda or Trias.
Coffee – I can't stand American coffee because it tastes bitter to me. I usually bring Saimaza brand (Spanish, inexpensive, and traditional). For more premium brands, try Illy, Lavazza, or Segafredo Zanetti. I believe those are all Italian though.
Filipinos cookies – I'm Filipino-American. And I bring a TON of these home to my family! They get a kick out of seeing the packaging. They're small cookies shaped like donuts, and they come in milk chocolate, dark chocolate, and white chocolate flavors. Trust me, if you know a Filipino-American, they'll LOVE these. Then you'll start discussing why the cookies were given that name…
Chicken bouillon cubes – Yup, my mom says that they are better than the ones in the US, so I'm always sure to give her a package that will last her a year. Avecrem is a classic Spanish brand.
Ines Rosales Tortas – I stuffed these Sevillano delicacies in my suitcase last summer, and they were a hit! These are light, flaky pastries flavored with anise and sesame seeds. They're handmade and individually packed in beautiful waxed paper. They're a traditional snack that you can have with a nice warm afternoon coffee.
Cookies from Trias – I love this brand of cookies! They're a Spanish brand since 1908. The nostalgic packaging is also attractive.
OTHER EASY GIFTS FROM SPAIN (YOU CAN FIND THEM IN A SUPERMARKET)
Cacaolat chocolate milk – Cacaolat is a quality Catalan brand of chocolate milk, and its vintage packaging is adorable. You can buy individual juice boxes! Fun fact: Cacaolat has direct ties to the Granja Viader chocolate shop in Raval. Try a thick hot chocolate here!
Chupa-Chup lollipops – Did you know Chupa-Chups are the original lollipop? Did you also know that artist Salvador Dalí designed the wrapper, which is still being used today?
Olives – Try the Manzanilla, Hojiblanca, or Gordal olives. Want them stuffed?  There are anchovies-stuffed or piquillo-pepper-stuffed olives too.
Sweet Paprika – Sweet paprika, under the name Pimentón de la Vera, is flavorful paprika only made in Spain. Its intense flavor comes from its long smoking over holm oak logs. Try them over deviled eggs or kebabs. Delicious!
Saffron – One of the most expensive spices, saffron is another staple of Spanish and Catalan cooking. Some of the best quality saffron in the world is found in Spain, and it's used to add an orange color and depth to paellas and pilafs. You wouldn't believe how something so small can cost so much. BUT, you only use a few threads because a little goes a long way.
Pedro Ximénez wine – This is a port sherry wine that is good for cooking, and, of course, drinking. It's the sweetest wine in the world, which tastes really good when cooked with beef or pork. It's sweet, syrupy, and makes a good gift for people who say they're not wine drinkers.
Welp, that's my list! There are still so many non-souvenir souvenirs to be mentioned! But I hope you have a good idea of what to bring back from Barcelona! What do you bring back? What have I missed? Do you need more ideas? Hit me up in the comments, and I'll see if I can help!