*This site contains affiliate links, which means I receive a commission when you buy. See my full disclosure.
How to Spend 4 days in Barcelona
If you can spend as long as 4 days in Barcelona, you can bask in the city's perpetually sunny weather, Catalan food delights, and balmy seaside. But Barcelona is more than just a fun hedonistic holiday. It has an exciting history, which is evident in its Roman ruins, elegant avenues of Modernist architecture, and colorful landmarks by architect Antoni Gaudí. As a resident of Barcelona, I've been lucky to enjoy the city at my own pace. But for first-timers who have less time, you'll have to maximize your days. I've created this 4-day Barcelona itinerary for you – so you can marinate in all its glory. Read on…!
What to see in Barcelona in 4 days
Park Guell

Sagrada Familia

La Boqueria

Las Ramblas

Casa Batlló

La Pedrera (Casa Milà)what

Picasso Museum

Arc de Triomf

Ciutadella Park

Montjuic 

Tibidabo
<<If you're staying for 3 days, check out my detailed post, Your Barcelona Itinerary: 3 days>>
Save money in Barcelona
Save money when you come here! Barcelona sightseeing can be really pricey. If you're planning on seeing more than 5 Barcelona sights, consider buying a Barcelona tourist discount card.
I highly recommend the Barcelona City Pass, which is 77.25€ (transaction fee included). It includes the Hop-On Hop-off Bus and the top things to see in Barcelona, including free entrance to the Sagrada Familia and Park Guell. It also includes a round-trip ticket using the Aerobus (normally 5.90€), the bus that takes you back and forth to the airport. You also get a 20% discount on La Pedrera (Casa Milà), Casa Batlló, Camp Nou, and MORE!
Here's the breakdown:
In short, if you found the cheapest prices online for Hop-On Hop-Off Bus (27€), Sagrada Familia with audioguide (17€), Park Guell (8.50€), La Pedrera (22€), Casa Batlló (25€), it would be 99.5€. <– These are 2019 prices.
And Barcelona City Pass is 77.25€! That's a savings of over 22€. You can buy it through Tiqets, which I've used to buy my own tickets to the Sagrada Familia. To buy your pass, you select the time that you'll be in Barcelona. You purchase your ticket, then you pick the dates to see the attractions. And you DON'T have to print it out, you can just use your phone.
Buy your Barcelona City Pass here
Where to Stay in Barcelona
For the most convenient place to stay, I suggest staying central like the Gothic Quarter or El Born. Check out my full neighborhood guide and places to stay!

DAY 1
The first day is all about getting a feel for Barcelona's vibe! The place to start is Ciutat Vella, or "Old City" of Barcelona. This includes Born, Gothic Quarter, Las Ramblas, and the Barceloneta. This area is packed with lots of Barcelona attractions, which may seem a lot to see in one day. But I promise it goes by quickly! It's about 7 kilometers of walking – and it doesn't mean rushing. It's totally doable!
Morning
Plaça Catalunya. Start here and walk down the famous pedestrian street called Las Ramblas. Stop and get a drink at the famous fountain "Font de Las Ramblas". Legend has it that if you drink from here, you'll fall in love with Barcelona and will come back.
La Boqueria Market. It's Barcelona's most famous food market of hanging ham legs, carefully displayed exotic fruit and rows of chocolate bonbons. It's a good idea to head here in the morning as this place gets packed. It's also polite to buy something while you browse, so I highly recommend one of the 2€ juices. You'll feel super healthy afterward!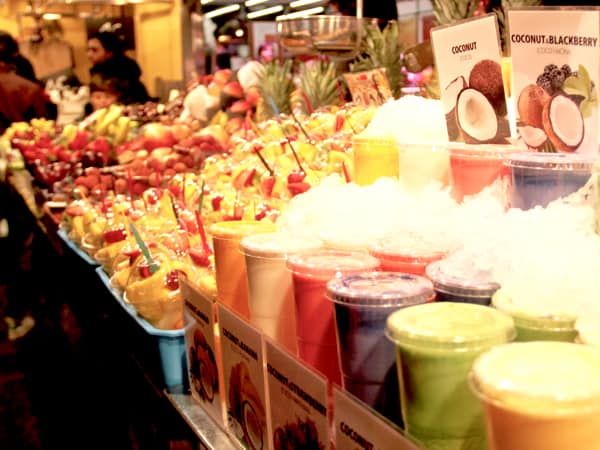 Plaça Reial. This is a large public square with porticoes, surrounded by bars and restaurants. It also has a central and iconic fountain and is always busy, day and night. Notice the light posts – they were designed by a young Antoni Gaudí! 
Christopher Columbus monument. This monument of the famous explorer marks the end of Las Ramblas. You can go up and get a view of the street and the sea! It's 6 euros to go up, but it now and save 10%! Buy your Christopher Columbus monument tickets here.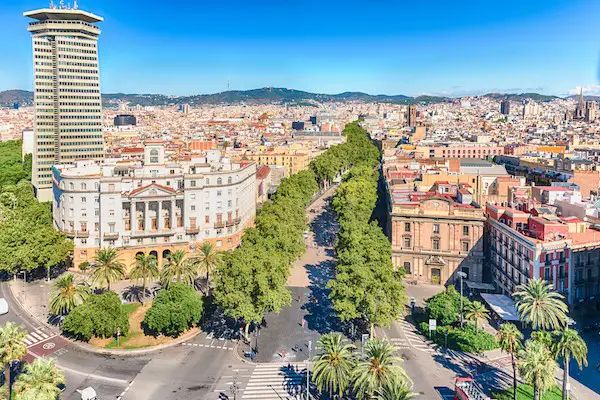 If you walk across the wooden bridge (Rambla de Mar), you'll see the Maremagnum Shopping Center. It has all the basic Spanish shops and is the only shopping center open on Sundays.
Plaça Sant Jaume. This is a popular square that was once a major square during ancient Roman times. It has the Barcelona City Council on one side, and the Palau de la Generalitat on the other. No need to hang out here long. If you're hungry and want some cheap eats, head to Conesa (->click to see the menu <-). Locals and tourists both love it, so you may have to queue for a while. 
Plaça de Sant Felipe Neri. This somber and mysterious plaza has a haunting past. It's where 42 people died during a raid ordered by dictator Francisco Franco. It has a beautiful fountain in the middle.
Plaça de la Seu. This large public square often holds events and markets and is also home to the Barcelona Cathedral. (I always see Instagrammers in front of this church with NO ONE outside. They must go at 8am to get that shot!)
Afternoon / Evening
Mercat de Santa Caterina is a food market that's lesser known than La Boqueria. But it's just also interesting and less tourist-centric. You won't find so many out-of-Spain fruits or outlandish displays – mostly local goods. In fact, every single food market in Barcelona is fantastic because they all have a variety of foods. 
Museu Picasso is worth going inside if you LOVE art. If not, I say skip it. It shows Pablo Picasso's art during his formative years of experimentation. Basically, not that much Cubist art that you've seen in your high school textbooks. It's still interesting if you want a better understanding of his life, and it's also in a beautiful venue of an old palace. Queues can be super long, so buy your tickets ahead of time. And be on time! Buy your Picasso Museum tickets
Basilica de Santa Maria del Mar. This mysterious church and is based on the famous book "Cathedral by the Sea". It was constructed in the 1400s and is more intriguing than the Barcelona Cathedral.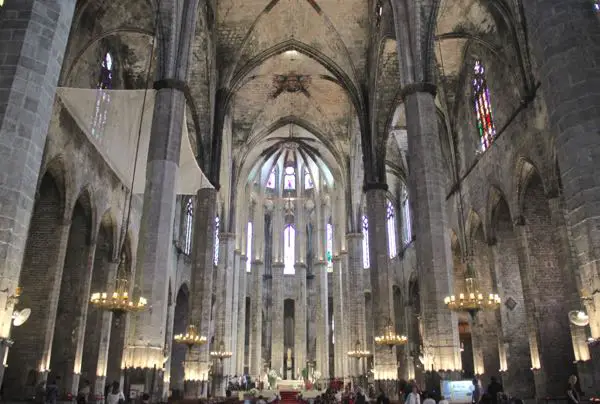 Passeig del Born is a cool promenade. It's great for daytime and nighttime as it has many restaurants and bars with terrace seating. It also has its dark history: it was an execution ground during the Inquisition #spooky
Born Cultural Centre, is a glass and iron building and is formerly a food market. Now it's a cultural center of events and workshops. In the middle are Roman ruins that you can tour as well.
Ciutadella Park is the city's central and largest urban park. You can spend all day here, lounging on the grass, visiting the Cascade, or even rowing boats in a small pond. It's one of my favorite places to relax when I want to stay in the city and spend the day. Retreat here if you want to take a break!
Arc de Triomf. This triumphal arch (although not as immense and elegant as Paris's arch) is a brick and stone arch constructed for the 1888 Barcelona World Fair. It's also a great spot to take your Instagram selfie 🙂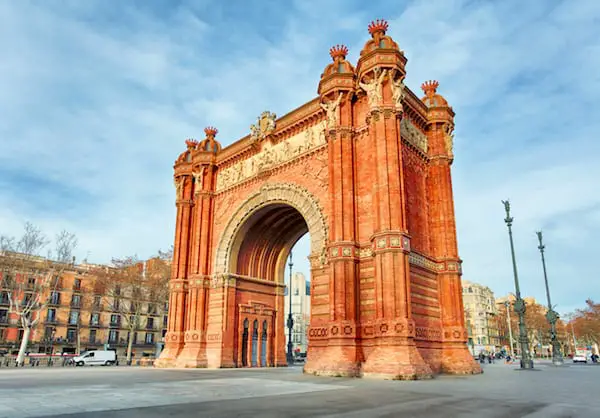 DAY 2
MODERNIST BUILDINGS AND GAUDÍ. Today, soak in the city's major heritage: the architecture!
Morning
Sagrada Familia. It's a no-brainer to go inside the Sagrada Familia. It's one of Barcelona's best attractions and the most popular in Spain. For that reason, I highly recommend that you buy your tickets ahead of time. Buy them here via Tiqets) Expect to spend at least 2 hours. If you buy the "basic ticket" (see inside, no audioguide, no tour), new rules say that you can only enter after 2pm. I also highly recommend you at least do an audioguide – as you'll learn how every detail of this church is VERY intentional. It's enlightening and inspiring.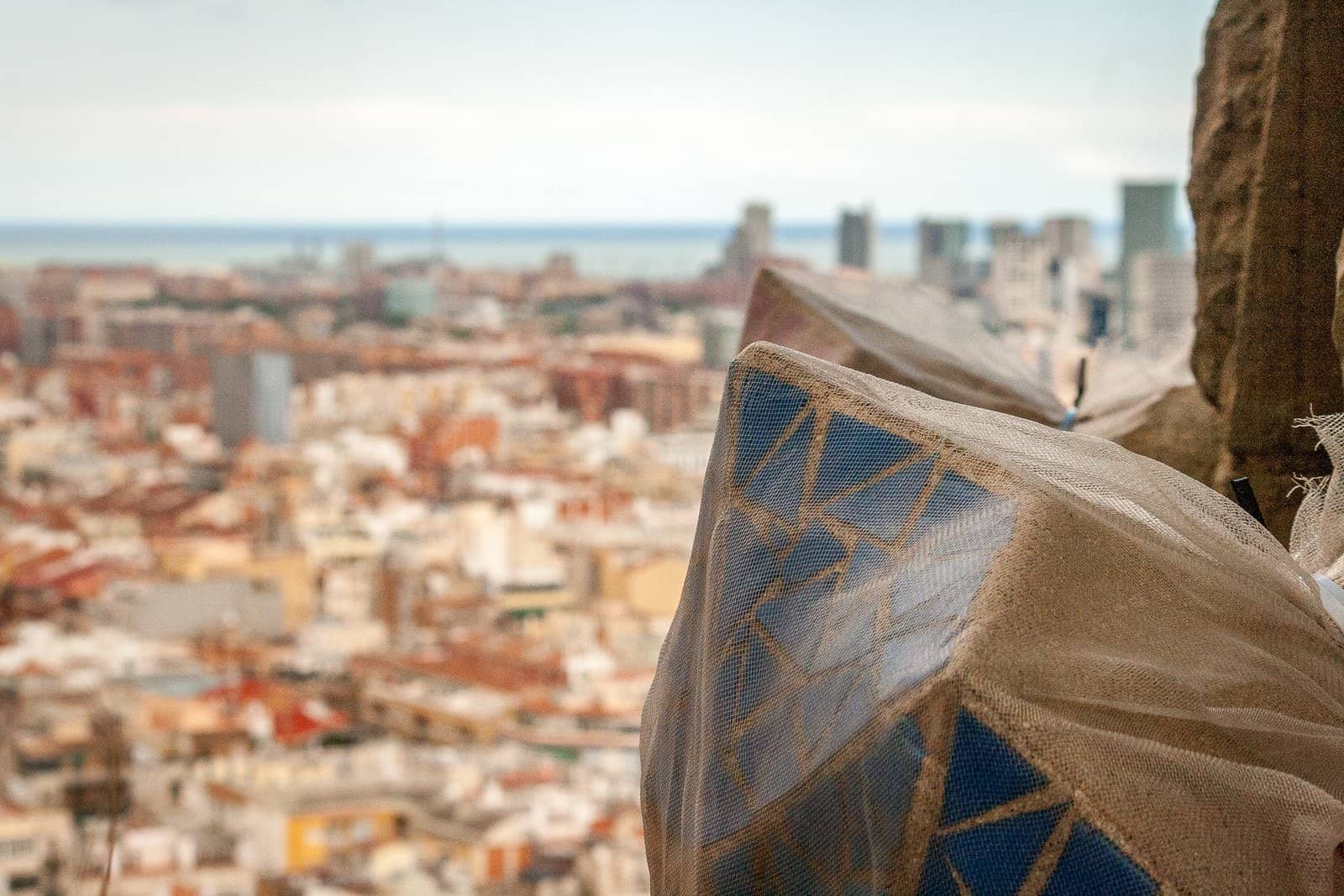 Recinte Modernista de Sant Pau. Not far from Sagrada Familia is this incredible complex, the largest art nouveau complex in the world. This set of buildings is decorated with brightly stained glass, tranquil gardens, and mosaics. It's also a former hospital and is definitely underrated! Taken from a Google Review: "I had no idea what to expect. But once I got inside I saw some of the most beautiful buildings my eyes have ever seen." Buy your Recinete Modernista de Sant Pau tickets here
Afternoon
Passeig de Gracia. This is an elegant and major Modernist street of Barcelona which has mid-range to upscale shopping, bars, restaurants, and offices. This is also where you'll see two of Gaudí's masterpieces:
La Pedrera –  Can you believe this residential building does not have any 90º angles? The best part of La Pedrera is the upper terrace, where soldier-like chimneys guard the rooftop. Time to spend here: 1 to 1.5 hours. Buy your skip-the-line entrance to La Pedrera here
Casa Batlló – Skeleton balconies, a dragon roof, and an interior of whale ribs. No, it's not Halloween, it's just another Gaudí whimsical creation. It is definitely worth going inside. The time to spend at Casa Batlló is about 1 to 2.5 hours. If you buy your tickets at the door, they cost 4€ more, so buy online first. Buy your tickets online to Casa Batlló
<<Which to go inside? La Pedrera or Casa Batlló? If I personally had to choose, I would definitely go inside Casa Batlló as the interior is more interesting.>>
Park Guell. This is the park perched on a hill and is designed by Antoni Gaudí. It's where art imitates nature, and nature imitates art. Palm trees formed by using rocks, colorful mosaics and medallions, and panoramic views of Barcelona will make you feel romping around like a 5-year-old again. Expect to stay here for at least an hour. Entrance is based on a time window, so be sure to buy your tickets in advance! Buy your discount tickets on Park Guell 
DAY 3
Morning
Montjuic is one of the two hilly areas of Barcelona, the other one being Tibidabo. Montjuic is quite an expansive area – as it has the Fundació Joan Miró, Poble Espanyol, MNAC (Museu Nacional de Arte Catalunya), several gardens and viewpoints. It's not really a place to walk around quickly as these places are spread out. One fun way to get a view of Barcelona is to take the…
Teleferic, the Montjuic cable car. Get a bird's eye view of the city. It has 3 stops: Parc Montjuic, Montjuic Castle, and Miramar. You can get off at any of these stops or do a round trip. Don't expect to take any cool photos though, the glass was quite dirty when I went 🙁 (Buy your discount Teleferic tickets here for 11.43€.) Go to Martínez to get lunch and have a nice view of the city!
Montjuic Castle. If you want to get another great view of Barcelona, head to this former military fortress dating back to the 16th century. Today, it's used for events and random wandering and view-peeping.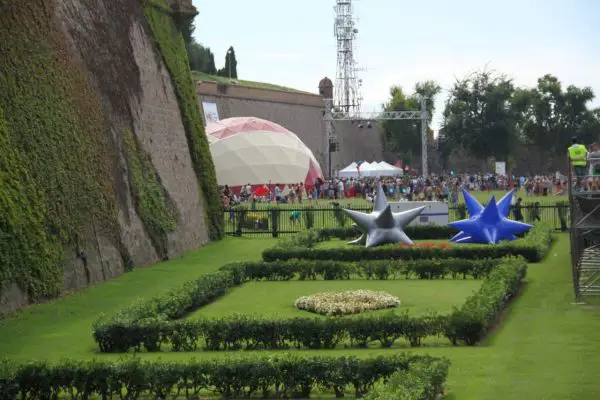 Afternoon:
The beaches. Barcelona has 4 kilometers of sand. (Fun fact: the beaches were "created" just for the 1992 Olympics.)The most popular beach in Barcelona is called La Barceloneta. It's wild and atmospheric, and it's the best beach with a stunning architectural backdrop of "El Peix" and the W Hotel. BUT, I don't recommend hanging out here unless you want mojitos and crisps constantly hawked to you or want to see obnoxious bachelor parties in the middle of the day. Instead, try Mar Bella beach or San Sebastiá if you want to lay catch some rays.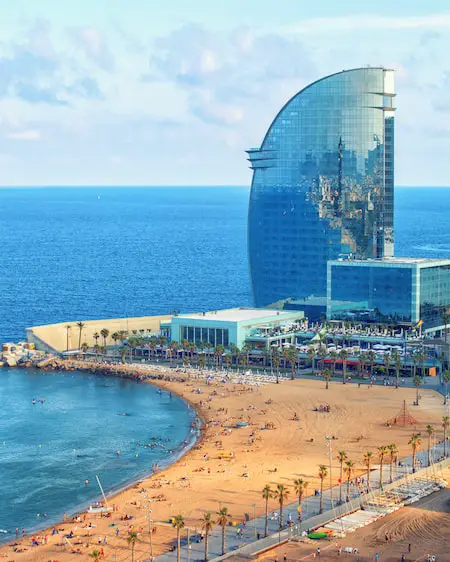 DAY 4
OK, you've done the most important activities in Barcelona, so I'm giving you some choices on what to do in Barcelona in 4 days:
Tibidabo – Barcelona also has another vantage point other than Montjuic, and it's the highest point in Barcelona. And in my opinion, they have the BEST panoramic views of Barcelona. There, is the beautiful Sagrat Cor Church. I've seen some amazing images from the top of the church (you can take an elevator for 2€, which I plan to do this year!) Alternatively, if you have kids, you can also enjoy the Tibidabo Amusement Park. I went here last year, assuming it would have cheesy rides and cheesy everything, but I was wrong! It has the most amazing views of the city. It also has vintage-style rides with a carnival feel. Highly recommended!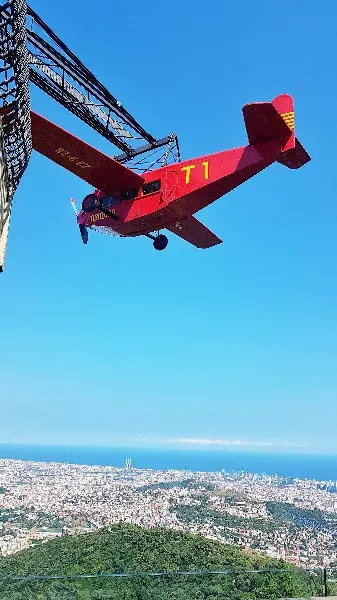 Gracia neighborhood. This hip little neighborhood doesn't have any major attraction in particular. Its appeal for expats to live in this residential neighborhood is its charming squares, art galleries, and organic shops. It's one of my favorite neighborhoods when I need some creative inspiration! I would live here if the streets weren't so close together.
MACBA and El Raval district. A stark white museum of contemporary art, Museu d'Art Contemporani de Barcelona (MACBA) sits in the middle of a large plaza where skaters like to show off their skillz. Personally, I enjoy this museum more than MNAC because of the open space and minimalist feel. It's in the neighborhood of Raval, which is a multicultural, gritty neighborhood. It's got vintage shops, record shops, hip bars, and trendy restaurants and is worth exploring too.
Camp Nou Experience and Audioguide. I'm not a football / soccer fan, but my son is, and he knows every about La Liga and all the nerdy stats. If you can go to Camp Nou, you can hang out in the FC Barcelona locker rooms, go through the tunnel, and basically get as close to Lionel Messi as you will ever get. Buy your Camp Nou Experience tickets here
A day trip outside Barcelona. If I were to recommend any day trip, my first choice is 1) Montserrat, which is an incredible mountain range that you can hike your just stroll around. They are truly breathtaking! It is very accessible by public transportation. If not, try 2) Sitges. This is a whitewashed town and a relaxing beach area. Need more ideas? See my post on Barcelona Day trips and also get details on how to get there!
Recommended tours by me
Need more guidance once you're here? Want to save time? I've taken a few tours in Barcelona, here are a few I recommend:
The hop-on hop-off bus tour is a quick way to see Barcelona at a glance. I personally like doing thee bus tours because you get to see way more than you could on your two feet, and from a better view. Barcelona has its tight historic area, which is definitely walkable. BUT if you look at a map, the city is quite spread out, especially Eixample and Montjuic. I 100% recommend it. The hop-on hop-off bus ticket is valid 365 days of the year. The 2-day ticket has to be used consecutively. It's only 27€ for a 1-day ticket, 36€ for a 2-day ticket.  Book your Hop-on Hop-off Tourist Bus tour
A Barcelona bike tour. If you like some adventure, a bike tour works great in Barcelona. You can see the important areas really quickly with a bike! When I tried it, I realized I covered way more ground in 4 hours than I could in 2 days. On my tour, I biked through the Gothic Quarter, Born, and went through the promenade of the beach. (The last part was the best.)  But I got a nice dopamine hit and enjoyed a rewarding lunch afterward. Read my experience with Steel Donkey Bike Tours
A food tour is a fantastic way to get to know the local food and dining culture. I highly recommend the Sips, Sites, and Bites tour with Eye on Food Tours, given by Adrian. Not only does he know his local Catalan food, but he's also a huge history buff and can give you fascinating stories about Barcelona in a fun way. Guests have even invited him out for drinks after the tour! Book your evening tapas tour now
4-Day Cheat Sheet
Need a quick reference for this Barcelona 4 days guide? Here you go…
Day 1) The old town of Barcelona, Ciutat Vella: Born, Gothic Quarter, and Barceloneta
Day 2) Gaudí and modernist buildings: Sagrada Familia, Park Guell, Casa Batlló, and Casa Milà (La Pedrera)
Day 3) Montjuic area and the beach / port area.
Day 4) Your choice! Tibidabo, Gracia, or a day trip. Or maybe go back to some place you already visited and loved!
4-Day Itinerary, Barcelona: Map with Routes and Restaurants
Want to see what this looks like mapped out? It looks messy right now, but click the map to get a better view. Also, see the orange icons for suggestions on where to eat! And save the map on your phone!
Travel Tips
 Estimated Barcelona budget cost. I'm going to quickly guesstimate. And I'm NOT going to count your hotel stay. FOOD: You can probably spend about 5

€

for a basic breakfast (toast and coffee), 15

€

for lunch (menu del día), 30

€

for dinner. That would be about

50

€ 

a day for food

.

That number seems pretty average, so you can probably spend about 30

€

to whatever crazy amount to spend.
TRANSPORTATION: The most economical way to get around is to buy a T-Casual transportation card (formerly T-10 card) , which costs 11.35€. A T

-Casual card has 10 trips on it. So let's assume you use it to go to the Sagrada Familia (a round trip = 2 trips), Park Guell (a round trip = 2 trips), Montjuic (a round trip = 2 trips), and Camp Nou (a round trip = 2 trips). Then the airport (a round trip = 2 trips) to equal 10 trips, or one T-Casual card.

SIGHTSEEING: Let's say you go into 4 places to visit in Barcelona, paying the minimum fee. Again here are the cheapest prices online: Sagrada Familia (17

€)

, Park Guell (8.50

€)

, Casa Batlló (25

€)

, and the La Pedrera (22

€)

.

That's

72.50€. The total for 4 days is 283.20€, or 70.80€ per day. 

Again, it's an estimation.
Barcelona is relatively safe. It is safe to walk around. If you're a female solo traveler, practice the safety precautions as you would any city i.e. don't walk around drunk, etc. I would avoid the neighborhood of Raval at night as there are some sketchy areas around. If you're in a group, you should be fine. Yes, it's a cool area, and yes I've read in Facebook groups that expats live there and nothing has ever happened to them. Other than that, watch out for pickpockets, especially on the Metro, the Sagrada Familia, and any other high-touristy area.
You can drink the water from the tap.

It doesn't taste that great, but it's drinkable. And there are many fountains around the city so that you can fill your water bottle. If you want water from a restaurant, you'll have to order a bottle.
The local language is Catalan, although Spanish (also called castellano) is widely spoken. "Hola" is in both languages. "Adeu" means good-bye, and it's polite to say when you exit a shop, restaurant, or elevator.
Barcelona is also very kid-friendly, namely when it comes to finding activities and parks. I have 3 kids to show for it! Public transportation is also easy to use with kids, but a few metro stops do NOT have elevators. Ask someone to help you with the wheels as most people are happy to help.
Anything else you want to know about this 4-day Barcelona itinerary? Don't be shy, and let me know in the comments below. I read all of them!