*This site contains affiliate links, which means I receive a commission when you buy. See my full disclosure.
Beautiful beaches in Spain to put on your itinerary
The coast of Spain touches the Mediterranean Sea to the south and east and the rough Atlantic Ocean to the North and West. It also includes our exotic Canary Islands and Balearic Islands. From secluded coves to quiet fisherman's villages to rugged Atlantic cliffs, Spain's 5,000 kilometers of coast gives visitors different shades of shoreline. It's impossible to select just a few – the most beautiful beaches in Spain are in the eye of the beach-goer, they say!
So I asked top travel bloggers – where are the best beaches in Spain?
They weighed in on their favorites. Here are 10 beaches worth putting on your summer holiday itinerary. Break out the swimsuits!
<<Check out the best cities in Spain to put in on your itinerary, more recommendations from popular travel bloggers!>>
THE BEST BEACHES IN NORTHERN SPAIN
Sablon in Asturias
Claudia of My Adventures Across The World recommends Sablon, an intimate moon-shaped beach with luxurious fine sand. And it's only 100 meters!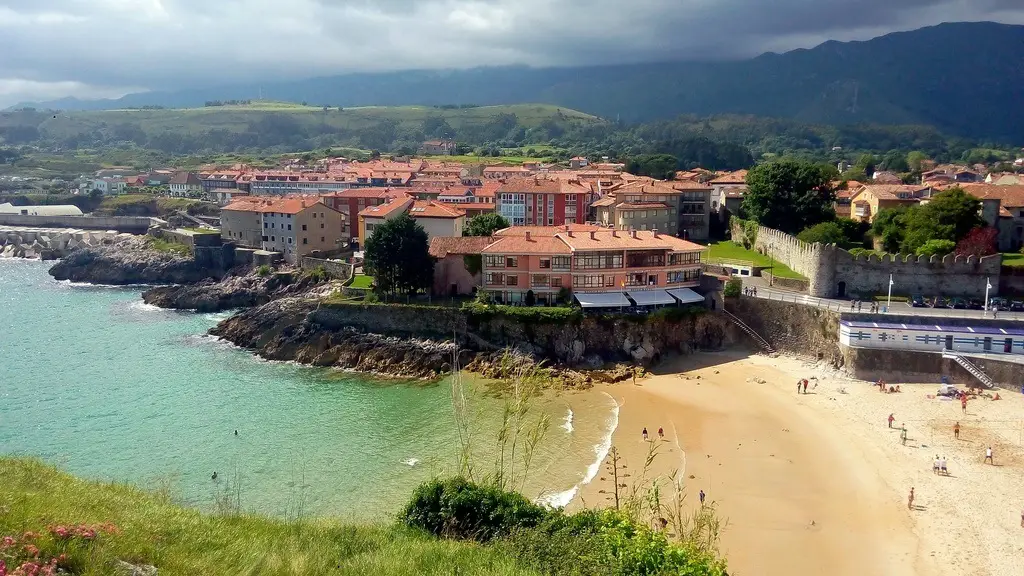 Sablon is the urban beach of Llanes, one of the loveliest cities in Asturias, in the North of Spain. The city is located at exactly halfway between Oviedo, the capital of Asturias, and Santander, the capital of Cantabria. It takes about 1 hour and 15 minutes by car to get there.
Sablon Beach is easily accessible from the center of the city (which is a lovely place to visit, by the way), and it is often used for sports and other kinds of events. It may get crowded during the peak summer months, though keep in mind that Asturias doesn't get nearly as hot as Southern Spain.
The beach is famous for Los Cubos de Memoria, which were designed and painted by Ibarrola in order to break the waves and protect Llanes harbor. They eventually became a permanent art installation unique to this city.
The best view of Sablon and Llanes is from the Paseo San Pedro. At the end of the beach front, a path with some stairs leads to a gorgeous view point and trail from where there's incredible views of the Bay of Biscay, and other beaches in the area can be accessed."
Charming, no? Don't miss Claudia's recommendations in her Places to Visit in Asturias post – they're top!
Concha Bay in the Basque Country
Jamie of Crashed Culture recommends Concha Bay, one of the more popular Northern Spain beaches in San Sebastian, a 220-km beach with soft sand.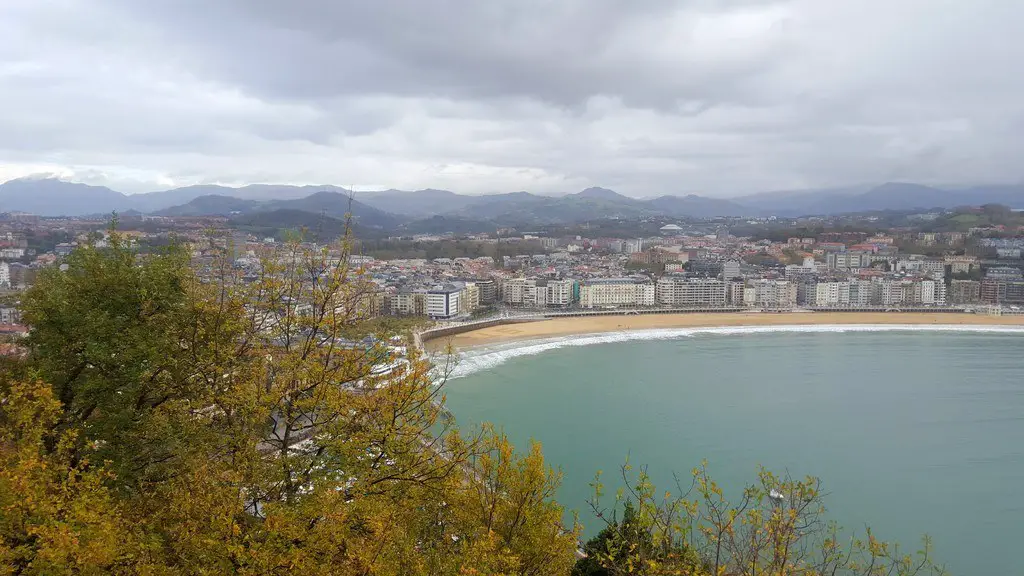 As a native Floridan, a cold beach is definitely culture shock for me. I didn't think about that until I went to San Sebastián and spent the weekend at Concha Bay and sat on the beach in my warm winter boots! Although Basque Country is known for its cold, rainy climate as opposed to the Spanish stereotype of warm palm trees, that doesn't mean you should miss its beaches!
Concha Bay is interesting in a few ways, not least because of how beautiful it is. Spend the day walking around the bay and discover different views depending on how far you go and what mountains you climb. Because of the mountains surrounding the beach from the north, any strong winds and waves are calmed before they reach the shore, making Concha Beach a great vacation spot.
Further, Queen Isabel II would come to this very beach for her doctor-recommended bath therapy, converting this beach into a royal beach! San Sebastián thus became the Spanish royal family's summer residence, also attracting royals from other countries."
Check out Jamie's website, Crashed Culture, if you want to improve your Spanish language skills. You can also learn more about Spain and its culture. 
Sopelana in the Basque Country
Lisa and Eric at Penguin and Pia highly recommend Sopelana – it sounds like a fun, scenic surf beach. Take me away…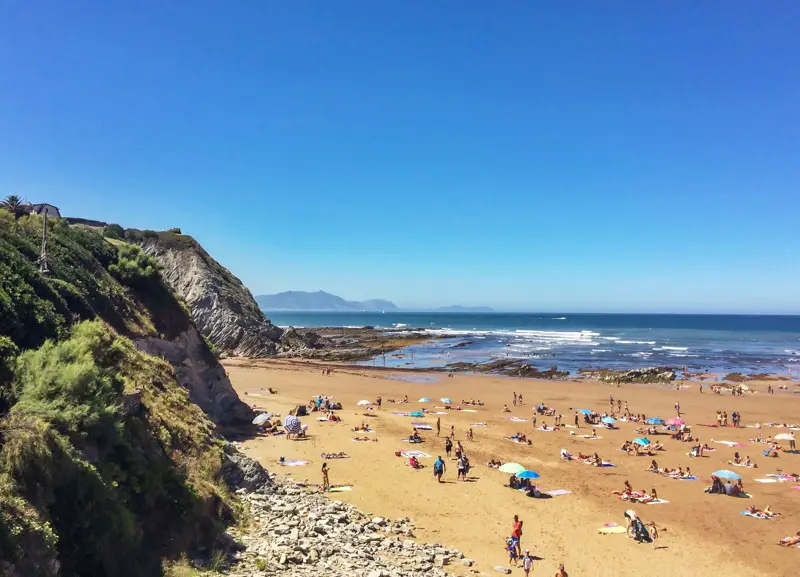 Having never seen the rough Atlantic Ocean with cresting waves in action before, Sopelana Beach made quite an impression! Located just outside of Bilbao, the beach is easily accessible by metro 40 minutes outside of the city centre.
As you walk up the towards the coast, you'll find yourself suddenly standing on a cliff edge with the beach and the golden sand open up on the path below you. It looks absolutely breathtaking.
Because of the surf generated, Sopelana is the perfect beach to try out surfing! The waves are strong but usually not too crazy – and you'll find two very good surf schools that are located right there on the beach.
The beach can get quite busy throughout the summer, but it is still very clean and actually a lot less touristy than many of the beaches in the South of Spain. Overall, Sopelana is a great half or full-day trip from Bilbao that remains as one of the most beautiful beaches we have ever seen in Spain.
It sounds lovely, Lisa and Eric! Get more of the recommendations at their post – Beautiful Cities in Spain !
Other best beaches in the North
Playa de los Catedrales in Galicia – known for its incredible natural structures of 30-meter high caves, domes, and arches. 
Islas Cies in Galicia – Incredible, unspoiled beaches on this island near Vigo. You have to take a ferry to get there! Nine beaches with clear, emerald waters and fine, white sand.
GET INSPIRED BY THESE BOOKS ABOUT NORTHERN SPAIN!

BEST MEDITERRANEAN BEACHES (NORTH)
Tamariu on the Costa Brava
Since I live so near, I purposely seek out new beaches on the Costa Brava! Amber Hoffman of My Husband in Tow recommends Tamariu, a 180-meter beach that mixes relaxation and charm.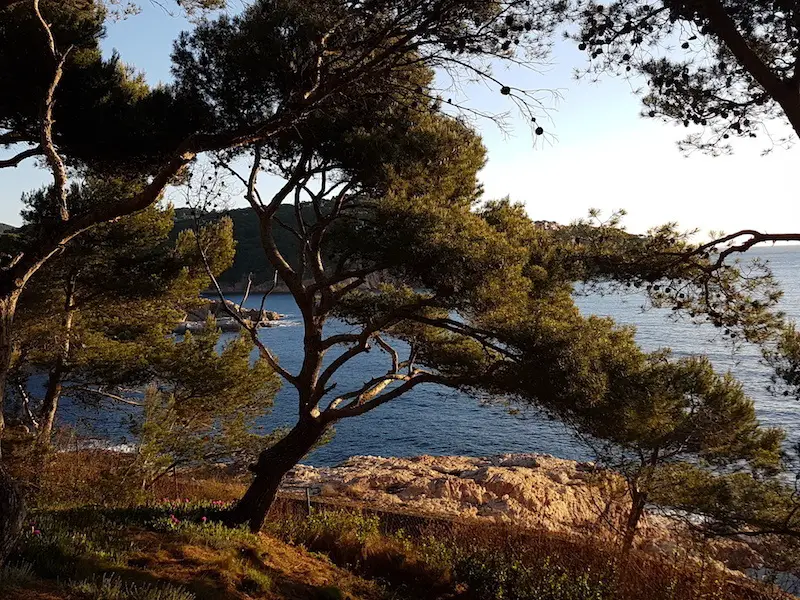 There's a reason why it is called the Costa Brava, or the brave coast. This part of Northeastern Spain is nothing like it's neighbors to the south. Instead of wide beaches, there's picturesque coves and quaint fishing villages. Exploring these small towns is on the of best things to do in the Costa Brava.
One of the most adorable is Tamariu, which is home to a strand along the petite beach. There are a handful of restaurants and cafes, and that is about it. When visiting, walk down towards the beach and make a right. Just around the corner is an old fisherman's shack, which is used by a local gastronomy club to host food and wine get togethers. Then, continue up the hill and into the rocks. That's where the coastline gets even more rugged. Large, old trees, and dark blue seas and bright blue skies greet the traveler that actually leaves the beach to explore. Then, enjoy a bottle of DO Emporda wine at the Hotel Tamariu's El Clot dels Mussols while enjoying the sunset.
Amber shares more detailed activities in the Costa Brava on her post – top things to do in the Costa Brava! Check it out!
La Barceloneta in Barcelona
Clemens from Travellers Archive recommends La Barceloneta, Spain's most beautiful urban beach. Top-notch architecture and endless seafood restaurants? I'm there…often!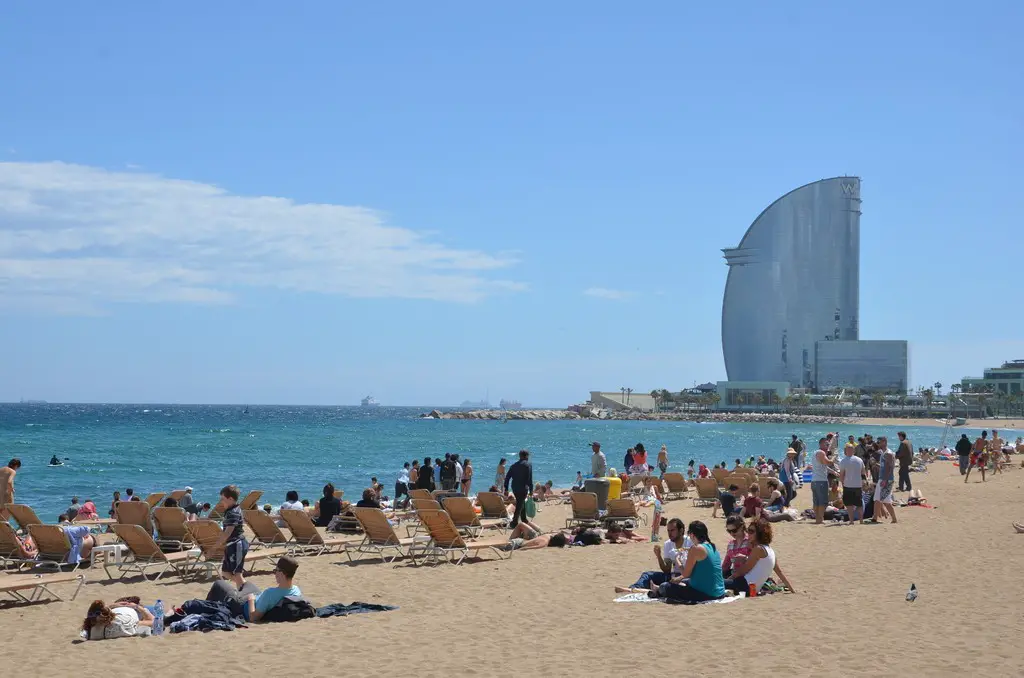 Barcelona offers a real city beach: La Barceloneta. It is actually a quarter south of the Sant Pere district, Santa Caterina i la Ribera. In the south it is separated from the harbor and the sea. With its seafront location, the Barceloneta district has over 1000 meters of beach. The center is the Plaça de la Font with a market.
Typical for La Barceloneta are the long and straight roads that run from north to south. The area was once created by King Felipe, who wanted to build a fortress in the Parc de la Ciutadella. La Barceloneta was mainly inhabited by fishermen and factory workers, so there were a lot of good fish restaurants. Today there are only a few good and traditional fish restaurants in La Barceloneta. By the 1992 Summer Olympics, the whole district was renovated and the beach promenade was built. This has made the district more prestigious and attracted many tourists.
Among the main attractions, next to the beach, are certainly the market and the Museu d 'Història de Catalunya in the Palau de Mar. Also noteworthy is certainly the new Hotel W Barcelona, which looks like the Burj Al Arab of Dubai. Best thing to do: Sit down at one of the beach front cafes for a sundowner with a view.
See more of Clemens' travels, no-fluff travel guides, and National Geographic-level photography at the Travellers Archive.
Cala Treumal on the Costa Brava
Don't you hate it when you go to the beach, and can't find space to lay your towel? Fortunately, Mike of 197 Travel Stamps discovered an uncrowded sandy secret in the Costa Brava.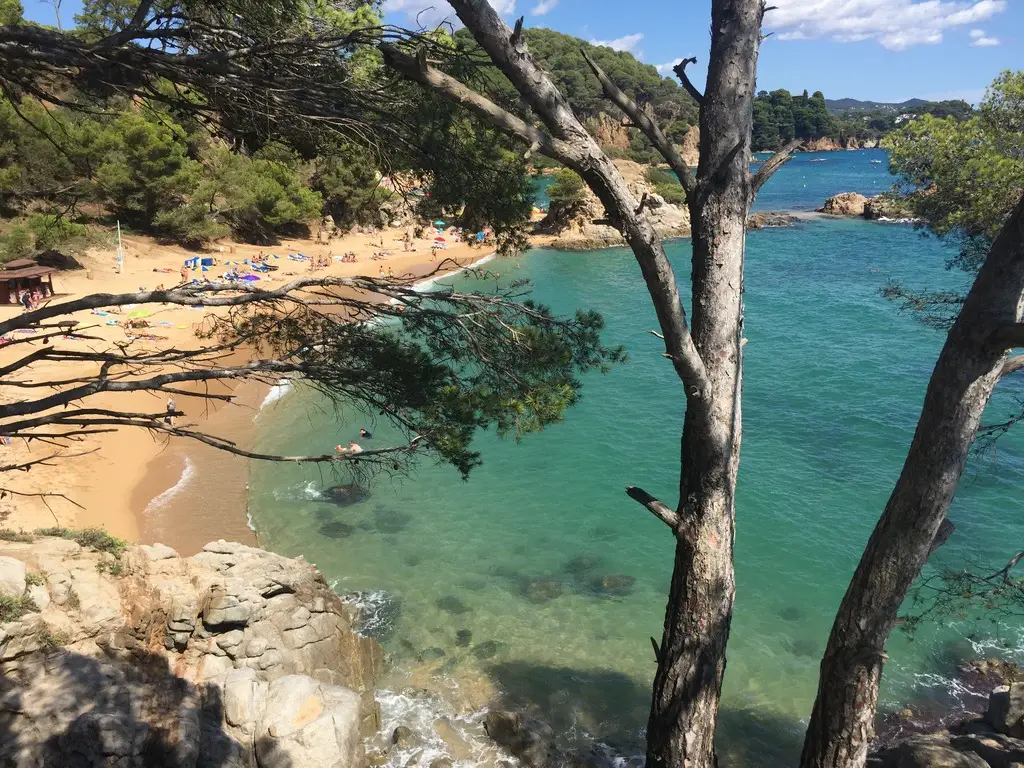 The Costa Brava just to the northeast of Barcelona has got many beautiful beaches to offer. Last time we went to the Costa Brava over the weekend, we wanted to experience something different from the main beaches at Lloret de Mar and Blanes.
We were driving around with our car and saw a small beach sign reading Cala Treumal somewhere between Lloret de Mar and Blanes. We decided to check it out and got to a small car park with no beach to be seen anywhere. As we started walking down the hill, we suddenly saw a small charming beach below the cliffs. As we got down to the water, we also discovered a small restaurant. Amazing! Just a few minutes earlier, we've still been to the overcrowded beach at Blanes and now we were here in paradise.
Cala Treumal is around 150 meters long and there are cliffs on both sides. We climbed up the cliffs on one side and had an amazing view over the beautiful beach. The turquoise color of the water looked even more stunning from up here.
Check out more of Mike's travels as he's on his quest to visit all 197 countries. (He's more than halfway there!) Follow his journey and get his travel tips on 197 Travel Stamps.
Platja Gran, Tossa de Mar on the Costa Brava
I adore this medieval walled town. Nadine of Le Long Weekend breaks down beautifully why Platja Gran at Tossa de Mar is a must-see…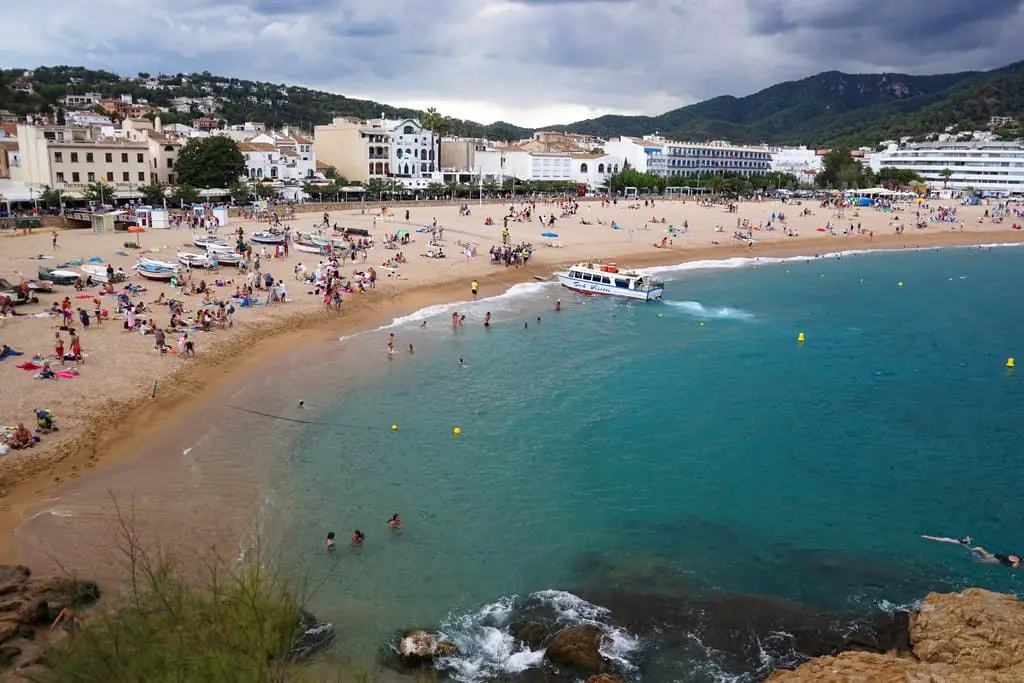 The seaside town of Tossa de Mar is an attraction in itself, but the real star of the show is the town's main beach, Platja Gran. In English Platja Gran literally translates to 'Great Beach', and I can't think of a better name for this glorious stretch of golden sand. Framed on one side by La Vila Vella, and on the other by jagged pine-fringed hills, it's a sight to behold after exploring the cobbled lanes of Tossa de Mar.
If you decide to skip the sightseeing and head straight to the beach, you'll have plenty to keep you happy for the day. The clear, calm waters are perfect for swimming and snorkelling, the beach is big enough to host a game of beach volleyball, and there's room enough for everyone to spread their towel without feeling cramped like you do on many other Mediterranean coastlines. Once you're done sunning yourself for the day, simply walk up to one of the beachside bars and sample the local wines as you watch the sunlight disappear.
One tip – as fascinating as the Vila Vella fortress looks from below, it's well worth the walk to the top for amazing views over Platja Gran, the nearby sandy cove of Platja d'es Codolar, and the Tossa de Mar township.
Ah, makes me want to go back again! Check out Nadine's spot-on suggestions for 16 Best Day Trips from Barcelona, Spain!
Other Top Northern Mediterranean Beaches
San Pol de Mar – a small beach with a decked promenade and boutique hotels, and beachfront houses. Partly wild, partly small-town feel.
Sitges – a scenic beach with the majestic, whitewashed Sant Bartolomeu i Santa Tecla church residing on a hill looking over the sands.
GET INSPIRED BY THESE BOOKS ABOUT THE COSTA BRAVA

BEST MEDITERRANEAN BEACHES (SOUTH)
Cala San Pedro
Rob and Natalie from Love and Road suggested Cabo de Gata, a nature lovers' beach (some nudity!) which left an unforgettable impression on me many summers ago.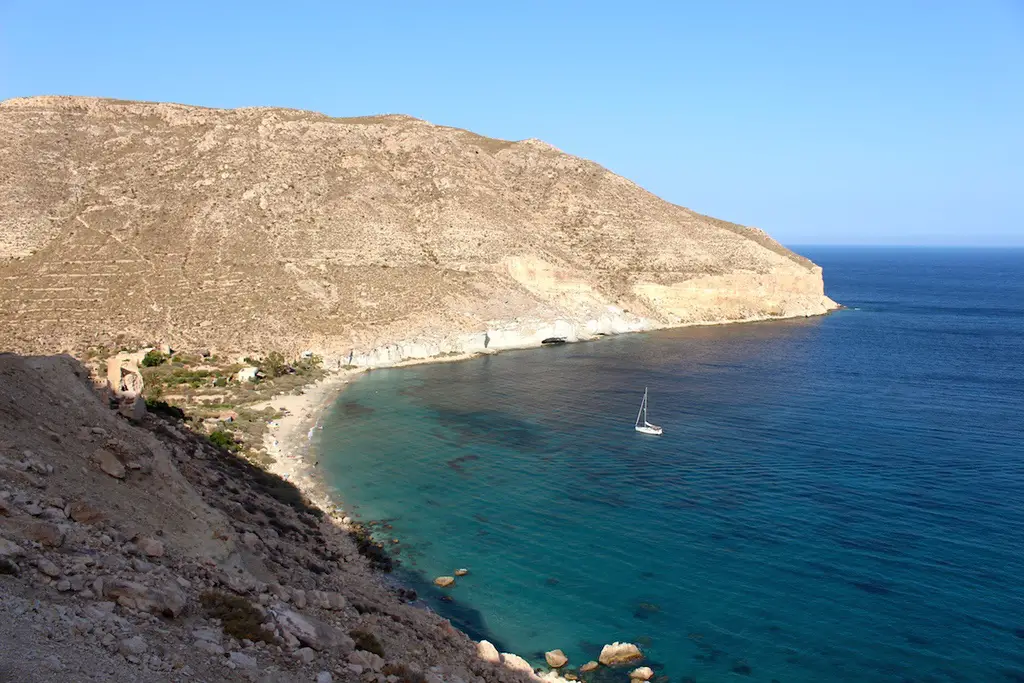 Cabo de Gata Natural Park is a paradise with pristine beaches, perfect to relax and connect with nature. All the beaches there are beautiful but Cala San Pedro is special and became one of our favorite beaches in Cabo de Gata. It's a hidden paradise, you can only access the beach by boat or facing a 2 hours trekking. Be prepared for some up and downhill, sand, rocks and views to die for. The way to the beach is magical. And when you glance it from the top of the mountain, it is love at the first sight.
Cala San Pedro is perfect for swimming, sunbathing and rest after the long walk. It's a very relaxing place where many people go to practice naturism and connecting with nature.
To get to Cala San Pedro you will need to go to Las Negras village and from there follow the signs to Cala San Pedro. At a certain point, you will need to park your car and follow the trail by foot. Don't forget to take everything you need with you, there are no shops or restaurants on the way or on the beach. Also keep in mind the trail is on the top of the mountains with no shades, bring a hat and be ready for the heat. Another option is to take a boat from Las Negras, but then you need to negotiate the price and the pickup time.
Check out more of Rob and Nat's post to explore more of the beaches in Cabo de Gata!

Other Best Southern Spain Beaches
Bolonia near Cadiz – Pine forests, golden sands, and untouched beach with sweeping sand dunes.
Zahara de Las Atunes – beach in a laidback fishing village. Crystal-clear waters, white sands, and excellent fish restaurants.
Playa Isla Canela – A foreign tourists' secret! On a natural island, the water recedes in the afternoon, exposing hidden razor clams, cockshells and other rich sea life in the sands.
GET INSPIRED BY THESE BOOKS ABOUT THE COSTA DEL SOL

BEST BEACHES IN CANARY ISLANDS AND
BALEARIC ISLANDS
Playa de Cavalleria, Menorca Beach
Alice from Teacake Travels suggests Playa de Cavalleria, a deserted paradise on earth.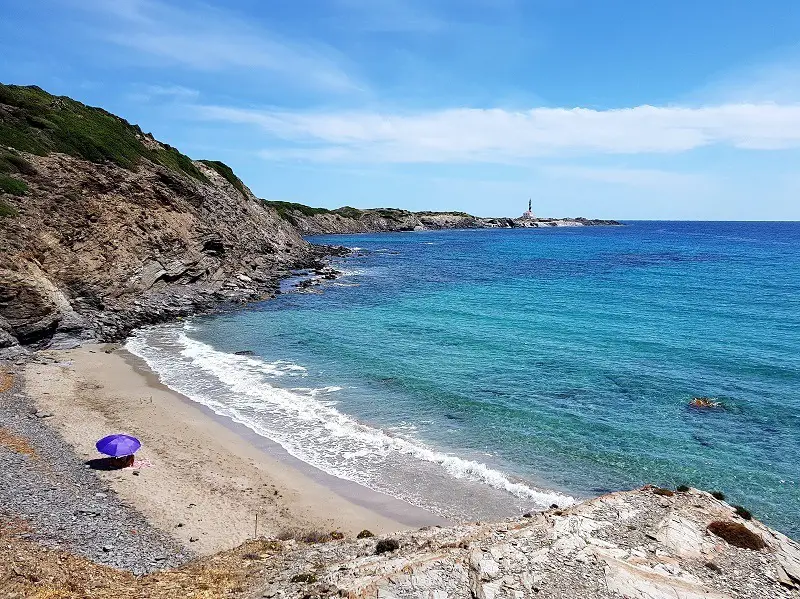 Back in the 80s, Menorca was very much the kind of place that Brits went to…to get drunk.
When the opportunity arose for me to come and visit Menorca, I'll admit it…I was hesitant. I had visions of terrible landscapes, full of people on endless rows of sun loungers, lobster-pink with a beer in one hand and a packet of crisps in the other.
Yet, the minute I landed on this island, I realised that my presumptions had made a terrible mistake. Menorca is one of the most beautiful islands I have landed on. Yes that's right Philippines and Thailand; this island is just as beautiful as you. Watch out, Asia!
The beaches are comprised of lush white sands, crystal-clear emerald waters, and as soon as you get out of the resort areas, you are very much alone. So alone that there's a high chance you're going to be the only one on the beach.
If you're looking to have a day to yourself, with nature at its very best, head to Menorca. And for all you nude-bathing fans out there; yes, the beaches are clothes-free friendly too!
Check out more of Miss Alice Teacake's super guide about Walking in Menorca, Cami de Cavalls!
Cala Mondrago in Mallorca
Arzo of Arzo Travels tells us why the turquoise waters of Cala Mondrago are so popular.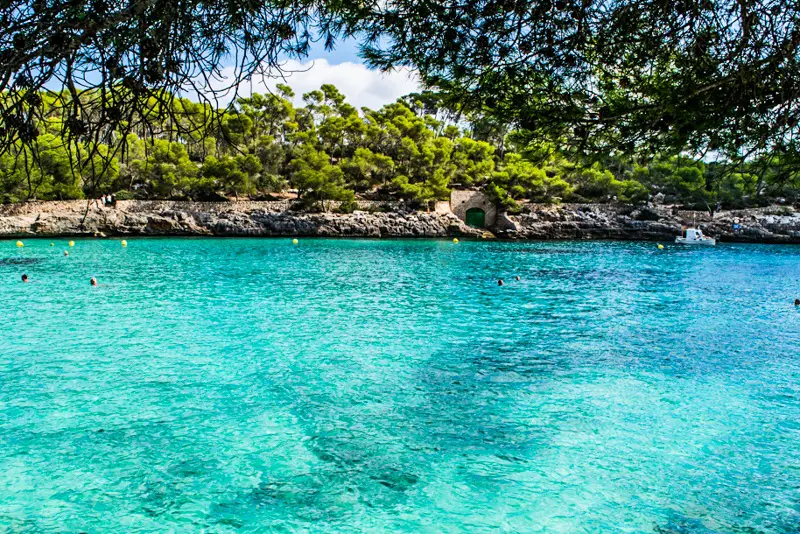 For the longest time, the first thing that came to my mind when hearing about Mallorca (or in English: Majorca) was: party, party, party. What a shame that Mallorca has such a reputation though it is not secret that the beaches in Mallorca are amazing.
This definitely makes it hard to pick my favorite one, however, I put Cala Mondrago at the first spot. Cala Mondrago, located in the Mondraga National Park on the south-east coast of Mallorca, is not big but totally gorgeous.
Getting there is not as convenient as getting to other beaches in Mallorca but it is so worth it. The water is so clear it is almost scary (as you can even see the little fish) and the sandy beach is perfect for a nice barefoot walk. Laying on a towel in this soft, white sand is very relaxing – which reminds a bit of the Caribbean. The cliffs around adds extra beauty!
The beach is, and this does not come as a surprise, quite crowded but it is understandable and knowing what you get in return, it is totally worth it! So take your swim suits, sun screen and spend a wonderful day at this amazing beach!
Discover more about Mallorca on Arzo's post at Best Things to Do in Mallorca, Spain.
Other Top Spanish Island Beaches
Calò des Moro – A picture-perfect postcard. Virgin beach tucked away between two pine tree-covered cliffs and stunning shades of aqua waters.
Playa de Ses Illetes, Formentera – Exotic, picture-perfect beach with white sands and shallow, turquoise waters like the Caribbean. 
Maspalomas, Gran Canaria – Incredible desert-like landscape with its protected sand dunes.
Es Trenc, Mallorca – Golden sands, tranquil and turquoise waters, and deserving of being a desktop background image. A naturists' paradise.
GET INSPIRED BY THESE BOOKS ABOUT THE CANARY AND BALEARIC ISLANDS

Those are just SOME of the best beaches Spain has to offer. So tell me, what Spanish beaches can you add to the list? What am I missing?