*This site contains affiliate links, which means I receive a commission when you buy. See my full disclosure.
Why you should visit Barcelona in August
Barcelona is a popular destination year-round, but August can be an especially exciting time to visit for several reasons! It's full of cultural festivals and is a perfect time to go to the beach.

Beaches: Barcelona has several beautiful beaches, and August is the perfect time to enjoy them. The weather is warm and sunny, and the water is refreshing. The most popular beaches include Barceloneta, Mar Bella, and Bogatell.
Outdoor activities: August is a great time to enjoy outdoor activities in Barcelona. You can take a bike tour of the city, hike in the nearby mountains, or explore the parks and gardens.
Nightlife: Barcelona is known for its vibrant nightlife, and August is no exception. Many bars and clubs stay open late, and there are plenty of outdoor venues where you can enjoy live music and entertainment.
Food and drink: Barcelona is a food lover's paradise, with plenty of delicious local specialties to try. In August, you can enjoy fresh seafood, seasonal fruits and vegetables, and refreshing drinks like sangria and cava.

Overall, August is a great time to visit Barcelona if you want to experience the city at its liveliest and most vibrant.
Why you shouldn't visit Barcelona in August
While August can be an exciting time to visit Barcelona, there are also some reasons why it may not be the best time for everyone! Here are some reasons why you'd want to avoid visiting Barcelona in August:
The crowds. August is peak tourist season in Barcelona, which means that the city can be very crowded. Popular attractions like the Sagrada Familia, Park Guell, and the Picasso Museum can have long lines and wait times, and the beaches can be packed with tourists.
The heat. August is one of the hottest months in Barcelona, with temperatures often reaching the high 80s or low 90s Fahrenheit. This can make it uncomfortable to explore the city during the day, and can also make sleeping at night difficult.
The high prices. August is also one of the most expensive times to visit Barcelona, with higher prices for accommodation, flights, and attractions. This can make it challenging to travel on a budget.
Closure of local businesses. Many locals leave Barcelona in August for their own summer holidays, which means that some smaller businesses may be closed or have limited hours. This can make it more difficult to experience local culture and cuisine.
If you prefer quieter travel, cooler temperatures, or lower prices, you may want to consider visiting Barcelona during a different time of year, such as in May or September. However, if you don't mind the crowds and the heat, August can still be a great time to visit this beautiful city.
Barcelona weather in August
The weather in Barcelona in August is typically sunny and hot. It is one of the warmest months of the year, with an average high temperature of around 29°C (84°F) and an average low temperature of around 22°C (72°F).
During the day, it can feel quite hot and humid, which can make it uncomfortable to be outside for long periods of time. However, there is usually a sea breeze that helps to cool things down in the evening.
Remember to stay hydrated and wear sunscreen if you are spending time outdoors in Barcelona in August. Additionally, it's probably a good idea plan your activities for early in the morning or later in the afternoon, when the temperatures are cooler.
Overall, if you enjoy warm weather and sunshine, August can be a great time to visit Barcelona. Just be prepared for the heat and make sure to take necessary precautions to stay safe and comfortable.
Tips for dressing appropriate in August in Barcelona
If you are visiting Barcelona in August, it is important to dress appropriately for the hot and sunny weather. Here are some tips for what to wear:
Wear light, breathable fabrics. Choose lightweight, breathable fabrics like cotton or linen that will keep you cool and comfortable in the heat.
If you head to the beach, protect yourself from the strong sun by wearing a wide-brimmed hat, sunglasses, and sunscreen.
Barcelona is a walkable city, so make sure to bring comfortable shoes that can handle the heat and the walking. Sandals, sneakers, and breathable shoes are all good options.
Wear light layers. While it is hot during the day, the evenings can be a little cooler. Personally, I avoid wear jeans. They are too thick. But in August, you will not have to bring a sweater or jacket. It is hot all the time!
Dress modestly. While Barcelona is a cosmopolitan and pretty liberal city, it is still respectful to dress modestly when visiting religious sites like churches or cathedrals. Bring a shawl or cover-up to wear over shorts or tank tops if needed.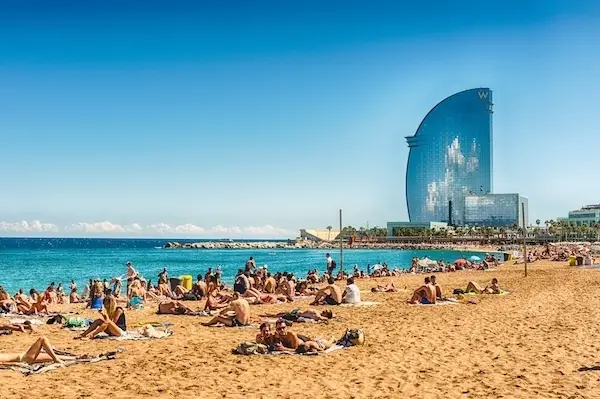 Packing list for August in Barcelona
Sure, here is a packing list of what to bring to Barcelona, Spain in August as an American:
Anti-theft purse <<– I have this one from Travelon. The zipper locks and gives me peace of mind when traveling on the bus or metro.
Short-sleeve shirts
Light jacket or sweater for evenings (just in case)
Skirt or dress if that's your thing
If bringing pants, make sure they're light
Bra
Undies
Socks
Swimsuit
Pajamas
Sunglasses
Hat
Comfortable shoes or sandles
Travel adapter: The electrical outlets in Spain are different than in the US, so make sure to bring a travel adapter so you can charge your electronics.
Travel documents: Don't forget to bring your passport, travel insurance, and any other important documents you may need.
Events in Barcelona in August 2023
Important notes: Locals in Barcelona and Spain reserve their vacation time during August. That means many shops and restaurants are closed. The tourist attractions and major shops will probably open.
Montjuic Open Air Cinema: Bring a picnic blanket, some snacks and drinks, and a loved one to the Montjuic Castle. Here, the'll be showing a famous fill outdoors so you can enjoy a flick and the fresh air.
Musics als Parcs. TBD. Featuring live jazz and classical music, Musics als Parcs is held all over Barcelona's parks. Bring the whole family and relax to the feel-good music.
August 15 (Feast of the Assumption). Most restaurants and shops are closed!
Festa Major de Gràcia: August 15-21, 2023. Correfocs (people dressed as devils holding fire), sardanas (traditional Catalan dance), concerts, workshops, and so so much more. Gràcia holds the largest, most exciting neighborhood festival of all. Residents enter a competition: they decorate their own street with papier-mâché structures, and colors are outrageously fun, Check it out in my post here.
Festa Major de Sants: August 20-28, 2023. This is a smaller version of the Festa Major de Gràcia but still attracts visitors. Check it out because streets are also decorated, and it's waaay less crowded than the Gracia Festa Major. Expect the usual activities of concerts, correfocs, kids' activities, dances, and gegants!
What to eat in Barcelona in August
In August, locals in Barcelona typically enjoy a variety of fresh and flavorful dishes that take advantage of the season's bounty. Here are some typical foods that locals eat in Barcelona, Spain, in August:
Gazpacho. This is a cold soup made with tomatoes, cucumber, peppers, and bread, typically served in a bowl or glass. It's a refreshing and light dish perfect for the summer heat. We eat it every day in my house!
Seafood Paella. This is a classic Spanish dish that is a staple in Barcelona, made with rice, saffron, and a variety of seafood or meat. It's typically served in a large paellera (paella pan) and is perfect for sharing with friends and family.

Seafood paella is not a dish to be rushed

Escalivada: This is a traditional Catalan dish made with grilled vegetables, including eggplant, peppers, and onions. It's typically served as a side dish or on top of toasted bread.
Patatas bravas: This is a popular tapa dish in Barcelona, made with fried potatoes served with a spicy tomato sauce.
Travel tips about visiting Barcelona in August
Plan ahead. August is one of the busiest months in Barcelona, so it's important to book your Sagrada Familia tickets and other attractions ahead of time. Also book accommodations and tours in advance to avoid disappointment.
Stay hydrated. August can be hot and humid in Barcelona, so it's important to drink plenty of water and carry a refillable water bottle with you.
Take breaks. With the hot weather, it's important to take breaks and rest in the shade to avoid heat exhaustion or sunburn.
Be aware of pickpockets. Barcelona is known for pickpocketing, especially in tourist areas. Be aware of your surroundings and keep your valuables close to you.
Take advantage of the beaches. Barcelona has several beautiful beaches, and it will be so hot, you'll be dying to go there! There is definitely a nice breeze closer to the water.
Take a day trip. Don't be afraid to explore other areas of the city to discover hidden gems and authentic experiences, like at the nearby Sitges, a charming beach area.


---

That's it! Have any questions about visiting Barcelona in August? Let me know, I read all my comments!