*This site contains affiliate links, which means I receive a commission when you buy. See my full disclosure.
BUYER'S GUIDE: BEST ANTI-THEFT TRAVEL BAGS 2022
Compare the best travel purse for Europe or Asia, or wherever you're going. No matter how prepared you think you are for traveling, it may be difficult to outsmart pickpockets. What's an extra measure you can take to not get robbed? Buy one of the best anti-theft travel bags listed here!
An anti-theft bag is not magical. First, and foremost, practice common sense when it comes to carrying your valuables. And, if you have a purse designed for theft prevention, you're LESS likely to get robbed. I should know. I live in the Pickpocket Capital of the World – Barcelona, Spain! AND, with three theft attempts made on me, I'd HAD ENOUGH. You don't have to get robbed either! Read my in-depth guide to the best and most secure travel bags on the market. Keep reading for my honest recommendations!
<<CLICK HERE TO SEE THE BEST ANTI-THEFT TRAVEL PURSE 2022!>>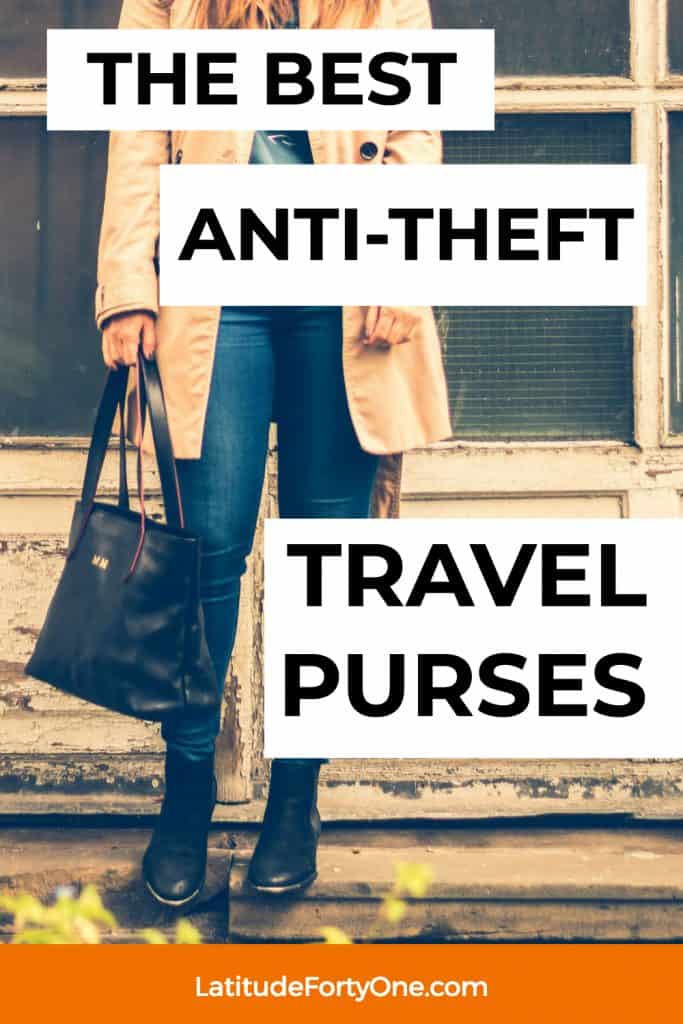 What's an anti-theft travel bag?
An anti-theft bag for women is a purse, tote, or sling with design features that prevent or deter thieves from stealing your belongings, like a wallet, passport or phone. It's a pickpocket repellant!
Compare: Which is the best anti-theft travel purse?
MY TOP 7:
THE BEST TRAVEL BAGS
So which are the best travel purses? Crossbody, locking closures, and all the other features mentioned above! Here are my top 7 picks that have all the features and are stylish too. These best crossbody bags for travel have got high marks on Amazon!
The Travelon brand is the clear winner for the most stylish and safest travel bags among women. And the Tailored Slim Crossbody is hands-down, the best travel purse ever. Okay, let me reiterate. Since I live in a City O' Pickpockets, I need a non-bulky, stylish anti-theft purse for everyday wear. 
The Tailored Slim Crossbody is a nylon twill purse with strong slash-free straps and a slash-free body. The main compartment has a locking zipper, perfect if you're wearing it across your body, and you want to throw your purse towards your back. When I eat at a restaurant, I can unhook the strap and secure it to my chair for extra security. This purse also has a locking front pocket – ideal to slip in flat things like keys, bills, or airline tickets.
On the inside, it has three slip pockets (one zippered) and an RFID-protected passport and card slots. Bonus: it's got a cute little flashlight for when you have to dig through your purse for your chapstick. I can fit a small umbrella, small water bottle, cell phone, light scarf, and wallet. It's fantastic for everyday use after you take your trip.
I've read Amazon reviews saying the straps are too long or uncomfortable for petite women. I'm 5'4″, and I have no problem with this. While there is an anti-slash cable that runs through the strap, I don't notice it at all; this strap is fully adjustable and VERY comfortable. I did have a kinesthetic learning curve of wearing this to lock / unlock the zippers swiftly. (That's the point, to foil pickpockets.) After I got used to it, I can do it easily.
Style: I have the Onyx color as pictured above, and it is so so sleek because of its rich black and gold finish. (It's the gold that makes it look SO CLASSY. It's much more beautiful in person.) It's the best anti-theft purse for traveling stylishly in your Instagram shots, then hitting the bars at night. The material is easy to clean, so any stains don't show at all. Buy this purse if you want to look stylish, you won't regret it!
Colors: Onyx, Garnet, Sable, Sapphire
Size: 11 x 11 x 1.75 inches
Weight: 11 ounces
See the current price for the Travelon Anti-Theft Tailored Slim Crossbody 
This is my other baby! The Travelon Anti-Theft Cross-Body Bucket Bag is a HUGE best-seller for anti-theft travel bags with over 2,100 reviews. This purse is a fantastic travel bag to use as a day purse when sightseeing.
With its slash-proof straps, slash-proof body, and RFID-protecting card slots, Travelon makes a roomy, strong, and pickpocket-proof purse. The main compartment has one zip pocket, one slip pocket, and three card slots. It's deep and spacious: enough to fit my DSLR camera, 50mm lens, wallet, and cell phone. The outside has two slip elastic, side-zipping pockets (to expand them), meant for a bottle of water or tissue pack.
This purse is very comfortable! With its adjustable straps, I've confidently walked through Barcelona, all day, without feeling weighed down. I used to carry my DSLR camera in a "real camera bag" but it hurt my shoulder! This one doesn't. The color of my Travelon Anti-Theft Crossbody Bag is midnight. The color isn't as rich as I hoped. I think versatile black would have been a better option!
I 100% recommend this purse as a day purse if you'd want to carry a small umbrella, wallet, light sweater, and water bottle. It's great for an airplane purse and also works fantastically for everyday wear. I used it less than my other purse only because I don't need to carry so much stuff. But take this if you have a full day of sightseeing!
Colors: Black, aubergine, gray, chocolate, and more
Size: 14 x 10 x 4 inches
Weight: 1.1 pounds
See the latest price for Travelon Anti-Theft Crossbody Bucket Bag
You can carry your purse with more confidence with its nylon slash-proof material on the adjustable straps and the body of the bag. Because of its volume, (11 x 10 x 4.5 in), it's one that you can carry from airplane to train to the hotel to city exploring. 
Its compartments and pockets are ample. The main compartment has a zipper and can be locked to a loop for extra security. It can fit an 8-inch tablet comfortably, along with your other items like a wallet, phone, a small book, or sunglass case. You can also slip in your credit cards in the RFID-blocking card slots. For easy access, it also has two outer pockets with magnetic clasps. It also has a pen loop slot.
It has two wall pockets, handy for putting in a small water bottle for speedy access. Its polyester material is light and has a subtle sheen that makes it ideal to use for day or evening wear. Readers love it because it's lightweight and extremely functional for walking around all day! They also felt secure in crowds. It's also easy to clean and stylish too!
Colors:  Black, cayenne, dark bordeaux, eggplant, among many more
Size: 11 x 10 x 4.5 inches
Weight: 1.01 pounds
See the latest price for Travelon Classic Messenger Bag
 I love the outside organization on this theft-proof purse! This Pacsafe Metrosafe purse has two lockable zipper compartments and two padded sleeves. One of them fits an 11-inch tablet. It also has two side pockets for an umbrella or water bottle. The front outer pocket also has a handy organizer so you can grab your cell phone easily – then lock it away easily too. The locking devices are "turn and lock", so it's a 2-step process, so a thief couldn't figure out how to open the purse quickly.
This Pacsafe purse's material is made of a lightweight steel mesh that is cut-proof. It also has an RFID blocking pocket. 
Colors:  black and dark tweed gray
Size: 13.8 x 10.2 x 4.3 in
Weight: 1.18 pounds 
See the latest price for the Pacsafe Metrosafe LS250 12-Liter Bag
Another popular brand for the best women's travel purse is Pacsafe. Its adjustable cut-proof strap can unhook if you want to attach it to a chair, stroller, or pole.  To lock it back on your purse, you attach it with the lobster clip and rotate the hook for extra security.
It also has one outer pocket with a zipper. To secure it from opening, you can slip the zipper lock through a fabric loop. This means that you can't open the pocket easily. The other pocket also has a back-wall zipper for even more organization. The main compartment has a two-way zipper. On one side, you can tether the zipper to another tab. It also has another back wall zipper and a slip pocket for a passport or phone.
It also has an RFID-blocking 11" iPad compatible sleeve tucked in the main compartment. The sleeve opens with a velcro flap. This makes it an ideal bag to carry as you travel through airports and hotels, with its capacity to carry other essentials other than your wallet. It's also made of water-repellent nylon.
Reviewers rave that it's a well-constructed nylon bag and they felt safe carrying it around on their trip. And they love all the pockets and compartments!
Colors: Black, almond, teal, burgundy, cranberry, mulberry, slate gray
Size: 8 x 12 x 3 in
Weight: 14.4 ounces
See the latest price for the PacSafe Citysafe CS100
Sherpani has me doing a double-take this year! This purse is convertible and can be worn as a shoulder bag, crossbody, or tote. This anti-theft purse is made of a sturdy, lightweight material of melange and nylon. It's also water-resistant. The interior also has a lime green material so it's easy for you to find your stuff.
It has exterior zipper-lock tunnels, and a cord that can be used to lock your purse to a chair. The body is slash-proof, and the straps are cut-proof, with no bulky cords on the inside. It can also fit a 10-inch tablet. Also, it's modern and very stylish! 
Colors: Black, Copper, and Gray
Size: Shoulder Bag/Tote: 13.5" x 14" x 4.5", Crossbody Bag: 13.5" x 10.5" x 4.5″
Weight:  0.84 Lbs / 13.4 ounces
See the latest price for the Sherpani Vale Bag
We can't overlook the Lewis N. Clark Secura Cross Body, which is the urban, outdoorsy, and hip kid of the bunch. 
This anti-theft purse is made of a sturdy nylon exterior with a PU coating to make it water-resistant if you get stuck in the rain. Its organization is simpler – with fewer pockets and compartments, which might be better if you feel overwhelmed by too many.
It only has one main compartment, and it zips from the front in an upside-down U-shape (see above image). Inside, it has two slip pockets big enough for most phones and four RFID-blocking credit card slots. It also has one inside zip pocket. Its adjustable cut-proof straps and Magnaloft body panels also prevent pesky pickpockets from stealing your stuff.
Its slim profile and compact size (one of the smaller models of the Lewis N Clark Secura Line), make it ideal for all-day use so you're not feeling weighed down. Its gunmetal trim gives it a sporty finish. This color, moss, would also look great while going on light hikes and outdoor activities for its lightweight material and its athletic look. But it comes in four colors!
Colors: Onyx, Moss, Lake, Plum
Size: 9.5in x 11in x 3in
Weight:  11.5 ounces
See the latest price for the Lewis N Clark Secura Crossbody
FINDING THE BEST THEFT-PROOF TRAVEL BAG
When shopping for an anti-theft travel purse, here are the features to keep in mind:
Crossbody strap length
A crossbody-style purse has a longer strap that sits on one shoulder and sits diagonally across your torso lengthwise. Unlike a shoulder bag, a crossbody is most convenient for travel simply because your hands are free. Position it towards the front of your body for extra vigilance.
Locking closures
A theft-proof purse has solid closures: It can have a zipper pull tag that attaches to another zipper pull tag. Or, the zipper "locks" and is tethered to another tab or metal loop. These closures prevent a thief from easily sliding a zipper open with one hand. It's a more complicated process that most pickpockets will deal with.
Slash-resistant straps
Slash-resistant straps have a flexible steel cable that is inlaid through the nylon strap. That means a thief can't easily and quickly cut your bag straps with a knife and run.
Slash-resistant purse body material
Slash-resistant material is used for the body, which are mesh body panels, a reinforcement that creates a "webbing" underneath the main material. The mesh makes it difficult for the purse to be ripped open – so contents wouldn't fall off from the side or the bottom of the purse.
RFID Blocking technology
RFID means "radio frequency identification". In theory, a thief can digitally steal your information through your purse. They use an RFID reader, which emits radio waves to capture sensitive information on credit cards, passports, etc. A purse with a special RFID blocking prevents that. RFID blocking is an extra precaution, but not completely necessary. According to an April 2018 Slate article, there are few reports of RFID skimming.
Additional features
Consider other features based on your activities and destination. Is the purse lightweight or heavy? You want to make sure you're comfortable if you're carrying your purse all day for 6 hours. If you're fashion-conscious, is it a style that will go with your travel wardrobe? Is the purse versatile, and can you wear it from day into evening time? Will it stain easily, or is it easily washable? If you'll be traveling during wet weather, is it waterproof?
IMPORTANT NOTE: While many travel purses on the market are called "anti-theft", be aware that they may only have RFID-blocking – and are NOT made of slash-proof material. See my recommendations below!
BENEFITS OF OWNING AN ANTI-THEFT PURSE
While the best travel bag isn't voodoo, a very good travel purse can help outsmart pickpockets.
AN ANTITHEFT PURSE A BACKUP SECURITY MEASURE. It's impossible to be vigilant of your purse 100% of the time. Maybe you consider yourself really careful, and you've studied pickpockets in action and thought of ways to foil them. But think of these common situations:
– A nice-looking man in a coffee shop asks you where the metro is. Normal, right? You answer, and another person swoops in and quickly snatches your wallet and runs. Slam, bam, thank you, ma'am.
– You're on a crowded street of tourists, and it's bumper to bumper. A young lady "accidentally" pushes you hard, and you turn around to see who it was. Meanwhile, a man quickly slashes your purse and zips off with your iPhone. You fall to the floor and start crying.
YOU'LL HAVE MORE CONFIDENCE AND PEACE OF MIND WHILE TRAVELING. Obviously, some cities are more prone to pickpockets and bag slashers. Barcelona is full of pickpockets! So if you're visiting a foreign country and you get your wallet stolen, it is a colossal headache to report a theft or missing passport. 
AN ANTI-THEFT PURSE FOR TRAVEL CAN BE CHEAP. Prices for a secure woman's travel purse can be minimal, starting at $16 dollars and up. And one of the highest-quality and widely known brands, Travelon, offers varying styles and sizes.
YOU CAN USE IT AS AN EVERYDAY BAG EVEN AFTER YOUR TRIP. When anti-theft handbags came out, they looked too sporty, casual, or just plain ugly. But now are some fashionable options that make a travel bag look like a chic everyday bag. So you won't have to store it in the closet 'til your next trip!
CONCLUSION
These are the best travel handbags for ladies on Amazon! The Travelon Anti-theft bags are the leader when it comes to quality, anti-theft features, and variety. The Pacsafe is also a strong contender, but you won't get the variety of styles and models.  
It's not to say you won't get a good travel purse from Lewis N Clark or Sherpani either. ALL of the brands above have adjustable crossbody straps, anti-slash bottoms, anti-slash straps (exception: Sherpani), and locking zippers.
And if you need more space than a purse, check out how to choose a backpack that might be worth carrying along instead. And check out these carry-on suitcases for the plane!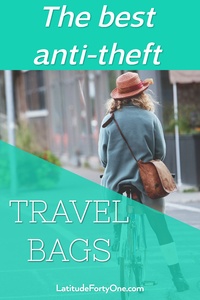 Think you've found the best theft-proof bag for you? Still can't decide? I've spent tons of hours of research on the best purses for travel, so hit me up in the comments 😉