*This site contains affiliate links, which means I receive a commission when you buy. See my full disclosure.
Vall de Núria, l Spain: A Guide to this Beautiful Mountainous Destination
Imagine taking a 40-minute train ride in the mountains, then arriving at a rolling, lush, green valley. It has a beautiful building complex, a large lake, and is surrounded by rolling grass and towering Pyrenees mountains. One of the most stunning landscapes in Catalonia, Vall de Núria is situated in an isolated valley in the high Pyrenees mountains.  "Magical" is the only way I can describe Vall de Núria. I'm convinced that the Vall de Núria mountains are healing. with its overwhelming beauty and striking calmness. It's magic, I say!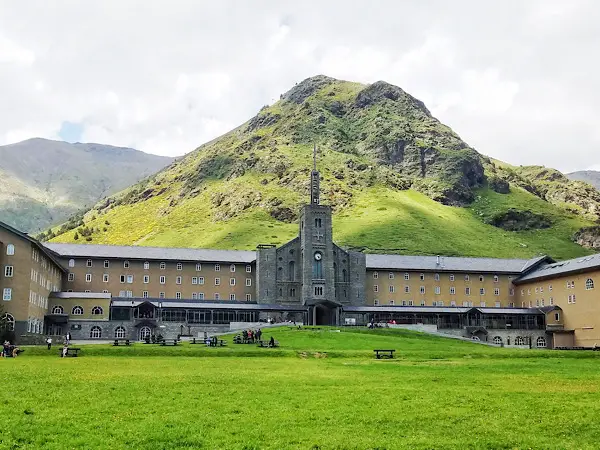 I can't believe it had taken me more than 10 years of living in Barcelona to visit Vall de Núria. As my family and I arrived via rack railway, my kids and nephews let out a collective, "Ahhhhhhh…." as they gazed outside the window.
The valley is a scene straight out of a painting or a movie. (I immediately thought of Midsommar, where the scene is a pastoral paradise. Then a hellish bloody nightmare ensues.)
Vall de Núria is a perfect getaway for almost any season. In the cold winter, it's a snowy destination and ski resort. And when warm spring comes, it has beautiful flora from the snowmelt from the mountains, providing a rich habitat for diverse plant life and outdoor activities. It is simply stunning!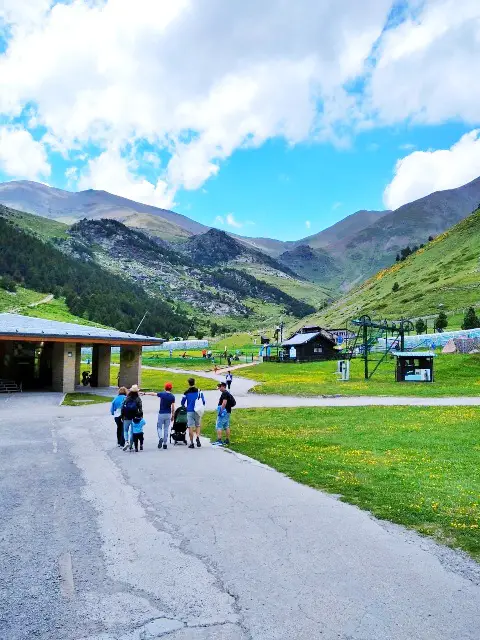 Why you should visit Vall de Núria, Spain
I hate to be so general. But Vall de Núria is for everyone:
For families. Kids and teenagers have an array of outdoor nature activities, ranging from beginner to advanced
For couples who want a romantic getaway and enjoy the enchanting mountains
For hikers of all levels who want to explore the heights Catalan Pyrenees
For singles who need a solitary retreat space to roam a peaceful valley, alone
For pilgrims who want to meditate in prayer at the ancient Marian sanctuary and basilica while being immersed in God's supernatural creation
Personally, you don't have to do any of these activities. My family and I arrived in the afternoon and passed the time having a picnic lunch on the grass, walking along the routes, and having a coffee. We'd wished we'd stayed longer! We're hoping to go next winter.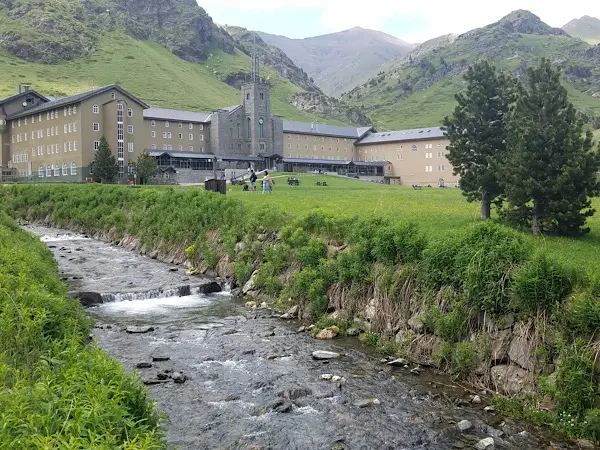 The ancient history of Vall de Núria
Vall de Núria was formed by glaciers and has ancient and historical origins. In 700 AD, Saint Giles from Greece arrived at Vall de Núria and carved a sculpture of the Virgin Mary. While he was there, he beckoned the local shepherds with a bell. They gathered around a cross, and Saint Giles gave them food from a pot.
During this time of Muslim rule, the Christians were persecuted. So Saint Giles fled and hid the sculpture in a cave. In 1072, a pilgrim named Amadeu was searching for relics of Mary. He built a shrine in Vall de Núria, after having a dream about it. He then found the Virgin Mary sculpture seven years later.
When trying to transport the statue to the nearby town of Queralbs, it's said that it did not want to be carried in processions – but wanted to stay in Núria. The statue was left in Núria to be venerated.
Today, the statue is housed in the Sanctuary. It's also known to have supernatural powers for fertility. Many couples travel to Núria to pray in front of the cross, and put their heads in the pot while ringing the bell. For couples who want to have kids, come to Núria and the Virgin Mary will help you conceive!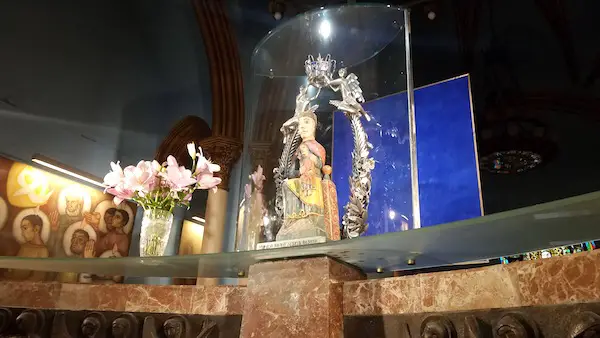 Things to do in Vall de Núria
Visit the Sanctuary of the Virgin of Núria
The Sanctuary is a place of peace, worship, and the home of the statue of the Virgen de Núria. It's open for visiting and has a daily Mass.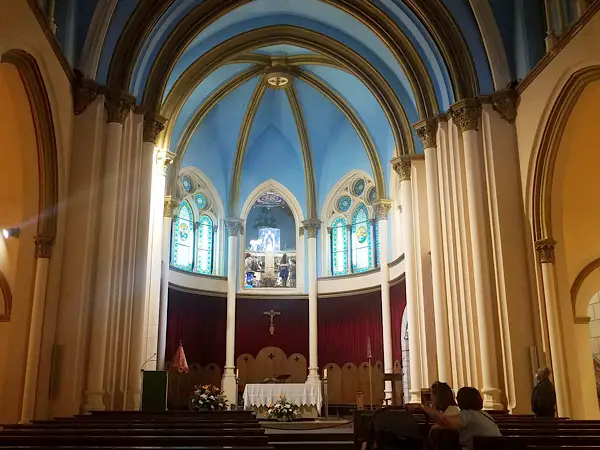 Go hiking.
There are several hiking routes of varying difficulty levels also. The Virtual Race Camí Vell 3.0 is one of the most common ones. It's from Queralbs to Núria and takes about 3 hours and 45 minutes. 
You can also trek up the Puigmal mountain, the fourth highest peak in the Pyrenees mountains!
Go skiing.
Vall de Núria is known for its skiing. The resort has a total of five lifts, 11 skiing slopes, 3 sledging slopes, and 5 circuits for snowshoeing tracks.  It also offers activities like ice skating, sledding, snowshoeing, and cross-country skiing. They also have skiing and snowboarding schools.
The area has two ski stations, La Molina (1984) and Toses-Ponts, which were built in the 1920s and 1930s respectively. You can buy special passes for transportation and ski slopes via the de Vall de Núria website.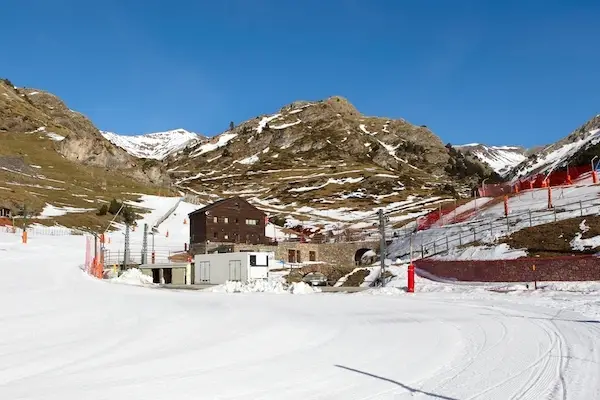 Go boating or canoeing on the lake.
The lake is a central feature of Vall de Núria and sets the peaceful scene. My nephews and kids had a ridiculously fun time rowing the bat. Kids must be accompanied by an adult, and they wear a safety vest. Rentals are 30-minute increments, just enough to enjoy the view.
In the winter, the lake is frozen. But I hear it's a beautiful sight nevertheless!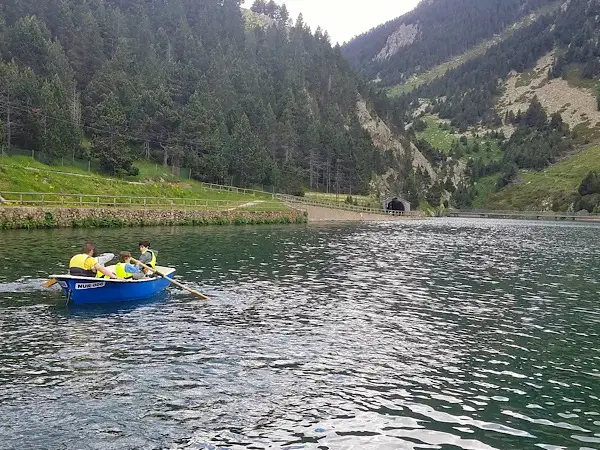 Play a fun game of Minigolf.
There is a small putting course with 10 holes. It's a fun way to relax but still be active!
Go on a horseback riding route.
For the little ones (ages 2 to 8), they can ride a pony around the sanctuary buildings. My two-year-old nephew had a fun time with this! But for older people, there are several routes they can take around Núria. Beginners (starting at 9 years old) can take the Pota Tendra route, which is about 30 minutes. Longer routes are about 1-1.5 hours.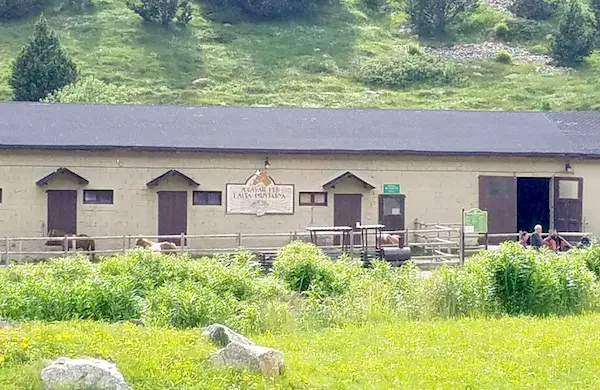 Have the kids play at the Leisure Park.
This activity center, or parc lúdic, is open in the winter for kids.  For the young ones, activities include mountain karts, a scooter circuit, a ball pit, trampolines, adventure circuits, jumping beds, a slack line, rock climbing, a zip line, a magic carpet (conveyor belt that transports the kid up the mountain), and tubing. 
Personally, not all my kids like to do all these activities. So your child is surely to find at least a few things they'd love to do!
Visit the historic bridges.
Vall de Núria is not just a beautiful place, it's also an ancient sanctuary dating back to Roman times. There are four very important bridges in Vall de Núria with historical significance. They date all the way back to Roman times! They are the Saint Gil bridge, St. Ignatius bridge, Mulleres bridge, and the Eina torrent bridge. Each bridge also has photos and a riddle that you can solve as a family. See the riddles here: https://www.valldenuria.cat/en/ruta-ponts-historics/
What to do in Vall de Núria, Spain, in the winter
The Vall de Núria is a spectacular place in the winter as it is covered with snow. The winter offers a different, more peaceful experience of the valley with fewer visitors. Visitors may also partake in activities such as snowshoeing, skiing, or ice skating.
Vall de Núria is a winter wonderland of activities for all ages. From skiing to sledding, there are plenty of opportunities for both adults and children to enjoy the snow-covered scenery of Catalonia's highest mountain.
Try ice scuba diving.
Certified divers over the age of 18 can try ice scuba diving. You'll have all the necessary safety equipment to explore the frosty underwater landscape.
Get a bird's eye view of the valley on a cable car ride.
Arrive at the soaring Alberg Pic de l'Àliga via the Coma de Clot cable car. At 2,170 meters (7,119 feet) above sea level, you get a sweeping view of the Vall de Núria and its surrounding beauty.
Where is Vall de Núria, Spain?
The National Park of Vall de Núria is located in the northeast of Spain, at the foothills of the Pyrenees mountains in Catalonia's Girona province. It's in the municipal area of Queralbs. The park spreads across an area of 2,250 square kilometers and it has a spectacular landscape with vast forests and mountain peaks that rise to 3,000 meters above sea level. It's about 1 hour and 45 minutes north of Barcelona, bordering France.
How to get to Vall de Núria (map and transportation)
From Barcelona to Vall de Núria: The easiest way to get to Vall de Núria from Barcelona and Girona is by train. The closest train station is L'Estació d'Olot, which provides information in English as well. It takes about 1 hour and 15 minutes from Girona and about 2 hours from Barcelona to get to L'Estació d'Olot. Once you are at L'Estació d'Olot, it takes about 20-25 minutes by bus or taxi (about €18) or 3 hours on foot to get to Vall de Núria.
The Núria Rack Railway is the only way to access the mountain resort. It's quite easy to get to. One of my friends has taken her son on Christmas break.  It has four stations. The first stop is Ribes-Enllaç, the starting point, which connects the Rack Railway to the R3 train line.  It's 12.4 kilometers and has an incline of over 1,000 meters. The next stops are Ribes Vila, Queralbs, and Núria. When you get off at Núria, you're there!
The Rack Railway enables Vall de Núria to remain car-free, meaning that the gateway to Capçaleres del Ter i del Freser Natural Park remains an uncontaminated natural space that provides a home for the valley's flora and fauna.
Vall de Núria by car: If you are driving to the Vall de Núria National Park in a car, it is best to take the national road from Barcelona. The distance is about 65 kilometers and can take up to 1 hour and 45 minutes. You will need to drive on the A-2 highway until you reach Lleida, which is 68 kilometers away.
From Lleida (Lérida) to Vall de Núria: It takes about 30 minutes on a toll highway until you reach Girona. From here it takes 32 kilometers more until you reach the National Park of Vall de Núria, which is located in Andorra. 
How to take the rack railway of Vall de Núria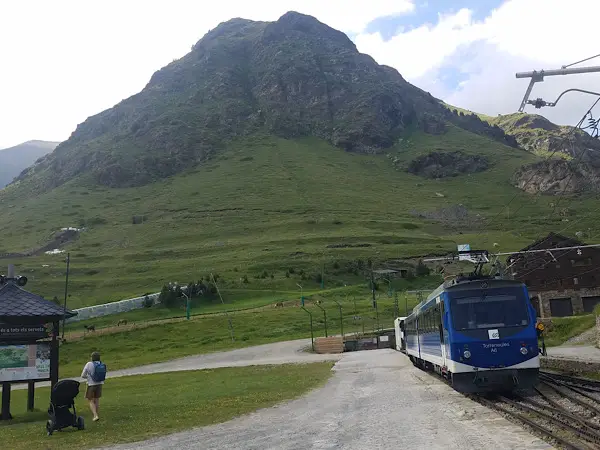 It's a train that ascends 1,300 meters with a 230-degree view. The railway has been in operation for over 120 years and is one of the most stunning experiences in Catalonia.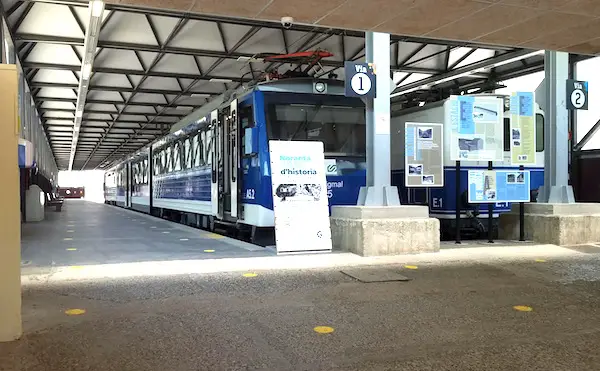 Other helpful tips when visiting Vall de Núria
Vall de Núria has created a free app, an audio guide for visitors and anyone else who may be interested in finding out more about the valley. You can download it before you come, and you don't need an Internet connection to use it.
Where to stay in Vall de Núria, Spain
If you'd like to stay further afield and stay at a clean, modern, and fun family campsite, I highly recommend staying at Camping Els Roures in Sant Pau de Segúries. My family and I stayed here two years in a row, and it was perfect. We also went with the grandparents, aunts, uncles, and cousins, and we used it as a home base to discover the Girona province.
Check prices for Camping Els Roures
You can see that campsite in my post, Family-friendly campsites and hotels outside Barcelona.
The next time we go, we'd love to stay at the Hotel Vall de Núria itself, which is on-site. What could be better than waking up in the mountains? It has 59 rooms and 10 apartments. It also has 10 family rooms and 10 duplex apartments.
Check out prices for the Hotel Vall de Nuria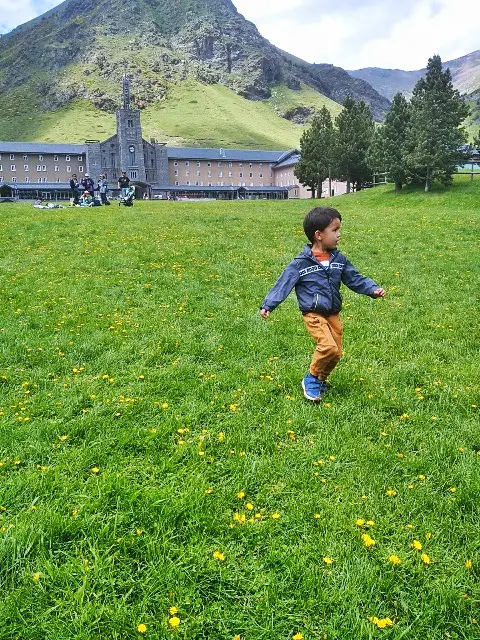 Of course, there are many other places nearby the Vall de Nuria, but nothing is as central. Other accommodations near Vall de Nuria:
Hostal Les Roquetes – This hostel is in Queralbs, so you can either walk to Vall de Nuria (20 minutes) or take the rack railway. Guests love it for its friendly staff, incredible views, and clean bathrooms. The restaurant food seems to be delicious as well!
Check prices at Hostal Les Roquetes
Casa de La Font de Dalt – This rustic 4-bedroom home in Queralb gets super high reviews! It's just an 11-minute stroll to the Nuria ski station. It's super clean, very cozy, and sets the perfect ambiance for a mountain getaway. Just read the sparking reviews!
Check prices for Casa de La Font de Dalt 
Where to eat in Vall de Núria
When my family and I came, we took our own picnic lunch and ate on the grass. In the afternoon, the adults had coffee and the kids had chocolate drinks at the hotel restaurant. We needed it because we were feeling chilly in the late afternoon (in June!).
Other places to eat in the valley (no walking far necessary):
The Vall de Núria Hotel Restaurant serves a wide variety of foods including pasta, salads, and paella. It also serves local mountain cuisine, including veal and potatoes.
Bar Restaurant Finestrelles – We had coffee and drinks at this restaurant and seemed fine if you're not expecting anything fancy like pasta and sandwiches.
La Cabana dels Pastors – They serve sandwiches, salads, and hot dogs, and the restaurant has a sunny outdoor seating area. They also serve 100% organic beef.
I believe it's a truly special place with peaceful and positive energy. Could it be the negative ions floating around? I don't know. My tween and I agree. It will do more for you than a beach getaway where with jealousy-inducing Instagram shots. And we're dying to go back!
Do you think you'd visit Vall de Núria? Have any questions about it? Let me know, I read all my comments.