*This site contains affiliate links, which means I receive a commission when you buy. See my full disclosure.
Visiting Barcelona in October is a good idea. It's still warm towards the beginning of the month, and the crowds are considerably less than in September. The fall season is in effect! As a Barcelona resident, I enjoy the outdoor picnics or a stroll at a Barcelona beach during this fall month. (It's also the first full month that my kids are in school!) Read on know about what to do, the weather, and what to pack, and extra travel tips for October in Barcelona.
Why you should visit Barcelona in October
 The temperatures in Barcelona in October is mild, cooler than the summer months, but still comfortable and pleasant for outdoor activities.
October is considered low season, meaning fewer tourists and crowds, making it easier to explore the city's popular attractions and neighborhoods without feeling overwhelmed.
As it is low season, prices for accommodations, flights, and activities are typically lower than in peak season, making it a more budget-friendly time to visit.
In October, Barcelona has several festivals and events, including the Barcelona International Jazz Festival and the Barcelona International Film Festival, giving you the chance to experience the local culture and fun entertainment scene.
October is a great time to visit Barcelona's museums and galleries, as they often have special exhibitions and events during this time of year.
Barcelona is known for its delicious cuisine, and October is a great time to enjoy seasonal specialties such as mushrooms and chestnuts, as well as local wines during the grape harvest season.
Typical weather in Barcelona in October
According to Holiday-weather.com, the average temperature in Barcelona in October is around 18°C (64°F) during the day and around 12°C (54°F) at night. October marks the transition from summer to fall, so while it may be warm during the day, the nights can start to feel cooler. It is not beach weather, but you may see some tourists taking a dip in the Mediterranean Sea.
It rains an average of 6 days this month, but it has rained very little this year (2023), as it seems we are headed towards a drought. Barcelona weather in October keeps the trees still very leafy and green. It's not the traditional fall that you think of!
Tips for dressing appropriately in Barcelona in October
Bring a light jacket or sweater for the evenings when the temperature can drop. When the sun does down, Barcelona gets a cool breeze. The temperature can fluctuate between day and night, it's important to dress like an onion in Barcelona. Don't let the sunshine fool you – the way it fools other tourists! I see too many outsiders exposing too much skin and they're not carrying another layer.
Wear comfortable walking shoes. Barcelona is a walking city, so be sure to pack good walking shoes that can withstand uneven streets and cobblestones.
Bring an umbrella or water-resistant jacket. While it doesn't rain a lot in October in Barcelona, it's always good to be prepared for the occasional shower or drizzle.
Read one of my most popular guides: What to wear in Barcelona in the Fall!
What to pack in Barcelona in October
A crossbody anti-theft purse  – Travelon makes the best purses with zippers that lock! I use this one everyday –> Check out this Travelon purse
Comfortable walking shoes
Light jacket or sweater
T-shirts or short sleeve shirts
Long sleeve shirts
Pants or jeans
Cardigans or light jackets
Comfortable socks
Underwear and bras
Sunglasses
Camera or smartphone for photos
Power bank or charger for your devices
Spain travel adapter – this one has the round two two pins that you need
SIM card for Spain – Vodafone is a trusted brand here in Spain
Travel-sized toiletries (toothbrush, toothpaste, shampoo, etc.)
Medications or prescriptions
Travel documents (passport, visa, boarding passes, etc.)
Umbrella or raincoat
Remember to pack light! as it's easier to navigate Barcelona's narrow streets and public transportation with a smaller, lighter suitcase or backpack.
What to do in Barcelona in October 2023
Sitges Film Festival. October 5-15, 2023. About 30 minutes away from Barcelona is the charming seaside town of Sitges, where they also celebrate the International Sitges film festival. Feature films are mostly horror and fantasy films to accompany the Halloween season. B-list and a few A-list celebrities show up, so it might be worth catching. There are also lots of events and activities happening around the Sitges boardwalk, including a fun annual Zombie Walk.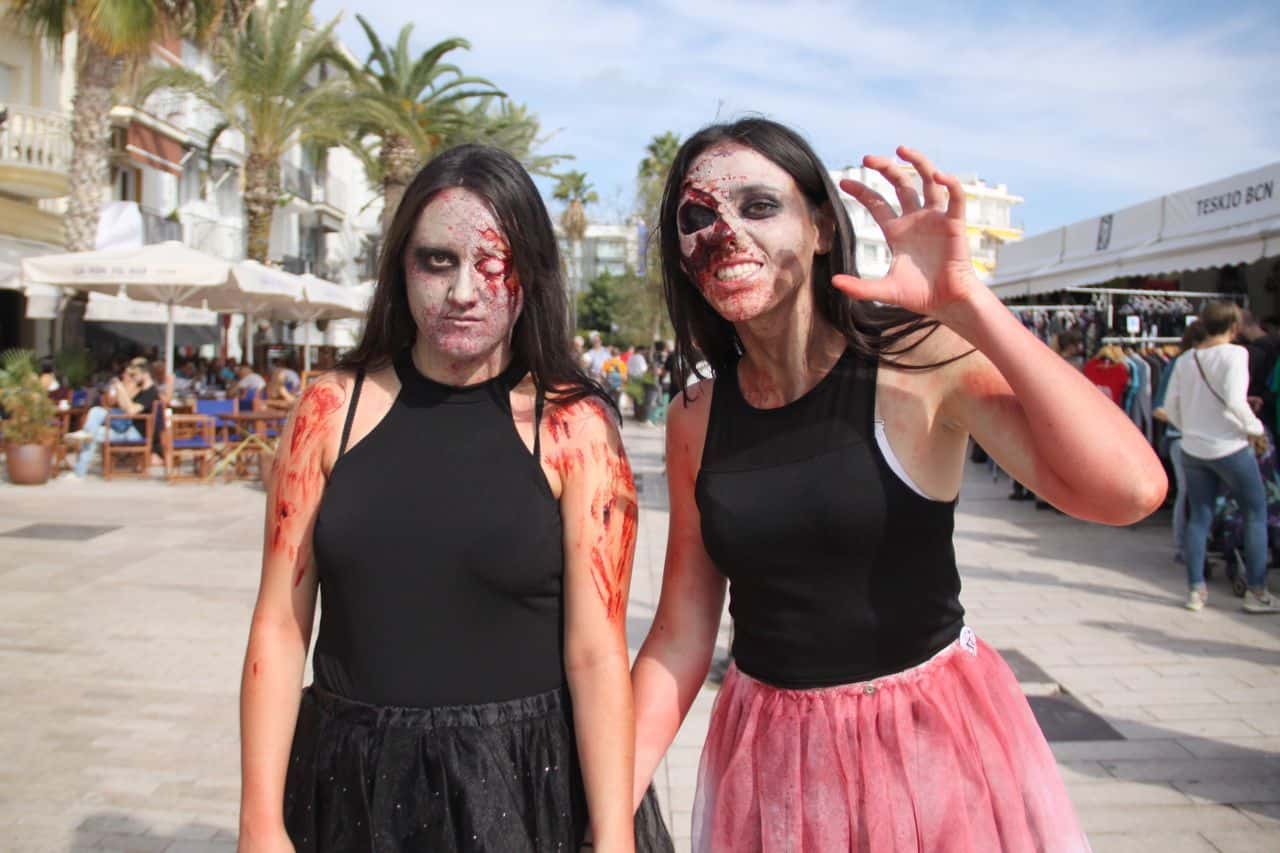 October 12, National Day of Spain. Most shops and restaurants are closed.
Oktoberfest Barcelona: TBD. Just like in Munich, Germany, Barcelona brings its own version of the beer festival. You'll find Heineken, Weissbeer, Cruzcampo, and of course…German sausages! Now pass the bratwurst! It goes down at the Fira Montjuic.
Cursa de Bombers de Barcelona (Barcelona Firemen's Race). TBD. This charity race is run by the Firemen of Barcelona. (Imagine a massive group of manly men in firemen uniform with their gear running!) It's open to the public and covers 10 kilometers.
Voll-Damm Barcelona Jazz Festival: October – November (TBD). Love jazz? This internationally acclaimed festival takes place in scattered venues like at the Palau de La Musica, Sala Apolo, or the Harlem Jazz Club. Past jazz artists include Diana Krall and Jimmy Cobb. Tickets are sold based on individual performances, and they go fast!
48H Open House Barcelona. TBD, end of the month usually. While Gaudí and Modernist buildings are incredible, Barcelona is busting with architectural wonders that go widely unnoticed like the Media-TIC building. You'll get a guided tour (mostly in Catalan, but they may cater to Spanish speakers, depending on your guide). I highly recommend the Arc de Triomf, Antiga Fabrica Estrella Damm, or the Casa Vicens. Get there early because lines get long. The event is FREE!
La Castanyada: October 31 – November 1, 2023. More of a tradition and not an event, La Castanyada celebrates the welcoming of fall. Catalans eat roasted chestnuts and sweet potatoes, then top it off with some muscatel. La Castanyada celebrations are normally in homes or at schools. But you'll see some of the few stalls selling chestnuts throughout Barcelona. Halloween has been creeping into Catalan culture, more each year.
Halloween: October 31, 2023. Every year, Halloween in Spain gets more and more popular. Practically every supermarket sells pumpkins now. There are lots of Halloween events like pumpkin carving and Halloween parties, and lots of kids and adults get in costume. While in the US, everyone dresses up for any sort of costume, locals dress up in a SCARY or GORY costume. (Locals have Carnival, which is open to all costumes!).
What to eat in Barcelona in October
Panellets are a traditional dessert in Catalonia, a region in northeast Spain. They are small, round cakes made from marzipan, which is a paste made from ground almonds, sugar, and egg. They are typically eaten during the autumn season, particularly on All Saints' Day (November 1st) and All Souls' Day (November 2nd). They are often accompanied by sweet wine or moscatell, a type of fortified wine. There's a whole range of panellets, and they can be flavored with a variety of ingredients, such as pine nuts, cocoa powder, coconut, and coffee. Some variations also include candied fruit, such as lemon or orange peel, or are coated in chocolate or powdered sugar. You can find panellets at all the bakeries and pastry shops, or you can make some like I did!

My homemade panellets

Boniatos – Catalan people eat boniatos, or sweet potatoes, in the fall because they're usually season. They're often used as an ingredient in traditional Catalan dishes such has "neules i castanyes" (snowflakes and chestnuts), which is typically eaten during the Christmas season. Sweet potatoes are also commonly roasted and served as a side dish. You can even find roasted sweet potatoes in a pastry shop!
Mushrooms – many restaurants in Catalonia offer special "mushroom menus" during the fall season, featuring a variety of dishes that showcase the local mushroom harvest. The variety is crazy! Some of the most popular mushrooms in Catalonia include:
Rossinyol (chanterelle): This is a bright yellow-orange mushroom with a meaty texture and a slightly nutty flavor. It is often sautéed with garlic and parsley and served as a side dish or used as a topping for pizzas and pastas.
Ceps (porcini): This is a large, meaty mushroom with a nutty, earthy flavor. It is often used in stews, soups, and risottos, or simply sautéed with garlic and olive oil and served as a side dish.
Llengua de bou (beef tongue mushroom): This is a thin, elongated mushroom with a meaty texture and a slightly sweet, nutty flavor. It is often sautéed with garlic and parsley and served as a side dish or used as a filling for omelettes or empanadas.
Extra travel tips for going to Barcelona in October
Watch your valuables. Like any city, Barcelona has its share of pickpockets and petty theft, especially in crowded tourist areas like Las Ramblas. Be sure to keep your valuables (wallet, phone, passport) in a secure place, and keep an eye on your belongings when in crowded areas. Additionally, be aware of your surroundings and avoid walking alone at night in less well-lit areas. Read my popular guide on how to avoid pickpockets in Barcelona!
October is a popular time to visit Barcelona, so it's recommended to book accommodations in advance to ensure availability and to get a better price. Consider staying in a central location near public transportation, such as the Gothic Quarter or Eixample, for easy access to the city's main attractions.
October can be a great time to visit museums and attractions in Barcelona, as the crowds are generally smaller than in peak season. Consider purchasing tickets in advance to avoid long lines and ensure admission to popular attractions like La Sagrada Familia and Park Guell.
October can be a great time to take a day trip from Barcelona to nearby destinations like Montserrat or Sitges, which can be less crowded than during the peak summer season. Read my post on the day trips you can take by train or bus from Barcelona.
That's it! Have any questions about visiting Barcelona in October? Let me know in the comments. I read all of them!