*This site contains affiliate links, which means I receive a commission when you buy. See my full disclosure.
Fall can be a tricky season when it comes to knowing what to wear in Barcelona. While autumn officially starts on September 22, it's still shorts-and-tank-tops season until early October. As an expat who's lived in Barcelona for more than 15 years, I'm happy to share some tips on how to dress so you're comfortable and you don't look like a tourist (because: pickpockets.). Read on to know what to wear in Barcelona in the fall!
(And don't forget to download a free PDF of a Barcelona packing list!)
What to wear in Barcelona in the Fall
Before you read on, know that locals dress for the seasonal mood, and not really the weather. What do I mean? Well, today is October 13, which is well into the fall season. But yesterday, I wore a sleeveless top and pants. The high was 76ºF / 24ºC. It was sunny and beautiful! I could have worn shorts, but it would have looked weird.
The weather in Barcelona in the fall
The average temperature in Barcelona in the fall is September is 23ºC / 74ºF. There are still crowds in Barcelona and the beaches, but much less than in the summer months. Expect to feel a little sweaty still during the day since the humidity is high. We still sleep with the window open in September!
The average in October is about 18ºC / 64ºF. It cools down a little bit, but it is still mostly sunny between 10 am and 5 pm. Crowds are even lesser than in September. It's not really stay-all-day-at-the-beach weather, although it's a good time to stroll around Barceloneta or Mar Bella.
The weather in November is around 13ºC / 55ºF. It's cool in the mornings until about 10 am. It also gets darker earlier (around 6 pm) due to the clocks changing in late October. Around the second half of November, temperatures start to drop. It feels kind of winter-y then! Churros and chocolate start to taste good starting this month!
You can expect cold temps in December at around 11ºC / 52ºF. You'll have mostly sunny days but it's still chilly. It feels good when you're bundled up and you're enjoying the Christmas markets like at Sagrada Familia and Santa Llúcia!
About the rain: it's pretty sporadic in Barcelona. There are no real "rainy months" in the fall. I noticed it rains less and less each year.
---
Want a PRINTABLE BARCELONA PACKING LIST?
Sign up for my emails and get a free PDF of everything you need. CLICK BELOW to get it!
---
How to dress in Barcelona in the fall
First of all, remember that Barcelona is rife with pickpockets. If you look like a tourist, you're more likely a target of theft. And of course, you'll want to dress comfortably while you walk around the Sagrada Familia, stroll around the bumpy alleys in the Gothic Quarter, and go down to the underground metro.
Also, the "shoulder season" is short in Barcelona. September and October are warm, November and December are cold. There's barely any in the middle! Read on.
September: As I mentioned, expect it to be warm all month. The whole summer look of shorts, sandals, tank tops, and strappy dresses are acceptable all month, even among locals. Keep the rubber flip-flops just for the beach. Opt for a nice leather sandal instead!
October: It cools down a little, but you can probably wear shorts and sandals only until mid-October. Opt for short-sleeve or long-sleeve shirts, but the material must be light. Most local adults will not wear shorts anymore. (In fact, I'm probably the LAST mom at my kids' local Catalan school who wears shorts – I did until about October 15!) Wear a medium-weight sweater or light jacket in the mornings and evenings. If you wear a dress or skirt, you can get away with going bare-legged during the day. You'll probably want to wear some tights underneath in the evenings.
November:  Will people still be wearing shorts? YES: tourists only. Wear pants or jeans, and a light jacket or sweater. A scarf to accessorize too! Around the week of November, you'll have to wear a medium-weight jacket or coat, heavier than a denim jacket (to give you an idea). If you wear a dress or skirt, wear tights. Also, locals do NOT wear brightly-colored clothes in the fall. They stick to muted colors like gray, white, brown, or black, etc.
December: This is the coldest month of fall. Wear long-sleeved tops. A jacket or coat is necessary, especially towards the end of the season. You will need to wear a base layer top under your blouse or shorts. Definitely wear medium-weight pants or jeans. A base layer under the bottoms (long johns, thermals, etc.) is NOT needed.  This is definitely scarf season! Under dresses or skirts, wear warm tights. 
What to wear in Barcelona: Fall basics checklist
A versatile short-sleeved top
This blouse works great for September, October, and during sunny afternoons in early November. It has a V-neck neckline and waist shirring to make you look like you have a slim waist. It's so popular that has over 40,000+ reviews. Plus it comes in 42 colors! If you wear it at night, be sure to wear another layer in the mornings and evenings.
Check prices for this v-neck top
A light cardigan with pockets
You'll definitely need a sweater in the fall, preferably medium weight. This one would work and would look nice layered with a printed scarf. This would work great in September and October.
Check prices for this cardigan sweater
For November and December, try this warmer sweater
This cable-knit sweater is lined with a warm interior, and it has a hood. It also has a full-front zipper to keep the warmth in, even though it has three cute toggle buttons. It also comes in 29 colors!
Check prices for this warm sweater
A light jacket
This beautiful anorak would go with everything and has the right weight so you're warm in the mornings and evenings. Plus, it has pockets, which are always helpful when you need to temporarily store a receipt or a metro card during harried situations.
Check prices for this light jacket
Comfortable travel pants
These outstanding pants are a huge best-seller among travelers! They're comfortable, flexible, and you can wear them with casual flats, heels, or even hiking boots. They're designed to handle a 25-hour day and even have a hidden zip stash pocket in one of the legs. It can also be used year-round because it has a durable water-repellent finish and has 50+ UPF protection to keep you cool and dry.
Check out these cross-functional travel pants
A versatile long-sleeved dress
This dress works great to wear with boots or sandals. You can also layer it under a long sweater or even a denim jacket. This would work for November or December and you can wear it from day to evening when you hit up the bars. With over 2,400+ positive reviews on Amazon, I don't think you can go wrong! Choose from over a dozen colors.
Check prices for this cute long-sleeved dress
Short-sleeved dress with pockets
This short-sleeved dress would be cute and comfortable in September and October. It's also a fantastic dress to layer under a jacket and over tights. It would work from a daytime-to-evening outfit. Pair it with a cute necklace and earrings to dress it up!
Check prices for this short-sleeved pleated dress
A travel scarf with a hidden pocket – it's a convertible wrap!!
How cool is this scarf that converts into a wrap! Plus it's theft-proof: it has TWO hidden pockets if you want to hide some extra cash, a key, or some credit cards.You won't need a scarf until it cools down a little bit in November. Click through to check it out!
Check prices for this convertible travel scarf to wrap
An anti-theft purse
If you haven't heard, Barcelona is a hotspot for petty theft. It makes me a bit sad to say. BUT, I want to be sure that you feel safe when you're here. One way to have peace of mind is to get an anti-theft purse. The straps and body material is cut-proof so thieves can't cut them easily. The best part? The top and front zippers lock. I own the one below, which is fashionable and functional!
Check out prices for this Travelon anti-theft travel purse
<<Want to hide all your money and valuables? Read my suggestions for pickpocket-proof clothing like undies, scarves, and more!>>
<< Don't miss my post about how to avoid pickpockets in Barcelona. I'll tell you where the hotspots and common scams Also, stay safe in Barcelona. >>
A small external battery for your mobile phone
Don't get caught with a dead phone while traveling. Try this compact battery you can carry when you've run out of juice – so you can keep using Google Maps and taking photos!
Check prices for this light external phone battery
An EU Type C Plug Adapter
If you don't live in Spain, you'll need this adapter for your chargers. It's an EU Type C Country plug adapter. In case you haven't been to Europe, it's important to note that it's most commonly used here (NOT in the UK!). It has two round prongs. This is a universal adapter that works anywhere in the world!
Check prices for this plug adapter
Barcelona packing list for fall
Two short-sleeved tops. If you go out for drinks in a crowded bar, or if you're stuck in a stuffy cafe, you can still comfortably wear short sleeves indoors. I made sure they were kinda dressy so you can wear them for a nice evening out.
Two 3/4-sleeved tops. You don't need a knit jumper just yet. The materials can be light and breezy.
One light sweater. This is good to have if you just want to throw a compact cover-up in your bag if it happens to be sunny that day.
One light jacket. You may need it in the morning (around 9 am) or after 8 pm, when it starts to really cool down.
One skirt. If you're one to go out, I'd bring a dressy skirt to wear. Some thin tights might come in handy if the temps dip, but just for November and December.
Pants. You can go with light pants in September and October, medium pants in November in December.
One scarf. This is a great accessory to have if you don't want to bring a jacket, and you can layer it on top of your sweater if it cools down. It definitely adds a warm, coziness factor. This morning when I went out, I only saw a few women are wearing them. I love to wear a bright scarf to dress up my outfit!
A robber-resistant purse. For the love of God, please don't get robbed in Barcelona. A purse with a long strap that you can straddle diagonally across your body is perfect. And always have a zip on it. No snap buttons for easy access!
Casual shoes. If you're walking around Barcelona, you'll wanna wear something really comfortable that you can wear from day to night.
An umbrella (optional). You can always buy one as they're super cheap. People will start hawking them for about 4 euros downtown if the rain really hits down hard.
A camisole. You won't need to wear an undershirt / tank top / camisole until about the second week of November.
Underwear. Of course! Or not?!
---
Want a PRINTABLE BARCELONA PACKING LIST?
Sign up for my emails and get a free PDF of everything you need. CLICK BELOW to get it!
---
Some examples of how to / how not to dress in Barcelona
YES! This fashionable local lady seems appropriately dressed for fall. Light scarf, light zip-up jacket, light cotton top, and some jeans. Plus funky glasses. Because Barcelona.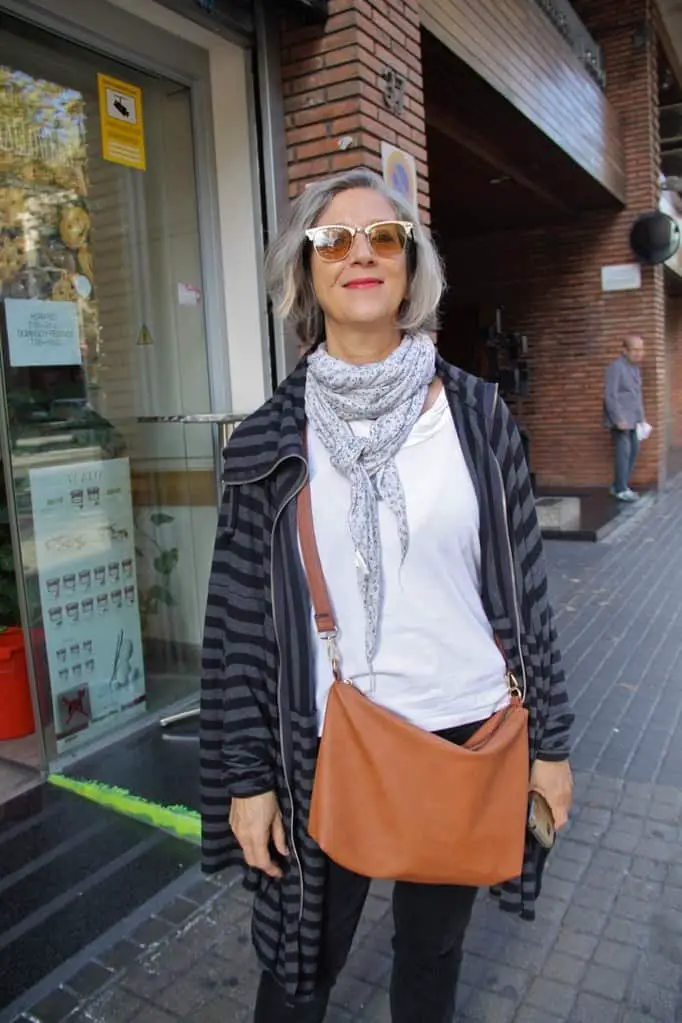 If you want to blend in, Just say NO to shorts in November. While they're probably cozy, they're not exactly a piece that makes you look local. Another thing. Please wear your purse in the front, and not in the back! A pickpocket is eyeing this purse right now!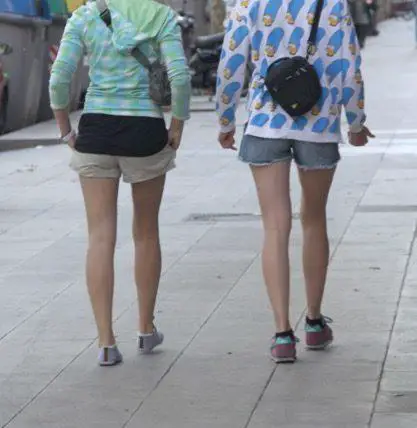 Again, these tourists are slightly dressed for summer here. Perhaps it's the combo of the backpack that give away the fact that they're not from here. I totally get that they want to be comfortable. But more muted colors would have give the man a low profile.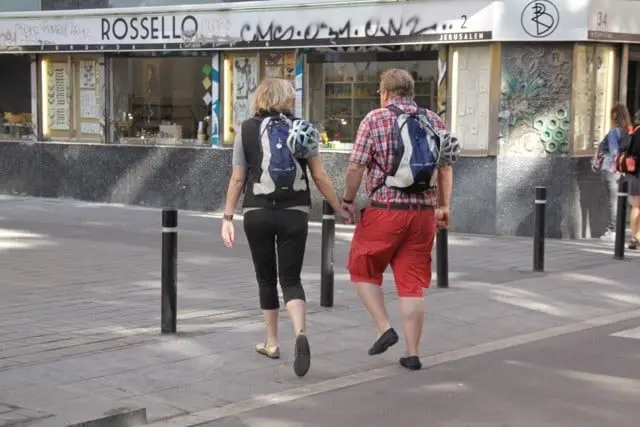 That's it for this season! I hope you've found this post helpful. And enjoy Barcelona in the fall!
---
Have you been to Barcelona in the fall? What did you notice about how people dress?