*This site contains affiliate links, which means I receive a commission when you buy. See my full disclosure.
Are you traveling to Barcelona with a toddler or baby? I'm sure you're excited to come to this marvelous city, but you have doubts about what you'll need. Will my stroller fit in on the Barcelona streets? Do restaurants have highchairs? Relax. I'm a believer in being ultra-practical and realistic when it comes to packing for my kids. This post will help you eliminate the bulky baby gear and minimize your list to the necessary items. Enter – the ultimate Barcelona packing list for babies and toddlers!
What to pack for Barcelona: babies and toddlers
A large beach towel: A family towel will come in handy in Barcelona – especially at the beach for swimming or the park for a picnic. In fact, I'd been looking for a design-y towel that doesn't trap sand. (Amazon does not have it!) Tesalate actually gifted me this extra-large, sand-free towel right before I wrote this list! This Tesalate towel fits two lounging adults. But it would also be a good picnic blanket for 3 or 4 adults. It's also super-absorbent and rolls up tightly in a bag. (You even get a drawstring bag to carry it in!). It also dries rapidly, so you could take a swim in the morning, and it would be ready to use in the afternoon.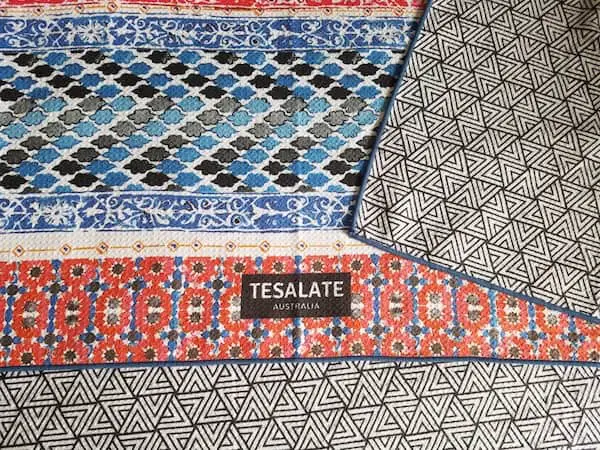 Buy your Tesalate beach towel here
Baby carrier: A baby carrier is practical if you want to go to places where the stroller is cumbersome. Personally, I've never been good with a wrap-style carrier. But a friend gave me her Ergobaby carrier, and I definitely trust it! My baby's weight felt distributed and it was easy to put on. I would not skimp and buy a cheap brand because you do want ergonomic comfort – for your baby and yourself.
See prices for the Ergobaby ergonomic baby carrier
---
Need to know which Barcelona attractions are good (or bad) for bringing a baby? Read my Ultimate Guide to Barcelona with a Toddler or Baby here.)
---
Travel highchair – We loved our travel high chair, and it's a must if you want your baby off your lap. (The large majority of Barcelona restaurants do not own highchairs.) I prefer this one below vs. one that is just a cloth and slips in your bag. For one, your baby needs to be "boosted" so that they can see the tabletop and aren't hitting their head on it. With this booster seat, your baby can color or play with a toy at the table too.
See prices for this travel high chair
Baby utensils – I always had a BPA-free plastic spoon locked and loaded in my purse when my babies were small. Of course, you can ask for a teaspoon at a restaurant. But a plastic spoon or fork is light on the baby's gums or milk teeth. These Munchkin utensils fit perfectly in those tiny hands too.
See prices for these baby utensils
Snack Catcher – I love love my snack catchers. My kids still use them well beyond their baby years! This is a great item if you want to give your kids crackers, apple slices, or tiny cookies. The child grabs the snack and doesn't risk the rest of the snacks falling on the floor. It's great to have them handy when kids are snacking in a stroller or on an airplane. It also doubles as a plastic cup! I have 4 of them!
See prices for the snack catcher
A light stroller: A light, foldable stroller is a must! Know that some restaurants in Barcelona are tiny, so owners may ask you to fold your pushchair. I suggest a Maclaren for their durability and lightness. Mine is 12 years old and still going! Maclarens are also narrow enough to fit in between the turnstile of the regular metro entrances in Barcelona. (They have a special entrance for wheelchairs and larger strollers though.)
Find prices for this Maclaren stroller
Changing pad: Barcelona restaurants very often do not have a changing mat for babies. If you're in a restaurant, sometimes you have to make do with any surface. Go with a basic pad that doesn't fold out hugely. Sometimes you don't have a lot of space to change your baby (like on a public bathroom counter), so it's good to have something that folds up compactly like this one.
Find prices for this travel pad
OPTIONAL
A car seat – If you plan on taking a taxi, know that 99.99% of taxis do not own a car seat. You will have to pre-book a special taxi service to bring a car seat. (See my taxi recommendations that provide car seats here.) But, if you plan on renting a car, or are dead set on bringing one, I recommend this safe and super-light car seat by Cosco. We took this one to New York City, and it checks all the marks! Plus it's easy on the budget too!
See prices for this light Cosco car seat
Of course, bring the toys and activities that your child loves too 🙂 So what do you think? Am I missing any baby or toddler items? Let me know in the comments!