*This site contains affiliate links, which means I receive a commission when you buy. See my full disclosure.
When visitors come to Barcelona, I'm often asked, "Where can I have the best paella in Barcelona?" There are literally dozens of places that vie for top spots.  Here, I'm sharing which ones are on my must-try list simply because they're a hit among locals in Barcelona.
Eating paella is a time-honored tradition that brings together families on Sundays. Anyone who calls paella "street food" is committing blasphemy. It's not a casual dish to be picked up like pizza. It's a ritual, an art, a lifestyle!
Originally invented in Valencia, the paella was cooked on a fire in the open air. Paella Valenciana is the original recipe of paella. Its ingredients are chicken, rabbit, flat beans, and white beans. No, it is not the seafood paella, which is often found in photos! There are also different kinds, like black paella (which uses squid ink to make it black), seafood paella (the most internationally famous), and a meat paella. Paella mixta is a mix of seafood and meat.
<<If you don't think you'd like paella, what about fideuà, its pasta cousin? Check out the dueling dishes on my blog: Fideua vs. Paella, the Spanish dish showdown!! >>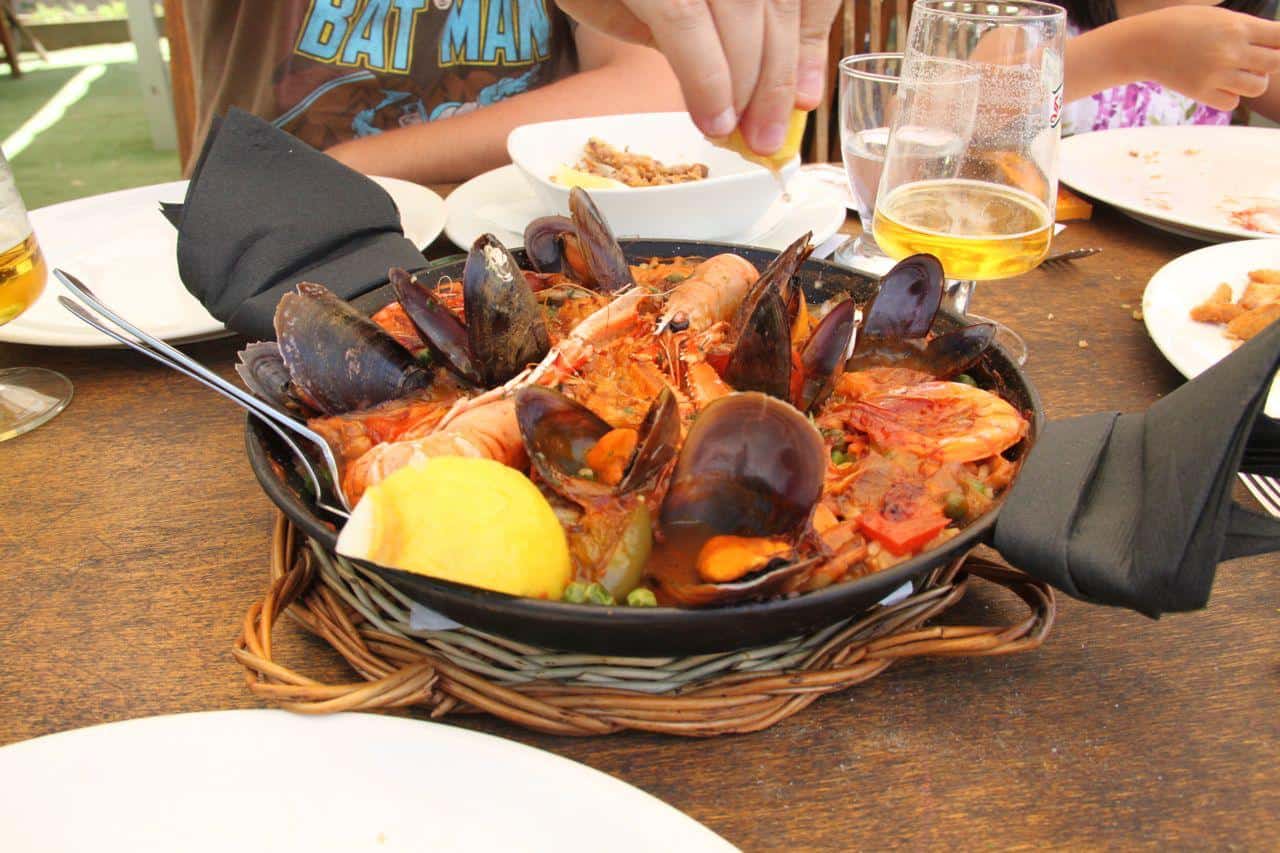 I've picked the following restaurants based on their delicious paella and their ambiance. Read on!
Best paella restaurants in Barcelona
Martinez – With gorgeous, gorgeous views of the city, Martinez in Montserrat has several choices of photo-worthy paellas, like black paella rice with grilled octopus, or even organic seasonal vegetables. Its lush, plant-filled interior makes you feel welcome too. Ctra. de Miramar, 38
Can Solé – This classic restaurant has been open since 1903, and is one of the oldest in La Barceloneta. Many famous Spanish and Catalan people have eaten here, like Joan Manuel Serrat and Sara Montiel. Carrer de Sant Carles, 4
Barraca – This seaside restaurant has a charming terrace and sources its seafood locally. It's a light-filled restaurant with a view of the Mediterranean. Its simple menu includes seafood rice, organic vegetable rice, or octopus rice. Pg. Marítim de la Barceloneta, 1
7 Portes – One of the most famous restaurants to have paella, 7 Portes' waiters are dressed in classic white uniform, serving you about 9 types of paella. The prices aren't too bad either, running around 25 euros. Open since 1836, this iconic restaurant even has its own cookbook. They also deliver, but you wouldn't want to miss the ambiance inside. Pg. de Colom, 31
La Paella de Su – With its cozy, casual atmosphere, La Paella de Su serves classic Valencian paella and also more creative choices like Homenaje a Gaudi (paella with chicken, mushrooms, flavored with rosemary), or even a vegan option. Avinguda Diagonal, 436, bajo 2
Cheriff – Another emblematic restaurant that's been opened since the 1950s, they have a range of rice dishes: classic paella rice, rice caldoso (kind of a rice casserole), and a more soupy caldereta (a rice stew). You have choices like seafood, green spicy lobster, and Canadian lobster. It has a comprehensive seafood menu oysters, clams, crayfish, prawns, and more.  Carrer de Ginebra, 15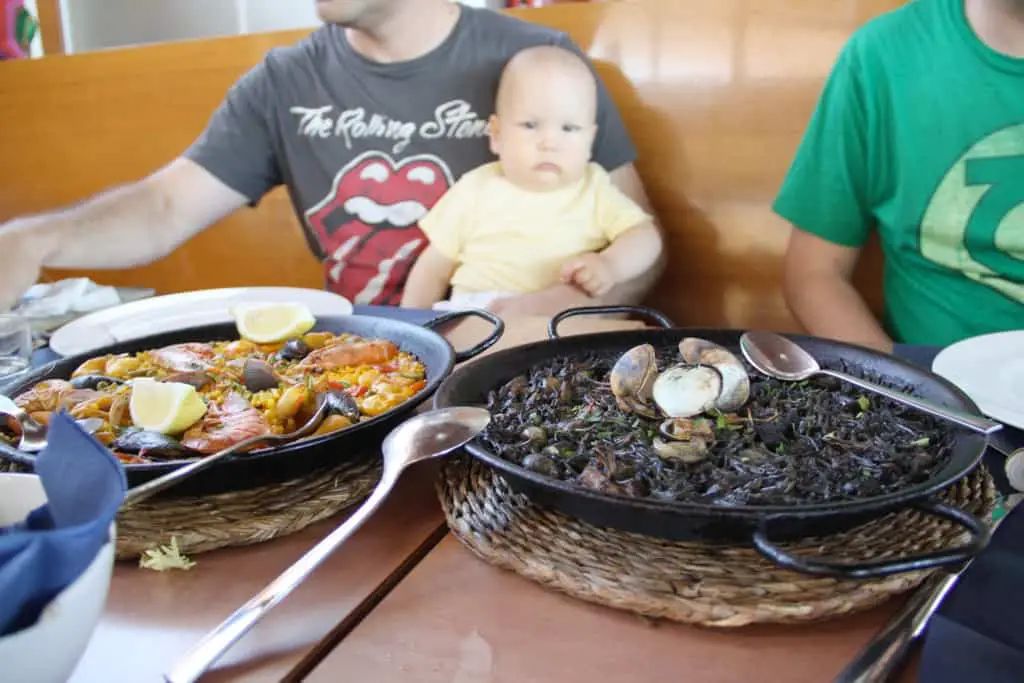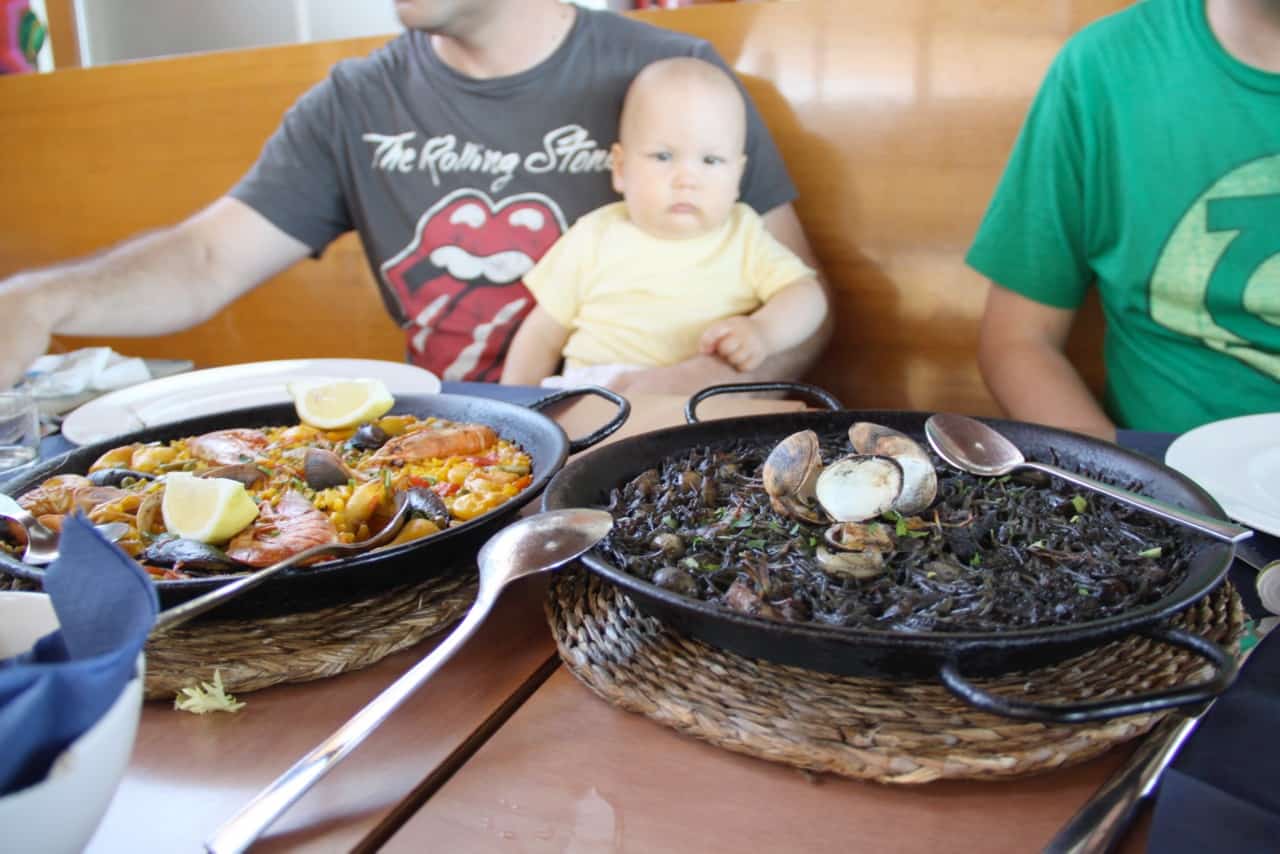 How to eat paella the local way
Paella is typically eaten for lunchtime, not dinner, ever. Only tourists eat paella for dinner. This is a concept I had to get used to. Lunch is the heaviest, most important meal, and paella is considered a "heavy meal". Read more about my tips on how to eat and drink like a Spaniard!
Paella is typically shared by a minimum of 2 people. Prices on the menu for a paella are usually show per portion, or per person. So if it says 22€ for a seafood paella, and you want to share it with your partner, it's 22€ per person, or 44€ for both. (By the way, it will probably be worth it!) So, if you have any doubt about the price, don't be afraid to ask.
 If you're going any of the restaurants listed above, check if reservations are available. If not, be sure to get to the restaurant early if it's a weekend.
Be patient while you're paella is cooking. When you order your paella, it should take about 25-30 minutes, minimum. If the restaurant is busy, expect longer. So this is the time for tapas! Because eating a paella is a social event, order some appetizers: tapas, or raciónes

(which are bigger portions of food). Maybe try a seafood dish like fried calamari, or

croquetas

(fried croquettes).

When your server arrives with your server, he or she will put it on the center of the table, or to the side. He may also ask you if you want him to serve it in each plate. Or you can do it yourself!
Share the goodies. Sometimes, you'll just have 5 or 6 langoustines. Be sure to be fair so that everyone gets one!
A slice of lemon is usually served on the side. Ask permission of the group if you want it squeezed. Alternatively, if there are a few slices, you can squeeze it on your own dish. But don't overdo it! Just a hint of citrus-y lemon flavor is all you need.
Let's say you can't make it to any of the paella restaurants above. Welp, if you order a menu del día (fixed-price menu) on a Thursday, you'll often find paella as the main dish.
What makes a bad paella
A bad paella = The overall texture is too soft like risotto. It's all about the rice, rice, baby. A bad paella would have texture is too even, like a mushy risotto. The texture of a paella should be a little crispy / dry at the top of the dish, softer in the middle, and crusty at the bottom. Americans often like an even tone of rice throughout (like a casserole), and this is equal to paella blasphemy.
A bad paella = The texture the rice grain is too soft or too hard. Unlike in the US, people think risotto is often used as "a paella rice". In fact, paella in Spain uses a short rice grain, like Spanish bomba rice. A type of bomba is Calasparra, which is the region. This adds a nice texture of soft on the outside, and chewy in the middle.
A bad paella = It's too orange. The paella shouldn't be a shade of Donald Trump. The true color of paella shouldn't be orange. This means that they've used food coloring, often used in supermarkets called "colorante". The real color should be like a light brown or tan, which shaded by the the threads of saffron.
A bad paella = It costs less than 10ish euros per person for a small paella dish for two. Okay, so price is not an end-all determinant. But making a quality paella requires fresh ingredients and time. So it shouldn't be cheap!
Map of Best Paella Restaurants
Eating in Barcelona
Want to know more about food and restaurants in Barcelona?
Have any favorite paella restaurants in Barcelona? Let me know in the comments!