*This site contains affiliate links, which means I receive a commission when you buy. See my full disclosure.
When visitors come to Barcelona, I'm often asked, "Where can I have the best paella in Barcelona?" There are literally dozens of places that vie for top spots.  Here, I'm sharing which ones are on my must-try list simply because they're a hit among locals in Barcelona.
Eating paella is a time-honored tradition that brings together families on Sundays. Anyone who calls paella "street food" is committing blasphemy. It's not a casual dish to be picked up like pizza. It's a ritual, an art, a lifestyle!
Originally invented in Valencia, the paella was cooked on a fire in the open air. It's become synonymous with Spanish food. There are also different kinds, like black paella (which uses squid ink to make it black), seafood paella, and a meat paella. Paella Valenciana, which is the original recipe of paella. Its ingredients are chicken, rabbit, flat beans, white beans.  Mixed paella, which has a mix of seafood and meat. I'll save the history, origins, etc. another day!
<<And if you don't think you'd like paella, what about fideuà, its cousin? Check out the dueling dishes on my blog: Fideua vs. Paella, the Spanish dish showdown!! >>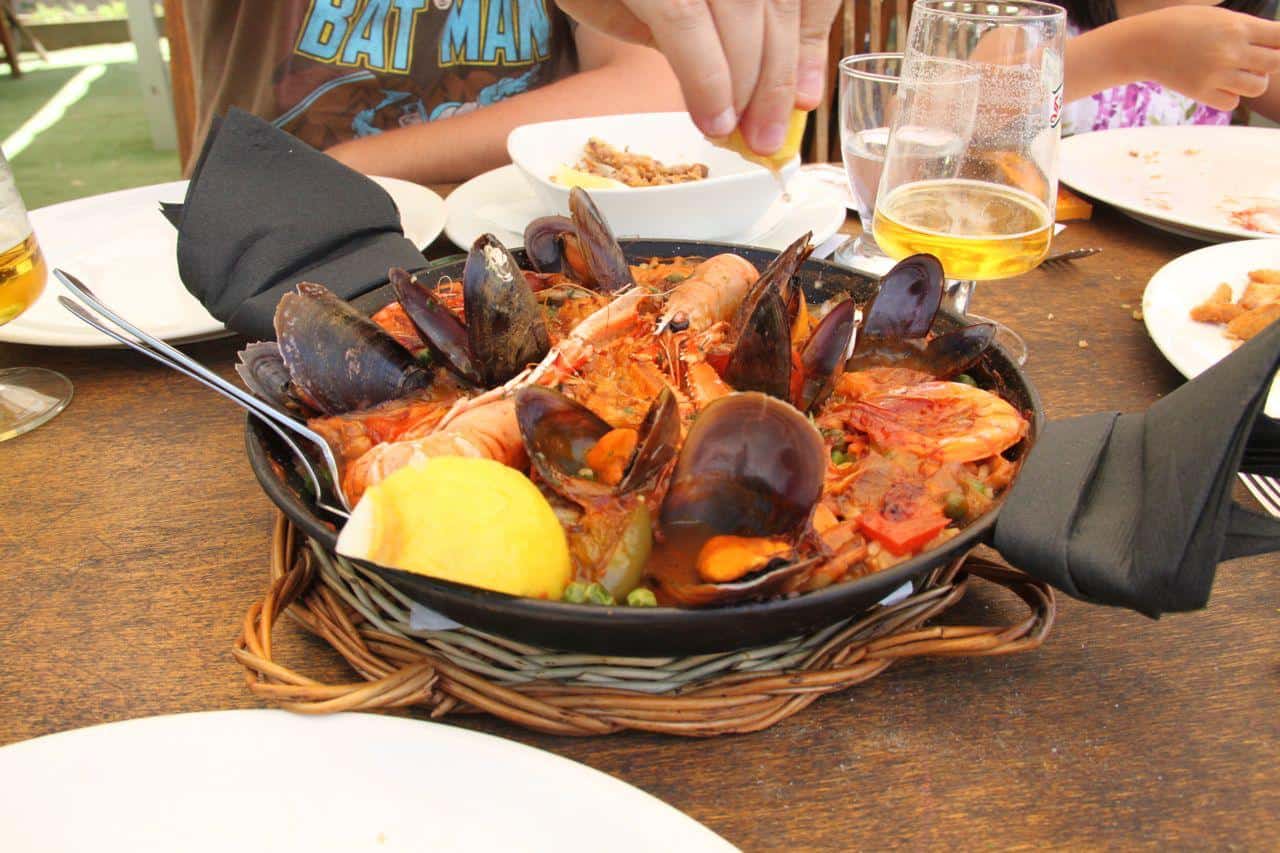 I've picked the following restaurants based on their delicious paella and their ambiance.
List of best paella restaurants in Barcelona
Arume – Carrer d'en Botella, 11
Martinez –Ctra. de Miramar, 38
Pez Vela – Passeig del Mare Nostrum, 19-21
Can Solé – Carrer de Sant Carles, 4
Xiringuito Escribà – Av. del Litoral, 62
7 Portes – Pg. de Colom, 31
La Barca del Salamanca – Moll de Gregal, 17
Elche – Carrer de Vila i Vilà, 71
Cheriff – Carrer de Ginebra, 15
What makes a bad paella
The overall texture is too soft like risotto. It's all about the rice, rice, baby. The texture is too even, like a comforting risotto. The texture should be crunchy at the top, softer in the middle, and crusty at the bottom. Americans like an even tone of rice, equal to rice blasphemy.
The texture the rice grain is too soft or too hard. Unlike in the US, people think risotto is often used as "a paella rice". In fact, paella in Spain uses Spanish bomba rice. A type of bomba is Calasparra, which is the region. This adds a nice texture of soft on the outside, and chewy in the middle.
It's too orange. The paella shouldn't be a shade of Donald Trump. The true color of paella shouldn't be orange. This means that they've used food coloring, often used in supermarkets called "colorante".
It costs less than 15ish euros for a small paella dish for two. Okay, so price is not an end-all determinant. But making a quality paella requires fresh ingredients and time. So it shouldn't be cheap!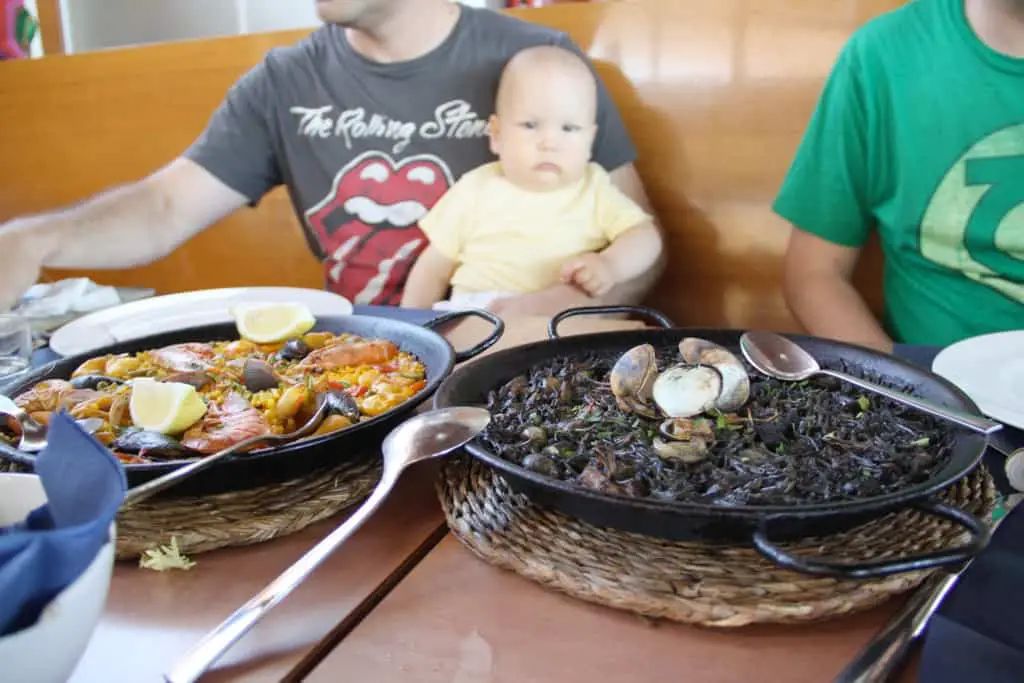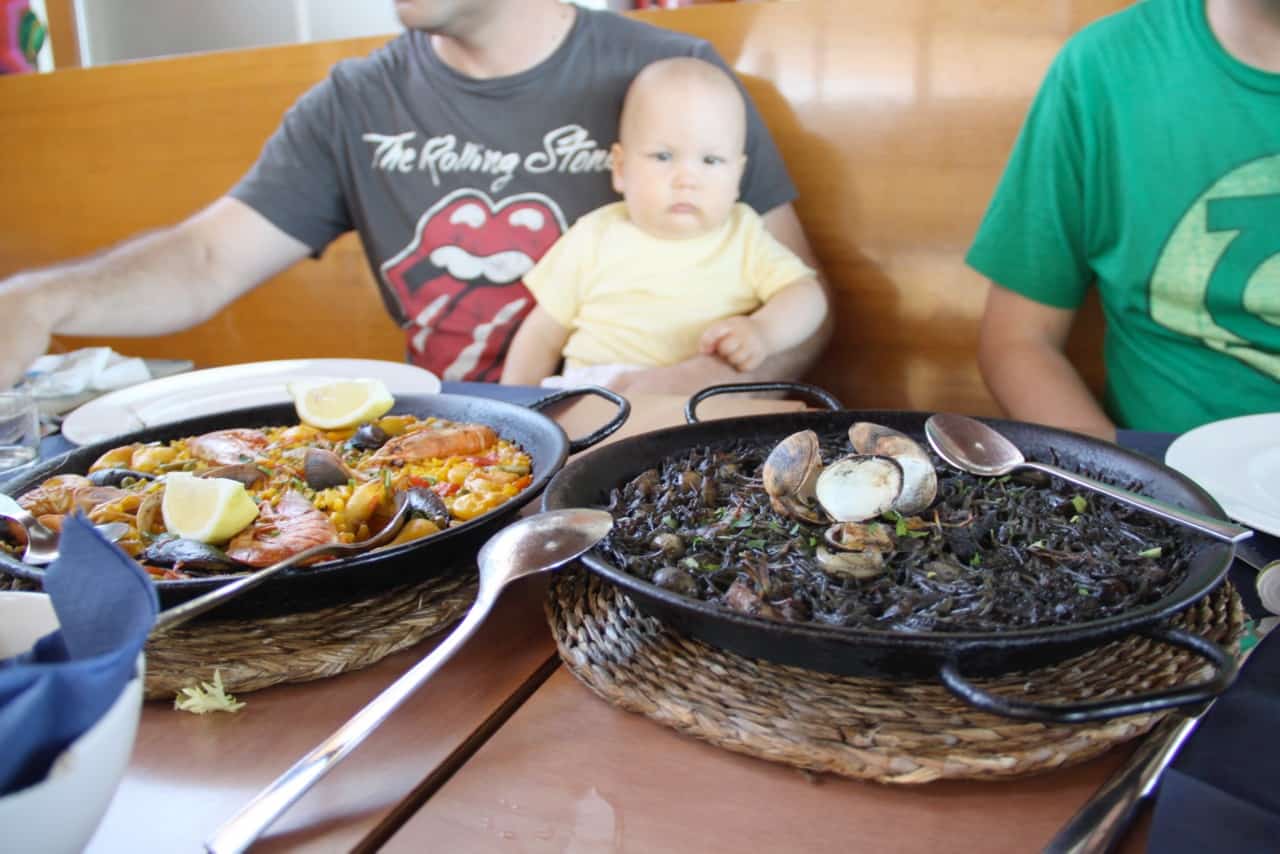 How to eat paella the local way
– Paella is typically eaten for lunchtime, not dinner, ever. Only tourists eat paella for dinner. This is a concept I had to get used to. Lunch is the heaviest, most important meal, and paella is considered a "heavy meal". Read more about my tips on how to eat and drink like a Spaniard!
– Paella is typically shared by a minimum of 2 people.
– If you're going any of the restaurants listed above, check if reservations are available. If not, be sure to get to the restaurant early if it's a weekend.
– Be patient while you're paella is cooking. When you order your paella, it should take about 25-30 minutes. So this is the time for tapas! Because eating a paella is a social event, order some appetizers: tapas, or raciónes (which are bigger portions of food). Maybe try a seafood dish like fried calamari, or croquetas?
– When your server arrives with your server, he or she will put it on the center of the table, or to the side. He may also ask you if you want him to serve it in each plate. Or you can do it yourself!
– Sharing the goodies. Sometimes, you'll just have 5 or 6 langoustines. be sure to be fair so that everyone gets one!
– A slice of lemon is usually on the side. You can't just squeeze it on! You have to ask permission of the group if you want it squeezed. Alternatively, if there are a few slices, you can squeeze it on your own dish. But don't overdo it! A rounding squeeze is all you need.
– Let's say you can't make it to any of the paella restaurants above. Welp, if you order a menu del día on a Thursday, you'll often find paella as the main dish! Chance it if you want to try paella in Barcelona, and won't get another chance!