*This site contains affiliate links, which means I receive a commission when you buy. See my full disclosure.
April is a time of awakening from the cold winter in Barcelona. With a renewed feeling of spring, Barcelona becomes more alive with more crowds and outdoor festivities. Locals, like me, shed our winter coats to put them away into storage until December. Short sleeves come back. It's a good time to visit Barcelona in April! In this blog post, I'll talk about Barcelona events, the temperature in April, what to wear, what to pack, and other Barcelona travel tips you didn't know you needed. If you don't know me, I'm a Barcelona resident who's been living here since 2009. So I know a little bit about this city 🙂
Why you should visit Barcelona in April
Sunny, spring weather that's cool enough to walk around comfortably without feeling too hot or too cold
Barcelona crowds are all year, but lines are generally shorter than in the crazy summer
Outdoor events like the Festa Major de Sagrada Familia, Feria de Abril de Catalunya and a few Holy Week processions
Weather in Barcelona in April
April in Barcelona is characterized by pleasant weather with average temperatures ranging from 15°C to 20°C (59°F to 68°F). It's not too hot and not too cold!
Based on Holiday-Weather, the average Barcelona temperature in April is 12.5°C / 55°F. The high is 18.3°C / 65°F, and the low is 10.4°C / 51°F. The average day temperature is 14.6°C / 58°F. And the average night temperature is 14.2°C / 58°F. Barcelona gets about 8 hours of sunshine hours. It also gets about 5 days of rainfall in April. The Mediterranean Sea is still cold at about 15°C / 59°F. Most people are not swimming!
Tips for dressing appropriately in April
The April temperatures in Barcelona are mild. It may be sunny, but that doesn't mean you'll be comfortable wearing shorts and a tank top all day. Only tourists do this! You can comfortably wear a long-sleeved or short-sleeved shirt with a light jacket or medium-weight sweater during the day. Then in the evenings, wear a heavier jacket. Barcelona locals do not show that much flesh until the summer. They dress for the season and NOT the weather.
Personally, I would not wear sandals yet. The majority of locals don't wear them at least until it's June, or unless it's really hot.
Because Barcelona is an urban city, locals also wear lots of dark, muted colors with flats or sneaks. You will not see a lot of dresses and heels during the day. Most locals get around by metro and bus, so comfort is very important just for getting around quickly and comfortably. There is also a breeze in Barcelona, which can make the temperature feel cooler. So that means always bring a jacket or sweater during the day. Trust me. When I first got to Barcelona, I used to wear spring dresses with a cardigan in the spring. And I'd just tough out the cooler temperatures in the evenings. Don't do this! No wonder I got sick so much. You'll feel so much more comfortable with a warmer layer in the spring. Bring a medium jacket like this:
This one is also waterproof in case you stuck in the rain. Then you can skip bringing an umbrella if you want to travel light. Check prices for this waterproof jacket
Want to know more? Check out my more in-depth post –> what to wear in the spring, which includes March and May.
What to pack in April
Other than the weather, another element to consider when packing for April is to find ways to not get pickpocketed. (Read my whole guide on how to deter pickpockets here.) Here's a packing list for Barcelona for April to help you:
Anti-theft purse <– I've been using this purse for 5 years. The zipper locks!
Camisole / undershirt to wear as a base layer (optional)
Hoodie, sweater, or jacket for the day time
Long-sleeve shirts
Short-sleeve shirts
Medium-weight jacket for evenings
Pants / Jeans
Skirt or dress, if you like
Tights to wear under your skirt or dress. You could possibly go bare-legged at this time, but I would not.
Underwear
Bra
Socks
Comfortable shoes
Umbrella (optional) –> I am one to pack very minimally. Check the weather forecast to see the chance of showers!
Read my guide about PICKPOCKET-PROOF TRAVEL ITEMS to keep your stuff safe in Barcelona!
What to do in Barcelona in April
Handmade Festival. March 29-April 1, 2023. This creative festival is for those who love DIY products like yarns, beads, and other DIY materials and products. They also have food trucks, kids' workshops, live music, and more! They have See my old but relevant post about my time at the Handmade Festival here.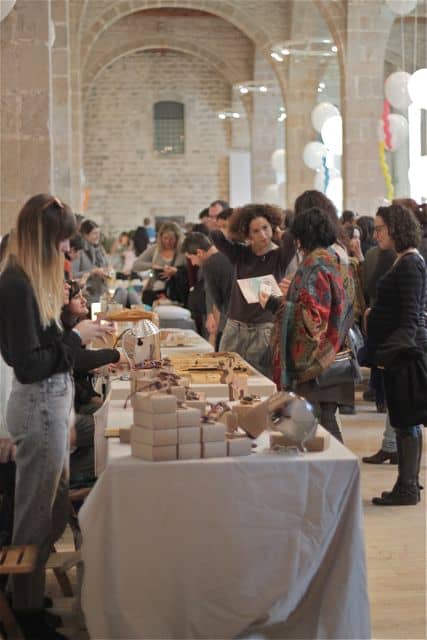 Brunch in the City Barcelona: April 9, 2023, at Plaça Major de Nou Barris, April 17, 2023, at Poble Espanyol, April 24, 2023, at Poble Espanyol. Brunch in the City is an all-day event of dancing to electronic music, delicious local food, and even workshops for the kids in their Petit Brunch area. They are scheduled a few times per year, but you have buy tickets early! Unfortunately, April 2023 shows are already SOLD OUT.
Holy Week. April 2 – April 9, 2023. Easter week is an understated week in Barcelona compared to other parts of Spain, where locals flock to view the somber Easter processions. If you want to see traditional processions of Catholic fraternities carrying candles, crosses, and statues, head to Hospitalet or Badalona. Check out this page (in Spanish) to see where you can catch the beautiful processions.
NOTE: Many shops and restaurants are closed on April 7, Good Friday. They're also closed on April 9, Easter Sunday (like every Sunday. AND closures are on Easter Monday, April 10.)
Festa Major de Sagrada Familia. April 14 – April 23, 2023.  Any festa major, a cultural festival of one of the Barcelona neighborhoods, is a fun, photogenic celebration. This consists of parades of giants and will even stop in front of the Sagrada Familia. Don't miss that photo op! You can also catch a correfoc, where dudes wearing devil costumes run around carrying fire. Also, see a beautiful casteller, a human castle also in front of the Sagrada Familia.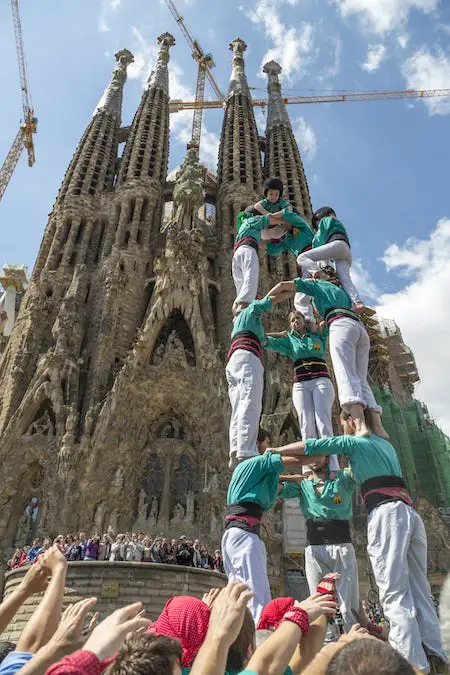 Día de Sant Jordi (St. George's Day). April 23, 2023. The day of Sant Jordi is similar to Valentine's Day, but even more interesting. The man gives the women a rose, and the woman traditionally gives the man a book. Today, everyone likes to give books – to kids, grandparents, and the whole family. The city sets up various areas where locals can shop for books and roses. It's a fun ambiance. Check out Las Ramblas, Rambla Catalunya, Passeig de Gracia, or Placa Catalunya.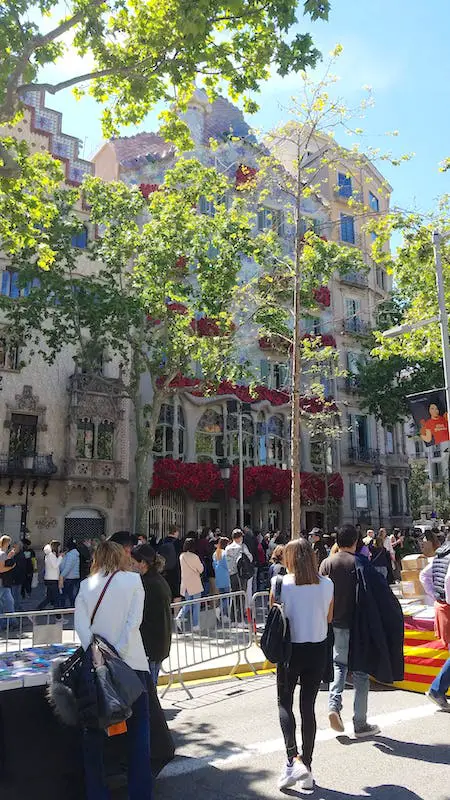 Cursa del Corte Inglés (El Corte Inglés race). April 23, 2023. (Still waiting to be confirmed.) El Corte Inglés, Spain's only department store, holds this wildly popular free race in Barcelona, this year marking the 43rd year. My husband will be running it!
Feria de Abril de Catalunya (April Fair of Catalunya). TBD. Mimicking the traditional spring fair in Seville, the Feria de Abril in Barcelona celebrates Andalusian customs: ladies dance in polka-dot ruffle dresses, and pop-up restaurant tents are set up with plenty of room for dancing sevillanas. There's also a huge section of boisterous carnival rides, retail stands, and cotton candy. It's set at the extensive in Parc del Fòrum.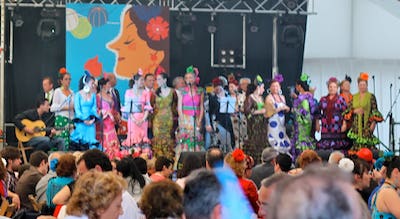 Want to see all the events of the year in Barcelona? Click here to see the events and festivals calendar!
Food and Drink
Some foods and drink are available all year round like paella, fideua, or jamón ibérico. But some foods and dishes are for this season like these:
Mona de Pascua – During the days leading up to Easter, Barcelona pastry shops display chocolate cakes and figurines, decorated with intricate detail (and they're not cheap!) These chocolate figures are called Mona de Pascua, a sweet food that the Moors made for their masters to celebrate the end of Lent. Catholic tradition observes that a child's godfather gives a mona to his godson or goddaughter on Easter Monday, April 9, which is a public holiday in Catalonia. Try one of these beautiful figurines, even if it's a small chocolate egg.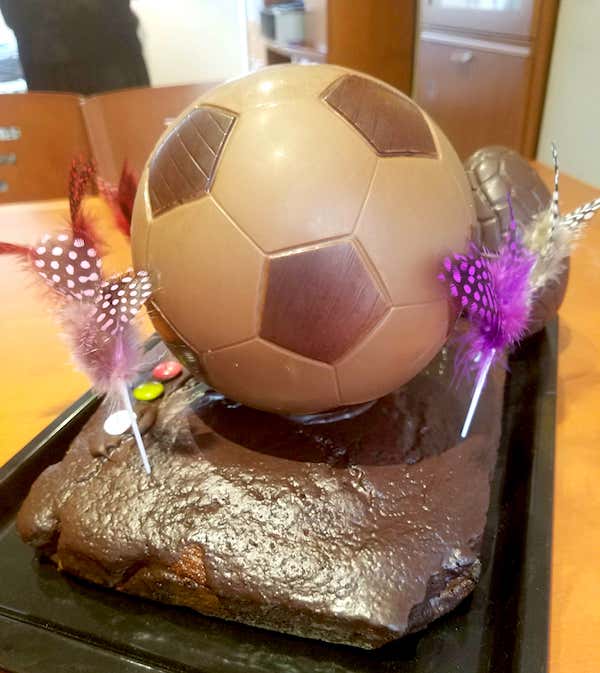 Pestiños are a traditional Spanish sweet, originating from Andalusia, southern Spain. They are made from a simple batter of flour, olive oil, and water, which is deep-fried until golden brown. Pestiños are then coated in a syrup made from sugar and cinnamon, giving them a sweet and slightly spicy flavor. They are often served as a snack or dessert and are a popular treat during festivals and religious celebrations in Spain. Pestiños are simple to make and can be enjoyed by themselves or with a cup of coffee or tea.
Torrijas are a traditional Spanish dessert that are often eaten during Holy Week, which is the week leading up to Easter Sunday. Holy Week is a time of religious reflection and penitence for many Spanish people, and torrijas are a way to use up leftover bread, which was traditionally not eaten during the fasting days of Holy Week. They're made by soaking slices of bread in a mixture of milk, sugar, and sometimes cinnamon or lemon. Then it's fried in olive oil until golden brown, and the torrijas are finished by drizzling them with honey or a syrup made from sugar and cinnamon. Think of it as a overloaded French toast!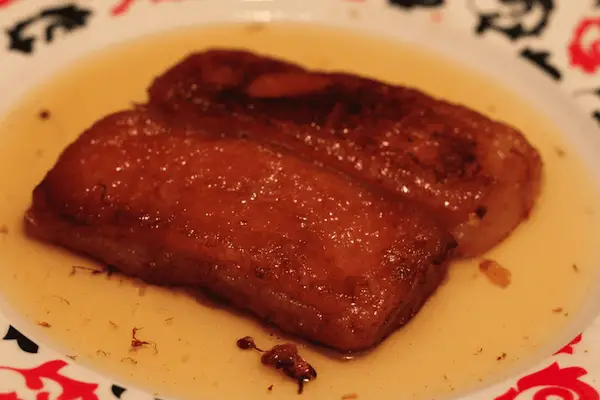 Find out what to eat all year in my Barcelona food guide!
Extra travel tips for visiting Barcelona in April
Make sure you find a safe, accessible place to stay when in Barcelona. Check out my blog post, the best places to stay in Barcelona: neighborhoods and hotels
Want to know no-miss places in Barcelona? Sagrada Familia, Park Guell, and more. Check out the must-dos in Barcelona.
If you're traveling with kids, know that Barcelona is a family-friendly city. Check out my blog post on things to do in Barcelona with kids.
Have any questions about visiting Barcelona in April? Let me know in the comments. I read them all!