*This site contains affiliate links, which means I receive a commission when you buy. See my full disclosure.
You've bought your plane ticket, and you're coming to Barcelona in the spring. Time to pack your strappy dresses and flip-flops! Or not? Planning your outfits for Barcelona can be tricky because the weather is less predictable than in summer or winter. This practical, stylish guide will help you get your suitcases ready for March, April, May, and June. You'll learn general weather expectations, advice on how locals dress, and tips on how to not stand out as a tourist. For example, if it's sunny outside, locals don't immediately throw on their shorts. I've read SO. MUCH. BAD. ADVICE. on the internet. TRUST ME, friend. I've lived in Barcelona since 2008. Read on to know more – what to wear in Barcelona in the spring!
What to wear in Barcelona in the Spring
<<Coming for another season? Read my introductory How to Dress in Barcelona According to Season. It covers men's fashion in Barcelona too!>>
Barcelona fashion in general
In Barcelona, there are all walks of life. 5 to 10% of the people break the fashion "rules" below. With social media and the Internet, a global dress code has ensued, and regional tastes are more diminished. If I had to describe it, Barcelona dress code is kind of an "urban cool" mix. Having said that, Barcelona is NOT as dressy as locals in Paris, or even Seville in southern Spain. It also depends on the neighborhood. Go to the Zona Alta of Barcelona (Sarrià, for example) and locals have a more tailored appearance, coifed hair, etc. Go to El Raval, and locals are casual: sporty jogging pants, hoodies, etc. You get my drift.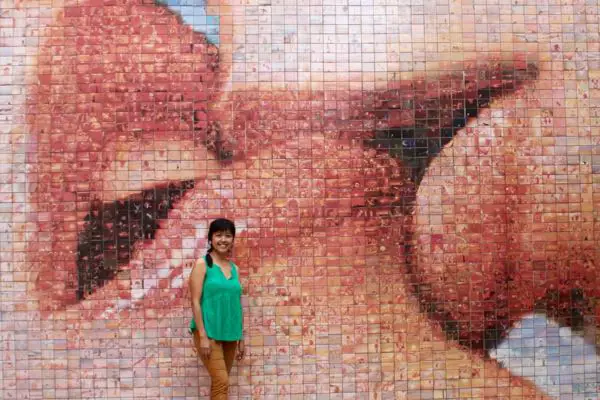 Barcelona spring fashion
The official spring season for 2023 is March 20 – June 21. So, it's going to vary – what to wear in Barcelona in March, April, May, or June. Think of March is like an extension of winter. Locals do NOT bring out their floral prints or Easter green colored dresses once it's sunny outside. I repeat, they do not! In mid-March, many people are still wearing their winter coats. April and May are warmer, and June is the warmest. Locals generally stick to dark colors in the winter, then lighten up as it gets warmer. Read on to know what to wear in Barcelona in spring!
---
Want a PRINTABLE BARCELONA PACKING LIST?
Sign up for my emails and get a free PDF of everything you need. CLICK BELOW to get it!
---
Barcelona spring outfits: basics checklist
Two long-sleeved tops
If you come to Barcelona in March or April, plan on wearing long sleeves still. May or June sunny weather is hit or miss, so definitely pack at least one or two long-sleeved tops for those months. Also, in March, be sure to wear an undershirt or camisole underneath. Pick a fabric with a medium or lightweight like this:

Check prices for this casual top
Two short-sleeved tops
If you're in Barcelona in March, it's pretty cool but is mostly sunny. If you're sitting in a sunny plaza, you'll feel like wearing your short-sleeved top. But once you walk through narrow streets and in the shade between tall buildings, you'll feel cold! Bring one or two short-sleeve tops, but always have a sweater, hoodie, or jacket with you. Want a top that can go from day into night? How cute is this is cold-shoulder short-sleeved blouse?
Check prices for this cute short-sleeved blouse!
A medium or light jacket
If it's March, go for a medium-weight jacket that you could use from day to evening. If it's April or May, a lighter jacket would work – like a denim jacket. This would be helpful especially for the evenings when it cools down. Check out this light jacket for March.
Check prices for this cute Levi's jacket
One layering sweater or hoodie
It's smart to dress like an onion in Barcelona. You can use a sweater or hoodie instead of a jacket on a warmer day. Here's a versatile wrap sweater that you can wear over a blouse. Or for nighttime, a lace cami would make it look dressy:
You can layer it over a blouse or top
For us fluffies, it covers the middle section nicely!
Wear for nighttime as a sexy blouse with a lacy top underneath
Comes in different colors
Check prices for this wrap sweater
A dress
A dress if you like to dress up a bit or even hitting the nightclubs. Going to bars at night is still dressy-casual, so you don't need to look so "finished". Try this cute striped dress can wear casually while along the beach, or dress up with some heels if you're hitting the bars. This dress works mostly for May or June when the weather is warmer. TRUST ME!
Jeans and/or trousers. I'm not going to get into what jeans look best on you. Jeans are so so so subjective, and you probably own a few pairs that you love already. BUT, if you're looking for celeb style, Instyle has put together some real photos of celebs in these tried-and-true jeans on Amazon here. (I am definitely digging Kate Middleton's cut of jeans. How about you?) For kicks, check out this page of Celebrity Jeans on Amazon, Also, here's a mid-rise version of Kate's high-rise skinny jeans:
See prices for these high-rise skinny jeans
A skirt. If you want to feel a bit feminine and flowy, put a skirt in your Barcelona fashion repertoire. I'm sure this skirt looks good on any figure. It's got a stretch waist! It's medium weight and would be easy to move around in. Be sure to pair your dresses and skirts with tights underneath in March – unless it's exceptionally warm for spring. 
Flowy Maxi Skirt
Check prices for this flowy maxi skirt
Shorts (in May and June!)
Okay, shorts are fine – but it's what to wear in Barcelona in May when the weather is warm. March and early April – not so much! You'll know who the tourists are because they're the usually ones wearing shorts in Barcelona. Stay pretty modest. A full summer outfit: tank top, short shorts, and sandals aren't really the norm unless it's late May or early June. 
Here are some cozy travel shorts by Unionbay that would go with everything:
High-rise shorts
Check prices for these high-rise shorts
Comfortable shoes
Locals don't really wear tall boots during the day, but short boots. If it's March, go for boots or shoes that cover your foot well (no flats basically). Or, opt for a casual shoe that goes with anything, like this quality sneaker by ECCO.
Leather sneakers by ECCO
7+ 5-star Amazon reviews
Amazon reviewer calls them "packable", "buttery leather", "supple and light"
Would look cute with jeans, trousers, dresses, or skirts!
Ecco is a quality brand: 100% leather shoes
Check prices for this leather ECCO sneaker
If it's April or May, you can probably go with the ballet flat-style shoes, if you dig that style. Be aware that it can rain anytime, so water may sneak in those suckers. With that being said, these look like the ultimate travel ballet flats by Naturalizer. This company is notorious for making comfortable shoes!
Comfortable travel flats
100% leather, so these flats will last you a long time.
Amazon reviewer called it: "a blissfully comfortable shoe"!
Comes in dozens of colors
Top-quality, comfortable and durable
Check prices on this comfortable travel flat
NOTES ON SANDALS
Locals don't wear sandals in March and April. They will start to wear them when it gets hot, at the earliest, the end of May. If you're coming in June, check the weather first because "hot" would be rare, but you never know. Bring an alternate shoe that covers your toes for evening time.
Also, Americans, my compatriots: flip-flops are not seen anywhere unless you're going to the beach or swimming pool. I grew up in Southern California, and flip-flops are almost an all-year essential. Not in Barcelona.
Undergarments
Basic tank tops. If it's March or April, another layer would be helpful for extra warmth under a light top or blouse. If it's May, you will probably not need it. If it's June, you might be able to wear them alone if it's hot. Or use them as a camisole at night or if it's chilly. Check out this 4-pack of tank tops with 2,500+ Amazon reviews:
4-pack of tank tops
Check prices for this 4-pack of tank tops
Underwear
This is a steal! This 5-pack of seamless v-thongs to go under your skirts. Check out these undies that get 148+ 4-star Amazon reviews.
5-pack of seamless undies
Check prices for this 5-pack of seamless undies
Accessories
A crossbody purse
This is super important because Barcelona petty theft is real. Mind you, I've gotten robbed once. I had another attempt last year! Check out my post on how to not get robbed. Better yet, get an anti-theft purse – check out my buying guide on Anti-Theft Travel purses. I have the one by Travelon below and use it for everyday wear. It has lots of pockets, it's stylish, and it's really easy to clean. The best part? It's locking zippers for when I'm in the center of Barcelona! Check out this Travelon anti-theft tailored crossbody bag:
Travelon anti-theft purse
Check out prices for this Travelon anti-theft travel purse
Light tights
if you're wearing a dress or skirt, tights are essential, especially in March, April, and early May. Listen to Justine! (Me.) 99% of locals don't go bare-legged unless it's June and/or it's really hot. ONLY TOURISTS wear spring-y dresses. Check out these No-Nonsense cozy footless tights.
Cozy footless tights
Check out prices for these cozy footless tights
Pro fashion tip: Pair your dresses with a boyshort / biker short in case your skirt or dress catches a breeze! You'll feel more comfortable especially if you're going to be active, walking around the city. Don't want any peek-a-boo situations! Check out these highly-rated pack of boyshorts:
3-pack of boyshorts
Check prices for this 3-pack of boyshorts
One or two scarves
Spanish and Catalan women look really know how to style themselves with scarves, and it's a must in the wardrobe to finish your outfit. Check out these cute scarves. They caught my eye because they're beautiful. I looked closer and saw they were designed in Spain!


Check prices for this scarf (it has 40+ designs)
Need to see it all in one place? Here you go…
<< If you want to know how you can HIDE your money, check out my smart suggestions for pickpocket-proof clothing with hidden pockets! >>
What to pack for Barcelona in Spring
A crossbody purse
Long-sleeve shirts of medium weight
Short-sleeve shirts
Sleeveless tops (May / June only)
Tank top / camisole (to wear as base layer in March and April, or for the beach)
Lightweight to medium-weight jacket
Sweater or hoodie to layer under your jacket or wear alone
Pants / Jeans
Shorts (May or June only)
Skirt
Dress
Light scarf
Tights (in March, maybe April)
Bra
Underwear
Socks
Comfortable shoes (or sandals in May or June)
Purse
Practical tips on packing for Barcelona in the Spring
1. Check the weather forecast.
It's a given, right? Nope, people forget to check or get lazy. Or they just look outside, see the sun, and assume it's hot. The Barcelona sun is tricky like that!
It rains in Barcelona, but not excessively. So you won't need any wellies, rain boots, or even raincoats. If you want to be safe and bring an umbrella, this umbrella folds up so tiny – you can take it anywhere! I'm planning to pick one up when I go back to the US. Strong and sturdy, this travel umbrella gets thousands of positive reviews:
Check prices for this compact travel umbrella
2. As I mentioned, March is like an extension of winter.
Here's a general idea of the Barcelona climate, according to Holiday-Weather.com.
| | | | |
| --- | --- | --- | --- |
| Month | Average | Low | High |
| March | 12ºC / 53ºF | 8ºC / 46ºF | 15ºC / 60ºF |
| April | 13º C / 55º F | 10ºC / 50º F | 14ºC / 57ºF |
| May | 16°C / 61°F | 14°C / 57°F | 14°C / 57°F |
| June | 20ºC / 68ºF | 18ºC / 64ºF | 26ºC / 79ºF |
3. Dress like an onion.
Bring layers with you throughout the day. It's cool, then sunny, then cool in the evening. I didn't really get it when I first moved here. My first year of living in Barcelona, I got sick constantly. Family who visited me would also get sick. And my theory is that you're constantly going walking under the shade, sitting in a sunny plaza, then going back down to the metro. Too many weather changes! My suggestion is to always keep an extra layer handy (a sweater, jacket, scarf) if you plan on staying out past 7pm because it does cool down. You'll be glad you did!
So there you have it: my tips for dressing in Barcelona in the spring. Do you live in Barcelona, and do you have any additional tips? What do you notice about how tourists dress? Or are you visiting Barcelona? Hit me up with questions!