*This site contains affiliate links, which means I receive a commission when you buy. See my full disclosure.
Barcelona in June is one of the most glorious times to visit. It's one of my favorite months as a resident here. The city is in "comfortable heat"-mode, meaning it's not as sweaty as the months of July and August! Not only is June a lovely time to visit outside attractions like Gaudi's Park Guell, the roof of Casa Batlló, or the central Cuitadella Park, June also has concerts and events that will give you a taste of the Catalan lifestyle. Read more about what to do, the weather, what to pack, and extra travel tips of visiting Barcelona in June, a good time to visit!
Why you should visit Barcelona in June
June offers plenty of sunshine and mild temperatures. Summer officially starts in June on Wednesday, September 21, 2023!
Concerts and cultural events galore such as Nit de Sant Joan (fireworks all night!), the popular music festival called Sónar, and the cultural Modernist fair.
You can explore the city's historic sites and enjoy its beautiful beaches without having to worry about the scorching summer heat.
Barcelona weather in June
It is most likely sunny all day in June, but you may get an occasionally cool night. According to Holiday-Weather.com, the average temperature is about  19.5°C / 67°F. The high is 26°C / 79°F, and the low is 18.3°C /  65°F. The average daytime temperature is 22.6°C /
73°F, and at night, the average nighttime temperature is 21.6°C / 71°F. Barcelona gets 9 hours of sunshine a day, and an average of 11 mm of rain. It rains about 2 days in the whole month.  The sea temperature is 21°C / 70°F, so if you dare, you can dip your toes in the sea this month. Humidity levels are also relatively low during this time of year, making it a comfortable time to explore the city.
Tips for dressing appropriately in June in Barcelona
Barcelona locals dress for the season and not the weather. If it's already hot at the beginning of June, some locals will probably already be wearing shorts and sandals. (If you see any grandmas wearing sandals, check to see if they have their toenails painted – they usually do!)
Be sure to check the weather forecast before you come! It is not guaranteed that it will be hot and sunny, especially at the beginning of June. Until about mid-June, bring a mix of both pants / trousers and shorts. When it's nightfall, it cools down in the evening in Barcelona. Denim jean pants would probably still feel comfortable until mid-June also. Towards the end of June, opt for lighter materials like cotton or linen.
Personally, once it's July, I cannot stand wearing long jeans. It is too thick for the humidity. My husband can deal. So, again, check the weather forecast as June can sometimes be unpredictable!
For shoes, make sure that they're. very comfortable as you will probably do a lot of walking. A good pair of walking sandals or sneakers would be recommended. I don't recommend flip flops as locals usually don't wear them. It is also will not give you enough support for exploring around Barcelona by foot.
What to pack in June in Barcelona
Locking anti-theft purse <– This is the one I have. The outside zippers lock so pickpockets can't get into your purse easily. It will give you peace of mind!
Jacket, sweater, or hoodie for evenings
Long-sleeve shirts
Short-sleeve shirts
Light jacket or light sweater for evenings
Skirt or dress if that's your thing
Pants / jeans
Bra
Undies
Socks
Swimsuit (check the forecast)
Light pajamas
Comfortable sandals or shoes
Read more about how to dress in Barcelona in my blog post about what to wear in Barcelona in the spring!
What to do in June in Barcelona
Primavera Sound. June 1-June 4, 2023. This fun music festival is held at the breezy Parc el Forum by the beach. In June, check out concerts from superstar artists like Pet Shop Boys, Blur, Kendrick Lamar, Bad Religion, and Depeche Mode. See the Primavera Sound lineup here.
Spanish Grand Prix. June 4, 2023. The Formula One Grand Prix takes place over 66 laps of the 4.675-kilometer Circuit de Barcelona-Catalunya. For the 32nd consecutive year, the races will be held at Montmeló. You can expect about 500,000 folks take part in this loud event.
L'Ou Com Balla (The Dancing Egg). Thursday, June 8, 2023 – Sunday, June 11, 2023.  L'Ou Com Balla celebrates Corpus Christi, 60 days after Easter. In several cloisters and squares around Barcelona, you can watch an empty egg bouncing up and down on tops of fountain waters. See the spectacle at Barcelona Cathedral (the most popular), Frederic Marès Museum, Pedralbes Monastery, and the Maritime Museum (Museu Marítim). In some places, you can see the dancing egg until June 14.
Fira Modernista de Barcelona (Modernist Fair). TBD. This fair celebrates Catalan Modernism, which took place over 120+ years ago in Eixample, the neighborhood birthplace. Expect to see nostalgic modernist costumes, stalls, workshops, rides for kids, and vintage cars of the Modernist era. It's free and it's fun!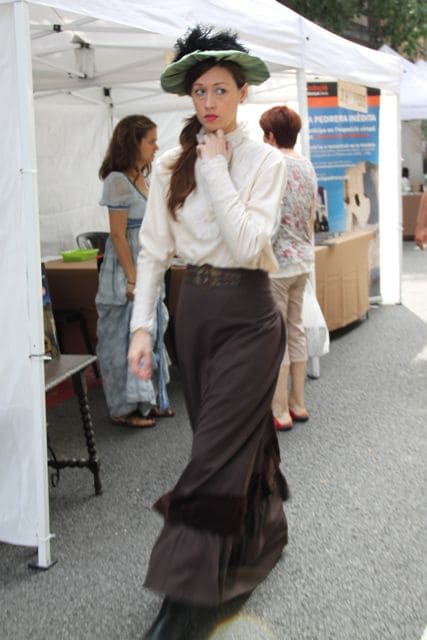 Festival Jardins de Pedralbes: TBD. This intimate music festival takes place in Pedralbes gardens and has always been a draw for mega artists like Mariah Carey, Sting, and Patti Smith. As of publication of this blog post, the 11th consecutive music event may not take place. Keep up to date on this event here. 
Sónar Festival. June 15-17, 2023. A highly regarded electronic music festivals, Sonar fuses music, technology, and creativity with live performances, DJ sets, and immersive art. Celebrating its 30th anniversary this year, the festival invites Bad Gyal, Manuka Honey, and Black Coffee among others. See the full lineup here.
OFFSónar Festival. June 15-18, 2023. Taking place at Poble Espanyol, the OFFSonar Festival is a more intimate version of big brother Sonar Festival with the same electronic, techno, and dance vibes. Brunch Electronik and OFFSónar Festival will partner in Poble Espanyol. Artists include Boris Brejcha, Maceo Plex, Layla Benitez, and more. See the full lineup on the website.
Tast a la Rambla (Tasting on Las Ramblas). TBD. While sightseeing on Las Ramblas, enjoy this fun food festival where you can taste traditional and classic bites. Try a sample of tapas or dishes from 50 local restaurants, participate in a workshop, and enjoy the gastronomic experience.
Nit de Sant Joan (St. John's Eve): June 23, 2023. It's the longest night of the year and in rings in the summer season. Gigantic bonfires are found at the beach, but smaller celebrations are made in neighborhoods at intersections. Friends and families buy firecrackers and throw them all night. Expect to sleep little!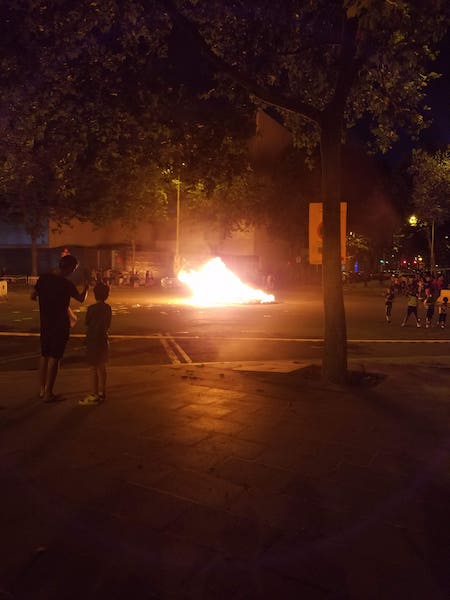 June 24, 2023. Día de San Joan (St. John's Feast Day). All shops and restaurants are closed.
Cinema Lliure a La Platja (Open-Air Cinema at the Beach). TBD. Bring a beach blanket, and get ready to watch full-length independent films shown at the San Sebastian beach. Movies are usually in Spanish or Catalan and projected on big screen. Movies usually begin at Thursdays at 9 pm, but that's still TBD. This event is free. Read more here.
Gay Pride Barcelona: TBD. Barcelona has a small gay district called "Gaixample" in the Sant Antoni neighborhood. Gay Pride Barcelona celebrates with a parade, music performances, and more. Check Pride BCN for more info.
Brunch in the Park: TBD. This poplar summer music festival series invites international artists and DJs in a sunny park setting. Performances are held in different outdoor venues like Parc de Joan Brossa in Montjuic. Shows have already sold out. It's also a family-friendly event – with play zones and activities for the kids. Tired parents can attend with the kiddos to enjoy the sunshine and dance to music with the family.
What to eat in June in Barcelona
Gazpacho – Now that the weather is heating up, it's time to have some cooling foods. This cold tomato-based soup is eaten during lunchtime as an appetizer. It's not chunky like they show on Pinterest! It's a smooth cold soup made with tomatoes, cucumbers, garlic, green bell peppers, olive oil, and vinegar. You can have it with a bit of crusty bread. Some people like to drink it in a cup to accompany their lunch (my husband).
Seafood paella – It's a lovely time to have a paella full of shrimp, oysters, and clams  at the seaside. This slow-simmered dish is best enjoyed by the sea on a warm day.
Vermut – Also known as vermouth, this fortified wine is served on ice and is a cool way to feel like a local! This cold drink is perfectly paired with olives, potato chips, clams, or oysters. Local Catalans like to have it right before lunch.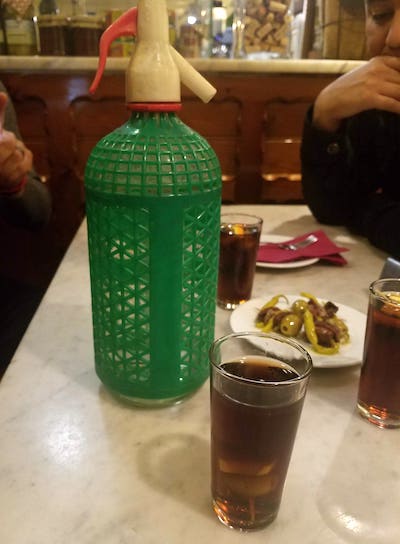 Read more about what  and where to eat in my Barcelona food guide.
Travel tips for going to Barcelona in June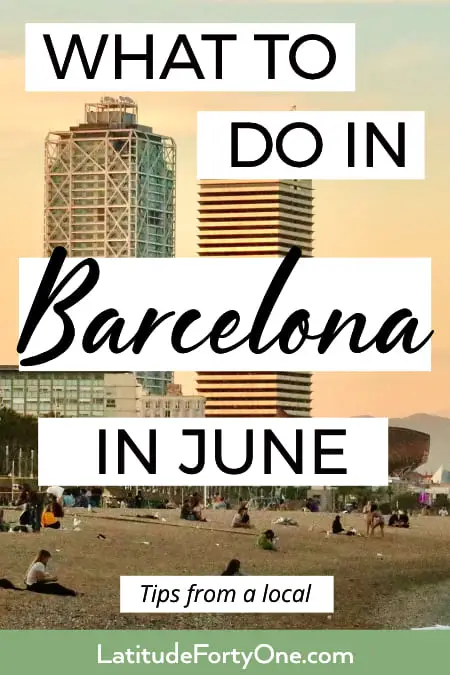 ---
Have any other questions? Send me an email at [email protected] or leave a comment below. I get notifications and read everything!