*This site contains affiliate links, which means I receive a commission when you buy. See my full disclosure.
One of the most pleasant months to visit Barcelona is May. Days are sunny and warm with a cool breeze in the evenings, and there are plenty of events and festivals like the Barcelona Beer Festival and the Primavera Sound music festival. It's generally an exciting time to spend outside. In Barcelona in May, families stay out later and enjoy their late-night dinners on a terrace. Every year, I see Barcelona start to buzz as the warm weather kicks in slowly. May is a good time to visit Barcelona!
Why you should visit Barcelona in May
The weather is warm and sunny. You can sightsee comfortably without having to carry a heavy jacket.
These gorgeous sunny days are for sitting outside to enjoy a paella lunch or an afternoon coffee. It feels good to eat alfresco on a bright day and people-watch.
Tourists visit in Barcelona all year. It's beginning of the high season. But lines for Barcelona attractions are shorter compared to those in June, July, and August.
Typical weather in May in Barcelona
Barcelona climate adheres to the typical four seasons. So May is warmer than April, and it's cooler than June. Based on Holiday-Weather, Barcelona temperatures in May range from an average high of 21.5°C (71°F) to an average low of 13.7°C (57°F). It's not as hot as most tourists think! Barcelona also gets an average of eight hours of sunshine a day. It gets about 5 days of rain in May with about 54 mm over the course of the month. The Barcelona sea temperature s an average of 18°C (64°F).
Trees and flowers are probably now in full bloom. So be aware of any allergies!
You may be able to go sunbathing at the beach in Barcelona. The climate in Barcelona in May is unpredictable, so check the forecast.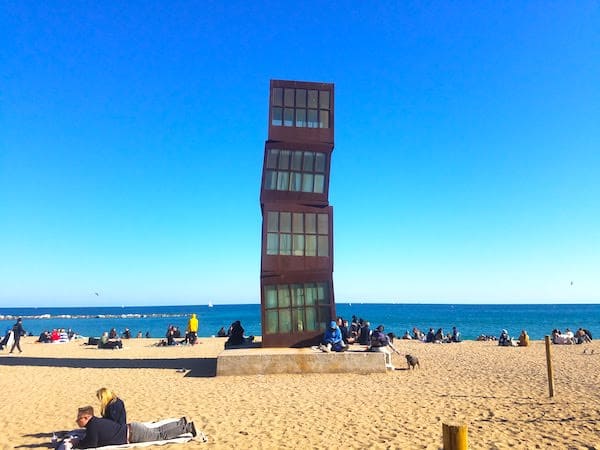 Tips for dressing appropriately in May in Barcelona
This is sort of "duh": wear warmer clothes in the beginning of May, and cooler fabrics at the end of May. It will most likely be sunny in Barcelona. But do not depend on this! If you are sightseeing – going up and down the metro stairs, sitting in a sunny outdoor cafe, the trekking through shaded streets between tall buildings – then the temperature will change a lot. You will get hot and cold, and hot and cold, again. You can probably just one layer – a short-sleeved or long-sleeved shirt.  But in May, always bring a medium sweater or light jacket with you even during the daytime. 
At nightfall (around 9pm), Barcelona temperatures cool down quite a bit. So do not to leave your hotel with just the shirt on your back and expect to wing it. Bring that extra layer!
Again, always check the forecast the day before you come. It is true that Barcelona may have some freak weather.
I suggest a light-weight or medium-weight jacket for day and evening like this:
Isn't this cute? It's versatile enough to wear dressy or casual. Check prices for this lightweight jacket
What to pack in May in Barcelona
Another thing to remember is that Barcelona is a pickpocketing city. Petty theft is the most common crime. So be sure to read my guide on how to avoid pickpockets.
So, when packing your suitcase, remember 1) the weather, and 2) how to keep your stuff safe. Here is a May Barcelona packing list:
Anti-theft purse <<– I have this one from Travelon. The zipper locks and gives me peace of mind when traveling on the bus or metro.
Jacket, sweater, or hoodie for the day time
Short-sleeve shirts
Long-sleeve shirts
Medium-weight jacket or sweater for evenings
Skirt or dress if that's your thing
Pants / Jeans
Tights to wear under your skirt or dress (optional). You might be able to go bare-legged and feel comfortable now. I think it's preference.
Bra
Undies
Socks
Swimsuit (Check the forecast. Locals may even start sunbathing now.)
Pajamas
Comfortable shoes
Umbrella (optional) – Personally, I prefer minimal packing. Instead, go for a waterproof jacket if you're concerned about getting caught in the rain. You can always buy am umbrella here as a souvenir!
Read more about how to dress in Barcelona in my blog post about what to wear in Barcelona in the spring!
Things to do in Barcelona in May
May 1 is Labor Day, and most shops and restaurants are closed.
Mother's Day. May 7, 2023. It's Mother's Day here in Spain. Moms get the honor they deserve, such as being gifted roses or a special lunch. It's celebrated similarly as in the US – but the Mother's Day commercialism in Spain is not so "in your face". So if you're traveling with your mom to Barcelona, be sure to buy her a Barcelona souvenir.
Brunch in the City Barcelona: May 8 (SOLD OUT), May 22, and May 29, 2023. Celebrate electronic music at this outdoor festival. These events take place either at Parc de la Bederrida (in the Les Corts neighborhood) or at the cultural venue, Poble Espanyol. Other than dancing to the fun beats, you can also enjoy local cuisine. Kids can also participate in workshops and have fun too! Check it out here.
Salón del Cómic Barcelona (International Comic Fair). Fri, Mar 31, 2023 – Sun, Apr 2, 2023. This is for the comic lovers! With over 180 exhibitors, conferences and roundtables, kids' activities, role-playing clubs, card games, wargames, exhibitions, workshops, demonstrations, board games, presentations and more. Cosplay Awards are also given to authors. Check out the Barcelona Comic Fair here.
La Nit dels Museus (Museums Night). May 14, 2023. For one night, 68 museums offer free entrance from 7 pm to 1am. Museums include Museu FC Barcelona, MNAC, MACBA, Recinte Moderniste de Sant Pau, and Museu Picasso. Head out early to popular museums to avoid long queues!
Barcelona Beer Festival. May 26-28, 2023. Grab a huge cold glass of Mahou, San Miguel, Estrella, and other 650 types of beers at the largest beer festival with beers, food, and live music. There better be lots of bathroom stalls! It takes place at La Farga in L'Hospitalet. Get more details here.
Fira Modernista. TBD. This is such a fun photo-oppy event! (Yes I am coining that term.) In the Eixample neighborhood, enjoy modernist costumes, crafts, local products, restaurants, businesses and businesses in the neighborhood, with concerts and activities for the whole family.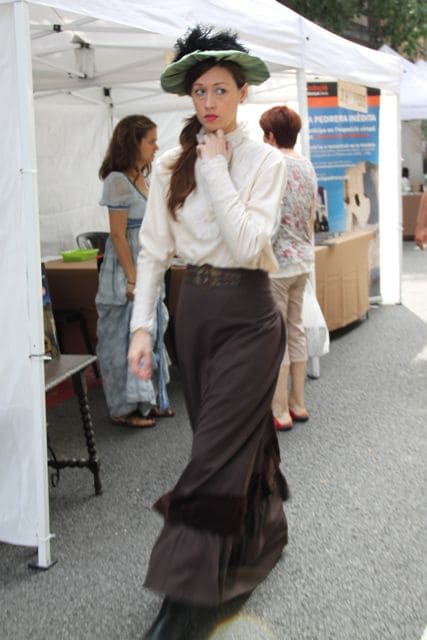 May 29, Pentecost Monday. Shops and restaurants are closed!
Primavera Sound. May 29-June 4, 2023.  This multiple-day music festival spills into the next month. But on the 31st, expect to see Confidence Man, Jake Bugg, La Paloma, and the Pet Shop Boys at Parc el Forum by the beach. In June, you can check out concerts from huge names like Kendrick Lamar, Bad Religion, and Depeche Mode. Check out the concerts here.
What to eat in Barcelona in May
In May, Barcelona doesn't have any particular meals you need to try. As far as Catalan foods that in season are cherries from Baix Llobregat, sardines, or the tomatoes from Montserrat. So, I'll mention the must-eat dishes in Barcelona:
Seafood paella! While not originally from Barcelona, the seafood paella is the most iconic meal in Spain. Tender short-grained rice is slow-cooked in a seafood broth and topped with shrimp, clams, or oysters. Trust me – it is hard to find the real seafood paella outside of Spain! (Seriously, when I go to the US, people liked to feed me seafood paella, and it's never the same.) Find paella in restaurants like 7 Portes or Can Solé. Find out where to eat the best paella in this post (includes a map).
Churros with hot chocolate is also a must-try in Spain, in my opinion. A national Spanish food, this sweet treat can be eaten for breakfast or as a snack. Churros are long sticks of fried dough, often sweetened with granulated sugar. Or have it without sugar if you're watching your figure 🙂 Then dip the warm, crispy churro in hot, thick chocolate for the full  experience. Try churros at La Nena in Gracia or La Pallaresa.

Delicious churros with hot chocolate at La Pallaresa

Pa amb tomàquet – A Catalan person might come after me if I don't mention the beloved bread with tomato. Think it's simple? It is. But the secret of having this delicate and lovely breakfast or appetizer is to try this pa de vidre ("glass bread"), which is then smothered with the inside of a tomato, preferably a tomate de penjar ("hanging tomato"), which is extra juicy. Try a pa amb tomàquet in Bar del Pla or Els Sortidors del Parlament.
Find more ideas of what and where to eat in Barcelona in May in my Barcelona Food Guide!
Travel tips for going to Barcelona in May
The #1 tip I have for people when they come to Barcelona is to protect your stuff. Don't panic. Petty theft is the real crime. Read my tips on how to stay safe in Barcelona so you can enjoy your trip.
Do you like to stay near the beach? Or closer to the main Barcelona attractions? Find out in my post on where to stay in Barcelona.
What are the no-miss places to see in Barcelona? Check out my personal list!
If you suffer from allergies, bring your allergy medicine! Every other year or so, I have an allergy attack from the trees in Barcelona called plataneros, which translates as London plane. There are about 47,000 of these trees in Barcelona, 30% of all the trees! Be warned.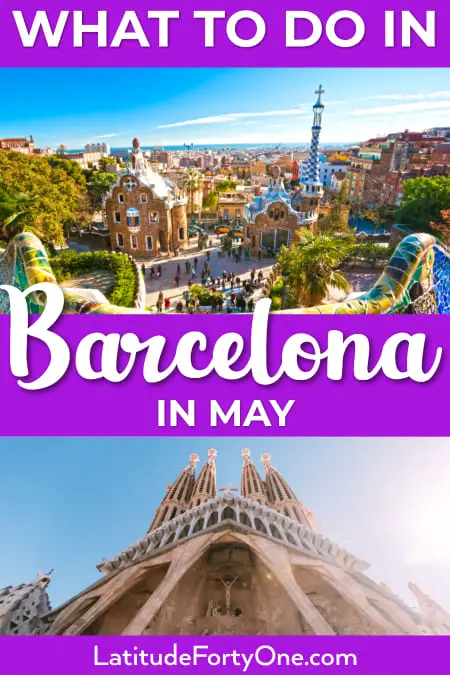 Have any questions about visiting Barcelona in May? Let me know in the comments. I read and respond to them all!