*This site contains affiliate links, which means I receive a commission when you buy. See my full disclosure.
So maybe you're coming to Spain, and you need cool ideas for gifts. During the times that I traveled back and forth to Spain to visit my boyfriend (now husband), my friends and family would always request traditional, unique souvenirs. Once, I got suckered into bringing home a bottle of Spanish wine from a co-worker – even though I could have probably bought a bottle at Trader Joe's. (Never again!) Now that I live here in Barcelona, I always make sure my suitcase is packed with goodies to pass out when I go back to California. This blog post includes traditional gifts from Spain that I've hand-delivered to my loved ones or taken home as a gift to myself. They're practical, fun, and a great reminder of this gorgeous Mediterranean country.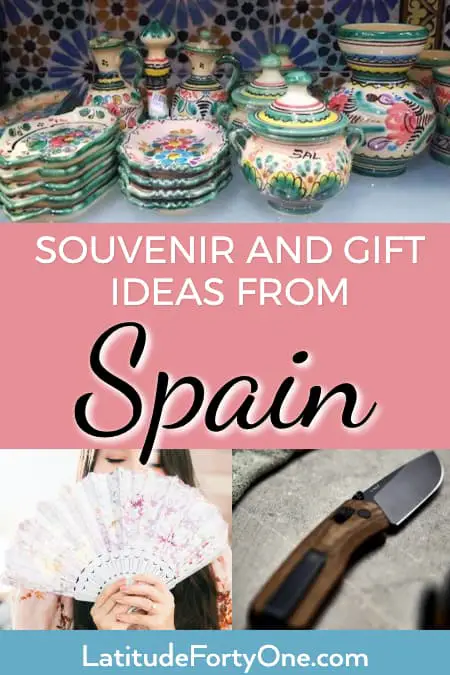 Menorquina Sandals
Also called "Avarcas", these leather sandals were born on the small island of the Menorca in the Balearic Islands. In the 1950s, a peasant invented these sandals because they were practical, sturdy, and light for the warm weather. They added tire rubber to the bottom to make them last longer. As tourism grew in Spain, outsiders purchased these cool souvenirs from Spain. And now, every summer, I see many locals in Barcelona wear these classic sandals! Today, menorquinas come in an array of styles and colors – including sparkly ones and wedged ones. These are traditional shoes that you can wear year and after year – and will remind you of beautiful Spain.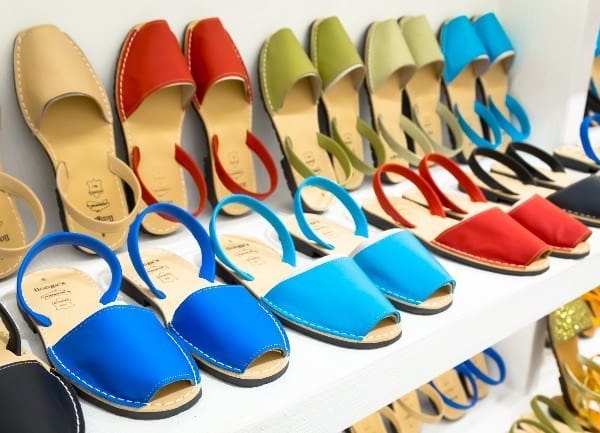 Aren't they cute? Order your pair online now!
See prices for Menorquinas on Amazon
Paella Pan
No dish is more Spanish than the classic paella, a beautiful rice dish filled with seafood or meat. And, did you know that the Spanish word "paella" actually means "pan" in English? The paella pan's shape makes it unique. It's very shallow and has sloping sides so that the rice can be cooked evenly. A paella pan can be a fun kitchen accessory to have for Spanish Food Night, or for making on Sunday lunch with the family. It can also be a cool decorative element to hang on your kitchen wall!
Pssst…Are you intimidated to make paella, like I was? Try this super easy cheater's version here. It's in Spanish, but auto-translate subtitles work fine.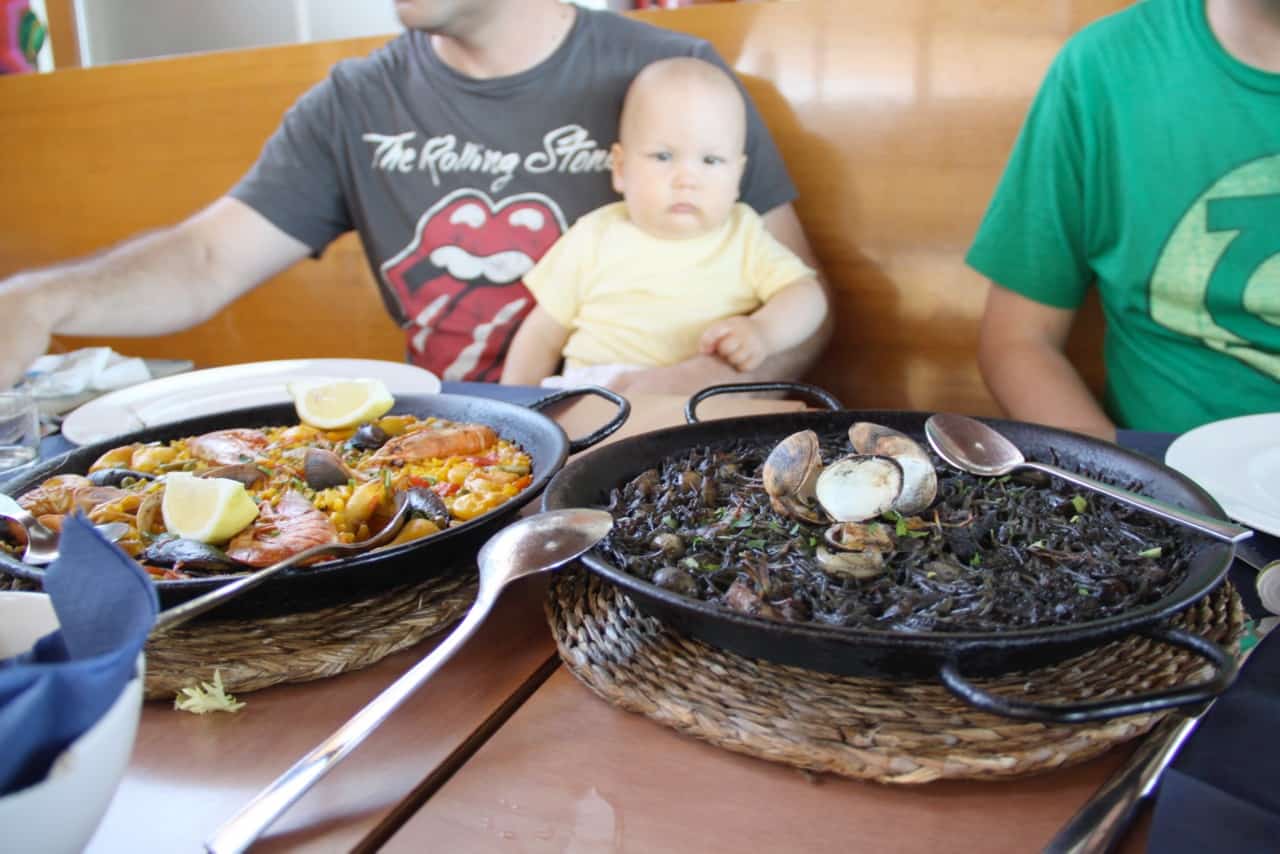 Want one now? Find it on Amazon!
Check prices for this beautiful paella pan
Spanish Silk Shawl
Also called a mantón, this gorgeous shawl often worn with a traditional flamenco dress. Historically, the silk shawl was a status symbol for the bourgeoisie in the 18th century. Some high-quality shawls are decorative works of art worn by flamenco dancers, as their fringes move beautifully with each spin or twirl. You can find stunning shawls with elaborate embroidery work with flowers or birds, particularly in Andalusia, southern Spain.
The authentic ones can run up to $3,500! But they can be as low as $90. Pair a mantón with a beautiful dress or even a casual cotton top and a pair of jeans. It can really upgrade your outfit! Check out this beautiful selection of mantónes from Juan Foronda, an artisan textiles shop in Seville.
Ceramics
If you've been to Spain, you may admire the colorful Spanish tiles adorning the Alcazar or the Plaza de Espanya in Seville. The tiles have Arab influences, but later Italians came to Seville in the 16th century and added their own touch, adding mythological or allegoric scenes. They became very popular and become a common export to Latin American countries like Mexico. Today, you can find handcrafted jars, pitchers, bowls, fountains, and more.
I gifted my cousin and brother unique ceramic tiles with their initials, and they still display them in their home 20 years later! One of the best places to buy ceramics is in Seville in the Triana neighborhood.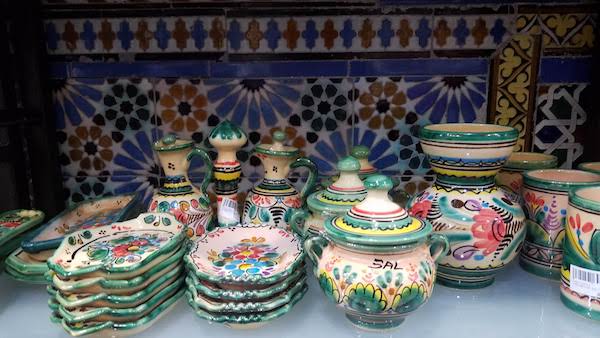 Damascene Knife from Toledo
A Damascene knife is made of Toledo steel, which was used for weaponry during medieval times. Damascene steel is extremely sturdy yet elastic enough to be used in war. That's why it's one of the best steels in the world! A Damascene knife is forged and tempered in a special way, creating beautiful details in the marbling. You can find many kitchen knives, daggers, and folding knives in Toledo.  I gifted a knife to my brother, who's an avid fisherman and hunter. A Damascene knife is one of the best Spanish gift ideas for the outdoorsman!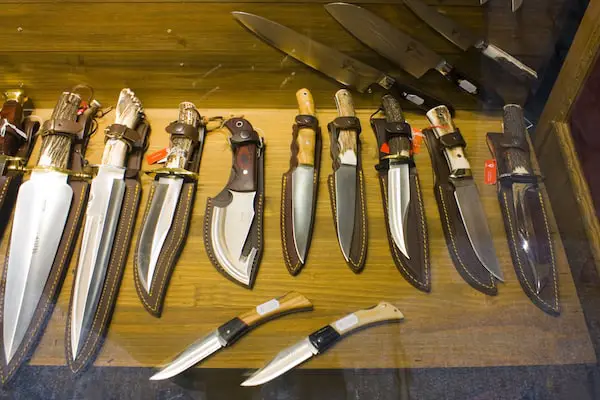 Damascene Jewelry from Toledo
Toledo, Spain, is a powerhouse of artistry, which includes its gorgeous Damascene jewelry. This work is found in bracelets, earrings, necklaces, and home goods. It consists of taking iron or steel and creating drawings and figures by inlaying silver or gold threads. The details resemble stunning tapestry patterns.  I bought my co-worker a pair of dangly Damascene earrings, and she loved them. She wore them every day!
Porrón
Like hosting dinner parties? The porrón is the perfect conversation piece! It's a small glass wine pitcher originating in Catalonia, and it has a bulbous shape with a long, tapered neck. So how do you drink from it? You tilt your head back and hold the porrón above you. Then you tip the spout so that a small trickle of wine pours into your mouth. Then you pass it along to someone in your social bubble. 😉 It's one of the most unique things to bring back from Spain!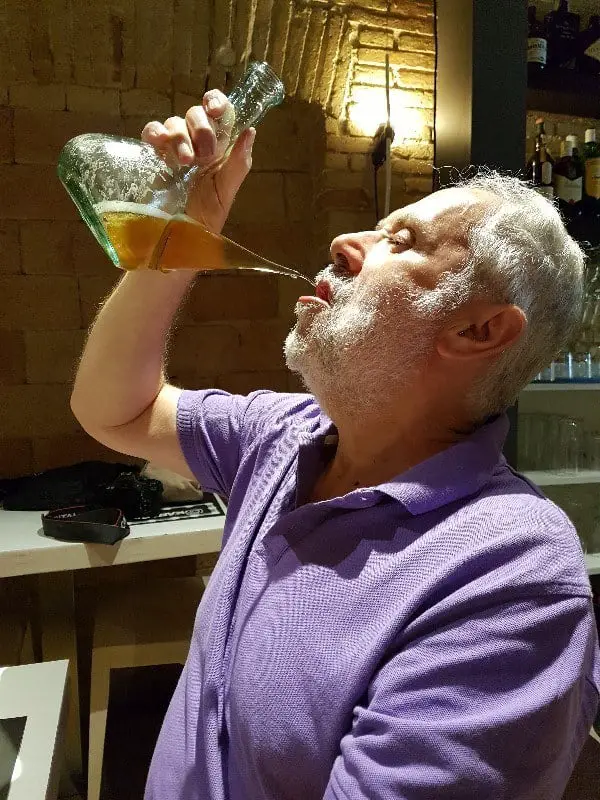 Start your dinner party tonight! Buy your porrón online!
Check prices for a beautiful porrón
Football jersey
For many in Spain, football is life, and life is football. A football jersey (or soccer jersey, for us 'mericans), is a fantastic souvenir for your sports lover. Some of the most popular football teams in the world are in Spain, such as Real Madrid, FC Barcelona, and Atlético de Madrid. If a t-shirt is too much, an accessory like a winter scarf would also be a great option!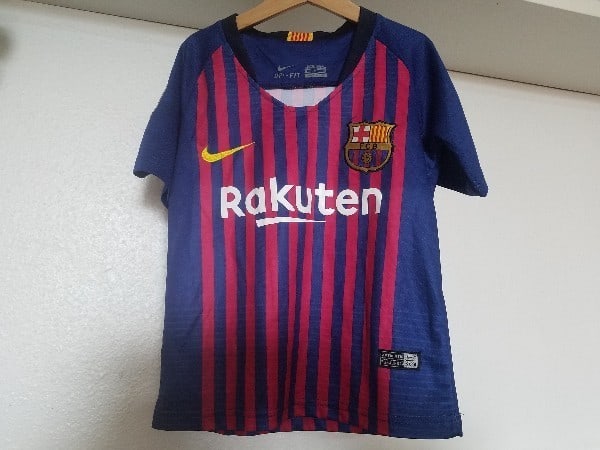 Spanish Fan
The abánico, or the Spanish fan, was introduced into Europe in the 17th century from East Asia. It became a popular accessory among upper-class women. Not only did it keep the ladies cool, but it was also a flirting device, depending on how they carried it! The first fan manufacturers in Spain hand-painted and decorated the fans in the 17th century. Today, hand fans come in an array of different styles and materials, mostly wooden and fabric. Use of them has fallen out of favor with young ones. But elderly women, and women who just can't stand the Spanish heat, like me, use them in the summer.
Personally, I love the Spanish fan, and my in-laws had them personalized as wedding favors. People loved them!
Charro button from Salamanca
I bought a charro ring in Salamanca when I studied there. (Sadly, I lost the ring 🙁 .)  A symbol of Salamanca, the charro is a filigree piece with a circular shape inside which a series of small balls are arranged around a central part a larger one. The legend is that, during medieval times, the buttons were used to decorate the clothing of the native Salamancans. It's a symbol of protection, the middle ball being Salamanca, and the outer balls protecting it.  According to this website, the charro's design has the Golden Ratio, the "perfect" measurement in math, and is found in iconic art. Today, the circular design is used as brooches, rings, bracelets, earrings, pendants, and more.. Personally, I love the timeless simplicity and elegance of this design.
What I wouldn't buy in Spain
Wine: It is too heavy and can break in your suitcase. Unless you're looking for a special wine, go for it. But wine is exported all around the world these days, so I find it risky to bring a breakable glass bottle that you have to worry about in your suitcase as it gets thrown around.
Jamón serrano: If you're from the US, you are not allowed to bring in cured ham. You might get caught in customs, and you'll have to leave it at the airport. If you are not from the US, by all means, pack it up, pack it in!
Majorica pearls: Mallorcan pearls are considered "artificial" pearls, but don't let their beauty trick you. The Majorica brand pearls call their pearls "the world's most precious simulated pearls". But I read this post about its longevity (or lack thereof), which made me think twice about the quality.
So, what do I give my friends and family?
I also give my personal gifts to my family and friends when I go home to the US. Sometimes, I just pick them up at the supermarket. They include Spanish brand cookies, Inés Rosales tortas, and Spanish saffron. Read my personal list of traditional gifts from Spain here!
---
Have you brought home souvenirs or gifts from Spain? What did you bring? Do you have any other clever Spanish gifts? Let me know in the comments!