*This site contains affiliate links, which means I receive a commission when you buy. See my full disclosure.
My family and I arrived at Plaça Sant Jaume to check out an awesome annual Christmas tradition in Barcelona. That would be the city's official pessebre vivent, or living Nativity scene. It's usually an extensive and elaborate pastoral landscape framing a grand moment in history — the birth of Jesus 2,000 years ago.

We were looking forward to seeing the Virgin Mary, Saint Joseph, and the Baby Jesus all nestled together closely in a wooden stable. We expected donkeys and sheep grazing about the green pastures. We hoped to see the Three Kings trekking on foot across the fields, bearing their symbolic gifts of gold, frankincense, and myrrh to present to the baby.

When we got to the plaza, we encountered a large structure of what looked like to be a small scale of a modern urban neighborhood.

Photo from Ventura & Hosta Cartons, makers of the little peeps

Some guys were having an outdoor barbecue. A man in a Mister Rogers-style sweater was hanging sheets. A schoolgirl was playing hopscotch on the pavement. Did we come to the wrong plaza?

Apparently, 2013 brings a somewhat modern take on the official pessebre in Barcelona. Designed by Jordi Pallí, the larger-than-life contemporary figures replace traditional historic figures from the days of yore. This year's pessebre vivent is inspired by the roofs and terraces of Barcelona, and its time period is set in the 1950s and 60s.

Pigeons and chickens substitute the roles of the usual sheep, donkey and camels.
In a traditional Nativity scene, a woman washes a garment in the river. This time, she's getting those nasty stains out in an outdoor sink.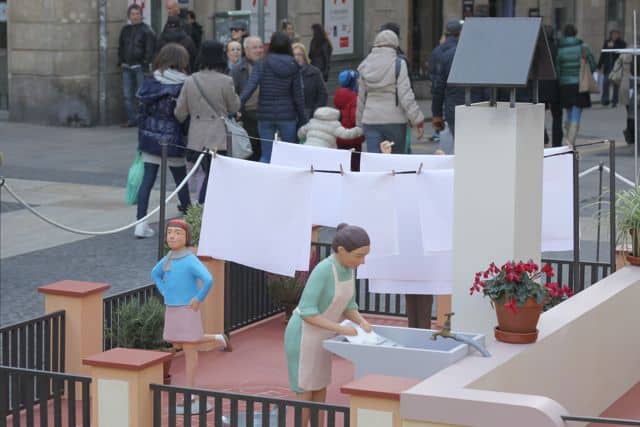 Nearby, a young bobby sock-wearing girl plays hopscotch.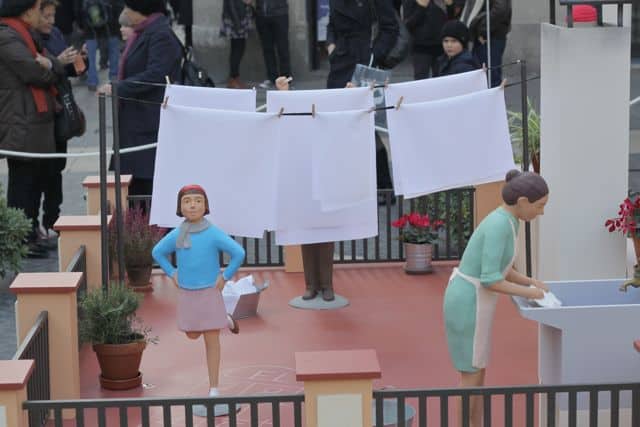 An elderly woman waters her geraniums in a flower box, a space-conscious option for city gardening.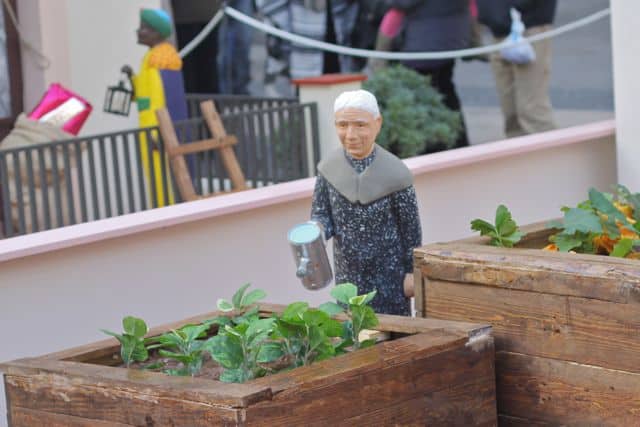 Two men are playing pranks on their downstairs' neighbors: they're fishing for sardines, which are steaming away on the barbecue grill below.
Not pleased about it at all.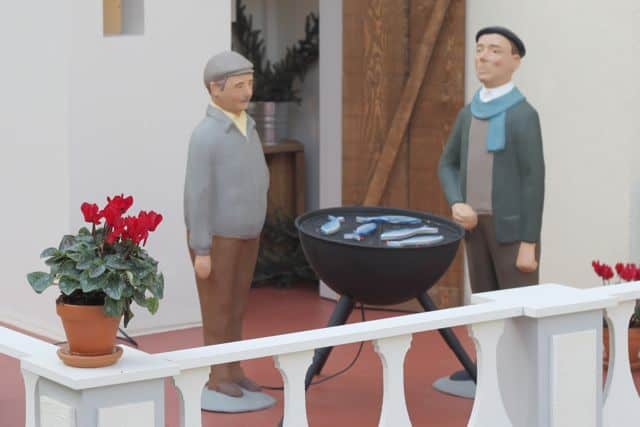 Ain't no shepherd herding sheep here. A man hangs his whites on a laundry line. Nothing sexier than a man doing domestic chores.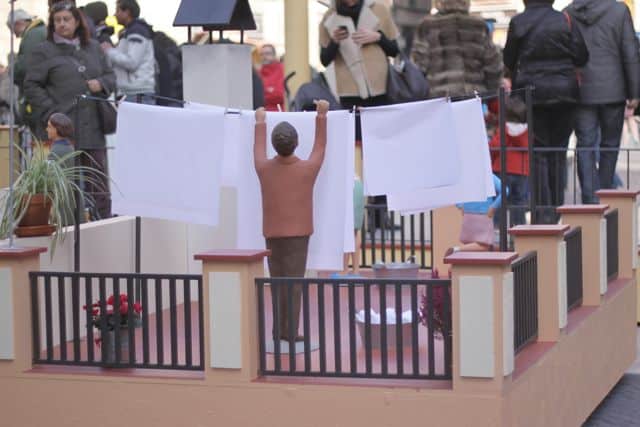 Adding a caga tió touch. A neighbor feeds a whole plate full of food to his pooping log on the terrace. So Catalan.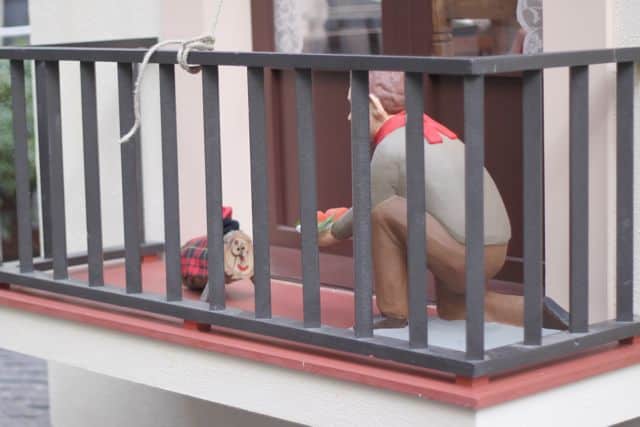 The Three Kings do bear gifts, but this time, it's in a sack. And he's stealthily climbing up a ladder.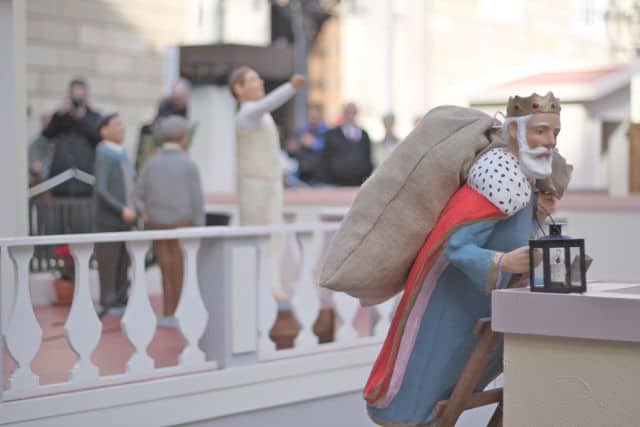 There's another one sneaking up. Three o'clock!
The man of the hour, the reason for the season: Baby Jesus in a crib. And his parents: the Virgin Mary wearing an apron and Saint Joseph in a pullover sweater. I still can't get used to this depiction.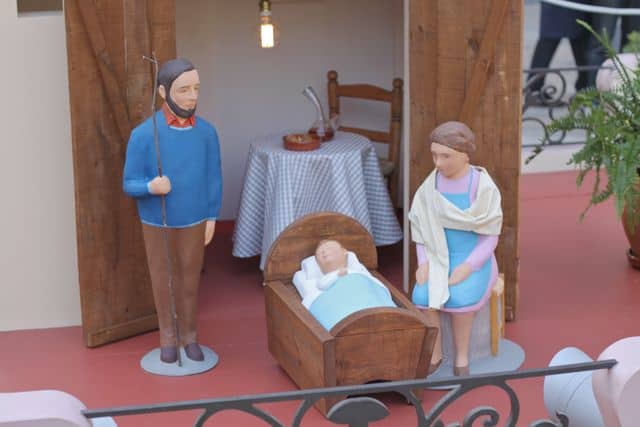 The details of this neighborhood panorama are impressive. The terrace setting feels clean and uncluttered. The focus is on the activity of the figures, which are made of polyester resin fiberglass.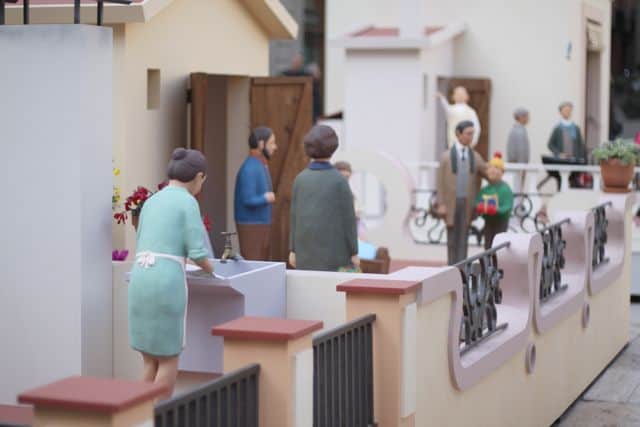 And you can't
not
have a 
caganer
included in a Catalan
pessebre
, either. Instead of fertilizing the land directly with his poop, this one's a little more discreet. I haven't seen the setting at night, but it's supposed to have some extra pizzazz. See?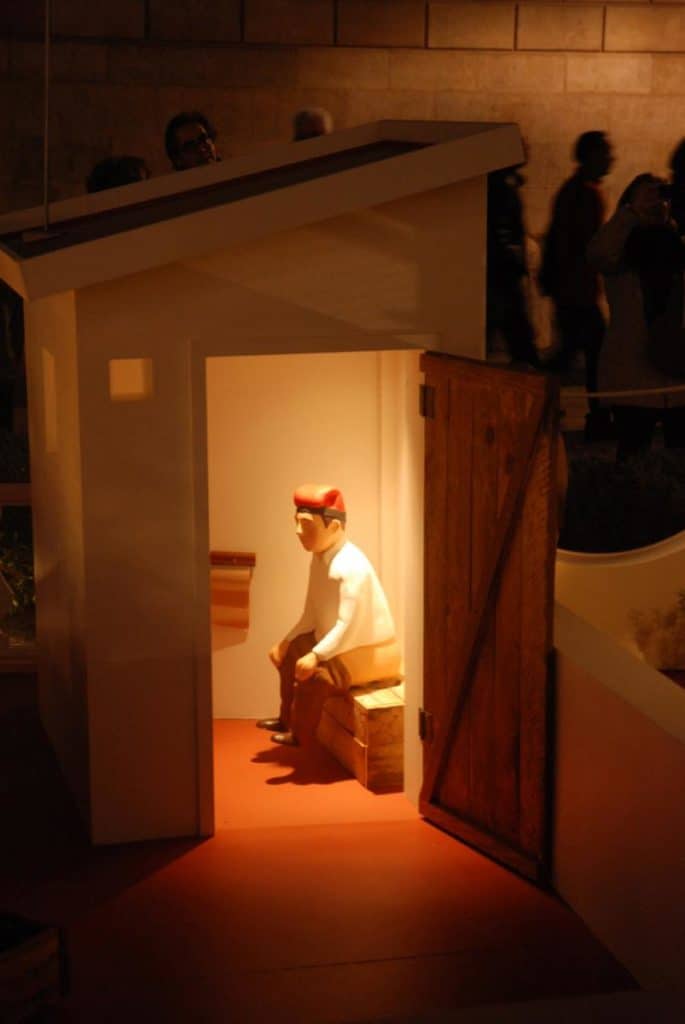 Here's a short video of the making of this Nativity Scene and its special sparkle it displays at night.
I thought the installation had an interesting composition and its models were beautifully designed. But I prefer a more traditional Nativity Scene: Jesus in a manger, a magi presents his gold, shepherds tend to sheep in rolling pastures. Not the concrete jungle that is the city. (Okay, so it's not really an interpretation of a hardhearted New York).
I like a Christmas Nativity scene to have a more direct representation of the Biblical event, a scene that gives me a feeling of nostalgia and sentimentality — the stuff I loved as a kid! I'm all for modern design, but perhaps the Nativity scene felt a little too removed from the essence of Christmas. What do you think?