*This site contains affiliate links, which means I receive a commission when you buy. See my full disclosure.

The cityscape of Barcelona is getting a makeover. The Torre Agbar, the Centro Comercial Les Glòries, Encants Vells flea market, and the new DHUB design center all call Glòries home. Soon the transforming plaza will redeem itself as the center of the Catalan capital.
Being named "a new lung at the heart of Barcelona", the up-and-coming Plaça de Les Glóries Catalanes will be a major neighborhood and citywide hub of sustainable mass transit, new housing, cultural centers, play areas, sports facilities and integrated lush green areas. 
After a long-winded attempt to overhaul the traffic circle, The Barcelona City Council held a competition early 2014 to renovate this massive space. They were searching for a green solution to serve the people. Here's what it looked like as of last March on Google Maps: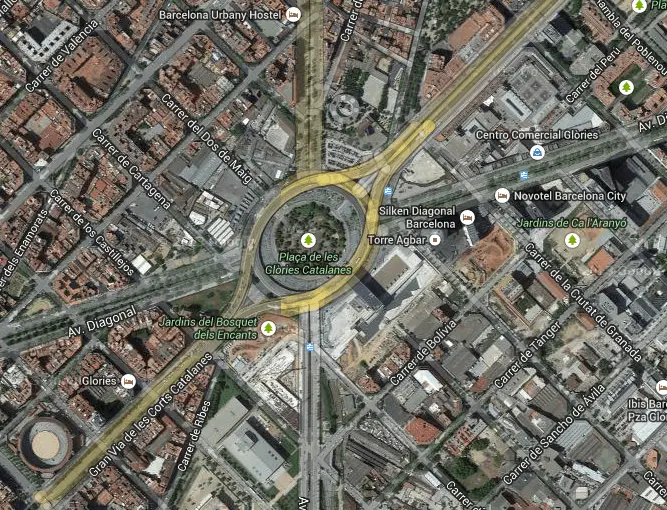 In February, the winner was announced. Here's a model of the winning proposal titled "Canòpia Urbana":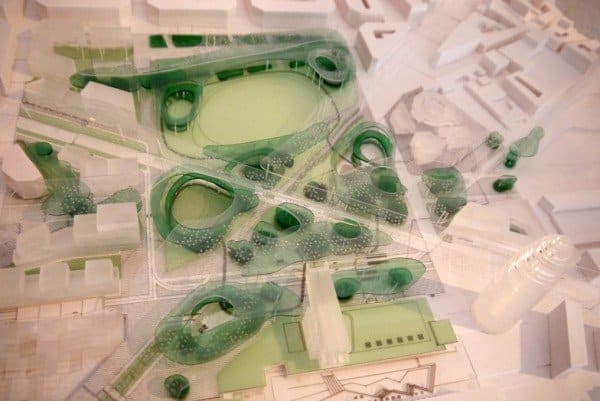 And here is the provisional layout of Glòries: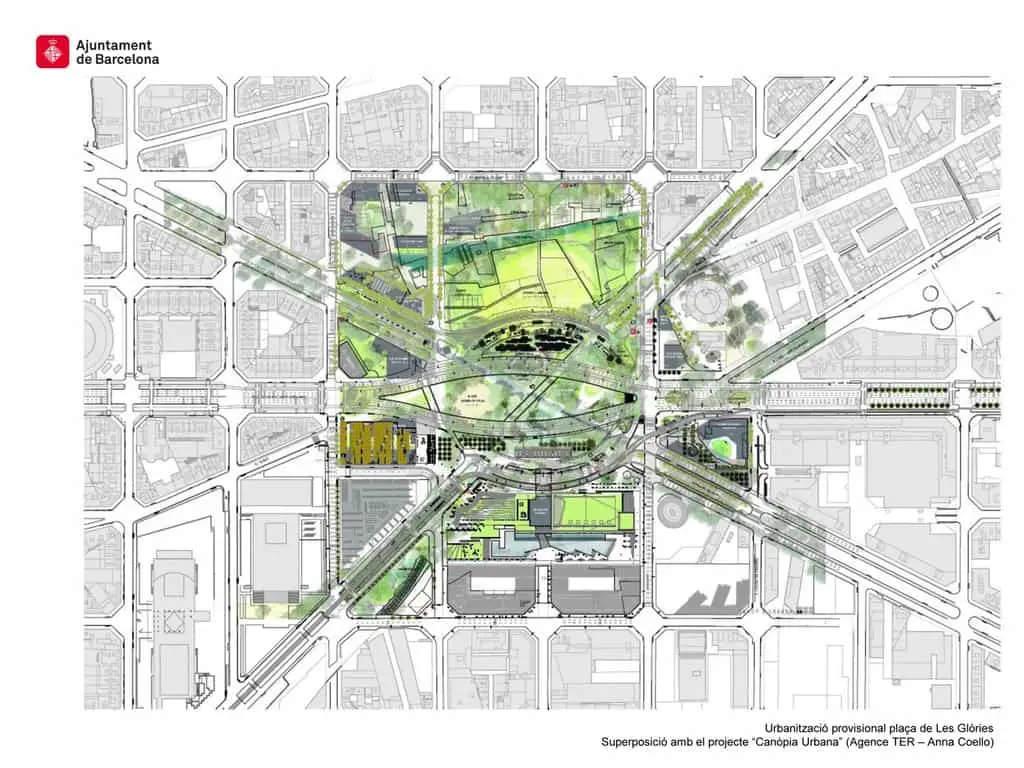 What's in Glóries now?
While under construction, Glòries already boasts contemporary design and architecture.
Torre Agbar 
Visitors cannot miss this rounded tower without asking, "What is that?" The third tallest building in Barcelona, the Torre Agbar was built in 2005, adding a high-tech element to the city skyline. The most suggestive emblematic structure of Barcelona, the tower houses the municipal water company and was designed to be shaped like a geyser.
Encants Vells (Fira de Bellcaire) 
A flea market with juxtaposition of old and new, the centuries-old bazaar sits under a contemporary canopy of shining glory. It's a haven for collectors, antique searchers, and anyone who wants to ogle at the boisterous hawking activity on the ground floor. More here.
Disseny HUB (DHUB)
A very chic and fashionable hotspot, this new headquarters houses the Museu del Disseny de Barcelona, which showcases historical and contemporary design. Not only that, DHUB also hosts Foment de les Arts i el Disseny (FAD) and Barcelona Centre de Disseny (BCD), centers that educate and inspire creativity in the design world. Parts of the new building are open, but the grand opening for the museu is set for December 12, 2014. Mark your calendars.
Les Glòries
Glòries shopping center is a two-story complex with the common Spanish and international department stores and shops such as Carrefour, H&M, Zara, Massimo Dutti, Mango, Springfield, and more. The open-air quality and various seating areas gives it a relaxed atmosphere.
Other points of interest
Glóries plaza offers other curious sites. You can see a show at the Teatre Nacional de Catalunya, attend a concert at L'Auditori, visit the new innovation District 22@, or check out the Fundació Vilas Casas featuring contemporary Catalan art.
What's Next For the New Glòries
A junction of public transportation
Glòries is an intersection among three main thoroughfares: Gran Via, Diagonal and Meridian. Because sustainable mobility is a pivotal theme, priority is given to bicycles, buses, tram, trains, metro, and pedestrians. Motorized automobiles will circulate through a tunnel under the plaza.
Cultural centers, schools, playgrounds, and homes
The Barcelona City Council worked with neighborhood associations to agree on citizens' needs. Playgrounds, schools, multipurpose cultural activities (music, theater, puppet shows, popular shows, circus, cinema), an urban mural, and a city garden are in the works.
For the local neighbors surrounding the plaça, they can participate in special athletic spaces for petanque, football, basketball, handball, volleyball, skating area, table tennis and track circuits. That is quality of living.
A canopy and an information center
They've started the first phase of building the canopy this year, which provides shade and shelter for walkers. It will also serve as a central meeting place for local citizens.
And with the modernization of the city comes an influx of tourists! An information center will also be set up to give them a hand.
Torre Mirador
People can also climb up a torre mirador, a cyndrical lookout tower for your viewing pleasure of the city. Twelve meters high, the building will offer a spectacular panorama of the Catalan capital from a new perspective.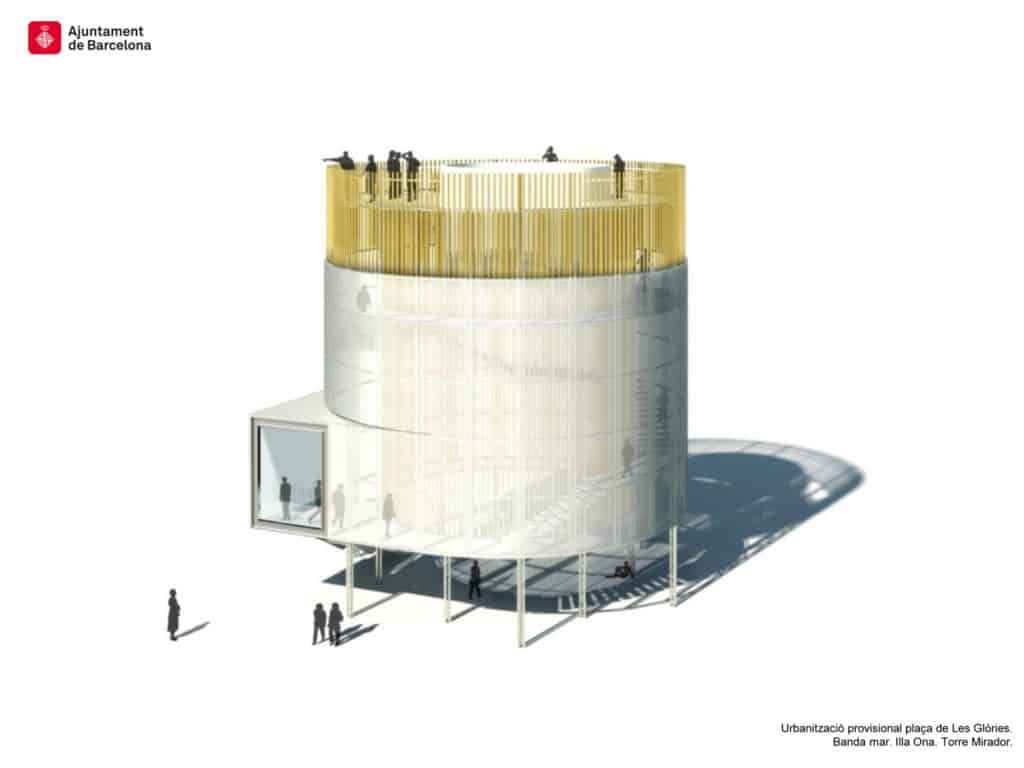 An oak garden
A temporary nursery is currently being installed next to the Encants market that will fit 200 oak trees. The trees will later be transferred to the main Canòpia Urbana. Visitors can walk along its garden paths and trails. The garden will also be used as an educational site for schoolchildren.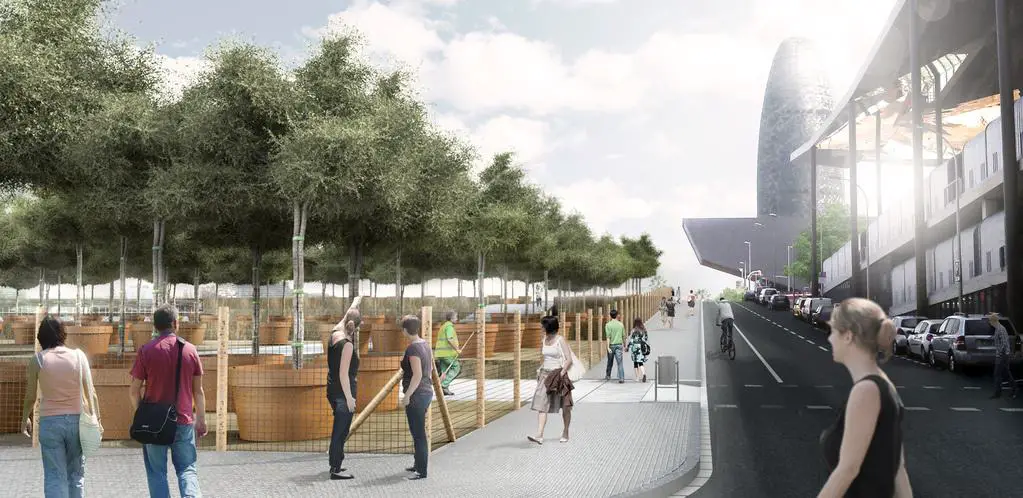 A wide range of vegetation and foliage 
A large assortment of trees, shrubs and flowers will be installed throughout the park to increase plant and animal life. This is to maximize the biodiversity that can inhabit the various environments and will spread the richness of organisms to other green areas of Barcelona.
Continuous pedestrian paths
Because the goal was to re-establish Barcelona as the new center, three barris will be joined by continuous pedestrian walkways. Greenery will planted to embellish the plaza but also to improve the soil to prepare it for the final phase of the Canòpia Urbana project.
Completion of the Glòries above ground is set for 
May
2015, 
and subterranean work will be finished in 2017. It's in the works, friends.
Are you excited yet? I am…because it's only 15 minutes from my home 😉 See the final vision:
 Resources
Barcelona Glòries: Dialogue and Transformation
Map of the Winning Proposal by Ana Coello i Ter (PDF)