*This site contains affiliate links, which means I receive a commission when you buy. See my full disclosure.
As the weather in Barcelona in March starts to warm up, more tourists flock to my adopted hometown. People head outdoors to enjoy a drink at a table al fresco. Sun worshippers emerge from their winter holes and soak up the sun at the park. It's shoulder season, so expect tourist crowds, but they're not as crazy as in the summer. In this blog post, I'll talk about Barcelona's March weather, what to wear and what to pack, and what fun events and festivities to expect. Welcome to Barcelona – in March!
Why visiting Barcelona in March is a good idea
March marks a transition of winter into spring, bringing more outdoor events on the agenda. And more people enjoy sidewalk cafe seating, where you can sit down and take that "I'm sipping a cafe latte in Barcelona" camera shot.
The city is not as crowded as in the summer. Lines are shorter
You don't have to bring heavy jackets, scarves, or mittens. Take the weight off your suitcase and off your back.
It's not bikini weather, but an afternoon picnic on the Barcelona sands would be pleasant on a sunny day
Weather in March in Barcelona
According to Holiday-Weather, the average temperature in march is 11.5°C / 53°F. The high is 16.1°C / 61°F, and the low is 7.8°C / 46°F. The average daytime temperature is 12.8°C / 55°F, and the average night temps are 12.1°C / 54°F. There are about 7 hours of sunshine, and it rains about 4 days in March. The Mediterranean Sea is pretty cold, only daring people (or people from cold countries) swim inside. The average sea temperature is 14°C / 57°F.
Tips for dressing appropriately in Barcelona
Don't let the Mediterranean sunshine fool you. You might look outside your hotel window, see the bright sun, and think, "Yes, strappy sandals and booty shorts. Bring it!" STOP RIGHT THERE. You will be a target for pickpockets if you dress like that in March. Also, temperatures in March in Barcelona will vary greatly throughout the day. Especially if you're moving around different neighborhoods and sightseeing.
For these wavering Barcelona March temperatures, it's best to dress in layers. I recommend three light layers: an undershirt, a top, and a medium jacket. Yes, a jacket, and NOT a sweater, which will not block the wind. Remember, Barcelona is a city next to the Mediterranean Sea, so also expect a cool breeze every so often. Plus, the city also has an underground metro, which means if you're traveling on the ground and in the metro tunnels, you might experience a sudden change in temperature. (Read: you may get sick)
Also, dress "like a local" so you do not become an innocent target for pickpockets. If you're staying past March, check out my post on what to wear in the spring, which includes April and May.
To get an idea of what to wear in Barcelona in March, here are some layering ideas:
A cute, versatile long hooded waterproof jacket to protect yourself from cool weather and rain. It comes in 13 colors!
Check prices for this 4.5+ star jacket with over 7,000 reviews
A multi-use travel scarf to warm your neck and also hide your valuables. It comes in 16 colors:
Check prices for this clever travel scarf
What to pack in March
Barcelona is a pickpocket city. But do not fret, it is generally safe. I travel all over Barcelona with my kids, and I learned how to deter pickpockets without worrying. Read more about how to avoid pickpockets in Barcelona. Here is a quick list about what to pack in March:
Anti-theft purse <– this one is my favorite and still use it EVERYDAY!
Camisole / undershirt to wear as a base layer
Sweater or hoodie to layer under your jacket or wear alone
Long-sleeve shirts of medium weight
Medium-weight jacket for evenings
Pants / Jeans
Skirt or dress, if you like
Tights to wear under your skirt or dress. Do NOT go bare-legged.
Light scarf
Bra
Underwear
Socks
Comfortable shoes
Check out my full guide about PICKPOCKET-PROOF TRAVEL ITEMS to keep your stuff safe in Barcelona
What to do in March in Barcelona
In March, Barcelona comes back to life with a number of exciting festivals and events.
Festa de Sant Medir. March 3, 2023. Set in the Gràcia neighborhood, colles (festival groups) parade during this "sweets festival". Neighbors make a pilgrimage to St. Medir's shrine, the Ermita de Sant Medir in Sant Cugat. Participants in the parade glide by in horse-drawn carriage and floats – as young and old onlookers try to catch sweets and candy. It's a great photo op! There's also castellers (human castles), musical processions, and more. Come for a culturally Catalan experience!
Brunch in the City Barcelona: March 12, 2023. This popular music festival of acid, techno, and house music, holding eight events throughout the year. Spend the whole day at Poble Espanyol, dancing to some tunes, having local food specialties, and also, and enjoying "miniature Spain", the Poble Espanyol. It's a whole day out with music plus local food trucks. (You can even bring your own food.) It's also an event for the whole family, including jumpy castles, kids workshops, and table football. This March, it's at Poble Espanyol. (NOTE: This event is SOLD OUT.)
Saint Patrick's Day on March 17 is not a "thing". You can probably find some fun shenanigans at an Irish pub, but don't expect a Catalan to wear green.
Festes de Sant Josep Oriol. March 18-26, 2023. Join in more cultural festivities in the area around the central Santa Maria del Pi Church. The three-day festival honors St. Joseph Oriol, a devout priest who lived in the area and was known for curing the sick. Come celebrates with gegants (giant puppets that parade around), castellers (human towers!), and a chocolatada (where locals socialize and consume gallons of hot chocolate). It's another fantastic photo opportunity to see how Catalans celebrate!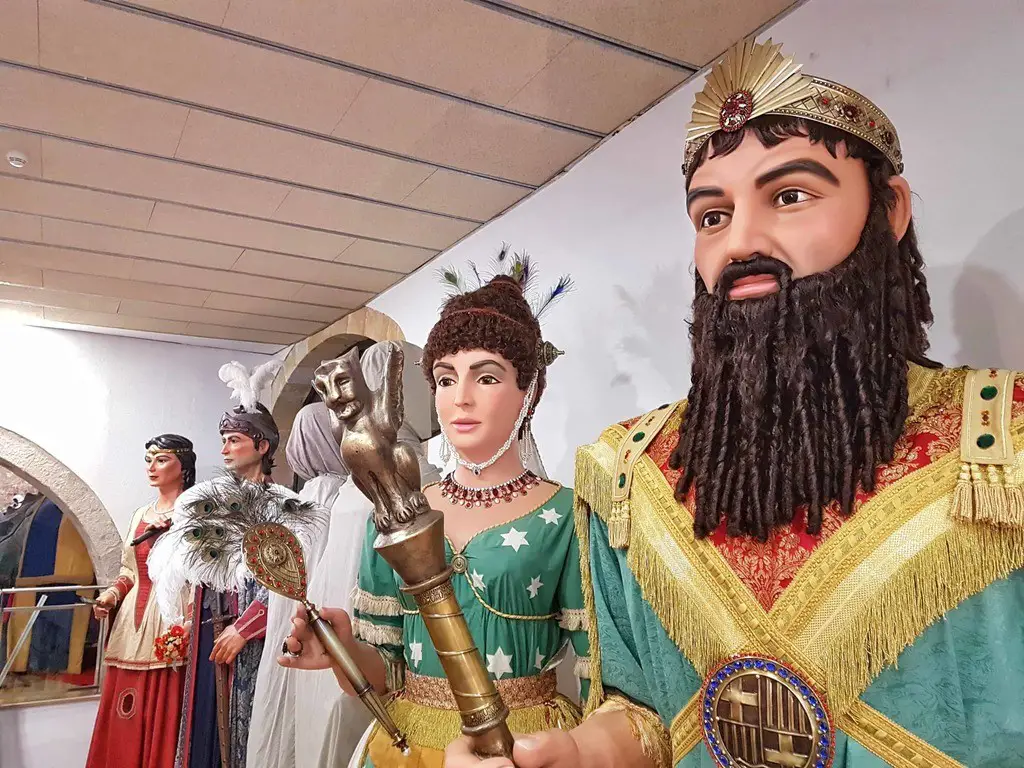 Were you looking for the must-see places to visit? Like the Sagrada Familia or Casa Batlló? These attractions are the best places to visit – read about the best places to visit Barcelona all-year.
Food and Drink
Some foods don't go out of season like, seafood paella, fideua, vine-ripe tomatoes, and golden olive oil. Check out my complete Barcelona Food Guide here. But for seasonal foods in March, try these:
Calçots – Try these weird, huge spring onions that are roasted on an open fire or grill. You dip them into a romesco sauce, a tasty sauce of roasted red peppers, tomatoes, and paprika. Then tilt your head back, and enjoy! You have to wear an adult bib when you eat them. I recommend trying calçots at Disbarat in Gracia or Maur in Sant Antoni.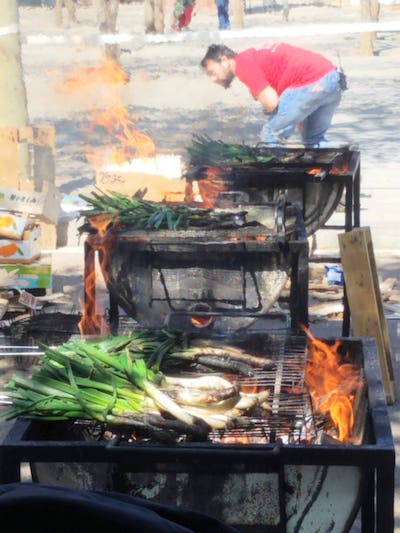 Chocolate and churros – For those chilly winter mornings (it will still be winter until March 19), you'll want to have a breakfast that's warm and filling. Why not try crispy, doughy churros? Have them at La Pallaresa with a suiza, a hot chocolate with REAL whipped cream on top!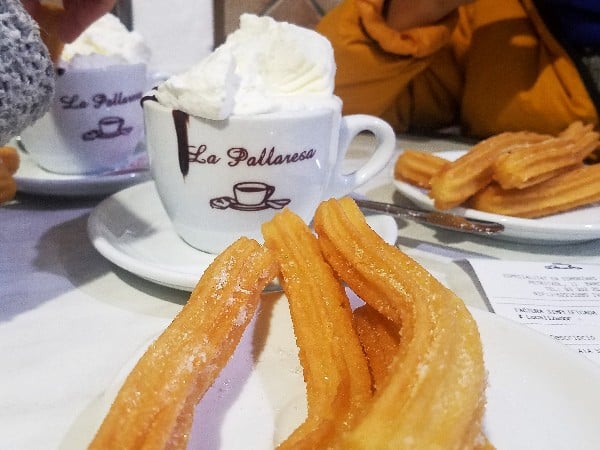 Need to know more? Here are some recommended reads to get your trip started:
The Best Places to Stay in Barcelona
Barcelona tips and tricks for visitors
---
That's it! I hope you enjoy your visit in March. Have any questions? Leave a comment below – as I get notifications in my email. Leave a comment!