*This site contains affiliate links, which means I receive a commission when you buy. See my full disclosure.
HOW TO SPEND ONE DAY IN BARCELONA
How can you spend one day in Barcelona? If you're coming into Barcelona for a layover, cruise, or whirlwind European trip, it's possible to capture the essence of the city in 24 hours. It's definitely not ideal, but it's doable. You can get a good feel of the city, and most of the time, you'll be traveling with your own two feet. From the Sagrada Familia to the Casa Batlló to ancient streets of the Gothic Quarter, I'll tell you where's worth spending your time (15 years as a resident here!). Get to know the REAL Barcelona!
HOTEL CHECK! If you're not sure where to stay, read my post on the best places to stay in Barcelona. If you don't have a place to stay for the night, check out some hotels in the neighborhoods right here.


1 Day in Barcelona: The Itinerary
Morning (9am) 
Make sure you eat a substantial breakfast! To eat like a local, have pa amb tomaquet (bread smeared with tomato) and a cafe amb llet (coffee with milk). Is your hotel near a churreria? Come to think of it, I never heard of having bad churros. Even the ones I buy frozen from our local supermarket are passable! So, indulge some hot churros and hot chocolate for breakfast. They're a must-try in Barcelona.  Need suggestions? Try La Pallaresa or Granja Viader.  Now it's time to see Barcelona in one day!
Sagrada Familia: Book your ticket for this basilica by Catalan architect Antoni Gaudí – or at least see the breathtaking facade from the outside. I do highly recommend going inside. Expect to spend about two hours here at a minimum to really appreciate the details of this masterpiece-in-progress. Is it worth going up the towers? In this short amount of time of 24 hours, I would say no. But if you're IN LOVE with views and are dying to see somewhere from up high, go for it! But it takes time to climb back down the spiral stairs (as it's the only way down). See my guide on how to prepare to see the Sagrada Familia. If you're going to buy a basic ticket (just an audioguide), buy it from the Sagrada Familia website because it is cheaper. Now, if the morning isn't available, check for tickets on Get Your Guide! I've used them before and they're very dependable. Also, if you want to go up a tower, get it from Get Your Guide:
Mid-morning (11:15am)
After you're finished oohing and ahhhing at the Sagrada Familia, it's time to do some walking to the elegant Eixample district, which is where the modernist buildings are. Take the L2 metro (purple line) from the Sagrada Familia stop. The metro stop is outside the Nativity Facade, which is the darker, older-looking towers. (Right now, there are two facades.)
Take the L2 metro and head toward the Passeig de Grácia stop on the L2. Get off the Passeig de Gracia stop. Once you come out of the metro, you'll be on Passeig de Gracia street. Walk over to the Casa Batlló.
Casa Batlló: This unique building by Antoni Gaudí is beautiful and peculiar and is one of the most extreme examples of Catalan architecture. Its quirky design can be seen through the sculpted iron balconies, broken mosaic tiles, and undulating windows. I don't suggest going inside on a 24-hour day in Barcelona. It's a lot to absorb, and you really have to take your time to appreciate it. Plus a whopping 35€ to enter. But if you have your reasons to go in, read my tips on going inside the Casa Batlló.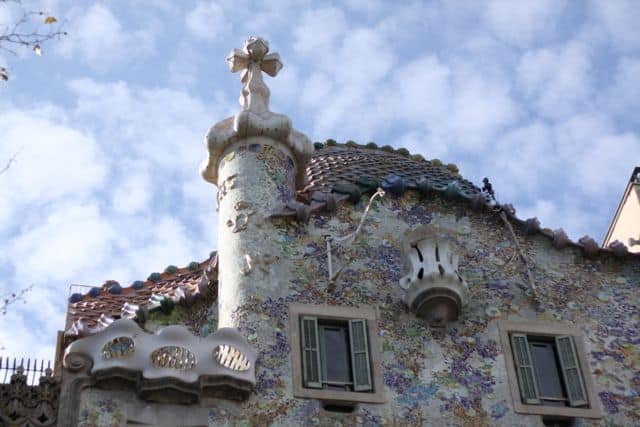 Casa Milà (La Pedrera): A UNESCO World Heritage Site since 1984, this Gaudí creation was not very impressive when it was first revealed in 1912. It was built for the Milà family, who initially wanted something more like Casa Batlló. Alas, it's now more incredible than ever as one of the most famous buildings in Barcelona. There are no 90º angles in this building anywhere! Should you enter? I say no. Put La Pedrera on your "Save For Later" file! (BUT, if you MUST choose between Casa Batlló or Casa Milà, go for Casa Batlló!)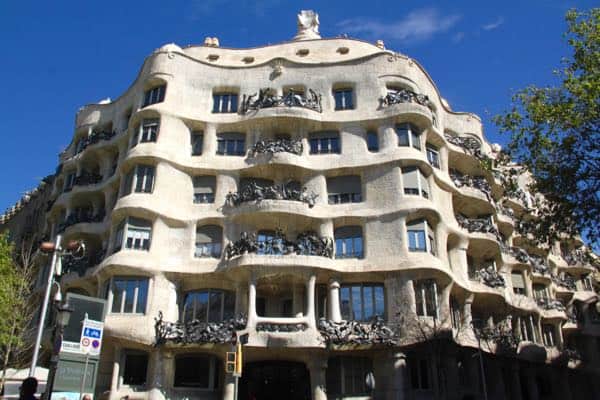 Now turn around, and go back toward Plaça Catalunya. This is the heart and central hub of Barcelona. There's a Hard Rock Cafe, El Corte Ingles department store. There isn't really one particular monument here, it's just a very busy square!
Las Ramblas  (12:30pm) – Walk down this crazy, carnivalesque street and observe all the people. It's not my favorite street as it's super-touristy. But it IS iconic. The FC Barcelona Football club celebrates their victories here. Also, look for the Font de Caneletes near the escalators on the right. They say that if you drink from this fountain, you will definitely come back to Barcelona!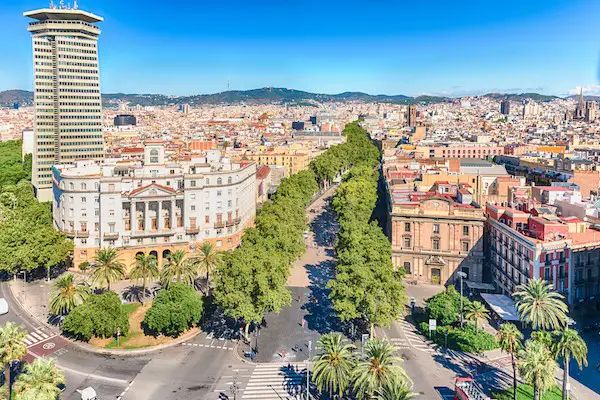 Keep walking. To your right, you'll see the famous Mercat de La Boqueria. Go ahead and walk inside, and you'll see it's probably already crowded. I suggest you buy something healthy or even have a sit down at one of the bars! You might enjoy just walking around, taking photos (ask first, workers there are understandably jaded by tourists), and maybe buying something to take home. 
Lunchtime (1:30pm)
Maybe it's about 1:30pm. Lunch is around 2 – 2:30pm all over Spain. I'm going to tell you to save time and have lunch around now because you don't waste time getting caught in the lunch rush hour. 
WHERE TO EAT: Pinotxo Bar for classic Catalan cuisine (not cheap), Direkte Boqueria (I've heard, never tried) is also exclusive, and expensive but is supposedly insanely good. Caravelle for international food (fantastic) in Raval, or A Tu Bola for cheap, delicious street food!
After lunch, walk back to Las Ramblas again. Make a left on a diagonal street called Carrer de Colom, and you'll see a large square with a fountain in the middle. You're in the Plaça Reial! Go back to Las Ramblas and make a left. This way, you're headed toward the Mediterranean Sea. At the end of Las Ramblas, you'll see a tall pole – that's the Christopher Columbus Monument as the explorer himself towards his hometown of Genova. If you prefer to cross the street (Ronda Litoral), you can get a relaxing atmosphere at the Moll de Las Drassanes. Check out the port and deck area for some nice photos.
Optional eating time: if you didn't have lunch yet, you can go to Can Paixano in La Barceloneta and have tapas (standing!) If you love a good crowded bar, this place is where locals and tourists go if you want to get delicious, cheap sandwiches, and cava. It's a truly unique experience!
Afternoon (3:30pm)
Now it's time to explore one of the oldest neighborhoods in Barcelona, the Gothic Quarter. It's also the most historic and most crowded.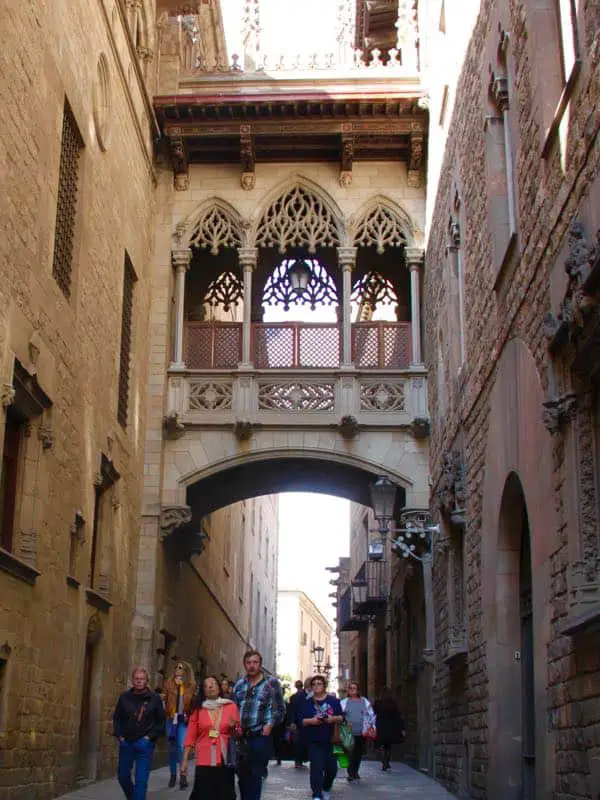 Take Carrer Avinyó up towards Carrer Ferran, a busy street of commerce. Make a right, and you'll run into Plaça Sant Jaume. This is were the governmental buildings are, which are the Palau de la Generalitat and the Barcelona City Council. Most people don't really go inside the buildings – just know that this was the main square all the way from Roman times!
Go toward Carrer Bisbe, and to your right, you'll see the Barcelona Cathedral. If you go around it, you'll see the main entrance and the Plaça de la Seu, a large square, where lots of events and demonstrations take place. Go towards the Avinguda Catedral and cross Via Laietana.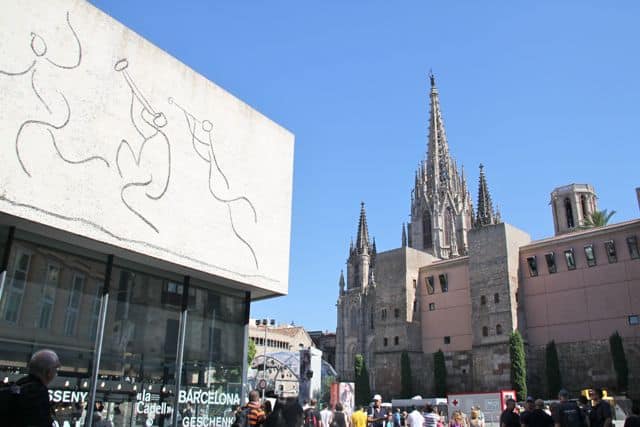 Born (4:15pm)
Across the street you'll see another food market with an undulating, colorful roof. This is another popular food market, Mercat de la Santa Caterina. They have the same fresh fruit, meat, and some bars like at La Boqueria but way less crowded. Head towards the mysterious Basilica de Santa Maria del Mar. It's a Catalan Gothic church built in the 1400s. Around it is the nearby Passeig del Born, a pedestrian promenade with several restaurants, cafes, and bars. Across the street is the Born Cultural Center, which is free to enter if you want to see the Roman ruins excavated in the dead center.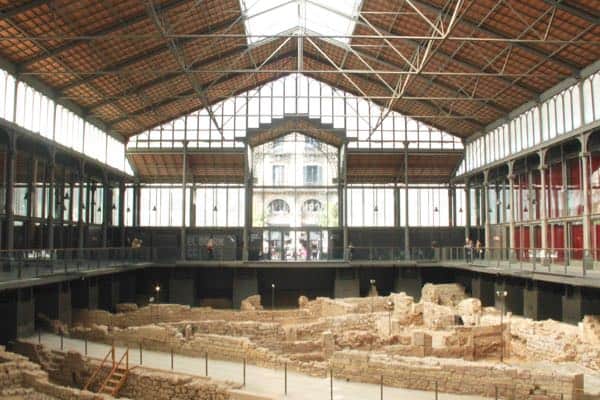 Evening (5:30pm)
Now it's time to get your butt to Park Guell! From here, find the V19 bus stop. See Google Maps to se what time it the bus arrives. The V19 bus takes you to the side of Park Guell, so you don't have to climb any crazy steps! (That's VERY important, as the metro and other buses take you at the foot of the hill, and it's an uphill climb.) It's 2.40 to board the bus, and Barcelona buses let you pay buy mobile now.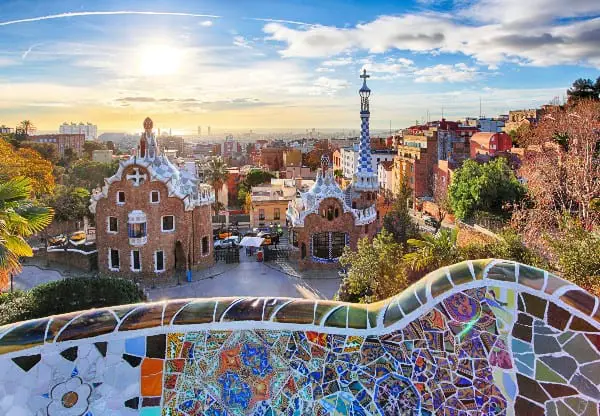 Now head to Park Guell, and give yourself about at least 45 minutes to get there from Born via bus. You can also try to find a taxi from the Born Cultural Center, which should take about 20 minutes. 
Now, you've done a lot! Of course, there is still sooo much to see. (Fifteen years, and I'm still working on this.)
Choose your own evening adventure (7:00pm)
– Head to get the highest view of Barcelona from Tibidabo. There's the Sagrat Cor church, the Tibidabo Amusement Park, and the Collserola tower.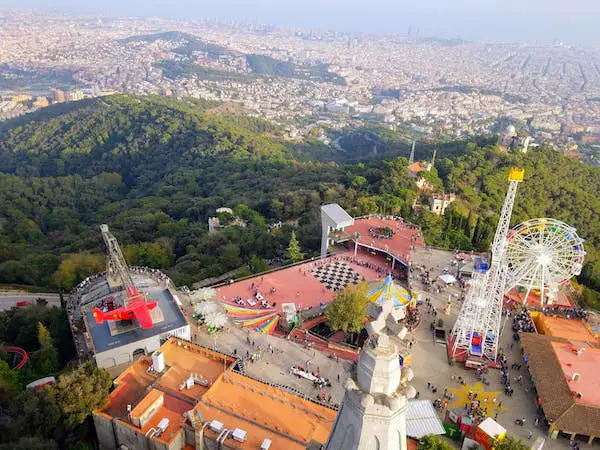 Born neighborhood. There are tons of restaurants and bars here. For tapas, try La Puntual, Bar del Pal, Cal Pep, or La Xampanyet. Please be careful here at night as pickpockets like to prey on tourists. 
– Sant Antoni neighborhood is a foodie's paradise. Try El Sortidors del Parlament, Pepa Tomate, Barna Brew, Lolita Taperia. Or maybe even Tickets by the Adria brothers (I have yet to try it!)
– Gracia, a small quaint neighborhood with a fun atmosphere for singles and families. Really nice to walk around and have dinner or drinks! Try La Pepita, Cal Pep, or Origens (inexpensive, seasonal Catalan food!).
– A Flamenco show. While, NO, it is not typical of Barcelona culture, Barcelona has some very fine flamenco dancers. Don't let anyone tell you that you shouldn't because it sucks in Barcelona. My daughter takes lessons from a renowned dancer in Barcelona, and I've been to a few flamenco shows. I suggest this one at the Palau de La Musica (a stunning historic building!) In fact, I've seen all these shows below, and they are all incredible:
Tips on planning your Barcelona 1-day itinerary
- The sun sets around 6pm in the winter, so Park Guell may not be feasible for the evening. Plan ahead!
- If you want to store your suitcase somewhere, try Luggage Hero or Locker Barcelona.
- Be wary of pickpockets, especially when your hands are full with your suitcase, backpack, and purse. They present themselves as "kind" people. It's safer to be a little guarded. Read my tips on how to not get pickpocketed!
Steps to prepare for your Barcelona one-day itinerary
1. Buy your tickets online in advance to La Sagrada Familia. Try to go for the first thing in the morning. This is when the least amount of people are there. Buy flexible free cancellation tickets for Sagrada Familia here.
2. Buy your tickets online in advance to Park Guell. Shoot for the end of the day before sunset. You'll get fantastic photos! Buy flexible free cancellation tickets for Park Guell here.
(Those are my suggestions for which attractions to pay for. If you want to go to other famous attractions like Casa Batlló or La Pedrera, go for it!)
3. Get a map, either physical or digital like Google Maps. Get the addresses of all the places you want to go and eat - so you don't get lost. Plan, plan, plan!
4. Make sure you have exact change on you for the bus. If not, have some cash for the taxi. They should be able to provide change. You can usually pay them with a credit card too.
5. Did you find this "one day in Barcelona" guide too exhausting? Then go on the Hop-On Hop-Off Bus! It's 28€, and you can get a fantastic scope of the city. Sit on the top deck for the best views. You'll also be able to see Montjuic, the breezy mountainous area.  Buy your Hop-On Hop-Off Bus tickets
That's it! Now, I worry about you. So please be careful with your wallet and money! And enjoy your one day in Barcelona!