*This site contains affiliate links, which means I receive a commission when you buy. See my full disclosure.
September is a fantastic time to visit Barcelona. If you love sunshine and don't love crowds, this is a great time to take advantage of the city. As students get back to school, the crowds thin out a little. You can enjoy the Barcelona beaches in September, try the world-renowned Mediterranean food, and of course see the gorgeous modernist architecture. As a resident, I'm giving you this guide on making the most of Barcelona in September!
Why you should visit Barcelona in September
During this shoulder season, crowds are less than in September. Personally, the ideal time to come is mid-September to the end of September when al kids will definitely be in school.

It's the season for the best Barcelona festival! September 24 is the feast day of La Mercè. It celebrates our patron saint of the city, the Virgin Mary, under one of her special titles "Our Lady of Mercy". Nowadays, it's a secular holiday full of concerts, human castles (

castellers),

fire runs (

correfocs

), workshops, theater, and more!

Barcelona weather in September is conducive to hitting the beach. Crowds will be thinned out, and it's still hot enough for you to strip down to your swimsuit!

It's also a fantastic time to enjoy outdoor activities, like biking or sailing. Check out my post on taking a

bike tour with Steel Donkeys

!
Weather in Barcelona in September
In my opinion, September is the best time to visit Barcelona. September weather is still warm and sunny, but without the overbearing summer heat. The average temperature in Barcelona in September is around 24°C (75°F) with highs up to 27°C (81°F). The nights are cooler, with temperatures dropping to around 17°C (63°F). Rainfall is low and there are usually about 8 hours of sunshine each day.
Tips for dressing appropriate in September in Barcelona
Because the weather for Barcelona in September is still pretty hot, you'll want to dress lightly. Here are some handy tips:
Be sure to choose

fabrics that are light, breathable and maybe moisture-wicking, to keep you cool and comfortable.
If it's the first half of September, I suggest avoiding jeans as they're too thick and heavy. You also don't have to pack heavy sweaters or jackets in September either.
If you're planning on hitting the beach, make sure to protect yourself from the sun by wearing a wide-brimmed hat, sunglasses, and generously applying sunscreen.
Barcelona is a great city to wander around in, so don't forget to pack proper shoes. Sandals, sneakers and breathable shoes are all good choices as they will help protect your feet from the heat while also providing adequate support for a day of exploring.
Sure, here is a packing list of what to bring to Barcelona, Spain in September as an American:
Anti-theft purse

<<– I have this one from Travelon. The zipper locks and gives me peace of mind when traveling on the bus or metro.

Short-sleeve shirts

Light jacket or sweater for evenings (just in case)

A scarf as an extra cover-up for evenings

Skirt or dress if that's your thing

If bringing pants, make sure they're light

Bra

Undies

Socks

Swimsuit

Pajamas

Sunglasses

Hat

Comfortable shoes or sandals

Travel adapter: The electrical outlets in Spain are different than in the US, so make sure to bring a travel adapter so you can charge your electronics.

Check out this compact two-pin round adapter 

Travel documents: Don't forget to bring your passport, travel insurance, and any other important documents you may need.
Read my comprehensive guide about what to wear in Barcelona in the fall!
What to do in Barcelona in September 2023
La Diada: September 11, 2023. 'mericans say September 11th, Catalans say National Day of Catalonia. La Diada commemorates a day in 1714 when Barcelona city fell to Spanish troops. The past few years, the significance of La Diada has intensified due to the ongoing political tension with Catalan independence. Expect to see mostly peaceful marches and lots of red-and-yellow Catalan flags. Shops and restaurants are closed.
Festa Major de La Barceloneta (La Barceloneta Festival). September 29, 2023.  Also called the Festa Major de Sant Miquel, this Barcelona September festival is held in the seaside neighborhood of La Barceloneta. It has gegants, a parade of cannons (that shoot candy!), decorated streets, correfocs, and dancing of sardanas. 
Festa de La Mercè. September 21-24, 2023. A citywide festival spanning a few days, this is the largest (and FREE!) festival in Barcelona. It honors the other patron saint of Barcelona, the Lady of Mercy. There are 600 activities spread throughout Plaça Sant Jaume, La Barceloneta, Plaça Catalunya, Passeig de Gracia, Park Ciutadella, and all the neighborhoods. It includes concerts (the BAM festival is included here), castellers, correfocs, gegants, workshops, theater, kids' activities, performances, and so much more! IMHO, it's the best time to visit Barcelona because it's not extremely hot, there are fewer tourists. And it all ends with fireworks!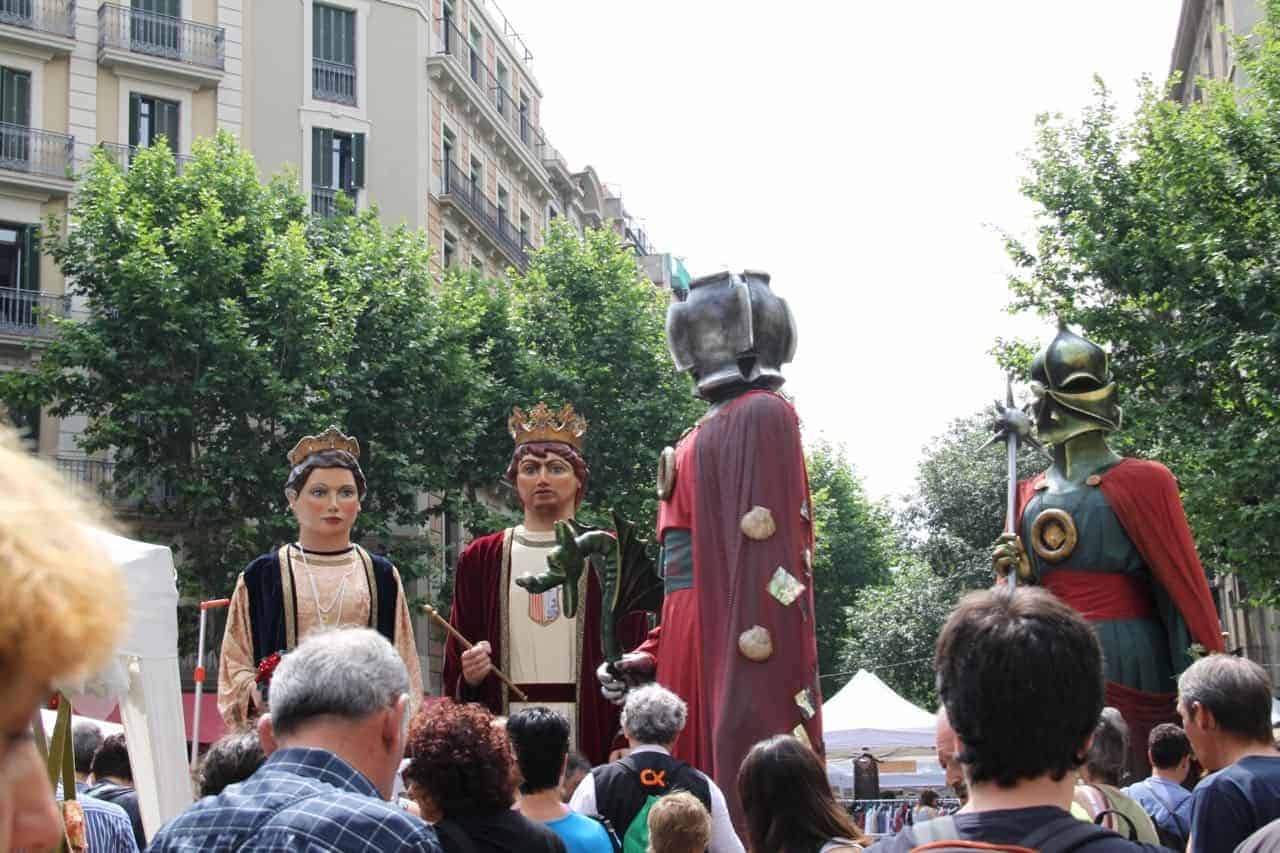 September 24, 2023: Dia de La Mercè. Shops and restaurants are closed.
What to eat in Barcelona in September
In September, locals in Barcelona typically enjoy a variety of fresh and flavorful dishes that take advantage of the season's bounty. Here are some typical foods that locals eat in Barcelona, Spain, in September:
Gazpacho.

Tomatoes are well in season in September!

The gazpacho is a cold soup made with tomatoes, cucumber, peppers, and bread, typically served in a bowl or glass. This photo below shows the authentic stuff. It does not have parsley or basil, like you see online!

Real gazpacho: it does not have parsley or basil

Seafood Paella.

You cannot leave Spain without trying the most iconic Spanish dish made with rice, saffron, and a variety of seafood or meat. It's typically served in a large

paellera

(paella pan) and is perfect for sharing with friends and family. Remember: if you order paella in a restaurant, the price is usually per person. Read about where to eat the best paella in Barcelona!
Escalivada: This is a traditional Catalan dish made with grilled vegetables, including eggplant, peppers, and onions. It's typically served as a side dish or on top of toasted bread called a coca.
Patatas bravas:

This is a popular tapas dish in Barcelona, made with fried potatoes served with a spicy tomato sauce. My kids love it! In fact, everyone loves it.
Want more tips about where to eat? Read about it all in my complete food guide in Barcelona!
Travel tips for visiting Barcelona in September
Buy any tickets or tours in advance.

September is still a busy month, so it's important to book your Sagrada Familia tickets and other attractions ahead of time. Also book accommodations and tours in advance to avoid disappointment.

Stay hydrated.

September can be hot and humid in Barcelona, so drink plenty of water and carry a refillable water bottle with you.

Take breaks.

With the hot weather, it's important to take breaks and rest in the shade to avoid heat exhaustion or sunburn.

Go to the beach in Barcelona in September. Yes, it is still hot, especially in the first half of the month.
Be aware of pickpockets.

Barcelona is known for pickpocketing, especially in tourist areas. Be aware of your surroundings and keep your valuables close to you. Read my post on

how to avoid pickpockets in Barcelona
Take a day trip outside Barcelona. Don't be afraid to explore other areas of the city to discover hidden gems and authentic experiences, like at the nearby Sitges, a charming beach area.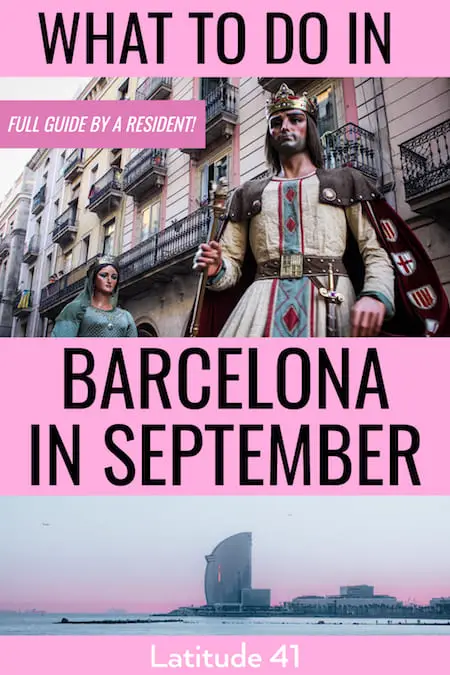 ---
That's it! Have any questions about visiting Barcelona in September? Let me know, I read all my comments!